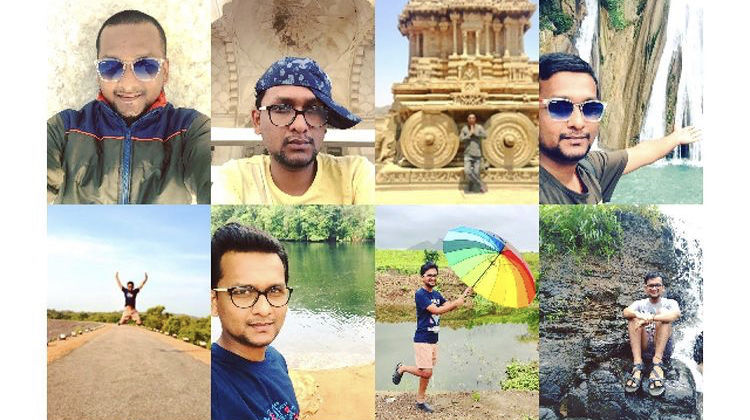 As a hardcore traveller it is becoming very difficult to stay back at home since past eight months due to Covid-19, but to beat this pandemic we have to stay home only.
So here I am sharing top 20 places to travel in India from my travel diaries.
(PS: I haven't travel abroad yet)
1 Leh-Ladakh
Leh-Ladakh is the dream place for every single traveller including me. Leh-Ladakh was my first solo trip and all my travel journey have been started from here. Started as a solo to join a group of complete strangers, the journey was totally crazy. The best part about Ladakh is that you can see loads of snow to dunes of white sand to magical clear sky to dangerous yet thrilling roads. Ladakhi people are so welcoming, hard-working and kind, I learned how to live a life with small happiness and limited resources from them.
For me Ladakh is not a place it's bundle of an emotions.
2 Hampi
I never liked history during school days and I used to hate this subject. Once I started travelling I started liking history and regretted what I have had missed.
Hampi is the place where you can smell the history everywhere. Once a rich empire state to remaining ruins, Hampi had witness many attacks and bad times. I would say Hampi is full of positive vibes and series of ruins of temples. Once you be there you never wanna come back to normal life, I bet on you. I wish to stay there lifelong doing coracle rides in almighty Tungabhadra.
Even if you don't like history you must visit this place, you will thank me later on.
3 Varanasi
Throughout my life I have taken many stupid and lame decisions but visiting Varanasi, taking dip in holy Ganga is one of the best decision/plan I have taken in my life.
After taking bath in holy Ganga I don't know whether I am a sinless person or not, but that dip simply can't express in words. I feel so jealous who resides next to ghats near Ganga maiya. Assi ghat to Manikarnika ghat is the best walk of my life with so much positivity and peace. Hold on, how can I not to talk about evening aarti. Evening aarti at Dashashwmedh ghat is one of the divine express I have had in my entire life, believe me it was real bliss and I literally had goose bumps while watching the aarti. I urge you to visit Varanasi atleat to witness this blissful aarti.
4. Taj mahal
Visiting Taj mahal had been one of my childhood dream and I still remember after getting the first glimpse of Taj mahal I couldn't resist tears falling from my eyes. Taj mahal is not only world famous monument but bundle of emotions, world class architecture/engineering and epitome of love. To witness this mesmerizing beauty everyone should visit this place at least once in a lifetime.
Writing about Taj-mahal is an endless journey, go and smell the WAH-TAJ vibes.
5. Meghalaya
One of the most beautiful Indian states full of beauty. This state is all about countless waterfalls, mesmerizing landscapes, hidden caves and kind people. Living root bridge treks and boating in Umngot River at Dawki are the craziest things to do in Meghalaya. Each and every path in the state will make you surprise with the kind of beauty and eventually end up in falling in love with.
One should visit Meghalaya to understand why it is been called magical Meghalaya.
6. Rishikesh
If you are planning to travel solo then Rishikesh would one of the prime locations to be get started. Known as yoga capital of the world which has very own charm, makes you to fall in a love indeed. Definitely you will be lost while crossing Laxman jhula, Ram jhula and small small galis of the town. Rishikesh is full of firangis, vibrant vibes and adventure.
Never come back from this place missing bungee jumping and river rafting.
7. Jaisalmer
Jaisalmer wasn't in my itinerary when I was traveling solo in Rajasthan but it was destined. After doing Jaipur and Jodhpur instead of going to Udaipur (which was my plan) I planned to go Jaisalmer which was the great decision I have taken, Thanks to my friend for insisting me to visit Jaisalmer. Jaisalmer is all about golden royal things, the fact of people still resides in fort made me somehow so proud yet thrilling. The city is small but I loved silent yet historical vibes of the city.
One should visit Jaisalmer to witness why it is been called Golden city of India. Also desert safari is one of the best things to do, sleeping under millions of stars in desert was too amazing to experience
8. Aurangabad
Travelling to Aurangabad means travelling to History. One of the best place to witness the history and architecture, Aurangabad is the city of world heritage Ajanta and Ellora caves. Reading about Ajanta and Ellora caves in history books during childhood to visiting in actual is one of the timeless journey. The carvings and monolithic caves will definitely surprise you the way they are made with so much of precision. No wonder why it is called world famous and attracts so many tourist to witness ancient Buddhism, Jainism and Hinduism through the carvings.
Apart from caves Daulatabad fort and Bibi ka maqbara are places to visit.
9. Marine drive
Marine drive also known as queen's necklace is one of the prime locations in Mumbai. I still remember my tata (nanaji) used to take us there during summer vacations in our childhood. For me marine drive is a place where you can find inner peace, I have spent innumerous evenings at Marine drive seeing the beautiful sunsets. Girgaum chowpaty to marine drive is one of the magical path to have a walk, words will fall short to write that feeling on a paper.
For a Mumbaikar it is a place that they hold close to their heart, even in sadness Marine Drive always comes to the rescue of each Mumbaikar. Every person who comes to the city of dreams can't go without giving a visit to this incredible necklace
10. Goa
If you are completed Goa mission in the very first attempt then nobody in this universe is luckier than you, for me I was lucky for the fourth time. Goa is all about vibrant colours and positivity all around. I have travelled half of India but the vibes which I got in Goa is something else and extra ordinary. The clean and serene beaches, sea food, old churches and liquor are the reasons why people are so attracted towards Goa. The best part about my Goa trip was I was accompanied by my school buddies.
I wish to experience Christmas and New Year's celebration in Goa before I die.
11. Manali
Manali is a paradise for travelers, one of the popular tourist spots which is most famous honeymoon spot in India. Manali is all about zig zag roads in mountains, tall pines, spectacular views and apples. I believe every Indian dreamt to be here and witness first snow fall in their life, I experienced it which was delightful. The landscape at Solang valley and Rohtang pass will make you crazy.
Manali has endless reasons to visit, from relaxation to adventure in every aspects this snow city has always been attracting tourist since ages.
12. Sahyadri range, Maharashtra.
Though I am not a hardcore trekker, but I feel so lucky that I born in Maharashtra so that at least I can do seasonal treks especially in monsoons. From my college days to till my Sahyadris trek journey is always been amazing. After working 10 to 6 and dealing with life this is the place where I feel I am alive and breathe the pure and fresh air. The treks in the Sahyadri range are super adventurous and fun, it has every type of trek that you will probably look for.
Trekking in the Sahyadris is extremely popular trend now days, but at the same time it is our duty to preserve the legacy and heritage structures.
13. Dandeli
Dandeli is an offbeat destination to get a city break and spend some quality time in lap of the nature. The splendid Dandeli is famous for water sports activities and spotting black panthers in wild jungles. Though I was unlucky spotting any wild animals during Jungle safari but the lush green beauty of this place fascinated my inner soul.
River rafting, Kayaking in impulsive waters of Kali River and relaxing in natural Jacuzzi are simply not to be missed things when in Dandeli.
14. Delhi
यह दिल्ली है मेरे यार
बस इश्क़ मोहब्बत प्यार
बस्ती है मस्तानो की दिल्ली दिल्ली
गली है दीवानों की दिल्ली…
To understand above lines you have visit Delhi and see why it is called dilwalo ki Delhi. Honestly speaking I was very nervous before visiting as unfortunately Delhi does not always make a good first impression. But as soon as I landed I felt it so close to it and adopted the swag of Delhi. I found Delhi is very friendly city and people are not bad here as shown on news channels. Delhi is all about Mughal architecture to Mughal cuisines. Being a proud Mumbaikar I have to admit that you can't get best the chaats anywhere other than Delhi, yes that is so true.
Spending my whole evening in Chandani chowk was the best part of my short and sweet Delhi tour. Reading and watching about Chandni chowk to actual visiting, there is so much of fun guys.
15. Kolkata
Talking about top 20 places in India and if Kolkata is not made into the list which is very unlikely. You have to visit this magical city to smell why it is city of joy. Kolkata is full of positivity, vibrant colours, amazing food, rosgullas and fish. While taking to a walk at every street you will mesmerize to know how artistic this city is. I visited Kolkata during Durga pujo, the energy and enthusiasm during the festival is unmatchable. The people are very sweet and kind, always helpful. Thank you for showing me your city and we had spent magical time together.
Guys experience Durga pujo in Kolkata and Ganesh festival in Maharashtra once in a lifetime, you won't regret I promise.
16. Rann of Kutch (ROK)
When I heard about this place I was so excited to see this place in real and had tour da ROK during Rann festival which happens between September to February every year. I must say that Rann utsav is one of the most expensive festivals in India. Talking about the white salt rann, it's an endless journey. Once you reach you can only see the white salt spreading in all possible directions and meeting the horizon. The rann looks most beautiful on no moon night and full moon night, both could be an individual great to experience. Walking on brittle white sand and that noise of 'kuram karam' is totally fascinating.
I love sunsets and have seen sunsets on many beaches and mountains but experiencing sunset at ROK was unmatchable and different.
Kisine sach hi kaha he, 'Kutch nahi dekha to kuch nahi dekha'.
17. Khajuraho
There are places in the world who are actual masterpiece and Khajuraho is one of them. Khajuraho is well known capital of Kamasutra and world famous for its sensual and nude sculpture on walls of temples. Khajuraho is full of group of temples, western group of temples are very famous. The sculpture and art on walls is beyond the imagination. It is said that all possible sex positions according to Kamasutra are carved on walls of temples, it is a big task to find all of them within the same area.
All the erotic sculptures are at the outer walls of the temples. But there is no erotic sculpture inside the temples. In fact inside most of the temples there is nothing- just silence, a cool peaceful background with the vibes of thousands of years of people meditating.
18. Munnar
Given a chance to settle anywhere in India no doubt Munnar will be my top choice. If God's own country Kerala is green then Munnar is super green. Imagine a place which is a heaven of peace, unending chain of mountains, exotic fragrance of spices everywhere and a wide area with tea plantations. The picture-perfect town, with its winding lanes and the serenity of its tea gardens makes Munnar the most lovable hill station in South India. The best part about this hill station is that offers pleasant weather throughout the year and one of the most popular honeymoon spots in India.
That feeling of standing amongst the tea trees on the hill station, I couldn't feel happier or more alive.
19. Malvan
If you are looking for some quality and cheap water sports and scuba diving spots in India, then this place is on my top list. Malvan is well known for the coconut trees, dense forest, beautiful waterfalls, its authentic cuisine, serene beaches and now days it is very famous for the water sports. If you are an amid beach lover then beaches in Malvan won't disappoint you at all. Some of the beaches in Malvan are very silent and crowd free, I don't want to pin point their locations as let them be silent and pollution free.
I did scuba diving and water sports at Tarkali beach which is very famous amongst the tourist these days, the experience was amazing. If you are visiting Tarkarli, don't forget to do Tsunami island tour (which is very famous for dolphins) and visit to Chiwla beach.
20. Orchha
Last but not the least, Orchha is one of the most under rated tourist places in India. Many of my fellow traveller friends may not be knowing about this place. Our India is full of history, historical places and cities, Orchha is one of the most beautiful historical city I have been visited. Orchha is a small town situated near the bank of Betwa River which is very rich in ancient architecture. I love Palaces and history and the architecture of each monument in Orchha will make you nostalgic.
The gem of Bundelkhand is rich in history and architecture but sad part is that Orchha fort is one of the least maintained fort I have ever visited. This place deserves better maintenance and tourists.