Positioned right on the Bay of Bengal, Puri, also known as Purusottam Kshetra, is one of the most popular tourist hotspots for locals and foreigners alike. The bustling city, the pristine beach, an array of local shops and restaurants and the grandiose Jagannath Temple make this Hindu sacred place a must visit destination.
From the Puri bus stand, we took a rickshaw that ran through the main market - the Bada Danda. It was not very crowded in the morning; this helped us moved faster. We reached the main gate east-facing. It is called the Lion's Gate or Singhaduara. Removing the shoes and not carrying things (except wallet) is to be strictly followed before the entrance to the temple. There were shoe-stands either side of the gate. We surrendered our belongings, washed our feet and bowed our heads in front of Aruna Stambha - a massive pillar soaring up to 10 meters high. It is positioned right in front of the Lion's Gate.
Policemen and policewomen were deployed to check the devotees before entering into the temple. We got checked by them and moved ahead to find ourselves on a flight of steps - 'Baisi Pahacha' or twenty two steps. Devotees were sitting around; some were even making their kids roll over the steps from top to bottom seeking spiritual bliss of Lord Jagannath. I wish I had a camera to capture such unique sights.
We were immediately dragged by a Panda who was very determined to do a 'puja' and forced us to buy a "puja thali". I was quite acquainted with the activities of Puri Pandas. So, I told Sunita not to pay any attention to him. But, she was a staunch believer in this stuff. This made me buy a puja thali cost Rs 110/-. We along with the Panda entered into the main temple. It is the abode of three deities - Lord Jagannath, Lord Balabhadra and Goddess Subhadra.
Oh My God!!! What a rush! The small premise was incredibly overcrowded that even an ant could not find space to settle down. I was little worried about Sunita whether she would make it not. Because she had met with an accident in December. However, we managed to get a close look of three deities. For that we were asked to pay Rs 100/-.
By this time I had become dry fish due to the extreme heat of sun. But, Sunita was enjoying and completely involved. She gestured me the Laxmi Temple. I immediately nodded. And we made our way to the entrance. Again, the same problem! I had to pay another Rs 100/- to the Panda. Observing us very polite and quiet, the Panda tried to deceive us through a fake image of Maa Lakshmi (at Rs 1,000/-) saying it would bring wealth and property. I was keeping an eye on Sunita and became happy to see her denying paying anything.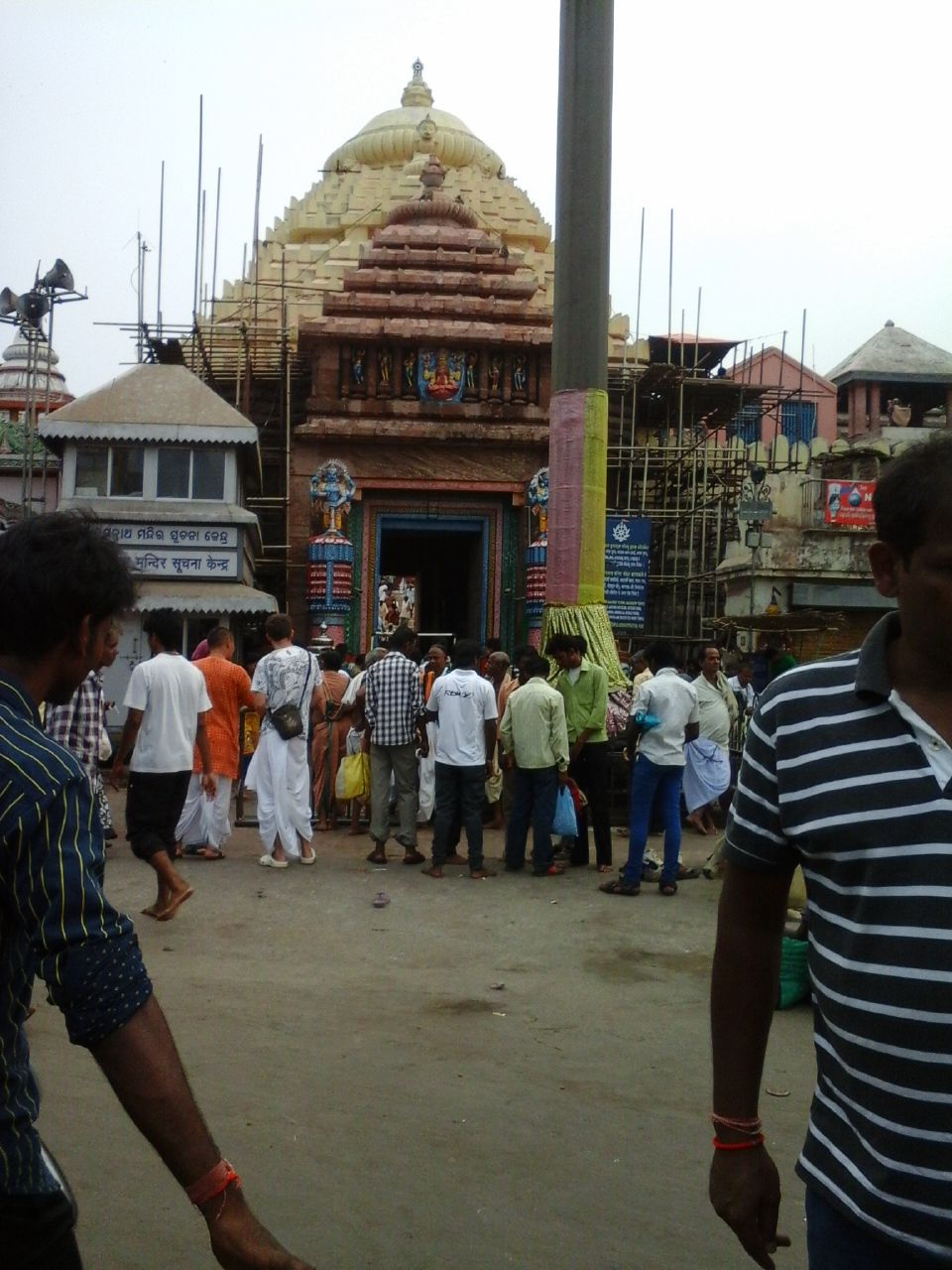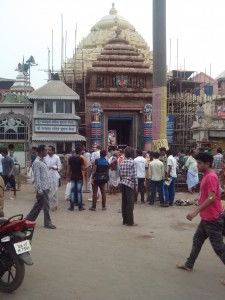 Before we made an exit, Sunita rushed to Anand Bazaar to buy 'bhog and prasad'. She also had a glass of 'tanka torani', the tastiest drink ever. As soon as we came out of the temple, I insisted to be at the beach. This was what I wanted.
If you have to see Odisha's most crowded and spoilt beach, it should definitely be Puri Beach. The main beach was pretty crowded. People in large number were splashing water and soaking in the sun. The thunder sound of roaring waves makes the atmosphere electrifying. It won't be wrong to say that Puri Beach is the only party destination in Odisha. Along the beach promenade there are a wide range of hotels and resorts, shops, stores and outside dining spots. The scrumptious 'dahibara', 'aloo-dum', 'aloo-chaat', 'bara-maja' and 'pudi-sabji' were enough for our lunch. We then visited the sand art by the award winning sand artist, Sudarshan Pattnaik.
To avoid the scorching heat, we grabbed a safe place right on the beach, under a beach umbrella. This reminded me of my old days. We caught hold of our old memories - just 2/3 years ago we used to come here to spend quality time.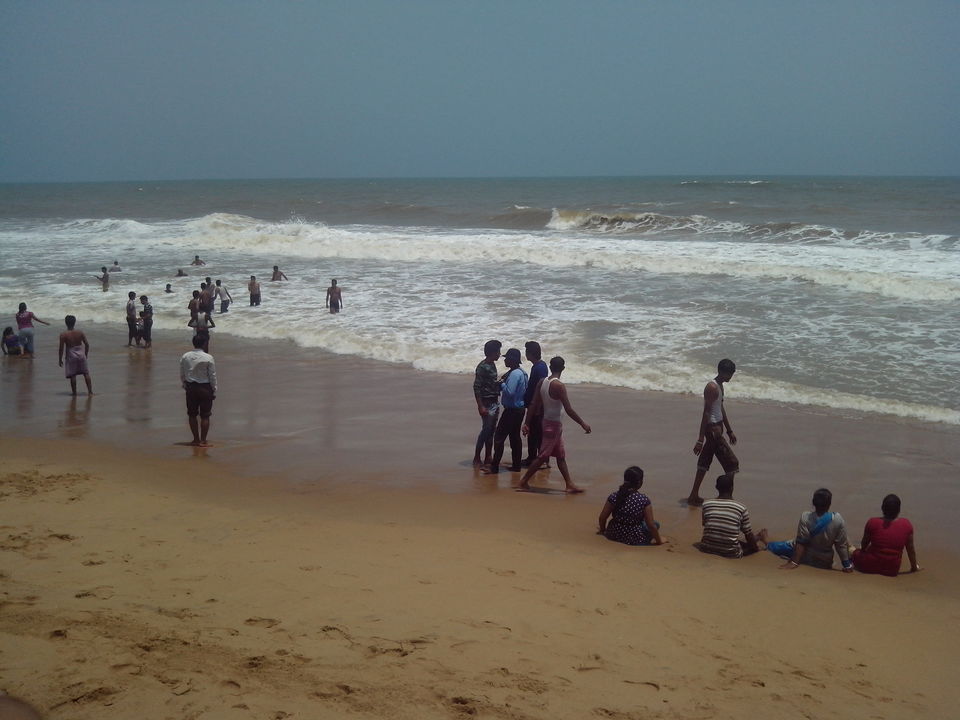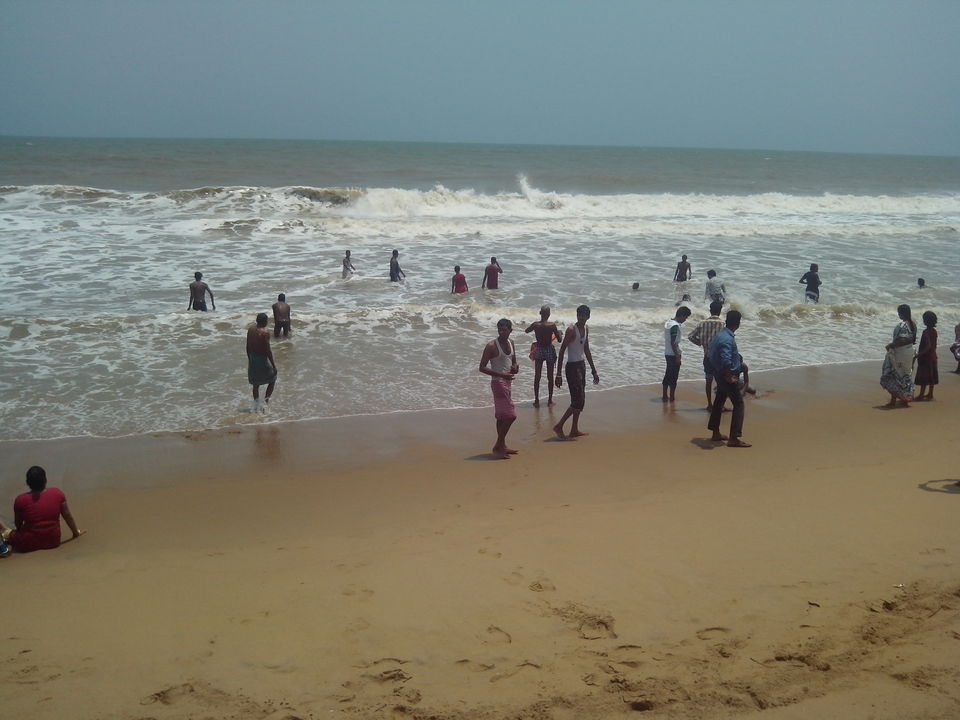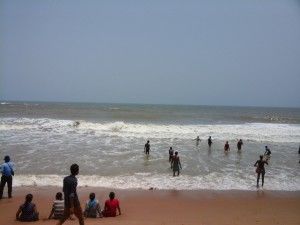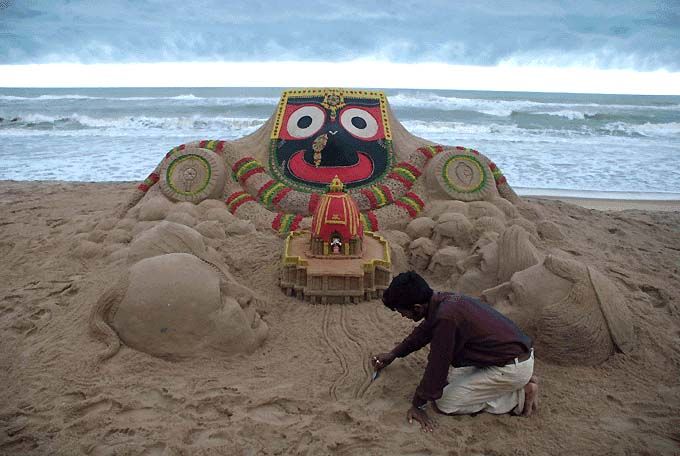 It was then 2 p.m. - time to come back and meet friends at Bhubaneswar. The short trip was very interesting, but I wished to spend more time exploring the architectural grandeur, moderate climate, historic antiquities and many more. Well, I was bit disappointed for not taking a bath in the sea. I must tell you that the water here remains calm and is considered as the best for swimming.
Frequent Searches Leading To This Page:-
4 Nights/5 Days Odisha Package, 5 days Itinerary to Odisha, 4 Nights 5 Days Odisha Tour Packages, Orissa Heritage Tour Package, Orissa Special Packages 4 Nights 5 Days