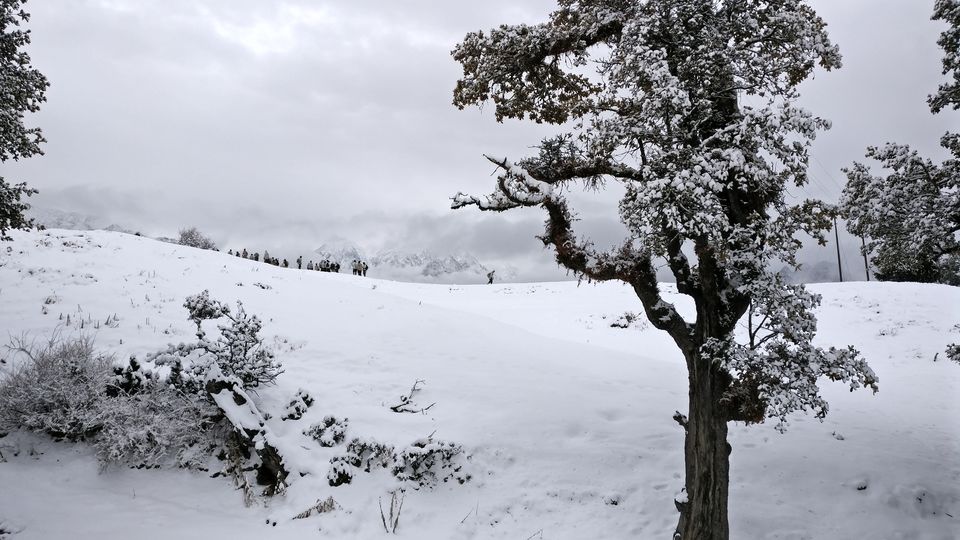 Every band of boys has at least one joker, one lynchpin, one sulker, one happy go lucky and one who is none. Our band of 5 had one who was all of these. The rest of us were happy being brought together, wide eyed boys again, reminiscing days of yore like dreams of the night gone by. So when Pinchu suggested we should go for a trip to see Snow at Auli in Uttarakhand, we said yes in unison.
It would have been tiring to do the road trip right from Delhi, so we took the late afternoon train to Haridwar and anchored ourselves at the little but charming Zostel at Rishikesh.
Rishikesh- the compound name, is a combination of Hrishika (senses)+Ish (Lord/God). So the Lord of Senses it is, first mentioned in the Puranic story wherein Lord Vishnu appeared upon Raibhya Rishi's penance. Today Rishikesh dons multiple hats as the Yoga capital of the world, River Rafting capital of India as well as one of the most sacred places in India. It's sacredness emanates from Ramayana where Rama and Lakhshmana performed penance to rid themselves of the sin of killing the half Brahmin (half Rakshasa) king Ravana. Present day Ram Jhula and Lakshman Jhula bridges supposedly stand where the brothers crossed Ganga respectively.
We had a field day exploring the streets on either side of the Ganga at night, searching for a place to eat. We kept ignoring the open restaurants in search of the elusive Chotiwala, only to find it had closed down by the time we reached there just past 10 pm. Winters are lean season. We did find a place about to close down and had freshly made rotis and regular paneer dishes, before dishing out to the pretty banks of the Ganga right beneath Ram Jhula.
Day 1: We begin
Our cab arrived early in the morning and the main leg of the journey had begun, up the winding roads precariously skirting deodar laden hills and deep gorges. To our delight the Ganga would make an appearance every now and then, waters gleaming like a beautifully pieced necklace of emerald pearls. When deep below in the gorge, it would be like an elusive Apsara you wish to embrace, and when at road level the ethereal goddess you are in awe of and stand transfixed.
Soon we were at Devaprayag, first of the four Prayags (confluences) in the upper reaches of Ganga's long journey; the others as we move further north being Rudraprayag, Nandprayag and Karnaprayag in that order. Devaprayag is where the two largest streams- Bhagirathi and Alaknanda come together to be known as the mighty Ganga further downstream. Ganga is the compund of Gam+Ga, the one which goes on forever. It's the building block of much of Indian civilization, in persona and in psyche. But more on the Ganga in a separate post.
It was 26th January- the mighty river on the one side and cute little children celebrating the Republic Day on the other. It was the perfect concoction to take us the through the long but beautiful journey up the hills.
We were getting late, so we carried on without stopping much, but we did manage to catch a glimpse of the Alaknanda on our way and stopped by for quick tours by the banks and some camera happiness. Snow at Auli was waiting..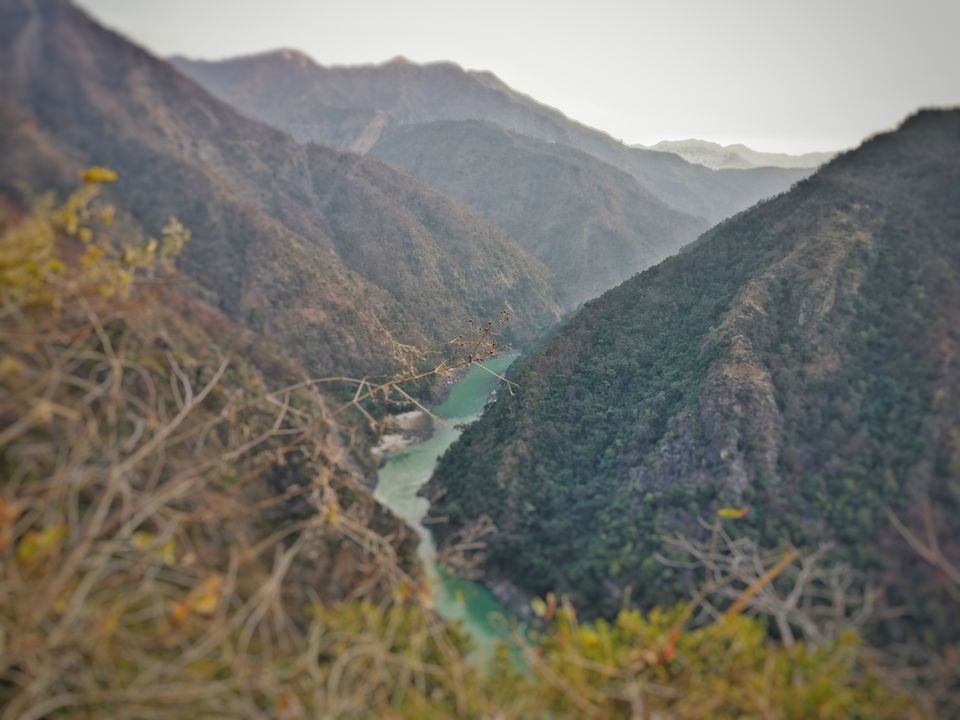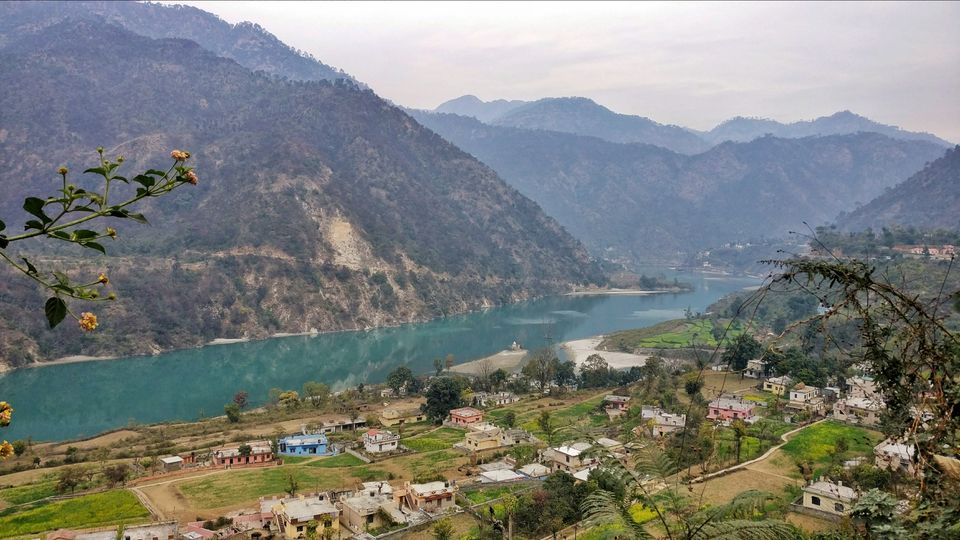 Auli via Joshimath- yes, we saw snow!
We reached Joshimath- the town vertically below Auli at a height of around 2000 m, and the starting point for the Ropeway journey to Auli which sits pretty at 300 m. There is a road from Joshimath to Auli which is open if it hasn't snowed in the upper reaches. However the fun lies in taking the ropeway. As the trolley, which accommodates 25, ascends, the greens turn to barren browns and finally to pristine whites- all within a 25 minute sojourn. You do stand like in a crowded bus, but with eyes fixated outside at the changing kaleidoscope. As we alighted from the tower station, the nip in the air was palpable, -2 degrees vs the 11 at Joshimath. It was gorgeous however. White was the dominant colour punctuated by the red of the cable car, and colourful attires of the tourists.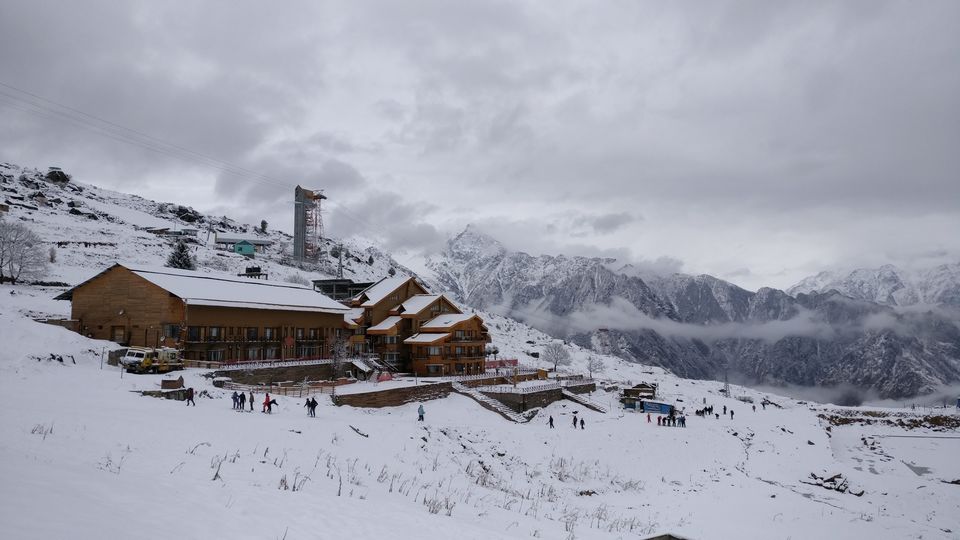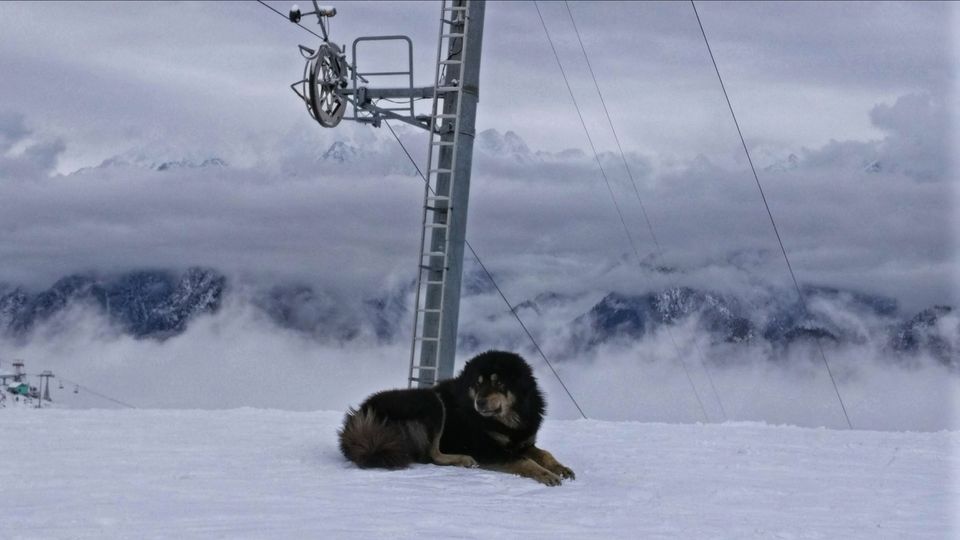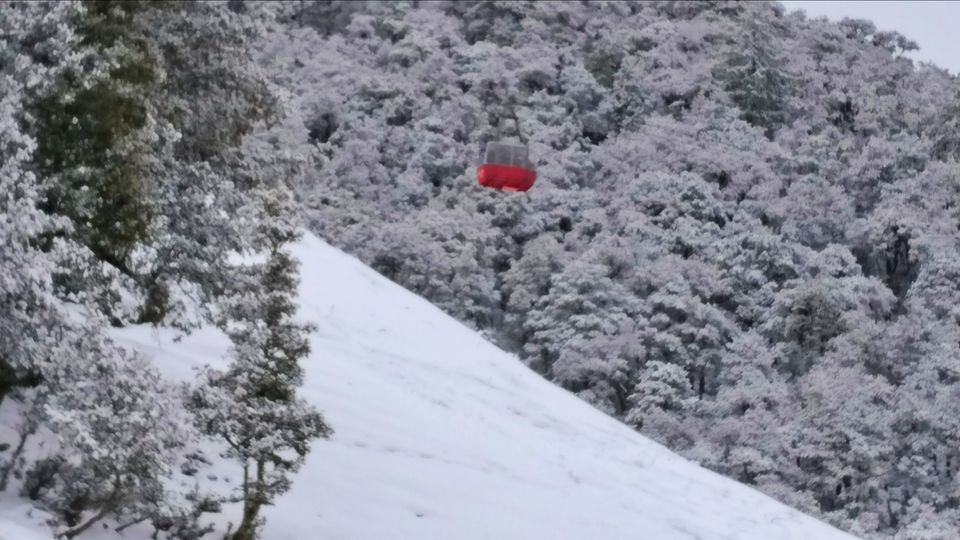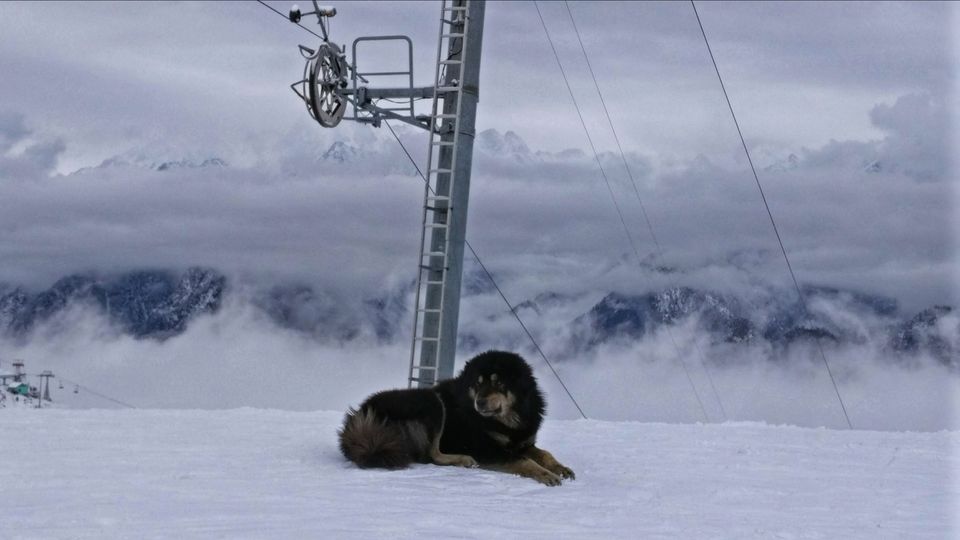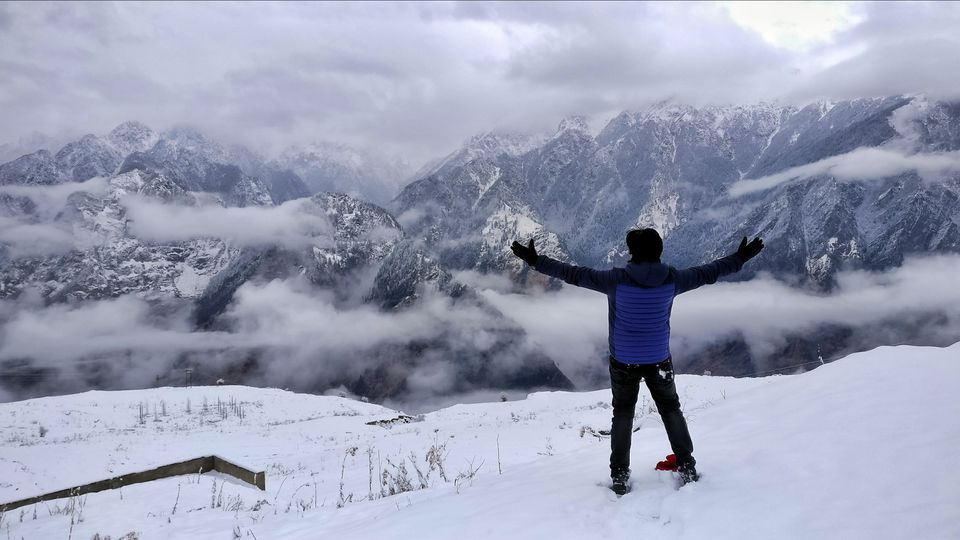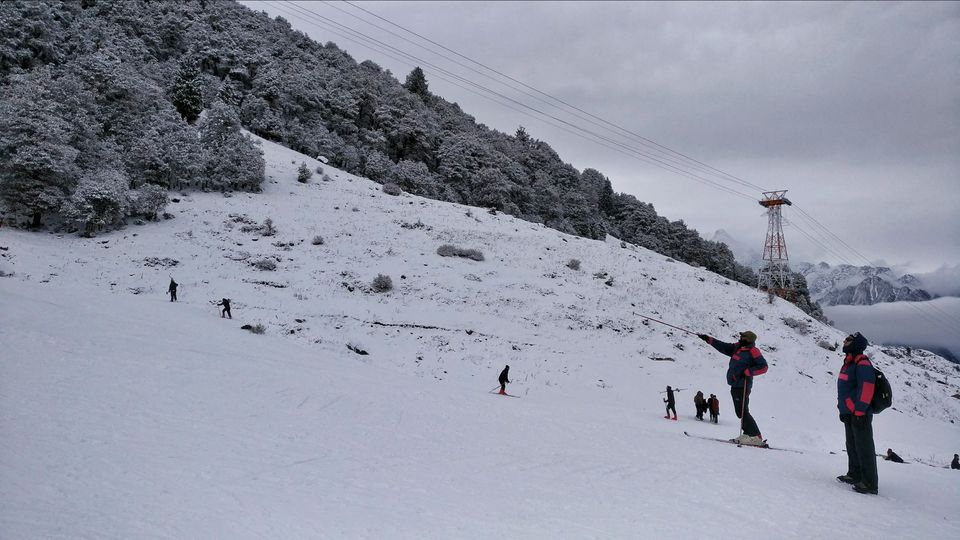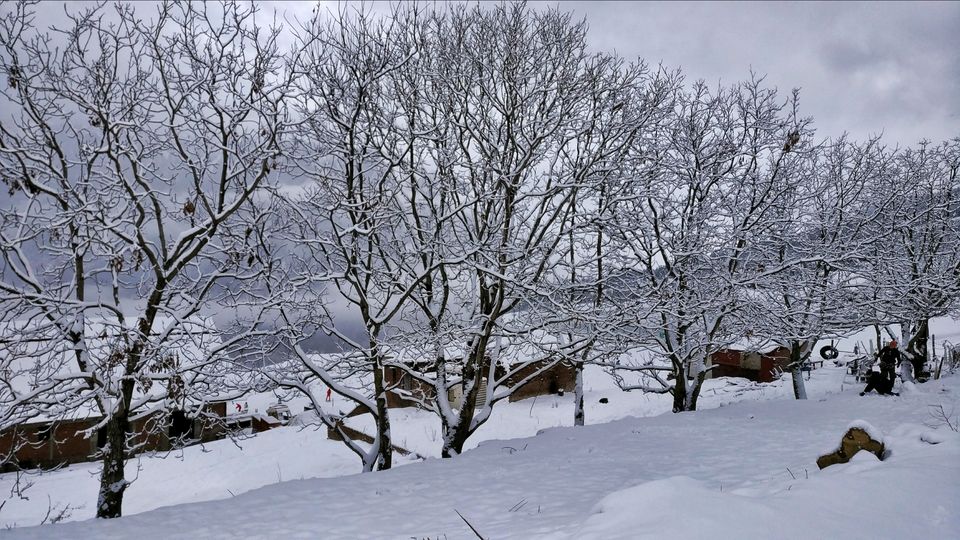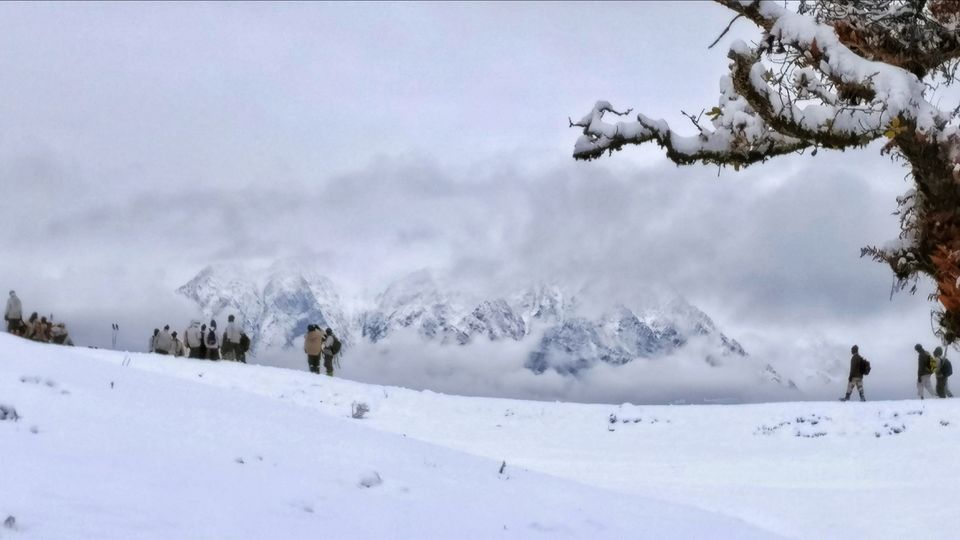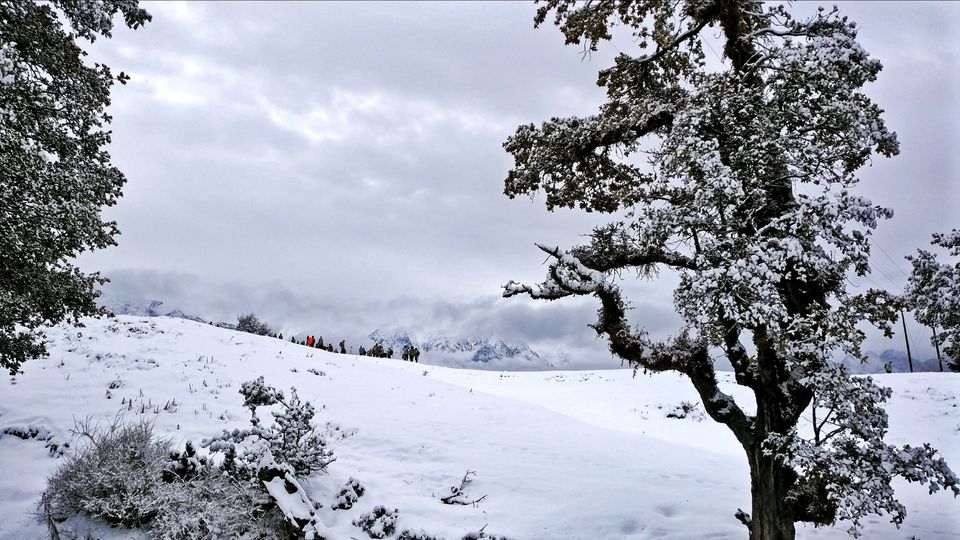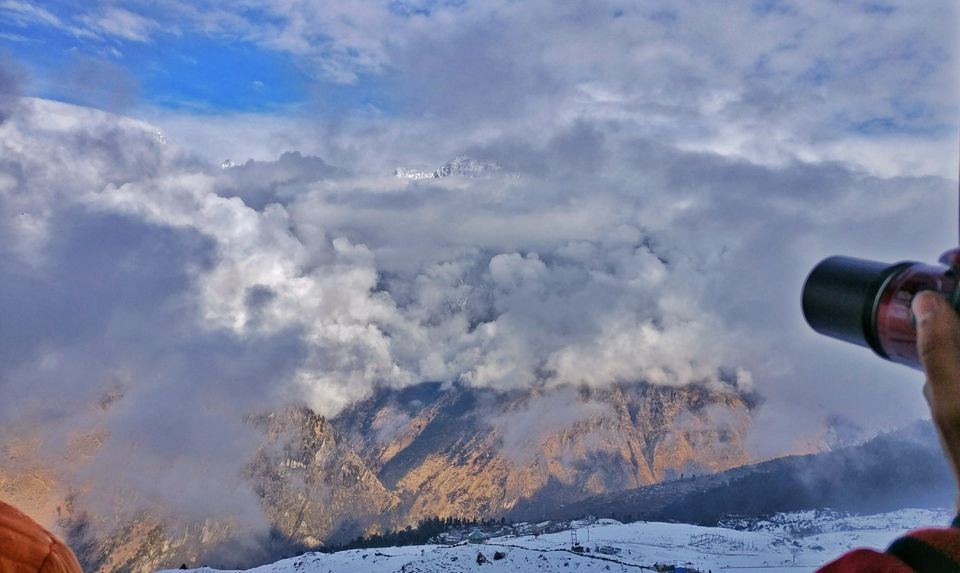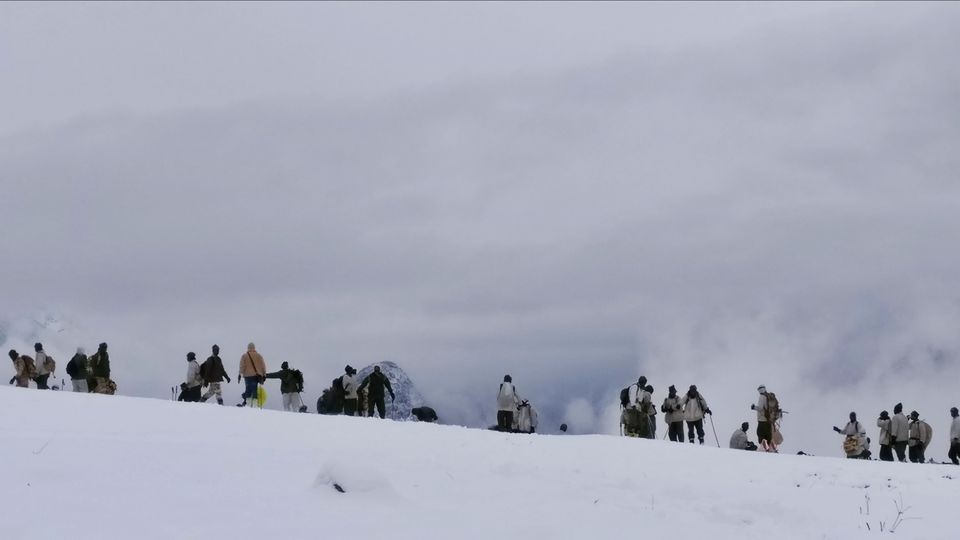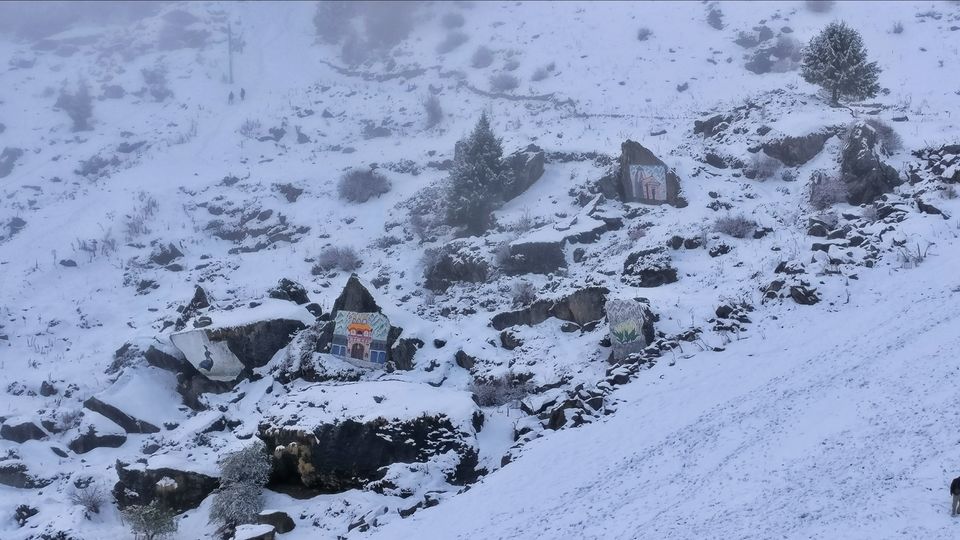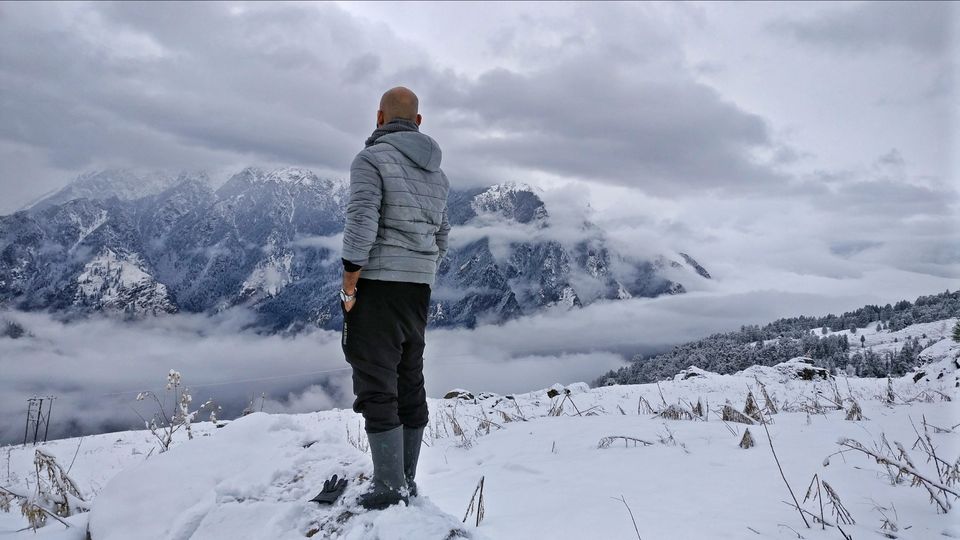 We had booked the GMVN resort, a couple kms below the hilly terrain from tower 8. There's a dedicated open chairlift. It was tempting, but a majority of us decided to enjoy the trek downwards, on snow. The obvious one chickened out, but yeah we needed someone to look after the luggage.
Changing into rented snowboots, we started the descent- swag in our steps, and twinkle in our eyes; every bit looking no lesser than Norgay & Hillary. Half an hour of measured steps, a slip or two, and a few moments of snowball battles later, we were at our hotel. It was getting dark. We settled for the night, but not before a few hours of banter, wherein were unfurled old college memories, and unwrapped were juicy details. The trip had truly begun. But the prime was yet to be scaled.
It Snowed..
We woke up the next morning, to chirps of excited tourists. White little flakes were descending from heaven to meet their brethren who had arrived earlier. A few glided to meet expectant hands, woolen caps and misty eyes. Many of them had lavishly throned themselves atop cars, canopies and trees. The less fortunate ones camped on roads and pathways. With the temperature hovering around -3 degrees Celsius, we went berserk, snapping, snow-bombing each other, and getting ridiculous slo-mo videos shot.
The plan was now to go up into thick snow to trek, ski and make merry. We had been able to secure only one night at the GMVN due to high demand. So we checked-out post breakfast, and made our way up, this time on the chairlift. It was truly exhilarating, more so with chilling winds accompanied by little flakes kissing your face, and a carpet of white everywhere beneath.
As we got off the chairlift, we animatedly rushed to kiss the think carpet beneath our expectant feet. Fresh snow feels like bubble bath, only colder. It's equally calming though, if not more. There's a little circular artificial lake. We got to know that it's used to make snow for skiing in case the heavens decide to withhold some. Freshly made snow is pumped out via well positioned shower heads (which look like streetlights from a distance) by the sides of the designated skiing track which is used during the skiing games and competitions.
There are green street furniture placed around the lake, and no prizes for guessing who chose to rest on these.
The view of the mountains beyond the gorge and far from the clouds- it's ethereal to say the least. You can only experience two extremes of emotions here- ecstasy or a monk-like calm. Shades of while punctuated with stripes of black give the distant mountains a mysterious yet spiritual feel. They stand tall watching over you, and constantly humbling you with their might, and your apparent lack of it.
We marched on, watching out for each other, giving a hand or two to each other where required, and catching our breaths every now and then, only to quickly replace the same with excited bouts of camera work. Those click sounds would just not stop.
There are a couple of cute little glasshouses built for resting midway through your treks, offering a welcome respite from the chill and hurried heartbeats.
As you move up the trek, there are three clearly separated layers of revellers, learners and professionals in that order. At the lowest tier, you have an excited crowd walking, gorging on maggie and piping hot tea at the little joints, trying their hands at skiing and the like. Further up, we see amateurs trying to learn the nuances of skiing by enrolling for weekly courses. Still further up are groups of Jawans of the ITBP practicing their trade and acclimatizing for tougher terrains. As you go uphill, environs rise up in the beauty quotient, and temperaments go down in the ego quotient. You feel the zeal.
Back to Joshimath- struggle for the elusive room, and the sojourn to Gobindghat
We were brought crashing down the real world from the heavens as the cable car came to a halt at Joshimath. A little sad, but contented, we made our way to the Auli-D hotel we had booked on GoIbibo a month in advance. A little hungry and making plans for the evening, our merry-go-round came to a grinding halt when we learned that either of GoIbibo or the hotel's agent dealing with it, had messed up and given our rooms to someone else- the room we had paid for one month in advance. The hotel didn't have another room available. Plates-full of food brought some conciousness and what followed were some angry phone-calls and arguments. However, we soon realized it was futile, and decided not to spoil our holiday. Luckily for himself and for us, the hotel owner decided to take us around town searching for acceptable hotel rooms. Rooms there were a few, but far from acceptable. That's when he popped if we would mind going to Gobindghat, a further 30 kms to the north enroute Badrinath and Valley of Flowers. We were wandering souls who got excited at the very idea of exploring a new place. So we set off after another bout of persuasion and arguments with our driver.
It was dark by now, and we encountered the most pulse-racing moment just a few kms before our destination. It was a glorious mountain tiger with glistening stripes, sitting bang in the middle of the road, unperturbed, basking in gentle moonlight, aware of its majesty and oblivious to the idiots sitting in the car which had come to a screeching halt. Moments of excited madness passed, and a couple of fumbling hands brought out a camera. By this time, the knucklehead of our driver had operated his upper and dipper headlamp a few times, and the beast had got up swiftly yet reluctantly from its resting spot. It gave a bewildered glance and in one ballet-like move disappeared in the jungles below. The moment had passed.
Hotel Bhagat was small and quaint, with us being the only guests. We settled into two largish rooms, and excitable as we are, jumped with joy hearing the music of the stream behind. It had to be a trek in the morning by the stream.
The racing pulse from the night gone by ebbed a little at seeing the rocky river bed with a narrow stream somewhere. But all wasn't lost. It still was pretty and the heart was still romantic. We decided to go for a morning run. A couple of kms and we were staring at old twin-temples standing peacefully with the quaint village of Pandukeshwar on the one side and steep mountains everywhere eyes could see.
The temples are circa 9th century AD and attributed to the Katyuri dynasty. Older of the two is dedicated to Yogabadri, and the other to Vaasudeva. During winters when the Badrinath dham is closed, many statues and other accompaniments from there are brought to smaller temples in the lower reaches for worshiping, primarily in the Chamoli district of Uttarakhand. Yogabadri temple sees a small silver statue brought from Badrinath. I witnessed the elaborate cleaning, Shringaar (making ready, adornment) and setting up of the gods prior to worshiping. The main Yogabadri statue was first wiped with cloth and then adorned with fine garments, jewelry and garlands. The small statue mentioned above was then carefully cleaned and adorned. Next were a pair of cute little kharaons (traditional footwear) of Uddhavji (Lord Krishna's friend and mentor). Thereafter followed the most interesting part. Eight different back stones (shaligrams) of varying sizes were cleaned with wet cloth, and then wiped with ghee. Fragrant Chandan (Sandalwood paste) was thereafter applied on each as a tilak (forehead mark), and then they were carefully placed around the little statue from badrinath. Upon enquiring with the priest, I got to know that these are considered as what Lord Vishnu aka Badrinath holds in each of his eight hands- the Gada (Mace), Padma (Lotus), Panchajanya Shankha (Conch Shell), Sudarshana Chakra (Discus), Dhanush (Bow), Danda (Club), Vaana (Arrow) and Dhaala (Sheild).
Having opened the spiritual portal at Pandukeshwar, it was time to gorge some more. While on our way back, we stopped over at Joshimath and had quick tours, first at the Narsingh temple, where Prahlad is said to have calmed the furious god who had been wandering post assasinating the demon king Hiranyakashayapa. A black stone idol represents Narsingh, and is intricately adorned with fine cloth and jewelry.
Jyotirmath situated in the middle of the eponymous (but apabharansha/changed to a colloquial pronunciation) Joshimath, brings a calming influence to the chaos of the little town outside. Founded by Adi Shankaracharya sometime between 5th and 8th Centruties (as per the dating of his brief 32 year life by various scholars), Jyotirmath is the northern and one of the four principal maths established by him, the others being Dwarika in the west (Gujarat), Jagannatha Puri in the east (Odisha) and Rameshwaram in the south (Tamil Nadu). These maths form an important part of his Advaita Vendanta school of Hinduism and represent his efforts at giving structure to the free-flowing diverse streams of the ancient religion (Sanatana Dharma), in response to the well-oiled system seen in the then strong Buddhist school. I'll probably write more on this in a separate post.
We were happy, we were satisfied- physically, mentally and spiritually. It was time to get back. A seven hour drive brought us back to Haridwar, where we closed the sojourn sitting by the calming waters of the Ganga at Har-ki-Pauri before boarding the train to Delhi. Till next time..
A few quick facts:
How to reach Auli:
Drive down from Delhi or take a Train to Haridwar before starting the drive further upFrom Haridwar, Joshimath is a 7-8 hours drive. Gobindghat is a further 45 minutes drive from Joshimath. Auli is 25 minutes by ropeway from joshimath, excluding waiting timeRopeway costs Rs 750 return from Joshimath to Auli. The chairlift from Auli to GMVN costs another Rs 300 returnWhere to Stay:
Auli proper has just three hotels, so book well in advance. It's worth staying there. GMVN is a good property considering it's govt owned. Cliff Top is another good option, though slightly on the dearer sideIf unable to find accommodation at Auli, take up a decent place at Joshimath. If interested, the accommodation at Jyotirmath can be a rewarding experience though bare naked and with no frills.