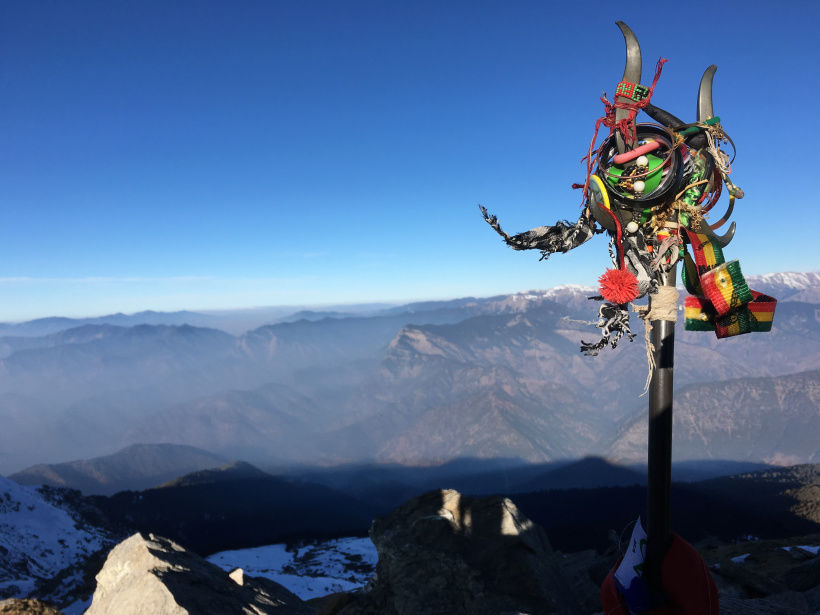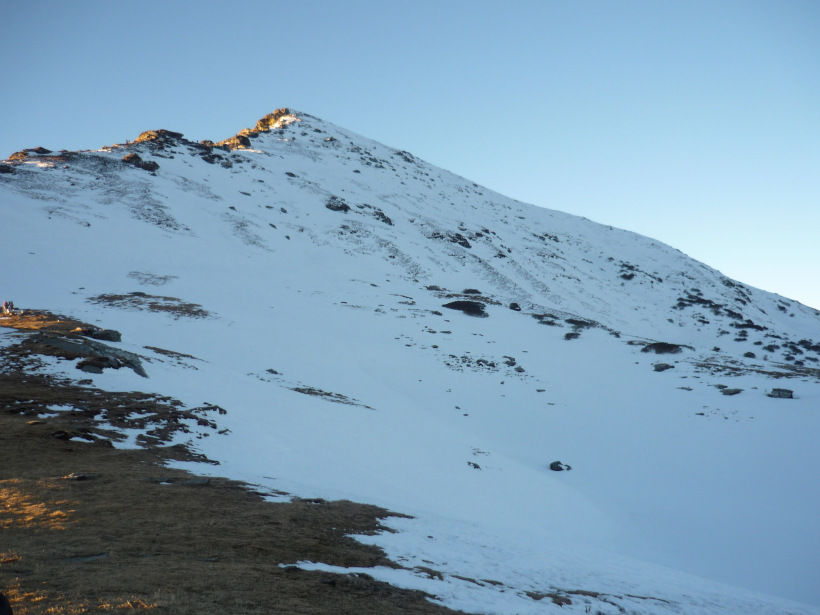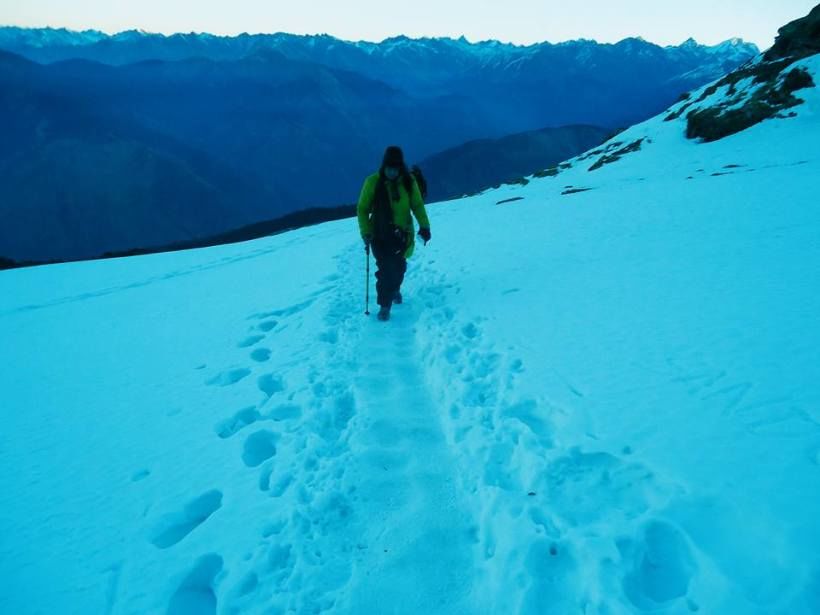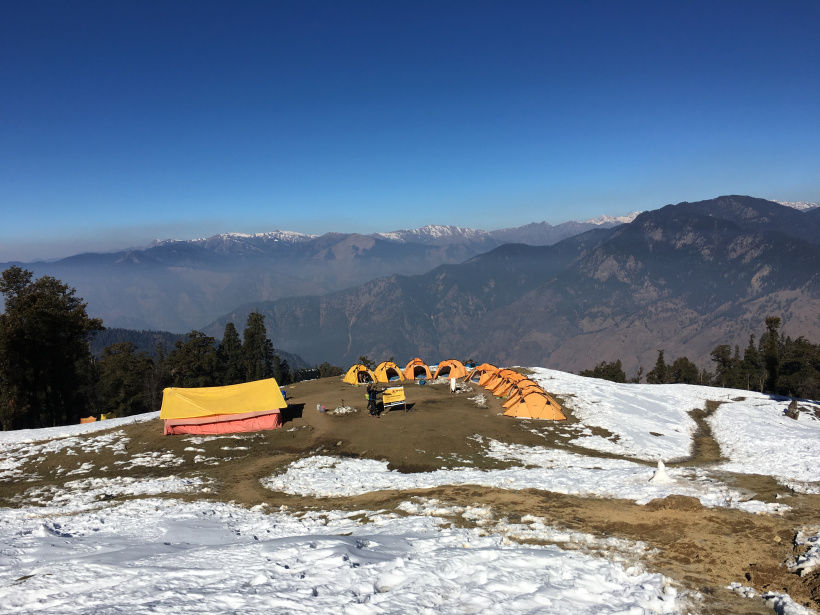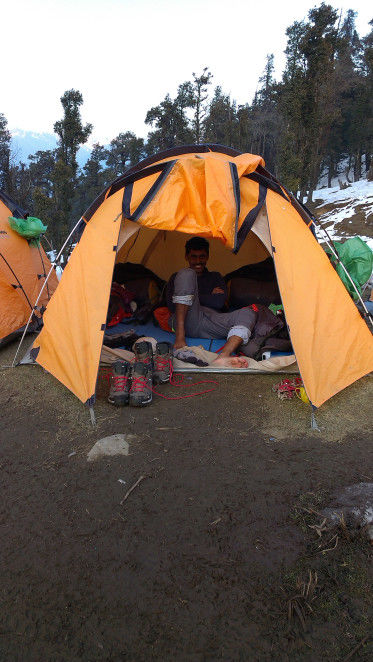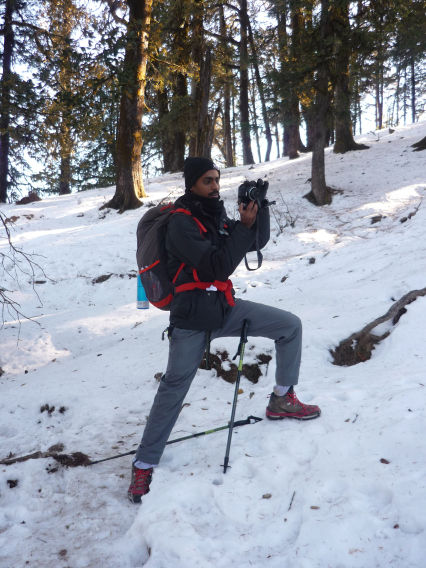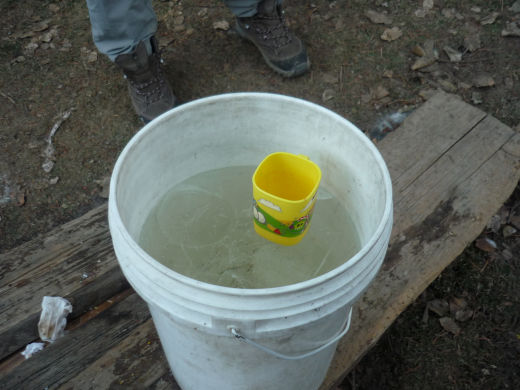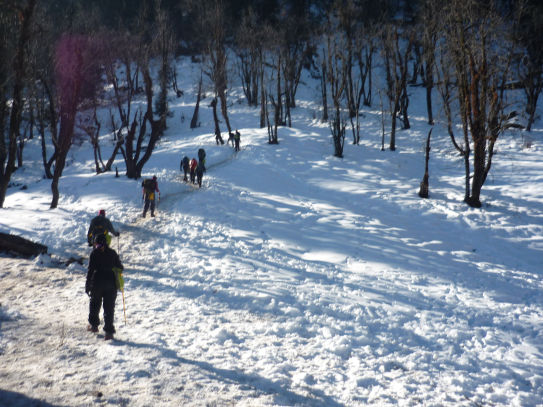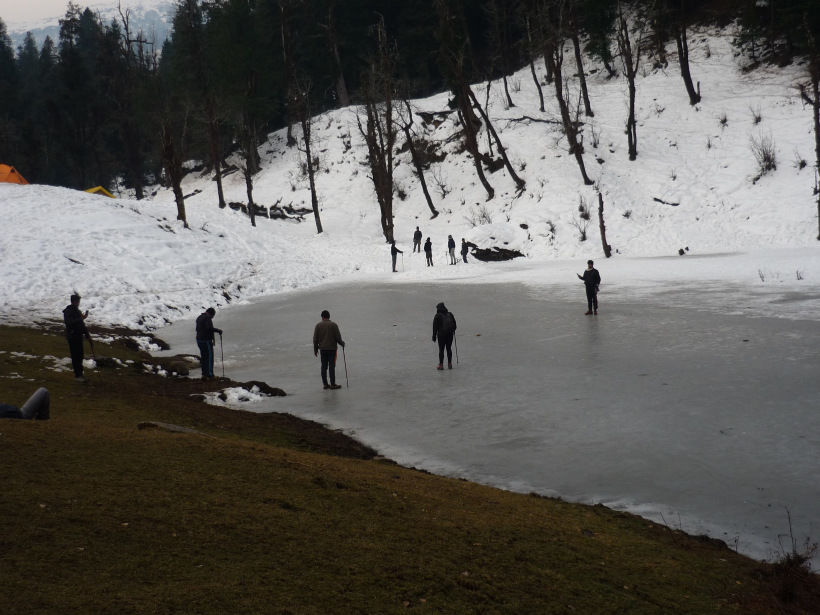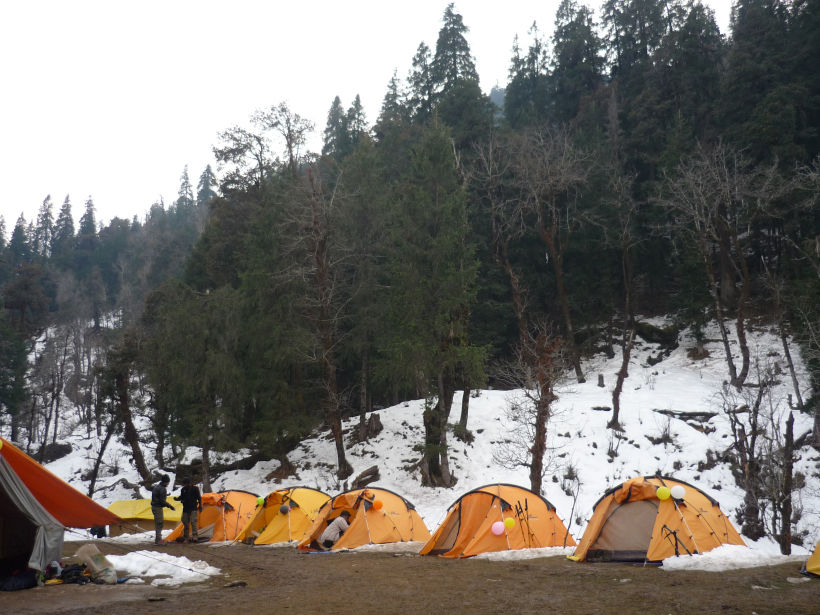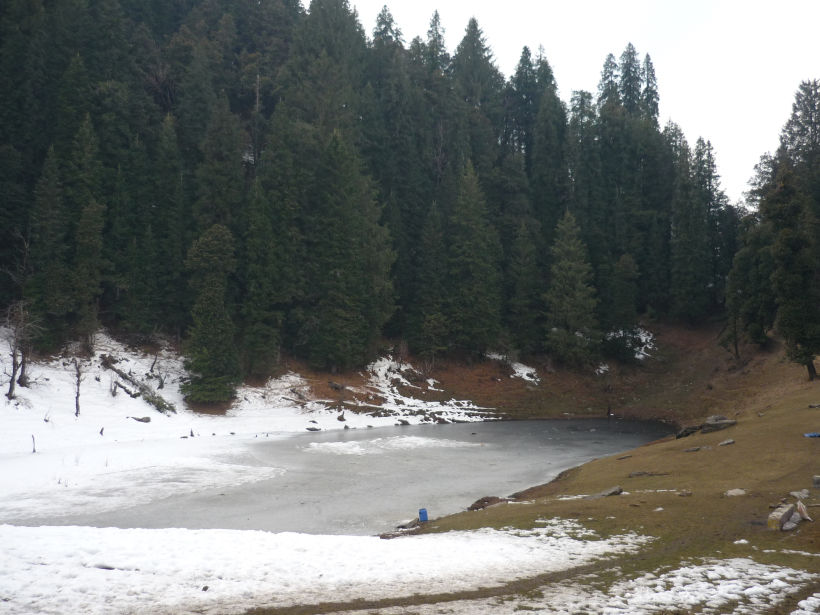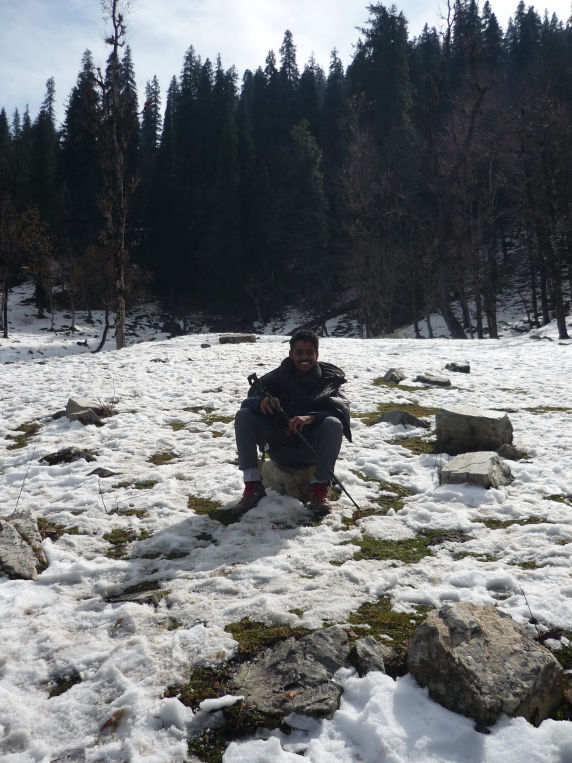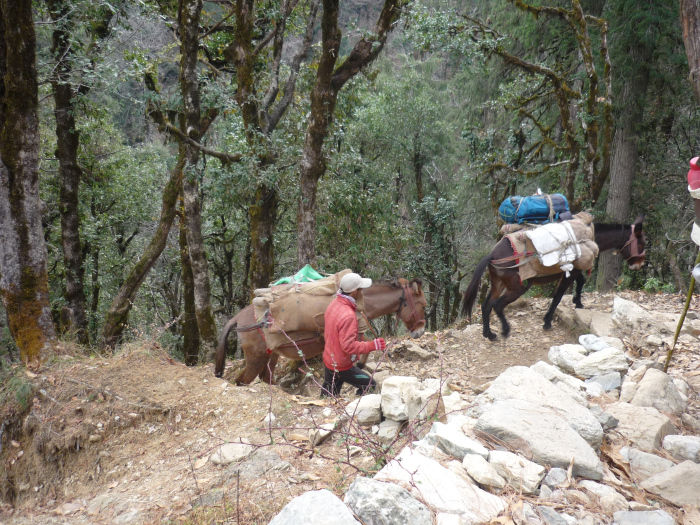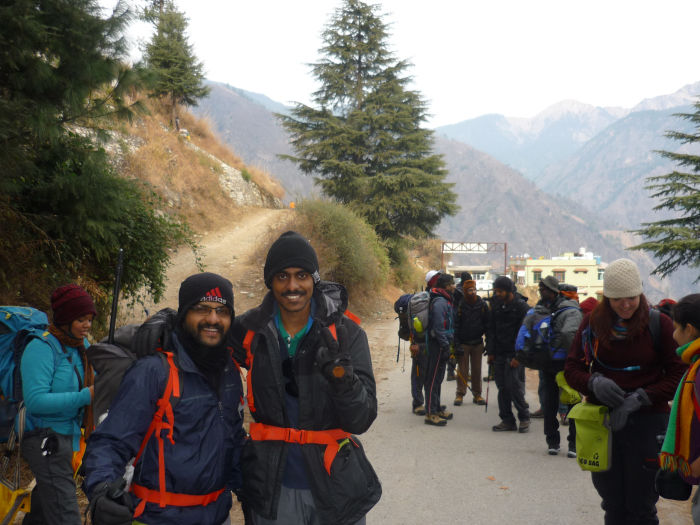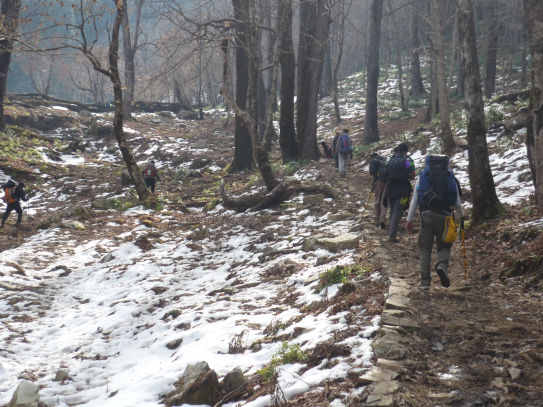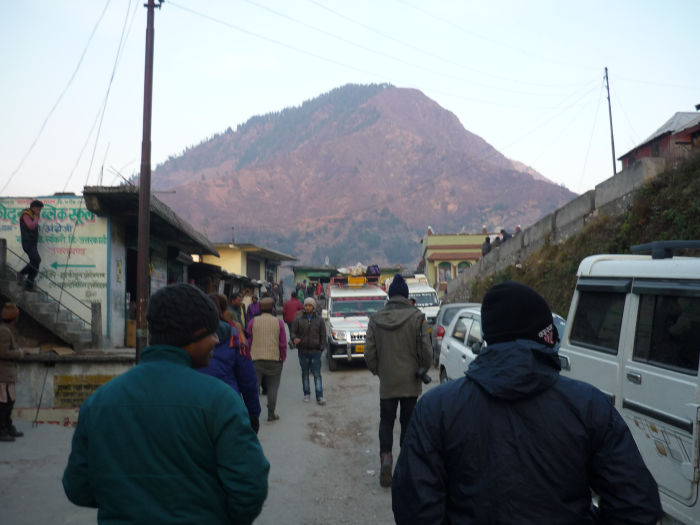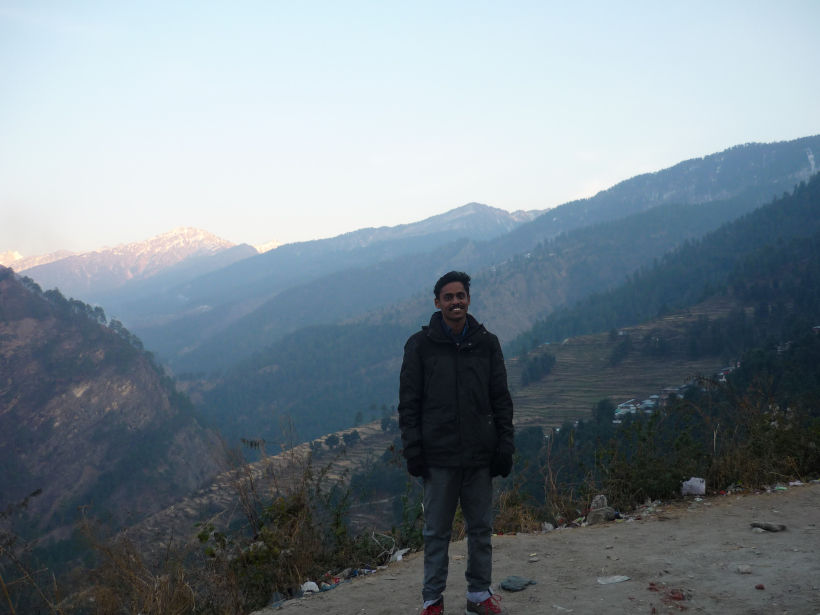 When a person from Madurai/Chennai (one of the hottest places in India) whose coldest endeavor was visiting the Kodaikanal in the summers decides to do a winter trek in the Himalayas, you tend question his sanity. What's life without a bit of crazyness :D
The Himalayas bug bit me right after my first trek in Coorg about 6 months ago. The 'tight' MBA schedule meant that I could do it in December holidays or wait for the next summer. Have you ever wanted to do something very badly that you dreamed about it every other day? I was in such a state. I couldn't wait to be among those peaceful snow-capped mountains and secretly hoped I would attain Nirvana :P
So, it was more of an impulsive decision rather than a carefully thought one. I was prepared to go alone, but luckily my ex-roommate who was equally excited about snow and the mountains agreed to join me. We chose Kedarkantha (not to be confused with Kedarnath) since it was one of the 'easier' treks and was claimed to be the introductory Himalayan trek. We booked our trek with IndiaHikes
We were informed that the temperature at Kedarkantha would be sub-zero (upto -15c). After watching the movie 'Everest' (which shows trekkers dying in the cold), I was petrified. I bought all kinds of sweaters, Jackets and Gloves (I'll spare you the details.. but I made sure that I would not freeze to death :P ). IndiaHikes had suggested a 40 day fitness training schedule- which I compressed into an 4 hour fast track training :D
Day 1 – Sankri base camp (6,455 ft)
We were asked to assemble at the Dehradun Railway station. Vehicles were arranged to transport us to Sankri – A small village in the mountains from where we would begin our trek. The journey with full of winding roads lasted for almost 8 hours. We passed through Mussorie (where Ruskin Bond wrote his books) and several other small villages in the mountains with river Yamuna flowing beside us. BTW, did you know the mythological reason behind Yamuna being black?
As soon as we reached Sankri, all the tiredness was washed away by the beautiful tall mountains around us.
Our batch consisted of 27 people from all over India but skewed towards the south (which was surprising). I had a chance to meet some interesting people – an AIIMS grad who is also an Ace photographer, a Dev. Economics student who loves History, a freaky IIT B post grad, a Australian who travels with her younger brother. And all of us loved the mountains.
The temperature dropped very fast after the sunset. Around 6 pm, our trek leader announced that the temperature was 0 deg. All of us were pretty excited, especially me.. it was the first of many things to come.
Day 2 –  Juda ka talab (~9155 ft)
The trek started the next day morning with a few trekkers choosing to offload their backpacks (to be carried by the mules to the campsite) but I did carry mine. 'What's in a trek without a backpack' – exclaimed one of the trek guides :
After 10 to 15 minutes of climbing, most of us were panting. It was apparent that we hadn't done our training. The lack of oxygen at higher altitudes was very evident as all of us were gasping for breath as we climbed on. We were overdressed too, walking generates heat in the body and makes us warm. I had to get rid of the gloves and the jacket. – A lesson learnt. I was surprised at the agility of the mules, they climbed so easily. I wished I had 4 legs too :P
After about 30 minutes, things became easier. We don't realize how awesome our body is. It just adapts with nature – technically called Acclimatization. If you have never touched snow before, have you ever tried guessing how it must feel like? Well, I'm not going to spoil it, it's an experience to be tried first hand.
The trail was fairly comfortable with occasional difficulties. We had to trek for 4 kms and an ascend of ~2700 ft.
The trees were mostly pine and oak trees, some of them with no leaves as is common in colder places..The mountains were less 'greener' than the South Indian hills. It took us about 4 hours to reach the next campsite – Juda ka talab and we were in for a treat
After a sumptuous meal of dhal and rice, it was time for some snow fighting :P only to stop when our palms turned pink.
we were ready to face the next test – Facing the cold weather without the brick walls to hide. Have you heard of the term 'biting cold' – well, I know why they call it 'biting' now. It bit all over me :(
The night sky was beautiful with full of stars.. I wish I had a better camera to capture it. One of my fellow trekkers explained to us the different constellations in the sky. Imagine looking at the stars while shivering at sub-zero temperature. It was very interesting to say the least. I was actually ashamed that I knew nothing about them. There are so many things around us that we don't pay attention to- we tend to lead a very narrow-short sighted life.
Day 3 – Kedarkantha base camp (~11,300 ft)
The next day's trek was to cover around 4kms again and an ascend of 2100 ft. The trail now had a lot of snow and ice. Hence we were given special micro-spikes which could be worn on top of our shoes. (My shoes were snow-resistant too). The trail was surrounded by other mountains like the Bandarpoonch, Swargarohini, Kala Nag and Ranglana. The trail being not so inclined made it easier for us to trek and was more enjoyable.
Day 4 – The Summit (~12,500 ft)
Just to give a perspective, Ooty is ~7,350 ft from sea level
Claimed to be the toughest and also the best day of the trek. I was all geared up to make it to the summit. We started at 5am after a quick breakfast. It was quite dark, so we lit up our torchlights and with the moon to guide us, we set out for the summit. Climbing the snow capped mountains under the moonlit sky is a beauty that you must experience.
As we climbed, we could see sun rising to our left. The colors changed from violet-blue-light blue-orange-yellow. To our right, we could see the reflection of the sun which looked like a rainbow on the peaks.
The cold winds of the Himalayas brushed against our cheeks, sending shivers down the spine. Steep slope, cold winds, tired legs – all of them made the trek tougher closer to the summit. Sometimes the incline was more than 60 deg which made the climbing slower. The ridges were also quite narrow at some places that you would topple 100s of feet in the snow if you missed your grip.. but thankfully none of us did. We stopped every 100 m or so to catch our breath, only to resume climbing again drawing inspiration from the tall mountains. Our trek guide used to shout 'Chalte raho chalte raho' and 'Dar ki agey jeeth haaaai' to keep us moving :P
The kedarkantha seemed to call me. I would take a few steps.. look up at the peak and then take few more steps. I drew energy from the mountains and kept going.
Around 10 am, we summitted the Kedarkantha peak. With beautiful snow capped mountains 360 deg around me, the reality of being in the Himalayas slowly sunk in.
We spent about 20-30 minutes in the summit, gazing at the Himalayas, taking photos, congratulating one another for making it and eating biscuits.
Trekking down the peak was all the more fun. We slid down the icy slope with snow getting inside our dresses and a few bumps along the way.
After a tiring trek of 6km (3 up + 3 down), we had our lunch at the base camp and started descending towards Hargaon camp (which was about 3-4km from the base)
Day 5 & 6 Hargaon and back to Sankri
Once the summit was conquered, everyone was into the 'back to home' mode. The conversation topics changed from Travel, Adventure, 'Oh I love the Himalayas' to my boss, work, college and Java. We played some games, took some History lessons and learnt how to make fire :)
The first person to ever climb these mountains, how would he have felt? I hope I felt atleast 10% of what he felt. You feel pure joy when closer to nature. How many things to explore in this wide world, yet we confine ourselves.
Miles to go before I sleep!
This trip was originally published on Get Lost To Find You.