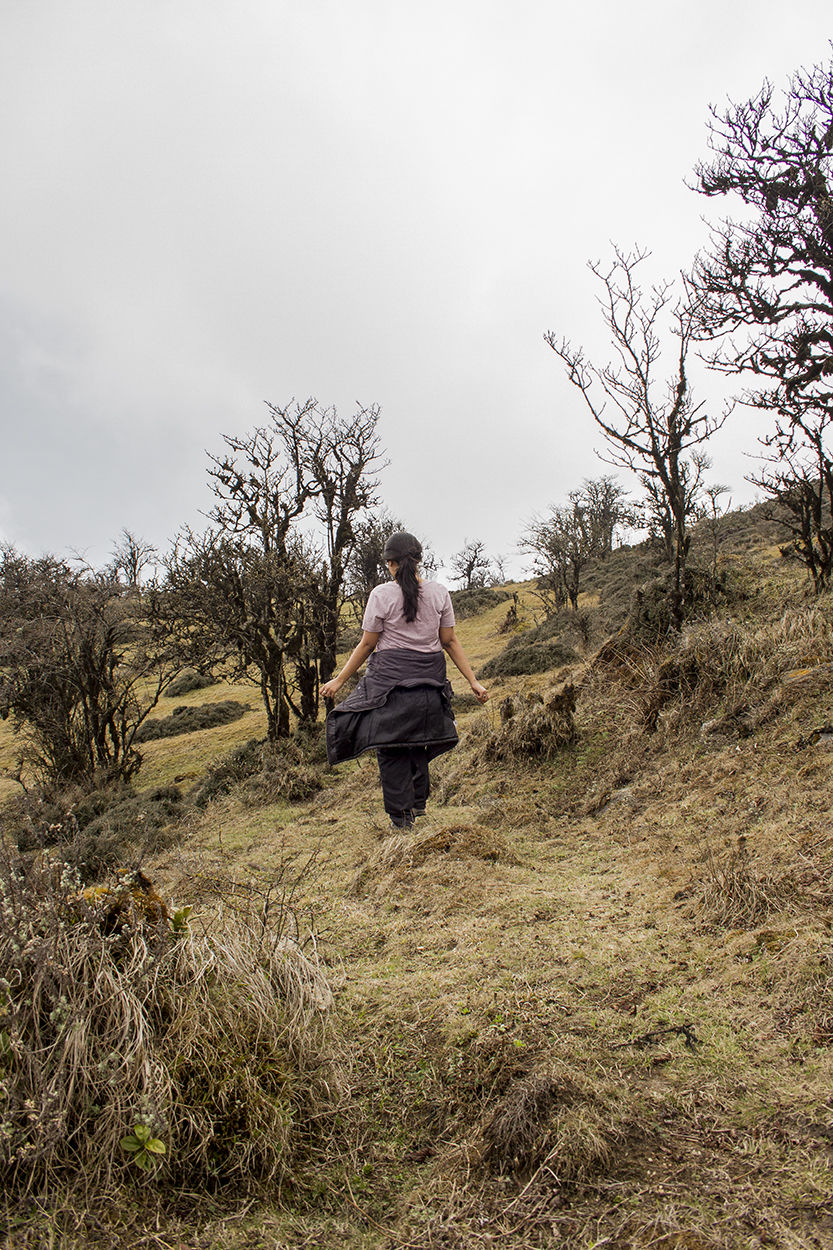 Here's a quick list of do's & don'ts for someone who's trekking for the first time – taken from my maiden trekking experience to Sandakphu. Go ahead and dig in!
Go with someone who has trekked before
Why not wing it? Because you're climbing up a mountain, for God's sake.
Having at least one person on your team who has a fair idea about trekking will be of great help – right from when you're packing your bag to when you're hobbling about with calves stiff enough to break glass. And brownie points if he/she knows the route. If you're going for a solo trek then make sure you book a GOOD guide,  who is experienced, trained and a professional.  It will make your experience a lot easier. Also, they have stories to tell – so if you're going solo then you'll appreciate the chat on your way up.
Start walking/running 2 months before the trek
Especially if you're a sedentary chair potato.
Though the Sandakphu trek is regarded as one of the easier ones, it will still test your physical fitness. Your body needs to be accustomed to walking about a lot (and not the walk-in-the-park kind) otherwise, you'll have a difficult time up there. I walked every morning for almost 2 months and I still had a difficult time in certain areas. And on that note, cut back a bit on your smoking. You'll need your breath.
Travel light
Limit yourself to just the essentials. Because, in case you decide to not take a porter, you'll be trekking all the way up to Sandakphu WITH that bag. And also because it's a trek – not a luxury retreat. If you're going during summers (like I did), you'll need 3-4 changes of clothes, one sweatshirt, one jacket. Skip the jeans and wear track pants – they're easier to walk in and will be much more flexible if you attempt any *ahem* shortcuts. Find the variety that can keep you warm.
Buy the right shoes
This one's SO important. My shoes played a prime role in keeping me on my feet, especially during certain "shortcuts" through steep areas and the downhill trek. Proper trekking shoes give you the grip you need and make your walk a comfortable one. I bought a pair by Quechua. These shoes are slightly on the pricier side, but considering the fact that they keep you from sliding off the mountains, I believe they're worth it. Also, take extra pairs of cushion heeled socks. I took around 3 pairs of them.
Keep yourself fueled up
Do not trek on an empty stomach. Before heading out each day, have a proper breakfast, with eggs, preferably. You'll need the protein. Also, carry chocolates with you. Trekking will burn up calories faster than you think and when you start feeling low on energy, a small bite of chocolate can revive your systems and give you the much-needed boost. Also, keep yourself hydrated by drinking water at regular intervals – but remember to drink it in tiny sips.
Walk at an even speed
It's your first trek. You're excited. It's natural to want to speed up during the first few hours of the trek, while you have the maximum energy. Not a good idea. Because of the uphill nature of the roads, the faster you walk the sooner you'll get tired. So, maintain an easy, relaxed pace throughout the stretch of the trek. This way you won't be panting with your tongue out 30 minutes into the trek, and will also be able to enjoy the view around you!
Either keep wearing your jacket or don't wear it at all
This tip is applicable only if you're trekking there during the summers. It will still be chilly out there, but when you're trekking you will work up a sweat and start feeling warm. If you take your jacket off, the winds will start drying your sweat and you may start feeling cold. Resist the urge to put your jacket back on – because alternating between the warm and the chilly is a sure fire way to catch cold. I chose to not wear my jacket during trekking, and after the few initial chills, my body got used to it. Once you reach your destination, you can put your jacket back on.
Stretch. Stretch. Stretch
At the end of each day, stretch your limbs – especially your legs and back. Since they're not used to working this hard in such a short span of time, they may get stiff [mine did]. Treat them to a hot water bag, if you feel the need. Most lodges will supply one.
Get requisite rest
This is your first trek. Don't push yourself harder than you have to. There are people who trek from Gairibas to Sandakphu at one stretch. You don't have to be one of those people. We had a doable trekking and resting schedule – with night stops at Gairibas, Kala Pokhari and Sandakphu. This helped our limbs recover after each day's hard walk. When you're well rested, you can actually enjoy the trek, even when it knocks your breath out once in a while.
Carry walking sticks downhill
It helped me. A LOT. It makes it easier to balance your weight when trekking downhill. Also, acts as a kickass souvenir of your first trek. (I brought my bamboo stick all the way to Kolkata. Still have it.)
Carry medicines for stomach ailments & pain
This one's a no brainer. You won't find medicine shops up in these mountains. Better to be prepared for the unforeseen stomach upsets. Or the falling on the rocky roads, almost near the edge overlooking a steep fall into nothingness, and scratching your knees (and thanking the Gods for not letting you topple over. All 36 crore of them. Yep, personal experience).
Carry cash
If possible, carry the entire budget of your trip in cash. If not more. There were no ATMs up in Tumling, Gairibas, Kala Pokhari or Sandakphu. We found ATMs only from Mirik, going towards SIliguri – and most of them were out of cash. We had a difficult time getting cash on our way back.
Be nice to the people around you
Because you're on their home turf. Living in their lodges. Eating food painstakingly sourced and prepared by them. Making them carry your luggage. The least you can do is be thankful and behave well with them. One kind gesture on your part will be returned to you manifold – mark my words.
And also because you're on a mountain. It's only sensible to not drive anyone else to the edge (metaphorically) so much that it makes them want to push you off the edge (literally).
And it's a wrap! I hope this list helps. If there are any other questions you need answers to, leave them in the comments section and I'll get back to you at the earliest. Have a great trek – whenever you decide to take the plunge (again, metaphorically). It'll be worth it, I promise!