I was just wandering aimlessly, only knowing that once I reach Manebhanjyang which is 25 km from Darjeeling I can start a trek from there in the Singalila National Park. But once I reached there I was stopped at the National park gate by the forest officials. There they told me that I needed a permit and a guide to venture into the National park.
Disappointment was first to set in. But it was not long when suddenly out of the blue a man at the gate asks me if I am going on a trek & am I alone, to which I reply in the affirmative. Then he explains me how he had planned a trek to Sandakphu with his son and his two friends and how at the last moment one guy couldn't make it. So here he was telling me how everything was sorted out and paid for & he kindly offered me to join them. Fellow travellers would know these opportunities are rare to come by & this one in particular was too tempting for me to let go and after a little scrutiny there I was sitting in the backseat of a Land Rover with my new travel companions heading for Tonglu.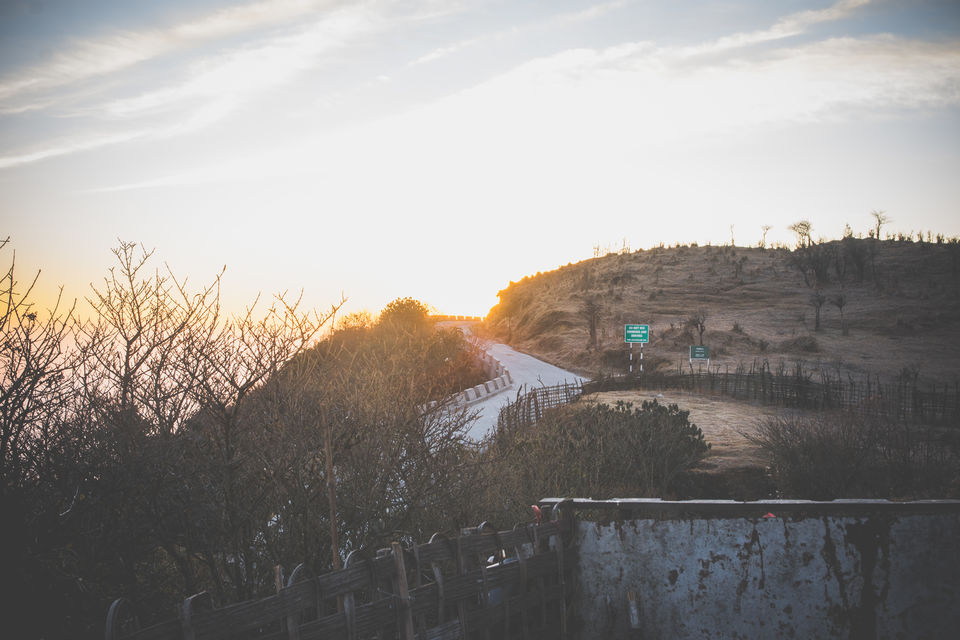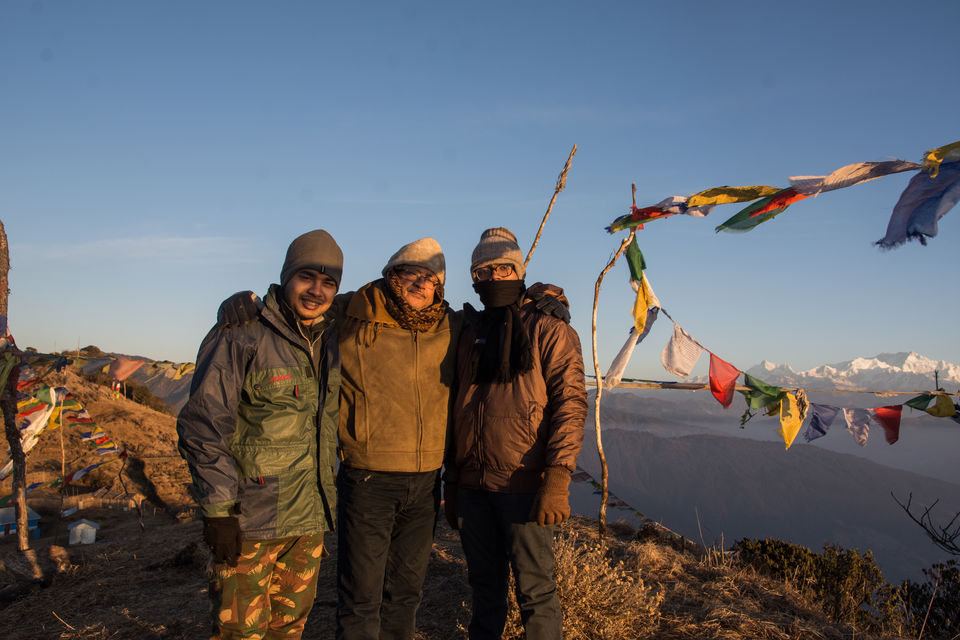 After some initial preparations at the trekkers hut we started our trek towards Gairibas. Mornings are particularly energetic and everybody was hyped about the trek.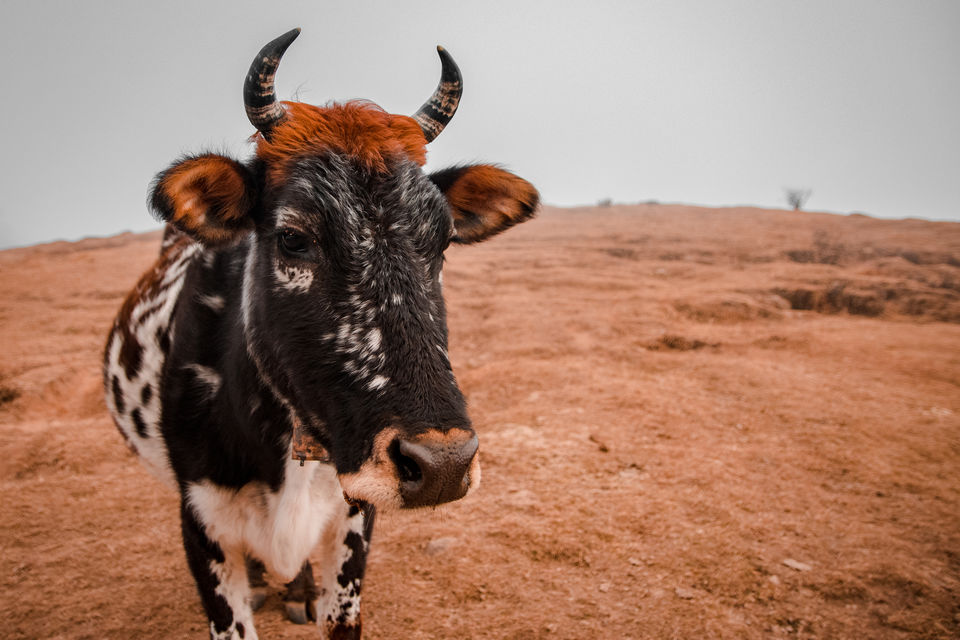 We started slow moving up & down the hills. There was good motorable road to some extent and that was the easy part to cover.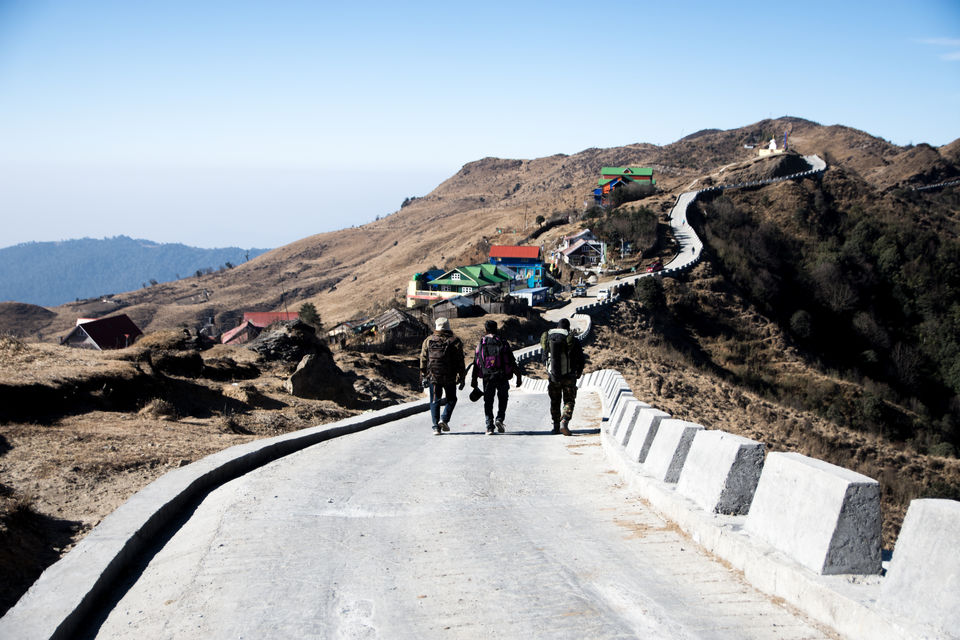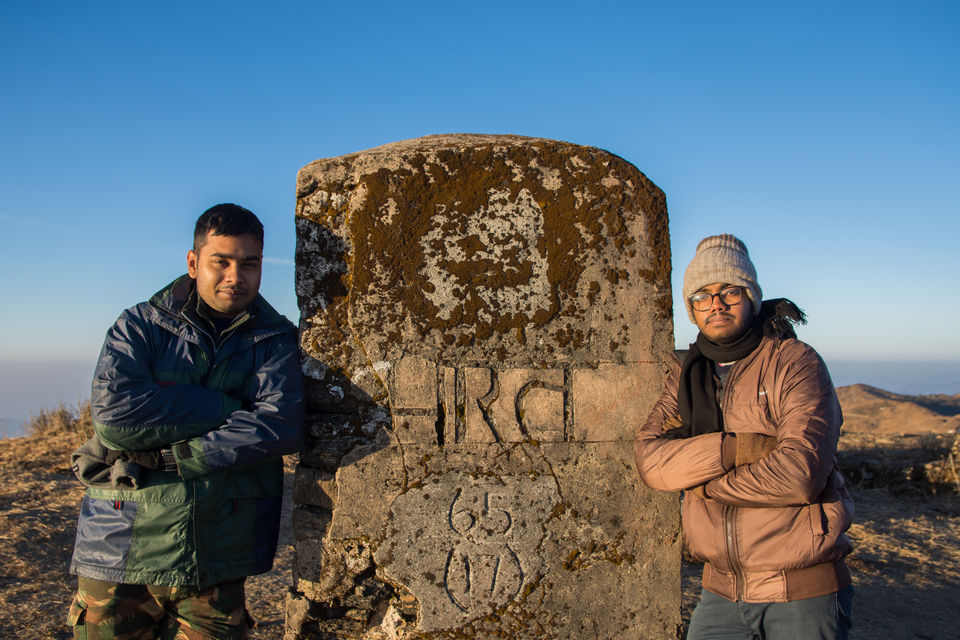 One thing about trekking in the Singalila National park is that you will be constantly switching sides to Nepal & India all along the way & it will happen so often that you will lose the track of the no. of times you crossed over to Nepal. This being said, so obviously we didn't have any mobile network there owing to the remoteness of the region & being on a foreign soil.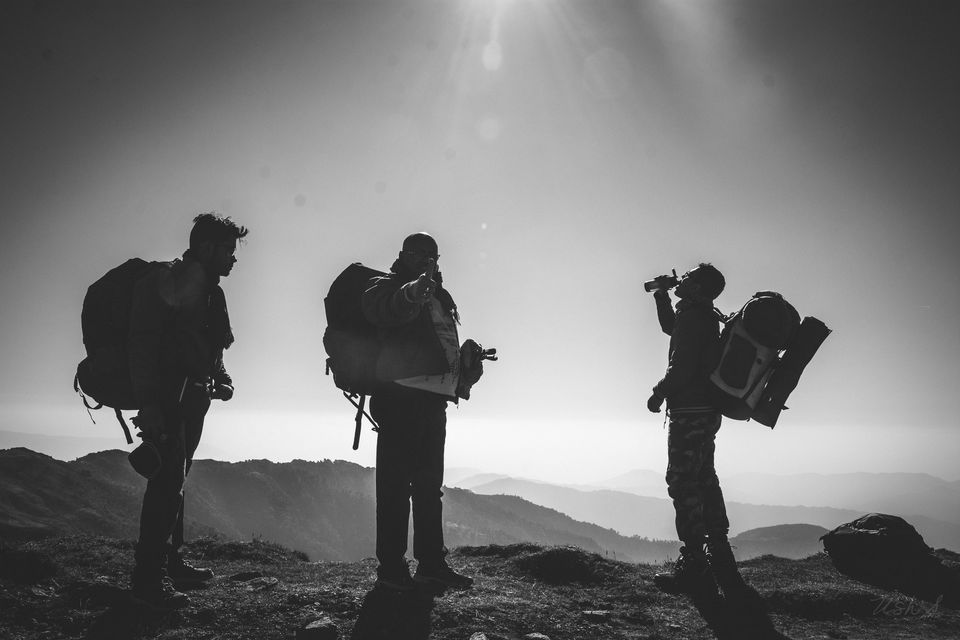 The picturesque view will never bore you all the way and the special thing about trekking in this region is that the view keeps on changing constantly as you move from one hill to another.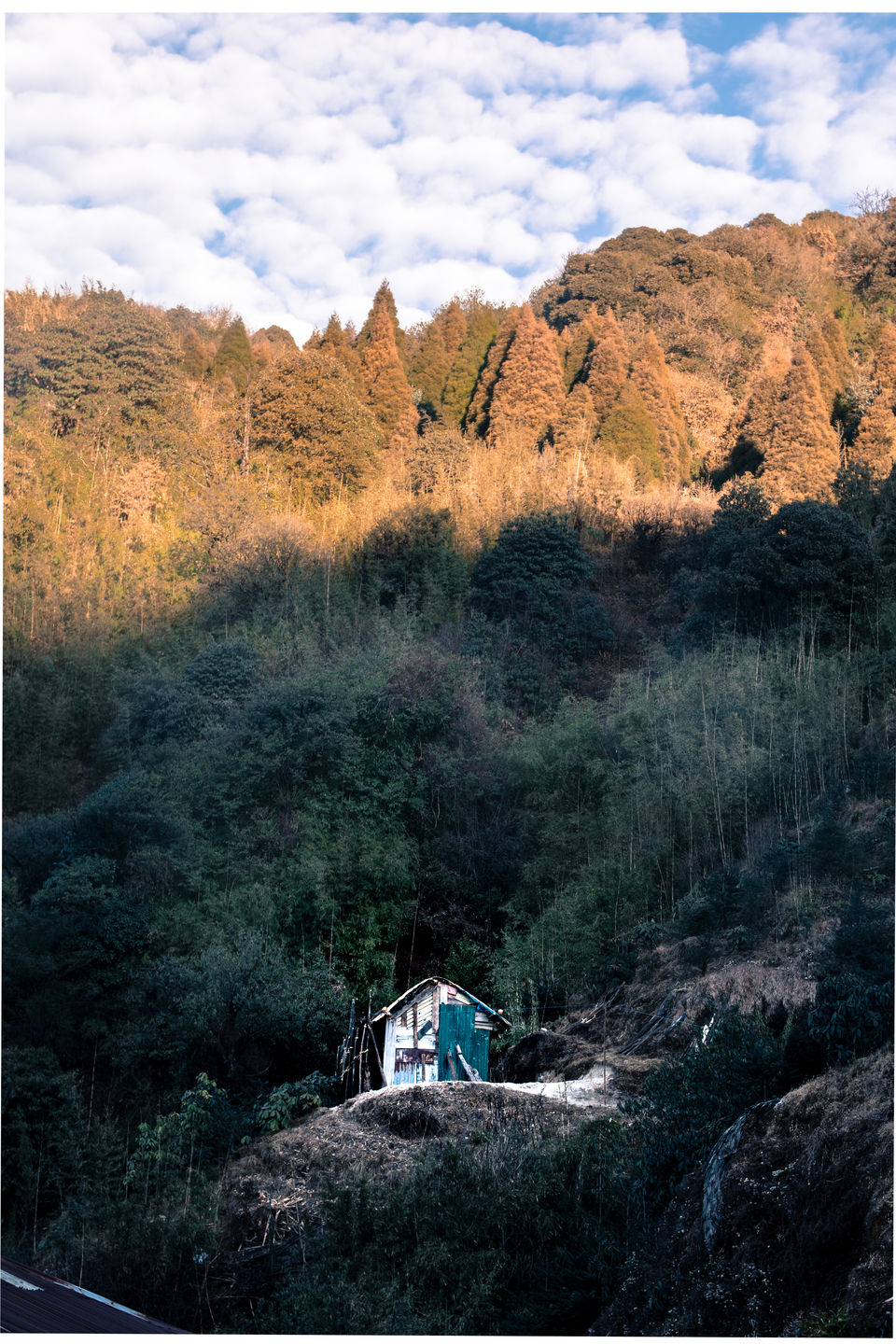 These jungles are home to Red Panda, a small animal found in these region only hence this wildlife is protected here. You would be lucky if you could spot one.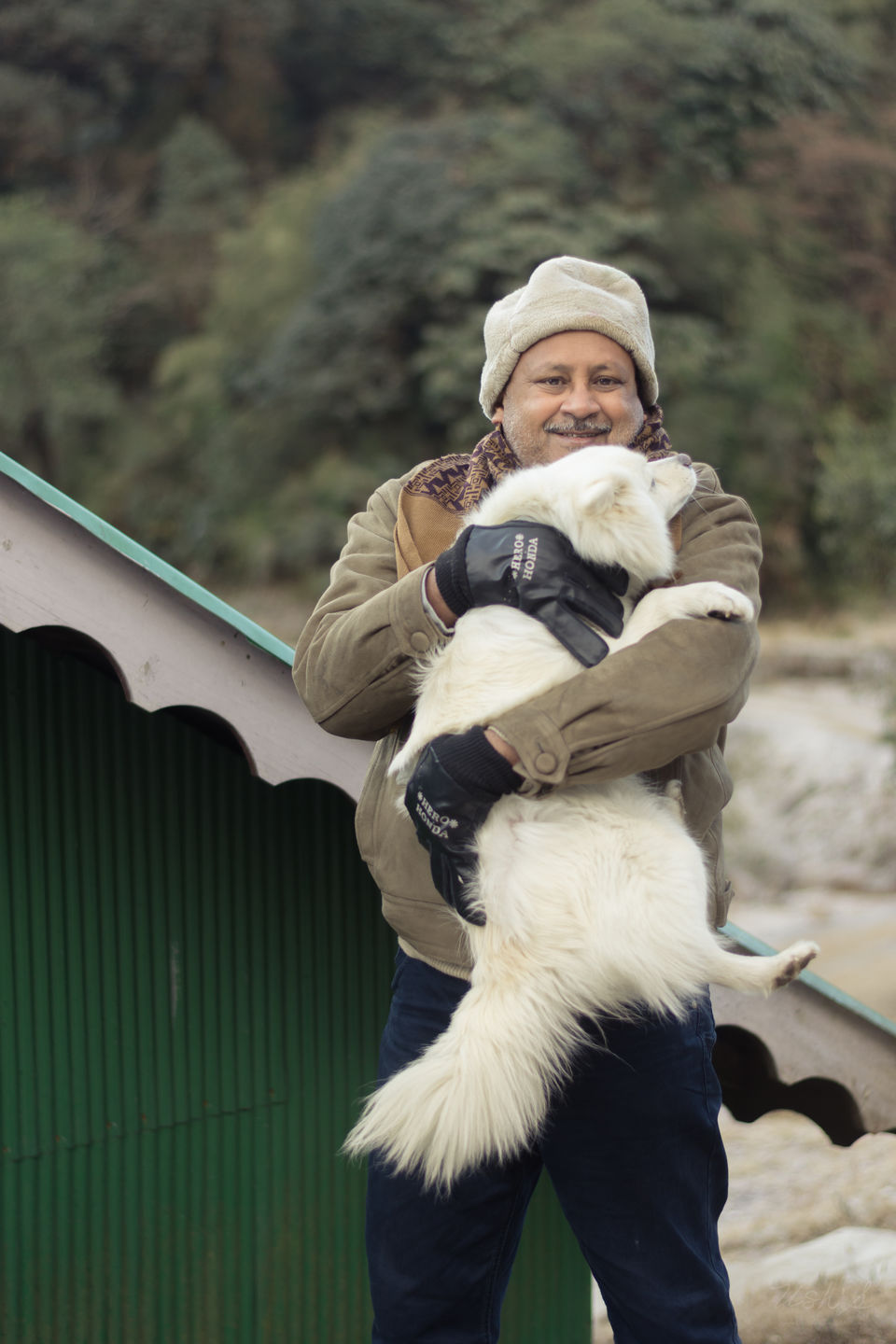 Gairibas is a small hamlet in between hills. This is a stop for all the trekkers heading for Sandakphu. We stayed the night there. Mobile coverage was limited here but one could find mobile network at few locations.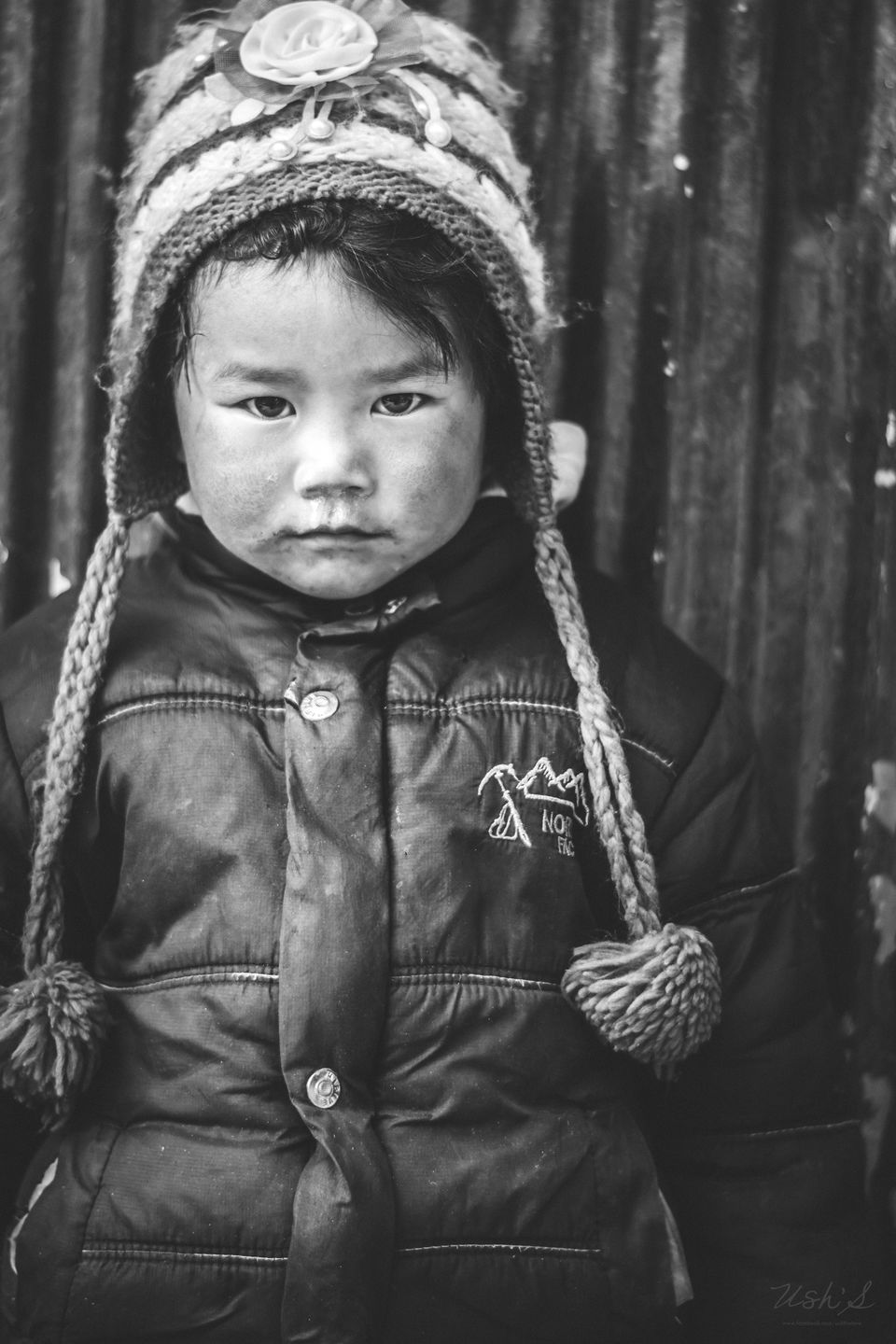 People here don't usually speak Hindi fluently and one has to use almost all of their communication skills to get along here. But if yo have a guide then he will double as your interpreter too. Plus if you know Nepali then no problem for you dear.
Temperatures in Gairibas start dipping rapidly after sunset and falls below zero during the night. Being situated between hills even sunlight falls about an hour later than sunrise owing to the the shadows of the hills. So if you are planning to visit this place then be prepared to carry out your ablutions in sub zero temperatures.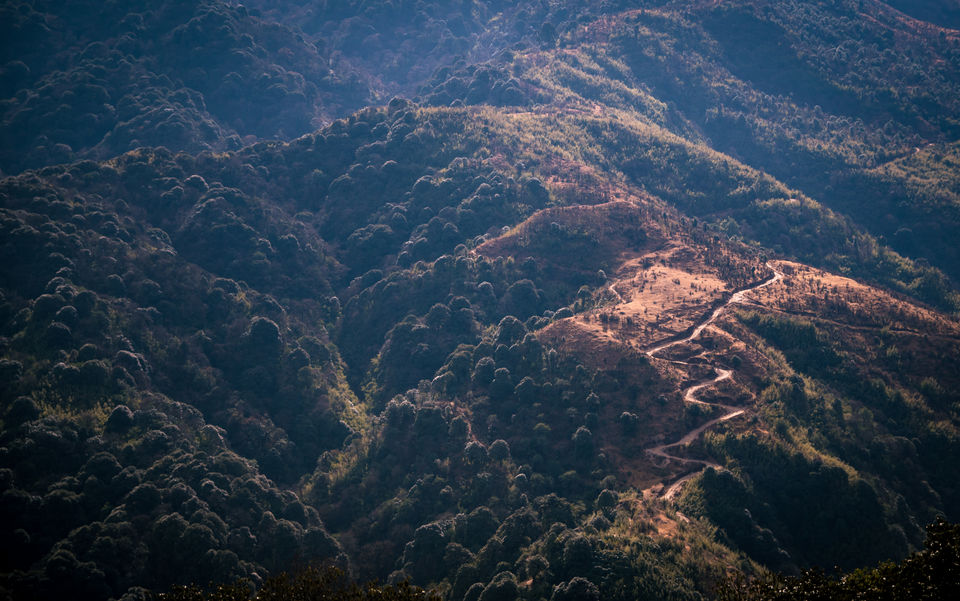 We started out of Gairibas at around 9 am. Our next destination was Sandakphu, 12 km away. Note that these 12km was a steep path.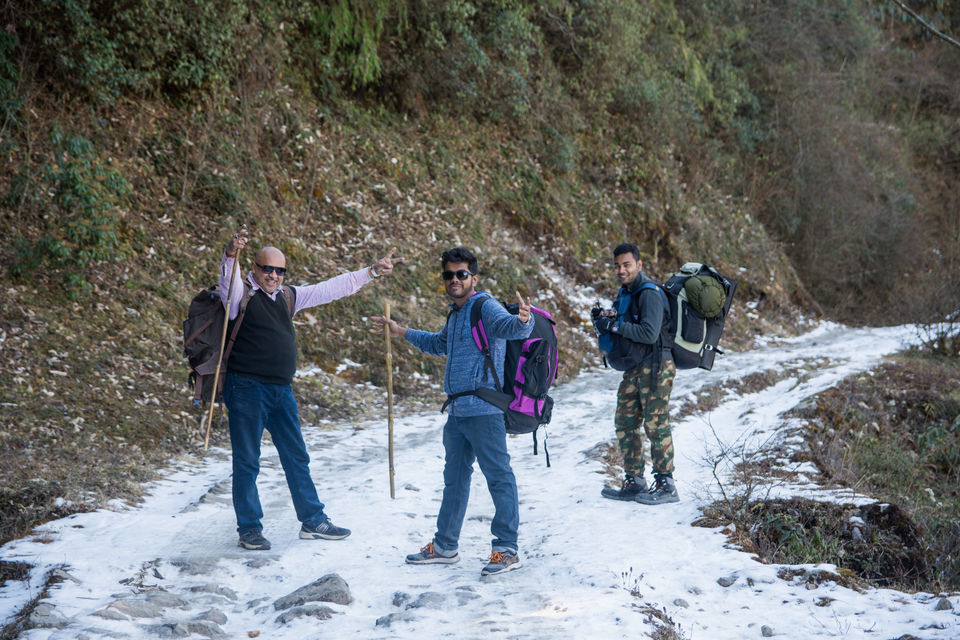 All the little streams that flowed over the roads would freeze at night and there were a few places in between hills where sun didn't shine all day hence the ice there was rock solid. This was one of the dangerous part of the trek as the ice was almost 2 to 3 inches thick and its surface was super smooth.
As you can see in the pictures there is no guide rail beside the road, hence the danger was that if one slips on the ice, he not only stands the chance of breaking his bones from falling but also he may slide over the smooth layer of ice and fall off the edge into the adjoining abyss. The danger was very real and as we had no crampons with us so we decided to pick the ice at several spots to make our way through it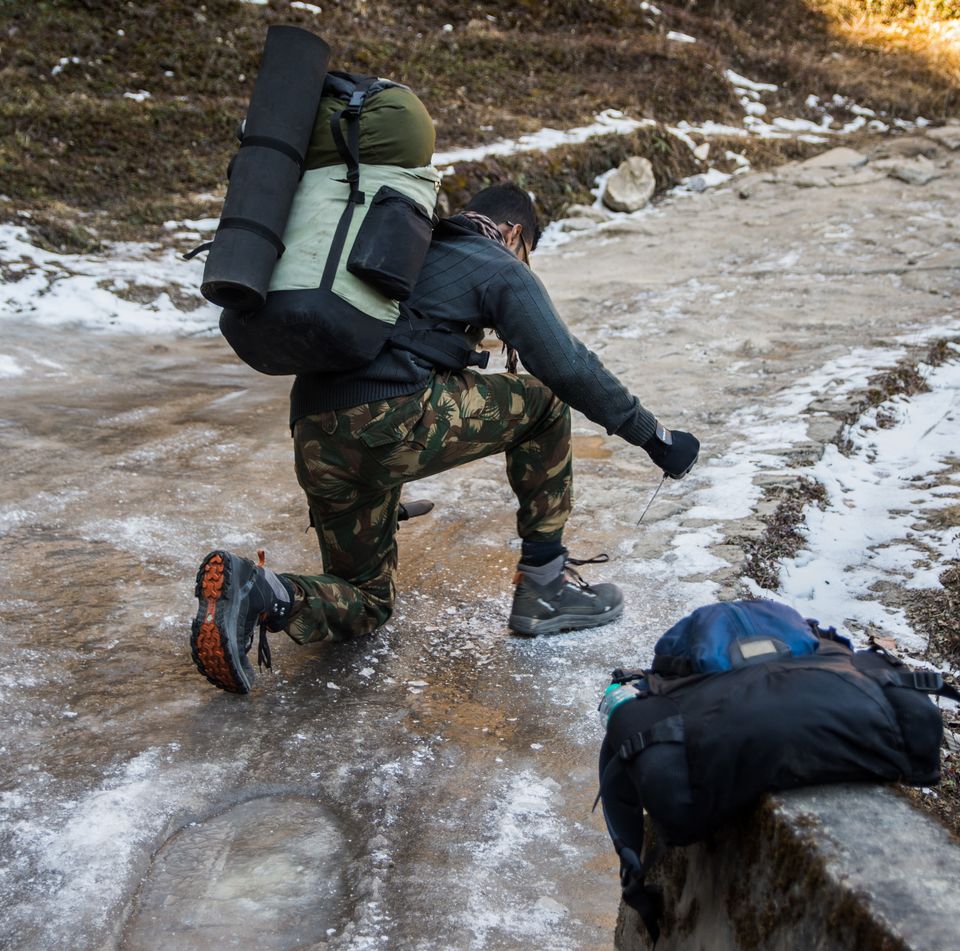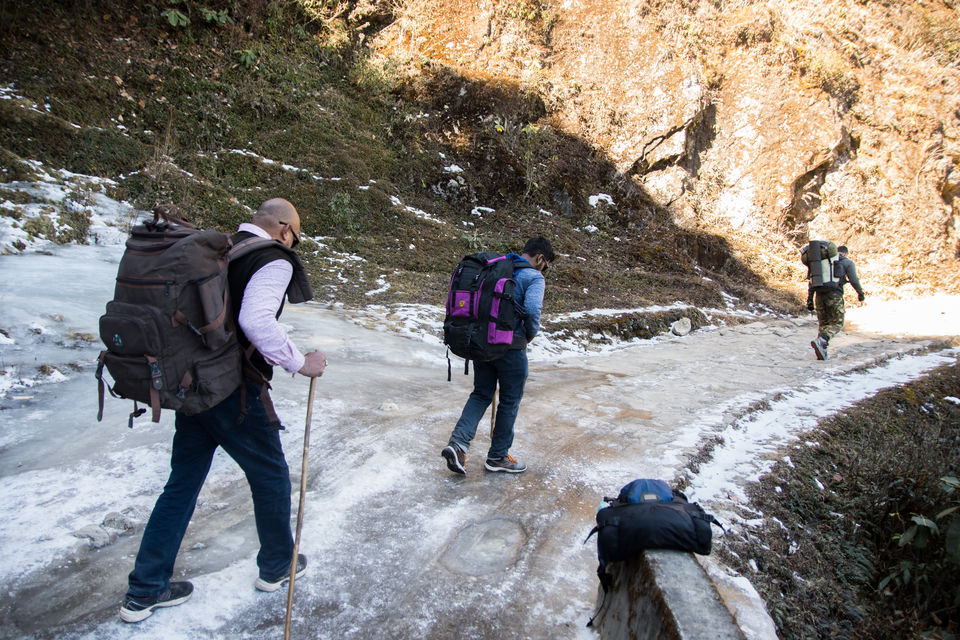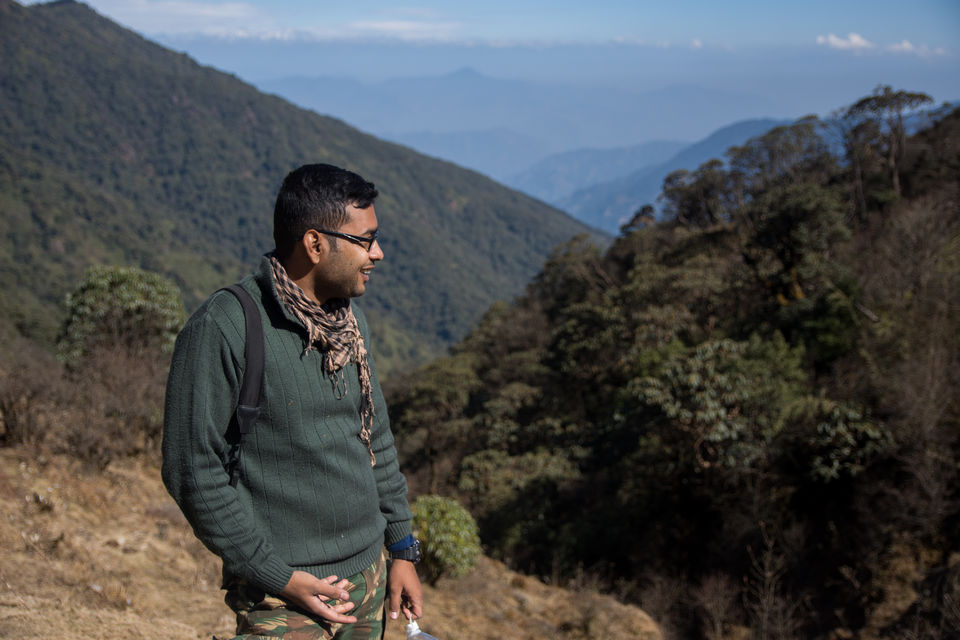 We had our lunch at Kalpokhari, a small village mid way between Gairibas & Sandakphu.
The people there are very friendly & don't shy away from a chat with travellers.
Finding people on the way who show there support for nature is truely inspirational.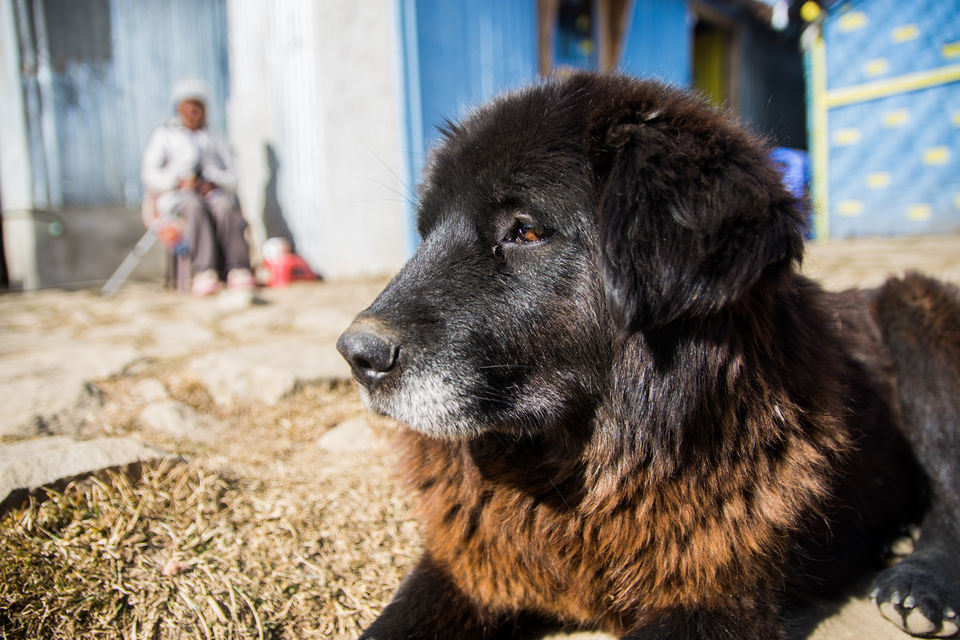 The trek from Kalpokhari gets difficult. Plus one has to race against time to reach the last 6km before sunset. So we were quick to pack up and move after lunch.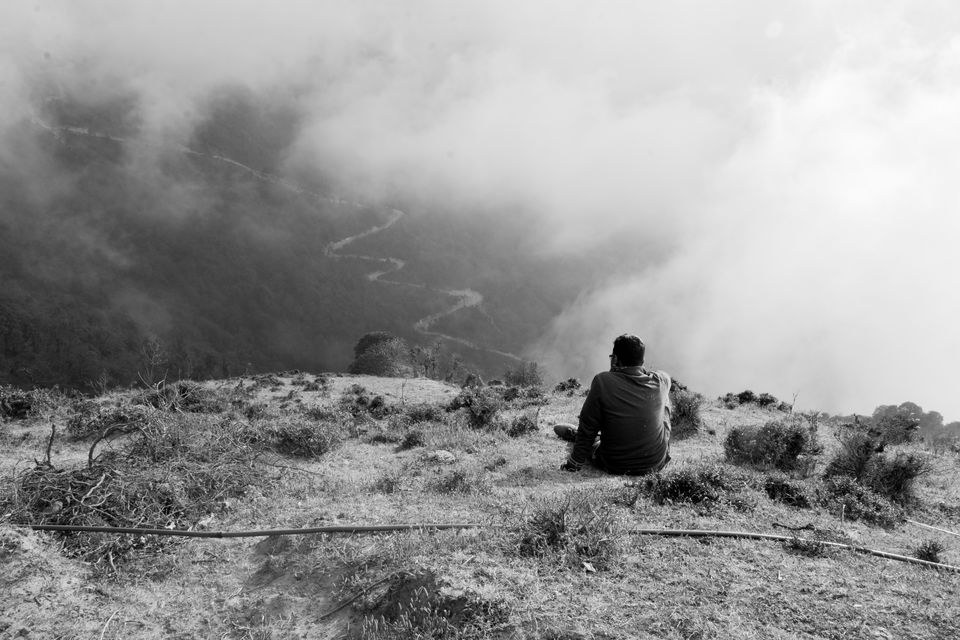 Having moved at a faster pace I had left the group far behind. So I decided to wait for them. i put my rucksack on the road so that they can spot me on the way, and I got off the road onto the hillside and lay on the grass almost by the cliff and took a short nap there.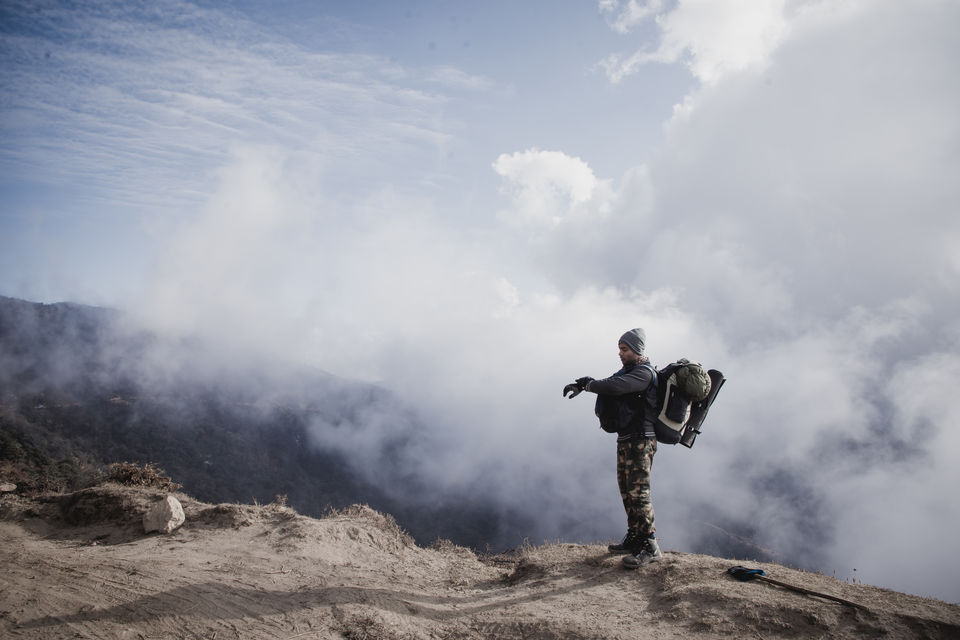 As afternoon was moving to an end we could feel the temperature dropping slowly and could see the clouds moving in. Now we had to trek faster.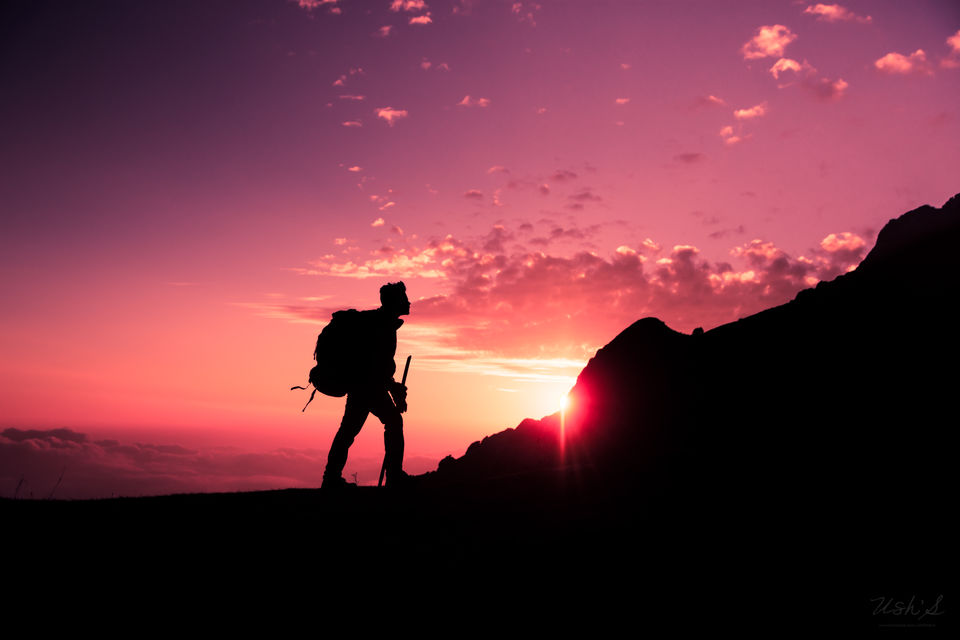 Although we trekked with all our might but the sun did set before we reached our destination and the last stretch of the road we had to trek in darkness although there was ample moonlight and we also had our torches. At that time the water in our bottle started to freeze and we had to drink as well as chew our water( for those who know Bengali, the phrase "Jol Khabo" should ring in your heads).
But all was good and we reached Sandakphu by 6pm. There at the trekkers hut we met with other fellow trekkers from different parts of the globe. It made me realize that Sandakphu not only attracts people from all over India but from foreign lands also.
The partial pressure of oxygen is considerably low at Sandakphu hill top and the elder in our group Mr. Chakraborty started facing breathing problems. As we were carrying various meds, we put them to good use. Even the hut keeper gave him a hot bag. Owing to his indomitable spirit and a traveller's enthusiasm Mr. Chakraborty who is in his late 50's battled the harsh conditions emerged unscathed by the weather there.Not everyone can say to have done this at such an age.
Next day everything was all okay as everyone was now acclimatized to the weather there. Although the night was freezing cold and the temperature inside our room was around -5 degrees. All water except the one in the bottle that I had inside the sleeping bag froze overnight.
The view of the "Sleeping Buddha" as it is called here was too good. Plus we were lucky to have a clear visibility that day.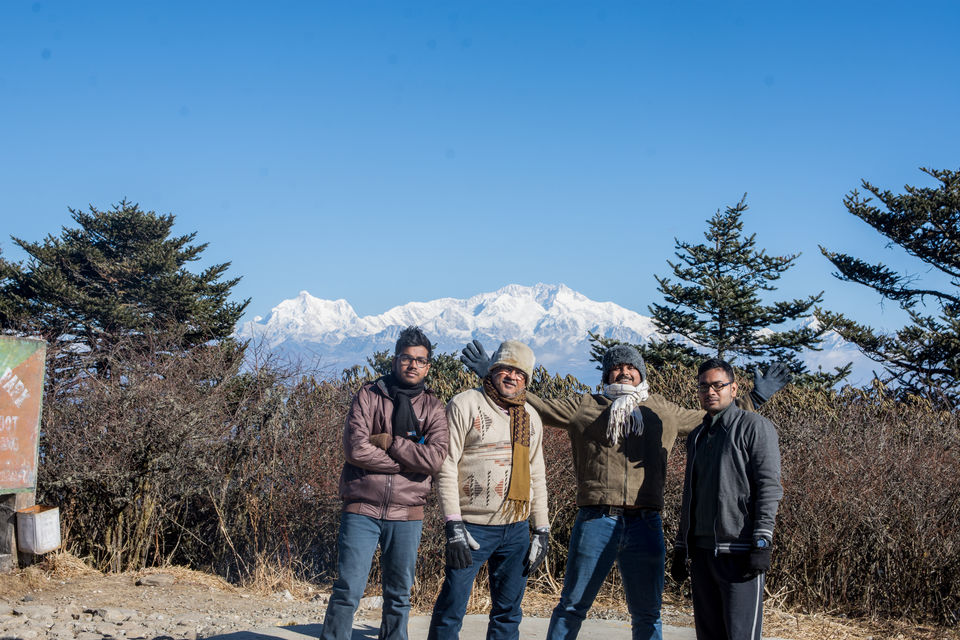 The place was filled with cranberry plants and we plucked a few and ate.
You can easily comprehend how freezing the night was outside our hut by the frost on the jeep here in the picture. And yes I challenge you to Dare It!
The next day I spent on day hiking on the adjoining hills and kept on roaming the wilderness. Sometimes I lost track of the way when the clouds would come over me. So if you are not an experienced trekker, don't venture out on your own.
I would like to say to all those who plan on trekking anywhere, please be aware of your civic sense and your responsibility towards nature. Please do not pollute the surroundings and be polite and humble while dealing with the locals there. Do not undermine the local traditions & cultures there. Enjoy the Nature & leave it cleaner than you found it. Wishing you all well.
Frequent Searches Leading To This Page:-
sandakphu phalut trek solo, solo trek to sandakphu, sandakphu trek solo, sandakphu trek plan, trekking in west bengal