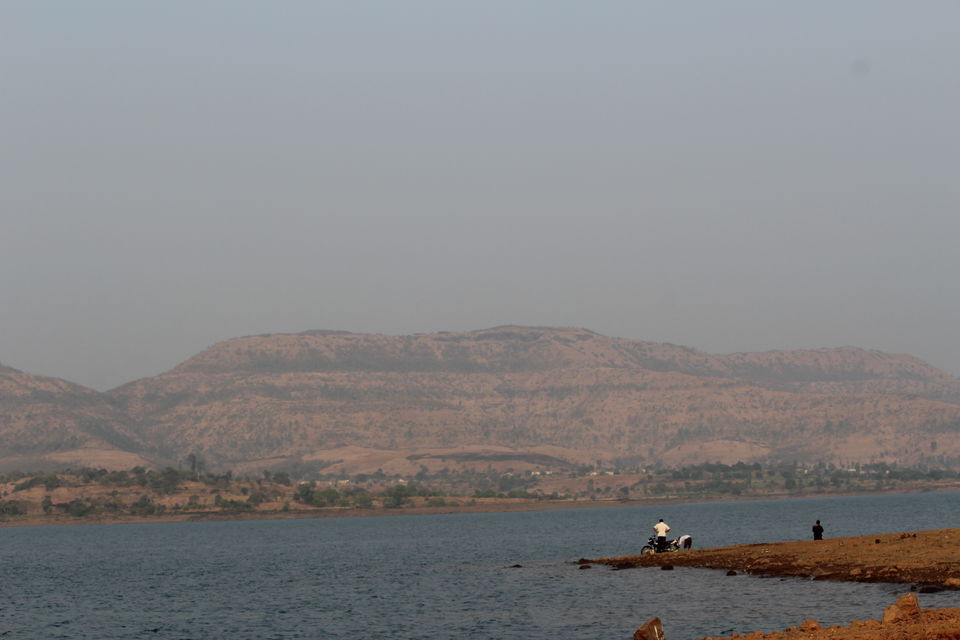 Date: 1st Jan 2017
Time: 2:00 PM onwards from Pune and back by 8 PM
Ideal Time to visit: Mornings and Evenings
Tags: Half a day trips near Pune, 60 Kms away from Pune
Travel Type: Nature, Water Body
Bhatghar Dam/ Lloyd Dam is located on Yelwanti river in Bhor district. Travel to Bhatghar Dam is simple and easy as it falls in the vicinity of Tirupati temple on the Pune Bangalore highway. But it's not recommended if you don't have a vehicle at your service. As we take a cut from the highway, roads keep on getting narrower and one would see inhabited village and mistake the route but the way actually passes from the cramped gullys of the village. Inhabitants are happy to help you reach to backwaters. One would encounter muddy, stony passages which ultimately open into lavish stretch of water, which is deep blue and unadulterated with human intervention. The silence of the surroundings will calm you down and just a dip of feet into water will give you cool, tranquil experience. While there is nothing to do or eat close by, the void is eaten up by the slow sound of moving water. An hour of undisturbed time near the bank will recharge your senses. The place is also ideal for clicking great pictures with nature, that too without any unwelcome photo bombing. While returning, one can also watch out for the dam stretch, which looks beautiful from a distance and halt for some local snacks.
If one has more time, they can choose to also visit the beautiful and formidable "Baneshwar temple, Nasrapur which hosts Lord Shiv". The feel of the temple allures one and all. Baneshwar temple has a rich history and there is a ling inside the external Shivling. The temple priests allow you to see the same in the morning till about 9 AM. The temple has a small pond with lots of tortoises. There is a small Ling immersed in water and devotees can drop coins on the Ling. Landing of coin on the Shivling is considered auspicious. Indeed a very peaceful place for the devout.
In addition one can also visit the Baneshwar waterfall, located just ahead of the temple. While the waterfall is beautiful during monsoons, one can experience the place with the rich landscape and flora/ fauna, throughout the year.
An ideal trip for a short getaway from the tedium!