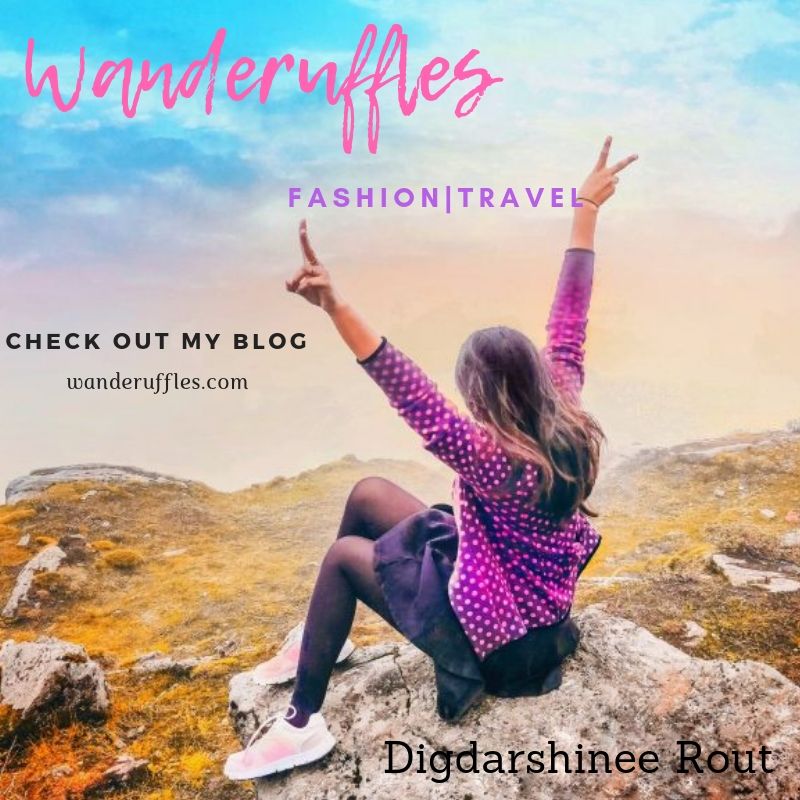 I hope you guys are having an amazing week and rejoicing the monsoon. Aren't you? Since I was a child, I always had an innate hunger or lust for travel because And also I did see my father travel half of the world back then, for work though. So, I got a chance to explore some parts of north and south too. I have always been a wanderer and this time I got a fate to travel northeast, which I was on my bucket list since long.
So, this goes like this!!!
I couldn't sleep all night, before my trip because I was damn excited and thrilled about it and also because we (yes, it was a family trip which includes me, my mom, dad, and my brother)had a flight to catch at 5 am to Kolkata. If only I shut my eyes I dreamt of myself being surrounded by mountains, peace, and greenery. I was eager to break free from the hustle bustle of here. Alternatively, you can also take a direct flight from Hyderabad(Rajiv Gandhi international airport) to Bagdogra airport. It is the fastest route. But as we are Indians we prefer cheap over fast.
And The Voyage begins...
So we reached Netaji Subhash Chandra airport(Kolkata) around 7:40am,collected our luggage at the baggage belt,freshen up,clicked some airport #ootd and then headed to Howrah railway station for our train to new Jal Pai Guri(NJP) railway station , which is approximately 120kms from Gangtok(capital of Sikkim). Wondering what I did on the flight? shooting the time lapse of taking off, capturing clouds, checking out the air hostesses, Jalpan(eating), and drowsing is what I did in the whole 2 hours of flying.We reached there around 10 pm in the night and it was raining cats and dogs.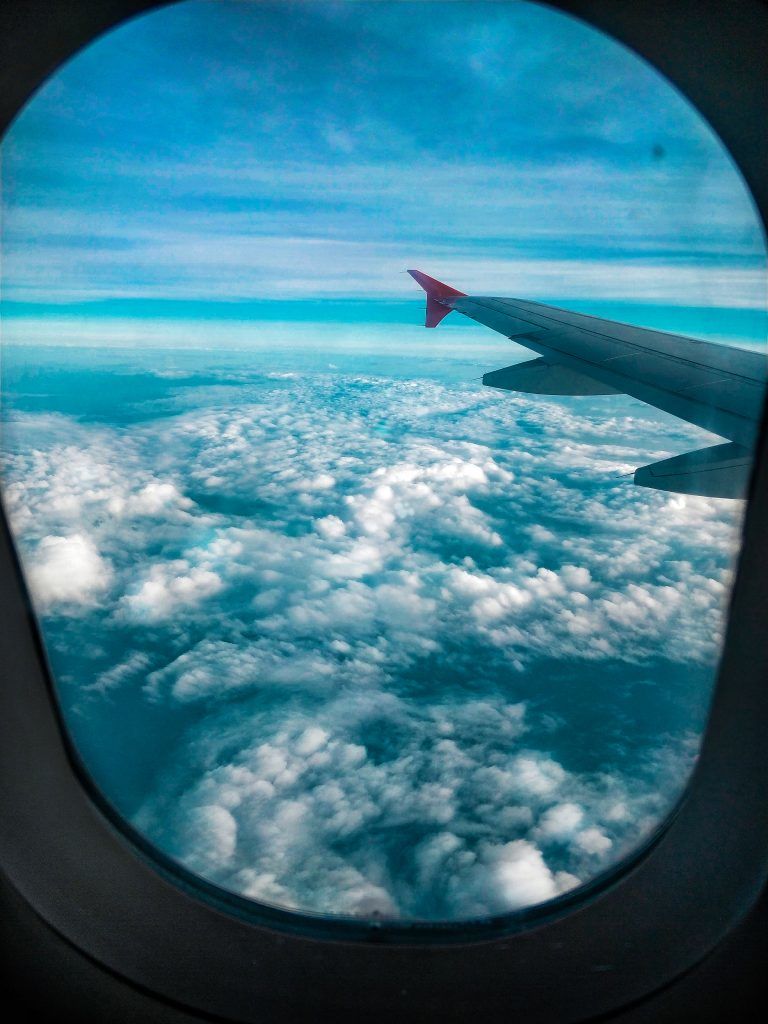 The van was literally the same I saw in a movie, used to kidnap girls..(i hope you already imagined..). and not to forget the van shall be 1000 years old with cracked doors and mirrors,.the rain was pouring in...(yuck). Finally, we got into our hotel rooms, we freshen up and dad spoke with the travel agency for the next day plan... I went to sleep praying for a sunny day the next morning. My dad planned this whole trip in a package by LAMA TRAVEL SOLUTIONS (which included 2 days,2 nights in Gangtok and 2 days, 1 night in Darjeeling), so the travel itineraries were planned by the company itself.
At the railway station, taxi drivers in a mob will try to coax you so be aware, finally, they did in 400 bucks.
We all(especially me:)) were pumped up for the trip. An Innova car was provided by the company which for local sightseeing in Gangtok. I wore a black cropped sweatshirt and my favorite high waisted black jeans..Our trip had just begun, and I could already feel all of it. Breathtaking and serene views, tranquilness everywhere unlike city's commotion, music in the car where I and my brother were competing, trying to sing better than each other(haha) to grab mom's attention so that she could say..waah kya gaate hain mere bache.. (i remember ..song from the movie Raes ZALIMA was played and suddenly my father said ye kya gaa raha hai?KALIMA?? (he meant kali mata by the way:P(seriously?)) and then those laughs... Hoping to take a bag full of good memories and gallery full of pictures with me. So, that day we went on site seeing to flower show which had a distinctive and diverse class of orchids.if you are a flower lover, then you should definitely pay a visit to this place which will pacify your inner soul. Next up was Ganesh Tok, Hanuman Tok and Tashi viewpoint..these three sites were located adjacent and nearby each other.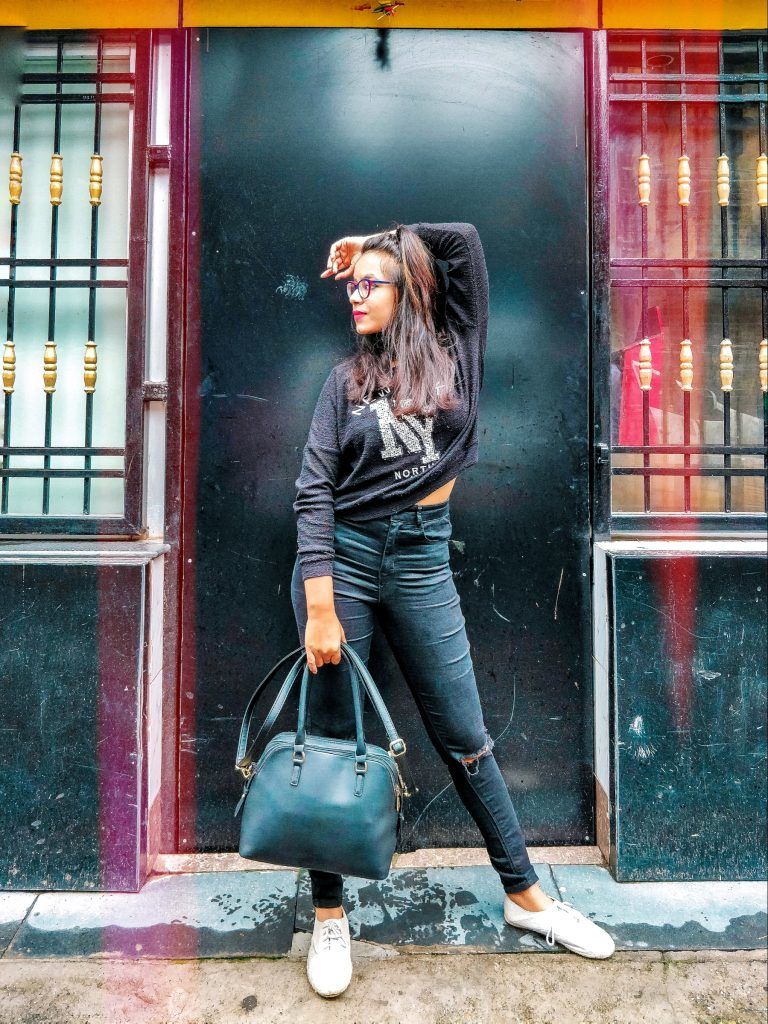 But as it was the rainy season, we were left with seeing nothing except clouds engulfing us, but that was also a beauty on its own.
Next day, which was DAY 1. of #serenesikkim (Trip to North East)
Then as we were making our way to Hanuman Tok, my father started narrating and reciting the stories from Ramayana and asking us to nod after every word he speaks(haha), about how lord Hanuman took a pause while carrying sanjeevani. Well, that was all mythology and mystery, what captivated me was the sensuous viewpoint, the clouds were making the temple look float in the sky. One can spot beautifully carved sculptures of gods. Then next, on our way to Ganesh Tok, we took innumerable pictures with Tibetan prayer flags. They were so vibrant and fancy.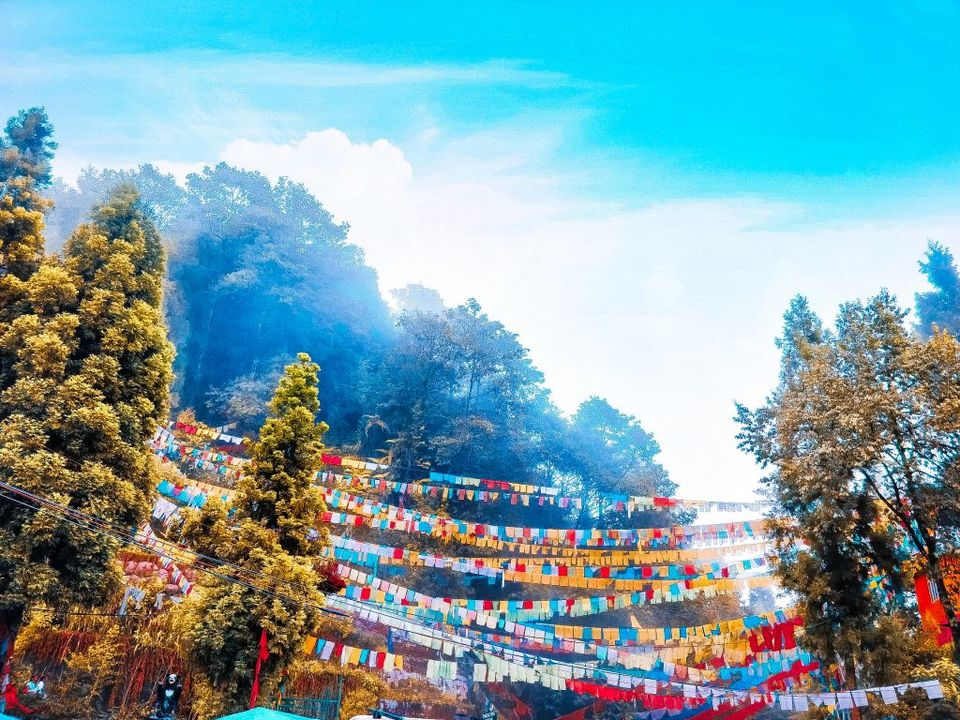 The whole city was coated with these flags. Also came to know about the meaning behind these flags and its colors(red means fire, green means plants, yellow means the earth, blue means the sky, white means the air..basically the five elements)as told by our much amicable car driver(it was nice of him).
Tashi viewpoint was 6000ft above sea level and we climbed 115 steps to reach the top from where it is said that Mt. Kanchenjunga is seen.
We went back to our hotel rooms. I and my brother were sharing a room together and so were my mom and dad. We freshen up quickly and had our dinner. My mom was much fascinated by the intercom facility, she would call us every 10 mins ...(so cute). After reading the itinerary of next day's plan and doing some research about it, I fell fast asleep with the adrenaline rush of excitement inside me.
Wana see more glimpses of Sikkim?
I woke up at 5:30 and tend to perceive sounds of birds chirping and the prayers being recited with Tibetan horns and Gyalling(instruments) played in the background as our hotel was situated near a monastery.. I was so worn out and hollow(hungry) by then so i preferred not to climb Ganesh tok and stay in the car itself.It was very fogy and frosty,so we ordered Maggie and Momos,because the real taste or delight(fun) of Maggie is known to have in chilly cold right?.it was Yumm !!! Then we had breakfast, we were all set and exuberant for the excursion to, On our way, I was amazed to see that there were footpaths which were properly or well constructed for pedestrians. Here in Hyderabad, we do have footbridges or footpaths, but I have seen the two wheeler's often used them in order to escape traffic sooner(which is bullshit). And also not to forget that i wore a blazer and a skirt along with the stockings underneath.It was a 3-4 hours journey to Changu or Tsomgo lake.That roads-it was something else about them..a strange drug in those paths and its breeze.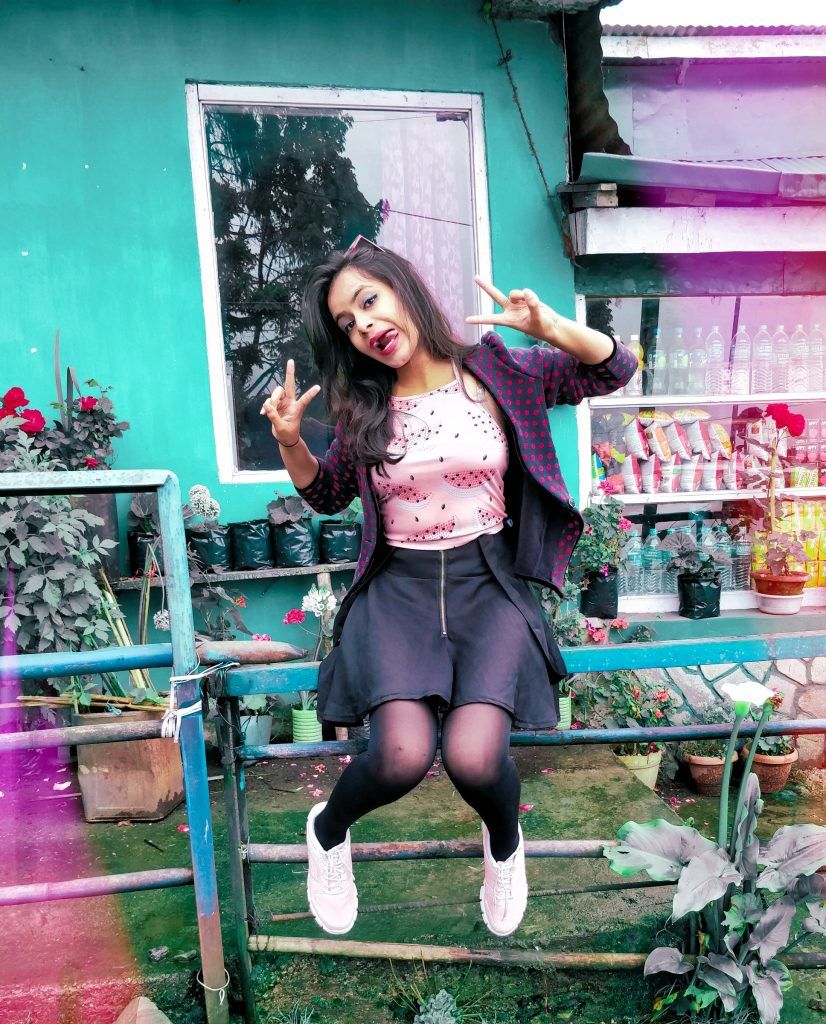 DAY 2 of #SereneSikkim
The lake is surrounded by steep mountains and the view was exceptional,the clouds were literally shaking hands with us. It was all hazy and misty, yet the view surprised me with its scenic beauty. You can also enjoy the yak ride there, though we skipped it and went for the most exciting and fun part that is the ropeway which ascends from the lake to the mountains above. ( you should definitely give it a shot) I and my brother hopped into the cable car after taking the tickets for it which were 1200 per person whereas my mom and dad were a little skeptical about it so they did not join us. The safety instructor instructed us not to stand in the ropeway, but being the naughtiest siblings, we literally danced in the ropeway and Vlogged a little. The view, as we were going up was mesmerizing and spotted some unique yellow orchids. "life's so good here,i don't want to go back.." i told to myself.And we are at the cliff(an exotic fairyland on its own). I am not even kidding guys because what I saw was out of the world. You seriously need to get lucky to see this because the view was straight from a fantasy world.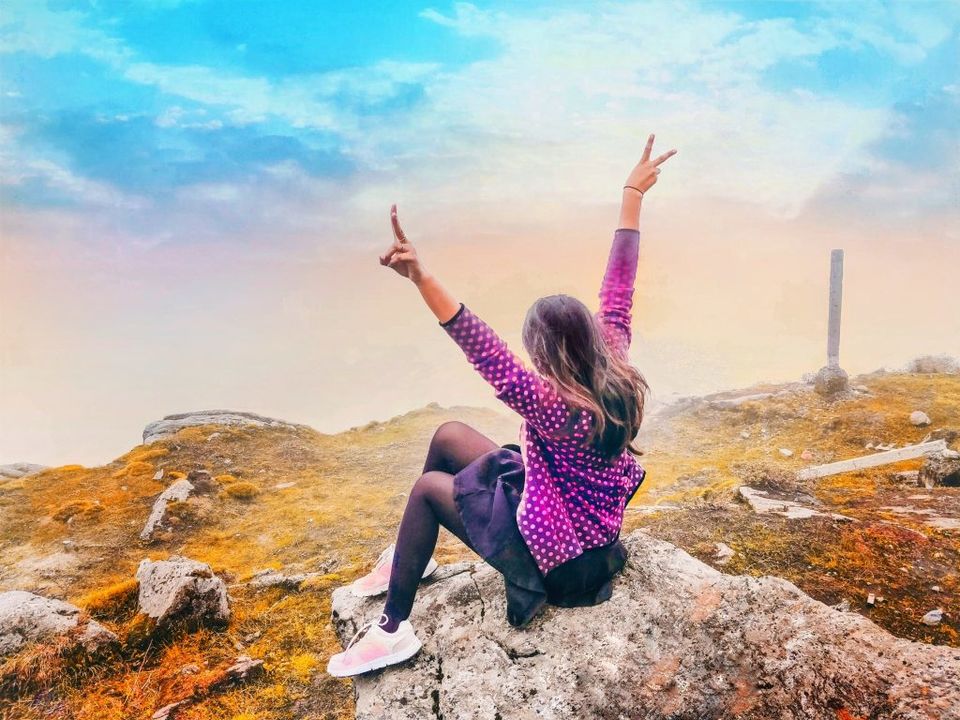 It was 2 degrees and mind-numbing cold there. It was super windy. But as I was a bright-eyed and bushy-tailed, I did not feel any cold then(does this happen with you too because of over excitement?) Well, you are supposed to see mount Kanchenjunga from the cliff but as it was all covered with the cotton balls(clouds)we could not get its sight.
Everything was so astonishing..i could not stop taking videos.
The view literally gave me some serious photogenic expectations. I and my brother clicked numerous picture of each other with the beautiful horizon and in the background. I was hopping from one mountain to another and screaming to test the echo of that epic place. I was in utter ecstatic. Trip to North East was going so good than I imagined. Oh, by the way, did you guys forgot that I wore a skirt with stockings. no?? but I did.
We reached the lake.
I realized my stockings ripped from my bum region. (oh no..!!!) And my brother showed no mercy than to laugh aloud. .It will be one of my unforgettable plus embarrassing experiences (haha).
Three...., Two....., One...
You need to come in the month of October to spot the Kanchenjunga.
Suddenly I heard some chhhhhrhhrrrrrrrrrrrrrr...sound, and before I could see what happened, I felt cold in my bums.
I had to tie my blazer on my back so that my skirt won't fly off.
We had Momos again with some soup to normalize our body temperatures. After this car stopped at a very usual waterfall which had nothing much exciting about..(well,that was an excuse.. I did not go there because you know why.... right?:P).My dad and my brother went to capture some not so cool slow-motion shots of the waterfall.(my dad, because that very day he learned this slow-motion feature on his phone, so had to experiment his skills..right?) Next up was the was,
I could feel the cold now.:P ..I thought I would die of Pneumonia.
My father being cheesy recorded my and my brother's experience after coming back down where they were waiting for us.
I somehow persuaded him and finally took the car to the hotel.
I acted boldly as if nothing happened but my brother put no efforts to hide his amusement.
It has everything for everyone- eating joints, clothes, lodges, entertainment, sitting area-you name it and it shall be there So I was all fired up(excited). The view was very scintillating. The buildings being super Instagram friendly. The streets were Uber clean.It was amazing. We sat there for good 20 minutes and tried to digest the beauty of the place. One could come here and chill with your friends, have a good time, have unlimited Momos and take photos to bomb your social media handles. Internet said,"you can find all the trendy clothes in MG Marg road". so I was all pumped to splurge my pocket money. But ended up buying nothing as I could not find anything that I needed. So the hype about the fashion joint proved to be a lie. My head started to hurt. I was tired I thought. So we went back to our rooms and later realized Hypoxia had hit me. It was an obstinate(stubborn) a headache so I had to take paracetamol after dinner. Then my dad came to our room to notify us that " next day, we will be heading to Darjeeling(my eyes twinkled with joy) so sleep early and pack your belongings otherwise we(mom and dad) will leave you both and go". We(my brother and me) looked at each other and passed a wink. My brother on(ed) the television and we watched STUDENT OF THE YEAR(Bollywood movie) for some time. A headache was no reducing. My head was on the verge of bursting anytime. So, I went to sleep wishing him goodnight.He continued watching it. That was the end of day 2 in Gangtok and Darjeeling was waiting with open arms to embrace us. That is up for this blog post guys..the next will be about the second part of North East(Darjeeling). Stay tuned for it.
- Which our driver had to strictly follow. I whispered into my mom's ears..."MOM!! MOM!! I can't..take the car to the hotel..ill change and then we will come here.
My dad who is stubborn to understand girly issues started yelling at me "WHAT WAS THE NEED TO WEAR SUCH THINGS ".
I changed to a comfy pair and headed to MG Marg which is the heart of Gangtok.
Frequent Searches Leading To This Page:-
affordable gangtok tour packages, gangtok tour package cost, sikkim gangtok darjeeling trip, affordable customized darjeeling gangtok tour packages, north east tour guide