Hey all
Gangtok "Hidden Gem of India", is Abode of Hundreds of Monks, Monasteries, Placid and Beautiful Changu Lake, exciting Yak Ride, Luxurious Tea Gardens, Wilderness Mountains.
"Gangtok" located in State of Sikkim always fascinated me!!! Being born and brought up in Uttarakhand, Gangtok seemed really out of reach, till the time we shifted to Lucknow(U.P).
Back in May-2012, I with my parents visited this Beautiful Hill Station. We reached New Jalpaiguri (West Bengal) station by around 3 pm and another 6 hrs to reach Gangtok; by around 10:00 pm we were in our Guest House. Weather was awesome in the month of May.
Gangtok is mainly visited by people from "Bihar and West Bengal". India is truly blessed with such "GREAT LANDSCAPES". Gangtok is one of the most "Clean and Disciplined" town I have ever seen!!
Funny Tale- Few people are still unaware of the fact that Gangtok being part of Sikkim, India. They confuse Gangtok with Bangkok, Hilarious, LOL.
DAY 1
Day started with breakfast at MG Marg(Mahatma Gandhi Marg). It's the central place of Gangtok "Hub of Gangtok". MG Marg is Free Vehicle zone!!! It's all about great eating points, shopping stuff; great place to hangout.
After breakfast the very first thing we did, contacted a travel agent for Changu Lake(Tsomgo Lake), Baba ka Mandir and Nathula Pass day tour(number of travel agents at MG marg); since prior permit is required from 'Sikkim Tourism Department'. We submitted our ID's and two passport photos for this process. Next day be a Tuesday we got permit only for Changu Lake and Baba ka Mandir; as Mondays and Tuesdays Nathula Pass are closed.
From MG Marg taxi stand we took private taxi for local sightseeing-
RUMTEK MONASTERY
Gangtok being influenced by "Buddhism", is a place of Monasteries; Rumtek being the most famous and Largest Monastery in Gangtok, it's house to hundreds of Monks. Number of "Prayer Wheels" were arranged up to the Monastery, we spun them as we moved up to the monastery. I somehow managed to get clicked with three little Monks; they were quite shy and composed to themselves.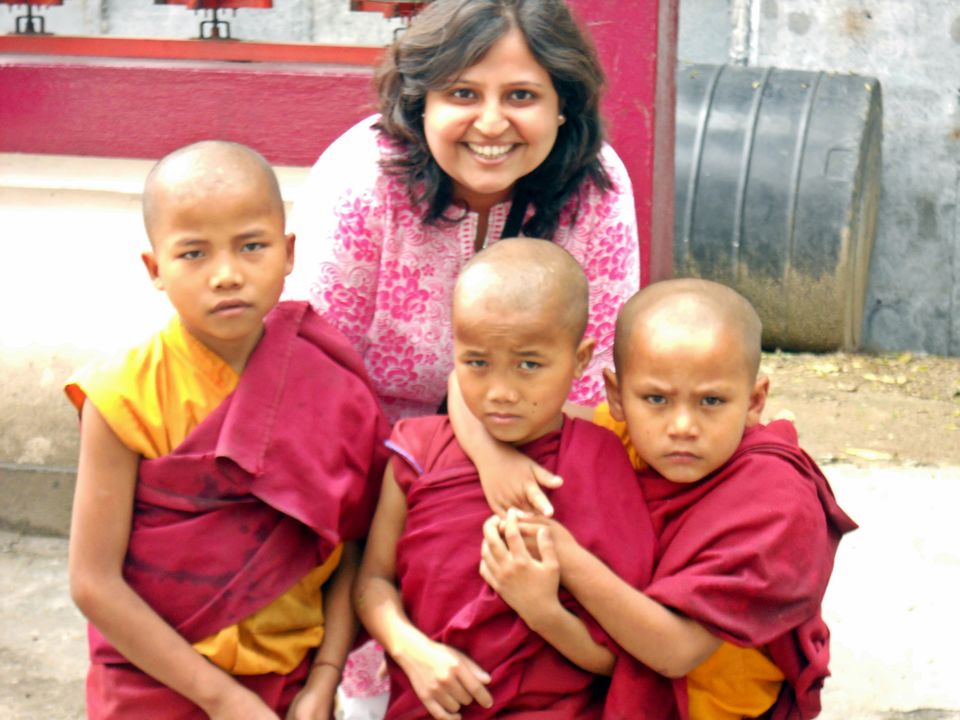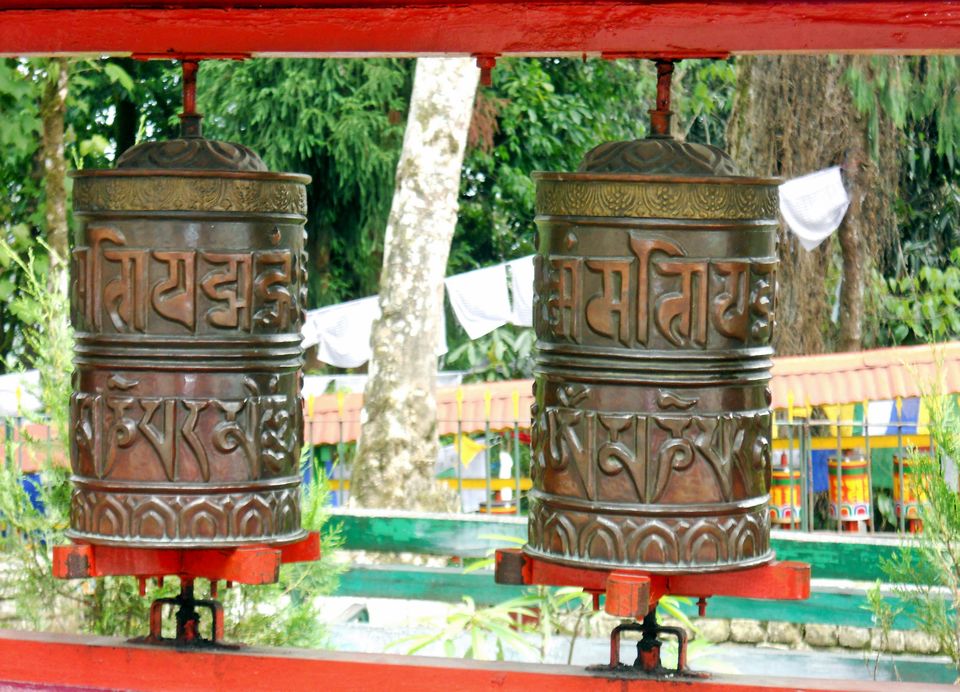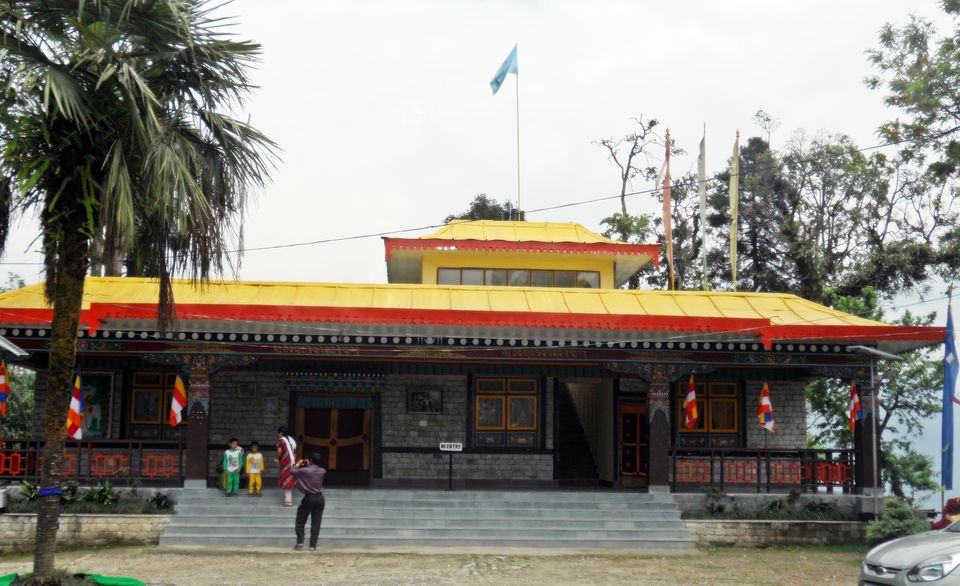 BAN JHAKRI FALLS
It's a park with Waterfall its centre of attraction; adventure activity like Zip-Line can be experienced here.
NEHRU BOTANICAL GARDEN
It's a nice garden with Big Greenhouse of Exotic Flowers.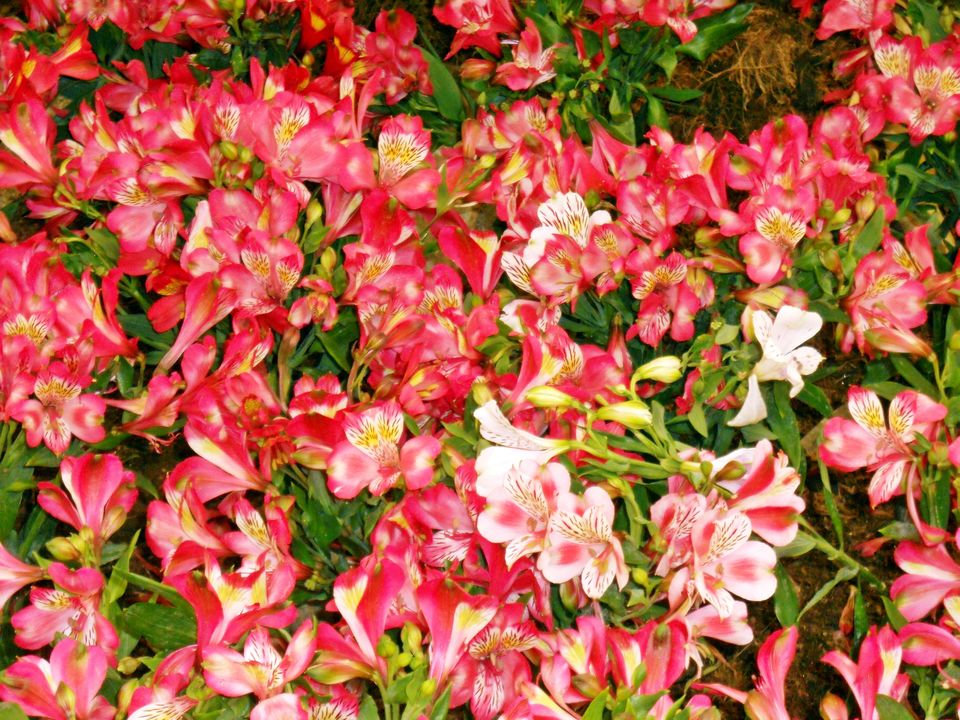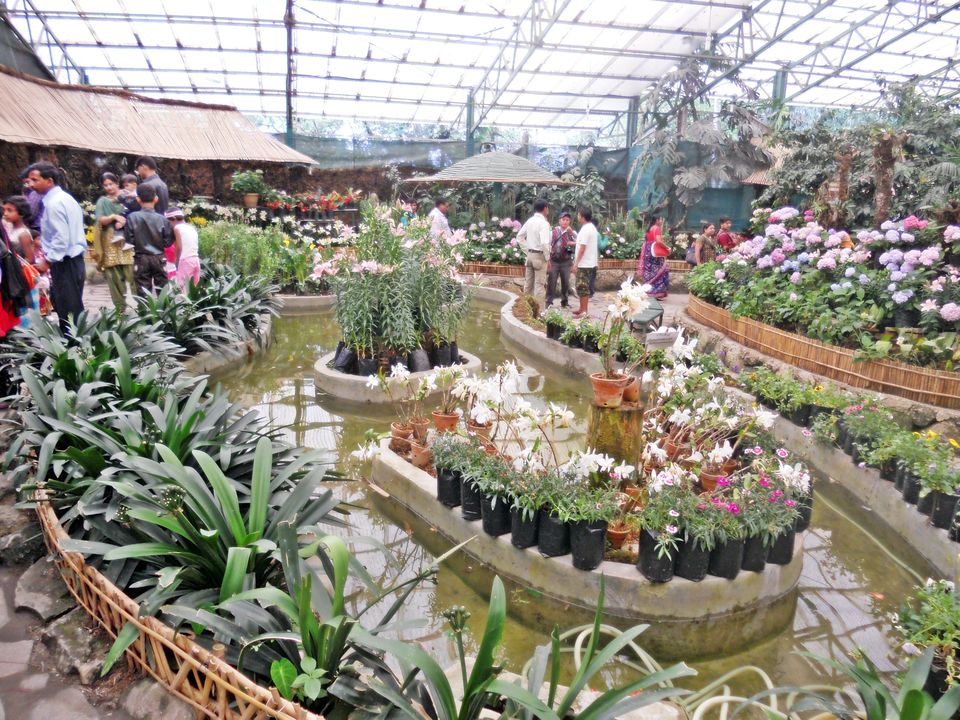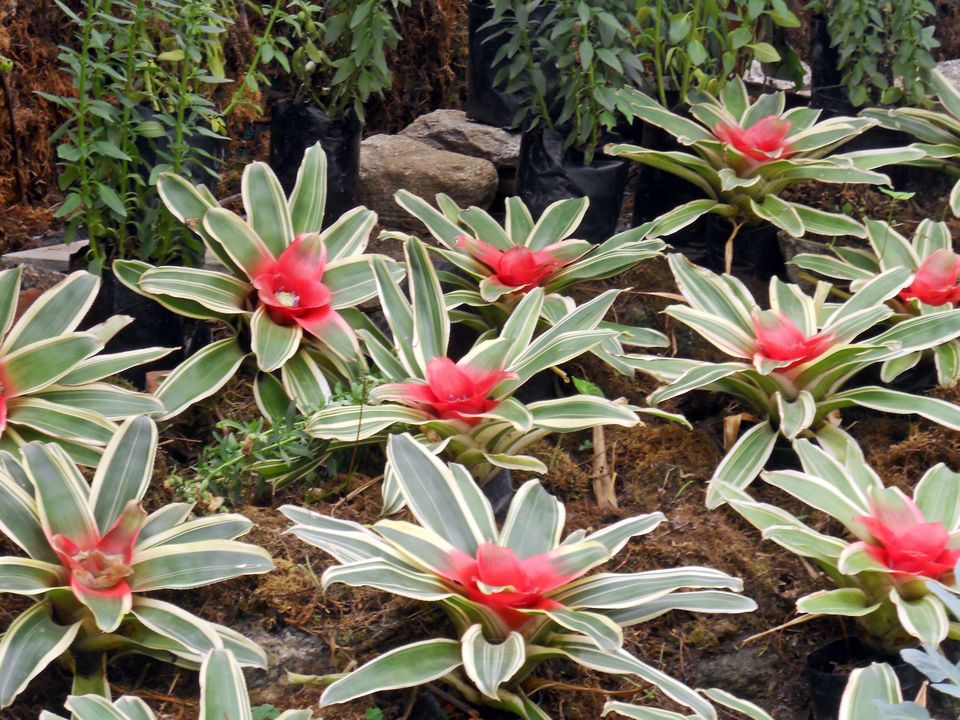 GANESH TOK
Great views can be seen from Ganesh Tok; few steps took us to "Lord Ganesh Temple", did the darshan. Finally it was time to get dressed in Local Dress called "Lepchas"(women dress). It was kind of fun.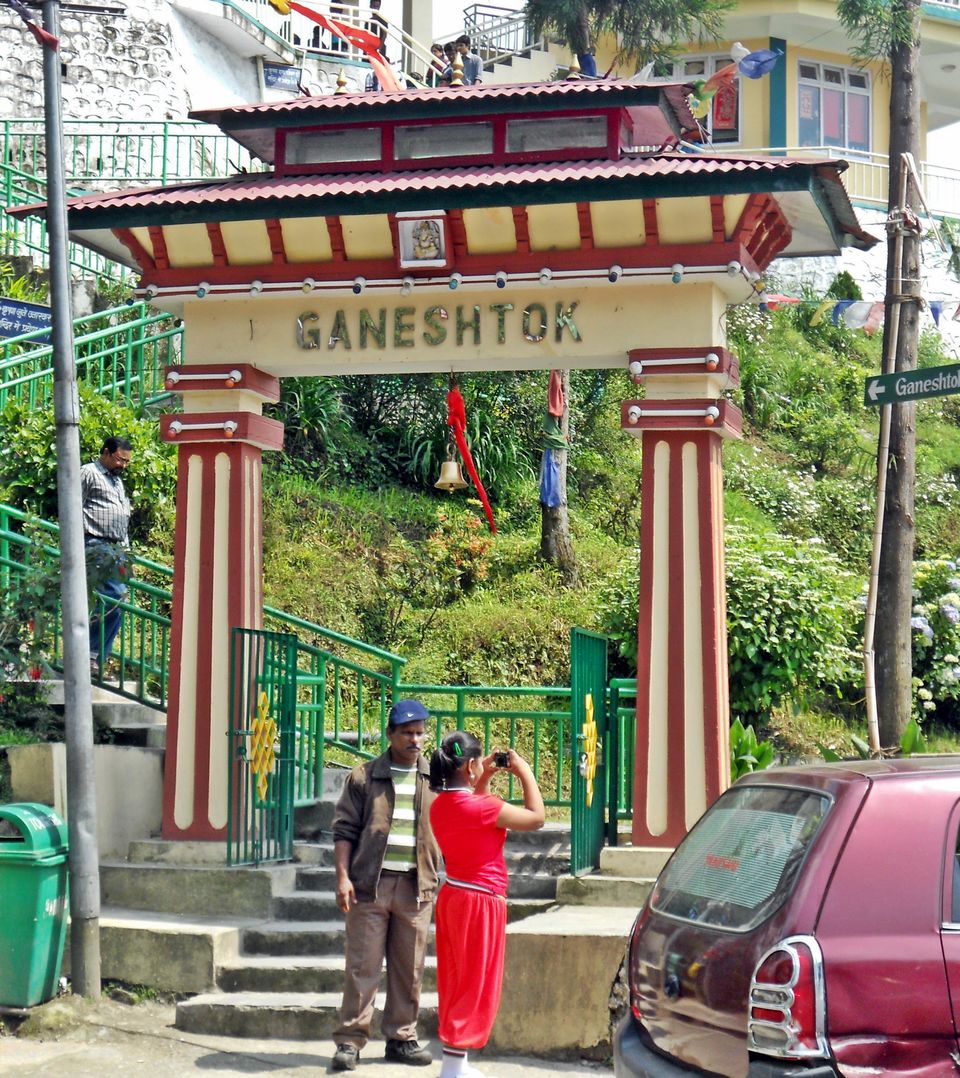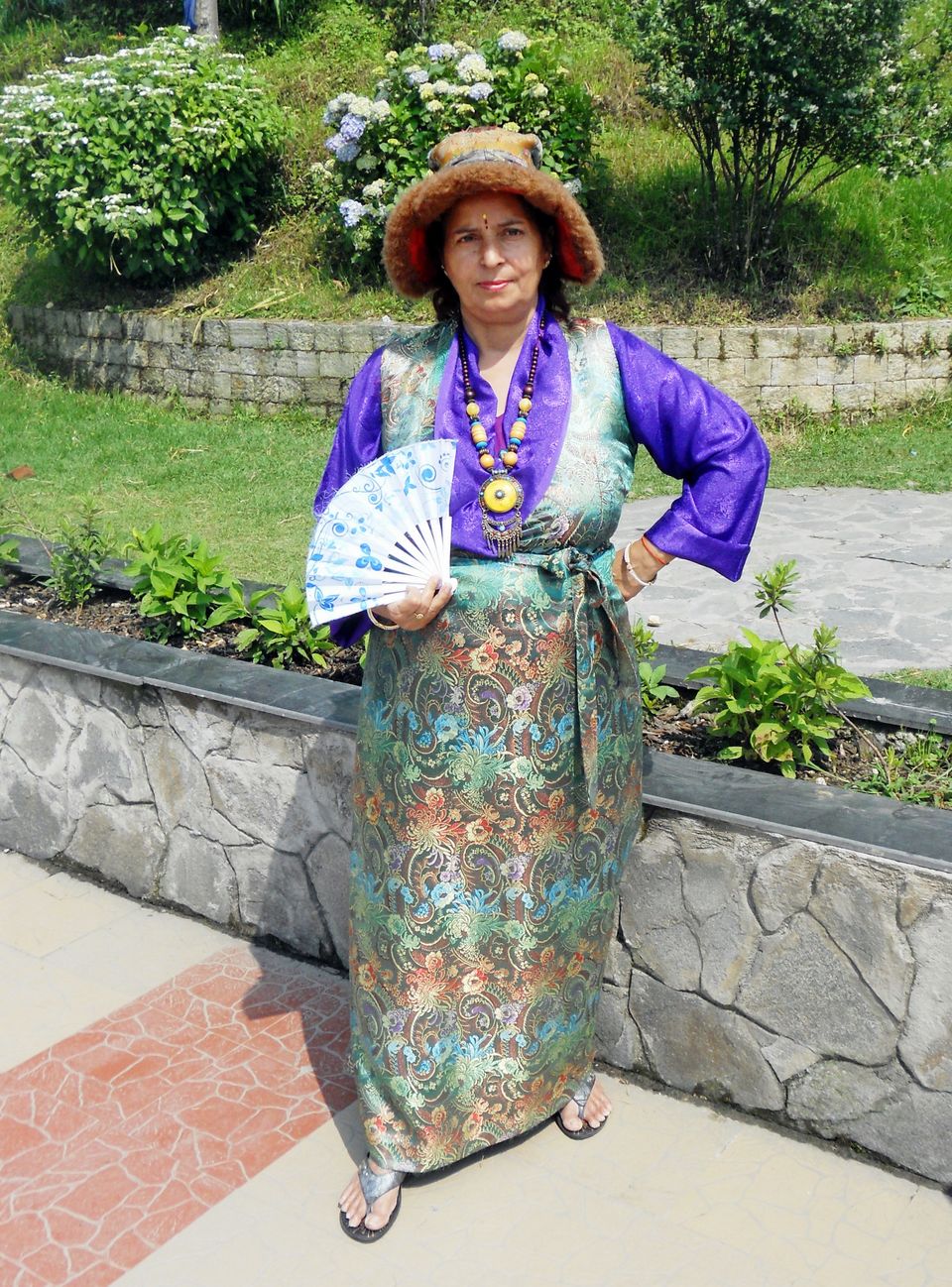 Evening was spent hanging out at MG Marg , enjoying our Ice-creams. The one unnoticeable thing about MG Marg is the Local Youngsters!!! their koolllll fashion sense, high heels and their awesomeeee haircuts; Swag Boss Swag.
DAY 2
Yayyyy!!! Time to experience best of Gangtok. We reached MG Marg at around 8 am for our day tour to Changu Lake and Baba ka Mandir. Our vehicle(sumo on sharing basis) was ready to take us. It was almost 2 hrs ride. But due to recent rain the condition of road was really bad riddled with bumps throughout the way; that made it difficult in driving and took additional time to reach Baba ka Mandir.
BABA KA MANDIR
It's situated at nearby 13000 ft altitude. Mandir is dedicated to 'Harbhajan Singh', Soldier of Indian Army who died near Nathula Pass. Simply divine................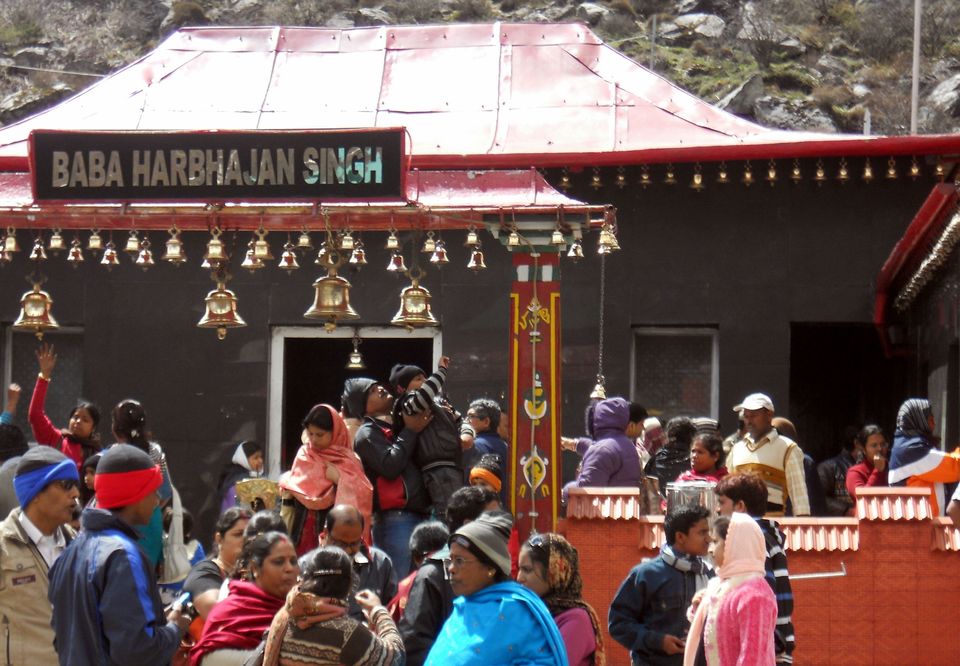 CHANGU LAKE OR TSOMGO LAKE
Next stop was Changu Lake, It's a splendid lake surrounded by the mountains at nearby altitude of 12000 ft . The scenic is picture perfect, so eyefull. In winters it's almost covered in snow. I could still feel the chilly winds, my shivering legs.
Somehow I managed to get out of the car; as I don't want to miss the "Yak Ride". Dad and I really enjoyed the ride, while mom was scared to the hell....... hahaha.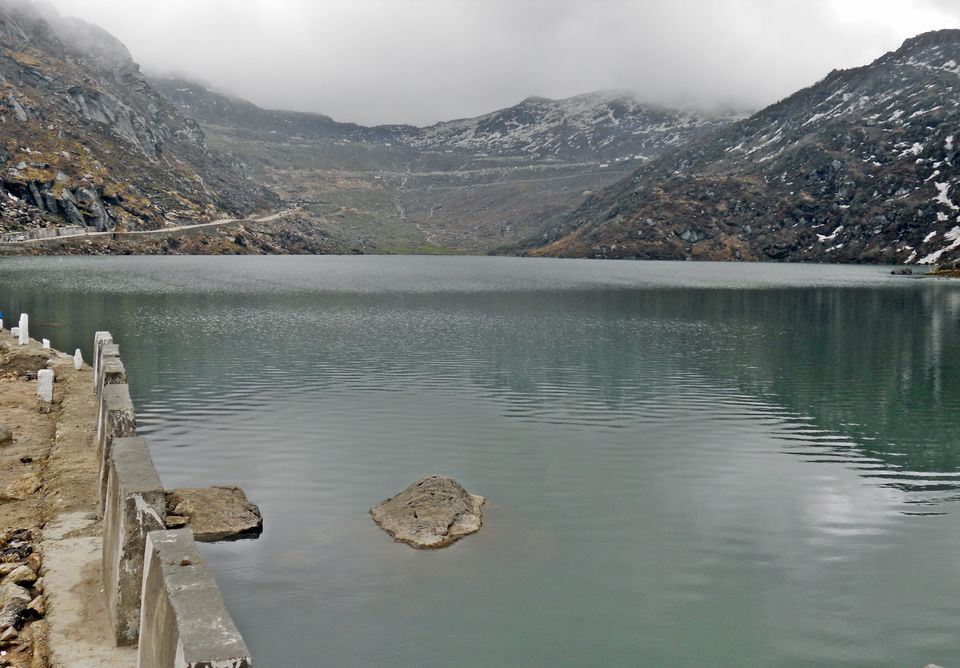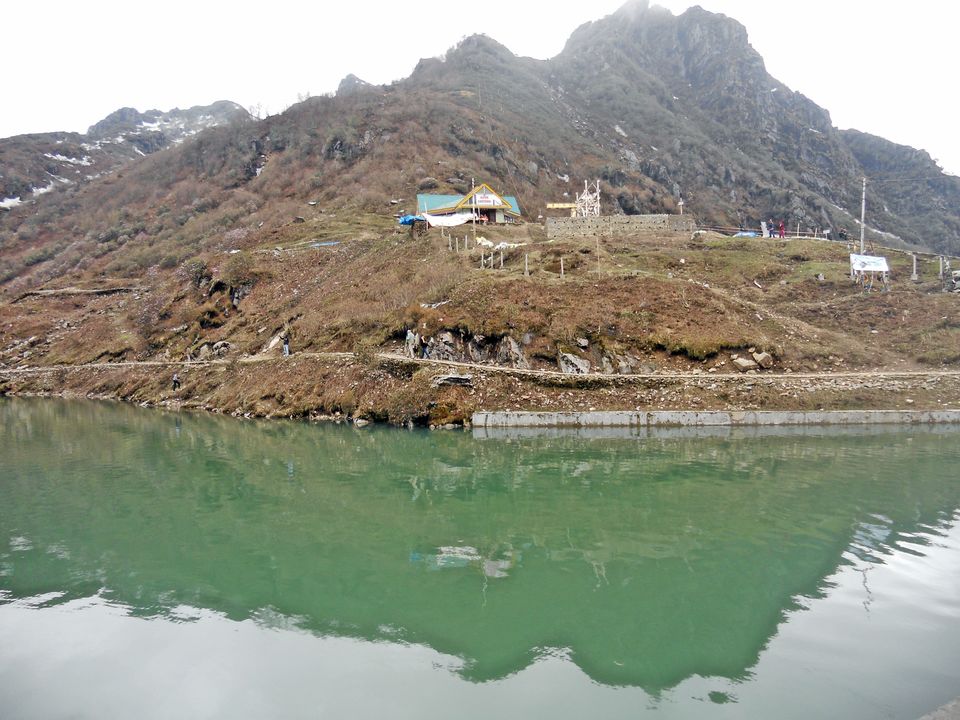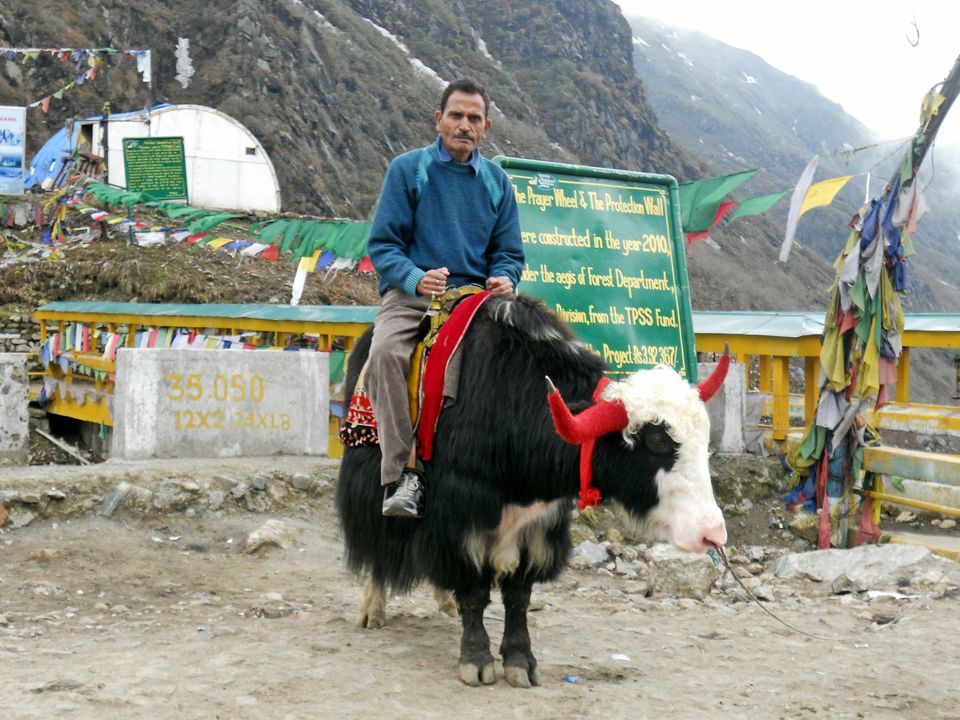 Unfortunately on the way back, icy winds and road bumps made me sick :/
DAY 3
This day I rested, as I was not in a condition to travel. I lasted the entire day on one 'Chocolate Pastry' (it felt heaven). Due to huge huge crowd we skipped the Rope Way.
DAY 4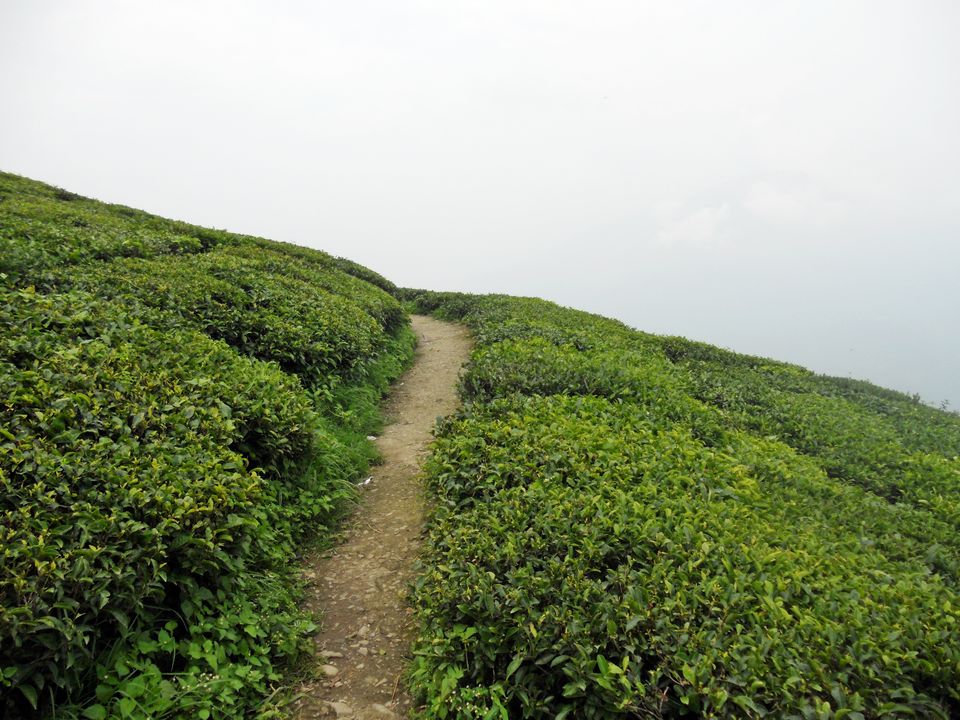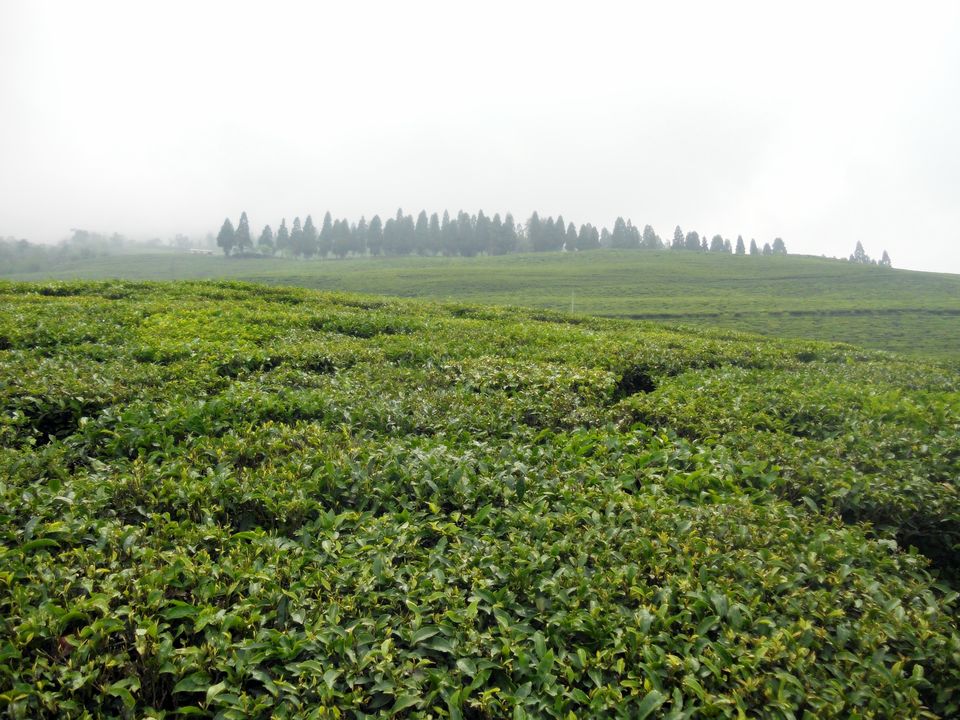 This day we travelled to "Siddheshwar Dham" at Namchi, Southern Sikkim. Siddheshwar Dham is a replica to the Hindus Char Dhams; Jagannath, Badrinath, Dwarka and Rameswaram and 12 Jyotirlingas. We reached there in 2 hrs . The entire span was full of greenery. We took some time off to see the Tea Gardens in between.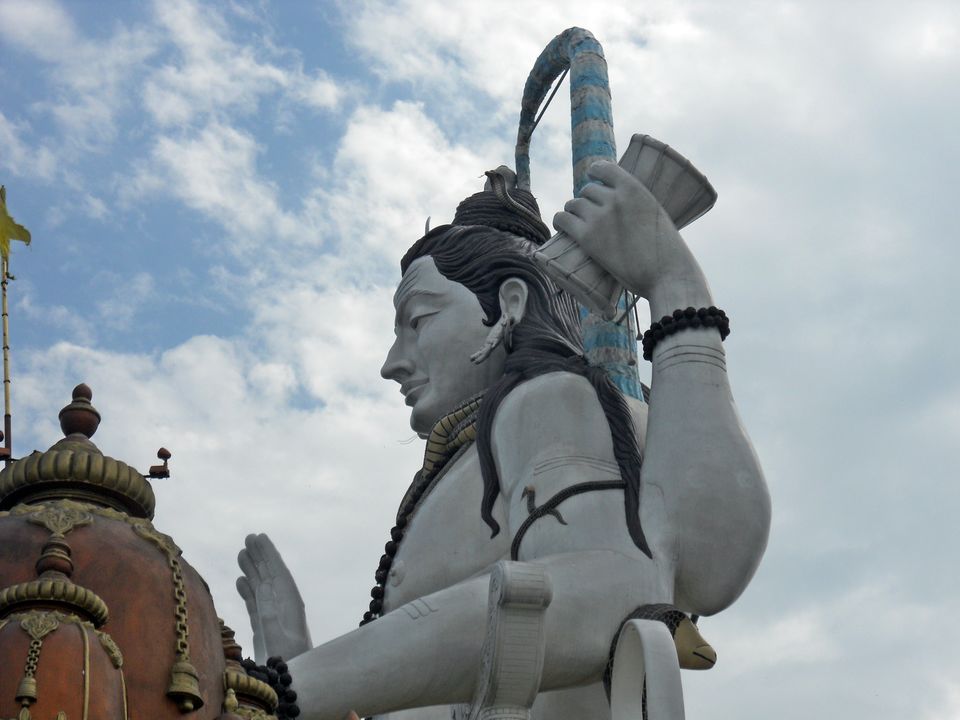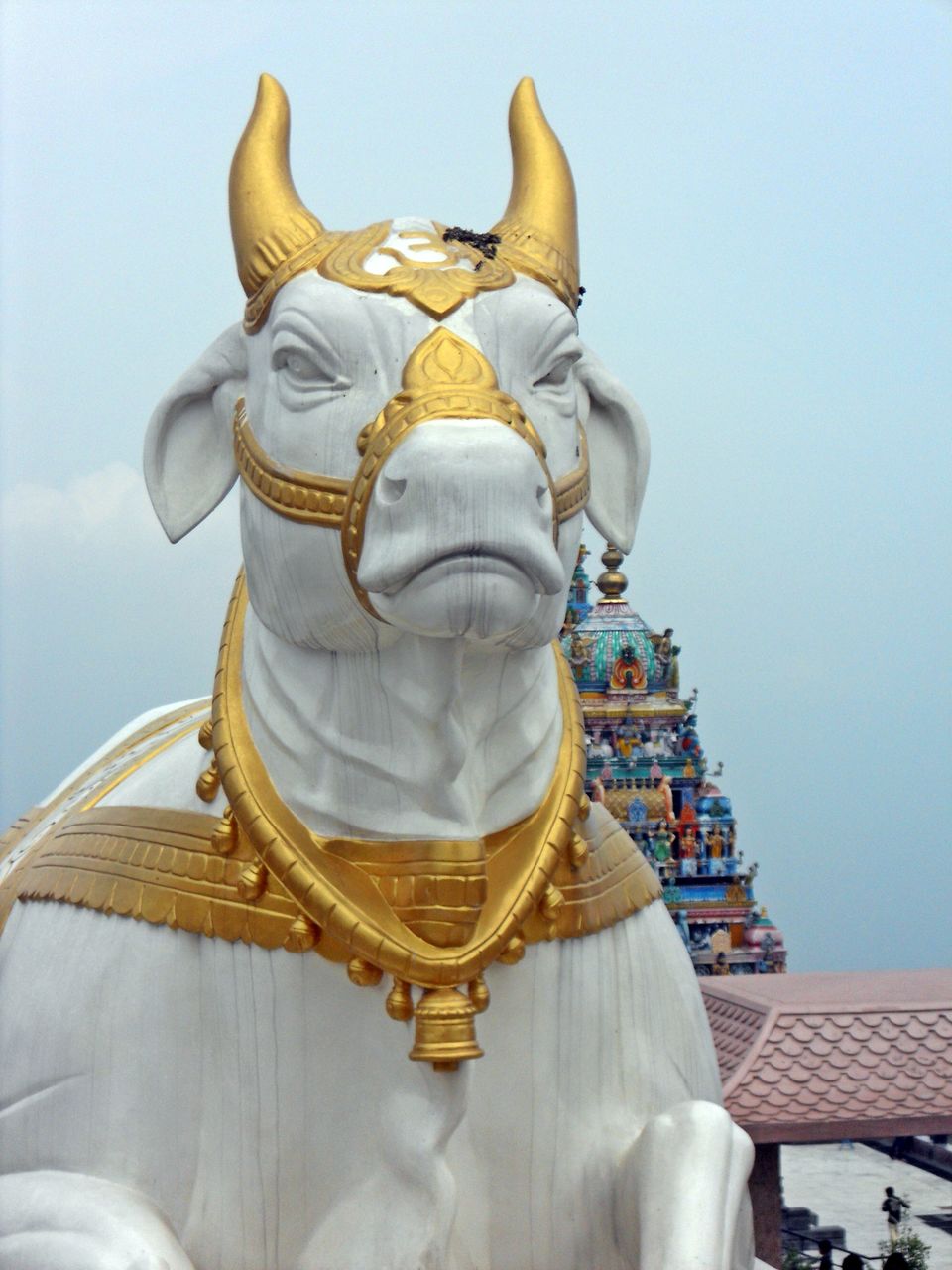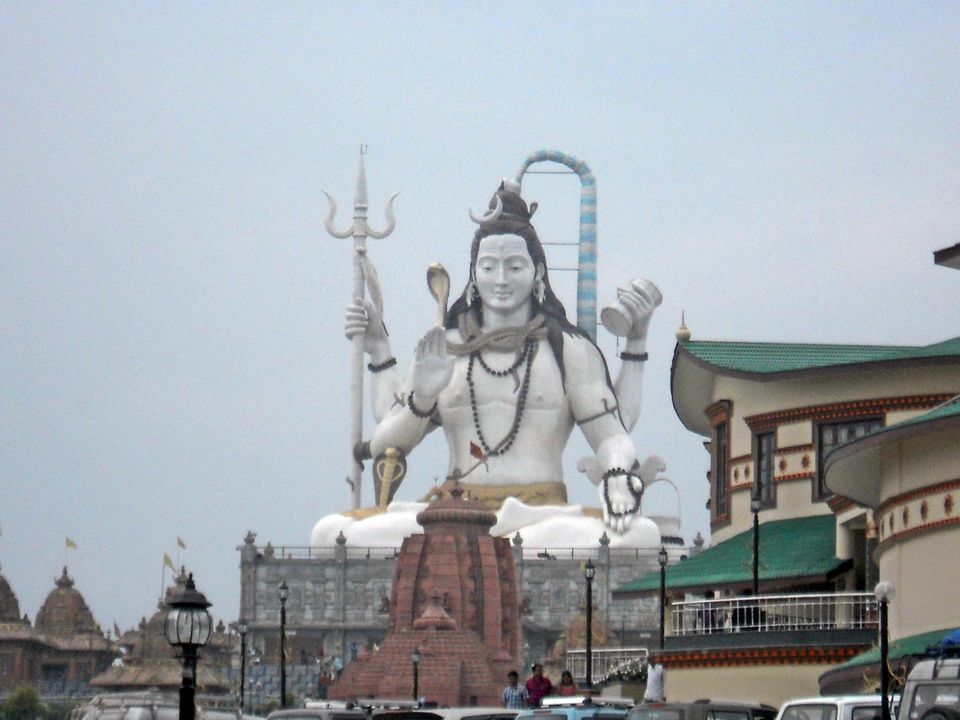 The Dham is splendidly built and is well maintained. The first unnoticeable thing about Siddheshwar Dham is the "Gigantic Lord Shiva Statue".
Important Piece of Information-
*New Jalpaiguri to Gangtok and vice versa charges on sharing basis per person (sumo) is Rs. 300/- and by private taxi is Rs. 2200/- to Rs. 2500/-
*Day tour charges for Changu Lake-Baba ka Mandir-Nathula Pass on sharing basis per person (sumo) is Rs. 700/-
*Day tour charges for Changu Lake-Baba ka Mandir on sharing basis per person (sumo) is Rs. 500/-
*Day tour charges for Siddheshwar Dham at Namchi, Southern Sikkim by private taxi is Rs. 2500/-
*Day tour charges for local site-seeing Gangtok is Rs. 700/-
*Number of eating points at M.G Marg.
*Woollens required for Changu Lake-Baba ka Mandir-Nathula Pass tour.
Frequent searches leading to this page:-
gangtok trip cost, gangtok tour plan for 4 days, darjeeling gangtok shillong tour package, gangtok darjeeling trip, gangtok pelling darjeeling, best tour operators in gangtok, veena world sikkim gangtok darjeeling, gangtok holiday package, gangtok trip package, gangtok sikkim darjeeling, gangtok darjeeling sikkim, darjeeling gangtok honeymoon package