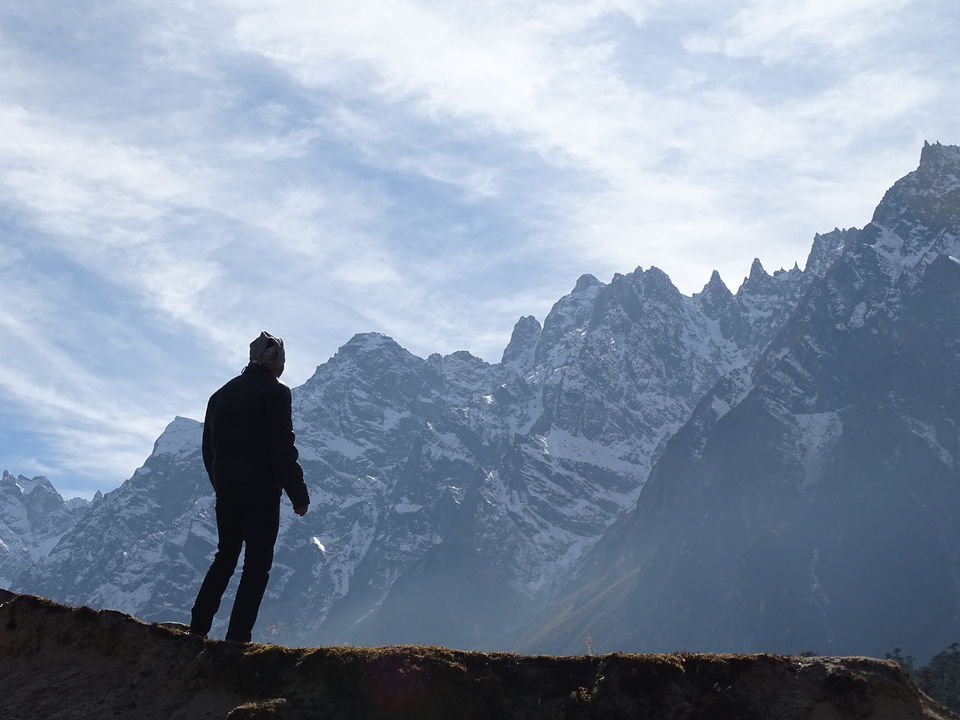 The beauty of Sikkim is impeccable to any other hill station. I can say this with utter confidence as at the end of the trip I had found my hands-free at the same place as I kept at the starting of the trip. Music is something that keeps me alive during the journey and connects me to the landscape of the place.
Gangtok like any other hill station has very kind and generous people but the beauty of this place is held by the views of giant mountain peaks which includes some of the highest peaks in the world. The only difference is if you want to roam around the place you need to book packages which are easily available by the help of your hotel people or the cab person, they're the most reliable people to have a look around the place.
To reach Gangtok there are two ways, firstly you can choose to fly to Bagdogra Airport and then share a cab to Gangtok or you can choose to board a train to New Jalpaiguri or Siliguri Jn. and share a cab from there to Gangtok (Sharing price from NJP to Gangtok is INR 300 & from Siliguri Jn. to Gangtok is INR 250). The duration from Jalpaiguri to Gangtok is around 4 hrs. The best trains to reach NJP are Teesta Torsa Exp. & Darjeeling Mail.
We reached Gangtok Bus stand and met our driver Mr. Amit, he is a very helpful and kind person and helped us settle in a good place i.e. Sukhim Guest house which was just at the end of the main M.G. Road and also had a reasonable price and spectacular view from our room. He also helped us arrange our trip itinerary with a package from his brother who worked as a travel agent.
Day 1 : 5 place sightseeing (Hanuman Tok, Ganesh Tok, Zoo, Tashi view point, Gonjang Monastery) which costed us INR 1200 for 3 pax. Day 2 : Leave for Lachung and sight seeing of waterfalls on the way. Day 3 : Leave for Katao Military base, Zero Point & Yumthang Valley & return back to Gangtok. Day 4 : Leave for NJP.
We reached Gangtok at around 11 am. , settled and had lunch at 'Chopsticks' (situated on main M.G. Road, had delicious chinese food). We started our 1st day of sight seeing from the Hanuman Tok which is considered the highest point in Gangtok and has a spectacular view of whole Gangtok.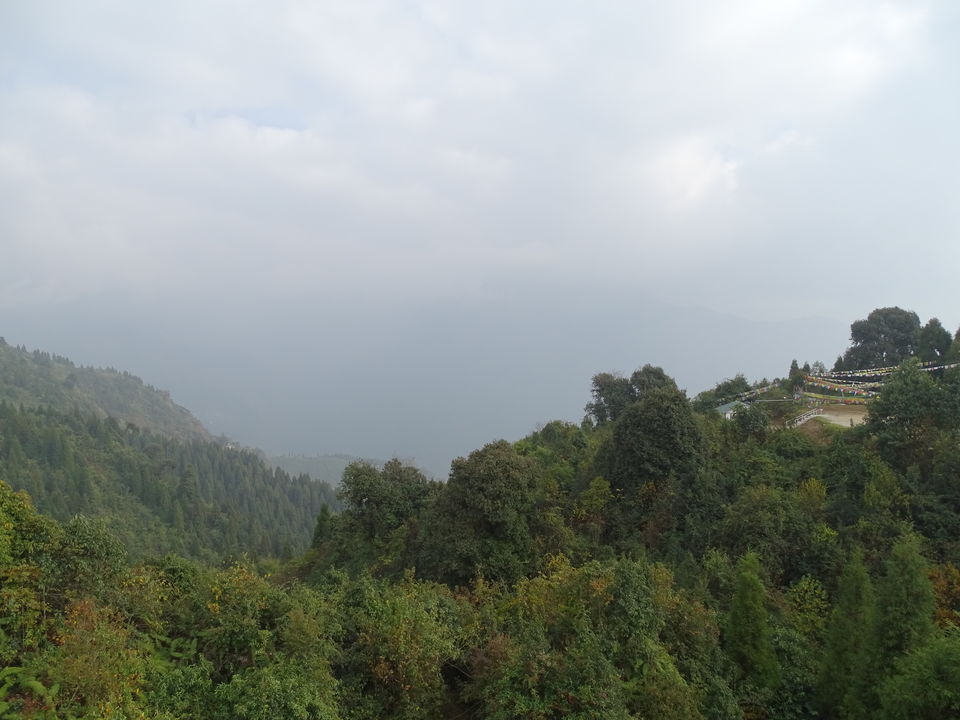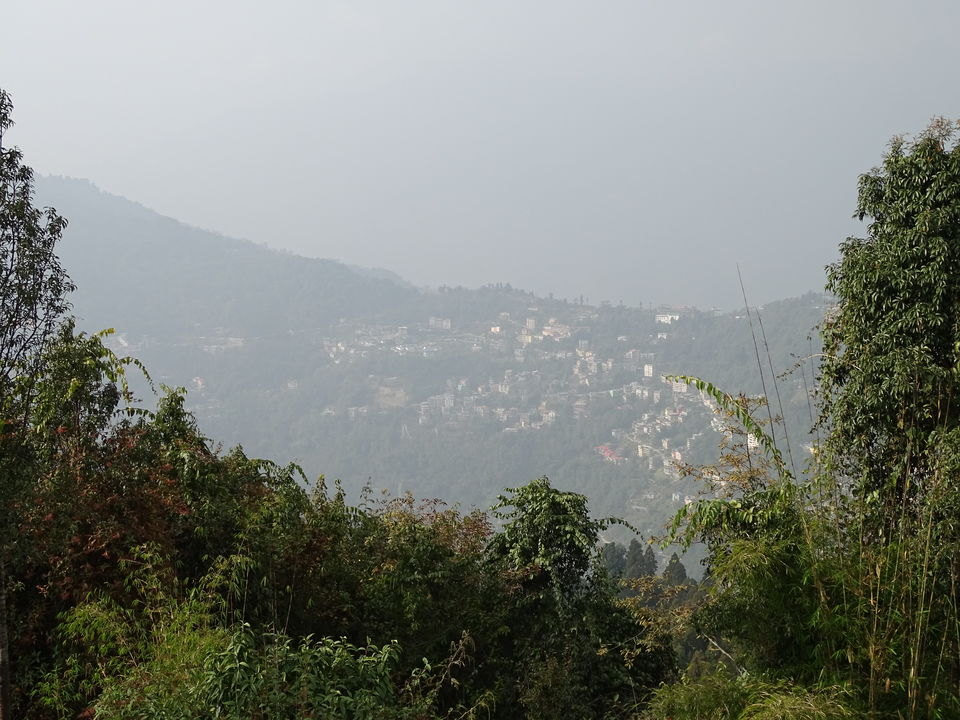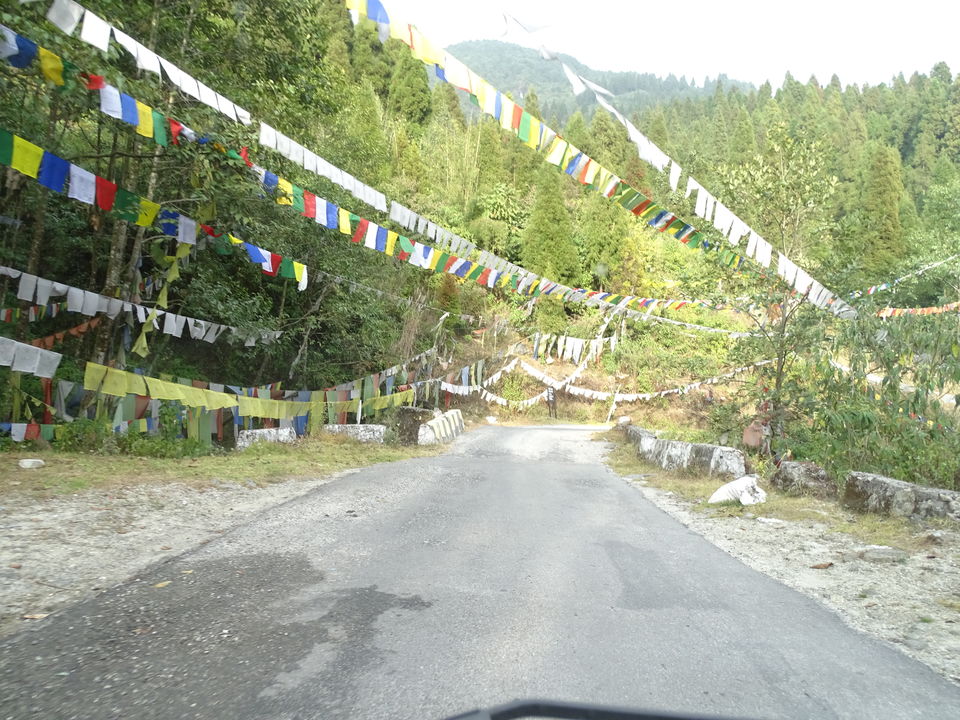 Next we reached Ganesh Tok which was a 10 min. drive from Hanuman Tok, Ganesh Tok also had some amazing views with the shrine of Lord Ganesha, the place also had some sovereign shops.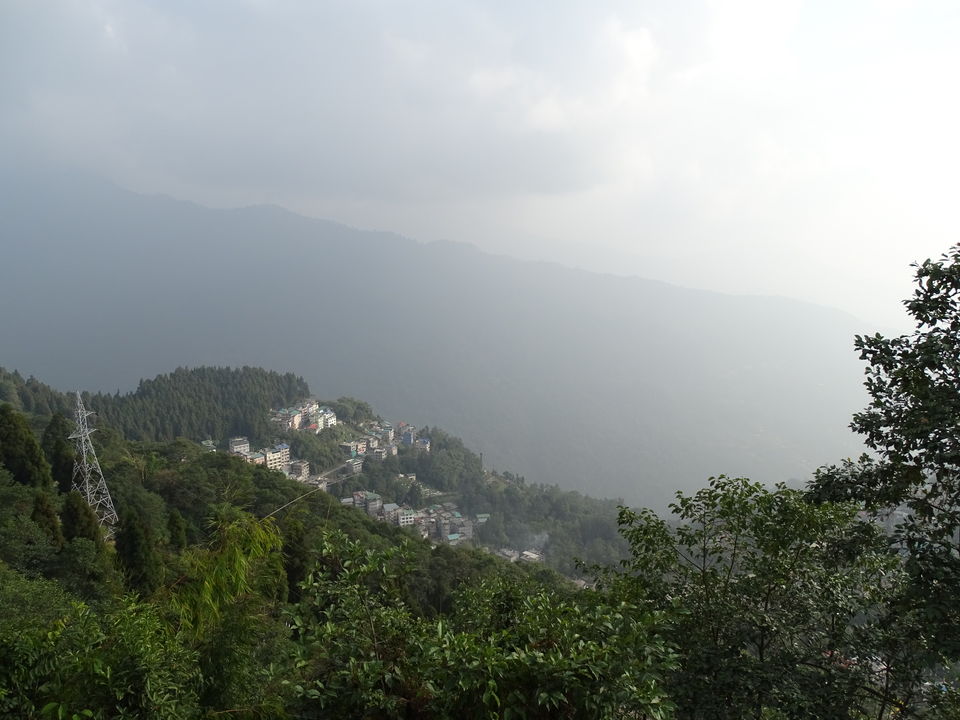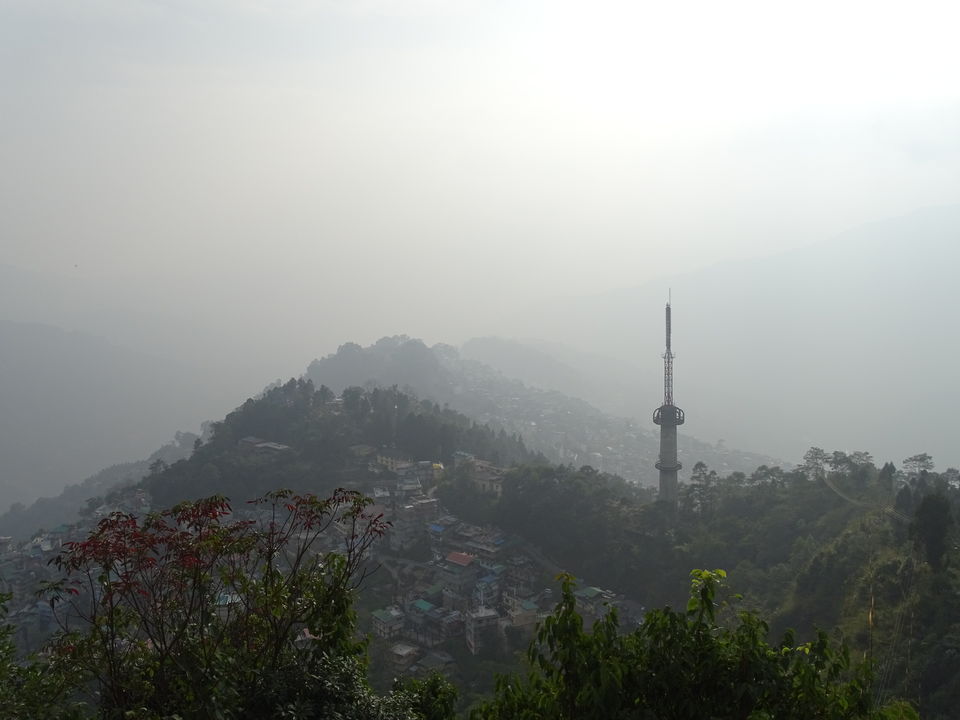 Next we headed to Zoo, which was just in-front of Ganesh Tok, this place was added in the itinerary on our personal demand as Himalayan Zoological Park provides great opportunities to see some really amazing & rare species like Leopard, Barking deer, Leopard Cat, Blue sheep, Yak and among which most popular are Snow Leopard & Red Panda being the rarest species and to be found only in Nanital, Darjeeling & Gangtok.
The entrance ticket is as cheap as INR 25 per pax and INR 100 for vehicle. Till certain point you can take your vehicle inside and park and cover the rest area on foot. The place is well maintained and a personal request is not to loiter the place and disturb the animals by taming them. The way they're kept in their natural habitat is very amazing.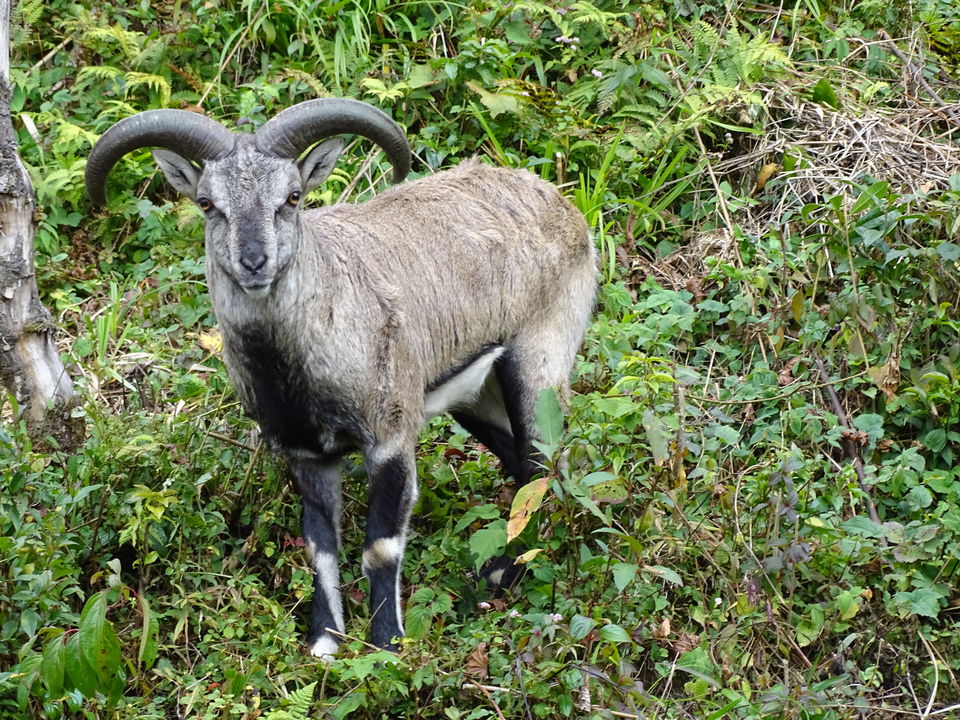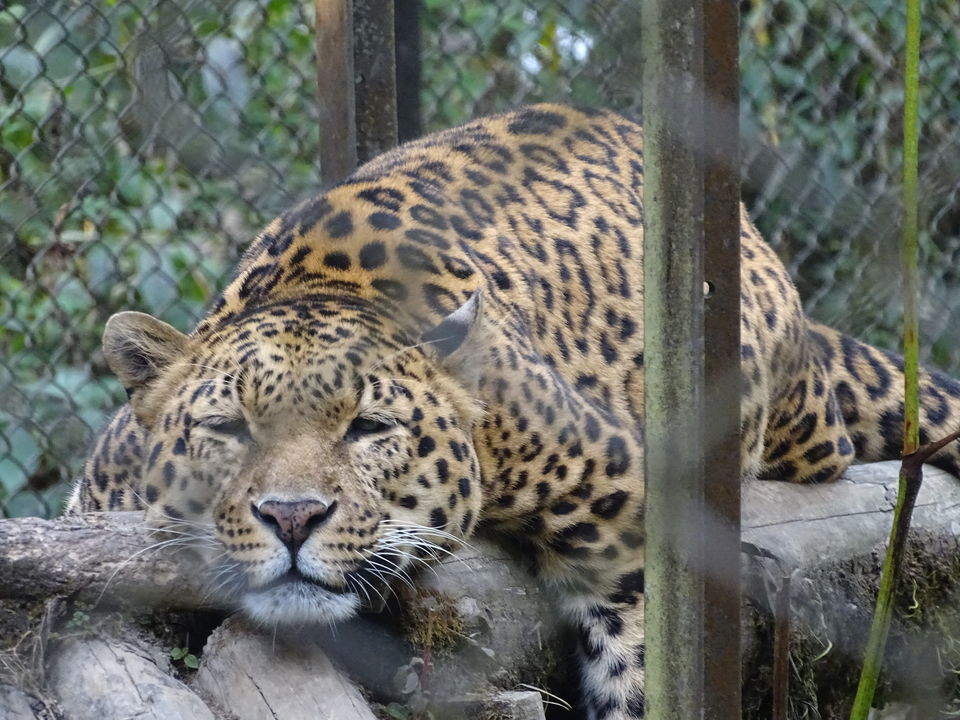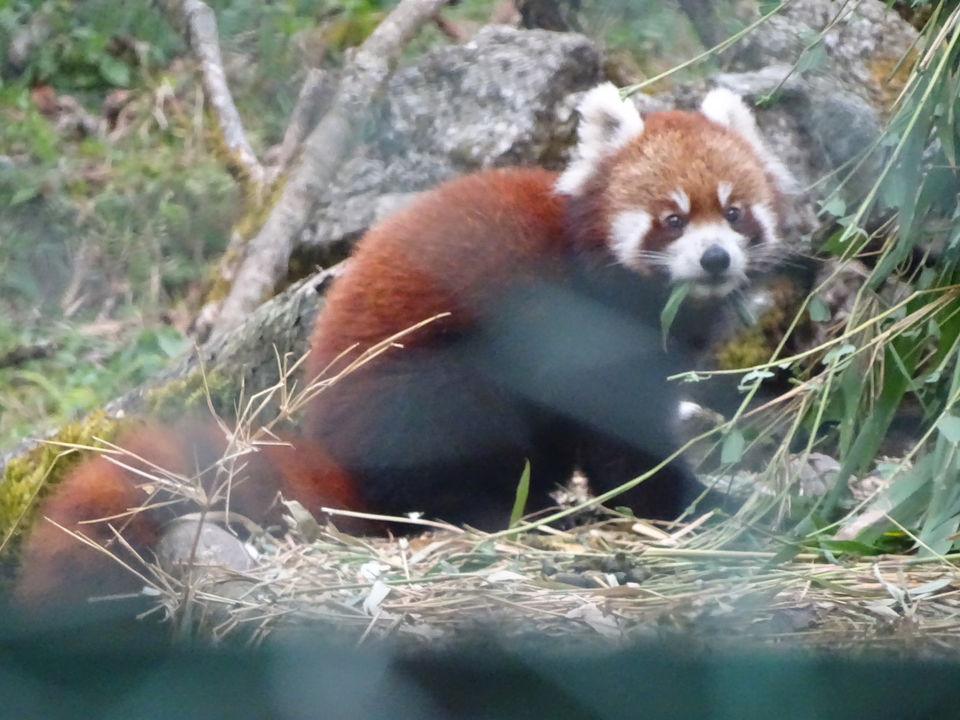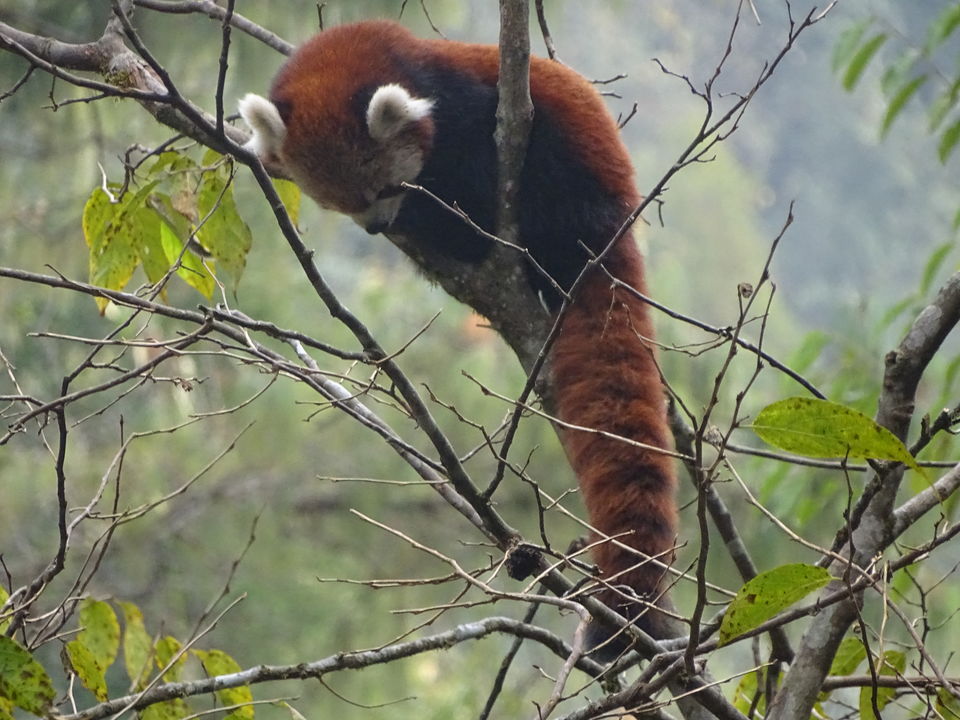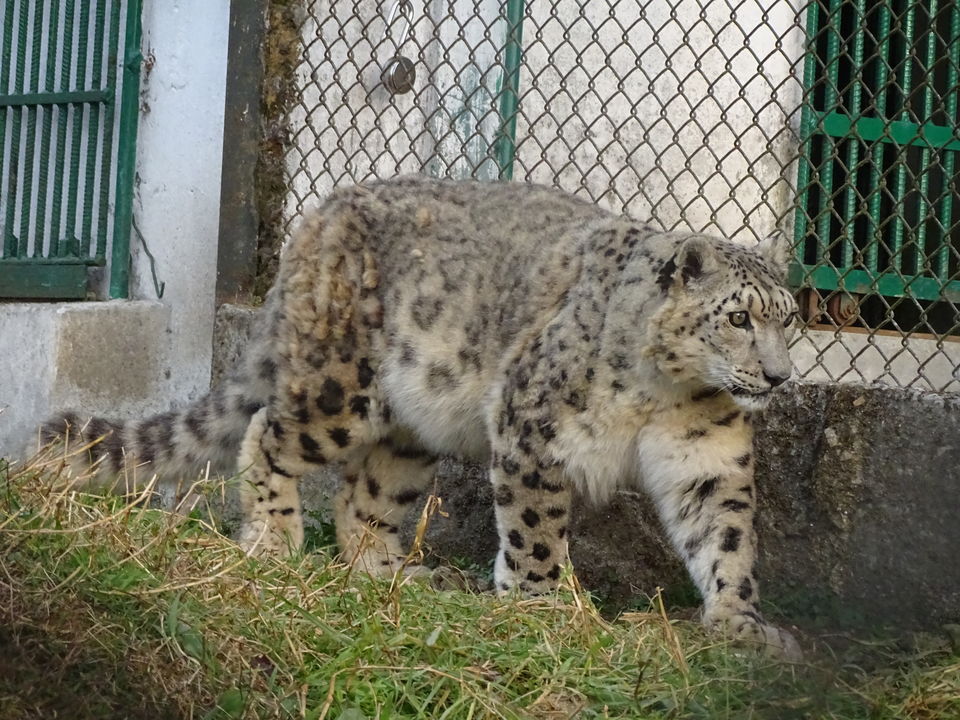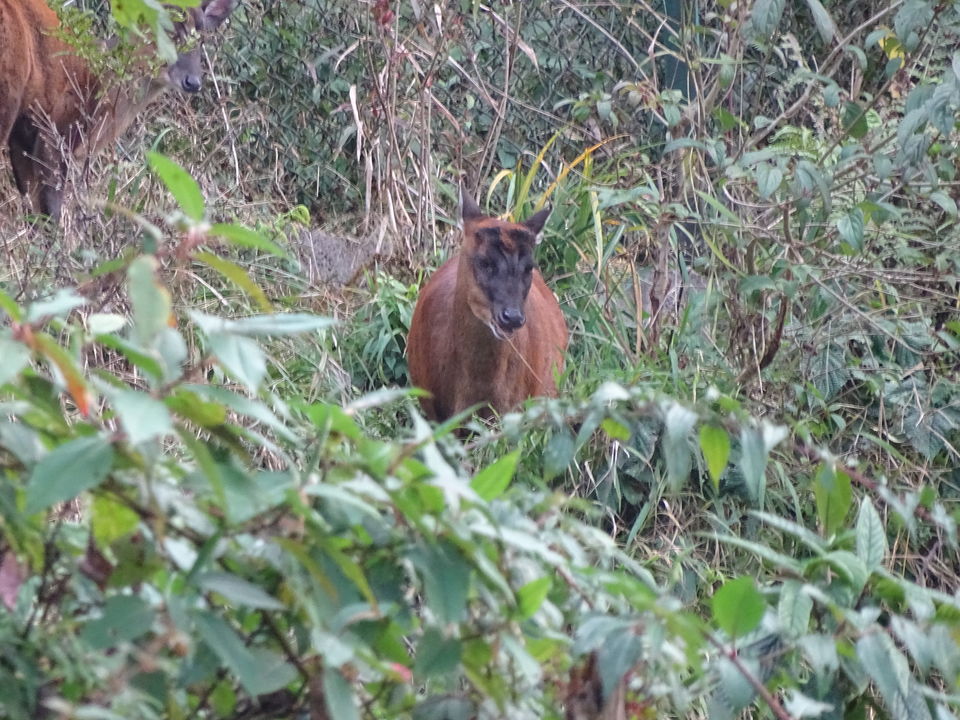 Next we headed to Tashi View Point which provides some breathtaking views of the Gangtok city. Although you can find such views all over your journey but still the place holds it's importance and The Dragon Statue connects it with the culture of Sikkim.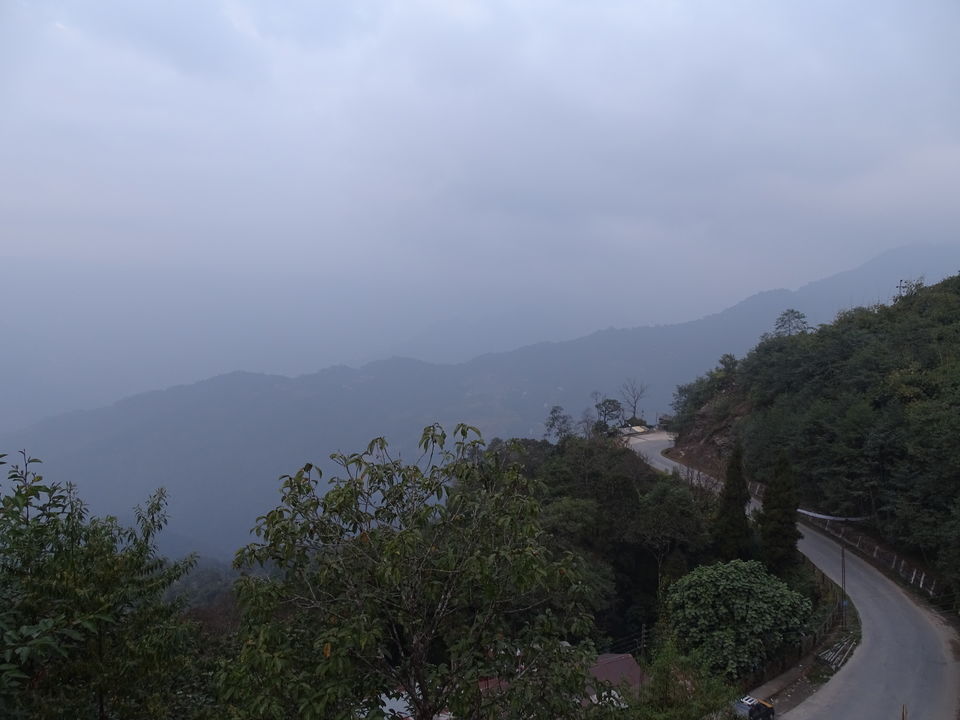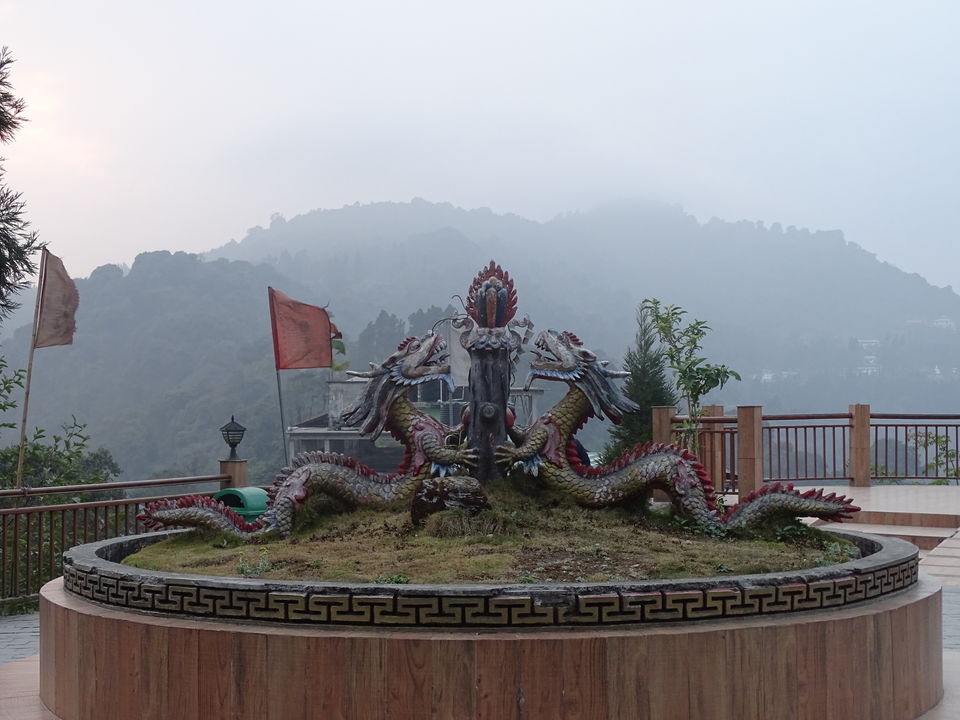 Next we reached The Gonjang Monestary which is near the Tashi View Point, the place is as peaceful as heaven, with little lamas playing in the evening in the courtyard. Inside the monestary is very beautiful shrine of lord Buddha and the walls & the roof are covered with bright colorful paintings. The architecture of the place is amazing and it also has a huge open area that provides some really amazing scenic beauty.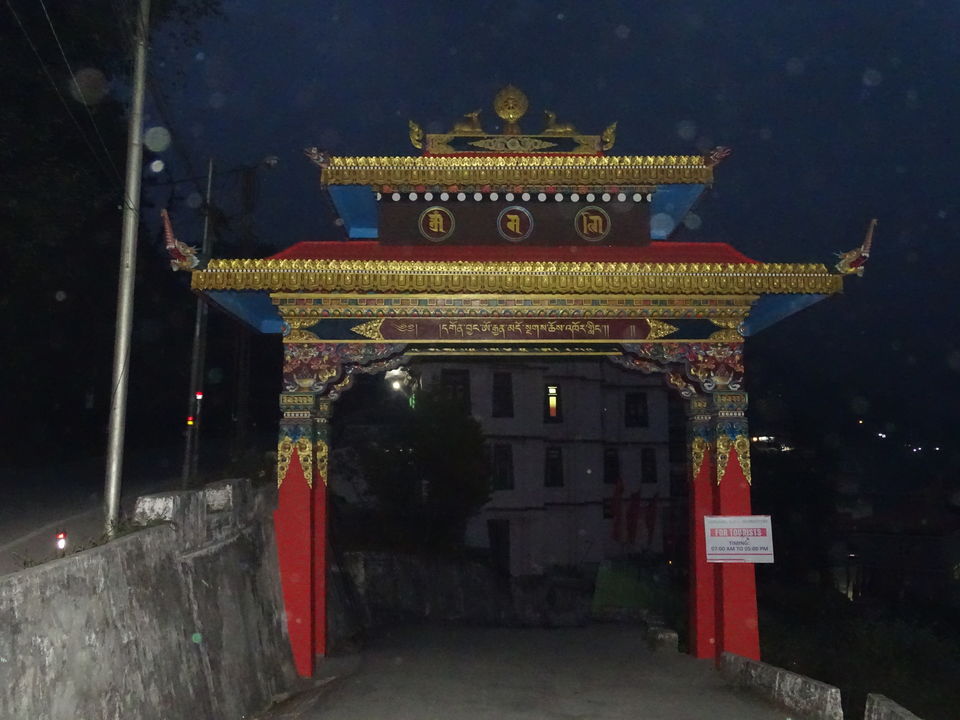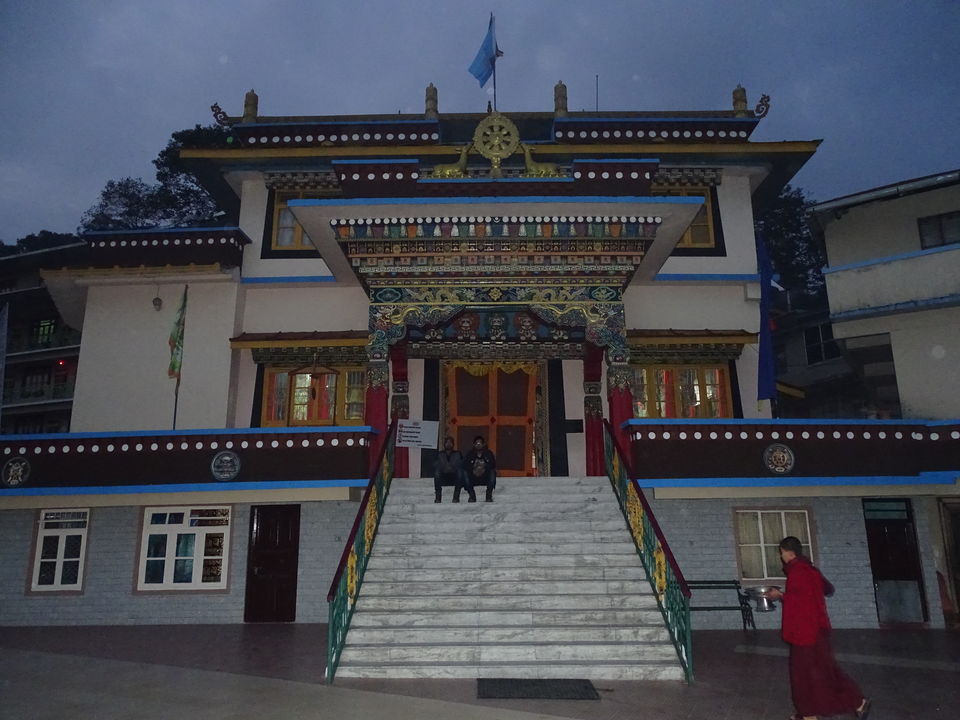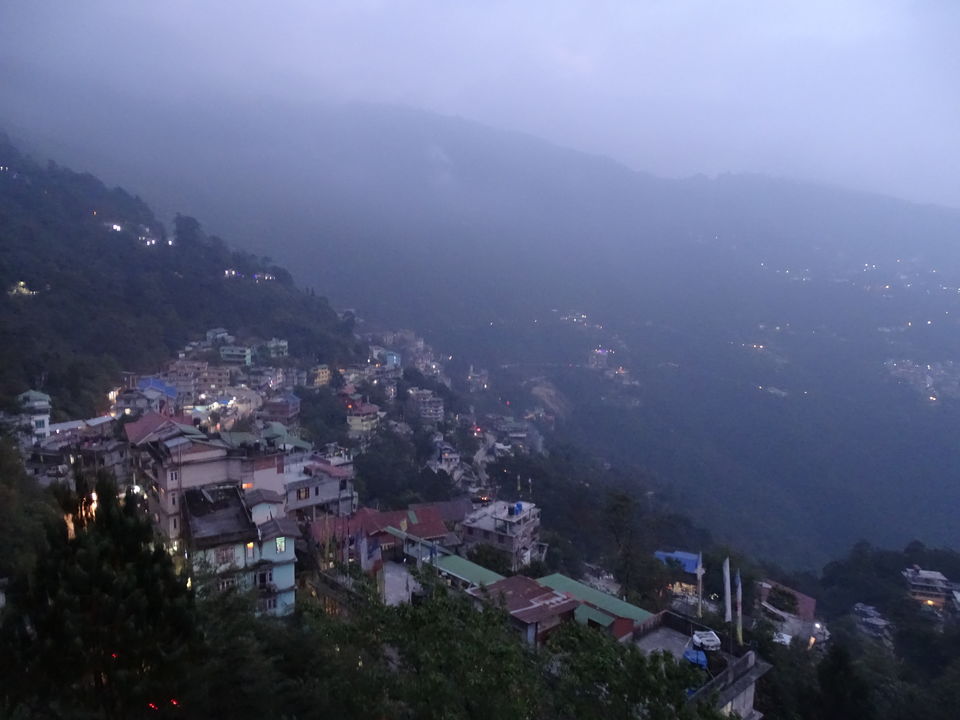 The sun had already set when we reached the Gonjang Monestary, thus we couldn't spend much time there as it closes at 5pm. I really hope to visit there in daytime someday. Next we returned back to M.G. Road to enjoy the hustle bustle & the livelihood of the place in the evening. We enjoyed some rolls and momos at The Roll House which is famous for the same and purchased a local brandy to accommodate in the cold weather.
There is one major problem in Gangtok that no cab is allowed to move before 10 am. due to which we had to change some of our plans but it was also good to rest a little more in our rooms. We left for Lachung at around 11 am. On our way were some really amazing waterfalls, the sight seeing of which was also included in the package. We reached Lachung at around 6 pm after many stops at waterfalls. Keep in mind that Lachung & Lachen are two different places.
The price to Lachung and back was around INR 1200-1500 per pax which included all the meals, stay & travel and excluded the charges to visit "Yumthang Valley & Zero Point" which costed INR 2500 for whole cab, which can accommodate around 10 people. We also wished to visit the "Katao Military Base Camp" which also costed another INR 2500 for the cab. Our companions in the cab were pretty good people and agreed for the same.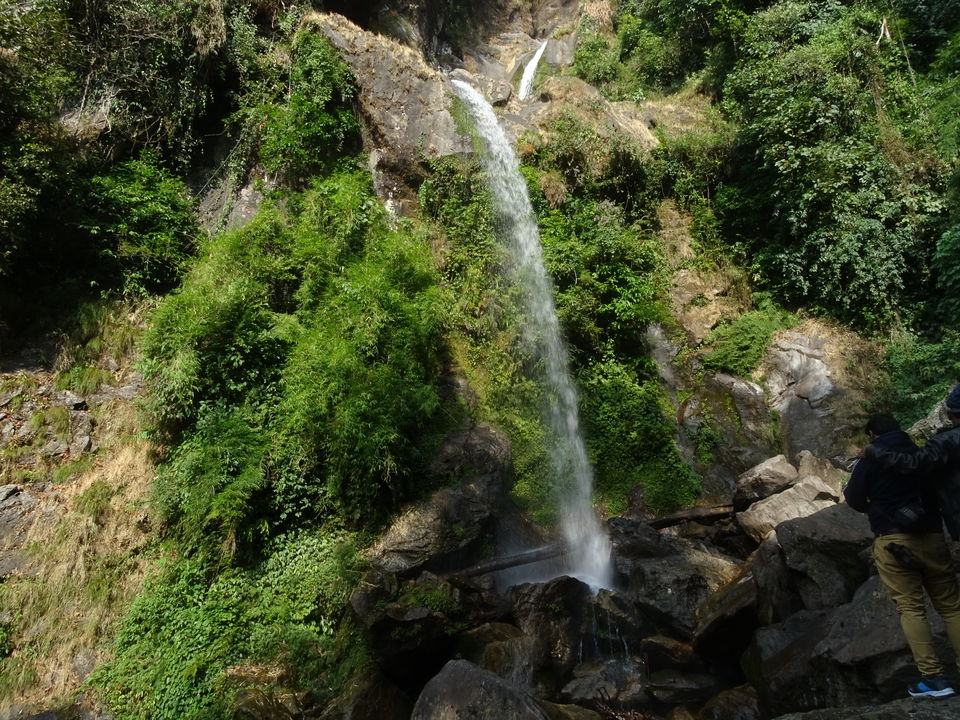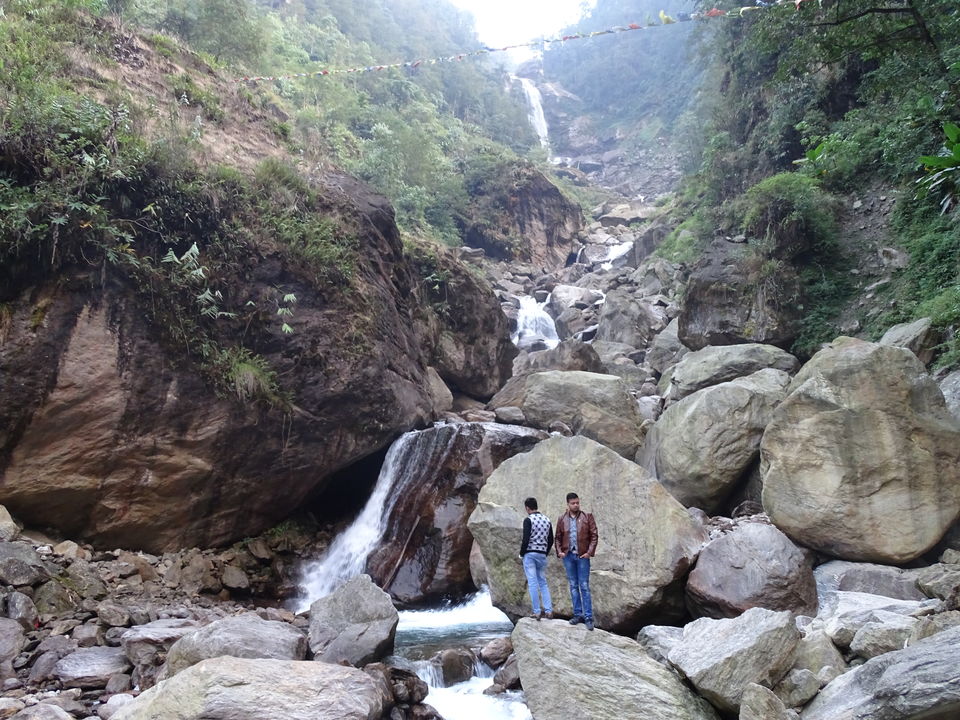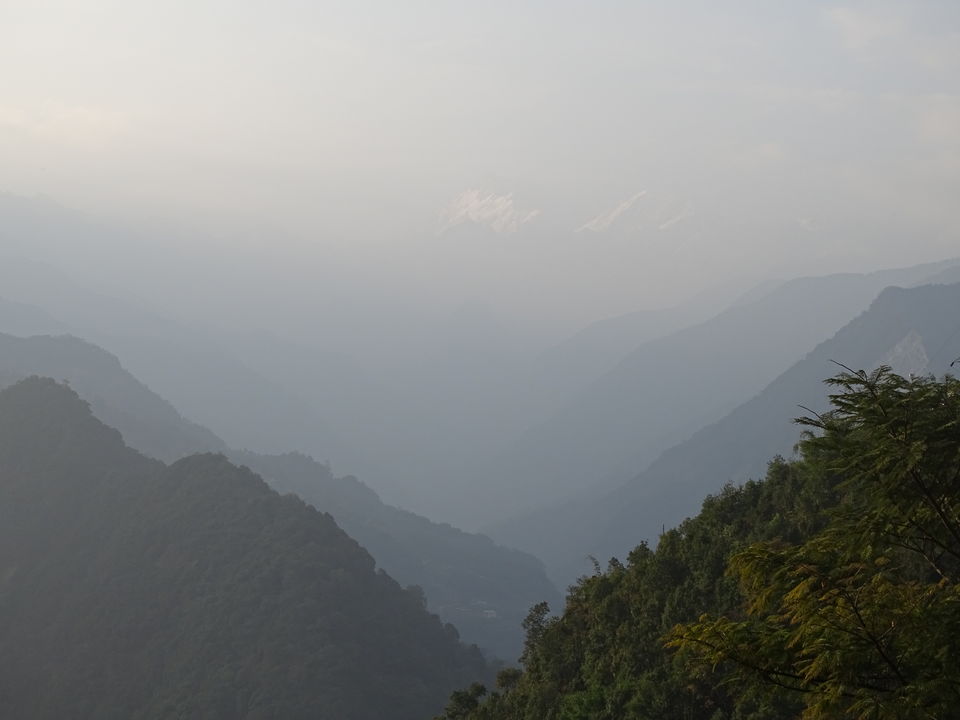 Next morning we had to start early to chase the sun rising from the Katao Military Base. It is around 2 hrs journey from Lachung. No vehicles or civilians are allowed beyond this point. The place in itself is a beauty which is covered with high snow capped mountain peaks on all sides.
NOTE : Katao, Yumthang Valley & Zero Point are hard to be covered in a single day, thus we woke up at 4 am to start our journey as we had to return to Gangtok the same day. Also Katao is not a standard place of visit in package and we requested our cab driver to take us there for which he charged extra.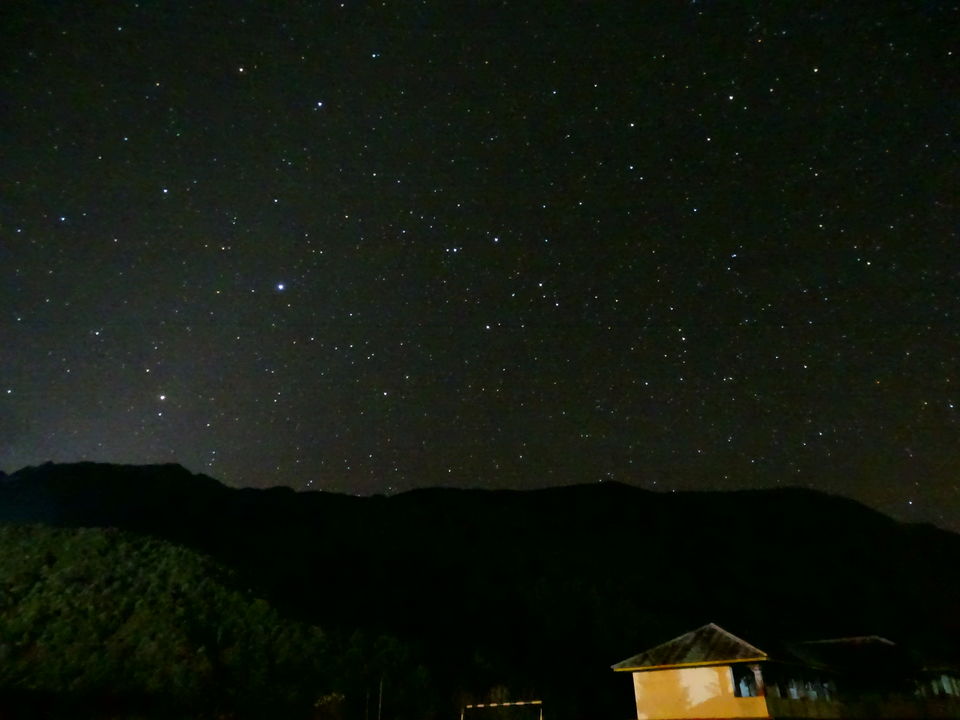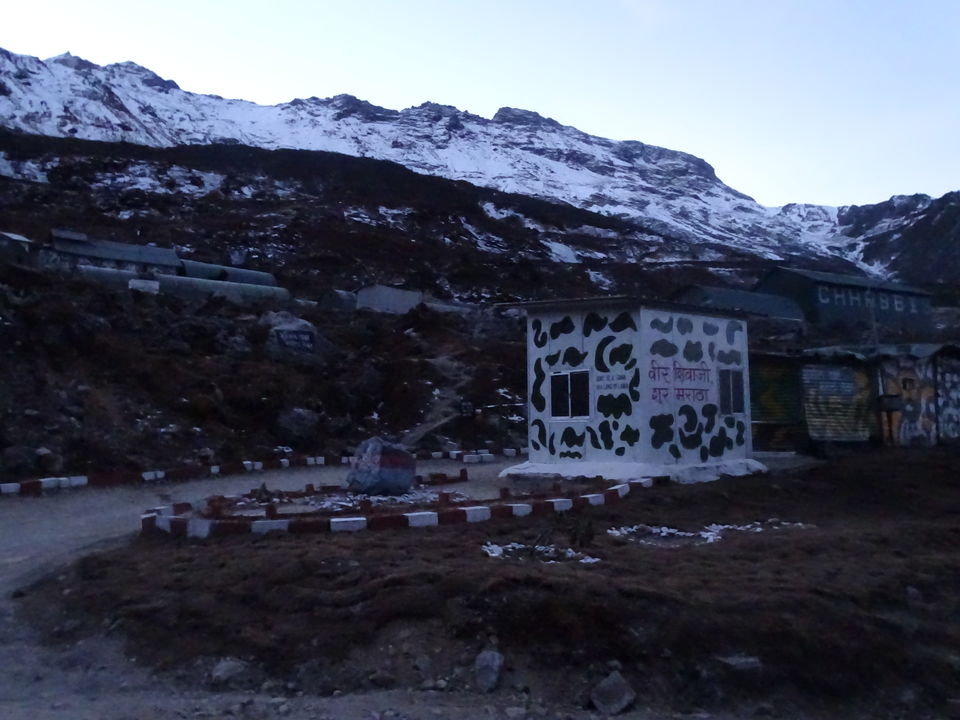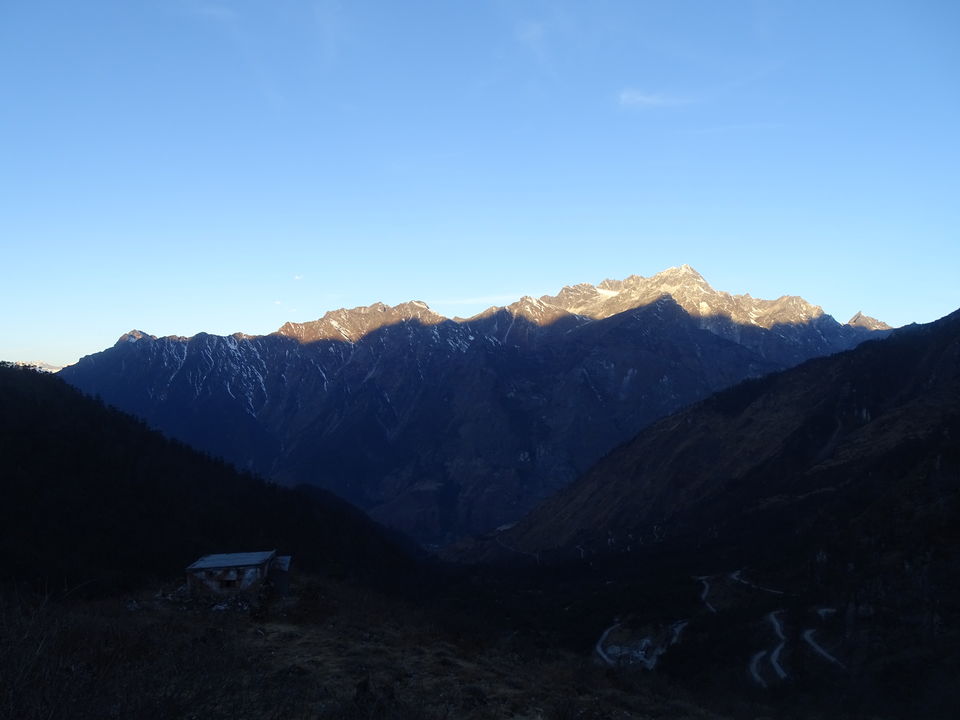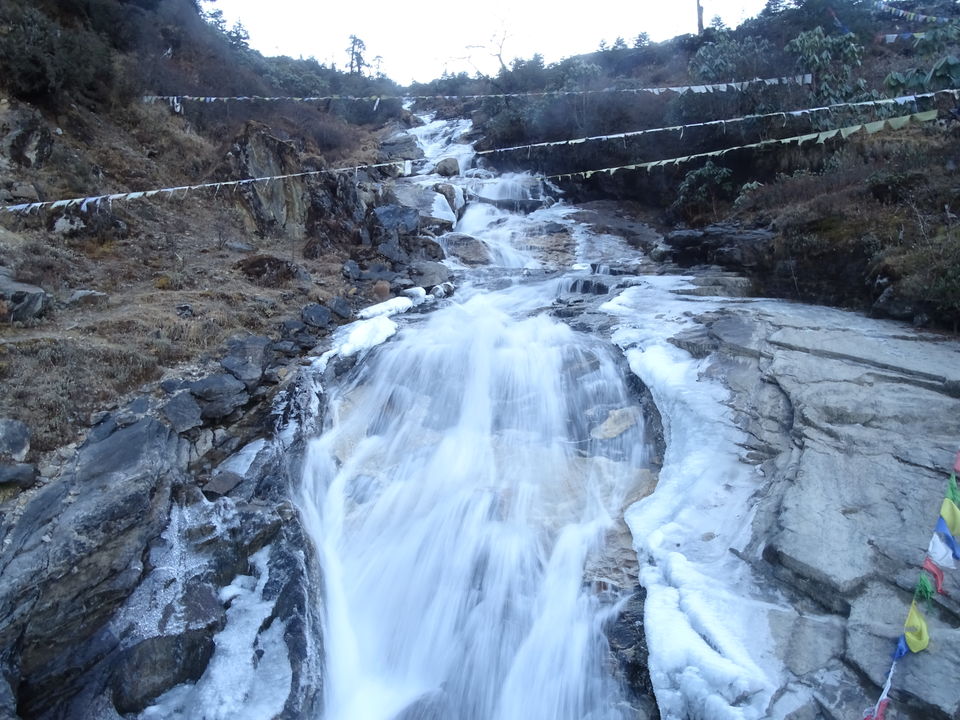 Next we headed to Zero Point which was around 2-3 hrs journey from Katao. The way was so beautiful that one cannot wish to sleep during the journey and miss the chance to see nature's serenity. The only flaw during the journey is not so well road which may give you a bumpy ride but the views all around you will not make you question it.
Zero Point is the last place to be in Gangtok as tourists and civilians are not allowed beyond this point, as further beyond this point is India-China Border. This place is situated at an altitude of 15000 ft. thus having scarcity of oxygen in the air and causing High Altitude Sickness to tourists. But it is worth the view, as this place provides you with 360 degree panoramic view. You will find snow for almost whole of the year here, and also a partial frozen Teesta river. This place is Switzerland in itself and need no compliments. If you visit North Sikkim, this place should be mandatory in your list. The picturesque view is spectacularly amazing. There are also some temporary stalls and a temporary washroom which is not so hygienic.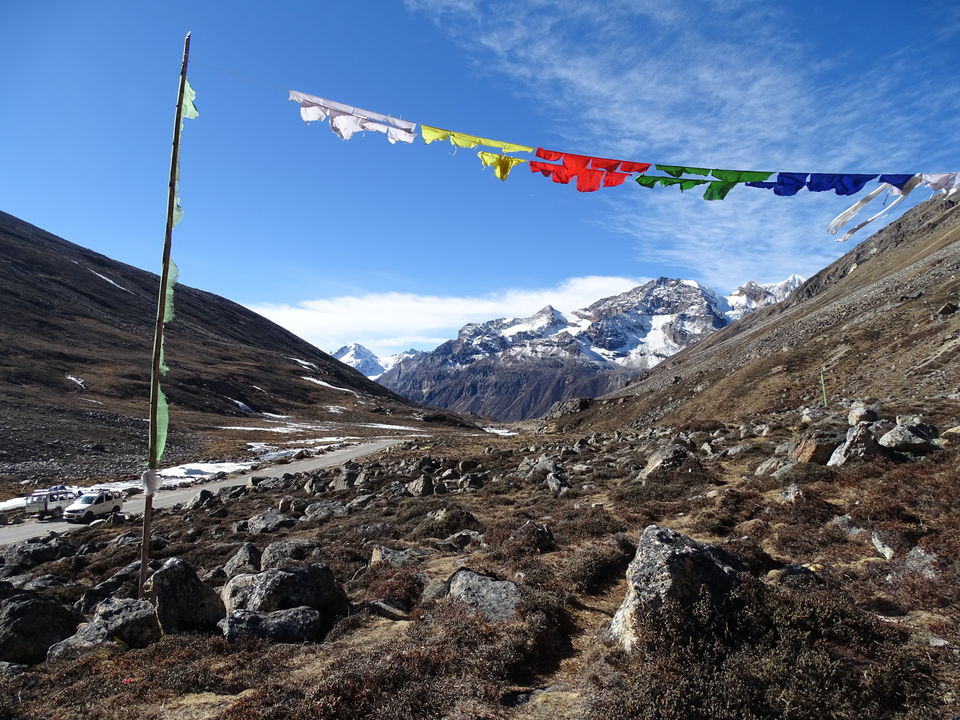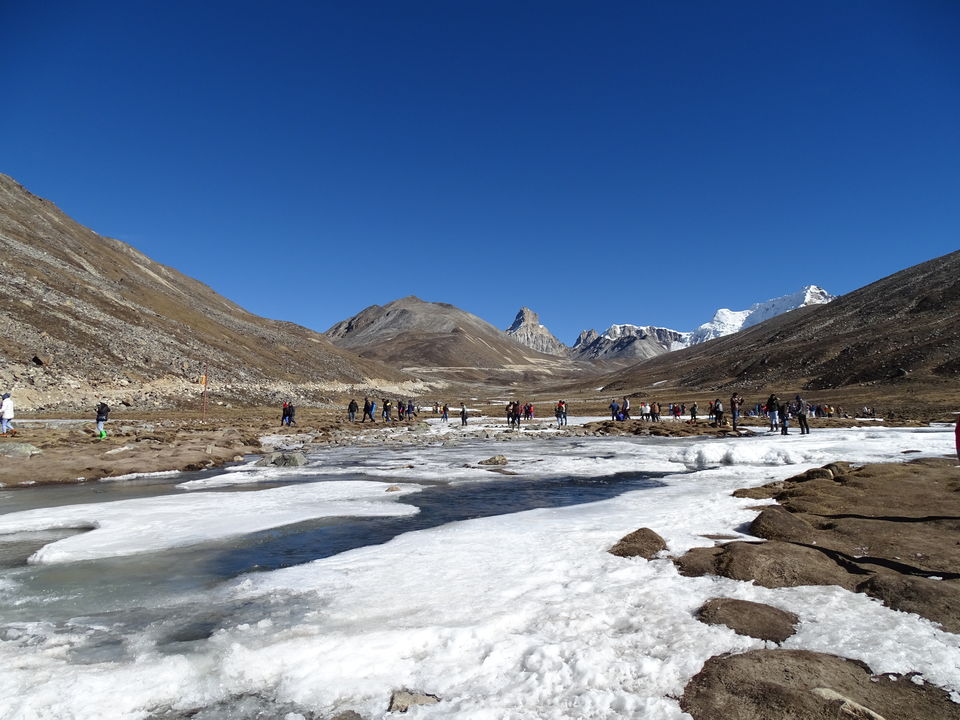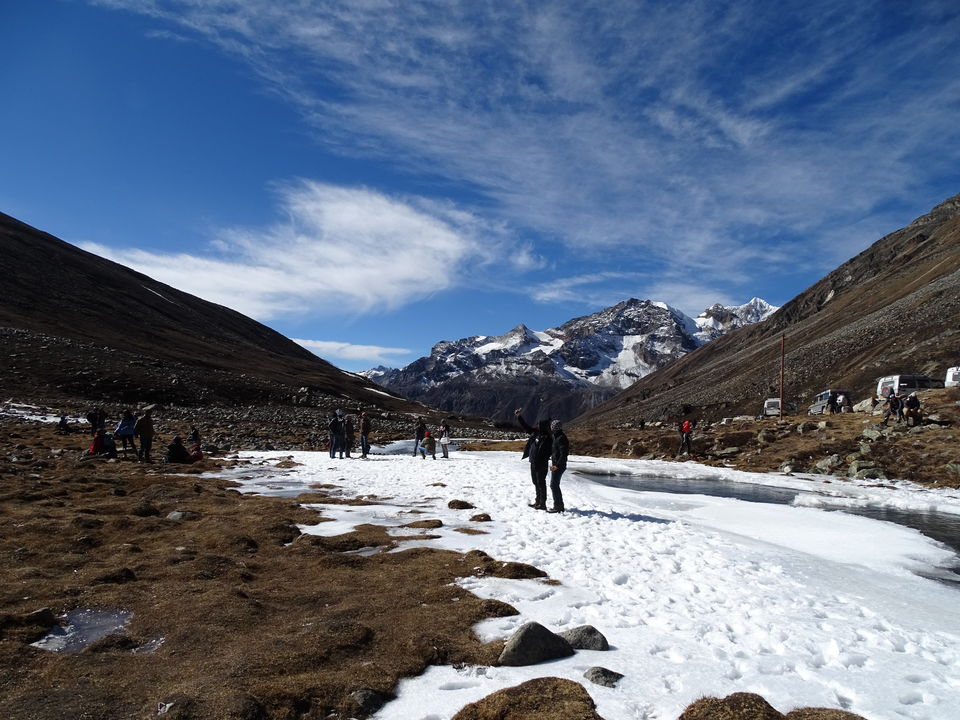 Next we headed back to Yumthang Valley which was on our way to Zero Point. The valley is more beautiful than any other valleys I've visited till time. It is also known as the valley of flowers as in the months of March to June, the valley is blossomed with around 24 different species of 'rhododendron flowers' which is also the state flower of Sikkim. The valley is filled with bright colors which complete the contrast of nature. You may find Yaks roaming & gazing around.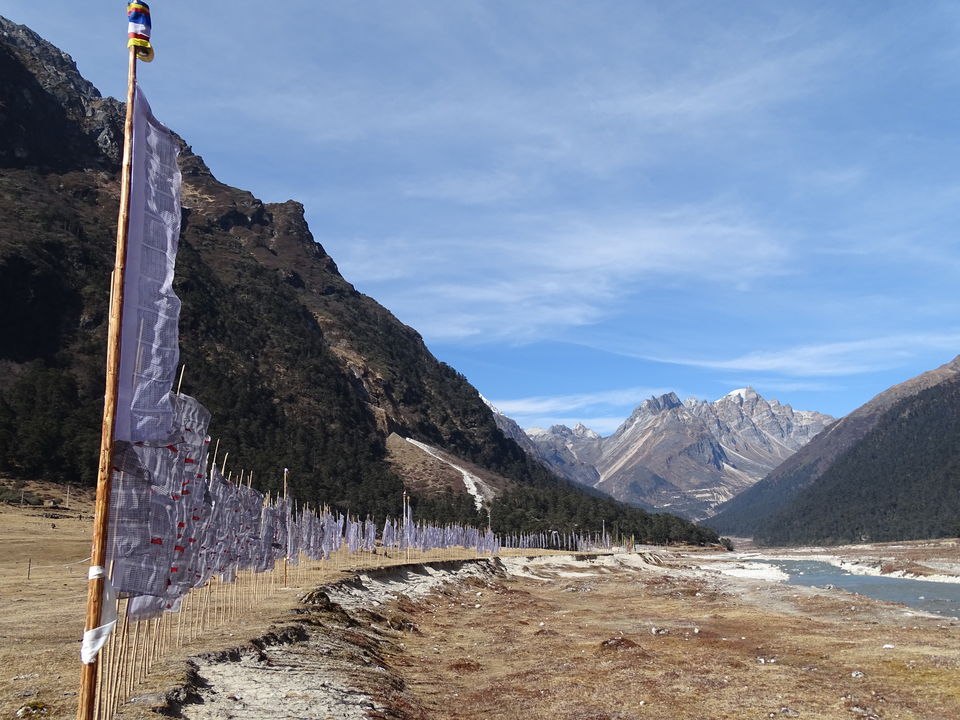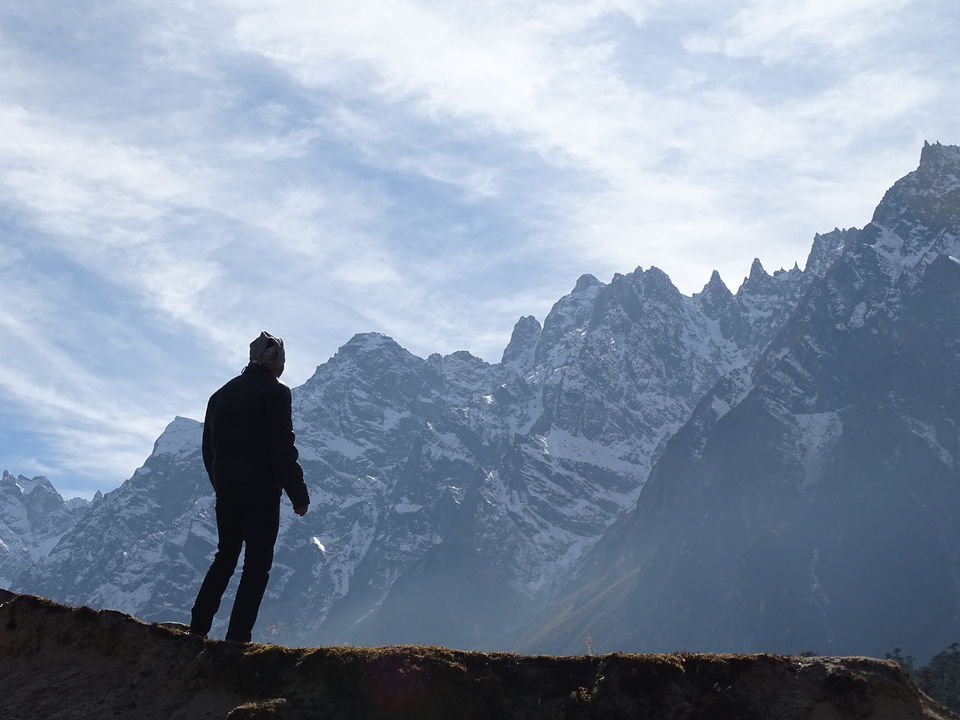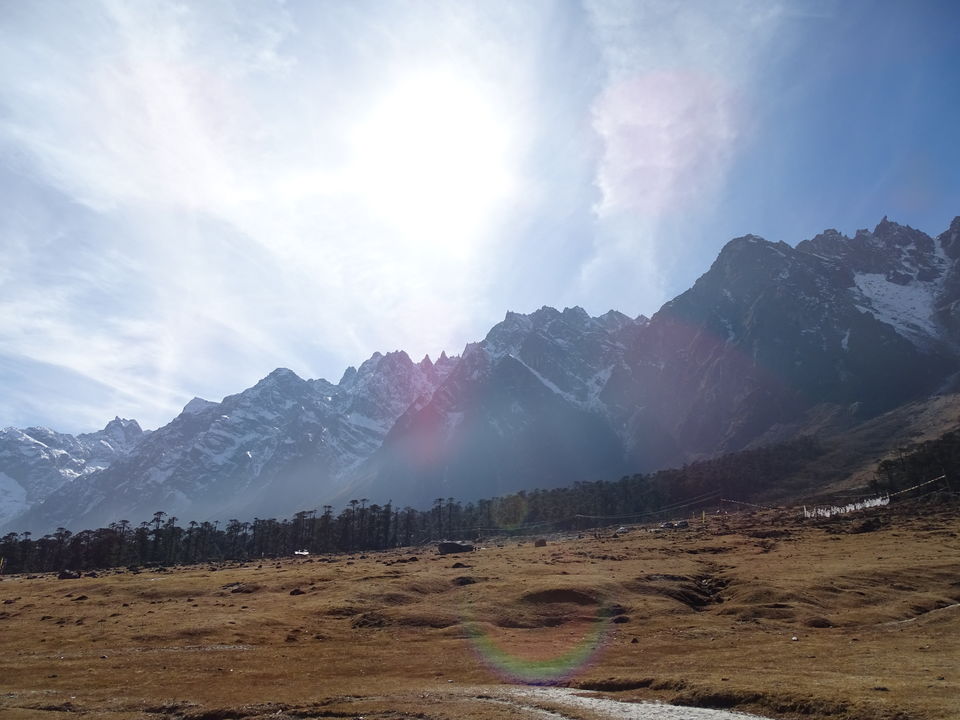 If you wish to see bright colors and the whole beauty of sikkim, you can visit during the months of March to June which are the peak months of tourism here. I visited in mid December because I wanted to witness the nature in the white sheet of snow. Though the snow wasn't much but the all the views during my journey made my heart full of the beauty of nature. I wish I could put the beauty of this place in words but what my eyes saw during the journey was impeccable to any other site.
Sikkim as we know is not under the central government but has its own rules & regulations and I guess that's what makes it different from any other place. People here very helpful and kind, it is cleanest hill station in whole India and thus undoubtedly the most beautiful place. Use of plastic water bottles is banned from the way to Lachung and use of plastic bags is banned all over Sikkim and it feels so good to contribute to the beauty of the place by not using such things.
I also wished to visit the East Sikkim which includes Nathula Pass & Tsomgo Lake, the beauty of these places is unimaginable. And the West Sikkim which includes areas near Pelling which is basically a trekking experience, I wish to visit these places in near future to witness the heavenly beauty with my own eyes.
If you're planning to visit Sikkim, please take time to visit all the places as it is a lifetime experience to see such a beauty with naked eyes. It looks like God himself has taken too much time to make such a beautiful picturesque place.
Frequent Searches Leading To This Page:-
gangtok package, kalimpong to gangtok, gangtok to lachen, gangtok trip, lachung to gangtok, gangtok tour plan, gangtok to kalimpong, darjeeling and gangtok, gangtok honeymoon package, gangtok tour package from kolkata