Hi Friends! Thank you for coming to this 5th post of the series. In case you have not read the previous posts, let me tell you that our trip had started from Delhi on 8th May. We had reached Darjeeling on 8th May and next day, it was the turn of Kalimpong on 9th May. After overnight stay at Kalimpong, we proceeded to pay a visit to the beautiful Char Dham at Namchi. After two hours in Namchi, we left for Gangtok where we had reached by dusk. Our hotel at Gangtok was Summit Golden Crescent & Spa where we intended to stay for 3 nights.
It was first morning in Gangtok and we had asked our taxicabs to arrive at the hotel at 9 a.m. After taking breakfast at the hotel to our heart's content, all the 12 persons in our group got into the taxi and started the circular tour to cover all major tourist attractions in Gangtok.
1st Stop : Enchey Monastary, Gangtok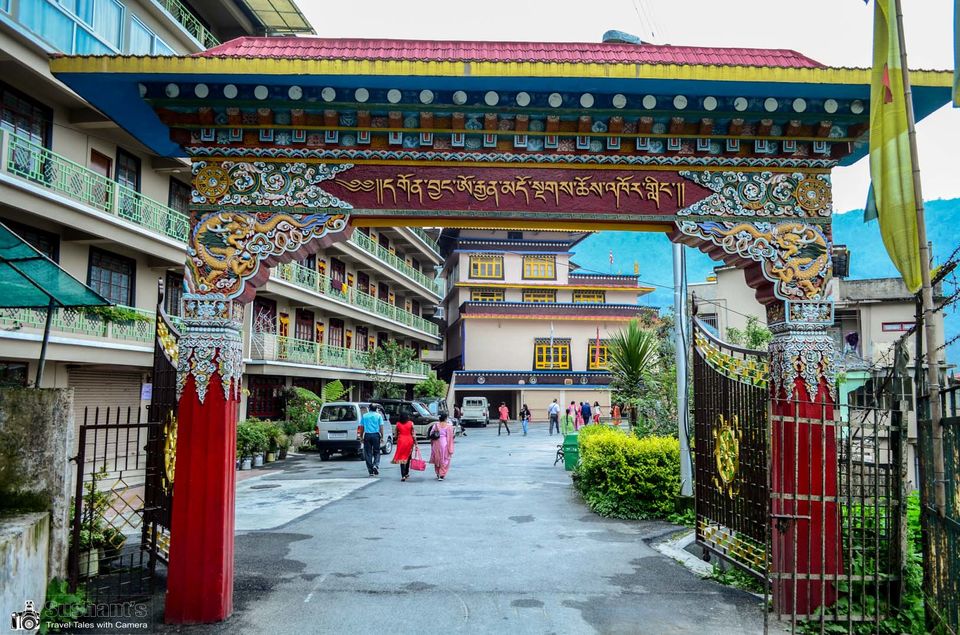 The first place where our taxi driver-cum-guide brought us to was Enchey Monastary, which was also very near to our hotel. Established in 1909, this sacred place devoted to Buddhism is highly colourful, very calm and serene. It is not allowed to talk loudly there. Right from the main entrance to the main prayer hall, very rich and vibrant colours - red, gold, blue, green dominate the scene. We didn't know how to pray in a monastary so just folded our hands as a mark of respect and left for the next stop -
2nd Stop : Bakhtang Water Falls
There is nothing extra-ordinary at this place. There is a small fountain which must be very forceful during monsoon. Rock climbing and flying fox activities are offered there but all of us, being senior citizens did not venture for the same! Across the road, there was a cafe also but we had taken our breakfast hardly half an hour before so we didn't enter the cafe and got into the cars for the next attraction.
Tashi View Point
Some of the ladies with us, when saw lots of stairs to climb, refused to go to the Tashi View Point which offers wonderful views of Kanchenjunga peak. In order to lure the tourists to climb, there were pani-poori wale also midway to the Tashi View Point. People were taking selfies on the platform and there was quite rush there because a large number of deaf and dumb girls had arrived there from some local school. As the kilometer stone pointed out, this place is 6 km from Gangtok market, 129 km. from Siliguri, 54 km. from Nathu La and 90 km. from Chungthang. I don't know what Chungthang is.
4th Stop : Ganesh Tok
Ganesh Tok literally means "a hill dedicated to Lord Ganesha". True to its name, Ganesh Tok is a small but ancient temple and is situated at an altitude of 6000 ft., as I found written on a board there. Local people have deep faith in the powers of the presiding deity 'Vinayak' or Lord Ganesha.
After leaving our taxi, we approached the stairs after leaving our shoes at the designated place. An old woman was selling prasad on the middle floor. The octagonal construction of the temple was attractive but different from the usual style of temples found elsewhere. There were colourful flags tied across the road.
I spent some time with my camera at the temple floor and also in the parking lot where some make shift shops were displaying highly colourful items.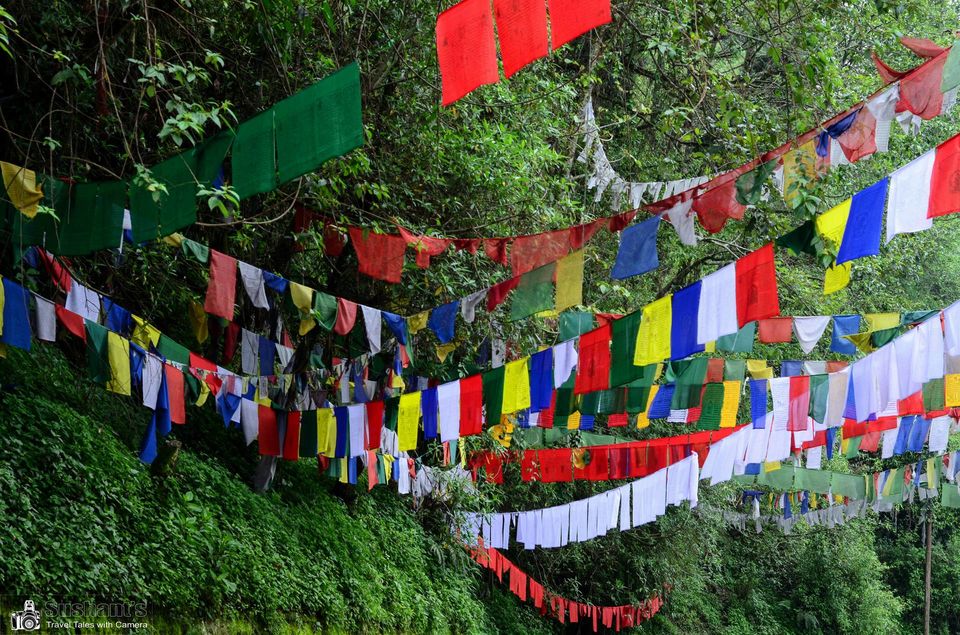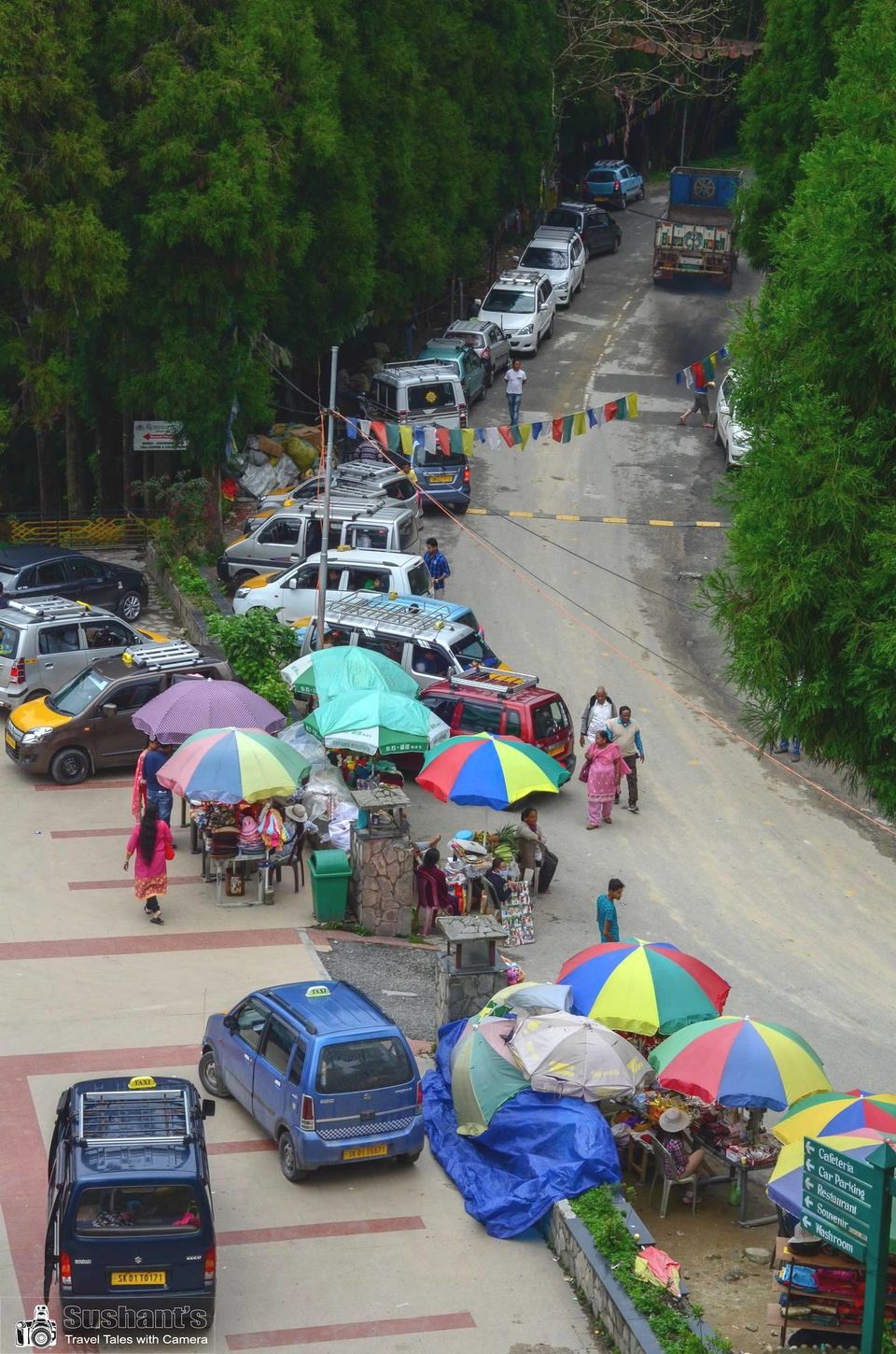 After spending nearly half an hour at Ganesh Tok, it was the turn of Hanuman Tok, a temple dedicated to Lord Hanuman at still higher hill. But let's talk about that in the next post.
In case you would like to visit my earlier posts pertaining to this trip, here are the links for the same:
North East : I - It was love at first sight
North East : IV - Namchi Char Dham
I have also written a review of Hotel Summit Golden Crescent and Resort, Gangtok which can be found here.
Frequent searches leading to this page:-
gangtok trip cost, gangtok tour plan for 4 days, darjeeling gangtok shillong tour package, gangtok darjeeling trip, gangtok pelling darjeeling, best tour operators in gangtok, veena world sikkim gangtok darjeeling, gangtok holiday package, gangtok trip package, gangtok sikkim darjeeling, gangtok darjeeling sikkim, darjeeling gangtok honeymoon package