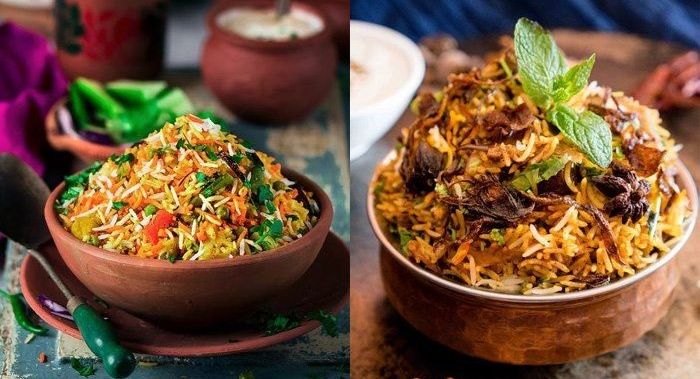 If you ask any Indian if they are fond of Biryanis, you will always get 'Biryani is our soul food' as a reply. Known to be originated in India through the Mughals, Biryani has genuinely made a place in our hearts. India is diverse, and every state has its original way of preparing food. And this has led to different versions of Biryani throughout the country.
Let's look at some of the most famous biryani dishes made in several states of our culturally vibrant country. Following are the best biryani places in India where you can satisfy your cravings for the best of the best!
1. Lucknow
Where: Bal Mukund Bajpai Marg, Tambaque Mandi, Chaupatiyan, Chowk, Lucknow
Must Try: Mutton Biryani, Mutton Korma with Paratha
2. Delhi
Where: Jauhari Mohalla, Raja Bazar, Chowk, Lucknow
Must Try: Mutton Biryani, Chicken Korma
3. Hyderabad
Where: Plot No. 44, RTC X Rd, Opposite Sandhya Theatre, Jawahar Nagar, Chikkadpally, New Nallakunta, Hyderabad
Must Try: Chicken Biryani, Tangdi Kebab
4. Kolkata
Where: Rajarhat Main Rd, opposite Karnataka Bank, Chinar Park, Sukanta Pally, Baguiati, Kolkata
Must Try: Chicken and Mutton Biryani, Handi Curry, Phirni
5. Chennai
Where: No 333, MKN Rd, next to Indian Bank, Alandur, Chennai
Must Try: Mutton Biryani, Pepper Chicken
6. Kerela
Where: Gujarati Rd, Near Gujarati Temple, Mattancherry, Kochi, Kerala
Must Try: Chicken & Mutton Biryani, Chicken Fry
7. Bangalore
Where: Aparna Complex, No 1, SC Road, Gandhi Nagar, Bengaluru, Karnataka
Must Try: Andhra Naati Biryani, Mutton Roast, Chilli Chicken
8. Mumbai
Where: Shop No. 94 Big Building, 3rd Marine St, opp. Metro Gol Masjid, 1st Bhatwadi, Marine Lines, Mumba
Must Try: Mutton Biryani, Dabba Gosht, Apple Chicken, Seekh Kebab
9. Dindigul
Where: 49, East Car Street, S Car Street Nr. Sophia Matriculation School, Begambur
Must Try: Mutton Biryani, Chicken Lollypop
10. Ahmedabad
Where: Fazle Rabbi Park, Opp Bank Of India , Near Amber Tower, Sarkhej | Sarkhej, Ahmedabad
Must Try: Chicken biryani, Mutton biryani or Keema biryani
So this was a concise list of Biryanis places all over India that is loved and adored. This article tries to celebrate the beautiful dish biryani is, in its all greatness. It won't be fair to rate these places as India is a diverse country. People have different tastes in food & choices differ from person to person.
Hope you liked our recommendations. If you know about a biryani place which should be on this list, let us know about it in the comments section below!
Ready to travel for free? Earn credits and redeem them on Tripoto's weekend getaways, hotel stays and vacation packages!
Explore the best of travel inspiration on Tripoto Instagram!