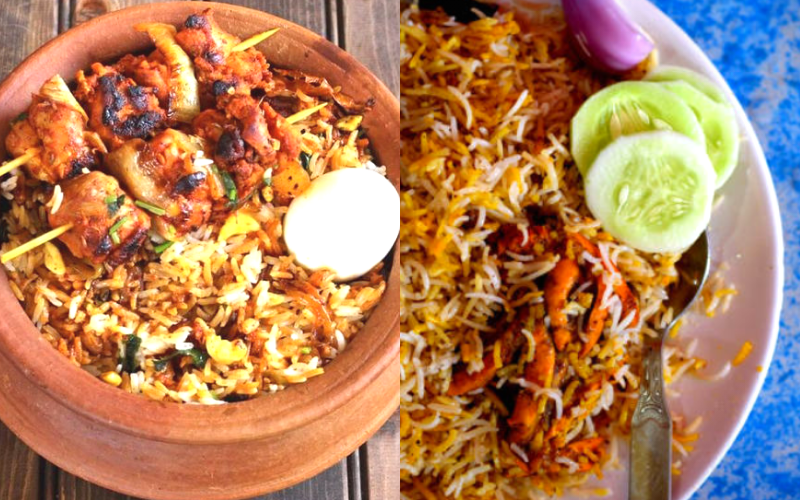 This is the kind of romance every desi will approve.
After all, the wafting aroma of the exquisitely prepared dish of the royals can seduce you anywhere anytime, no matter which city you live in! (I mean weddings, office breaks, parties you name it)
Let's be honest, you can flirt with more than fifty variants of Biryanis in India, however, to give you a list to tick off, I've compiled some tantalizing Biryanis in our country that you must definitely dig in, to become a certified Biryani Lover.
So, which one are you going to swipe right on first?
Inspired by the Persian style of cooking, the Lucknowi Biryani is prepared using a method called Dum Pukht. The meat and gravy are partially cooked and then layered in the Dum Pukht style. Served in a sealed handi, Lucknowi biryani is scrumptious.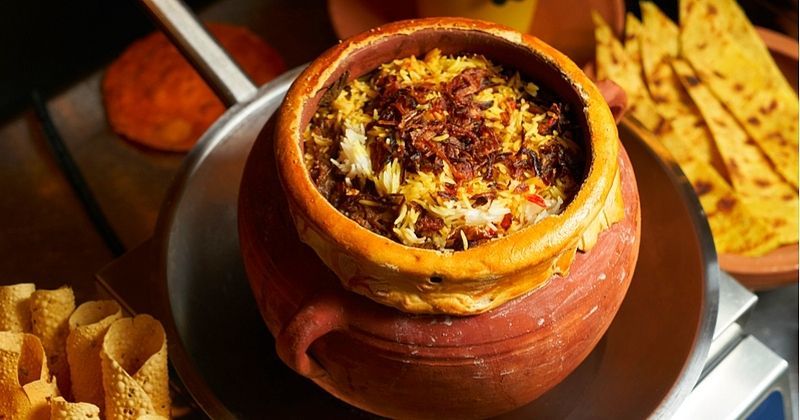 And, another Awadhi special Biryani is for the vegetarians! Tahiri Biryani is an Awadhi dish from Uttar Pradesh. Roasted spices are ground to give the dish a piquant taste. Served with ginger raita for a heavenly feast. Made as a Hindu variation for Muslim Nawabs, Tahiri is another version of the Lucknowi biryani with a slight alteration to it. While in the traditional biryani rice is added to the meat, in Tehri the rice is added to potatoes. This dish gained extreme recognition during World War II when meat prices skyrocketed and potato emerged as a cheaper alternative to it!
With a side of mint coriander chutney, raita and vinegar-soaked sliced onions, Tahiri came into being after the nawabs of Hyderabad hired vegetarian cooks to create meatless biryani. Since many UP brahmins did not eat meat, the vegetarian version became immensely popular.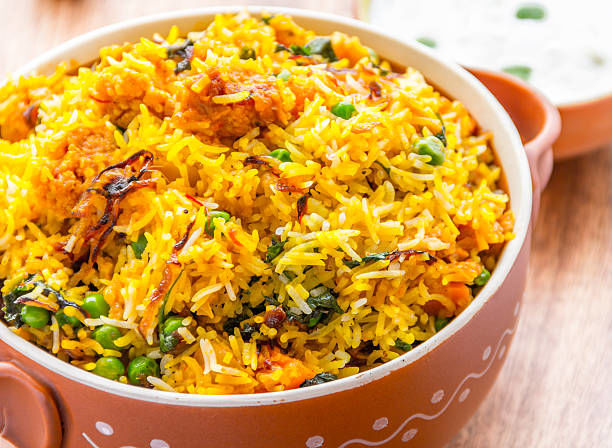 Try It At:
1.) Wahid Biryani
Best known for making biryani with 55 spices, that is an extraordinary gastronomical indulgence. Their Chicken Biryani is tricoloured, with white, light brown and yellow-coloured rice grains, served with raita and chopped onions.
If authentic Awadhi biryani is what you crave for, you ought to visit this place. Naushijaan outshines in preparing biryani in traditional 'dumpuqt' style and you will surely love it. Besides, the place also offers Hyderabadi, Deghi and Bukhari Biryani to choose from.
Where: Naaz Cinema Road, Aminabad Market, Aminabad, Lucknow.
Cost: 300 INR for two
Pro-tip: Must try their Zafrani Kheer.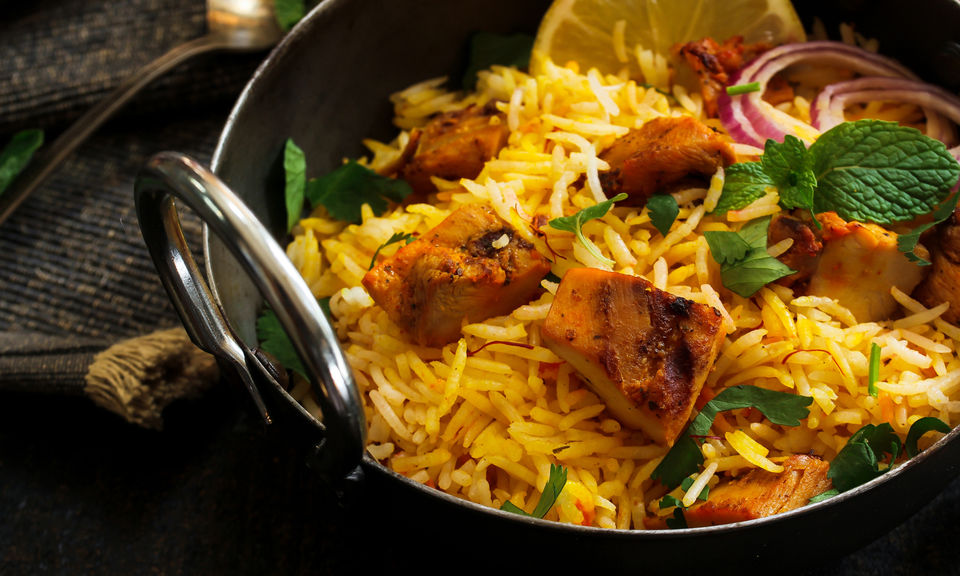 2.) Dastarkhaan
The biryani here is one of the best-kept secrets of Lucknow, that will get you salivating in a single glance. Indulge in the tender chunks of well-cooked meat sitting amidst perfectly seasoned rice.
Where: Wala Qadar Road, DM Compound Colony, Kaiserbagh Officer's Colony, Kaiserbagh, Lucknow.
Cost: 600 INR for two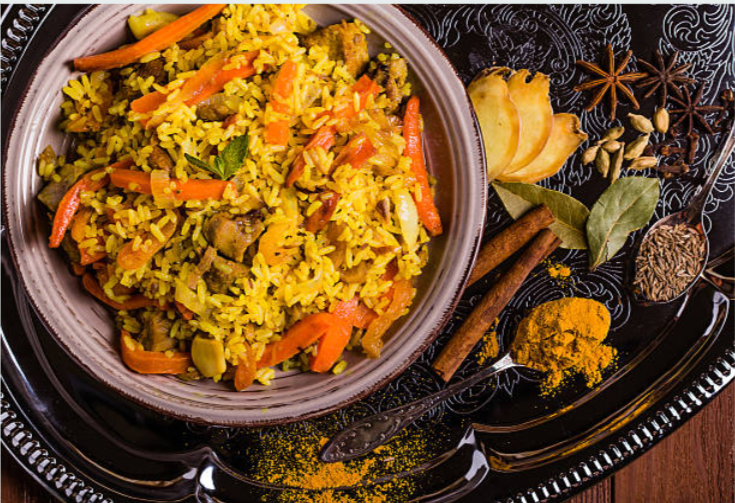 Conceived in the kitchen of the Mughals, Mughlai Biryani can be commonly found in Delhi and the surrounding regions. Mughlai cuisine is known to please your taste-goblets with a unique melange of spices and aromatic flavours.
Try It At:
1.) Biryani By Kilo
They literally serve biryani by the kilo! Mainly, a home-delivery place, with kitchens in Noida, Gurgaon, Dwarka, and Shahpur Jat. The Gosht Biryani here is one of the best-sellers. The meat is marinated in a freshly ground mixture of spices making it luscious, thus creating an explosion of flavours in every bite.
Where: http://www.biryanibykilo.com/
Cost: 700 INR for two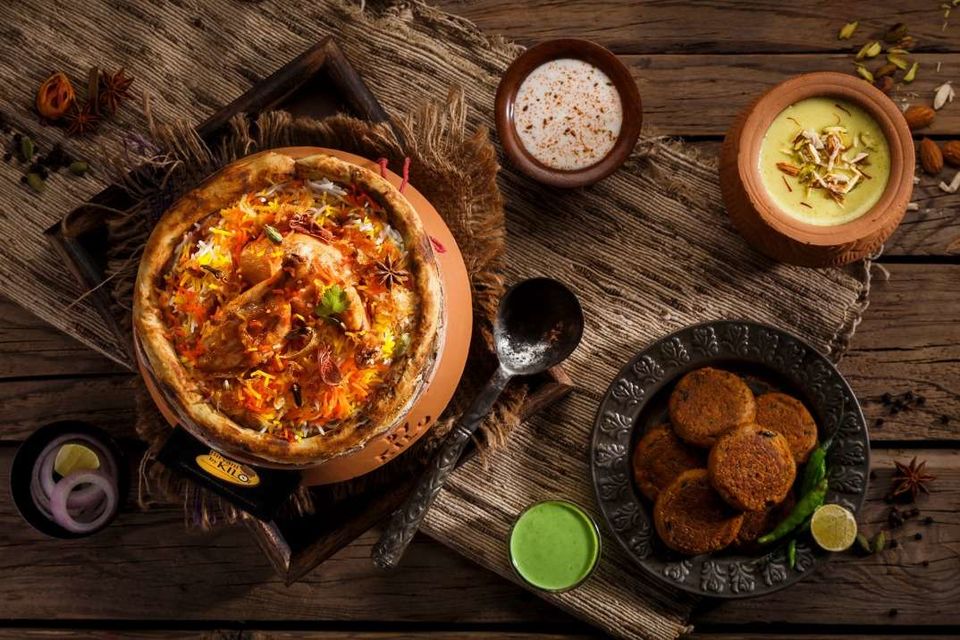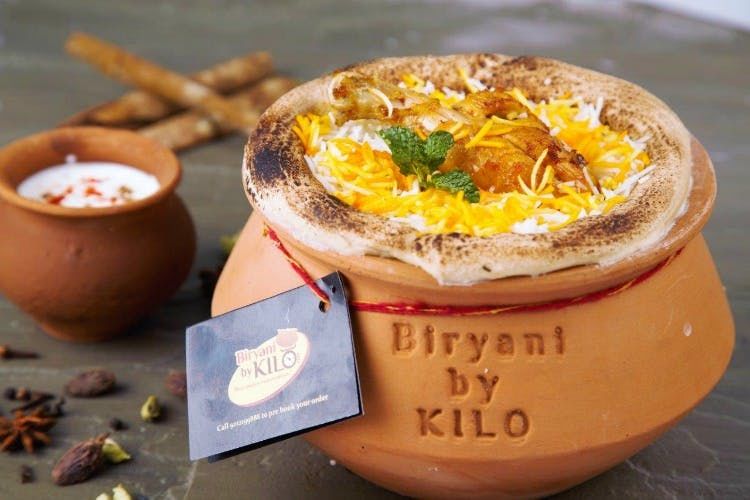 2.) Purani Dilli Restaurant, Zakir Nagar
Well-known for some of the best biryanis and Mughlai dishes, The restaurant isn't very spacious and just has a few tables for those who insist on sitting here to enjoy a meal.
Where: 371, Main Road, Zakir Nagar, New Delhi
Cost: 600 INR for two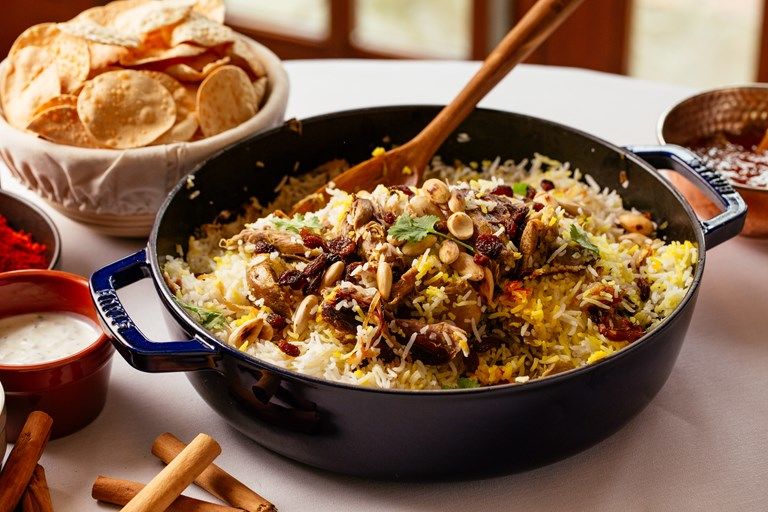 An integral part of the cuisine of Memons of the Gujarat and Sindh region of India and Pakistan, Memoni Biryani is extremely spicy! It is not the same as Sindhi Biryani as it uses fewer tomatoes in the preparation. Formerly made with lamb, yogurt, browned onions, and potatoes, it also uses fewer elements of food colouring as opposed to other styles, bringing out the shades and flavours colours from the ingredients of the dish. Hence, the choicest ingredients are required in the preparation of this variant of the royal dish.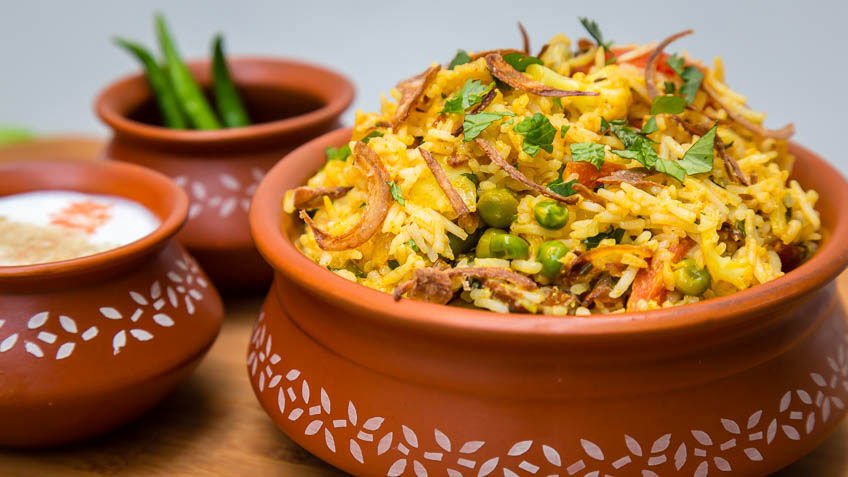 Try It At:
1.) Ahmedabadi Biryani
With authentic Ahmedabad flavours, the biryani here is a blissful fusion of traditional spices and contemporary cuisine preparation.
Where: 1st Floor, Shan Complex, Opposite Sabera Bakery, Behind Jivraj Police Chowki, Sarani Road, Vejalpur, Ahmedabad
Cost: 350 INR for two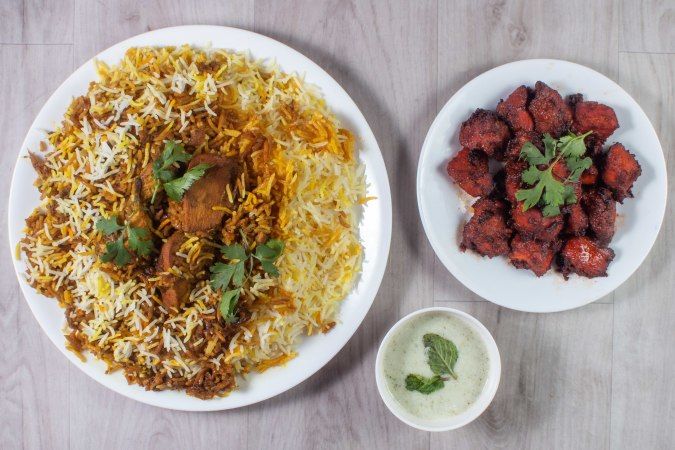 2.) Bollywood Biryani Company – BBC
Touted as one of the best biriyanis in Surat, with huge portions and rave reviews, their menu boasts of many divinely prepared Biryanis curated with the finest ingredients. Veg or non-veg, they have you covered. Just dig in!
Where: G-20/21, Safal Square, University Road, Vesu, Surat
Cost: ₹500 for two people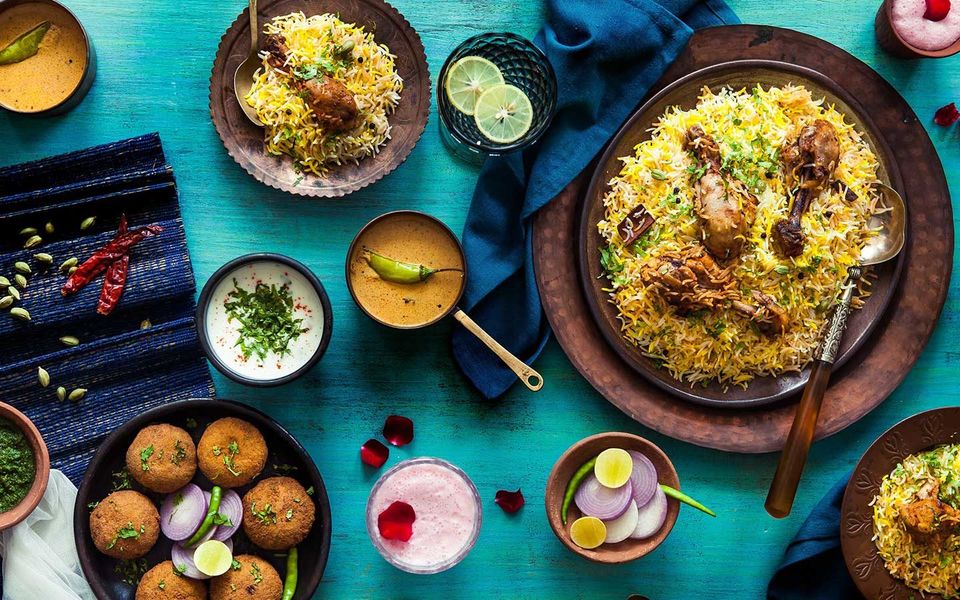 Luckily for Bengal, the wafting aroma of Biryani made its way into the state when the Nawab of Awadh was exiled from Lucknow. He brought along his chef whose royal recipes soon became public, though the common man could hardly afford meat which was replaced by eggs and potatoes. This went on to become the signature style of the dish and what is today called Calcutta Biryani. Addition of nutmeg along with Kashmiri saffron and kewra gives this biryani its distinguished taste that will definitely entice your taste-goblets.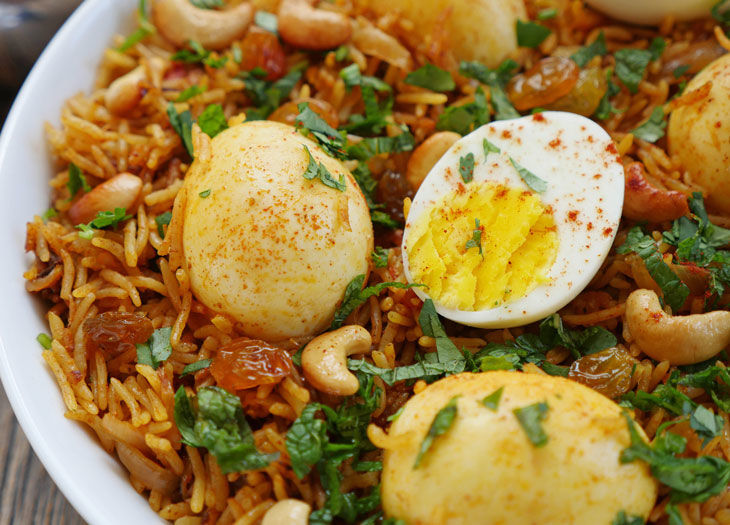 Try It At:
1.) India Restaurant
Mildly spiced and heavily fragrant, India Restaurant's biryani is guaranteed to send you a sensory trip! Its meat and potato chunks cooked to perfection will melt-in-your-mouth. The Mutton and Chicken Biryanis are what you need to order, accompanied by a side of Haleem and Shahi Tukda for an excellent tasting experience.
Pro-Tip: Must try their Phirni which is a divine blend of thick cream and milk.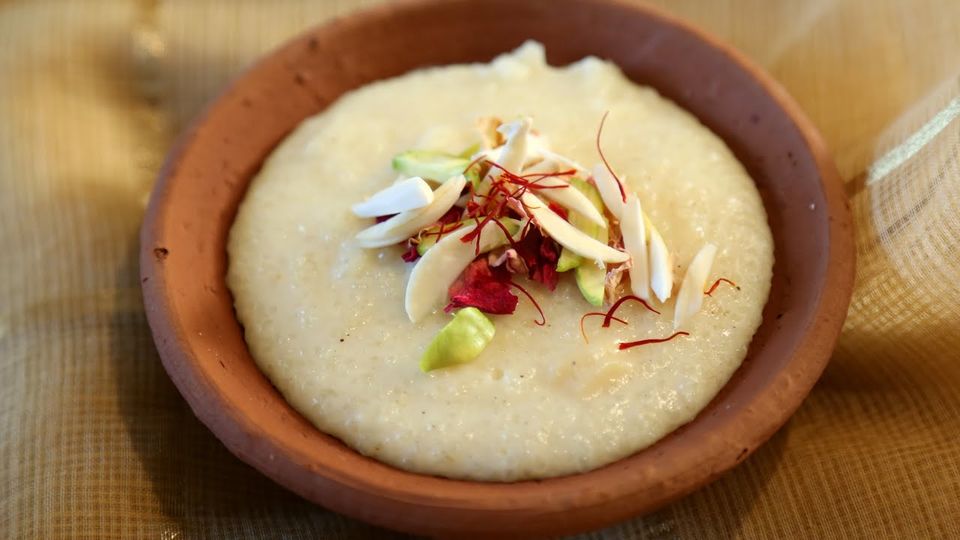 Where: 34, Karl Marx Sarani, Kidderpore, Kolkata.
Cost: ₹800 for two people
2.) Zam Zam
They serve the Biryani really hot! And that's how it tastes the best. Located in Park Circus and Kidderpore, Zam Zam can be hard to locate but ask a few locals and you will find it. Begin with the yogurt-based drink, Burhaani, that is served with it as a palate cleanser and digestive aid. It's recommended to visit on an empty stomach, their Beef and Chicken Biryani will satiate your hunger-pangs like never before.
Where: They have multiple outlets. 9/1, Noor Ali Lane, Entally, Kolkata
Cost: 500 INR for two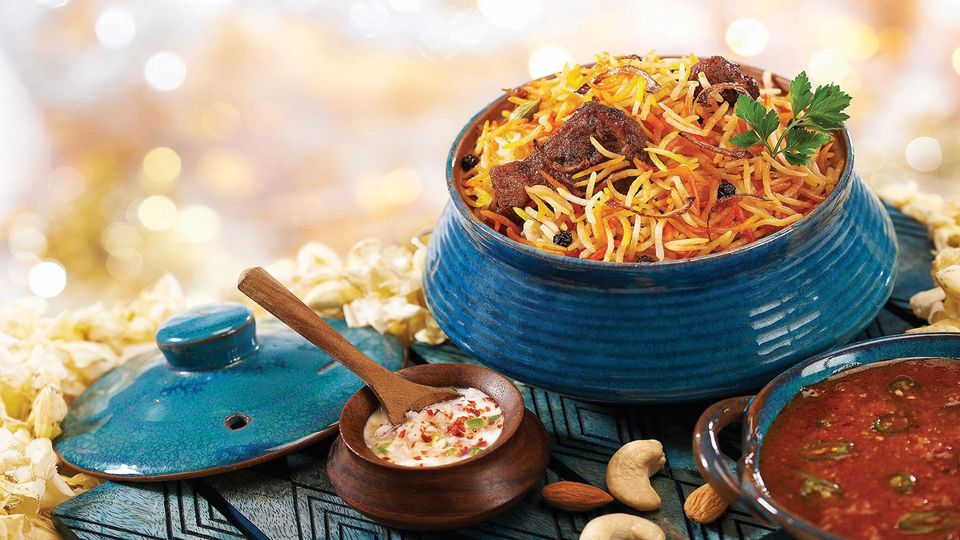 Sprinkled with kewda, rose water and saffron, the rice is layered with golden fried onions, chilies, mint leaves, cooked together with marinated goat meat or chicken, one of India's most popular types of biryani is found in the city of Nawabs.
Everyone has surely tried the quintessential Hyderabadi Biryani is some corner of their city.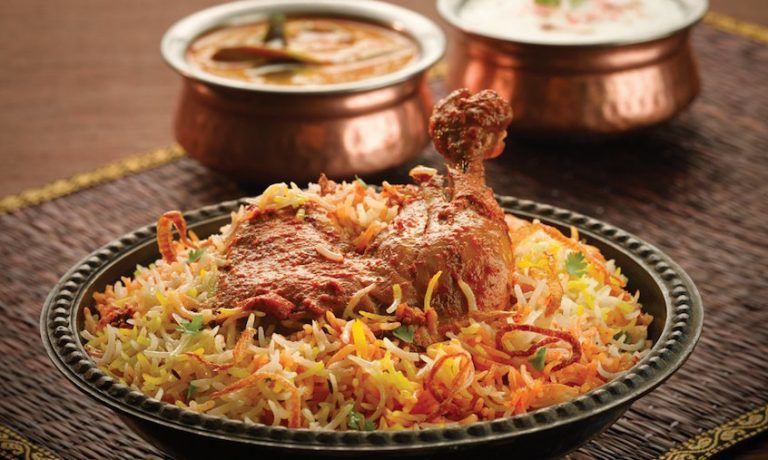 But the authentic Hyderabadi Biryani is incomplete without Mirchi ka salan. This is a spicy, flavourful chili and peanut curry of Hyderabad, Telangana, India that usually accompanies Hyderabadi biryani. Green chilies are cooked in tamarind, peanuts, and spices which instead of heightening the spice, works well to create a beautiful blend of tastes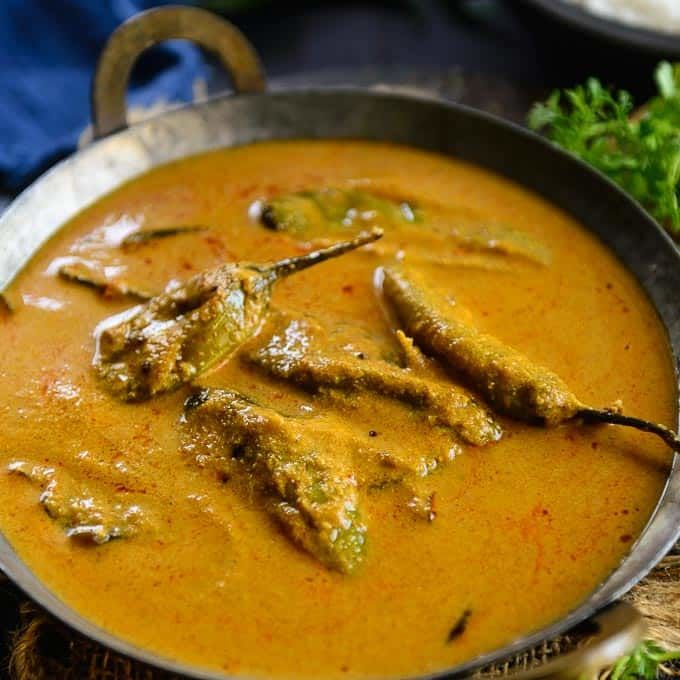 Try It At:
1.) Cafe Bahar, Basheer Bagh
Cafe Bahar in Basheer Bagh is the place to gobble up some mouth-watering "masaledaar" biryanis that are also light on the pocket. The portion size is reasonable and the meat is succulent.
Where: 3-5-815/A, Old MLA Quarters, Hyderguda, Basheer Bagh, Hyderabad
Cost: 500 INR for two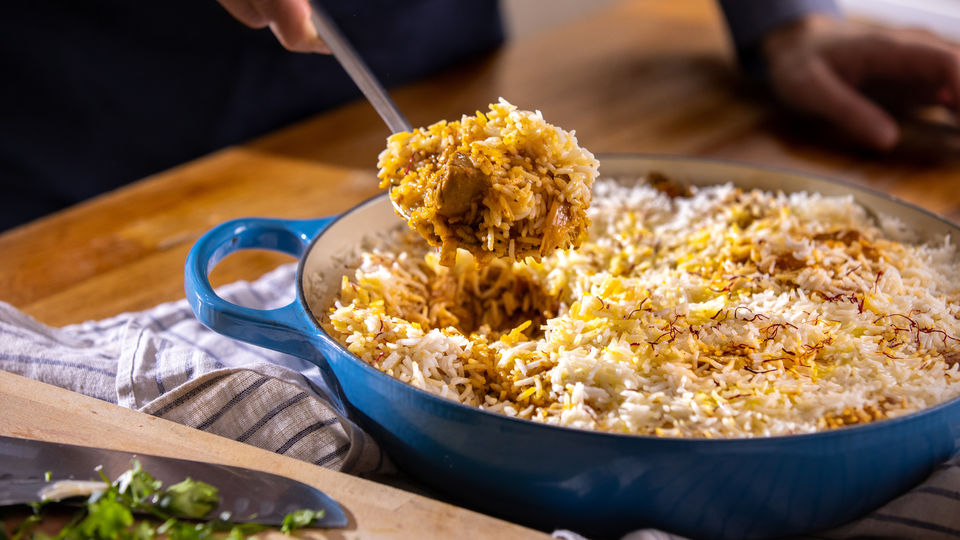 2.) Hotel Shadab
Though this restaurant will remind you of an Irani café, the wafting aroma of Biryani clearly distinguishes it. Oozing an old-school vibe, with every visit to the Old City, it's almost customary to visit Shadab as a quick pit-stop! They are famous for their amazing Mughlai food and for their non-vegetarian breakfast.
Where: Plot 21, Opposite Madina Building, High Court Road, Ghansi Bazaar, Hyderabad
Cost: ₹850 for two people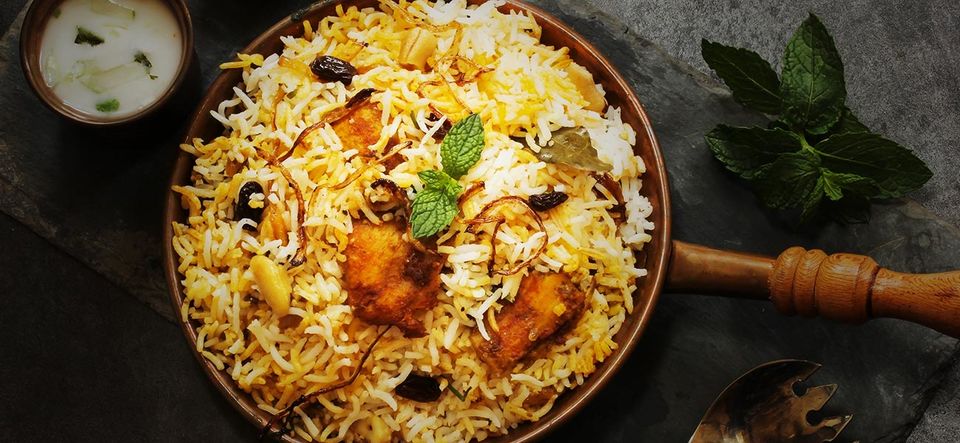 Straight from the Nawab's kitchen, Ambur Dum Biryani is made using seeraga samba (thicker variety of rice) and meat, which are cooked together, with dakhani spices and raw papaya tenderizer creating a unique melange of flavours. Ambur is the legendary town in Tamil Nadu, that has fascinating folklores consisting of Biryanis. Locals here eat biryani for breakfast too! Unlike others, the Ambur variety is not usually paired with something like gentle raita to neutralize the spice, in fact, it is almost always eaten with spicy brinjal curry.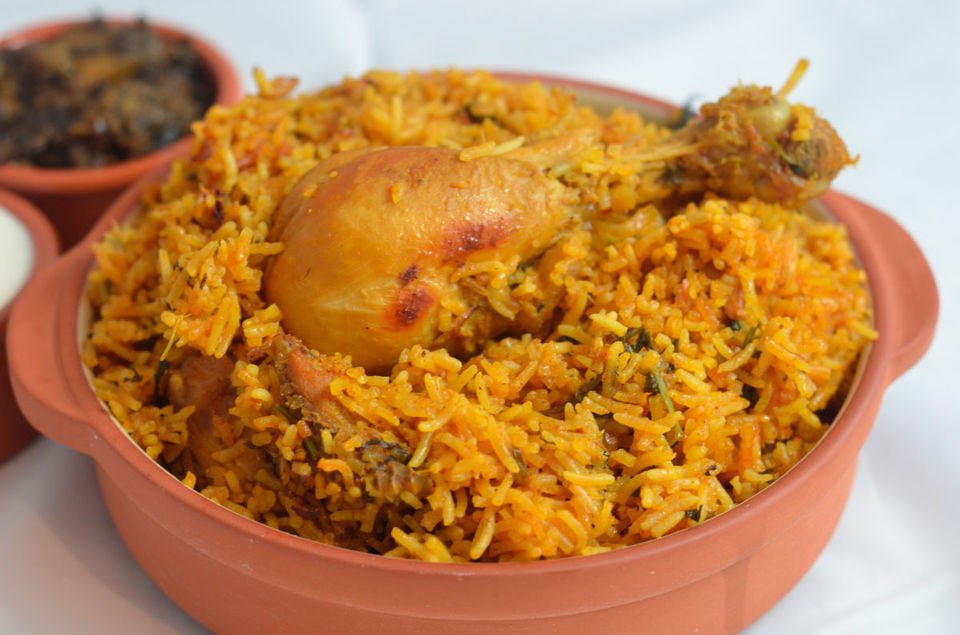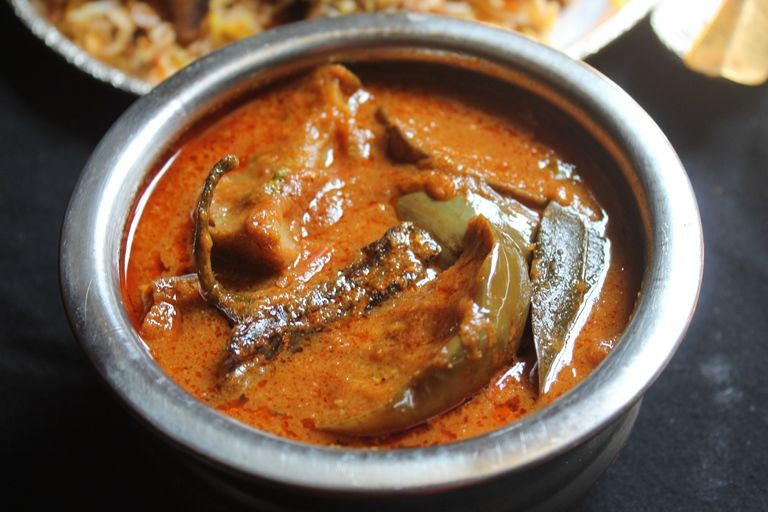 Try It At:
1.) Star Biryani
Having a 110-year-old biryani heritage, Star is one of the town's well-known and oldest establishments that till date has maintained its original biryani recipe secret. Establish by the cook of the Arcot Nawabs, with an intention to make the food of the royals available to the public, a bite of the Ambur Dum Biryani will momentarily transform you back to the palatial kitchens of the Nawabs.
Where: They have many outlets all across Tamil Nadu. The most famous one is located on the Chennai-Bangalore highway.
Cost: 300 INR for two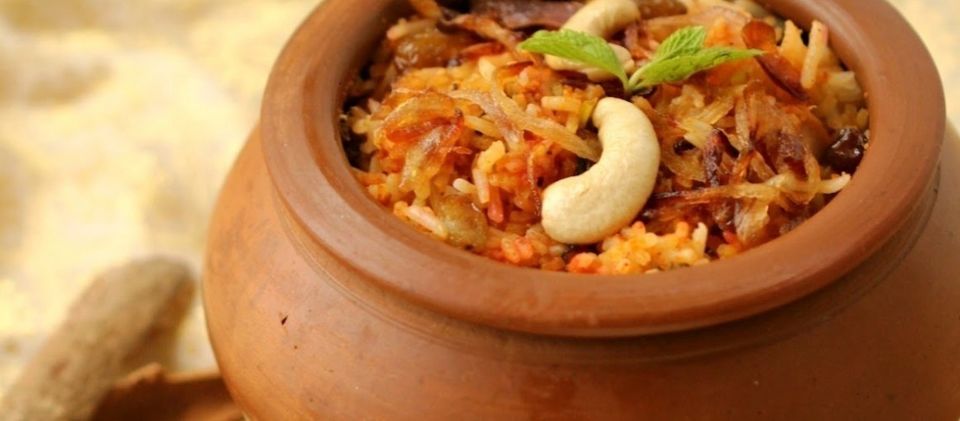 Prevalent among the community of Malabar Muslims, this variation of Biryani originated in Kerala. Malabar Biryani also known as Thalassery Biryani, idiffers from the others by the choice of its rice, it uses the Khyma or Jeerakasala rice, which is mixed in lots of ghee.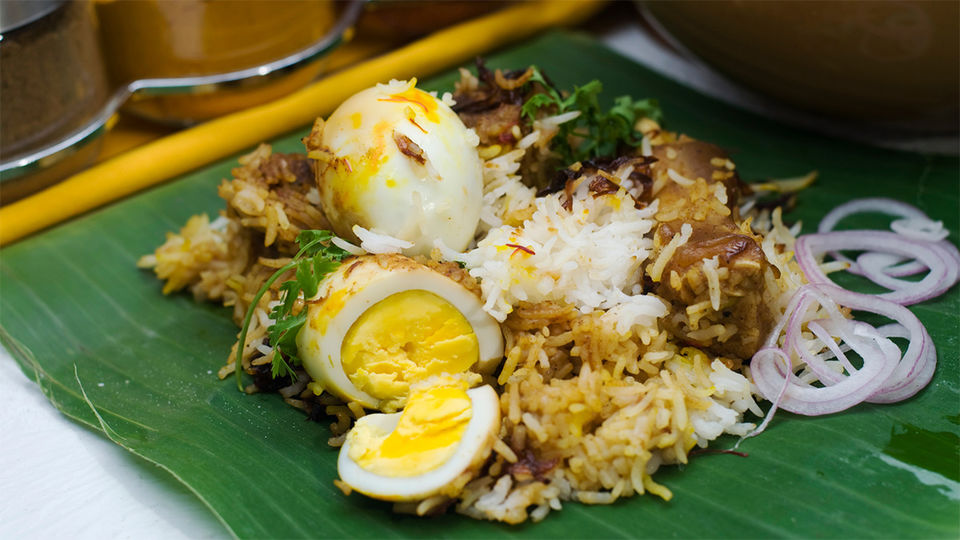 Cooked on dum after being sealed, the top of the pot is covered with hot charcoal. a Spices like mace, fennel-cumin seeds, shallot, cloves, cinnamon, and chili powder are used to make it appetizing, with juicy chicken and other elements like tomato, ginger, garlic, and onion adding a plethora of flavours to it. Finally, it is garnished with fresh cashew nuts and sultana raisins.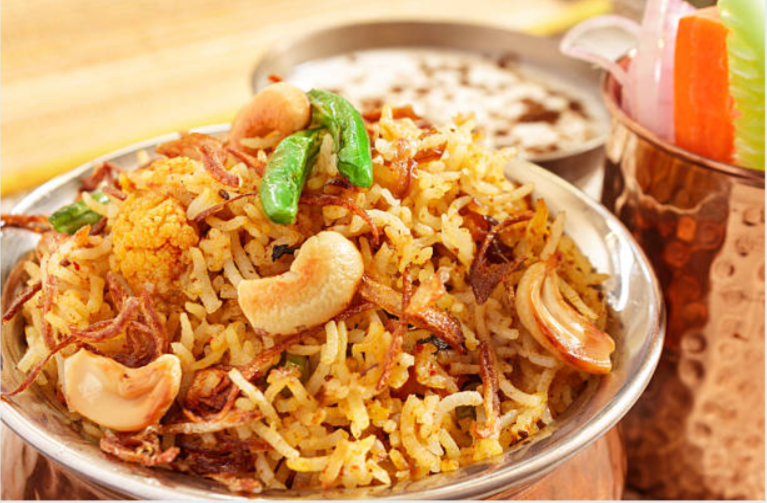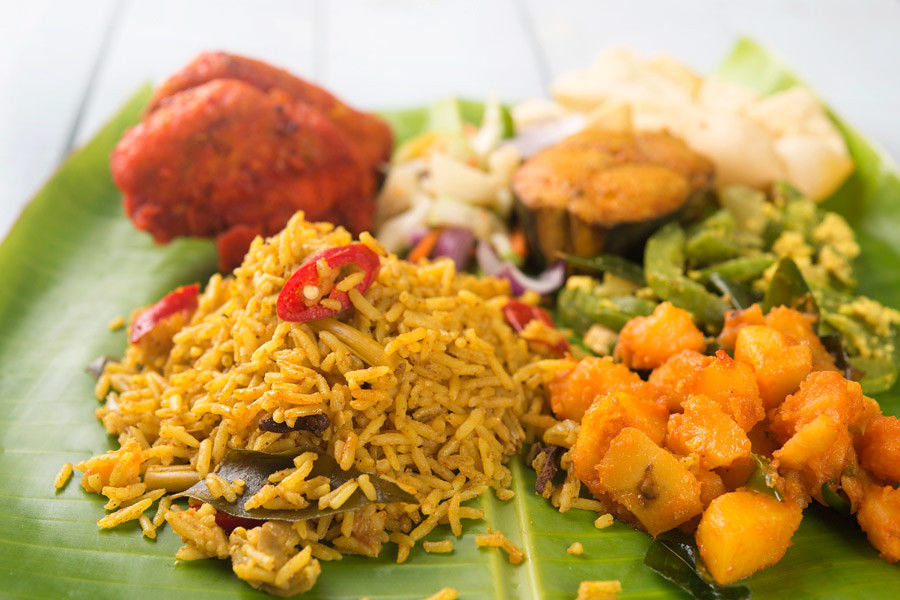 Try It At:
1.) Malabar Biriyani House
An iconic biryani house for decades, they serve complimentary Sulaimani with your order. Sulaimani chai is an ambrosial sweet-sour tea often served after heavy meals such as biryani throughout the Malabar region in the form of a digestive drink.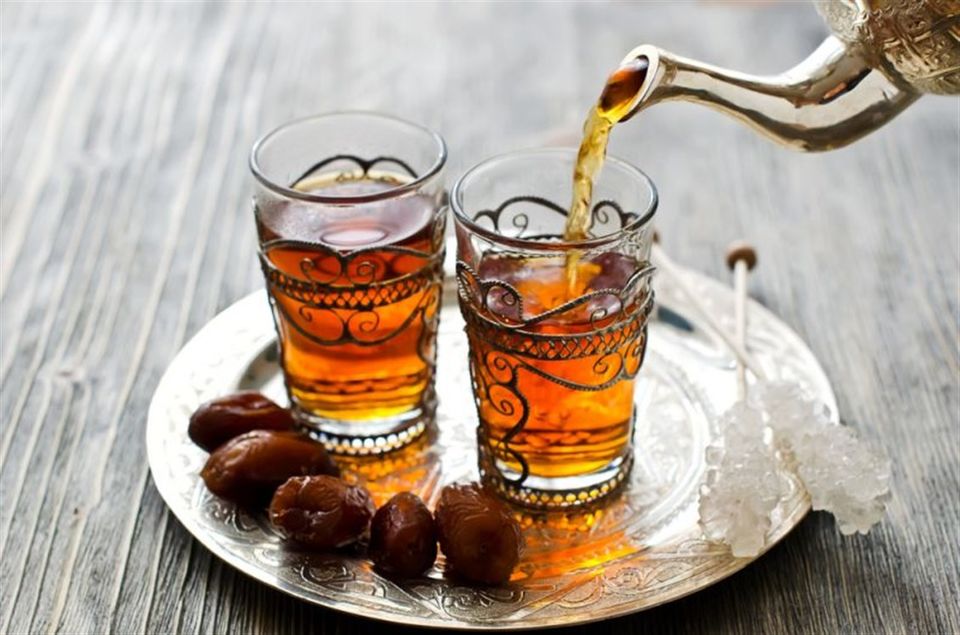 If you wish to gorge on some Kerala style Biryani, this modest eatery is where your hunt ends.
Where: Oriental Complex, Banerji Road, Opp: Saritha Savitha Sangeetha, Ernakulam, Kerala
Cost: 250 INR for two people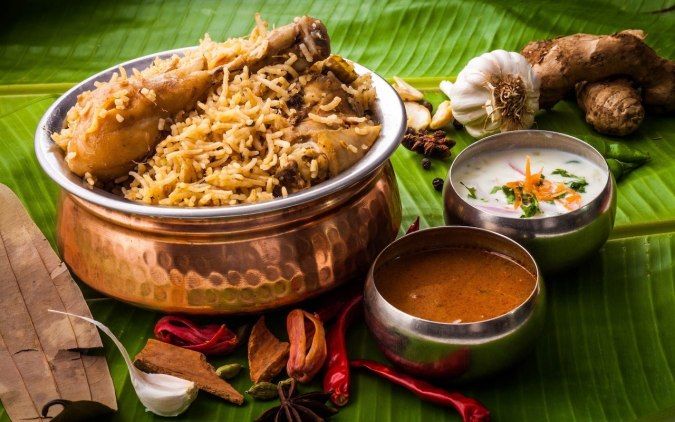 2.) Kayees Rahmathulla Café
Loaded with ghee and tender meat, Kayees is a brand name for mutton biriyani in Kochi. World-renowned painter M.F. Husain to Mollywood megastar Mammootty, different celebrities have frequented this place time and again to relish the divine delicacies here.
Pro-Tip: Don't miss the Malabar stlyle dates pickle which is unlimited here.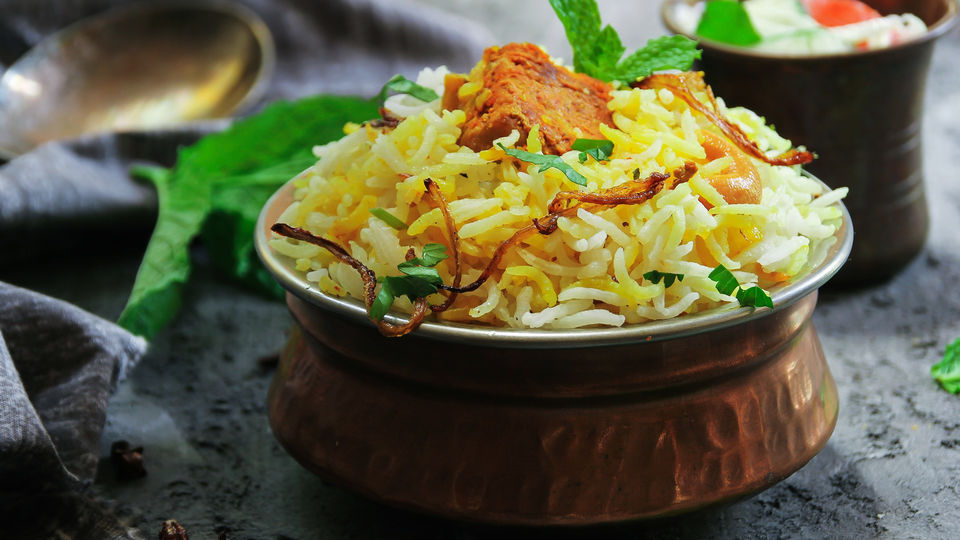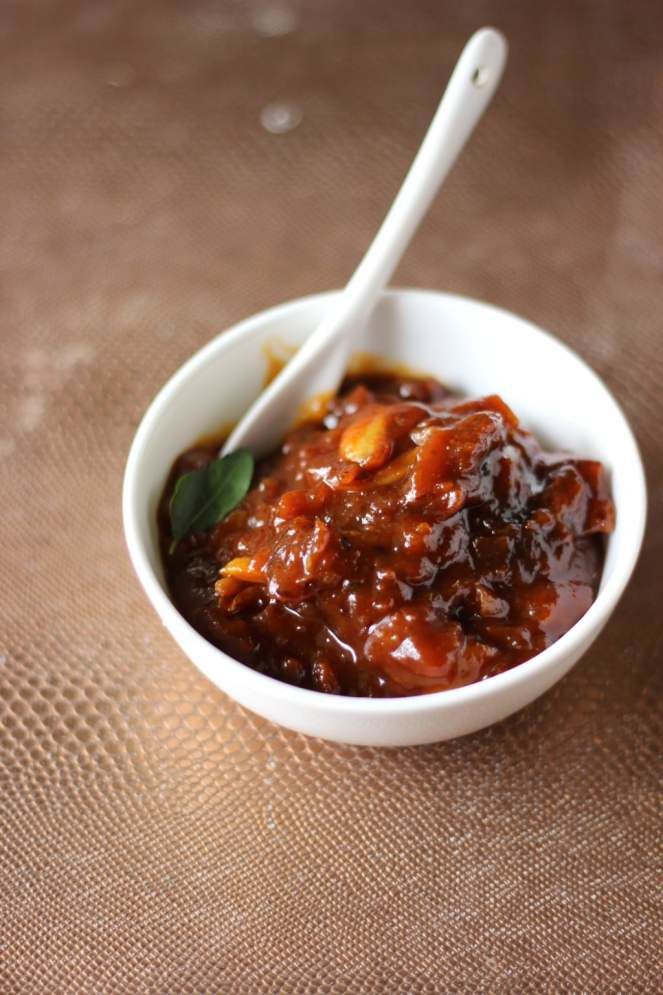 Where: Gujarati Rd, Near Gujarati Temple, Mattancherry, Kochi, Kerala 682002
Cost: 300 INR for two
Know of any other place that deserves a spot on this list? Click here to share your magical travel tales with the Tripoto Community right away! Get travel inspiration from us daily! Save and send a message at 9599147110 on Whatsapp to start.
Frequent searches leading to this page:-
budget Hyderabad holiday packages, hyderabadi biryani famous, hyderabadi biryani famous restaurant, hyderabadi biryani hyderabad, famous food in telangana