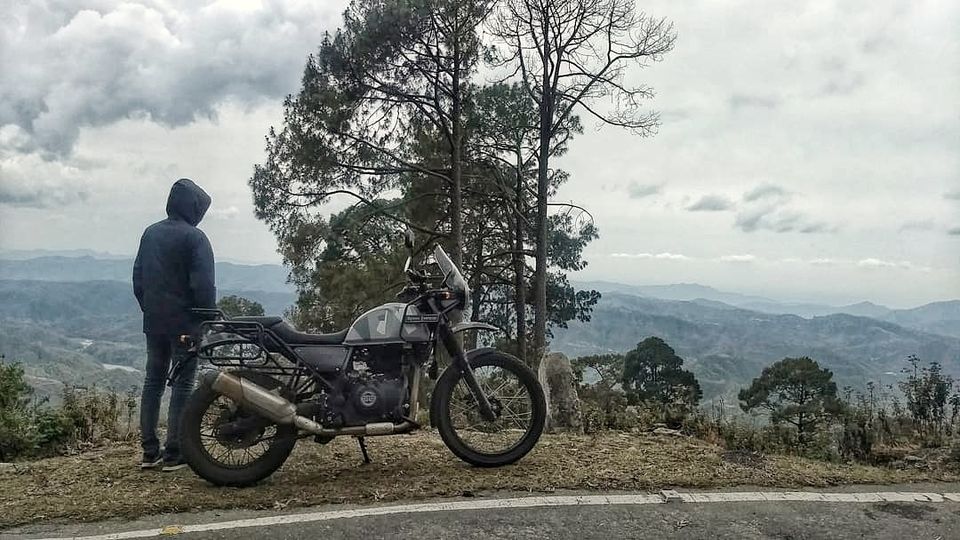 "Traveling is not just about going to an new place, its also about exploring the Road."
While planning an weekend from Delhi we always plan for places like Shimla , Kasol , Manali , Rishikesh beautiful but flooded with tourists. Many of you might argue that these are the best places to visit just because everyone has tested them, agree or not we are sick of it so, I have got an place which still is not in everyone's radar and will take you away from sweltering heat & creaky noise of city life, surely it can rejuvenate every inch of your body and will certainly give you enough energy to face your boss, prof or any other deadly creature whom you'll face again on Monday.
So let's take you to an place called Lansdowne. Its an very small hill station in Uttarakhand. It is basically an Cantonment area in the Garhwal region of Himalayas which is now slowly turning into a tourist place.
It is well connected by buses and taxis but I would recommend you to drive to this place, if you haven't tried road trips earlier, you can surely start off with this one. You'll get the taste of Pine woods with panoramic view of the mountains. Certainly, road traffic won't be an obstacle in your journey once you hit the twisty's, so its just you and the incredible view.
Best flavor of Lansdowne is 'Rainy Blast' so it'll be best to visit during Monsoon.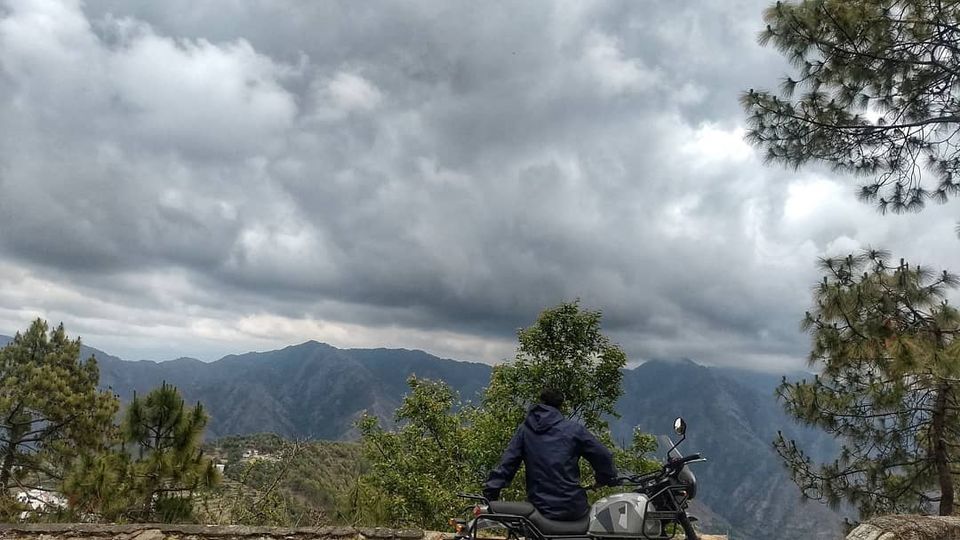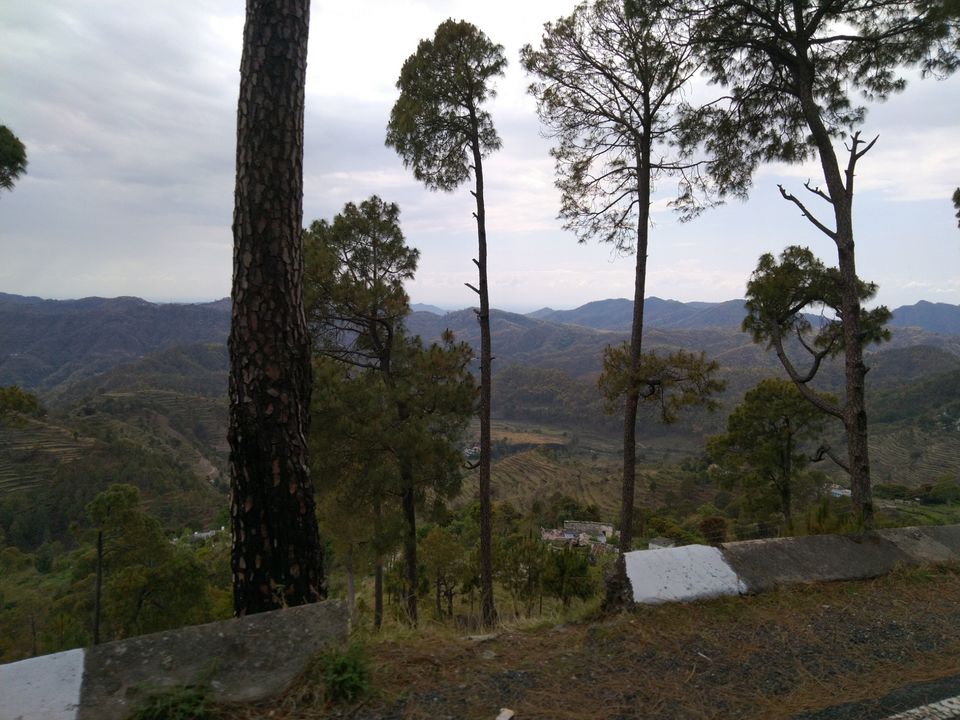 It was 4 in the morning, some of us were still drowsy and rest were awake whole night planning to sleep after boarding (stupidest thing on any road trip). So with packed bags and dopey eyes, we were all set to go.
Our route was -
Delhi -> Bijnor -> Kotdwar -> Lansdowne
Lansdowne is about 250 km from Delhi. Lansdowne is more like a leisure getaway than an activity packed tourist spot.
We started our road trip and it was 5 in the morning so frosty air was piercing through the half open window of the car. When you are living in Delhi you don't realize the pollution in the air its all same, but when you get out of the town and gulp some of actual fresh air its actually rejuvenating and with your eyes closed you try to take as many deep breaths as you can.
At Bijnor, on our way to Lansdowne, we drove over the massive dam on the River Ganga. We stopped there for the expansive view and to go to the ghat and pay homage to river Ganga. So it took us around 5 hrs to reach Kotdwar including a stoppage at a Dam and a Dhaba for breakfast. Till that point road was good, for some time it was canal at one side and lush green fields on other. But after Kotdwar it was not the tarmac which got better but the view, the road took us through as mountains were calling. At Kotdwar you feel like standing at a threshold where you see plains on your back and the hills ahead of you.
From Kotdwar to Lansdowne it was all about sheer pine trees. Driving through these woods was exhilarating. We started ascending, uphill clouds, mist, waterfall, pine trees and steep slopes welcomed us. Driving through roads with pine woods on one side and gigantic mountains on other was an experience in itself.
When you start seeing bungalows, you feel you have almost reached your destination. Since it is an cantonment area and home to Garhwal Rifles regiment, these bungalows mostly belongs to Army Officials.
The civilian area is very small and almost limited around the only market (Gandhi Chowk ) this town has, since it doesn't have many hotels so I recommend you all to pre-book any resort or reach early in the morning so that you can easily find yourself a place to crash. Although, on the outskirts there any many resorts which you can easily pre-book on any booking site but hotels in the main market are very cheap as compared to these resorts.
We checked into a hotel near Gandhi Chowk itself, by that time it was already noon and we were all tired and hungry. The food there is cheap and tasty also taste same in almost every restaurant.
After filling us up we decided to take a short break in the hotel. By the time we got up it was already evening and it was looking like its going to rain so instead of going to places we decided to take a long walk near the outskirts. Since this town has population even lesser than some of the private engineering colleges of our country, so as you guessed we didn't find anyone during our stroll. At points you can find bungalows which looks like nobody has taken up residence in them also the echoes of small mountain streams (according to me there is nothing more soothing than this). It was getting darker and when you are walking on such deserted roads it gives you mix feeling of satisfying and frightening. While we were roaming, in my head all I can think of was "Yahan pe sab shanti shanti hai" song from Raaz, same setup. After some time drizzling started and when it stopped, all of a sudden we found ourselves engulfed by clouds and visibility was hardly 5 meters, so we decided to go back to our hotel. It is precisely said that "Pahado ke mausam ka koi bharosa nhi" . So pack jackets or sweaters in case weather swings, during night it started raining and suddenly the place became even more beautiful , Just Nature things!!!
As the night unfolded there was absolute silence in the vicinity and the city completely shuts down before 9.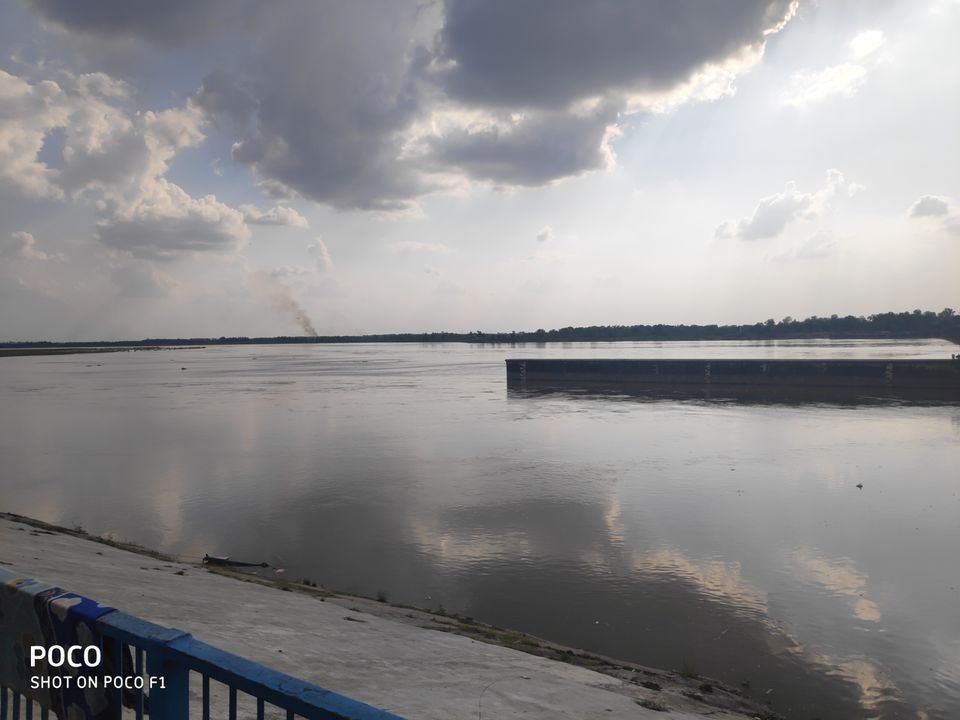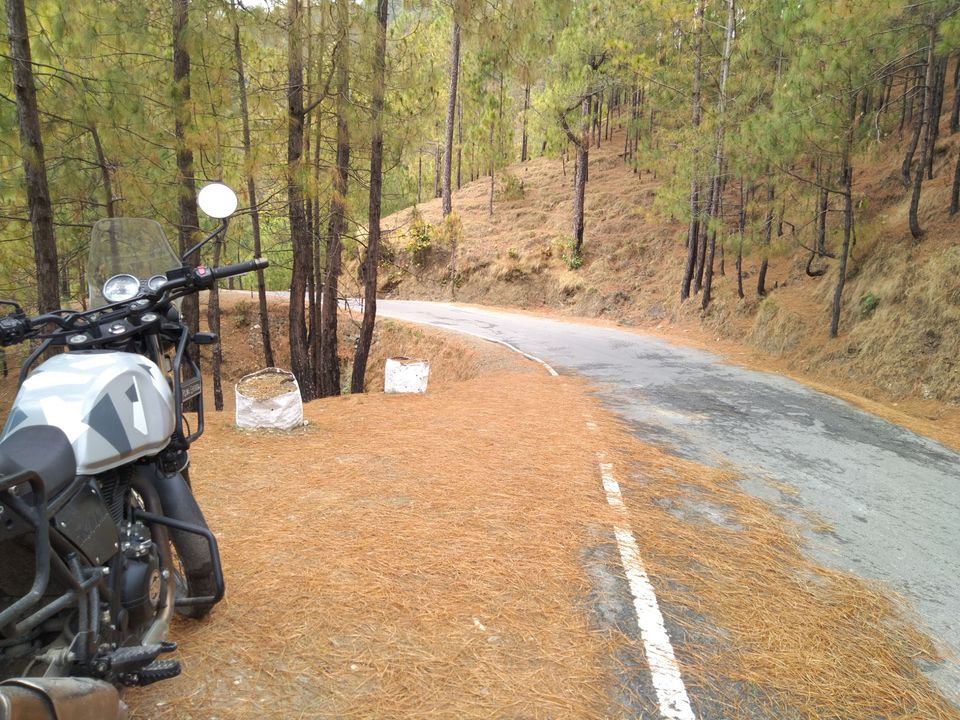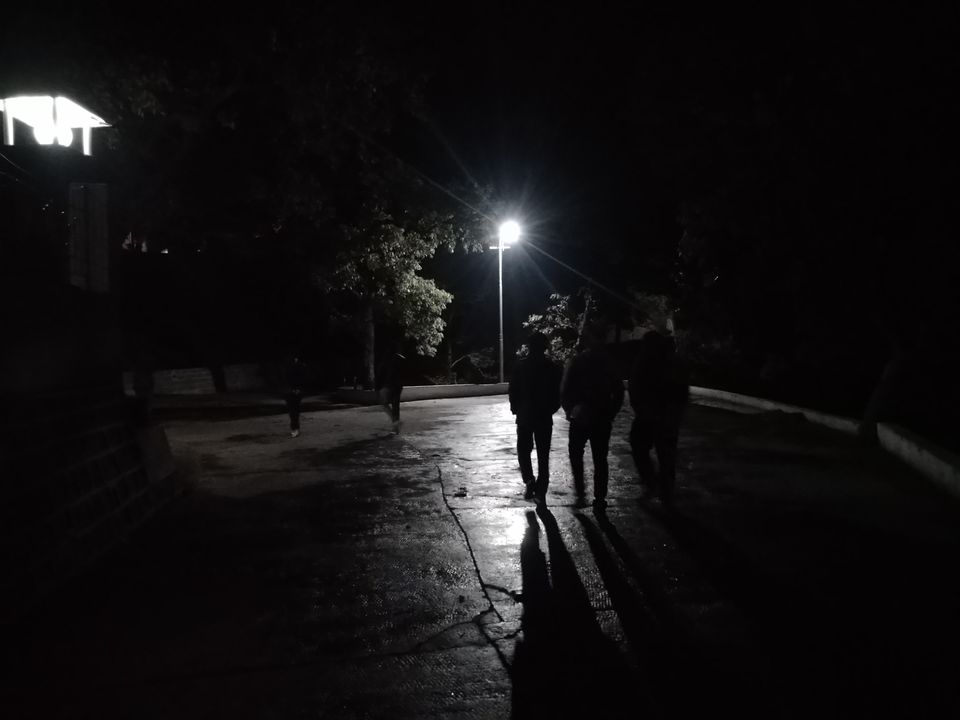 There is nothing comparable to waking up to mountain views. Unlike the scorching heat of the sun disturbing my morning nap, here the chirping of birds, soft breeze was telling me to sleep a bit more...all the greenery was bathed in the dew giving away the crystal view with sun shining .
We checked out from our hotel and our next mission was to explore nearby tourist places. As we had already done our homework and our to do list was ready to checked -
1. Tip n Top - Tip n Top is all about majestic view. It is nothing but an extended edge of the mountain where people sit to enjoy the quiet beauty of nature. The view of the Himalayas as witnessed from this site is rejuvenating.
2. Bhulla Taal - This is an artificial lake built by the Garhwal Rifles. An ideal pastime is to go for boating in this lake. Neatly tailored flower gardens add to its scenic beauty. Sparse crowd and the relaxing ambiance convince us to try boating in the lake.
3. St. Mary's Church - A Gothic Style church surrounded by Pine and Deodar forests. To me it seems more like a desolated one but the sitting space next to it offers enigmatic views of the valleys and mountain ranges.
It took around 2- 3 hours to cover all theses places, due to time constraints we were unable to cover all spots. If you want you can take a short excursion to the Tarkeshwar Mahadev Temple which is around 40km. One thing we definitely missed was Garhwali Museum, it was closed that day. :(
After all this it was time to get back to our monotonous life. We left for Delhi at around 1 PM. On the way back you can find places from where you can trek down to the riverbed so it's up to you ( I really wanted to but couldn't because everyone else were not convinced).
By the time we reached Delhi it was 8. So the wicked Monday was waiting for us, next thing we all were going to do was daily toiling of 9-6 but I was happy because on my way back to Delhi I stole some of Lansdowne and secretly kept it in my heart, so all I have got to do was to close my eyes.