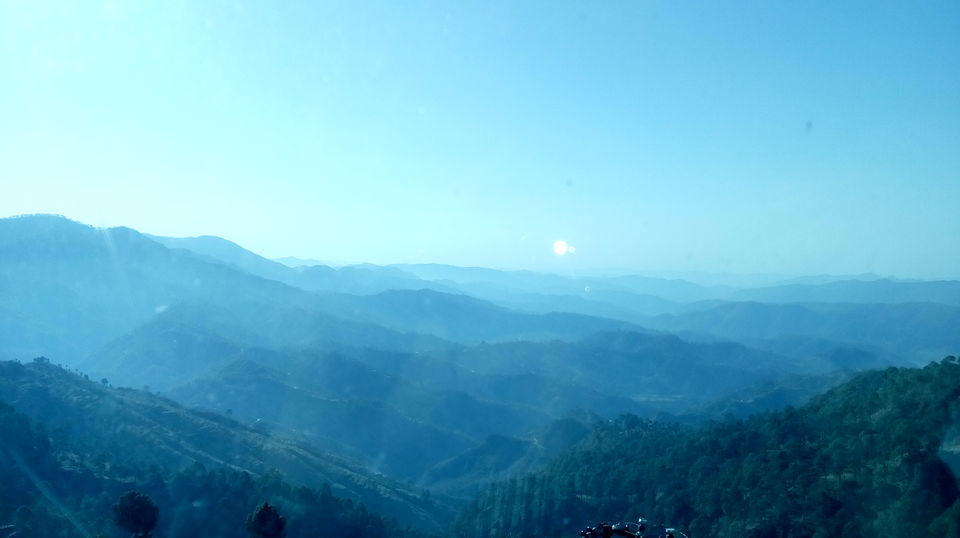 Last weekend, I visited Lansdowne, A beautiful hill station of Uttarakhand situated approx 1800 meters above sea level and around 270 km from Delhi. and if someone is traveling via Train then nearest Railway station is Kotdwar which is situated 45 km down from Lansdowne.
We started our journey early morning from Delhi and reached Kotdwar around 11:00 am, Because of some previous schedules, I was so exhausted in this 5-hour journey but when we crossed Kotdwar and started our twist and turned hill ride, all energy restored and I was feeling refreshed under nature's arm. The exhilarating roads, foliage mountains and another side flowing river continuous with the road from "Kotdwar" to place called "Duggada". The whole track was fenced by the dense forest of pine trees and hill floras. The mountain roads were very narrow with lots of turns, so one has to drive very cautiously.
After 1.30 hour drive from Kotdwar, We reached our Destination "Lansdowne".This place is cantonment town under Garhwal distt, So before entering one has to show their id proof to Garhwal Rifles military staff. You will not get any 5-star hotel to stay at Lansdowne but you can get good property surrounded by alluring mountain 3-4 km before Lansdowne, A place called "Deriyakhal". The most recommended place to stay is Hotel #LansCastle .The Beautiful property, Excellent Service, Delicious food and the most exciting was amazing hill views from your balcony room itself.
It was freezing weather even in mid of march, and while entering in town the first place one can see is Shatabdi Dwar, but you can visit this place from outside only as to get entry prior permission required from Military officials, This place is maintained by Military people. From here we moved towards our next destination that was "Bhulla Lake" which is situated at the center of Lansdowne and also maintained by Military staff.It's a beautiful lake and opens for tourist from morning 10:00 am to evening 5:00 pm and closed on Wednesdays. We stayed there for some time, had snacks at the canteen situated next to this lake and move towards next attraction of Lansdowne i.e Tip and Top point. while traveling we stopped at St. Mary Church which is very close to this point, It is one of the oldest church and now a museum maintained by Indian Army.
From Tip and Top point, one can enjoy beautiful scenic views of mountains but it was freezing cold and snowy weather. This place was extremely cold in the evening with frosty winds. So staying there for long was quite difficult for me but it was an amazing place to spend quality time. Near to this place, there is Guest house which is maintained by Indian Army only and if one would like to stay, they can do booking as well.
Lansdowne is a town surrounded by beautiful mountains & greatly maintained by the Indian army. A small Market is also situated at the heart of the town with all basic necessities. While returning back we stayed and enjoyed at the beautiful "Kho" river it was freezing water on the stony bed and surrounded by lush green mountain, This river is flowing continuously along with Road from Duggada till Kotdwar.
Lansdowne is perfect weekend Gateway from Delhi and the best place for Peaceful mind and to fulfills Inner soul.
Frequent Searches Leading To This Page:-
Uttarakhand is famous for what destination, Lansdowne Essence of Uttarakhand, lansdowne local news Uttarakhand, offbeat things to do in lansdowne, places to visit in uttarakhand near dehradun, 5 star hotel in uttarakhand list, uttarakhand tourism kedarnath helicopter booking