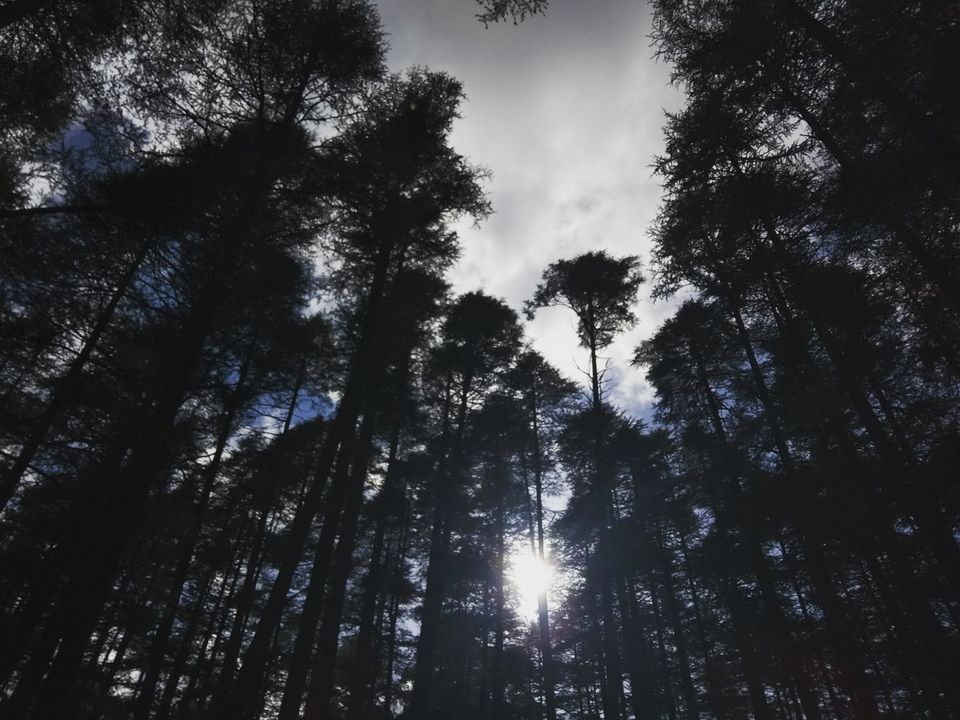 Readers will find lots and lots of post about Lansdowne, Uttarakhand in tripoto or in other travel blogs, reason being, not only it is one of the most beautiful hill stations in Uttarakhand but also it is one of the closest (about 241km )from Delhi. It's a perfect weekend destination and its cheap to. The trip cost us about 12k for 2 persons, but it can be brought down to 5-6k for solo travellers. Lansdowne, is a small hill station maintained by Indian Army's Garhwal Rifles. This place is a heaven for Nature lovers and bird watchers. We took overnight train (Mussoorie Express ) from Old Delhi station and reached Kotdwar station early next morning. Lansdowne is around 41km from Kotdwar. We took a share taxi (Rs 100/- per person) to Lansdowne. The road to Lansdowne from Kotdwar is amazing , a thin creek will follow you along the journey. With pine forest surrounding the place, chirping of birds and the Himalayan range makes this 41 km a journey to remember. I have read many post of Lansdowne but none of them have mentioned about these beautiful roads. I would highly recommend a bike trip from Kotdwar to Lansdowne just to get a feel of these beautiful lansdcape. Lansdowne is also near to Hariwar/ Rishikesh so, you can take off from Lansdowne after a staying here for a day or 2 . We had booked our hotel (Hotel Sparrow Nest ) in Jaiharikhal which 6-7km away from Lansdowne. Share taxi are available from Lansdowne and it will cost about (20/- per person) to reach Jaiharikhal. The Himalayan snow peaks are visible on the way to jaiharikhal which is a beautiful sight. Hotel Sparrow is a beautiful hotel, service is good but the food is expensive however once you see the scenic beauty of this place its worth it. After breakfast , we went for walk round the place. The place is filled with monkeys jumping from one branch to another,different types himlayan birds , pine forest and beautiful roads making their way round the himalayan range.
The next day , we booked a cab from Lansdowne to Tarkeshwar Mahadev temple which is about 35k km from landowne . The taxi cost us 1300/- rupees and it is must visit destination if your travelling to Lansdowne. The place is at much higher altitude than Lansdowne amidst Pine Forest. The temple is small yet very pretty but the surrounding forest makes its a extraordinary. Though you can experience snow fall in Lansdowne but snowfall in these forest area surrounding the temple is a different experience all together.
We have planned to take a tour of Lansdowne on our last day. After checking out from our hotel at Jaiharikhal , we checked in Mayur Hotel at Lansdowne. We took a cheap room for the day about 500/- as we had our train scheduled (Mussoorie Exp) late that night. Lansdowne is a small place so, no need to take a taxi for sight seeing at Lansdowne . The best way to experience the beauty of lansdowne is to walk through the whole area. There are 4-5 points and all are located within 1-2 km apart. We starting walking from our hotel in Lansdowne to St john Church, then St Mary's Chruch, Tip-n-Top point, Army Museum, Bhalla Taal lake. You can cover the entire lansdowne on foot in 5 to 6 hrs. Of-course you can take a cab, it will cost you 800/- for the entire Lansdowne tour.
Out of all the points at Lansdowne, Tip-N-Top is the best in my opinion as you can check out the himalayan snow peaks and watch the clouds pass by them. The entire valley is visible from that point. There are cafe there, you can take a coffee and enjoy the view till your heart contents. Bhalla taal lake is an artificial lake made to attract tourist, you can have a look but I personally didn't like it very much , as because though they have build it very beautifully but it has lost its natural touch. We took the last share taxi from Lansdowne to kotdwar around 5:00 pm. On our way back, we experienced one of the most beautifully hail storm i have ever seen. Those who have witnessed rain/hail in the mountains know very well how beautiful it looks , when it rains in the mountains. As we drove the rain and the hail stopped and the Sun came out. Everything looked so fresh and so beautiful. Soon, that thin creek again started to follow us and continued to come along until we were just few Kilometers away from the station.
Trip Summary
Travel option : Train (Mussoorie Exp from Delhi to Kotdwar), from kotdwar to lansdowne by Share taxi. Follow the same thing on your way back
Trip Cost : 12k for 2 person for 3 days.
Follow me on Instagram : https://www.instagram.com/bhattacharyasumantra/