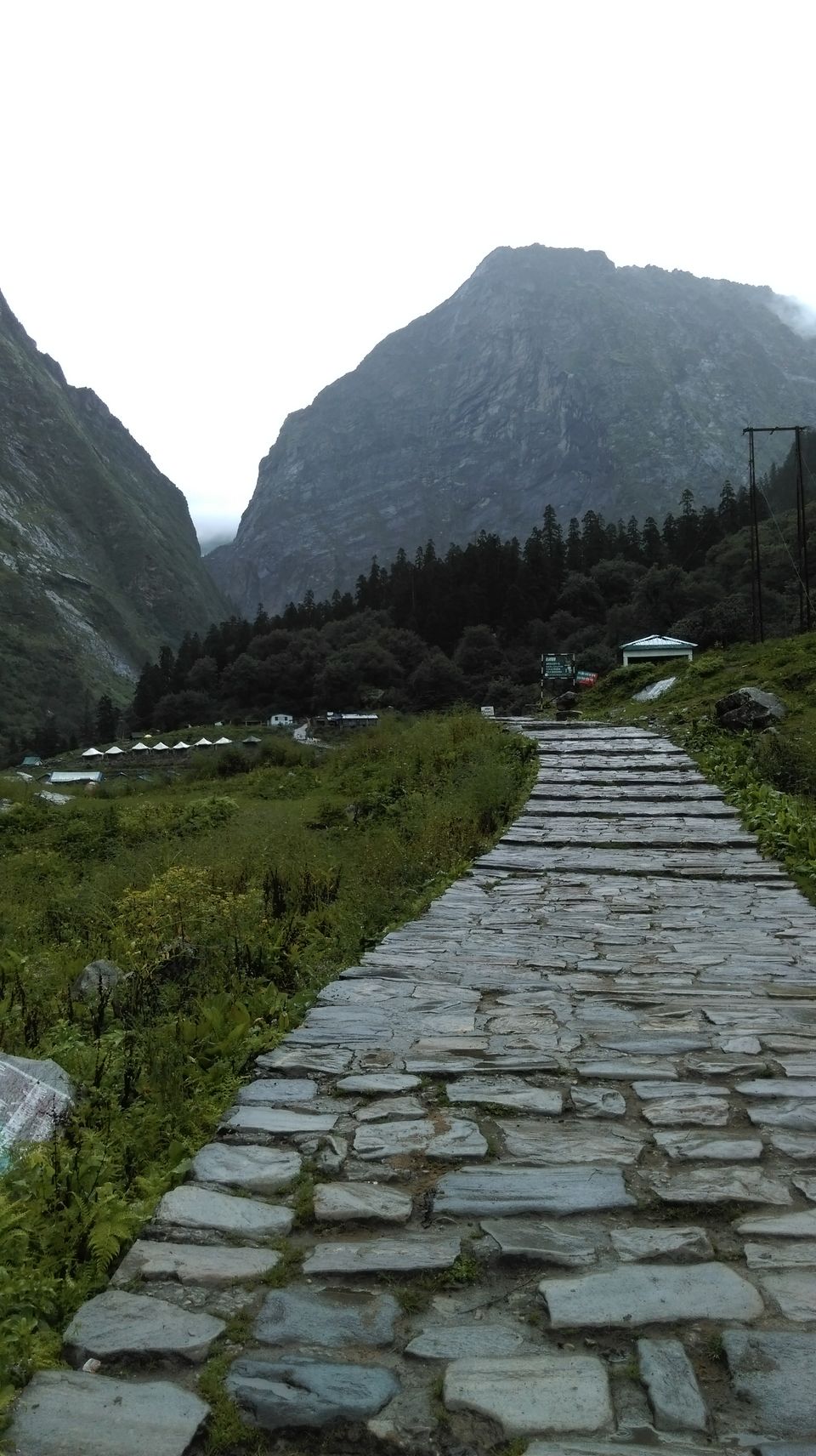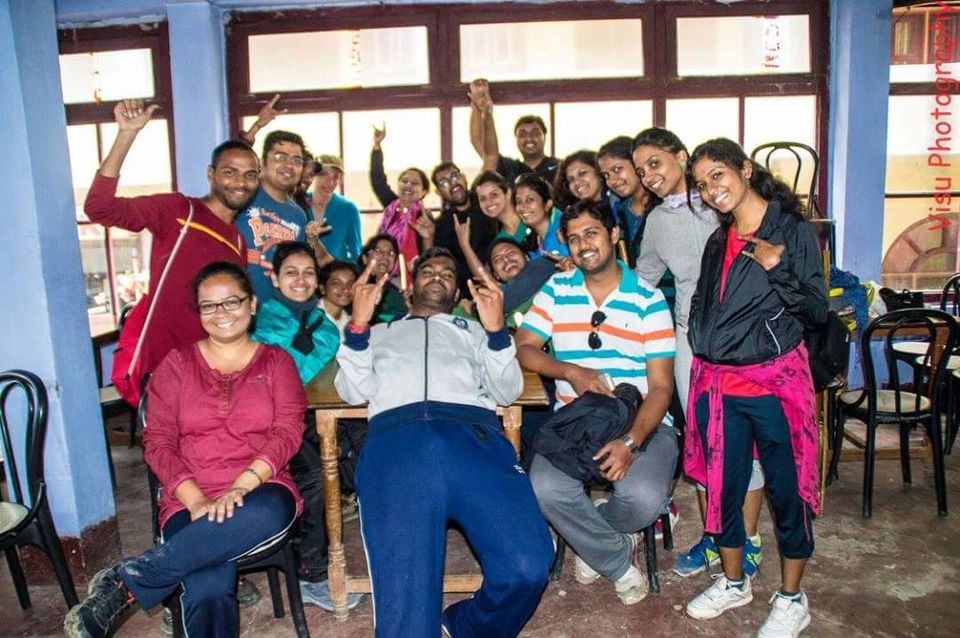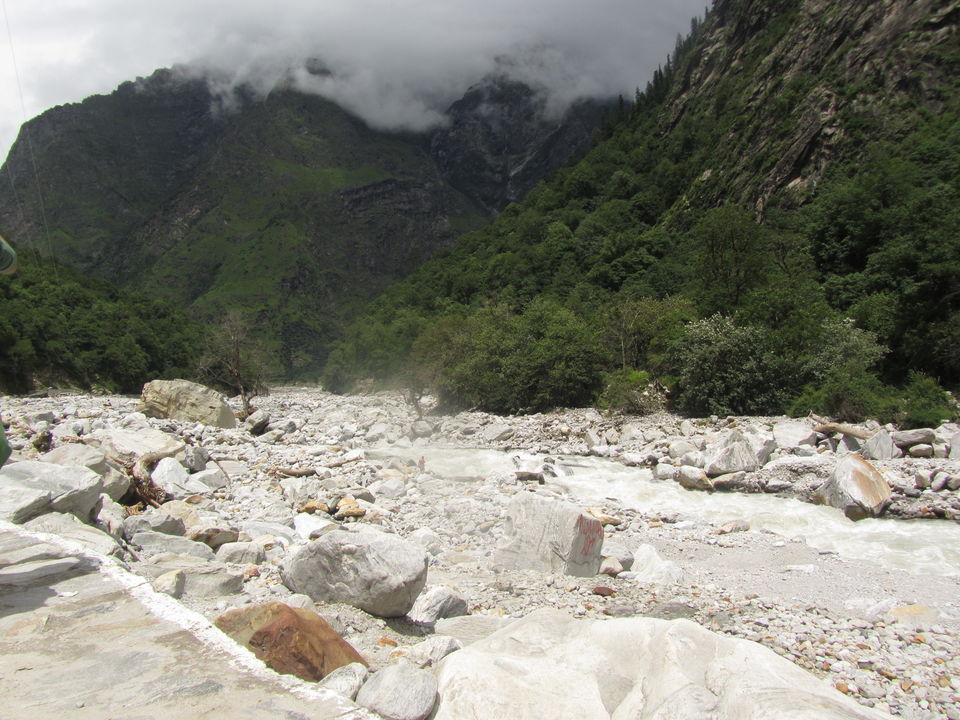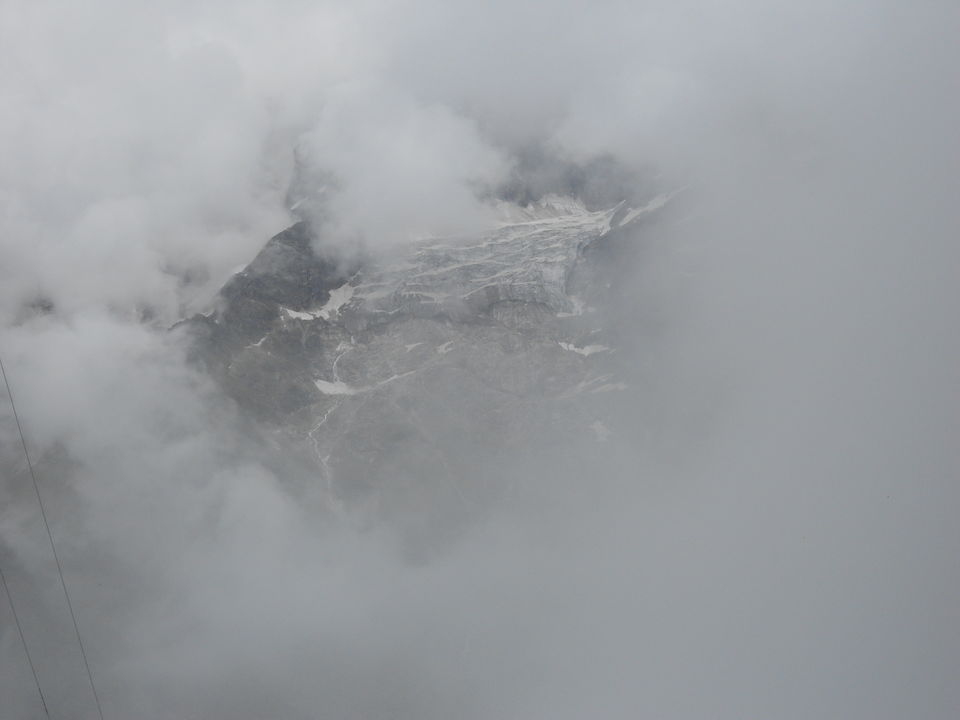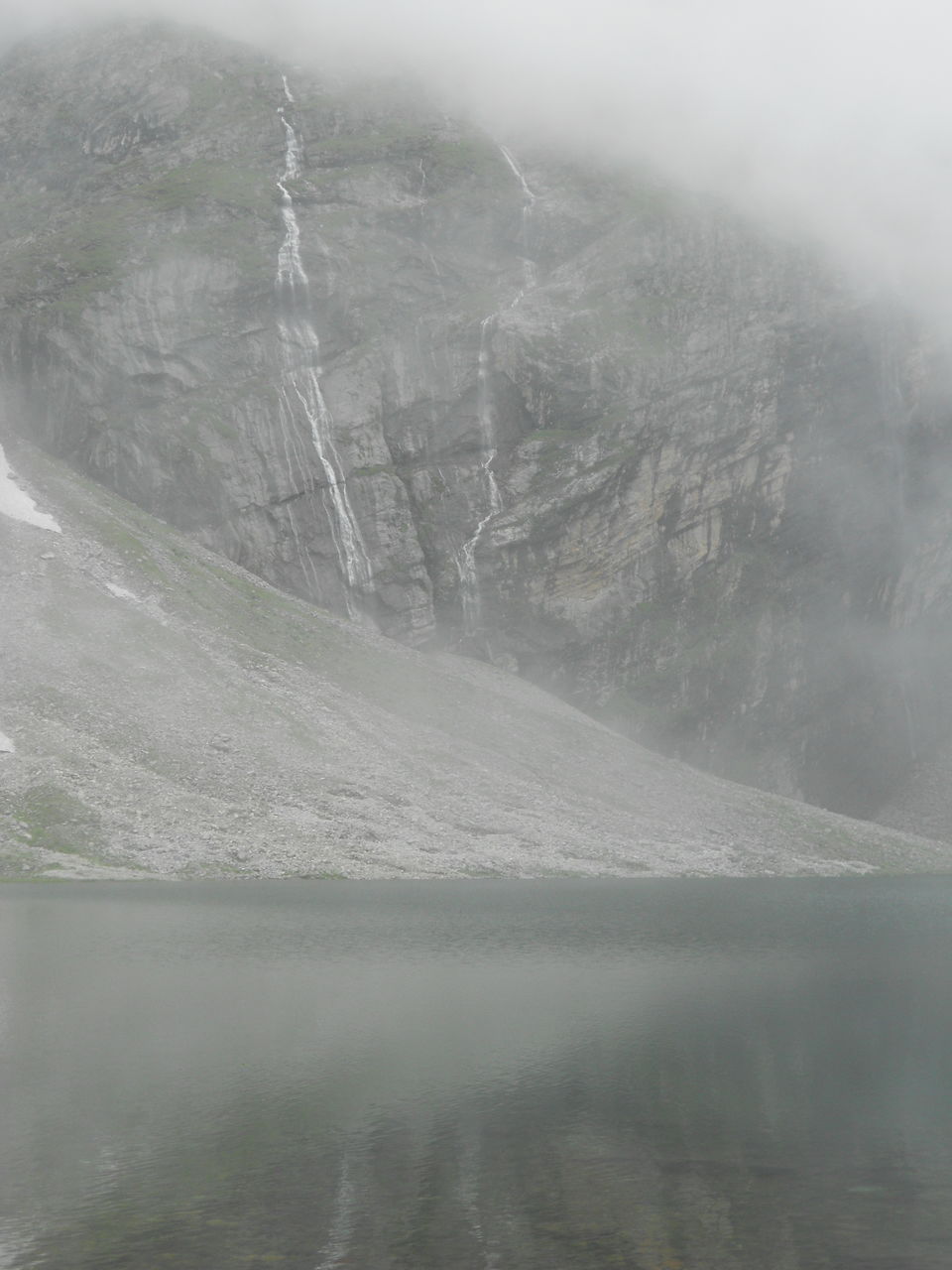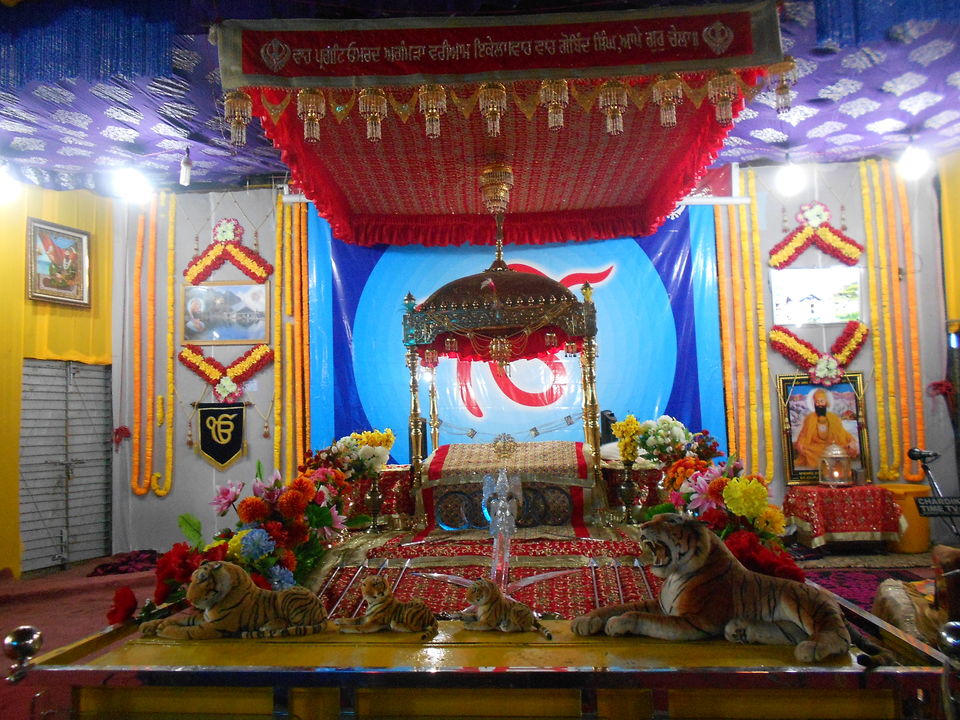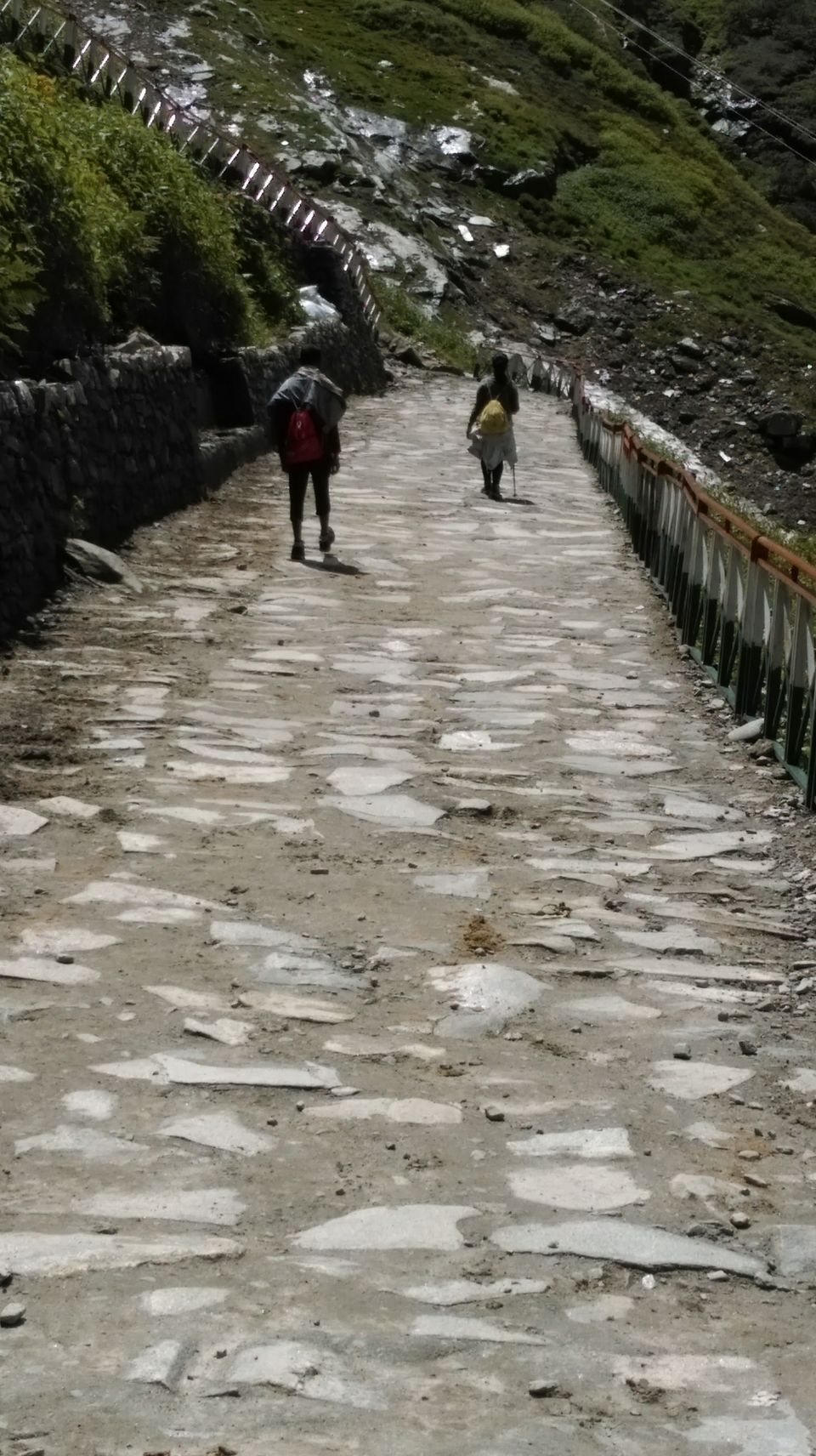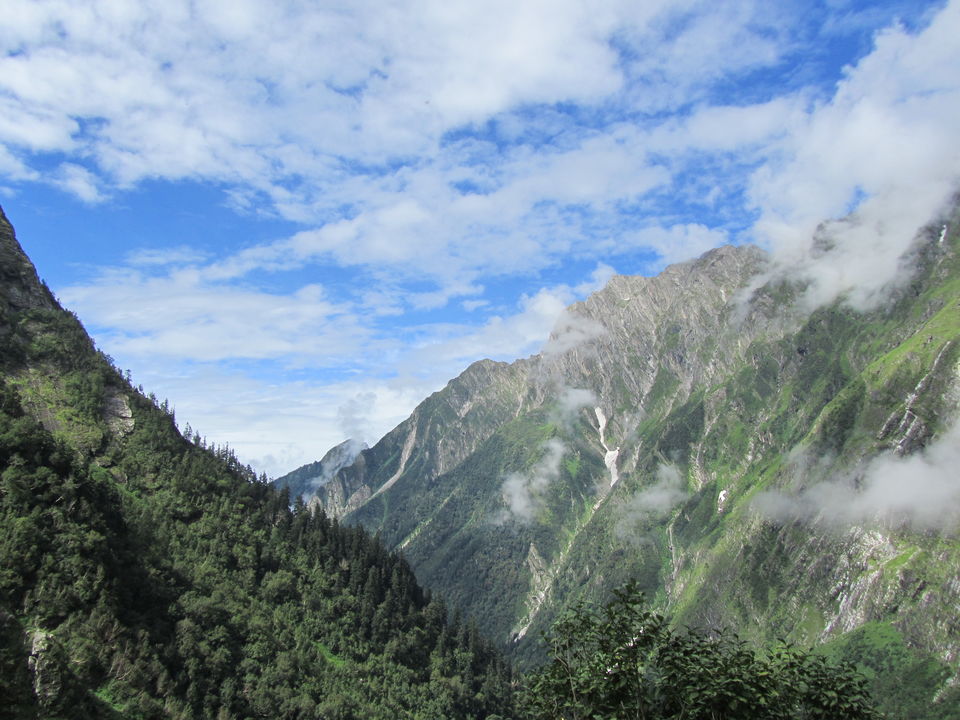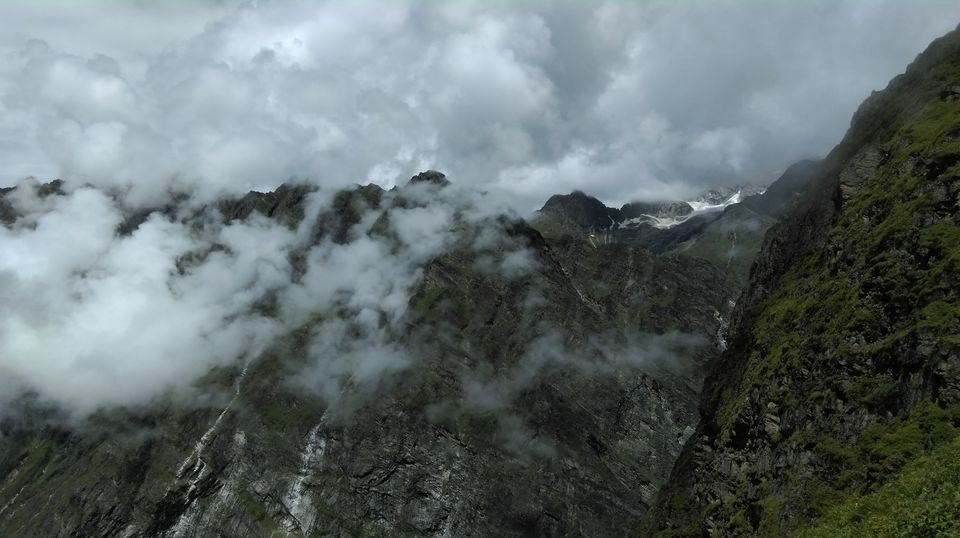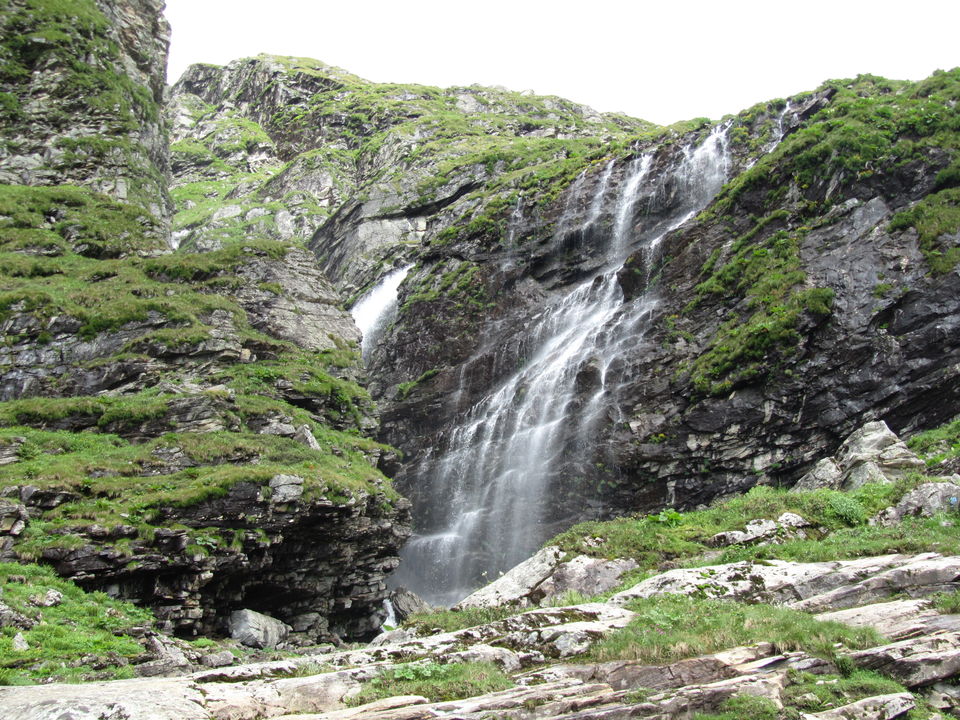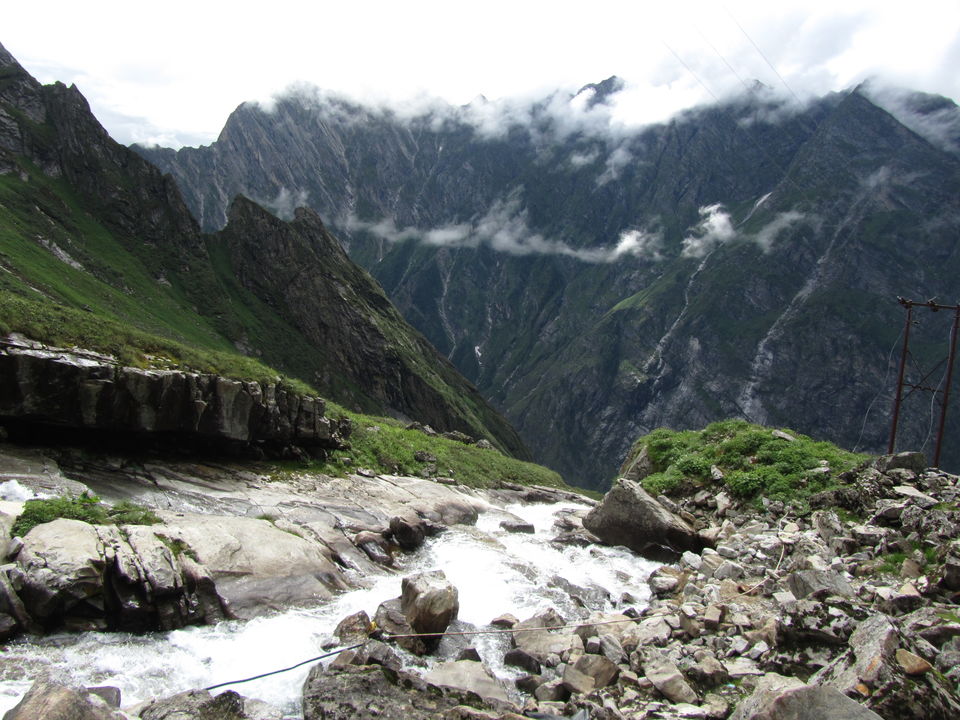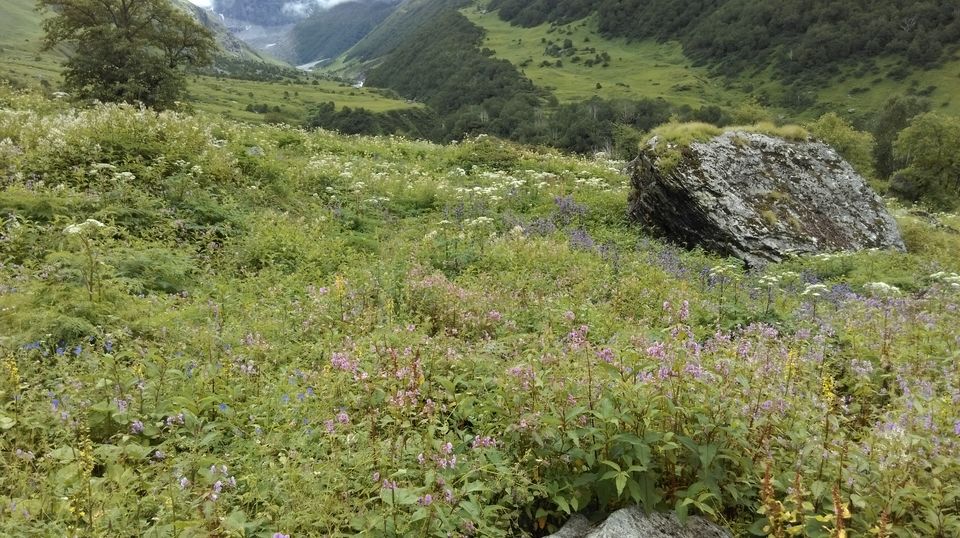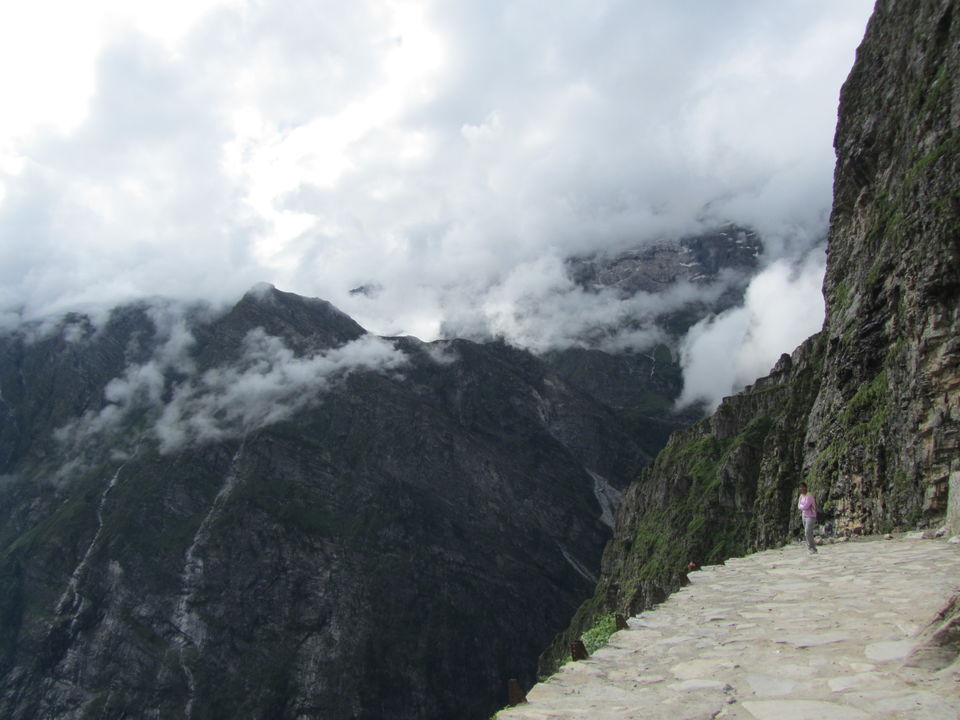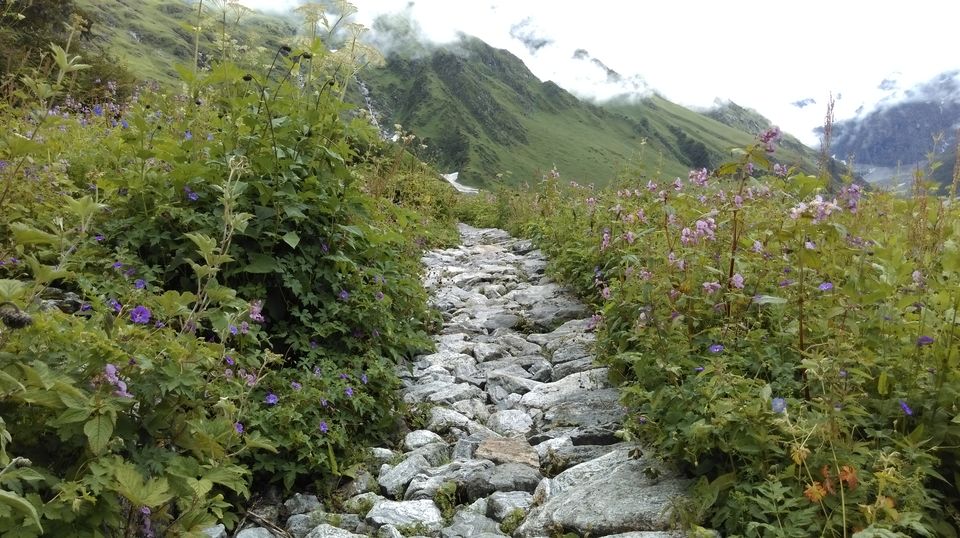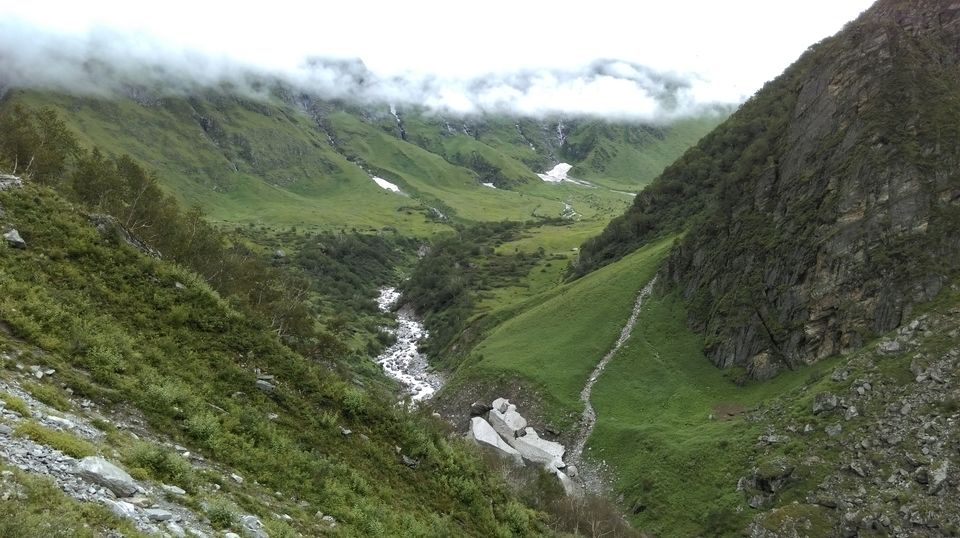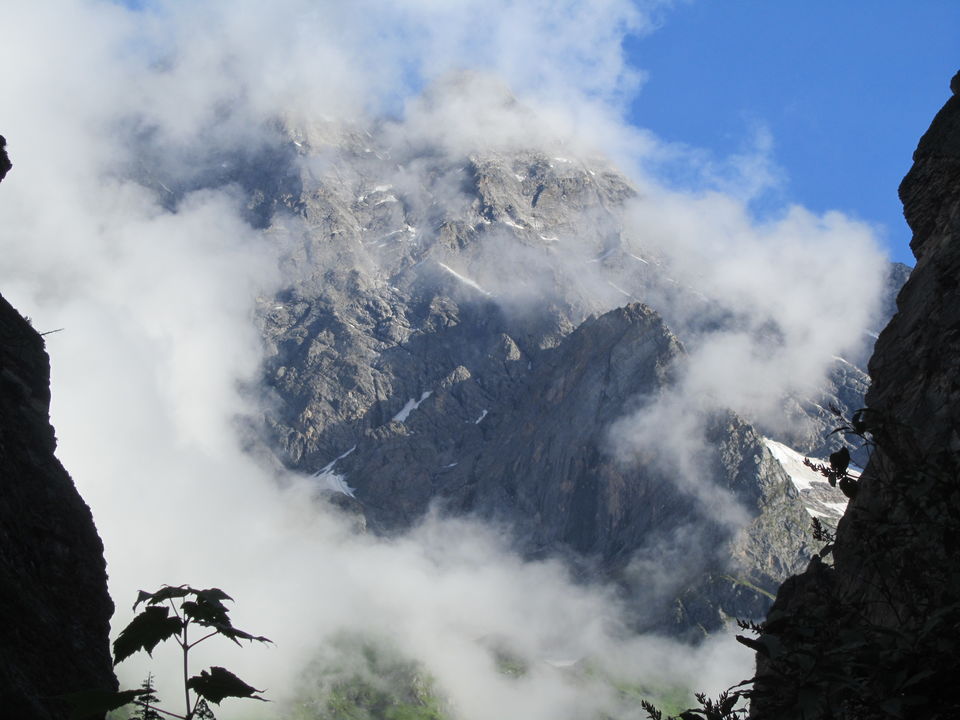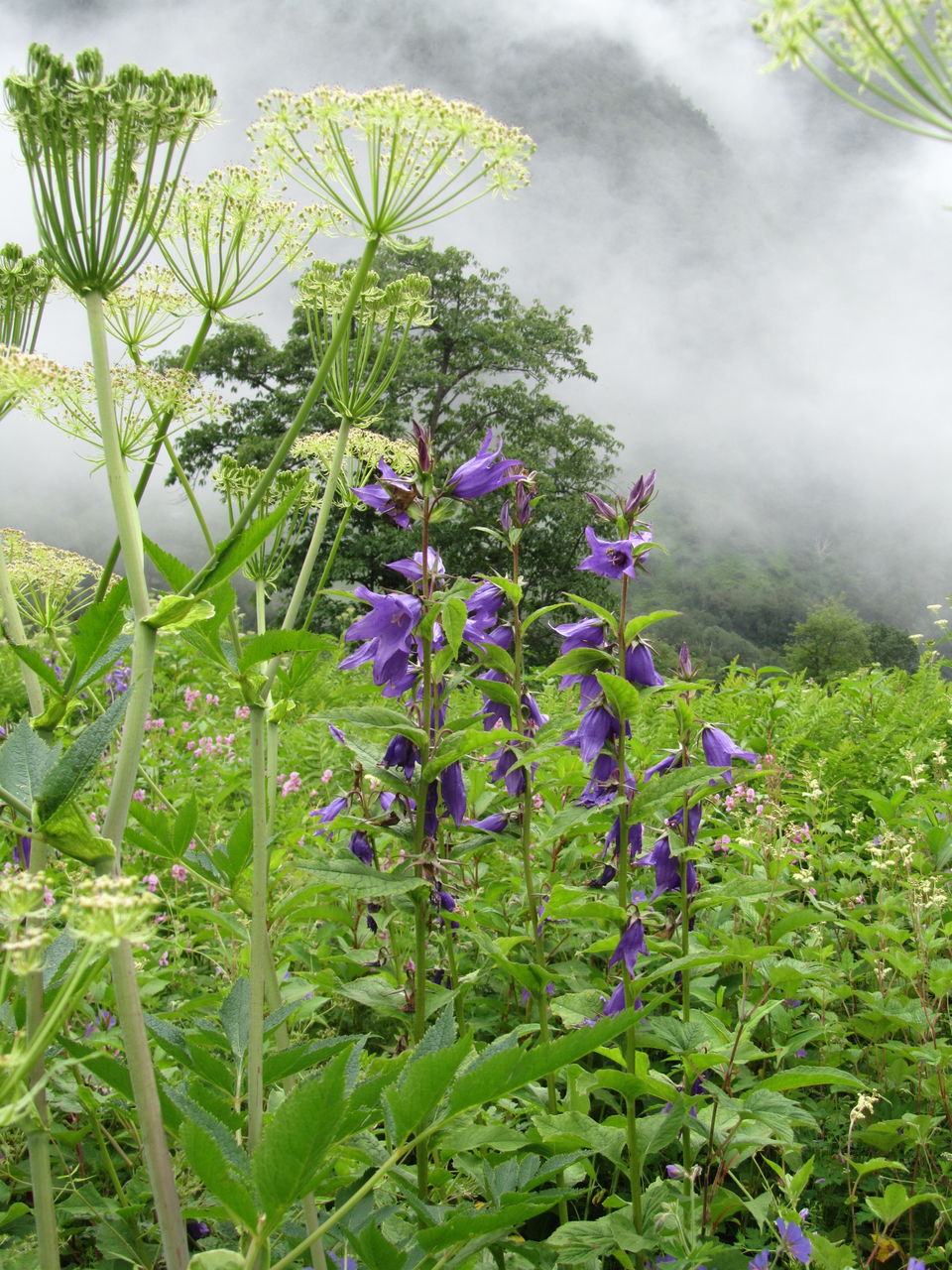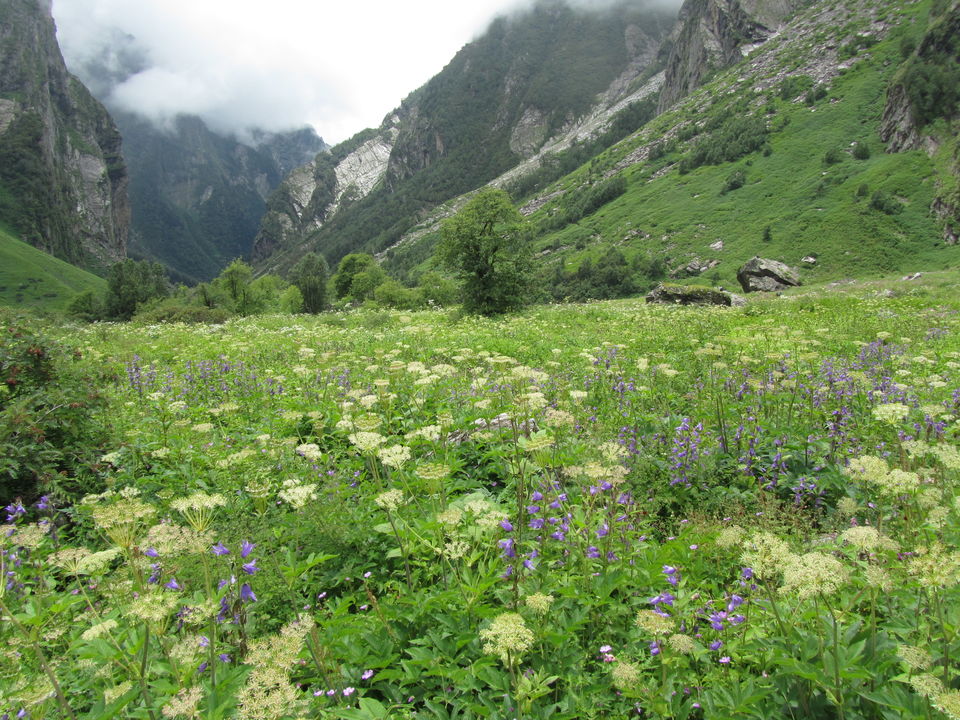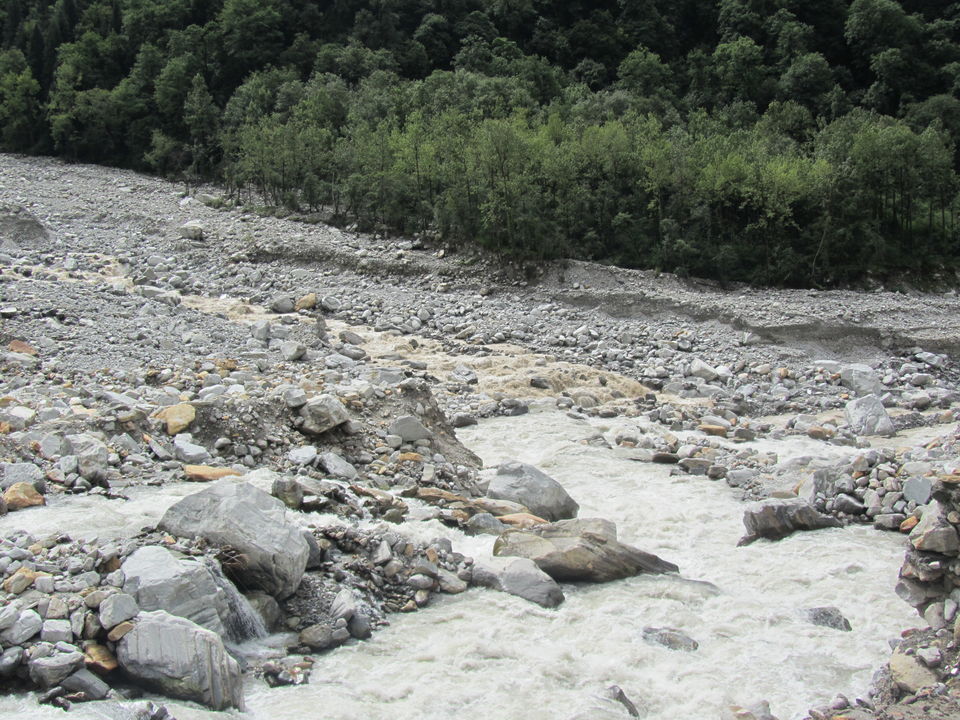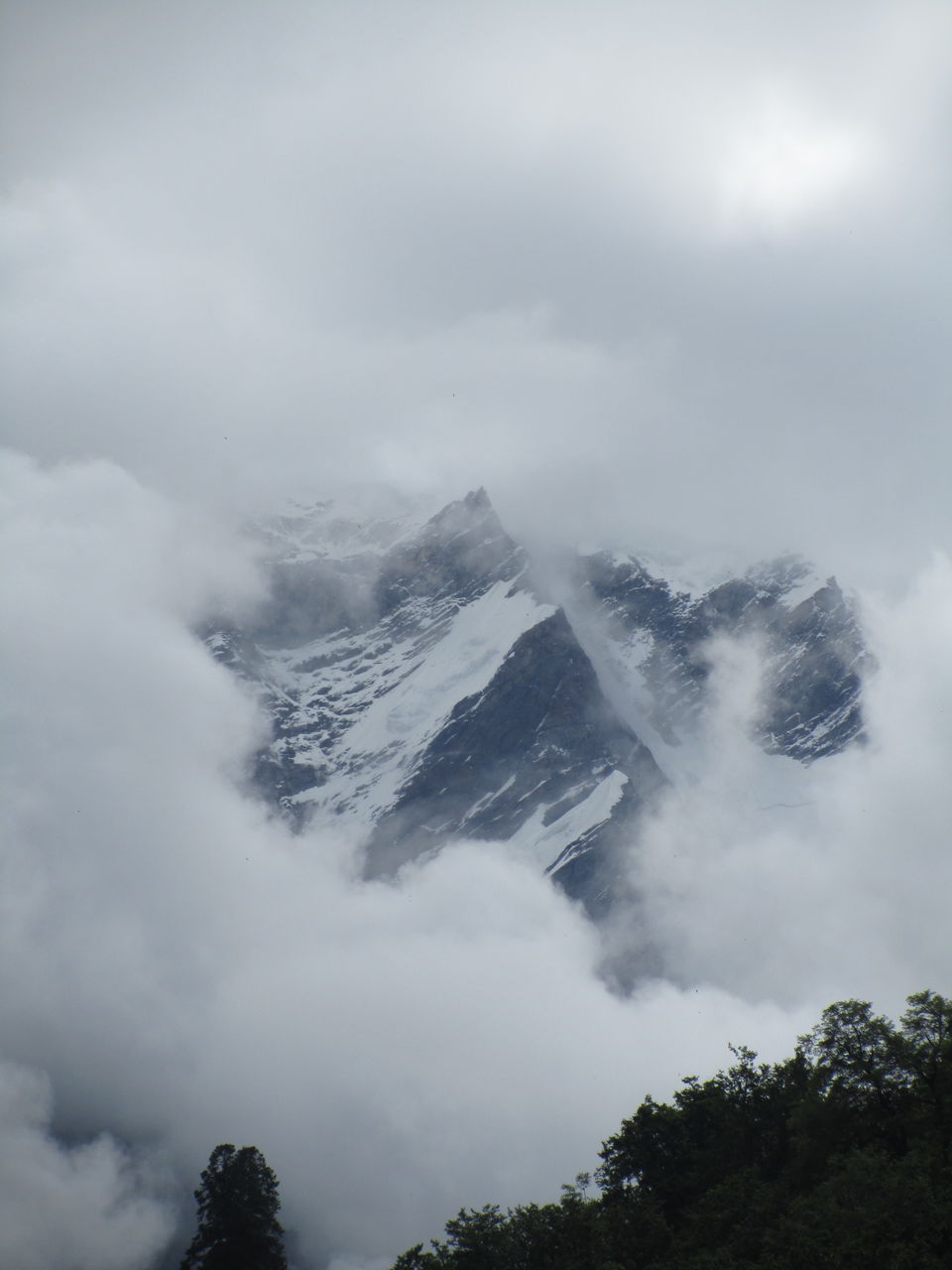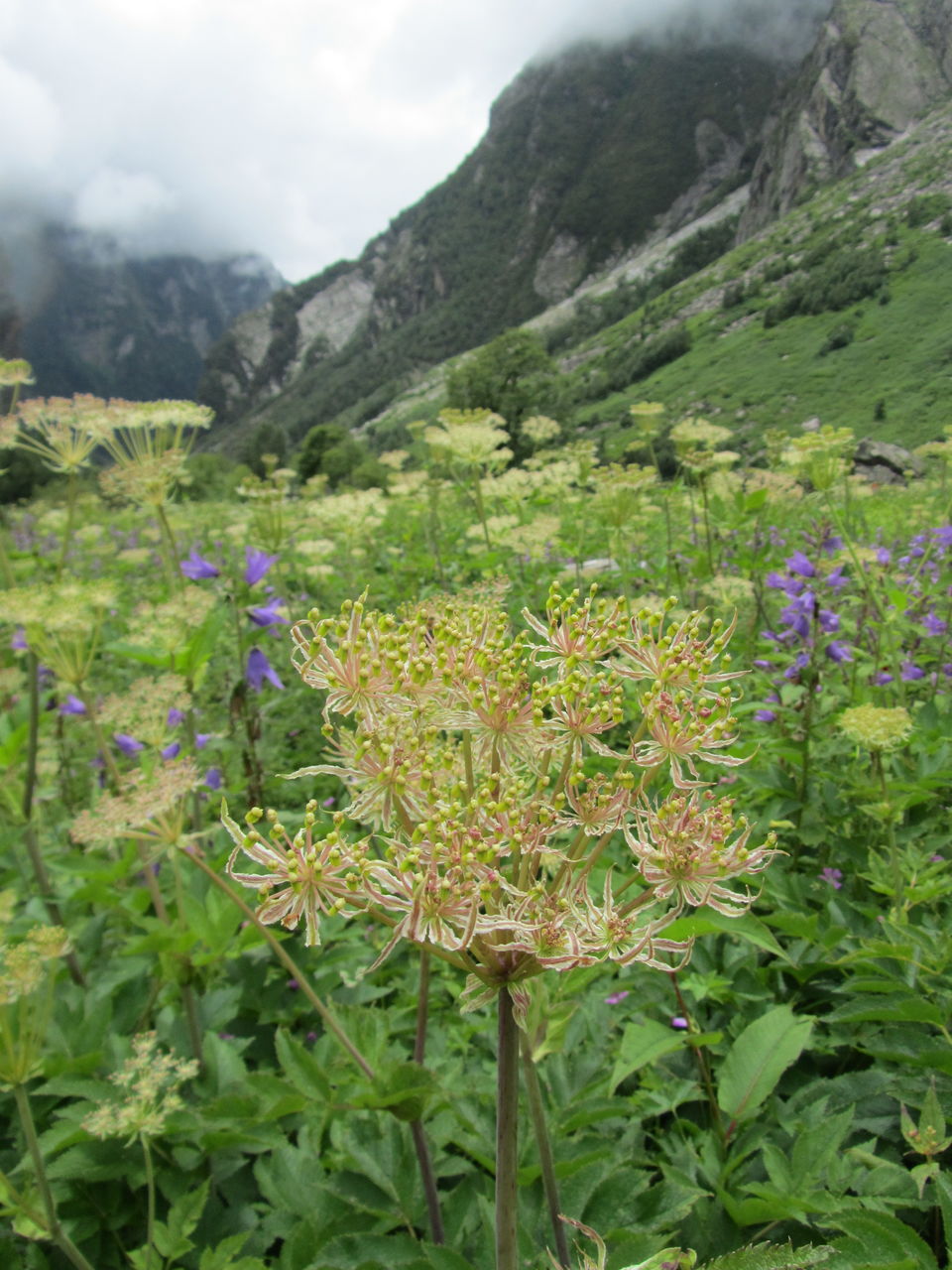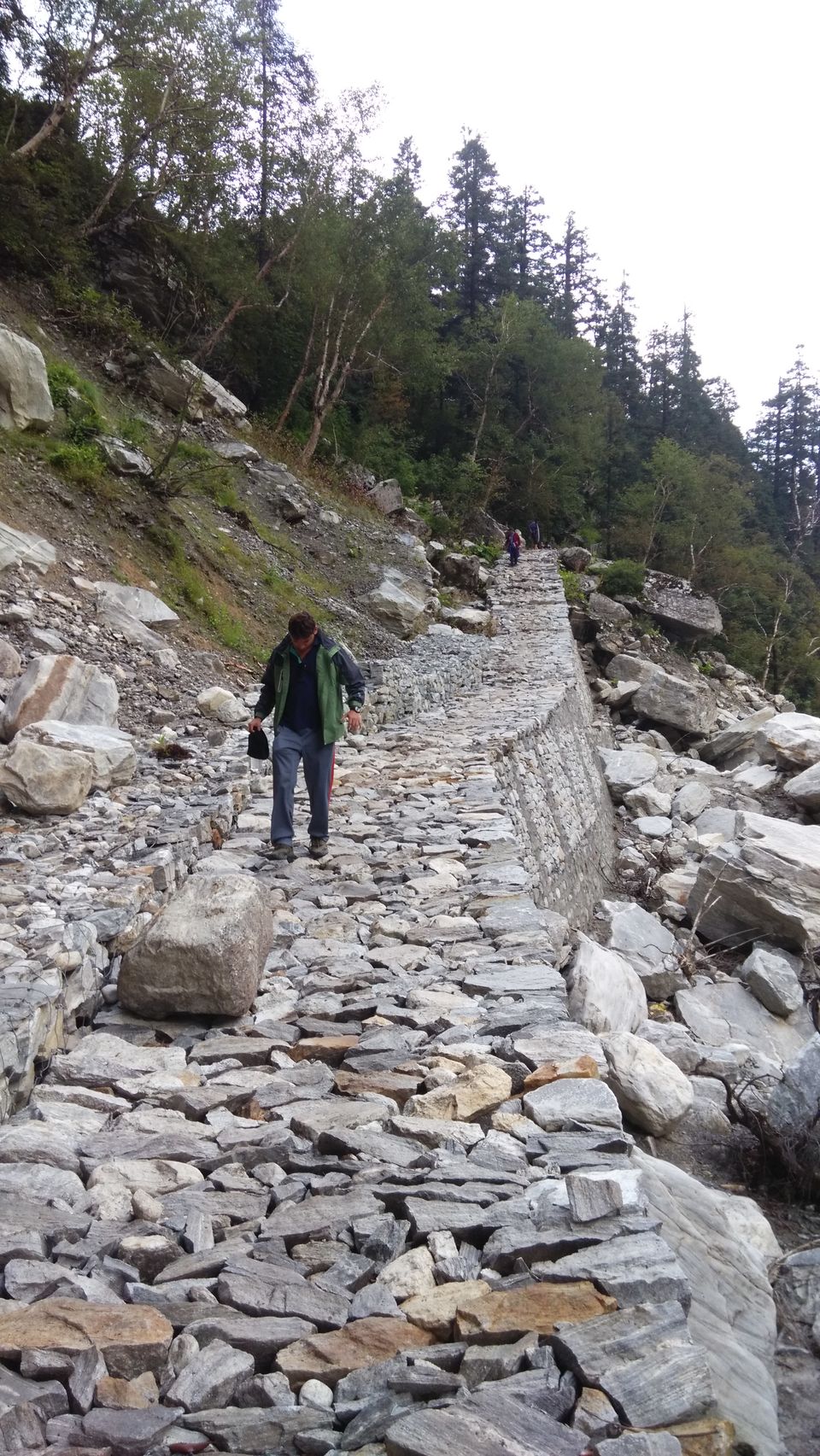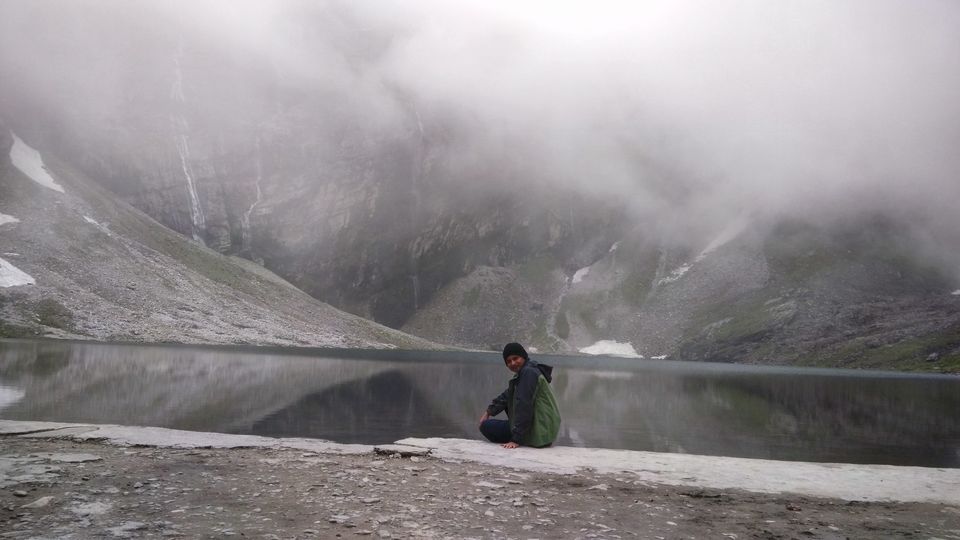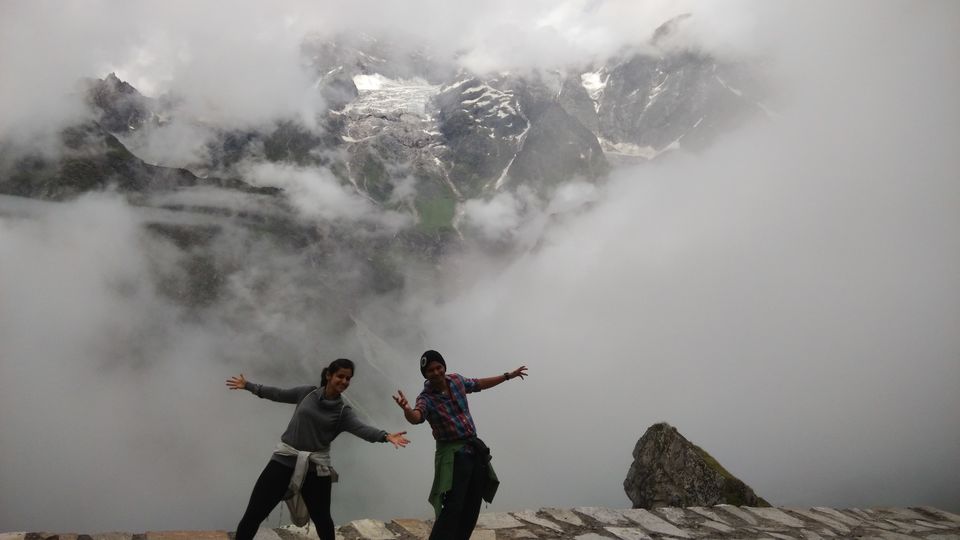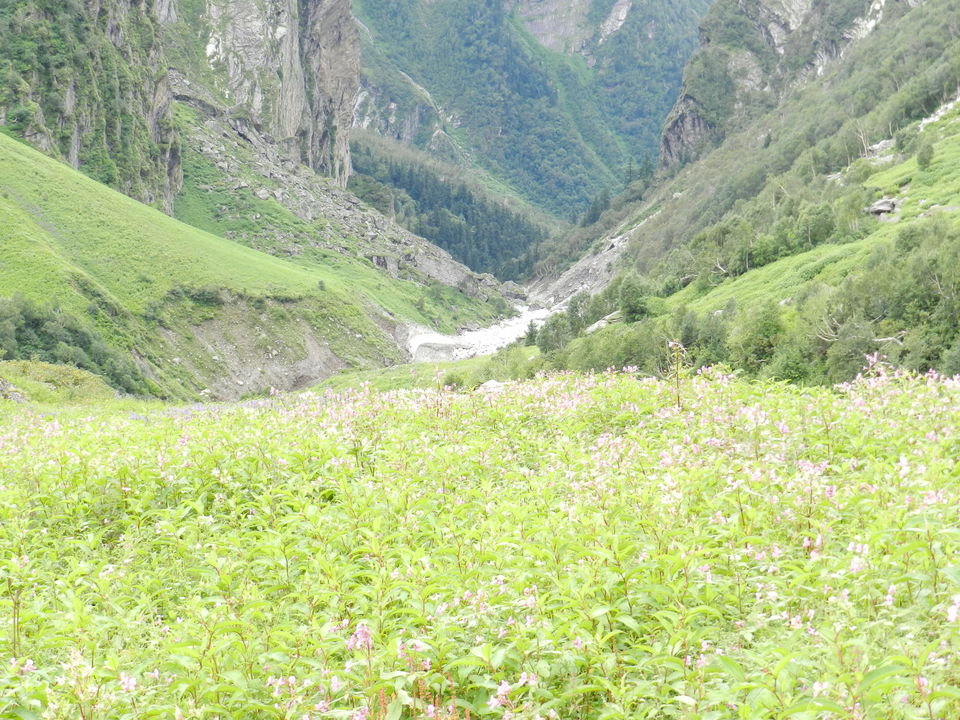 It's true that one can see great things from the valley; only small, distant things from the peak.
AUGUST 8-13, 2015: VALLEY OF FLOWERS & HEMKUND SAHIB, Uttarakhand
Are any of you into gardening? Do either of you take keen interest in knowing about the different varieties of flowers? Have you ever experienced heaven at a mere altitude of ~3,600 m, surrounded by a spectacular array of flowers in full bloom? Some romantics might even be shelling over 70% of their earnings on exotic flowers for their special someone. Most adventure enthusiasts love the mountains, but valleys have their own beauty. After all, is not the mountain far more awe-inspiring and clearly visible to the individual passing through the valley than to those who inhabit the mountain? Having read and heard so much about this popular trek in Uttarakhand, I decided to tag along with my friend on a journey, which, for sure, has given me a handful of unforgettable memories for a lifetime.
The snow on the mountains provides the much needed majestic flavor and the numerous flower patches of vivid and vibrant colors add to its beauty. A chance discovery on a lost path by British mountaineer Frank Smythe in the year 1931 resulted in the world knowing about the enchanting Valley of Flowers. He also published a book by the same name, which became a popular read among nature lovers, making the Valley Of Flowers trekking one of the most sought after since then. The valley is located at an altitude of 3,858 m and contains a vast, and if I may say, "sinful" array of wild flowers, including lilies, poppy, saxifrags, sediams, calendular, geranium, daisies, zinnia, and petunia, to name a few. If I'm not mistaken, our guide told us there were close of 400 varieties in full bloom during the peak season (July-early September). Apart from the flora, the valley also holds many streams that contribute immensely to the natural beauty. The rich biodiversity provides the ideal environment for several species of butterflies, birds, and insects.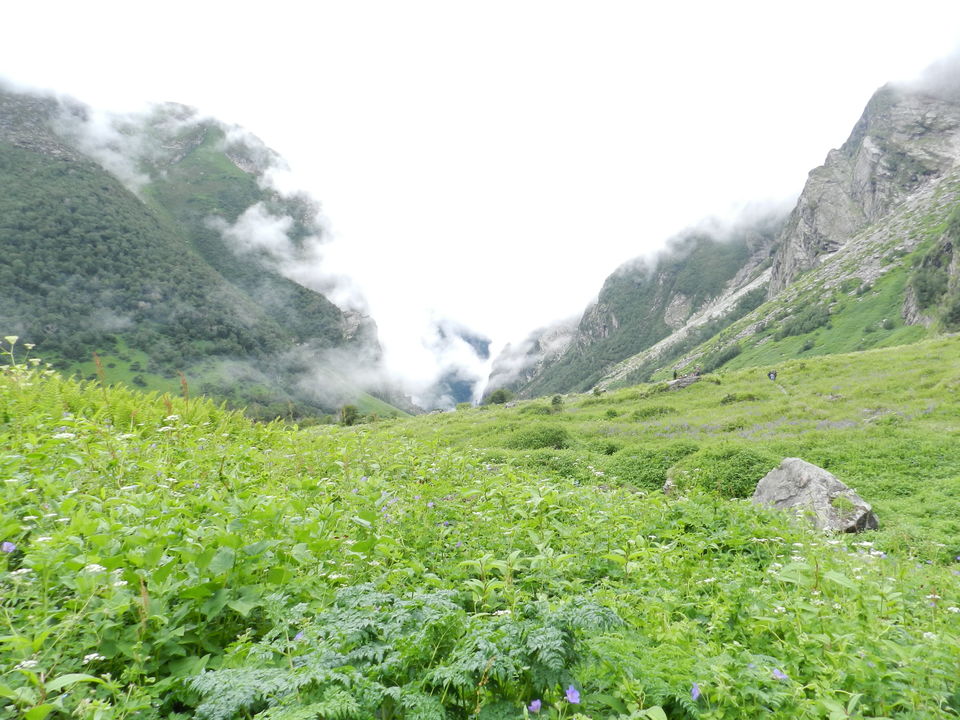 Day 1: New place, new people, an interesting journey; Haridwar to Govindghat - As with quite a few Himalayan treks, trekking groups/solo trekkers usually board the overnight train from Delhi to reach Haridwar early next morning. Generally, people try to arrive by 6:00 AM, unless otherwise delayed by Indian Railways. Unfortunately, my train got delayed by 45 minutes, and 50% of the group was already present at the Haridwar junction. The best part about group departures is that the arranged transport doesn't leave until all members have reached the assembly point. Anyways, by the time we were out of the junction and managed to locate our vehicle in the parking lot, we received word on our WhatsApp chat group that the remaining folks were having tea and breakfast at a nearby stall. In an attempt to connect with them, my friend and I dumped our bags in the Tempo Traveler and walked towards the stall. It was right outside the junction (hardly 5 mins), and I was definitely in the mood for a hot cup of tea. The group was seated at a couple of tables and we had a quick round of introduction. At first glance, everyone seemed dull and timid, possibly because of the early morning arrival. I was hoping the trip would be far more fun than the introduction, and voilà! it certainly turned out to be an eventful adventure. After those brief hi-hellos, we walked back to our ride and asked the driver how much longer do we need to wait. We were then given some "hot" news about 5-6 people traveling together, who apparently missed their overnight train from Delhi, and were driving all the way to Haridwar. Having heard that, our half-alert minds became overcharged and some of us were getting agitated as we knew what lay ahead of us - a 10-11 h long drive to Govindghat via Joshimath.
As the monsoons had already hit most parts of India, the weather was cloudy, and rainfall was expected along the way. We got to talking and spent another hour at the station, following which our driver contacted one of the trek coordinators. I believe he was given instructions to take us to a nearby Gurudwara and wait for that group to arrive. We kept on hearing that they'll be reaching any moment. By the time we were at the Gurudwara, it started to rain heavily. We paid our respects, had "langar," and continued to wait. It was almost 10:30 AM when the group finally arrived. All of us had a "good" look at the individuals responsible for ruining our morning. Finally, we started our onward journey to Govindghat via Rishikesh and Joshimath - a long and extremely tiring drive. Phew!
It was 10:30 PM by the time we reached our hotel in Govindghat. We made 2 major stops along the way, one for some really amazing lunch and the next for some tea and snacks. Lunch was special as all of us were hungry, and I was glad to find some foodies to give me company. We immediately clicked over food and some witty jokes at the dining table; the strange part was the group that caused our delay that morning didn't even bother to apologize for the inconvenience they caused us and sat opposite us at another table. Well! that pissed most of the folks at our table, and talks of boycotting them permanently were doing the rounds (in hushed tones and giggles, of course). Nonetheless, as I mentioned earlier, we were so busy digging into "paneer butter masala, aloo jeera, mixed veg, tandoori roti, and jeera rice," that we hardly bothered about anything or anyone else.
Once we checked in, we were provided rooms on a sharing basis. Arrangements were quite decent. All of us needed a hot water shower and some good dinner to survive the night. The hotel manager may have heard our plight telepathically, because we were treated to a sumptuous dinner, which definitely made me feel much better. While we were eating, we got introduced to our trek guides. The lead guide was in total control of the situation and explained everything that we needed to know about the next few days in the mountains. Some basic questions from first-time trekkers were answered very professionally, following which we were asked to get ample rest.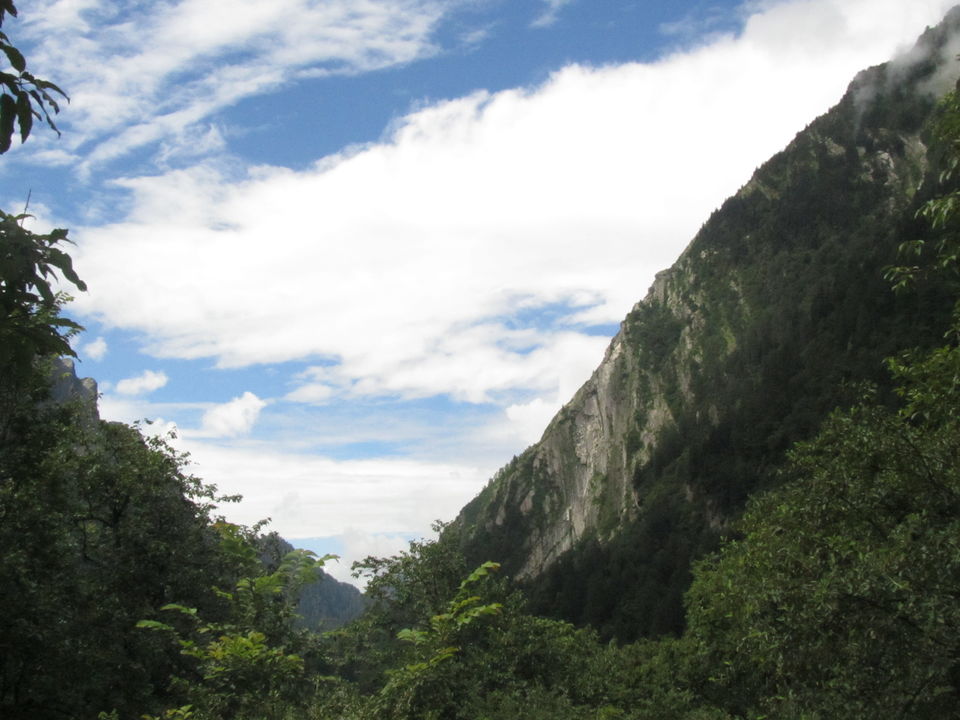 Day 2: Of peaks and streams; onward trek to Ghangharia - After breakfast, we were driven down to the bridge right behind the hotel as that was the starting point of the trek. Excitement and adrenaline levels rose rapidly as I saw what mountaineers would refer to a "gradual ascent" on the other side of the bridge. I hoped that the ascent will be worth my efforts, and believe me, I got more than I asked for. Little did I know that it was just the beginning of an amazing, yet moderately challenging journey. The total distance that I had to cover was 14 km, and our trek guides had informed us that we should aim to reach Ghangharia by 2:30 PM latest. The group paced themselves accordingly and 2 hours later, some of us were happily enjoying a bowl of hot Maggi at one of the stalls. Mind it! This was the time when Maggi got banned throughout the country, and I was overjoyed at the very sight of it. Of course, a small packet cost me 60 bucks, but who cares about money when you get to taste Maggi at an altitude of 2,500 m. After all, "Maggi khaane Ka asli maza pahadiyon main hi hota hai, doston." I'm sure most of you will agree with me. So, after this short break and a glass of "Nimbu paani," we continued trekking and crossed several streams along our path. I must say that the paths were very well-maintained as I believe this trek also boasts of a well-maintained pilgrim trail. The group had several photograph enthusiasts, including myself, and we stopped innumerable times for groupfies, selfies, landscape pictures, and the list never ends. We stopped for lunch around 1:00 PM, and just as we were about to finish and get ready to move forward, our trek guide gave the group some "awesome" news. The last 4-5 km of this trek involved walking at an incline of almost 80 degrees, and under no circumstances, could that be termed as "gradual." To make the situation more exciting, it started to pour and we had to take out our ponchos immediately. Oh boy! Those last 5 km proved to be a test of physical and mental fitness in the truest sense, and at the end of it, I felt like I had achieved something. The funny part is that little did I know that this relatively easy climb would serve as a mere warm-up for what was in store over the next couple of days. Nonetheless, as I approached the small village of Ghangharia in the distance, my level of hyperactivity had reached a peak, and at that very instant, I could be ready for any level of challenge thrown at me.
At first glance, Ghangharia seemed like a lonely, desolate village in the middle of nowhere, surrounded by majestic peaks, which at that moment were covered mostly by clouds. This added a certain eerie, yet strangely beautiful touch to this place. As one is about to enter the village, one can view a helipad, probably used by the Army Rescue Operations team in times of emergency; this essentially provides connectivity between Govindghat/Joshimath and Ghangharia. Let aside the spookiness, the movie buff that I am, I started humming the famous song from a Suneil Shetty bollywood movie by the name "jhanjharia sar se sarak gayi" as I felt it rhymed with the name Ghangharia. Don't you agree? Well! I only got to the second line of this dance number when I was asked to shut up by my friend who felt my singing might offend the villagers (in case they heard me). Hmmm! My response to her was that as long as I sing the song well, I don't think anyone would take offense. By the time this conversation got over, I had arrived at the lodge in Ghangharia. As I mentioned above, this place was poles apart from luxury, but I can assure you, you will not be disappointed with the kind of basic amenities and facilities that this village provides at 3,000 m. This included hot water at 50 bucks a bucket, STD/ISD lines right across the lane from the lodge, tasty "pakodas and masala chai," Maggi, and simple vegetarian food to suit everyone's taste buds. Temperatures began to plummet, but frankly, it wasn't very chilly, possibly because we had a good workout during the day. Our trek guide mentioned the next morning trek will mostly depend on how the weather is early morning. Basically, as you all know, mountain weather is unpredictable, and the skies need to be absolutely clear in order to view the flowers in full bloom in the valley. However, if the Rain Gods wouldn't allow us to visit the valley, we had the option of trekking to Hemkund Sahib the next day (which is what happened exactly!).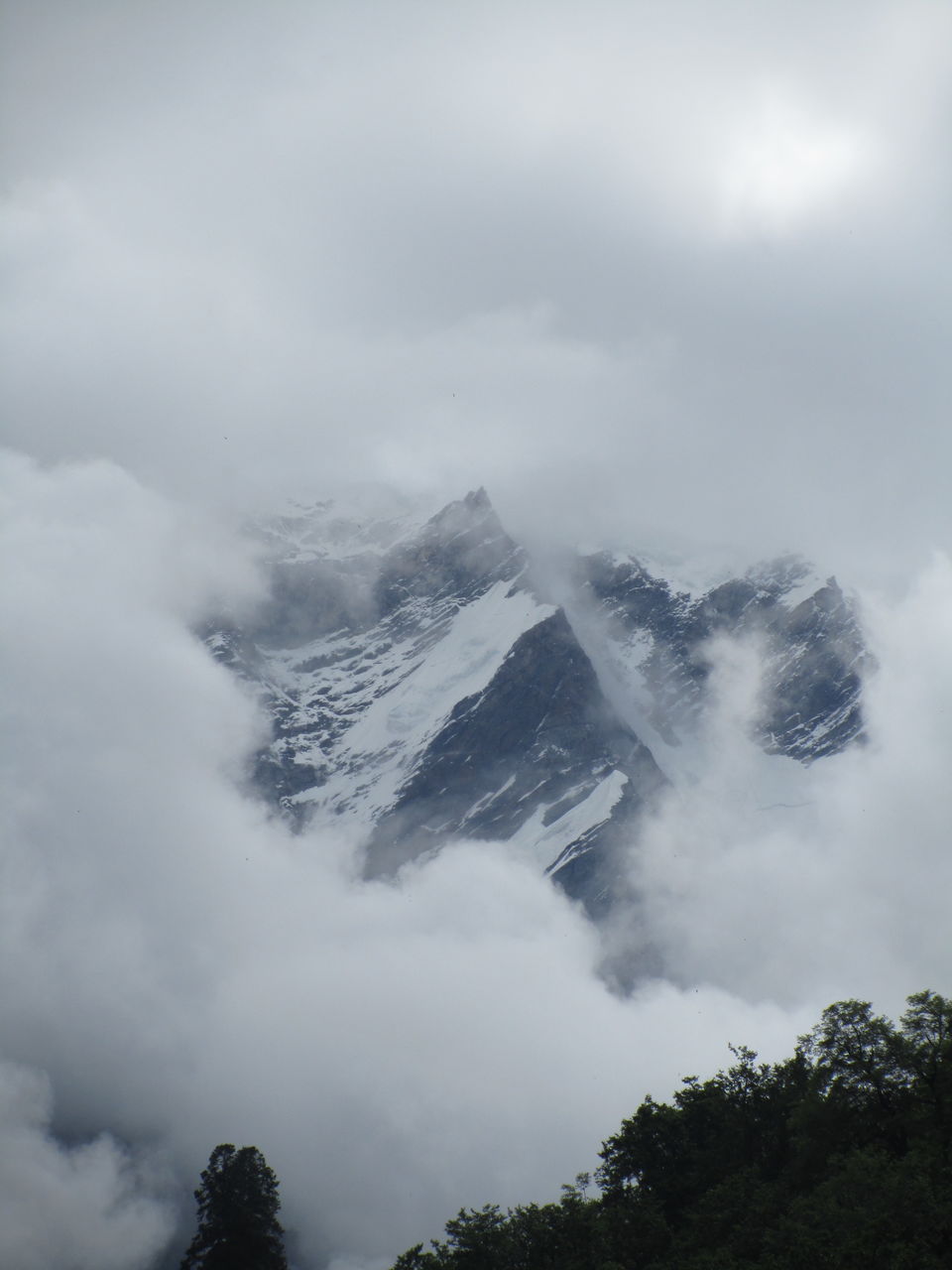 Day 3: Trek to Hemkund Sahib, the place where Guru Gobind Singh attained enlightenment - The real feeling that morning was of dismay as the Rain Gods decided to test our patience a little longer as the skies weren't clear; they must have had a "rough advisory board meeting the previous night." Anyways, some of us were slightly disappointed, but the day was just about to get better. We left the lodge around 8:00 AM and began our ascent to Hemkund Sahib.
To the unknown, Hemkund Sahib is a pilgrimage site situated at a height of 4,632 m (~15,000 ft) with a setting of a glacial lake surrounded by seven snow-capped mountain peaks; each peak is adorned by a Nishan Sahib on its cliff. Like it or not, it is accessible only by foot, and all that you get to hear along the way from your fellow trekkers or trek guides is "bus, aur do minute, bus yehi turn pe hai" (that's right, another 2 minutes, the top is right around the next turn). Although the path is paved and very comfortable to tread upon, reaching the top is no easy feat. Some individuals experience breathing problems and light-headedness due to high altitude and rapidly changing climactic conditions. One can see several devotees (mostly Sikhs) joining you in your escapade and hear holy prayers being recited in the distance (from the Gurudwara). I believe that provides the extra motivation to complete your trek faster in order to witness the serenity and tranquil at the top. What amazed me was the sudden changes in weather as I climbed the winding paths. I kid you not - bright sunshine, rain, and huge deposits of snow on the clear peaks in the distance in a matter of minutes were the highlights of this climb. Of course, the temperatures started to decline as I gained altitude, which made it all the more challenging and exciting.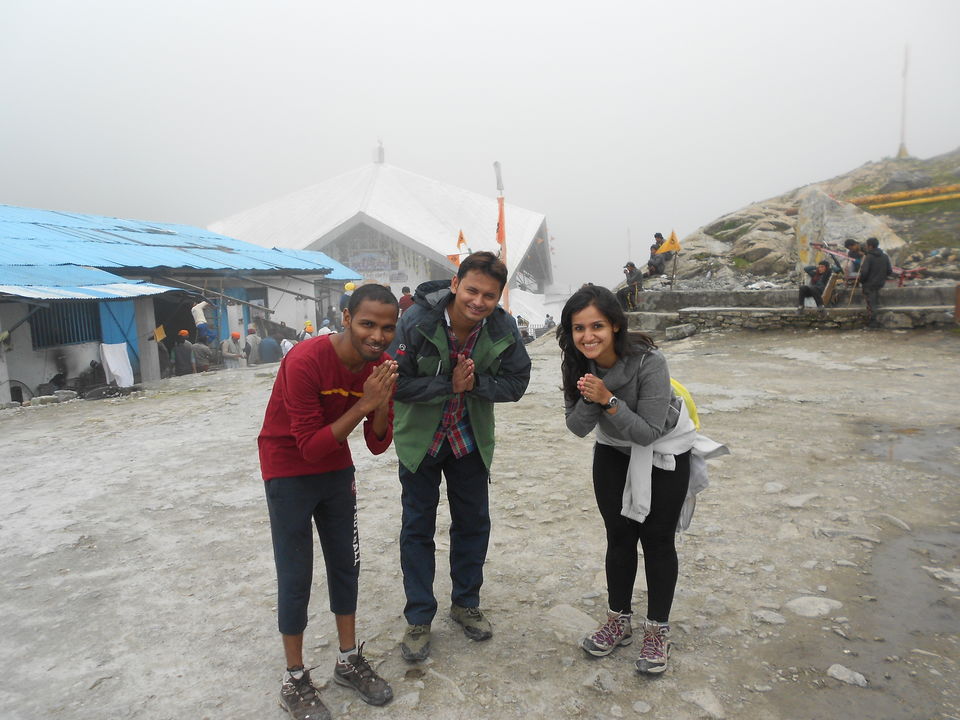 I reached Hemkund Sahib around 1:00 PM along with 2 of my trekmates. Along the way, you get to see the KIng of the Himalayan flowers -The Brahma Kamal. This exotic variety is an excellent example of plant life at high altitudes of 3,000-4,600 m, and is found in abundance in the Valley of Flowers and Hemkund Sahib. It is believed that Brahma Kamal flowers are used as offering at the Nanda Devi temple. After we reached the top, we grasped our breath quickly and did the famous "Bajrangi Bhaijaan" Namaste pose to mark our achievement, following which we paid our respects. I ain't religious, but I was awestruck by the level of calmness and peacefulness that the place was exuding. It was mesmerizing in every sense and trust me, the seven snow-capped mountains in the distance added the extra touch of elegance, beauty, and tranquility to the summit. Oh boy! The fatigue that one experiences to reach that altitude is totally worth it, and I can imagine why I would want to meditate and attain enlightenment there. The view from outside the Gurudwara is totally magical with the glacial lake in the center surrounded by the seven snow-capped peaks. At that moment, the mist was covering the peaks and one could view little puddles of snow on them. I wanted to just run across the lake and climb up to sit and enjoy the view. Unfortunately, even the most adventurous of individuals cannot do that due to obvious reasons. I spent an hour there by when our entire group had arrived. We had "badam milk and khichdi" after which our descent started. That was relatively easy and we were back at our lodge by 4:30-5:00 PM.
As I'm sure is the motto for everyone - work hard, party harder! This is exactly what happened that night at the lodge after dinner. The staff helped us set up a camp fire and everyone started singing, dancing, and listening to some cool Bollywood songs. We were also hopeful that we will trek to the Valley of Flowers the next day, which according to the trek guide wouldn't be as exhaustive as today.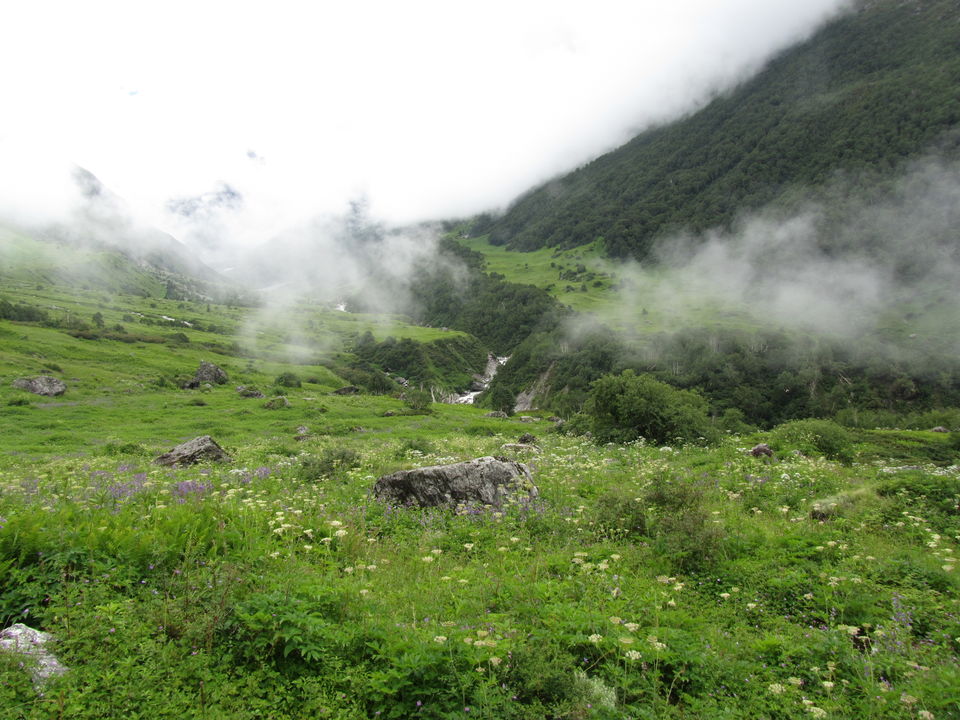 Day 4: The day flowers bloomed and left me speechless - We were blessed with clear skies as we woke up today. Excitement levels knew no bounds and I set out around 7:45 AM with the aim of reaching the valley by 10:00 AM. This trek was relatively easy and you get to cross forests and well-paved paths along the way. As one reaches the beginning of the valley, one is left spellbound by the spectacular view from the entrance. It felt like a dream, a dream so beautiful that I wouldn't want to wake up for fear of ruining it. The valley stretches close to 10 km and in the far end, you see the Tipra Glacier, which descends from the Gauri Parbat in the east. The Pushpawati river is a small tributary flowing from the Tipra Glacier and one fortunately gets the opportunity to cross it to reach the Valley of Flowers. Walk as much as you can and click pictures to your heart's content until 1:00 PM as trek instructors request their groups to start descending by 1:00-1:30 PM. This is because the weather in the valley changes rapidly, and there are chances of getting stranded if the water levels rise along the bridge, which will make it difficult for travelers to cross over to the other side. My timing of reaching the valley that morning was perfect and I walked around for 6-7 km, had my packed lunch around 12:45 PM, and reunited with my group for a few pictures before we were asked to get ready for our descent.
As expected, it began to rain incessantly and the winds changed course. The rain came down hard as I crossed the bridge and began walking in the puddle of mud. As I walked, I mentioned to my friend that we got to see the best of both worlds in terms of weather - our ongoing trek to the valley was accompanied by bright sunshine and light winds and while we enjoyed our brief stint there for almost 3 hours, the Rain Gods were extremely kind to us. On our way down, I got to experience what it felt like trekking in rain, where the path was narrow, slippery, and one had to be super cautious about one's step. A friendly warning to all those who plan to go to the Valley of Flowers in the future and experience this kind of weather: always try to look down and ahead of you and NOT in the valley. This is strictly because the "rainy" scenario might actually scare the shit out of you because you see nothing but heavy fog everywhere, and can't even view 400-500 m clearly. Though I felt the adrenaline rush and was excited to be part of that experience, it was nerve-wrecking too, particularly when your trek mates are slipping or are finding it hard to hold onto a twig in the forest trial. Nonetheless, it was one hell of a descent and at the end of it, your heart would definitely proud with joy, pride, and glory for having witnessed a "heavenly hell" journey all day. I took back several soulful moments and considered myself fortunate to have seen such a beautiful and alluring canvas with several meandering streams running through it.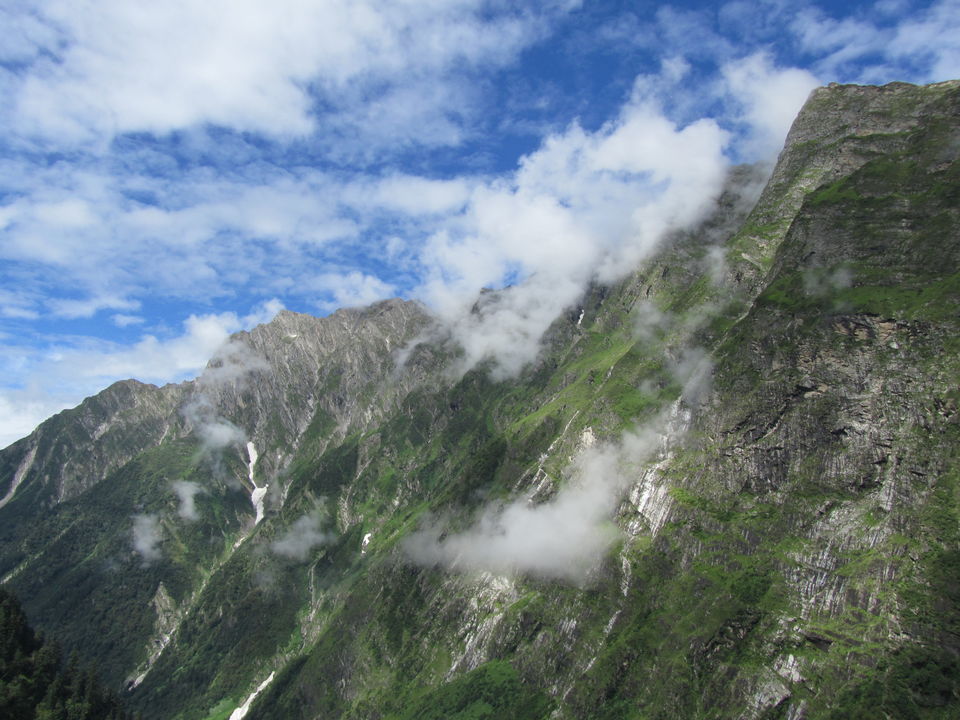 With regard to flora, the valley boasts of a wide array of colorful flower species, including Aconitum heterophyllum, Aconitum falconeri, Arnebia benthamii, Gymnadenia orchides, Megacarpaea polyandra, and Taxus wallichiana. Research plots have been set up to determine the best way to control the spread of the tall Himalayan knotweed Polygonum polystachium without damaging other plants or the surface of the soil. Orchids, poppies, primulas, daisies, and anemones carpet the ground mostly; species of medicinal plants include Dactylorhiza hatagirea, Picrorhiza kurrooa, Aconitum violaceum, Polygonatum multiflorum, Fritillaria roylei and Podophyllum hexandrum.
Day 5: The end of a beautiful journey, which makes you want to come back for more - The same trek route was followed from Ghangharia to reach Govindghat. It took 4 h to reach Govindghat as we made few stops for pictures and lunch. Back at the hotel, we made arrangements for some celebratory booze and "pakodas" (courtesy the hotel staff) and reveled in the moment to enjoy some good company and create some more fond memories. The next morning, we got delayed as there was landslide not too far from where we were staying. So, the drive to Haridwar was yet again quite tiring and I remember most of the folks (half-dead and perhaps subconsciuosly sleepy) made it just on time for their midnight train to Delhi. We didn't get a chance to bid a proper goodbye, but even to this day, we sure try our best to stay in touch, and who knows, we may soon set out on another fun-filled adventure in the valley or mountains.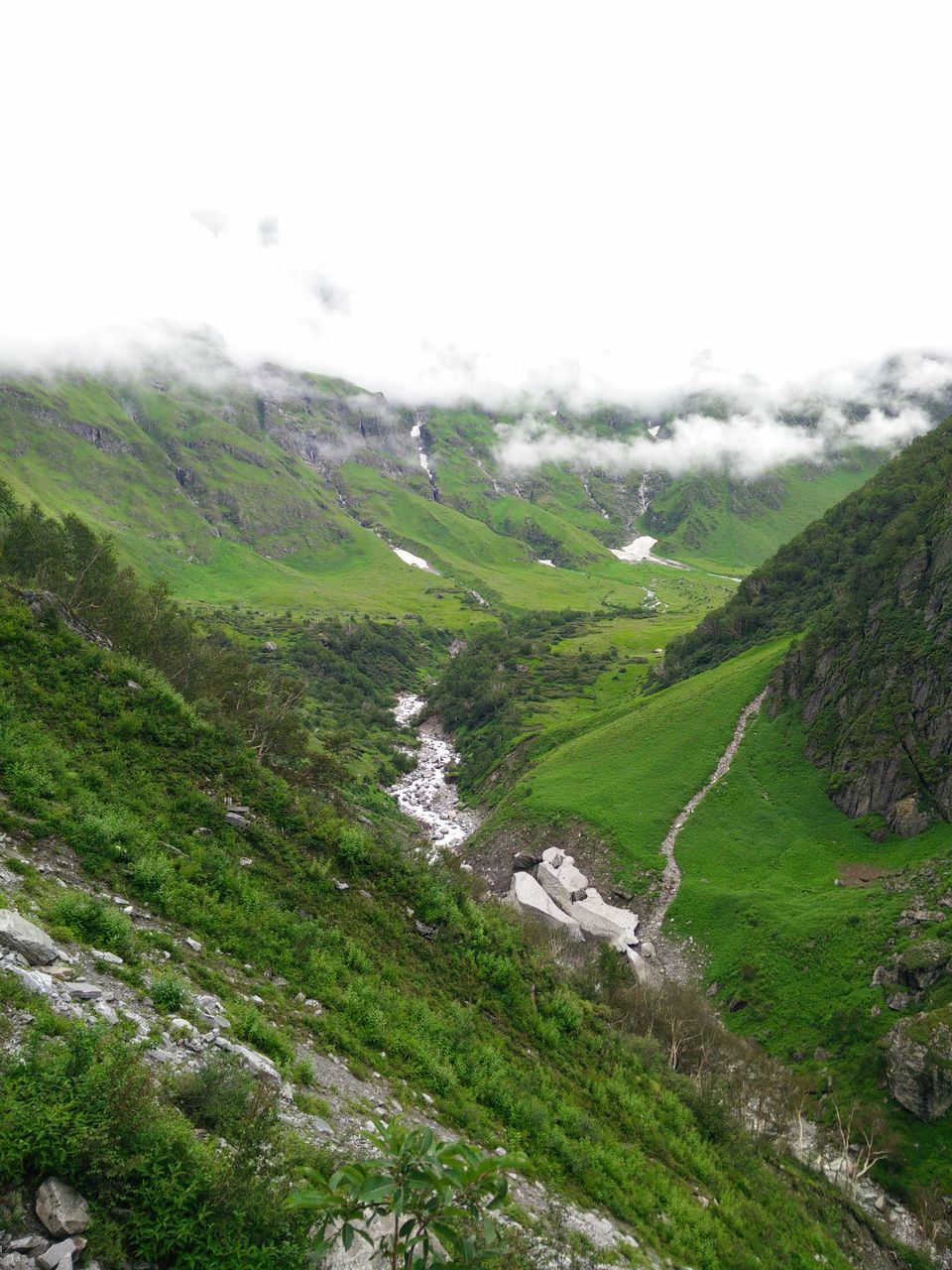 As I conclude another chapter of my mountain diaries, I'd like to quote Martin Luther King Jr. He said "I have a dream that one day every valley shall be exalted, every hill and mountain shall be made low, the rough places will be made straight and the glory of the Lord shall be revealed and all flesh shall see it together." These are the places that fire the neurons of daring individuals and rekindle their passion for travel and adventure. After all, what's the purpose of living if you fear to spice up your life! Hold that thought dearie, as I will set out soon on my next adventure.
Frequent Searches Leading To This Page:-
places to visit in chamoli uttarakhand,  hotel in chamba uttarakhand,  uttarakhand tourism contact number,  uttarakhand travel plan, uttarakhand travel guidelines