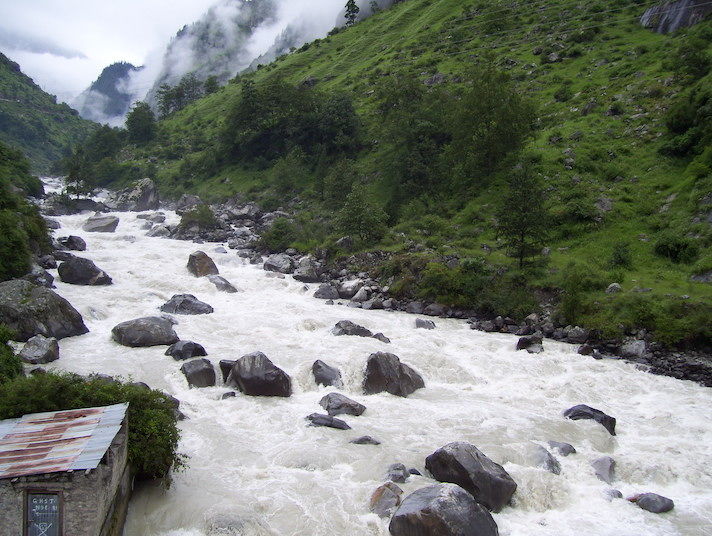 Getting to Ghangaria - 17 Aug, 2009
Situated at an altitude of around 5600 feet above mean sea level, Govindghat is the last motorable point, from where one's trek to Ghangaria, and then to Hemkundsahib & the Valley of Flowers begins. But I'm getting way ahead of myself here! First, one needs to get to Govindghat, which in itself is a 2 day affair from Delhi! A glance at the map will tell you that the distance is a mere 500 odd kilometres, something any self - respecting road-tripper should be able to accomplish in 8, at the very most 10 hours. Seems about right enough - but to this add the state of UP roads as you transverse the Hindi heartland on NH 44 until you get to Kotdwar (Remember I'm talking about 2009, when the roads weren't great - they have improved today, may not be by much, but they have) and thereon an ascent from about 1200 feet to nearly 5 times that altitude, in about 300 Kms, which effectively meant winding mountain roads, which aren't in the best of repairs. Effectively, it took a gruelling, though at times passing by breath - takingly beautiful scenery to keep one mesmerised, 15hours before we got to Govindghat.
Govindghat is typical bustling Himalayan town on the banks of the Alaknanda river. Having left Delhi early on the morning of 17 August, we reached Devprayag by late afternoon, after about 9 hours on the road. the drive was pretty uneventful, heading North East along NH 534, crossing Ghaziabad, Meerut et al, before getting to Devprayag. We shacked up at a local 'Dharamshala', and dinner was Aloo Mutter with Bhatt Ki Daal and chapattis - decent weather, palatable food and the prospect of spending the next couple of days in the mountains made it all very exciting, so much so that I didn't mind how unsightly everything was. I for the life of me cannot fathom why nearly all NEW structures in our mountain towns are ugly concrete monstrosities, painted in the most garish colours that jar with the canopy nature has created for us, as if we're cocking a defiant snoot at her, claiming that even if we can't better her sense of aesthetics, we sure as hell can do a lot worse! So was the case with Devprayag, which was a mix of ramshackle lean - to's passing off as dhabas, and ungainly concrete structures sprouting up with no particular plan or intent.
We were on our way the next morning after breakfast, and continued along NH7 till we got to Joshimath, which was our halt for the day. Once again, the ride was largely uneventful as we drove along the Himalayan roads with the Alaknanda playing hide and seek with us ascending all the time, till we got to Joshimath and reached the Birla Dharamshala, our halt for the night. And were we in for a surprise here! The Birla Dharamshala is a heritage stone bungalow serving as a guesthouse. The rooms are clean and simple (we took a dormitory of sorts, that accommodated 8, which worked fine for us), with fresh smelling linen and blankets! A refreshing change from Devprayag the previous night! We spent a delightful evening and night here. Early next morning we were woken up by the attendant at 0430Hrs with steaming cups of tea to re - commence our journey to Govindghat. Tongue firmly in cheek he 'advised' us to 'take bath' before we left, since Ghangharia would be bloody cold, and we wouldn't want to take a single thread of cloth off our bodies, let alone 'take bath'. Sound as his advise was, we politely declined his offer, since it was bloody cold in Joshimath too at 0430Hrs, and we figured a day or week without 'take bath' won't kill us. By 0530Hrs we piled into our vehicle again and pushed on towards Govindghat, which was about 45 minutes away.
In about an hour we started our trek up to Ghangharia, the Yeti being safely parked in a garage which our guide had arranged. Ghangharia is located in the Nanda Devi Biosphere Reserve (so is the Valley of Flowers & Hemkund Sahib for that matter), and is a 14 Km trek from Govindghat. We quickly started ascending, and realised that the climb was quite steep! While driving up from Delhi, we had gained 5000 feet over 500 Kms. Now, we'd be gaining nearly 5000 feet, but only over 14Kms! This is supposed to be a 'moderate' trek, and the first 4 Kms made me wonder if this is moderate, what in Gods name is hard?!?! While we were still panting our way up, ruminating on how 'extreme' this moderate was turning out to be, the ascent suddenly started easing up. Vikram, our guide and leader explained that the first 4 kms are pretty steep, post which the terrain eases up, and from hereon it's more a question of stamina than strength. Another aspect is the altitude that you gain, hence it is important to pace yourself, and not overdo it.
So on we went, round and round the winding walking path as it took us higher up into the mountains. The sheer rugged beauty of the climb can't be described in words, and nor can pictures do justice to it. The mountains look truly majestic, and though being in their presence is humbling, they make the spirit soar like nothing else can! At one point we came across the biggest beehive we've ever seen (also, probably the highest?), bravely clutching to a rocky overhang. Although the hive itself was nearly 30 feet above us, we could make out the massive size of the hives, as the bees went about their chores busily, ignoring us humans.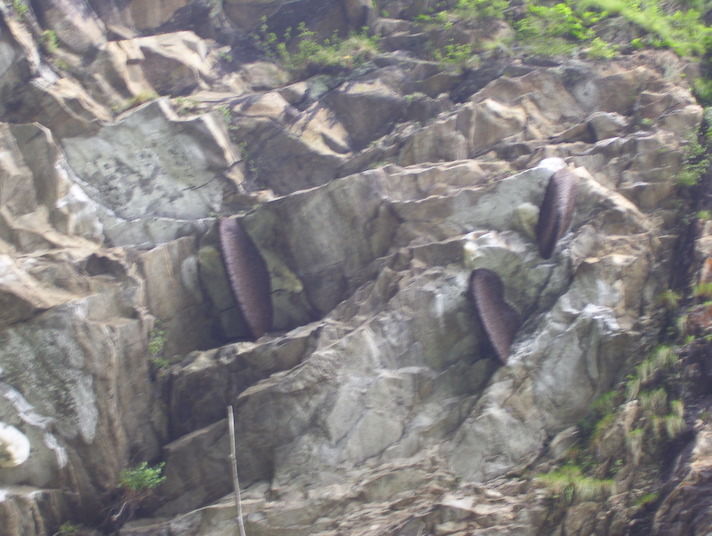 The path itself is quite broad and comfortable to walk on, and by 1500Hrs, after 9 hours, we reached Ghangharia. As you come to the end of your trek, with a lush green meadow on your left and the mountains on your right, you ascend a crevice in the path which suddenly reveals the town laid out before you. Ghangharia epitomises the concept of a 'one street town', because that is what it literally is - a single narrow lane with 2 storied structures lining either side. This continues for a few 100 meters, before it again abruptly gives way to the wilderness that is the mountains! In true Indian mountain - town tradition, the structures are uniformly ugly and ungainly, leaning on each other for support and threatening to fall apart at a moments notice. In the winters they probably do!
We stopped at a dhaba tucked in between two lodges for a cup of much needed hot tea. Earl Grey, Camomile and other exotic blends have their place, but when you've trekked up 14Kms to get to an altitude of 10000+ feet, nothing beats the traditional Indian 'chai', served piping hot with a couple of glucose biscuits thrown in for good measure! Resting our feet as we sipped on our tea gazing at the mountains, we suddenly realised that we were freezing. Having stopped after a gruelling ascent which had made us perspire, the cold at this altitude was now freezing our sweat! Well, maybe not freezing, but is certainly felt so! We quickly went to our rooms, which coincidentally were on top of the dhaba where we were sipping tea and changed into dry clothes.
Lunch was aloo paratha with dollops of butter and curd, post which we returned to our rooms for a much needed snooze. Just as we were dozing off, there was a tap on the door, and the manager / waiter / cook / or whatever he was stood there, asking if anyone needed a massage. For the princely sum of 200 bucks, I spent the next 45 minutes getting pummelled by a muscled gent, who miraculously leached out all the stiffness from my muscles! Dinner was maggi, which they make quite interestingly here, with some butter thrown in for good measure, post which we snuggled in to bed by 2100Hrs. After having FINALLY reached Ghangharia, we were really looking forward to our trek to Hemkund Sahib, early the next morning.