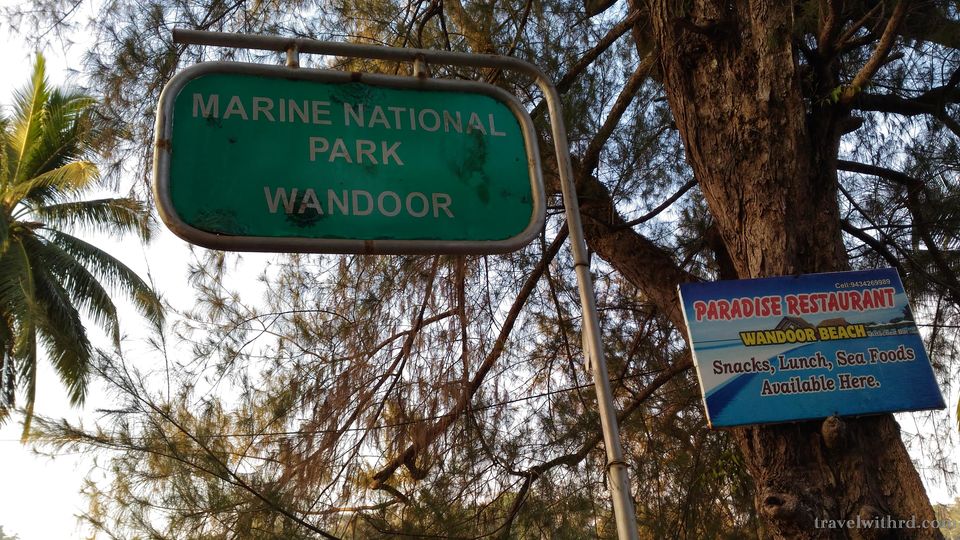 Today was the last day of our Andaman Yatra and the last day of the day was also going on. We reached straight on Vandur Beach. Many buses also run from Port Blair. One place was written - Welcome to Mahatma Gandhi Marine National Park. You will see a map here and you will find that there are many small islands here. All these islands are uninhabited and are important in marine ecology. The most famous of these is Jolly Boy Island. Jolly Boy's boat walks right there from Wandur. We had a shortage of time, so did not go there.
The Lohabarak Crocodile Century is close to Vandur Beach. Alert everywhere, even the crocodiles came here, so be careful.
The crowd was not at all. There were nearly as many tourists as dogs. There was a huge storm, which was a photo-point for the passengers. Also for us
A child had made a fort for sand. They went away, the waves came and the fort collapsed. Although the security wall of the sand itself was built around it, but no work was done.
We did not go here under water. Just keep on walking. And stroll till then, until the sun sets. Brilliance kept enjoying to find the seas and cocks
Then they returned the same way that they had reached here. In the first room, the next day airport, Kolkata, Howrah and Delhi
...
Now a little bit about the life of Andaman also. The British continued to take Indians here to punish Kalapi. After a few years Japanese also remained. Then in 1947 many prisoners settled here after independence. A large number of people migrated from Bengal and Tamilnadu Their effect here clearly shows. At home, these people talk in their respective languages ​​- Bengali or Tamil - but there is no better than Hindi to have a normal conversation. Everyone is also master in Hindi. Official language is Hindi and English, so information about almost every public place is written in Hindi.
Tourism is the main basis here - everybody knows this thing. And these people are also nice to tourists. Thugs are not often frequent. Yes, expensive is expensive.
Here I liked the way to make tea The water boils in a kettle. In addition, the tea leaves also boil in a special type of utensil. To make tea, milk powder is inserted into the cup, the sugar is cast. Then a small quantity of boiling tea dish is added, and in the end, the cup is filled with boiling water. Mixing this tea is caught in your hand. It is a stiff tea and it really feels like drinking tea.
If you want to see Coral, nothing less than snorkelling. If you get to swim, then bat-bat. There is no need to give a hundred bucks for snorkelling. Buy glasses used in snorkelling from the market and jump into the water. See the coral and fill it. Yes, if you do not swim, you will have to rely on agents for 'safety-tire'.
Everything else is fine. Once you go to Andaman. Although we still miss a lot, we have to go back again. See when to go
This journey is written briefly. When I sit down, the post itself gets taller, but this time deliberately wrote small posts. We deliberately embark on our engagement. I have kept many such hugs, due to which they had to write these short posts. Hopefully this will not happen anymore and you will get to read the same post, for whom you come here.