The Taj Mahal in Agra, the Gateway in Bombay, Qutub Minar in Delhi, the backwaters of Kerala and the Victoria Memorial in Kolkata are amongst the most well known tourist spots in India and everybody has heard of them. Sure they make for great sightseeing and experience but India has so many more hidden gems that people aren't even aware of and those places don't even cross their minds while planning a holiday.
So the next time you are thinking of a little getaway, this may just come in handy!
Bhitarkanika National Park (Orissa)
Located in the Kendrapada district of Orissa, the Bhitarkanika National Park is home to the endangered estuarine crocodiles (the largest living reptiles) and the white crocodiles. If lucky, one can also spot pythons which inhabit this area. Bhitarkanika has the distinction of housing the World's largest living crocodile (according to the Guiness Book Of World Records) at 22 feet, how about bumping into that eh! In addition to the big croc there are atleast 1665 salt water crocodiles present in the national park at the moment.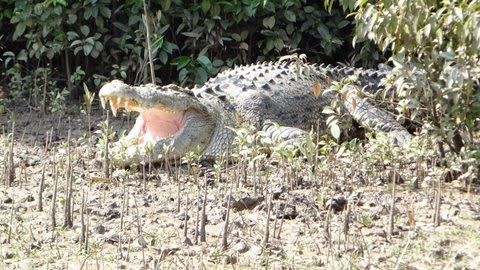 Covered with lush mangrove forests , a boat ride on these waters from Khola to Dangmal is an unbelievable experience and more than often you actually get to see the big crocs in abundance.
Accommodation: Sand & Pebbles Jungle Resorts
Nearest Airport: Bhubaneswar (160 kms away)
Think Kerala and all that comes to your mind is Munnar, Kovalam, Cochin, Trivandrum and Alleppey, but Kerala has another gem of a destination called Wayanad. Nesting amongst the mountains of the western ghats, Wayanad is rich in wildlife and has an abundance of coffee and spice plantations. Believed to have been inhabited by humans more than 3000 years ago one can still see a glimpse of the bygone era at the Edakkal caves which rich in wall paintings and pictorial writings. In addition to this Wayanad also boasts of the largest concentration of the wild Asiatic elephants in the world. A safari at the Muthanga wildlife sanctuary almost always guarantees you a sight of this giant beast.
Accommodation: Tranquil Resort
Nearest Airports: Kozhikode (100 kms) ,Mysore (140 kms) & Bangalore (280 kms)
Orchha (Madhya Pradesh)
The historically rich town of Orchha has plenty to offer to history and culture enthusiasts. Dotted with ancient architecture, a walk through this town will leave with a tingling eeriness of the bygone era. A must visit is the Orchha fort complex which consists of three palaces – Jehangir Mahal, Raj Mahal and Rai Parveen Mahal.
Image Credit: Henry Flower
Other notable places of interest are the ChatruBhuj Temple, the Laxmi-Narayan Temple and the Rama Raja Temple.
Accommodation: Sheesh Mahal (a heritage property)
Nearest Airport: Gwalior (119 kms) Orchha is also well connected via rail from Jhansi
For more details to plan your travel click here.
Yelagiri (Tamil Nadu)
Yelagiri is a small hill station located in Vellore district in Tamil Nadu. While it is slowly becoming popular as a tourist destination in Tamil Nadu, it's still not as crowded as other popular destination in Tamil Nadu such as Ooty and Pondicherry. It's an ideal destination for easy, laidback weekends. Yelagiri serves as a fairy good spot for trekking with three hills that have a good number of trails – Swamimalai hill, Javadi hills and Palamathi hills. The Punganoor artificial lake is good for an evening walk or a boat ride can be enjoyed at leisure.
Travellers' Tip: Alcohol is not sold at Yelagiri nor is it readily available on the sly, best bet would be to carry your own stock.
Accommodation: Hotel Landmark
Nearest Airport: Bangalore (193 kms) & Chennai (219 kms)
Netrani is small island located off the coast of Karnataka. The closest town to Netrani is Murudeshwar, which is 19 kms away. It is also known as Pigeon Island, because of the large number of pigeons that inhabit the island. It is one of the best sites for scuba diving in India and one can sight a large range of aquatic fauna such as butterfly fish, trigger fish and sometimes even Orcas and Whale Sharks!
There a lot of certified diving organizations that can arrange for scuba trips and the necessary permissions required to visit Netrani Island. It is advised to get all the necessary permissions before you plan a trip to Netrani as the island adjacent to it is used by the Indian Navy for target practice.
Accommodation: RNS Residency (in Murudeshwar)
Nearest Airport: Mangalore (154 km) & Goa (206 km)
So which one are you exploring next?!