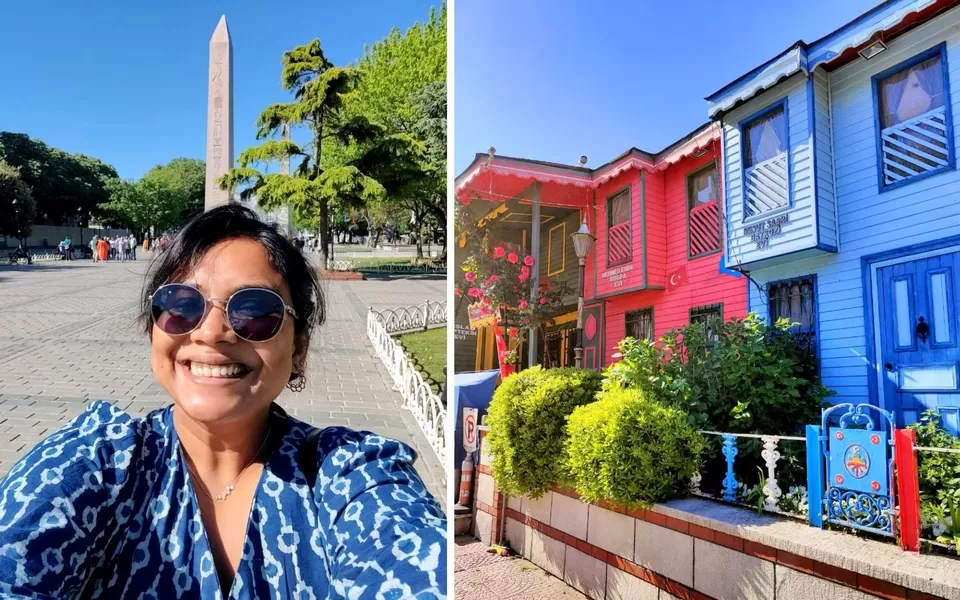 Sailing down the blues while witnessing the beauty of Europe & Asia on both sides is nothing short of a dream! And when we think of traveling to Turkey, this majestic city that's filled with chaos and mystery surely finds a place in our itinerary.
With a perfect mix of history & modernity, Istanbul can never fail to amuse the travelers. This bustling city will tickle you to plunge into the oriental tales of the mosques, mesmerize you with the aroma of spices, soothe your soul with the Dervish dancers and fill you with happiness as you try the Turkish delights!
A couple of days back, Sara Ali Khan shared a couple of photos with her friends on Instagram, posing by the Bosphorus and inside Hagia Sophia, which raked a lot of attention.
Indeed, they were fabulous photographs.
But in case you're also thinking of holidaying in Istanbul - then here's a list of the best places that you must add to your travel bucket list.
1. Take a walk around the colorful lanes of Balat
One of the oldest neighborhoods of Istanbul, Balat was once the Jewish quarter of the city. It has now turned into a 'gram-worthy spot with all the quirky cafes and brightly painted houses. Walking down the cobblestoned streets, it felt like the lines from Orhan Pamuk's 'Istanbul: Memories and the City' were coming to life! There are tons of churches and even a synagogue in the neighborhood – the Yanbol Synagogue built by Bulgarian immigrants, but the main attractions for travelers are the cafes and shops, of course!
2. Stroll around Istiklal Caddesi and Taksim Square
Istanbul comes to life in the evenings at Istiklal Street. With bright red trams swaying through the crowds, and ice-cream magic happening here & there - you'll definitely find yourself amidst a buzz! At the northeastern end of Istiklal Street is the expansive Taksim Square, which is known to be the very heart of the city. Here, you'll find many of Turkey's most renowned restaurants and some of Europe's most happening nightlife scene too!
3. Watch the whirling dervishes at the Galata Mevlevi Museum
This place used to be a lodge for the Sufi saints during the 15th Century, but a few decades back, it was converted into a museum. Now, it's one of the most popular places hosting Dervish shows for travelers. Other than enjoying the soulful music, you can also see various artifacts that have been restored here, including musical instruments, calligraphy, Mevlevi clothing and accessories.
4. Shop till you drop at the Grand Bazaar
Dating back to 1461, this is one of the most iconic places in Istanbul and a paradise for shopaholics! Well, as they say, this massive covered market is known to be the world's first shopping mall, taking up a whole city quarter. No matter whether you want to buy knick-knacks as souvenirs or feel like getting spices for a lifetime - this is your place to be. The gorgeous lamps will leave you dazzled, and so will the aroma in the air.
Just make sure you put on your bargaining hats before you walk in!
5. Relish your çay and baklava at Hafiz Mustafa
Turkish tea (Chai or çay, as they say) is something that you can't miss! This brewed tea can be best enjoyed with a slice of baklava or künefe and Hafiz Mustafa surely steals the show. Started back in 1864, this is one of Istanbul's oldest tea shops and now, they have several franchises around the city.
6. Admire the tilework at Blue Mosque
Your trip to Istanbul will be incomplete without witnessing the grandeur of the Sultanahmet Mosque, or better known as the Blue Mosque due to the prominent blue tiles that are laid inside. This historic mosque was built in the early 17th century during the reign of Ahmed I, and it's still a functional mosque where visiting is forbidden during prayer times.
7. Enjoy a refreshing Turkish bath
A little indulgence is always good - especially when you're in Istanbul. Go for a hammam ritual, which comprises a traditional body scrubbing with a handwoven washcloth known as a 'kese', a foam wash, and a massage. While there are several options, I would suggest you to go for a private bath session that usually lasts for 45 minutes and will completely rejuvenate you!
8. Go for the Bosphorus Cruise at dusk
The Bosphorus Tour will completely leave you enchanted. Go for the sunset tour which starts from Eminönü ferry dock daily, all the way up the strait to the village and fortress at Anadolu Kavağı, near the northern mouth of the strait into the Black Sea. This will be the best way to enjoy the vistas on both the shores, including gorgeous fortresses, mosques, and the mighty bridges connecting the two continents.
9. Climb up the Galata Tower
Known to be the tallest building in Istanbul, Galata Tower witnessed the history and evolution of this city for centuries! Now, the top deck is open for travelers and you can get a breathtaking view of the city from the top! There's a museum and a restaurant inside, where you can pause for a while. Be prepared to stand in the queue, 'coz this popular sight witnesses crazy footfall, every single day!
And having said that, you must also visit Hagia Sofia - one of the most iconic places in Istanbul, and admire its sheer architectural beauty. Knowing that this was the world's largest cathedral for nearly a millennium and later turned into a mosque left me in awe. The religious and cultural infusion of this place is worth admiring.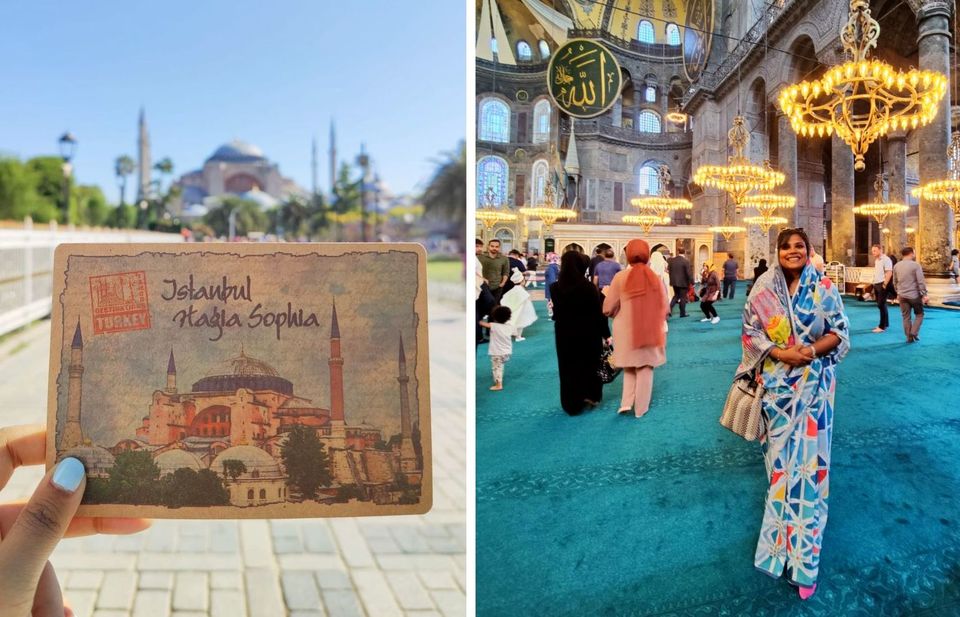 Turkey, currently, has no travel restrictions for Indian travelers (though, you must have a double vax certificate to apply for the Visa) - and it's becoming one of the most popular countries to explore.
And now that even celebs have started adding Istanbul to their bucket list, what are you waiting for?
If you've been to Istanbul, drop a comment below & let me know what you loved the most about this city. Think we missed out on something? Write about it here on Tripoto.