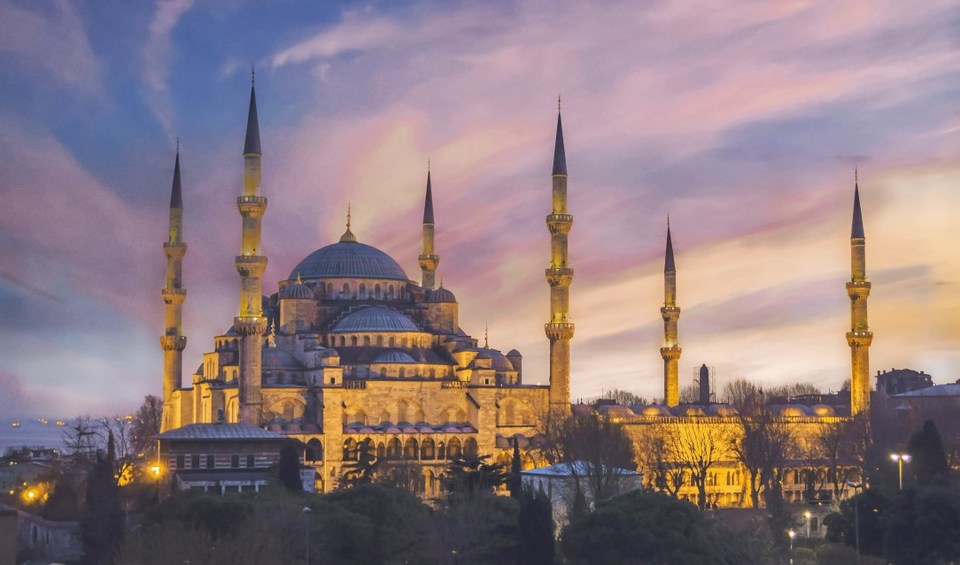 This blog post was originally written here. Read our blog for more travel inspiration.
A city rich in culture, Istanbul is a glorious gem situated in the middle of the world. The only city which has been capital to Roman, Byzantine and Ottoman Empires, Istanbul sections like a bridge between Asia and Europe. We love the mix of old and new, the traditional and the trendy and it connects the 2 continents not only physically, but culturally as well.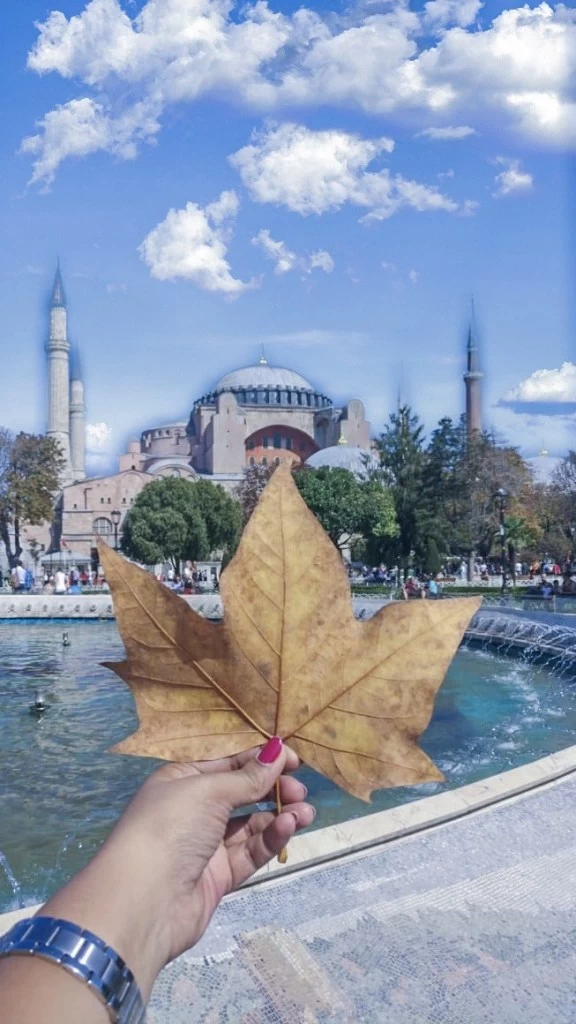 View of Istanbul
Strolling streets, lit Grand Bazar, magnificent mosques, iconic churches and baroque palaces, there is so much to see and do in this cultural spectacle, you will leave feeling like you needed more time there. Positioned between the East and the West, Turkey's largest city offers an aura of fascination and charm that will appeal to all types of visitors.
We tried putting up all the details in this Istanbul Travel Guide to help see the best of an amazing city in 2 days.
When is The Best Time to Visit Istanbul?
The best times to visit Istanbul are between March to May and between September and November. We visited Istanbul in October and weather was quite pleasant and crowd was manageable.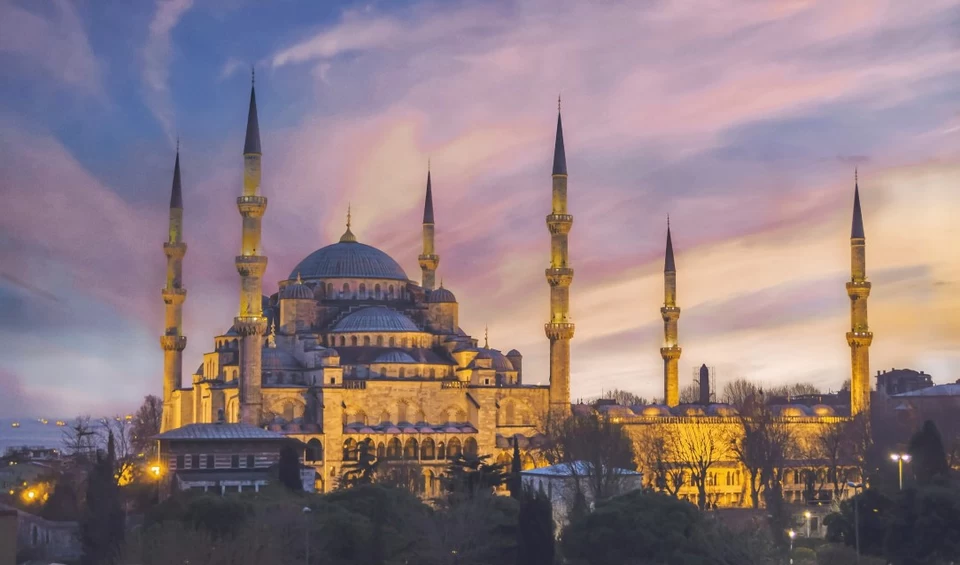 From June to August is the peak season and December through February are the cheapest months to visit but Istanbul's rainy, snowy and chilly conditions can ruin your trip.
Where to Stay in Istanbul?
Sultanhamet and Beyoglu are the most popular areas to stay in Istanbul. We highly recommend staying in Sultanhamet for its proximity to major sightseeing places such as the Hagia Sophia, the Blue Mosque, Topkapi Palace, the Basilica Cistern, Grand Bazaar, etc. They are all within walking distance of most hotels located in this area.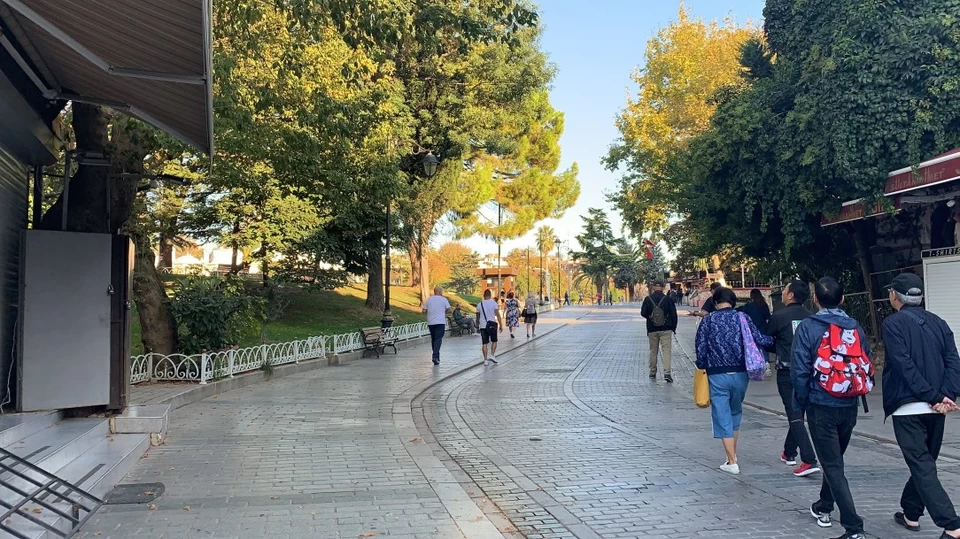 Streets of Istanbul
If you want to enjoy Night life in Istanbul & love exploring pretty cafes, then you should book a hotel in Beyoglu area. Beyoğlu is home to Dolmabahçe Palace, the Galata area with its famous tower and the Istiklal Caddes.
You can always travel through both these area via Public Transport or Taxis. We booked our hotel in Sultanhamet and explored Beyoglu area next day in our trip .
Our Insider Tip: First time visitors should stay in the city center, better to be near city's top attractions and within easy reach to public transport. Sultanahmet, Karakoy or Taksim would be your best choice.
Where to eat Vegetarian/Vegan food in Istanbul?
Healin Foods - in Tesvikiye,
Sisli Govinda - in Mecidiyekoy
Dubb Indian Restaurant - in Sultanhamet
After arriving in Istanbul, we went straight to our hotel. Our hotel was in Sultanahmet area which is a prime area for all the major attractions in Istanbul, also known as Old Istanbul. You can also choose to stay in Taksim Square which is known as "New Istanbul" and is full of multiple choices for night life and dine out options.
Day 1 : Morning
Blue Mosque
Time: 1 hour
Distance: 2 mins walk from Sultanhamet Tram station
We started our day with a visit to Blue Mosque which was just 5 mins away by walk from our hotel. The Blue Mosque is the largest functioning Mosque in Turkey. Built between 1609-1616, this striking mosque has six minarets. This mosque is called "Blue Mosque" because of the interior which is covered in blue İznik tiles.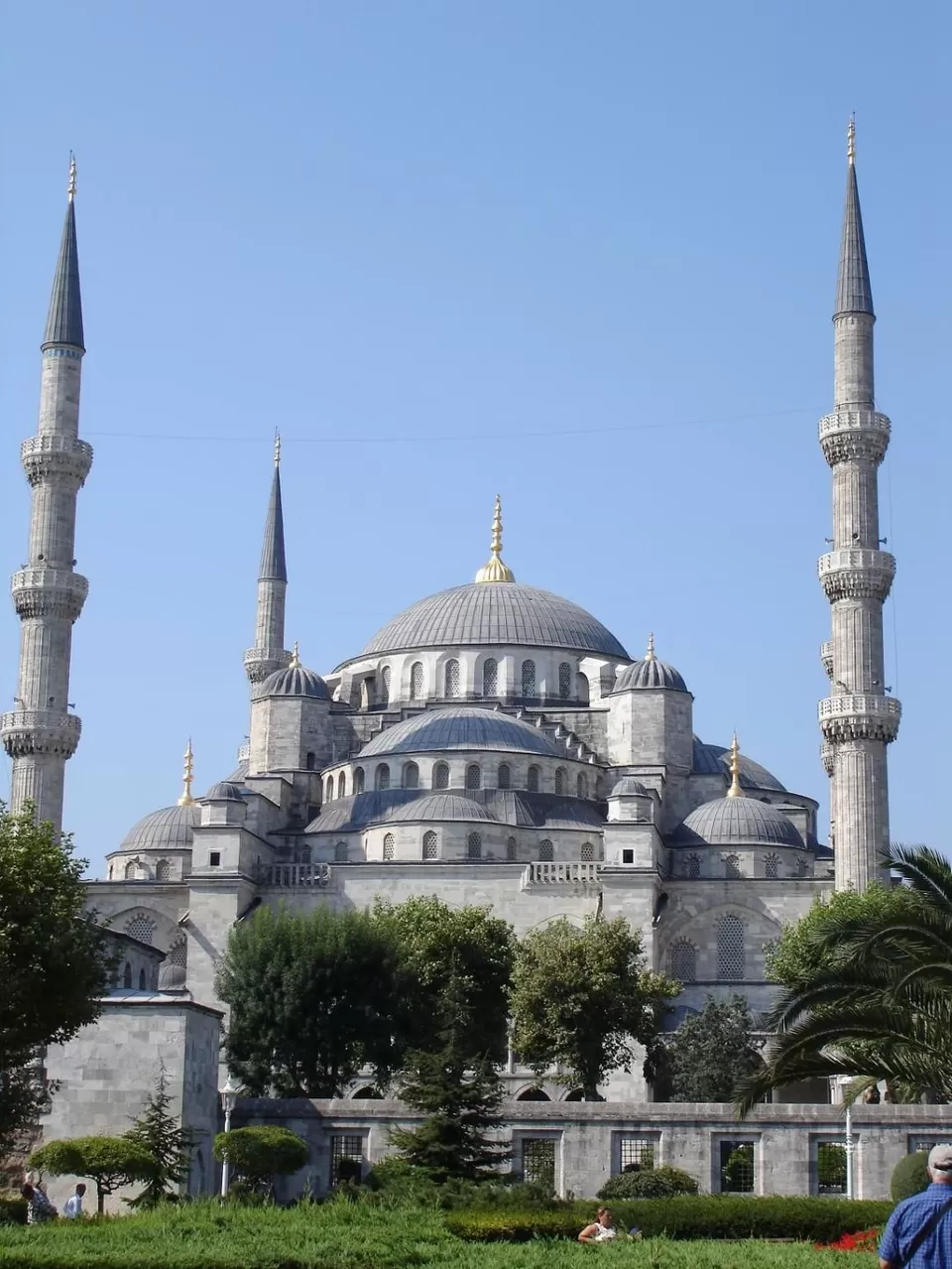 Know before you head to Blue mosque:
Wear a long dress or long pants - Legs must be covered in order to enter the Blue Mosque.
The Entry to Blue Mosque is free to all visitors & is Open full day However, tourists cannot visit during prayers which take place multiple times a day.
You must check the prayers time before you plan to visit. The best time to visit the mosque is early morning.
The mosque opens at 9am. We were there at the mosque by 8am to get some amazing shots of the mosque avoiding the day crowds.
Avoid visiting mosque on Fridays as it is closed until 2.30 pm for the prayers.
The best way to see the stunning architecture of the Blue Mosque is to approach it from the Hippodrome (west side of the Mosque).
You must take off your shoes and place them in a clear plastic bag (provided for free).
You can take pictures inside the Blue Mosque but turn off your flash.
Hagia Sophia
Time: 1.5 hours
Distance: 4-minute walk from the Blue Mosque.
Hagia Sophia is exactly opposite to Blue mosque. The Hagia Sophia is one of the most iconic historical buildings in Istanbul . The former church, mosque and now official museum has a virtuous ambiance combining the Byzantine and Islamic architectures.
Long queues at Hagia Sophia may discourage you from visiting this place but It is worth the wait to see this amazing structure. You can always buy a Museum pass or an Istanbul Tourist pass in advance which will save you some time waiting in lines. We had Istanbul Tourist Pass which allowed us to enter by skipping the line and also entitled us to a guided tour.
Know before you head to Hagia Sophia:
Hagia Sophia is open from 9 AM to 7 PM and is closed on Mondays.
Tickets cost 60 TL (11 USD) and you can get huge queue to enter the museum.
The nearest stop for visiting the Hagia Sophia on the T1 tramway is 'Sultanahmet'
Day 1: Noon
Topkapi Palace
Time: 2 hours
Distance: 3-minute walk from the Hagia Sophia.
TheTopkapi Palace is right behind the Hagia Sophia. This palace used to be the residence of the Ottoman Sultans between the 15th and 19th century. Topkapi Palace is enormous and contains 4 main courtyards with beautiful gardens, an enormous kitchen, mosques, a hospital, many pavilions and the Harem.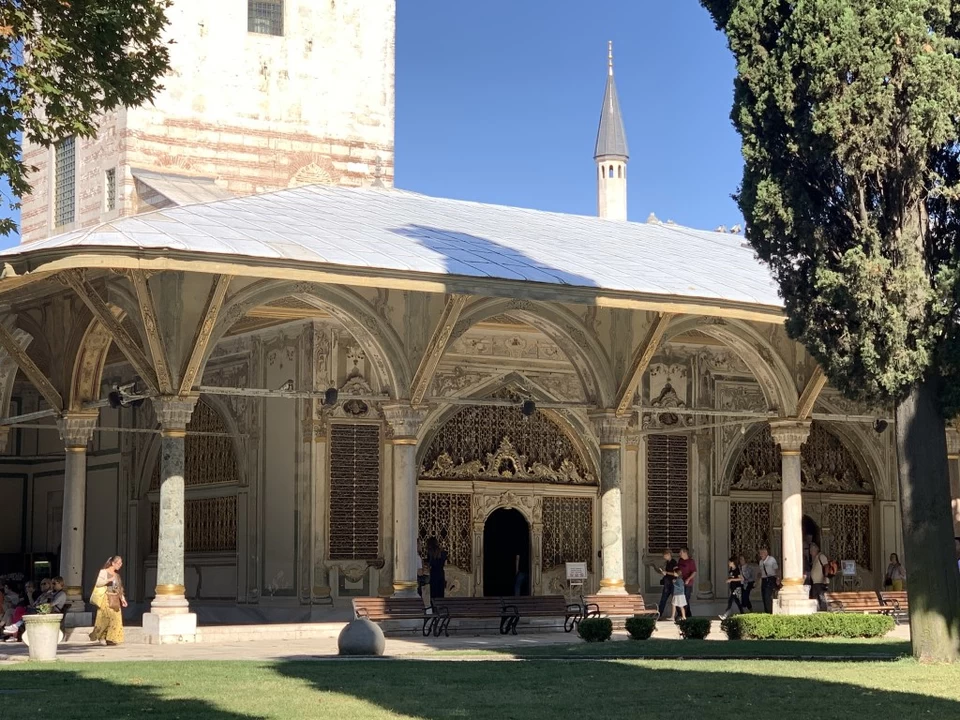 View of Harem
The Harem is the most beautiful section of the palace where the mother of the Sultan lived with the concubines and wives of the Sultan. This section requires to buy a separate ticket which costs around 40 Turkish Lira per person.
Basicila Cistern
Time : 45 mins
Distance: 6-minute walk from Topkapi Palace
Hidden underneath the city of Istanbul (Constantinople) are hundreds of ancient cisterns that stored and supplied water to its inhabitants in the ancient past. The largest of these is the Basilica Cistern. The Basilica Cistern is located just 150m southwest of the famous Haghia Sophia.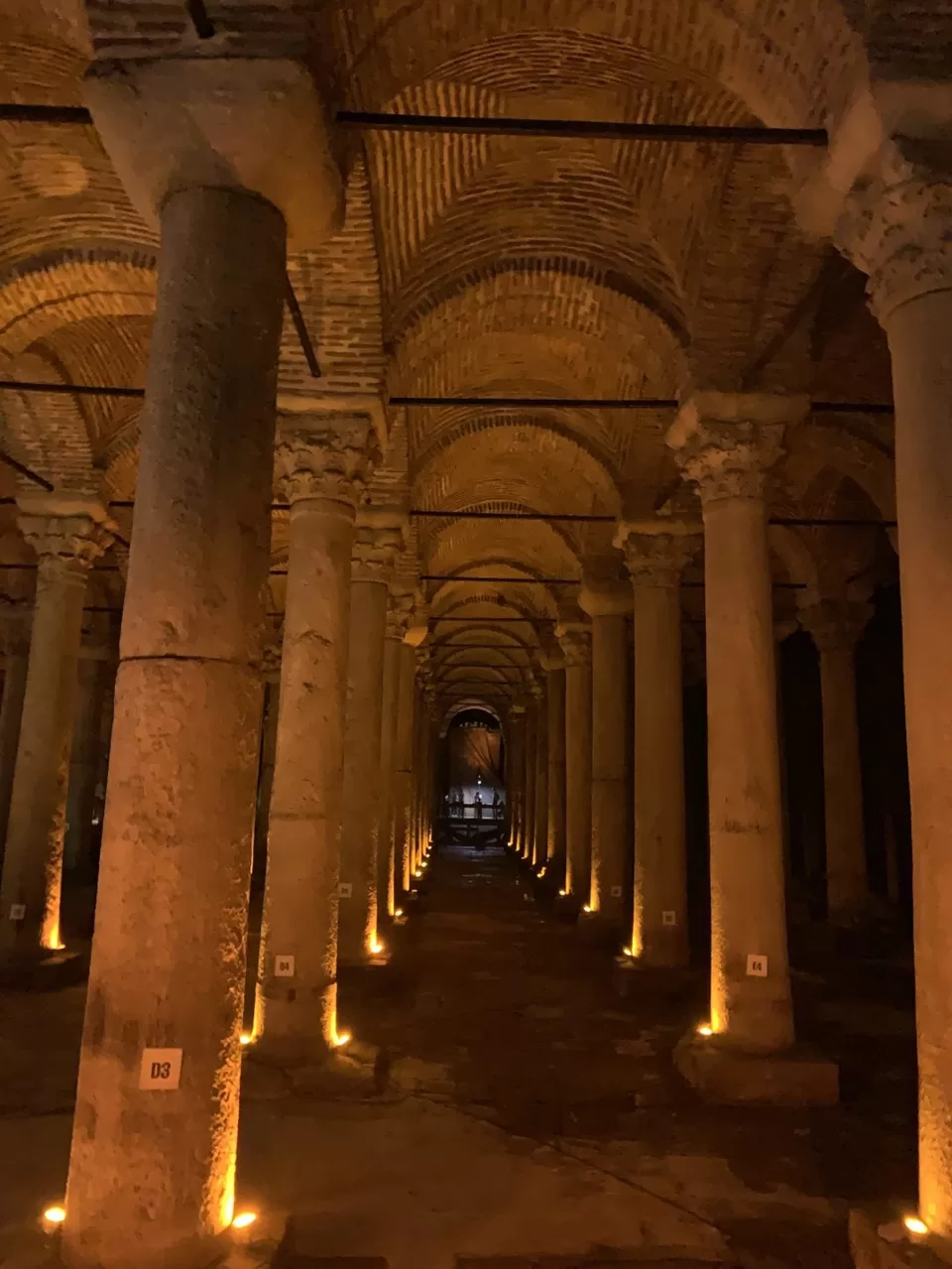 Basilica cistern
Built from building materials leftover from all the adjacent sites, a visit to the Cistern takes you down a fleet of stairs to an ancient water storage area lined with different types of pillars including the famous Medusa headed pillars.
Day 1: Evening
Grand Bazar
Time: 1.5 hours
Distance: 12-minute walk from the Basilica Cistern.
Ever seen those enchanting lantern pictures flowing on Instagram. Yes! That's from Grand Bazar. The Grand Bazaar in Istanbul was built in the 15th century and is one of the largest and oldest covered markets in the world. Grand Bazar sees up to 400,000 visitors flocking to over 3,000 shops spread across its 61 covered streets daily.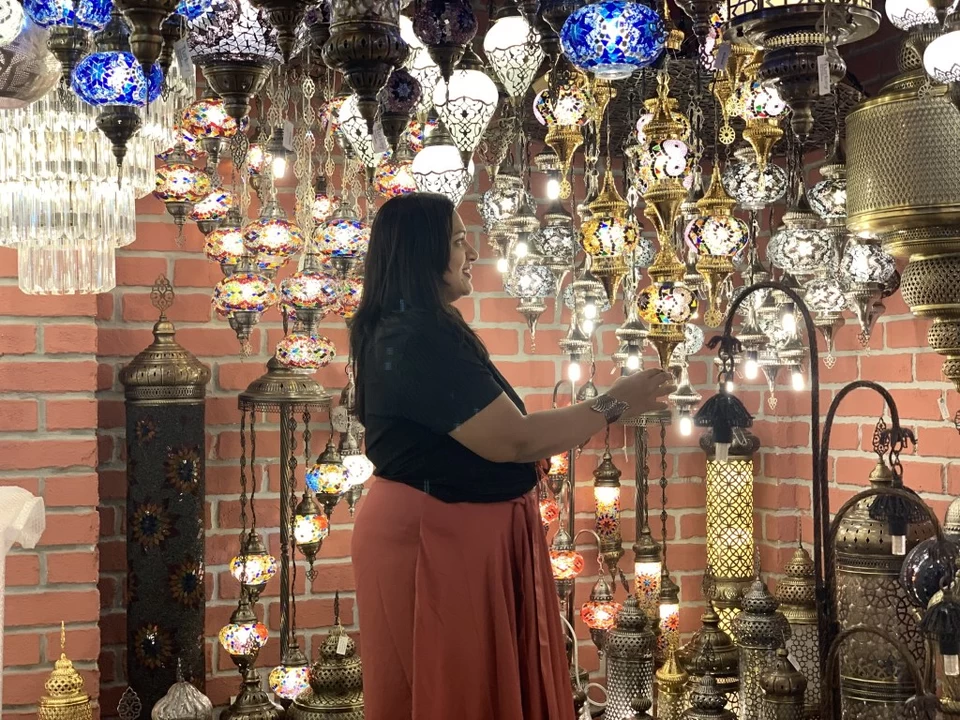 Enchanting lanterns at Grand Bazar
Here, you'll find everything from fashion and jewelry items to home interiors and classic Turkish ceramics - prepare to be amazed! Be sure to take your camera along on this ultimate shopping trip, and give yourself plenty of time to explore.
Süleymaniye Mosque:
Time: 1.5 hours
Distance: Take the tram from Sultanahmet up to Eminönü and then walk the final 10 minutes from there.
Süleymaniye Mosque is the second largest royal mosque complex in the city, built during the reign of Sultan Süleyman. One of the best places to watch the sundown is from the backyard of this mosque. Though it is not as popular as Blue Mosque, it stands out as a marvelous landmark over the entire city and is described as a must see attraction.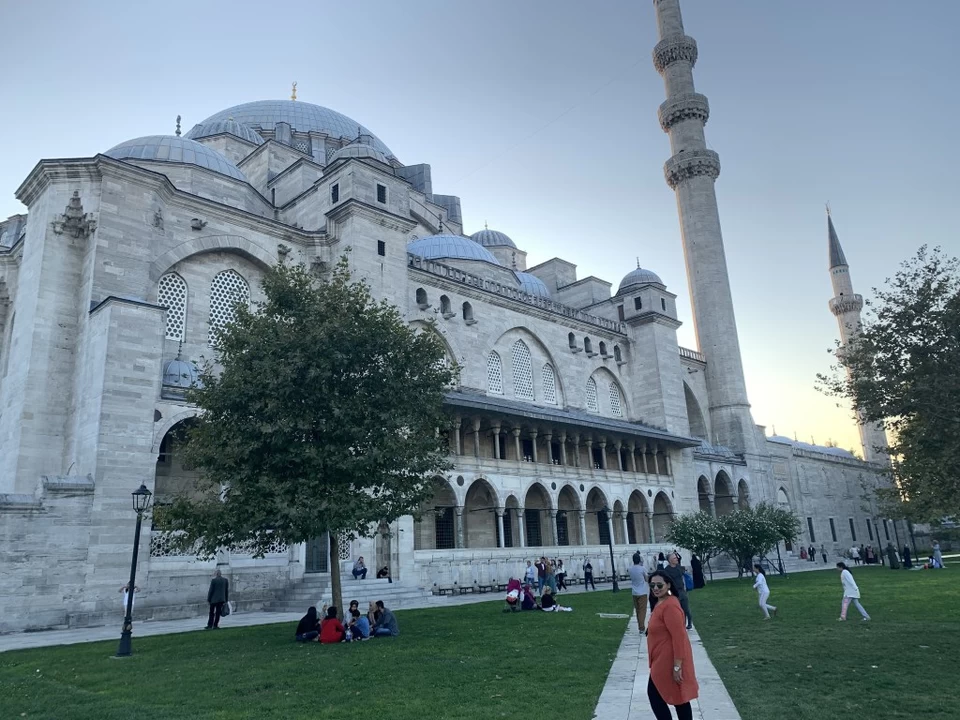 Backyard of Sulemaniye mosque
It is considered 'the finest and most beautiful mosque in Istanbul'. It is also less crowded, which makes for an enjoyable experience, set in a rather spectacular environment.
Day 1: Night
Bosphorus Dinner Cruise
Time: 3 hours
We finished our Day 1 in Istanbul with a dinner cruise on the Bosphorus. With Istanbul Bosphorus Cruises, you may board the ferry, boat or yacht at the variety of piers and soak up the atmosphere along the riviera cruising along both European & Asian shores.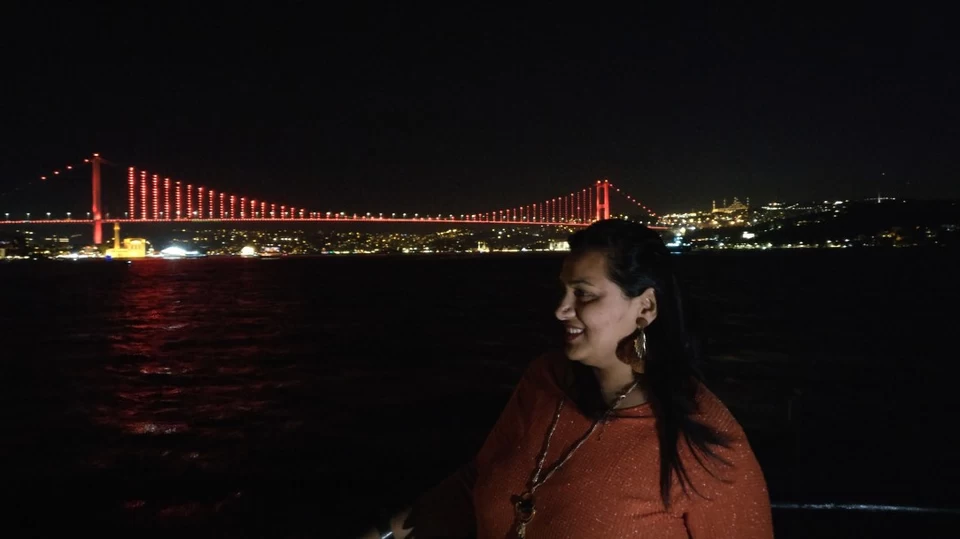 Bosphorus Bridge
While cruising the Bosphorus Strait, eat a traditional Turkish dinner, watch some amazing dance performances, and marvel at how you are straddling the line between Europe and Asia! Typical Bosphorus cruise goes for about two hours. Travelers who want to travel on a shoestring can board one of the passenger boats that regularly zigzag along the shores.
Day 2: Morning.
Ortakoy Mosque
Time: 1 hour
Distance: The quickest way to get from Sultanahmet to Ortaköy Mosque is to taxi which costs ₹290 - ₹350 and takes 10 min
If you are someone who enjoys offbeat places to travel, then make sure to visit Ortakoy Neighborhood of Istanbul which is just next to the Bosphorus Bridge connecting Europe and Asia.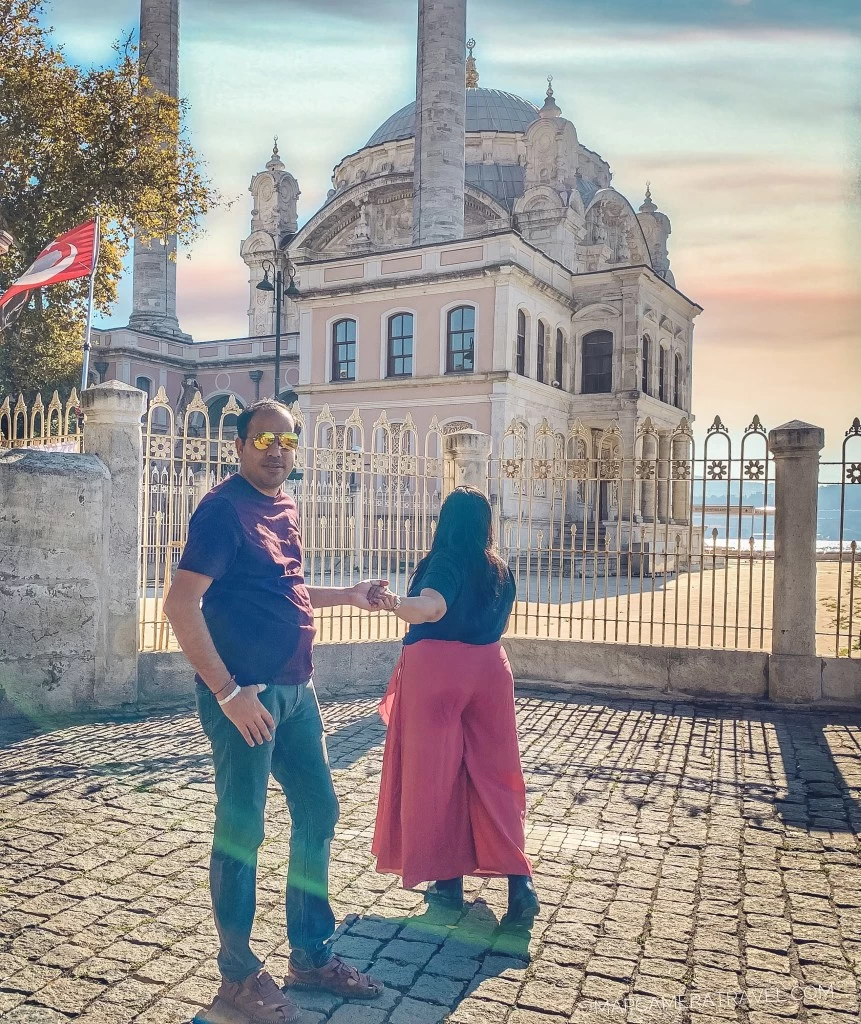 Beautiful Ortakoy mosque
This Ortakoy Mosque is not so famous in tourist but is definitely a jewel of Bosphorus. It is also known as "Great Mecidiye Mosque" and is one of the most beautiful samples of the Baroque architecture in Istanbul.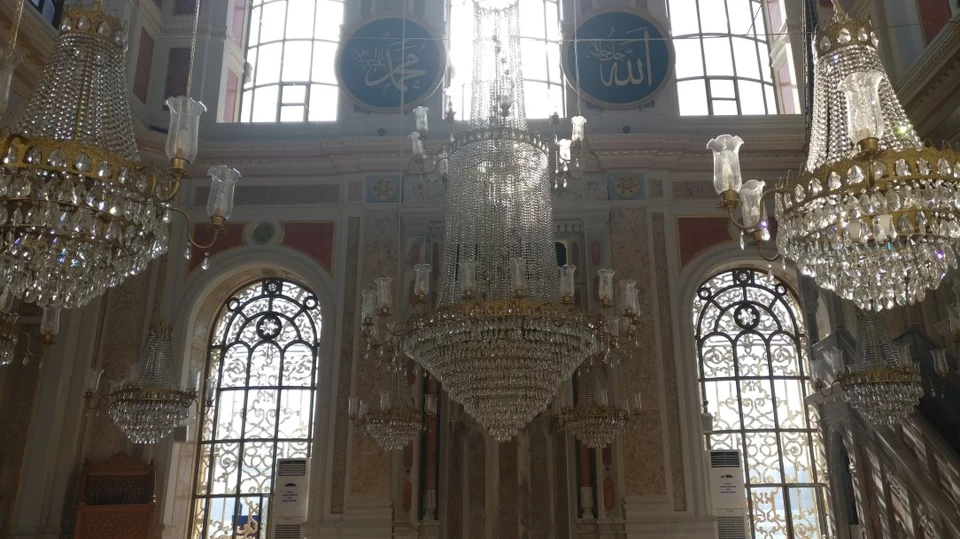 This mosque is open to visit from 9:00 a.m. until 6:00 p.m. except for praying times. Mosque is closed 30 minutes prior to call to prayer. Non-worshipers are not allowed during the prayer as well. Then it's re-opened after the praying process. And there is no entrance fee to visit this mosque.
Balat
Time: 2 hours
Distance: About 20 mins by taxi from Ortakoy.
Did you see some of the strolling pictures of those colorful houses in Istanbul? Yes ! That's Balat for you. Balat is one of the oldest and most dazzling districts of Istanbul.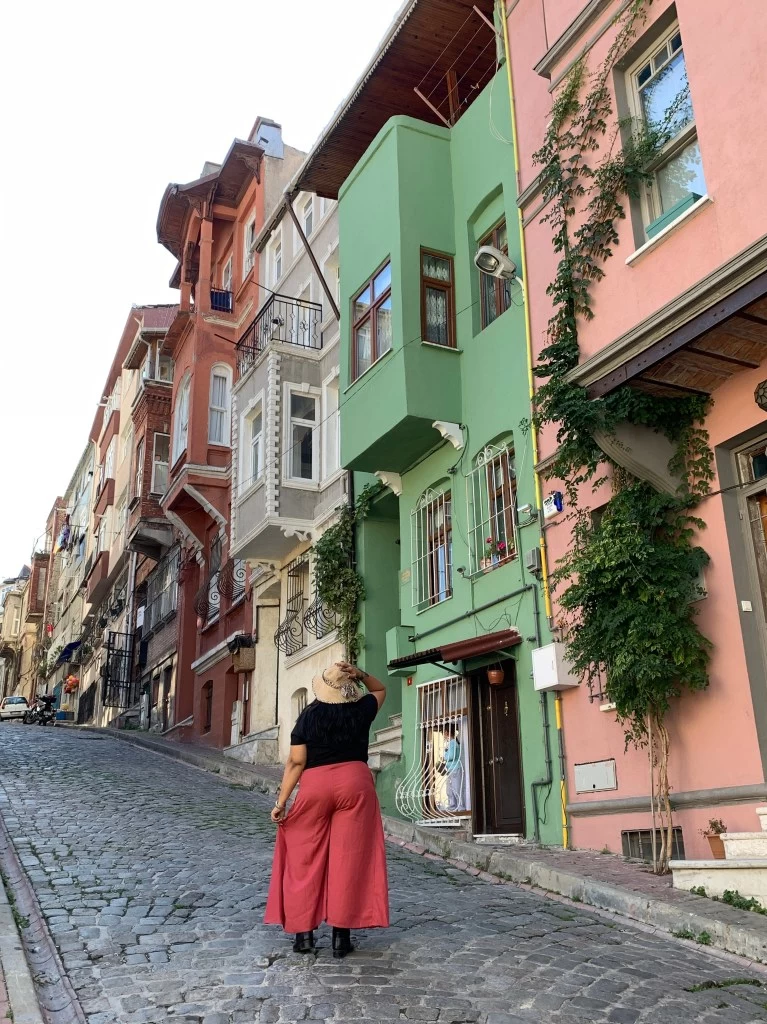 Colorful houses of Balat
The moment you step foot along its narrow cobbled streets and historic buildings, you sense an atmosphere unlike anywhere else in Istanbul. Possibly, the most iconic part of Balat is the colorful houses along sloping cobbled street of Merdivenli Yks .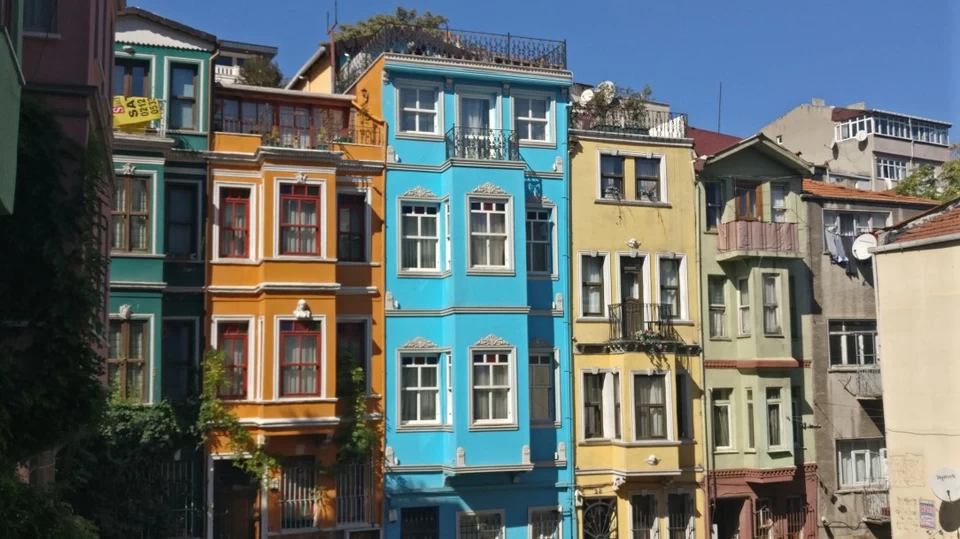 colorful houses of Balat
These homes are mostly over 50-years-old, and in some cases are up to 200-years-old. These historic wooden homes are amongst the most photographed buildings in the city. we wandered through Balat with absolutely no sense of direction, and we stumble upon plenty of colorful hues across the streets.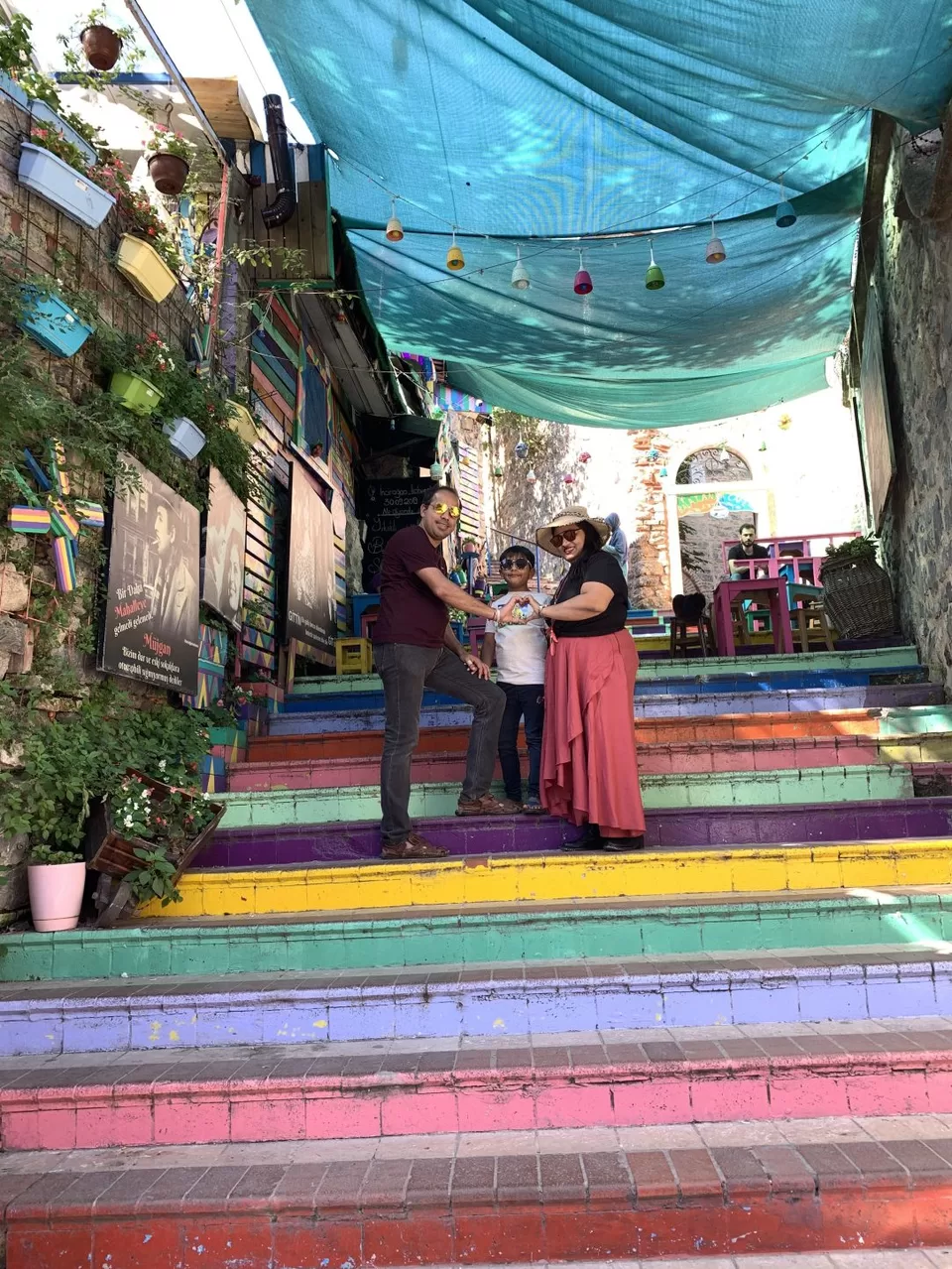 Rainbow stair cases
Make sure to visit Incir Agaci Kahvesi café down the road from this Merdivenil street. Hands down this techno-colored cafe is a reason alone to visit Balat. There's so many different colors, patterns, bits and bobs along the outside of this café.
Day 2: Afternoon
Galata Tower
Time: 1 hour
Distance: 10 mins by bus.
Any traveler visiting to Istanbul cannot miss the Galata Tower. A gigantic cone-capped landmark on the European side of the Golden Horn, it overlooks the skyline of Galata and is the first sight to hit you in the city. The Geonese first used the tower for defense purposes. It was also a part of the communication system at that time - a method inherited from the Romans. Fires were lit on top of the tower to send messages at great distances.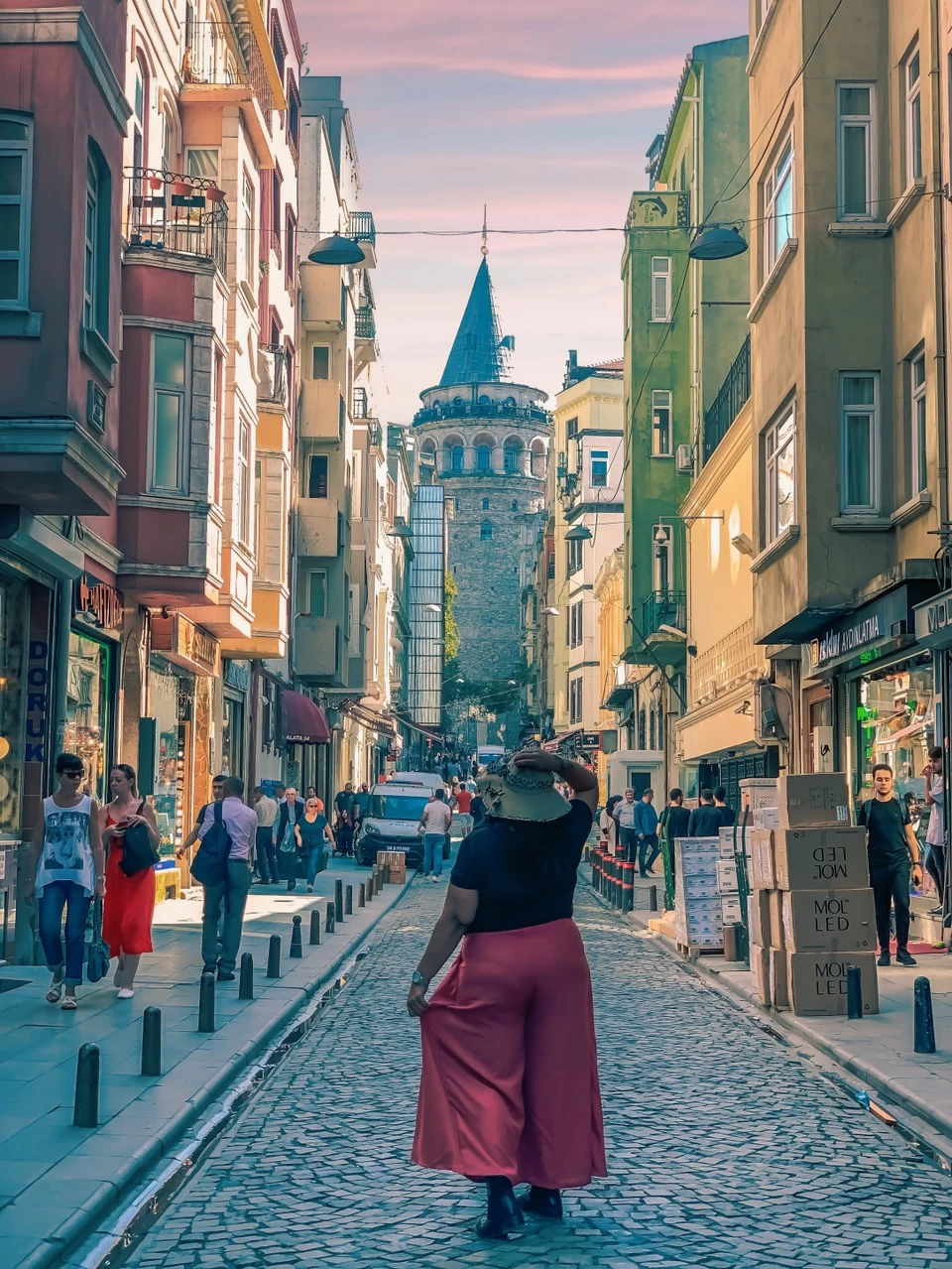 Galata Tower
On your visit to Istanbul, you will at once be smacked by the sight of this enormous construction that dominates the skyline. The tower is open to visitors from 9a.m to 8p.m daily. The balcony remains open till 5p.m and till 7 p.m. in summer. You have to pay a small fee to enter the Galata Tower. There is an elevator to the tower, but you must walk up the last two floors to the observation desk to see 360 degree panoramic view of Istanbul.
Karakoy
Time : 1 hours
Distance: 10 mins walk from Galata Tower
Karaköy is the quay to the east of the Galata Bridge. Standing here you get a fantastic view across to Sarayburnu, the wooded peninsula that is home to Topkapi Palace, Ayasofya and the Sultanahmet (Blue) Mosque. Karakoy stands out as one of the most gorgeous neighborhoods that reflect the cosmopolite structure of the Ottoman Empire.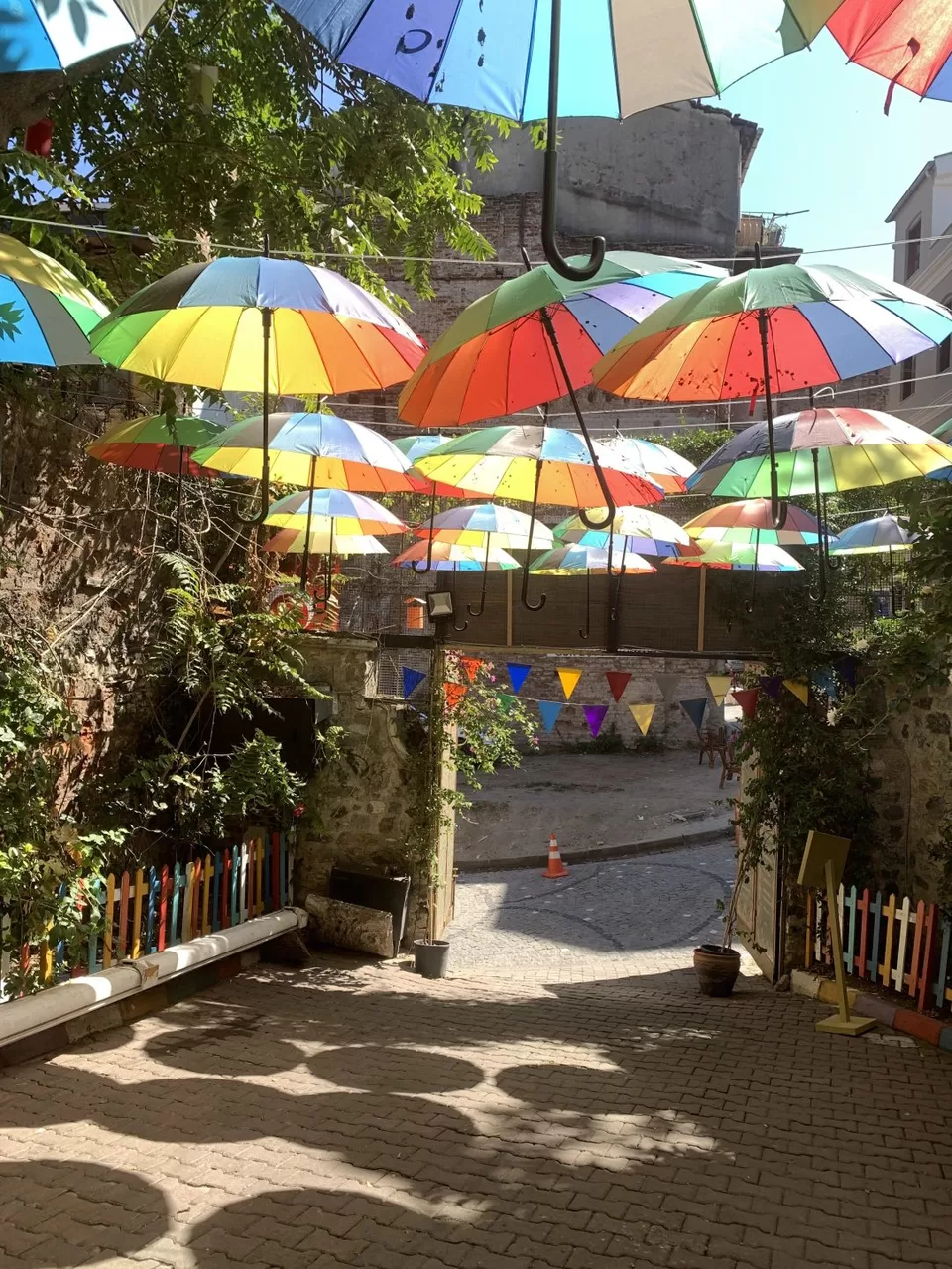 Umbrella Street
Because this history-smelling neighborhood, with its history-defying structures, charming streets, various kinds of food and beverage; manages to touch the heart of many people with entertainment venues! Here is one of the streets of Karaköy filled with art, coffee, and various flavors, Umbrella Street
Istiklal Street
Time : 1 hour
Distance: 10 mins walk from Karakoy
A visit to Istiklal Street is an occasion to experience the unique energy and spirit of Istanbul at its most organic way. The street is the busiest in Istanbul with its long stretch boasts shops with every product imaginable, cafes and restaurants, live music, bars, cinemas and much more. These iconic Istanbul ruby-red trams are as much of a fixture on Istiklal Street as the cobbles on the road.
Istiklal Street . (c) - flickr.com
Located in the Taksim neighborhood of the Beyoglu district, Istiklal Avenue, once known as Grande Rue de Pera, is one of the most prevalent streets in Istanbul and without a doubt, is one of the most popular meeting points, a center for leisure activities and beautiful streets in Istanbul.
Day 2: Evening:
Whirling Dervishes Show
Time: 2 hours
Settle down in the evening with a spiritual experience at the Hodja Pasha Culture Center. If you have ever seen Turkish saints wearing long white dresses with long hats on their had spinning away at a single place as if they were under a spell of some divine power, it is not just a dance, it is the stunning Mevlevei Sema ceremony.
Sufi (Mevlevi in Turkish), also called Dervishes, are the ones who are dedicated their lives to seek and find a closer relationship with God. The Sema ceremony is a journey through man's spiritual ascent to "perfection" through mind and love-a truly unmissable and amazing experience of music and moves.
Pre-booking is recommended as the auditorium has limited seating.
Entry fee - 22 USD.
Ways to Save Money on your trip to Istanbul:
- Get an Istanbulkart, Istanbul's public transport card Explore the city on foot as Istanbul's popular tourist areas such as Sultanahmet, Taksim and Galata are very ideal to explore by walking.
-Buy Istanbul Tourist Pass to save up on the entry fees of attractions in Istanbul.
- Take the Bosphorus Cruise by public ferries. Private cruise may cost you bomb, so always better to check and compare the prices with range of companies that take you on a Bosphorus cruise.
-Bargain for Shopping in Istanbul. With a hard bargain at the most of the shops in the tourist zones, you can get at least %40 discount for sure.
It's hard to do Istanbul justice in just two days but we covered most of places that are must see in Istanbul. You too can experience insatiable Istanbul at a more relaxed pace by using our itinerary for your dream trip in Istanbul.
You may also like to read: 10 Days Turkey Itinerary
Like it? Pin it here for later: