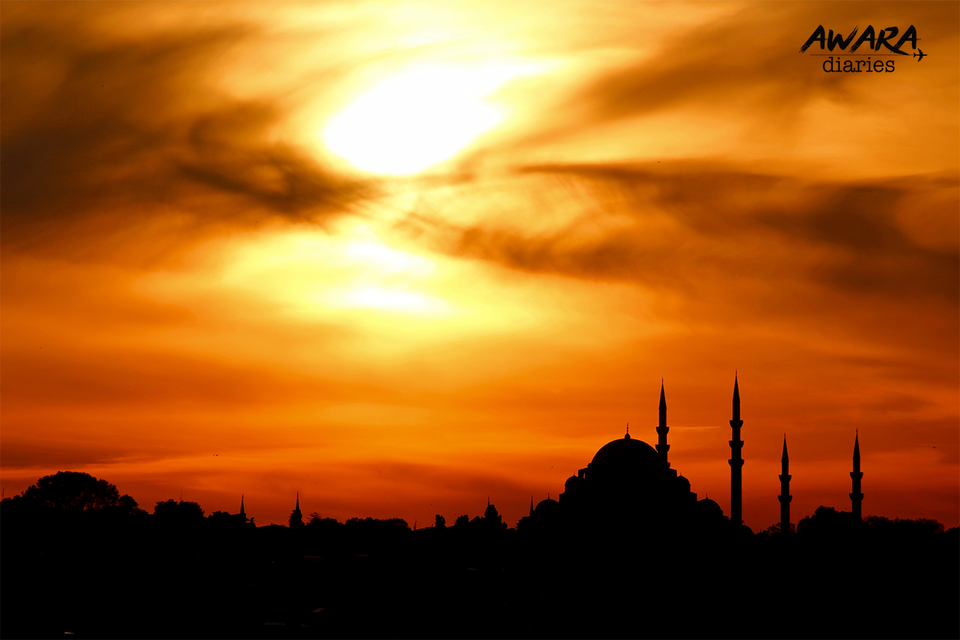 It's been a while since my trip to Istanbul and many of you have asked me about my itinerary. (Many of you have even complained about how I haven't written enough about it.) So putting all of it to rest, I'm going to write in detail about my Istanbul trip | #CinemawaaliInIstanbul.
I took my solo trip in the last week of October last year. Couldn't really call it an off-season trip thanks to the unending lines of international visitors. But I'd definitely be grateful for the weather; it wasn't all about the scorching heat. Husshh!
What was earlier supposed to be an adventurous 10day trip across Turkey ended up being a weeklong trip to Istanbul.
I initially thought that a week would be too much to stay in just one city, but at the end of it, I was thankful for having given this gorgeous city all the time I could. No, I didn't get bored for a second. Instead I thought I could do with more time.
Here's a brief itinerary on how I spent my week solo tripping in Istanbul.
FYI, a few things that helped me explore the city better were:
Walking invariable distances: This helped me explore the unspoken corners of the city, get the better of the experience
Google Maps: Never believed them to be real saviors than this trip! They brought out the adventurer in me.
Discover Istanbul: A city guide app by Turkish Airlines that helped me explore the city's known-unknown spots
IstanbulKart: This prepaid transport card made transport the easiest & budget friendly experience ever
MuseumKart: The Museum Kart priced at 50TL gave me access to many of the cities important attractions for free, helping me cut through the ticket queues and saving a lot of money too!
Google Translator: Thank Google again! I'd make my own small attempts at speaking in Turkish to get help from the locals. ALWAYS WON ME BROWNIE POINTS (& FREEBIES)
Local Number: If you intend to visit a country for over 3 days, I suggest you buy a local SIM. It's going to be worth the cost for the ease of calls and Internet that you can effortlessly use to your rescue. (Research for good network providers for your destination. I chose Turkcell for my Istanbul trip.)
Always Ask The Locals: It could be your hostel receptionist or a storekeeper, always ask the locals for their suggestions and help.
Giving importance to my preferences: The fact that it rained from the day I entered the city, till the next 3 days made the beginning of my solo trip a little gloomy. I gave utmost preference to my mood, and explored the city accordingly. It helped me get comfortable and feel good. Remember, taking a trip does not mean that you force yourself to go sightseeing. You might as well stick back in your hostel and talk to other visitors or simply enjoy your company and people watch with a cup of coffee at a café.
DAY 0 IN ISTANBUL
I landed in Istanbul in the afternoon. It was at least a couple of hours till I could make my way out of the Sabiha Gocken Airport. I opted for the Havatas (Airport Transfer Bus) and reached Taksim an hour later.
My hostel was at least a kilometer and a half away. Instead of opting for a taxi, I decided to walk. I followed the maps and got myself accustomed to the areas, and people and of course the eateries.
After checking in, I settled in my luggage and headed out at about 8 for dinner. Since I had already walked my way to the hostel, I already knew where to find food.
Instead of opting for a budget dinner, I treated myself to a mid-budget dinner at Faros. I had a delicious Adana Kebap with a drink and realized how delicious the food was.
There's something about hostel/hotel beds. They promise you a good nights sleep.
DAY 1
The real trip had begun now. It was time to explore the city that was long on my bucket list. Right there, at the top. But from where to begin? That's not something I had prepped for! That's where being a hostel helped. I asked my roommate for help who had studied before in Istanbul.
She agreed to help me and we began our day by walking up to the Taksim Funikuler where I refilled my IstanbulKart. (I got it from my hostel. Those guys had a spare one. Alternatively, it can be bought at stations.) We took the Funikuler that led us to the Kabatas Tram station.
Kabtas <by tram> Sultanahemet (by tram)
Sultanahemet Square is in the old town of Istanbul on the European side of the city. It boasts of most of the popular attractions that there are to see in Istanbul. Most of these attractions are just next to each other (about 2minutes walking)
*Time mentioned in the brackets below is the approx. time needed to explore the attraction properly
Basilica Cistern (20-25mins)
Sultanahemet Cami (10mins)
Blue Mosque (10mins)
Hagia Sophia/Aya Sofya (20mins)
Istanbul has about 3000 mosques. You can spend years trying to visit them all. But the ones mentioned are the most prominent ones.
Stop by at one of the cafes in the vicinity for some doner kebap meal.
DAY 2
I really wanted to cover less and see more. So I decided to spend my day walking. I thought that taking the tram to Karakoy to then reach the Galata Tower was a taxing activity. Instead I chose to walk down the Istiklal Caddesi. It was a long walk, but the best decision that I had taken that day. Cobble stoned streets, local shops, street musicians, coffee houses and lots of touristy sights.
Istiklal Caddesi (45-70min)
Galata Tower (1hr)
Dolmabahce Palace (45mins)
Dolmabahace Palace
After the top-of-the-world feeling at the Galata Tower, I chose to keep up with the good vibe I sat in a coffee shop right next to the tower and watched people over cups of Cay (chai).
I ended my day by meeting Caner Uzun for some traditional Turkish Dinner at the Sabirtasi restaurant in Istiklal Caddesi.
DAY 3
On the third day, I had some Indian company to explore the bazaars. I chose to keep my shopping quota reserved for my last couple of days. Today was about sightseeing and photography.
A Glimpse of the Grand Bazaar, Istanbul
Grand Bazaar (2hrs 30mins)
Arasta Bazaar (45mins)
Eminonu (30mins)
Kadikoy- Istanbul in Asia (1hr)
Kadikoy Market (2hrs)
Saturday Night In Istiklal Caddesi (2-4hrs)
While heading back from Kadikoy, I took a ferry to avoid much fuss. What a sight it was!
It was a tiring day; the rains had been comparatively less. So my roommate and I decided to head out for some late dinner and explore the Saturday Night scenes in Istanbul. They were the best nightlife scenes I had witnessed with the live music, hookah scenes and happy people.
DAY 4
It was Sunday but Couchsurfing Day yet again. I headed to another part of Istanbul, a more residential area to meet Aslihan. Then, following her advice, I headed to Besiktas and then Ortakoy.
Trump Towers
Besiktas (2hrs)
Ortakoy Cami (30mins)
Believe me, Ortakoy Cami has some real delicious eateries facing the sea. More importantly, it had a picturesque view that I could keep staring at all evening. I had taken a bus to Besiktas. My first bus ride in Istanbul. The feeling was like seeing the Europe that we see in Bollywood films minus the snow.
DAY 5
I was warned well in advance that the Topkapi Palace could be a tiresome place with the amount of walking required. It took me over 4 hours to view the complete palace with the Harem area. But there were some real picturesque locations that made up for all the walking.
View of the Galata Tower from the Bosphorus Cruise
Topkapi Palace (4hrs)
Bosphorus Tour (2hrs 30mins)
Right after getting out of the place, I stopped by for a Portakal Juice (Orange Juice). Where I found out about the Bosphorus cruise that also sets asail in the evening from 4:30-6:30. That was all that I needed to fit in my schedule!
If I had to recommend just 2 ways to view Istanbul, one would definitely be for the cruise tour.
DAY 6
Turkish Delights from Hafiz Mustafa's
It was my last day as I had a flight to catch the next evening. Now began the tough part! Shopping!
I call it tough because there's so much to pick from, you'd almost want to buy it all. Mom wanted spices, dad books, brother wanted sweets and I wanted to pick some collectibles for my friend.
I'd like to warn you that the Turkish salesmen are extremely persuasive, charming and hospitable even before you shop.
The key rule of shopping well in Istanbul is to visit more shops and BARGAIN WELL!
Spice Bazaar, Istanbul
Spice Bazaar (3hrs)
Eminonu (1hr)
DAY 7
Practically my last few hours in the city. I still hadn't experienced it all. So I had a handful of experiences to pick in a few hours. First I decided to visit the Turvak Cinema & Theatre Museum, because being Cinemawaali J Then the famous Nostaljik Tram (I took a round trip ride) and finally ended it with some highly recommended drip coffee at the Kronotop Café. There on, there was more walking. (Guess, I loved the city too much to travel past in a rush)
Turvak Museum (2hrs)
Nostaljik Tramway (15mins one way)
Kronotrop Café (30mins)
I headed towards the Asian side to shop some more, lunch and eventually take my Airport transfer back to the airport.
On my bus ride back, I kept thinking about this gorgeous city that stole my heart!
Istanbul, you have a piece of my soul with you!
I AM DEFINITELY COMING BACK HERE AGAIN!
Like Napolean said," "If the world were a single state Istanbul would be it's capital."
Stay tuned for more photo stories, articles, recommendations and fun stories from Istanbul!
#CinemawaaliInIstanbul
In case you're planning a trip to Istanbul and need assistance, you could drop a mail at parampara@cinemawaali.in or parichay@trawhale.com
Cheers!
This story was first published on Awara Diaries
Photos by: Parampara