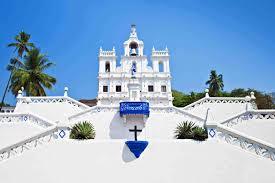 The first thing that you think of Goa is the sun-kissed beaches and holidays. The next is obviously all the parties and the general atmosphere of revelry over there, the wonderful and beautiful people from almost all over the world, etc. It seems as if life in Goa is like a party that never ends. This is the reason why people are always looking for Goa flights and with service providers such as Jet Airways offering cheap flights to the dreamland, it is now a possibility. However, there's more to Goa than just this. It has a rich history and an integral part of that history is its magnificent churches.
Why you should visit the churches of Goa?
There are no two ways about the fact that if you visit Goa and not visit the churches, you are definitely missing out on a beautiful experience. It is true that the beaches in Goa are pristine and the coastline is amazing. It is also true that Goa is the party capital of India but its churches seem to represent the very soul of this city-sized state. These shrines are exceptionally beautiful, to say the least. People from across the globe come to visit them.
A reflection of Goa's colonization
Not many know that unlike the rest of the Indian Subcontinent Goa was a Portuguese colony. These churches were built at that time and stand as reminders of the time that this place has gone through. They are great in terms of architectural value. You almost feel like being transported back in time to the era when they were made.
The churches that you should visit
The most well-known among these is the Bom Jesus Basilica, which has been declared as a World Heritage Site by UNESCO. Apart from these, there are some other worthy names as well such as the following:
• Se Cathedral
• Church of St Francis of Assisi
• Church of Our Lady of the Rosary
• Chapel of St. Catherine
• Church of Our Lady of the Immaculate Conception
• Church of Our Lady of the Mount
• Church of St. Cajetan
Some suggestions for the international travellers looking to come to Goa
If you are from outside India, Goa can be one of the best destinations for you. It would be best if you check out flight status and other important details when you have a layover on your way to Goa. If you're looking to spend limited money but wish to explore a lot, you can do that by booking cheaper staying places (which are many in Goa). Also, you can check out the best flight offer various airlines has to offer and choose the ones that fit your budget. If planned smartly, you can stay comfortably in Goa for a long period of time.