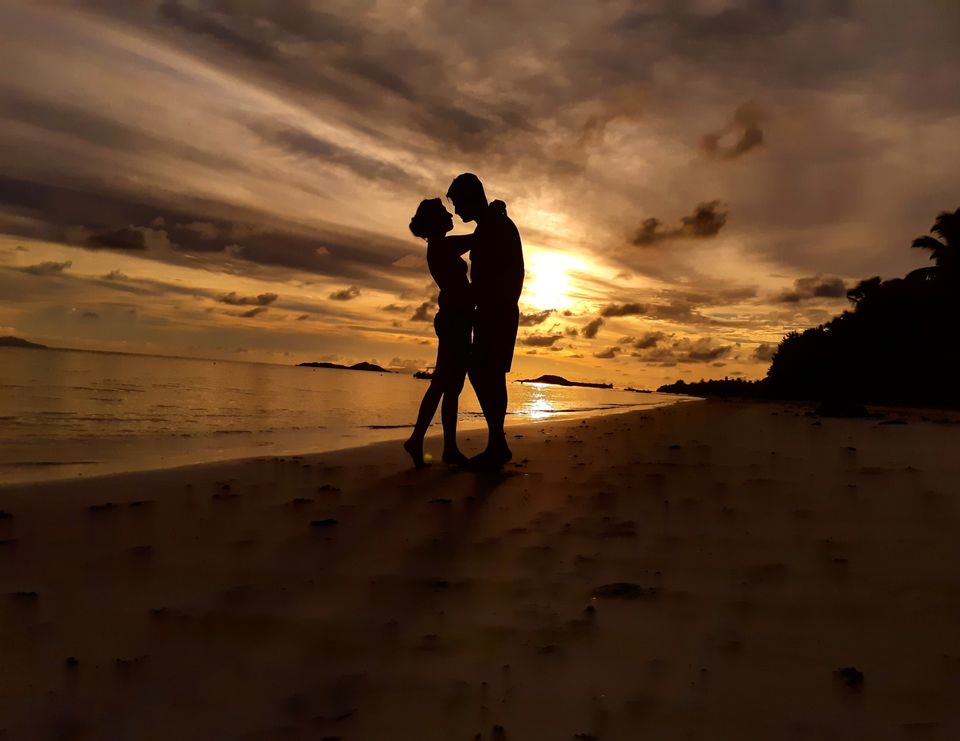 After long hectic flight landed in Seychelles, upon landing was guided by our agent who met us at the airport and transferred us to our hotel.
Upon reaching the hotel, checked in and completed the check-in formalities and the day was for leisure, so we just changed and freshened up and started exploring the resort's backyard which was fascinating and saw wonderful sunset. Getting clicked with this view will be each and every couples dream for post marriage shoot.
Note: if you need calmness and less crowd then you won't prefer Bouvallon beach side area but instead Avani will be your 1st choice.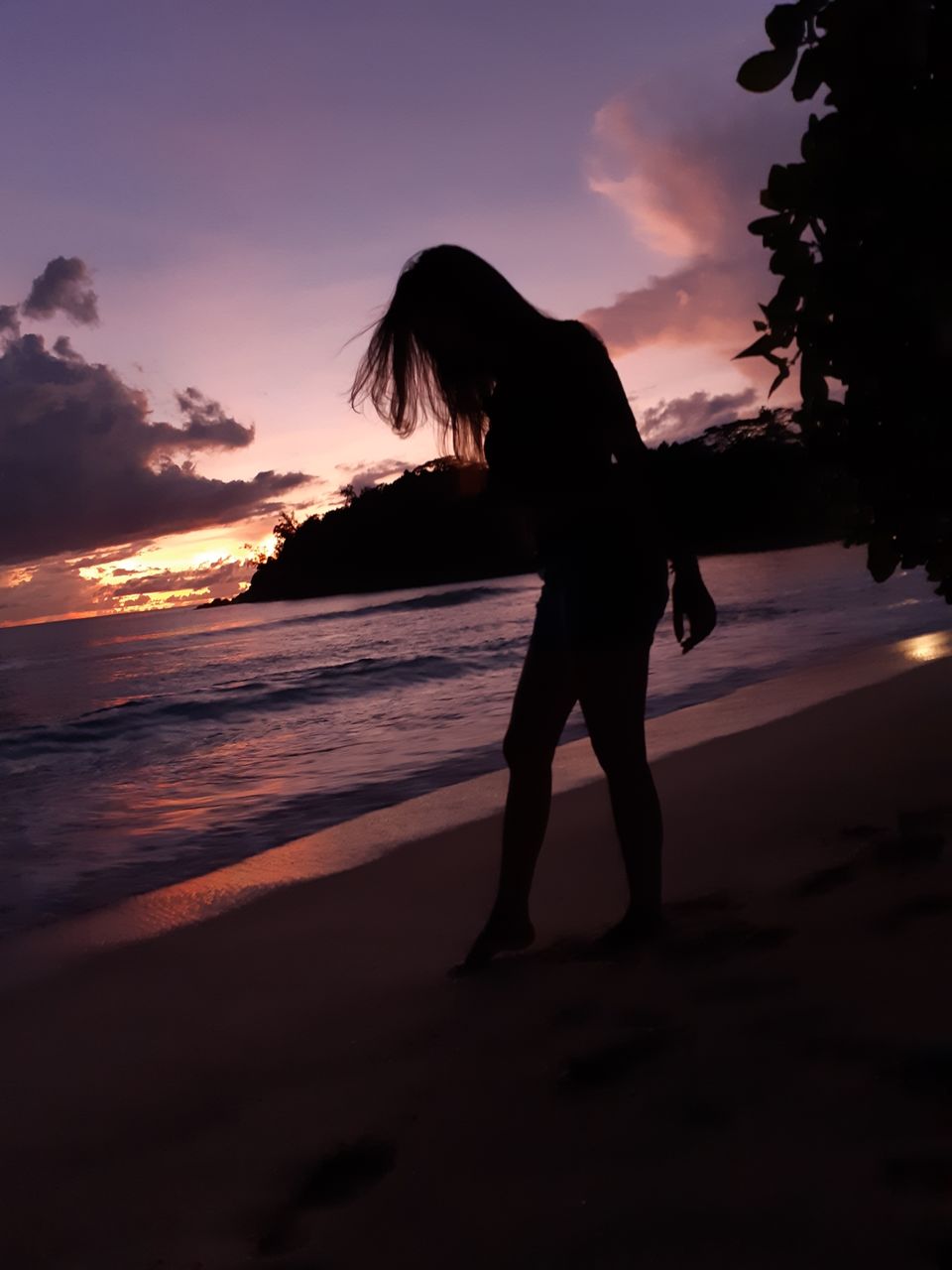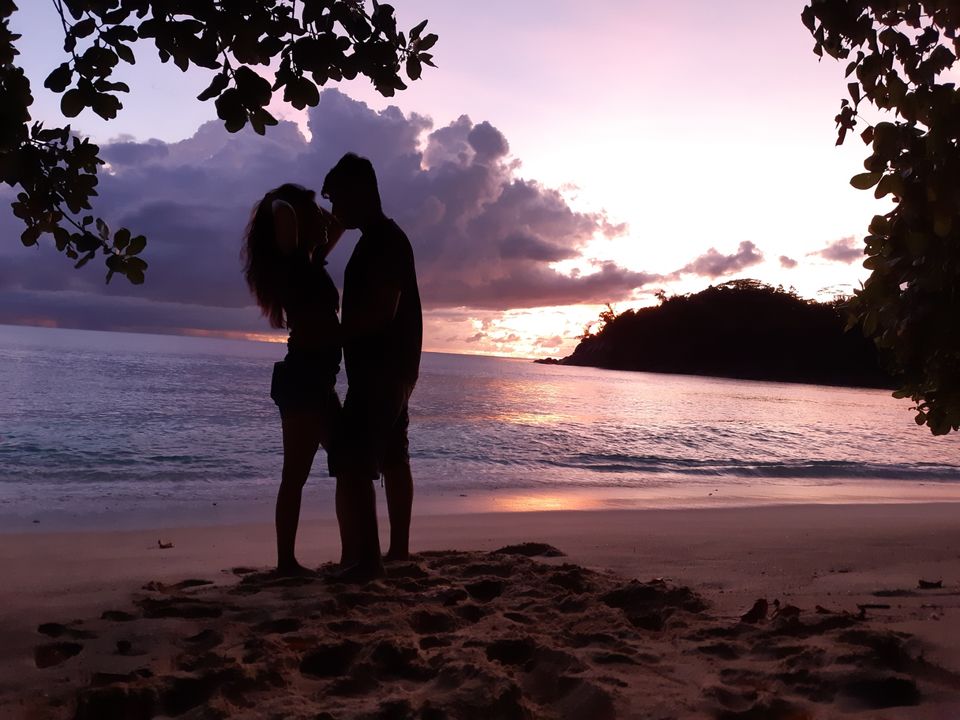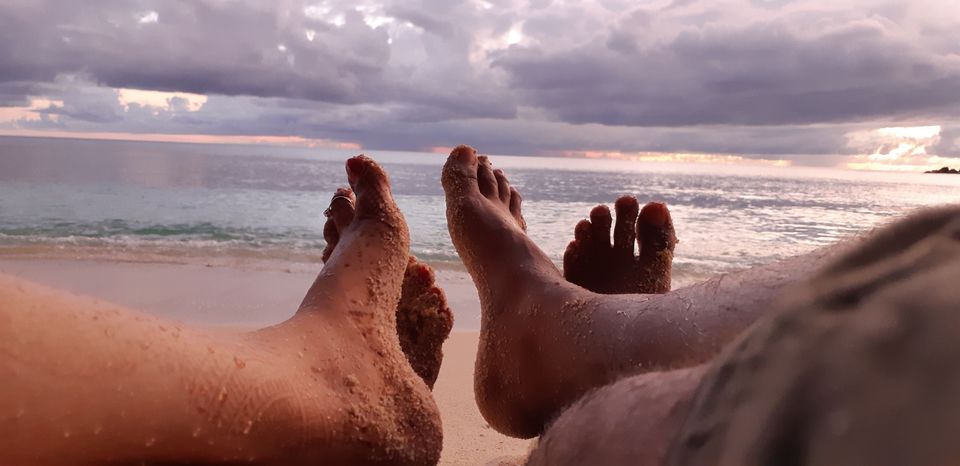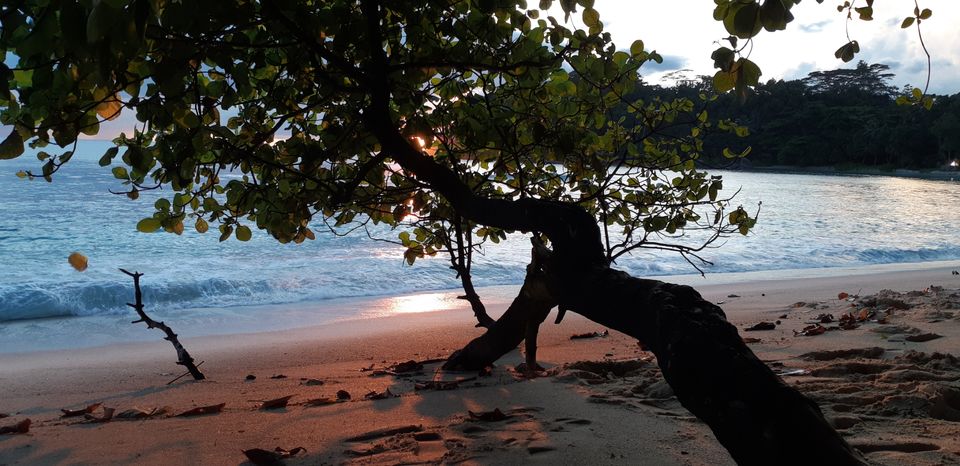 Second day started with pre-sunrise capturing of the view from my balcony, post that we had a complementary couple massage sponsored by the resort, post that we had hired a car for the day to explore the Victoria market and the very famous clock tower plus Bouvallon beach.
Price for car hire for 24 hours is 55€ in Mahe but travelling by local bus is much more economical and is easy. While exploring the the island, we stopped by at a view point to get some good pictures for our Instagram and after that we moved on for the Victoria market to explore and to shop.
NOTE: TO GET GOOD EXCHANGE VALUE FOR EUROS, KINDLY VISIT VICTORIA MARKET OR BOUVALLON AREA.
For shopping, Victoria market is the only place to get things at a cheaper price from rest of the places in Seychelles. Also, prices for water bottles is very expensive in the resort as you will get only one bottle as a complementary for the stay, so it's better to purchase a 5L can from nearby store that will be of same cost as that of 1L bottle available at the resort.
In Victoria we purchased souvenirs and then headed towards Bouvallon beach to embrace its charm and click photos for our memory. Over there we encountered Indian restaurant named as Mahek, the food was ok but was overly expensive. Seychelles is heaven for non vegetarians and can get food at a cheaper price, but for vegans, you have to pay a heavy price and also with very less options to choose from.
Upon returning we encountered very heavy rainfall and traffic, which took us almost an hour to reach Victoria again from Bouvallon beach.
Moving ahead to our resort, due to heavy downpour and wind, we got stuck in the middle of the night due to a tree which broke down due to the winds blocked the road and what a bad day it was for us that we got stuck as our cars battery also drained at the same time. Time passed by, my wife had a discussion with the police and on her request, she made the phone call to the owner of the car to change the battery and after a long wait of 3-4 hours we again headed back to our resort and handed over the car back to the owner.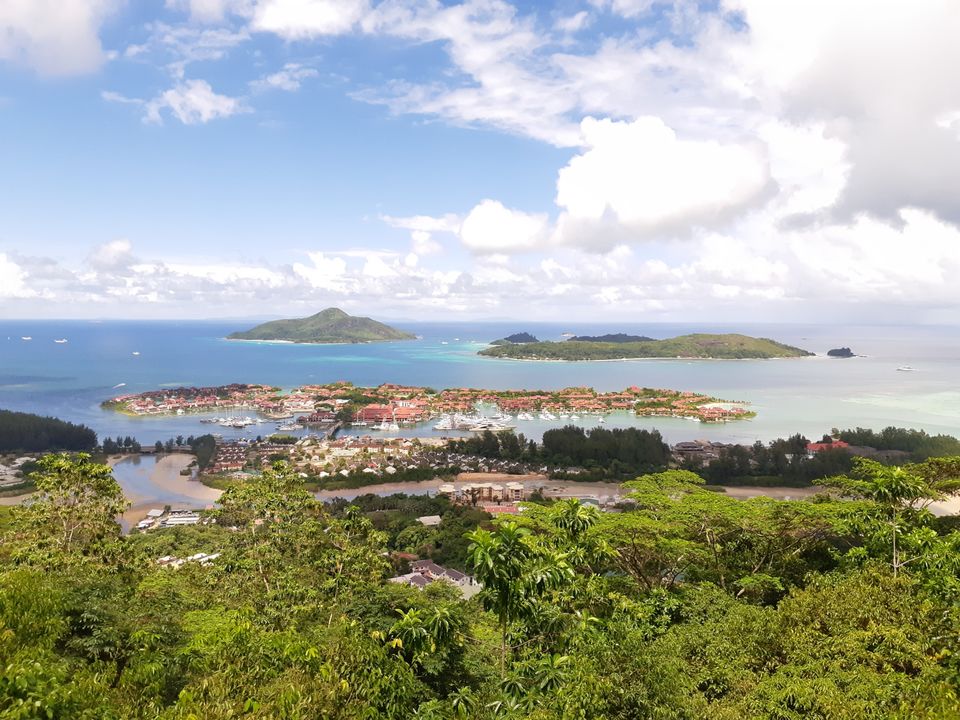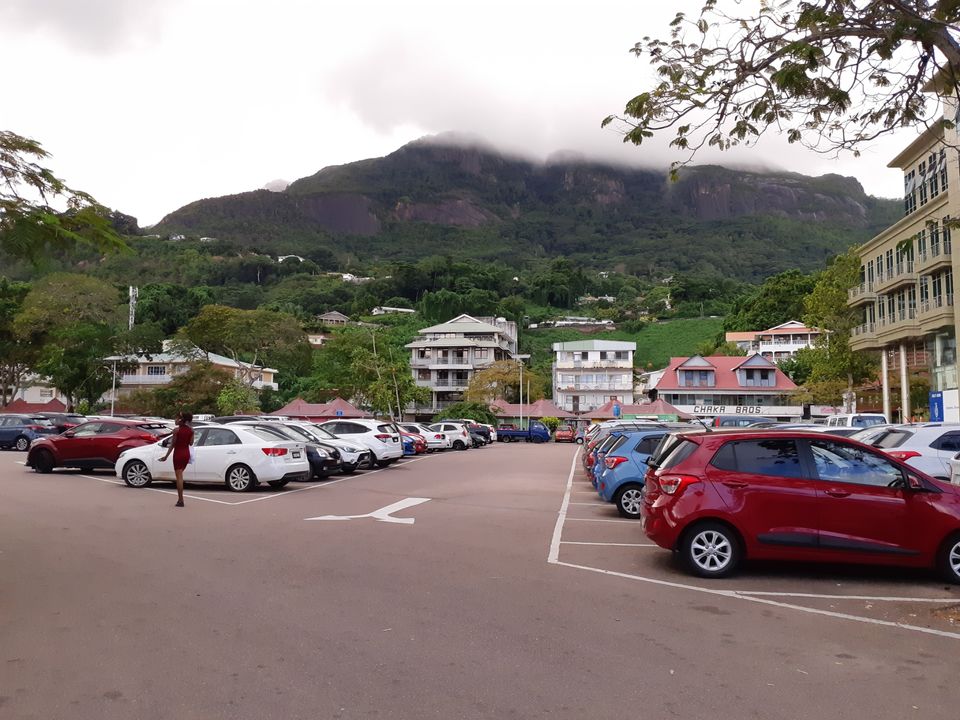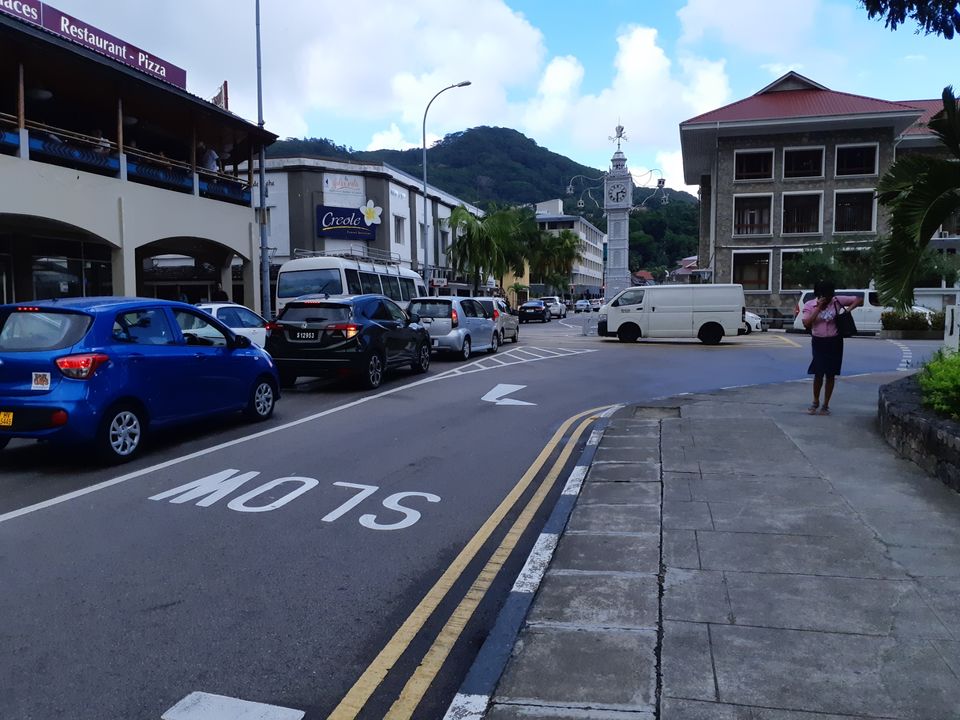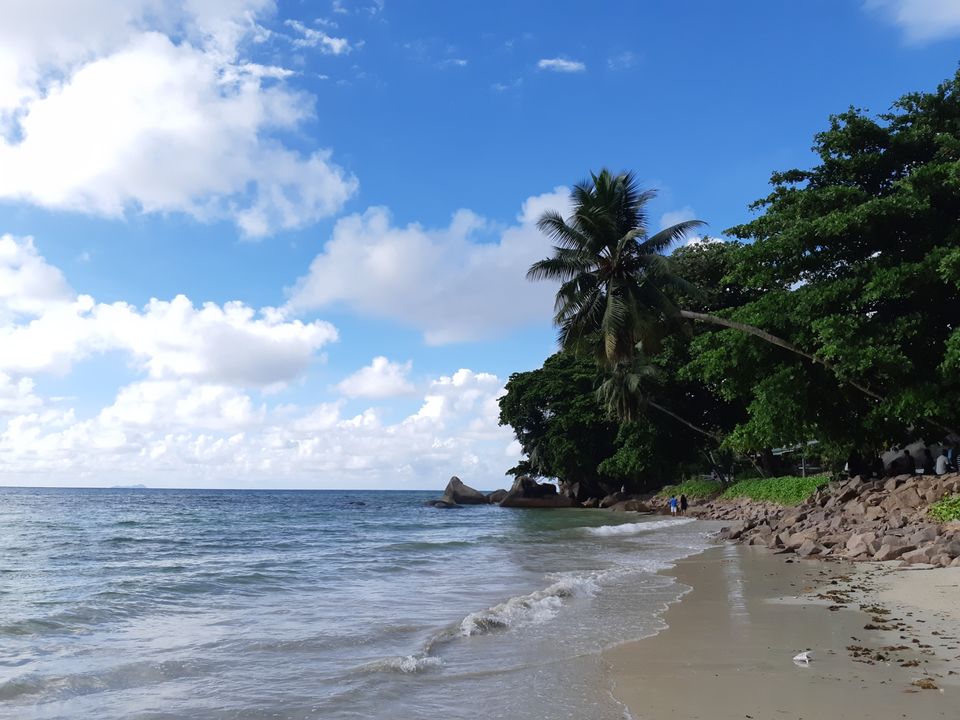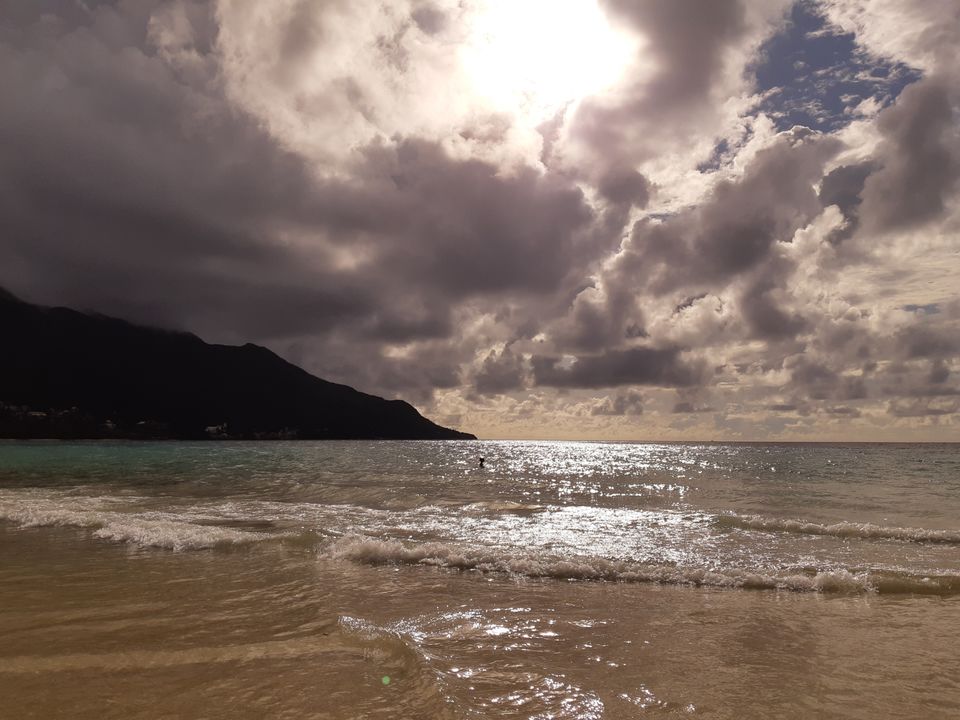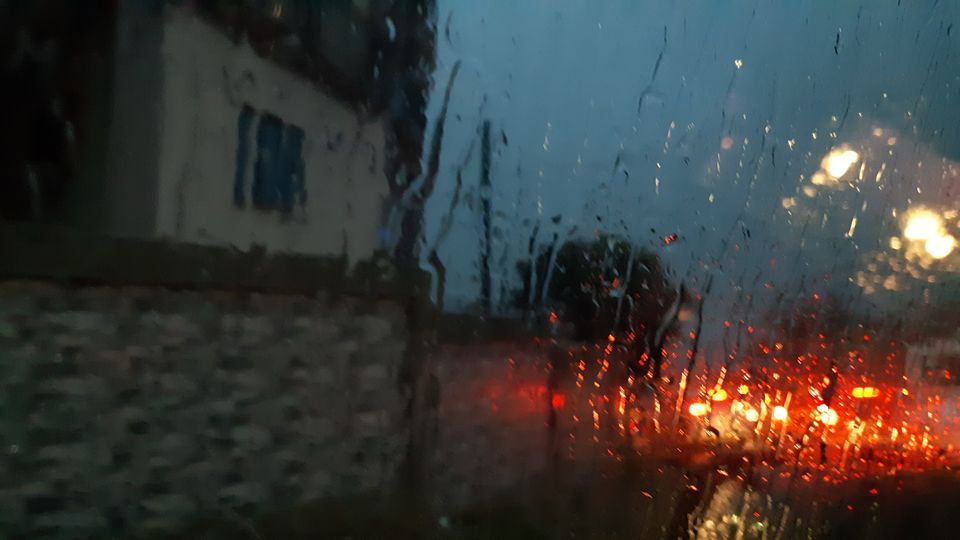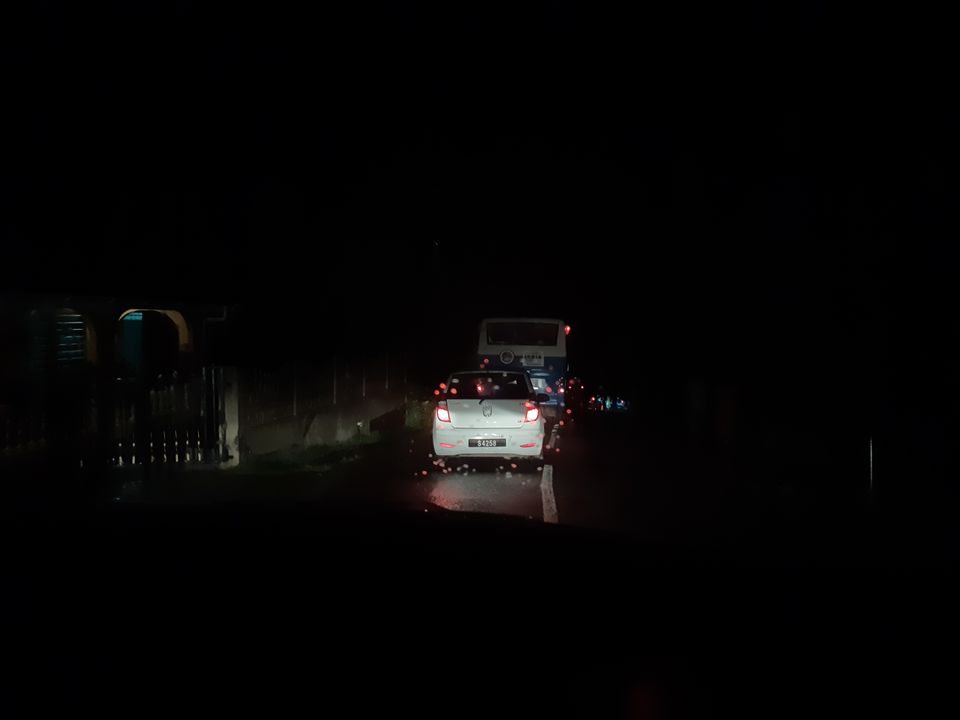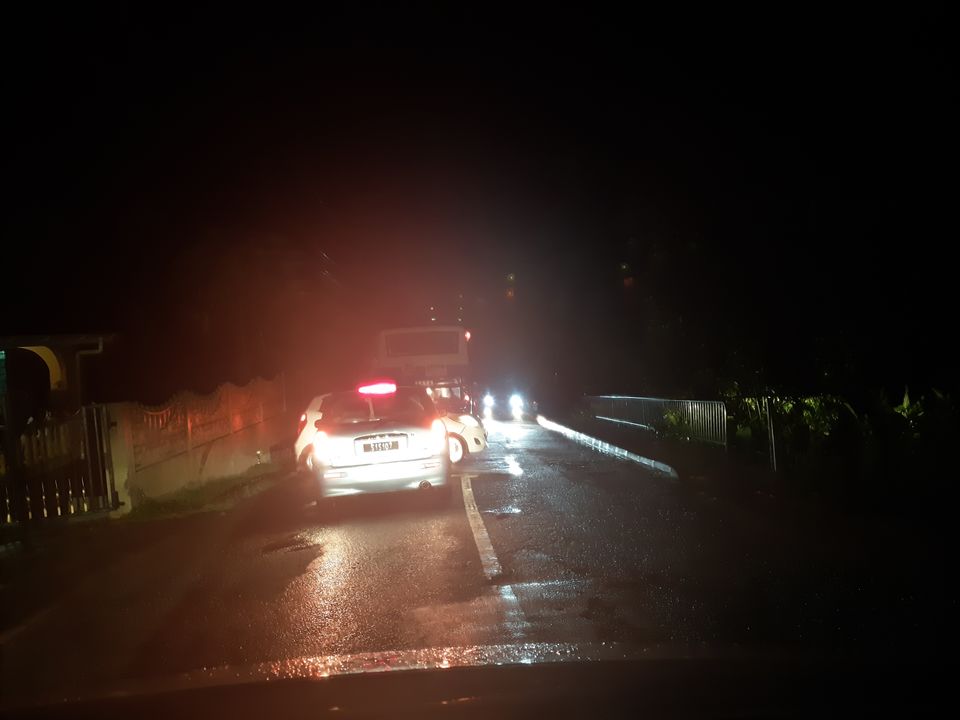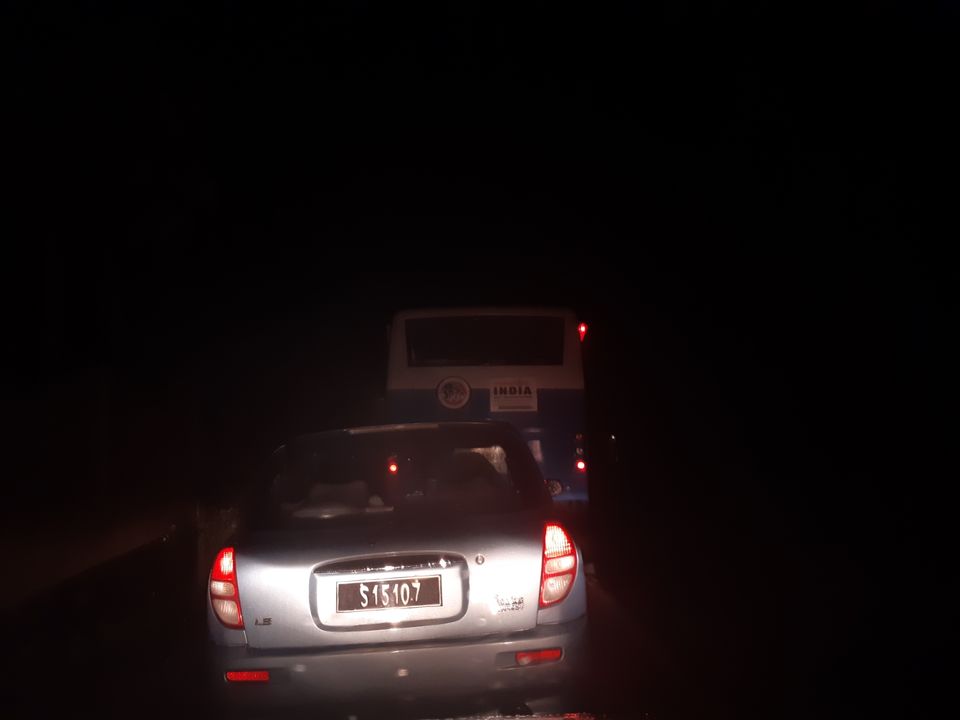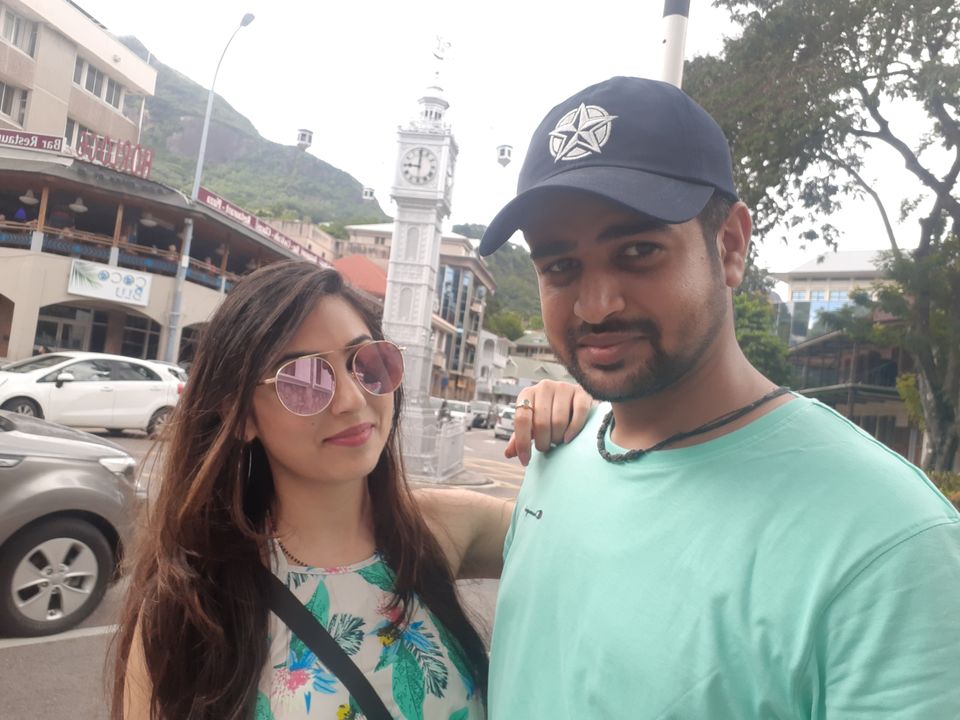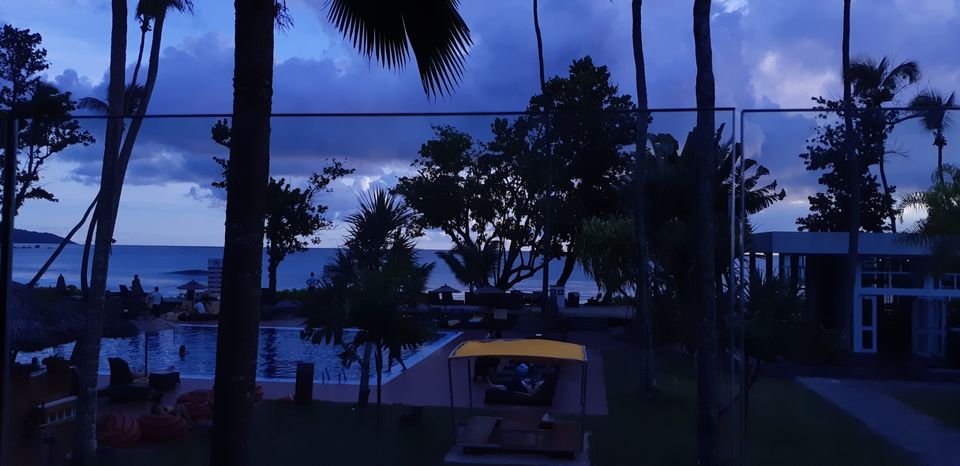 3rd day in Mahe accounted for an activity that pushed our Adeline rush to the maximum extent. We headed towards scuba diving which was in my priority list in Seychelles due to its transparent water at the beaches. The dive cost was bit too high as compared to other places but at the end it was worth it.
Note: scuba dive charges are 105€ per person plus 10€ is the pick and drop, if you do not have certificate, if you have then the charges will be 65€ per person.
The dive instructor was amazing person and offered unofficial prices to get our pictures clicked deep under water with his Gopro6. After negotiation, we settled at 250 seychellian rupees for the shoot.
Upon briefing of the instruction manual we started off to one tree island which was our dive site. For once my bae gave up as she was too afraid of the waves hitting her face, but after she entered inside the ocean, she was fabulously good with the dive and refused to get out. We had a wonderful 40mins dive deep under water. I was lucky enough to witness huge stingray inside water just for 3 sec of my initial dive.
Soon after completion of the dive we were dropped to our resort and we spent some lone time in the ocean with each other as it was our last day in Mahe.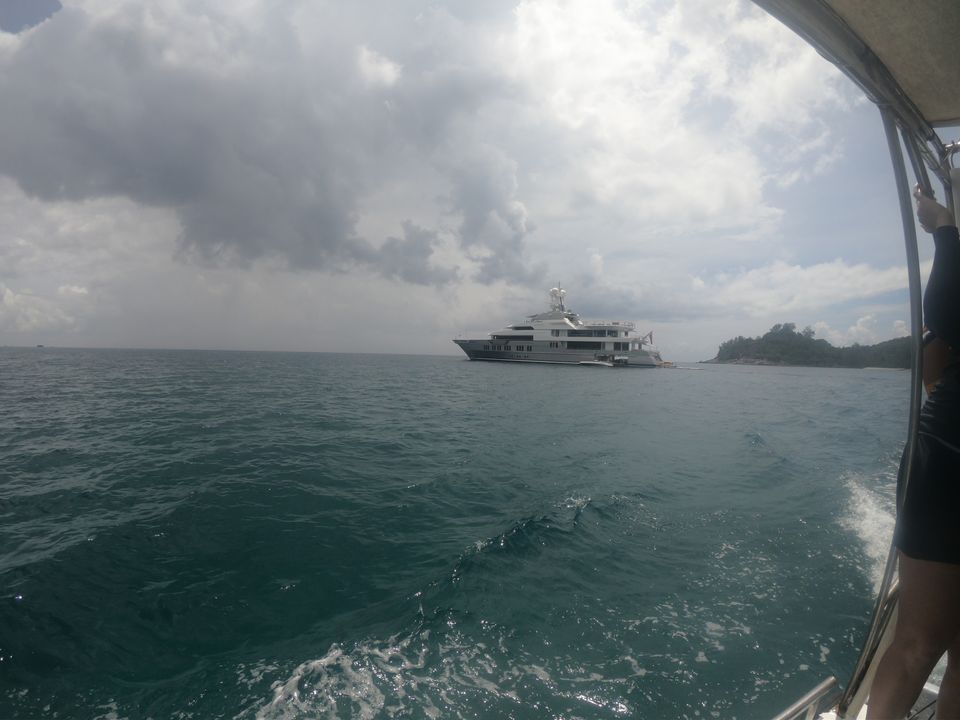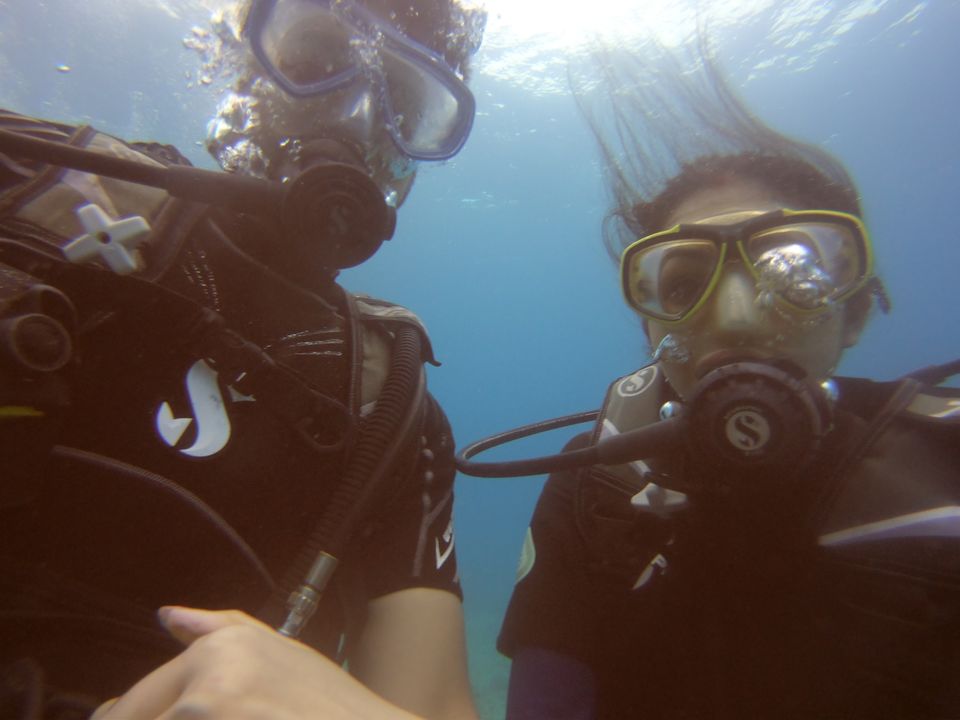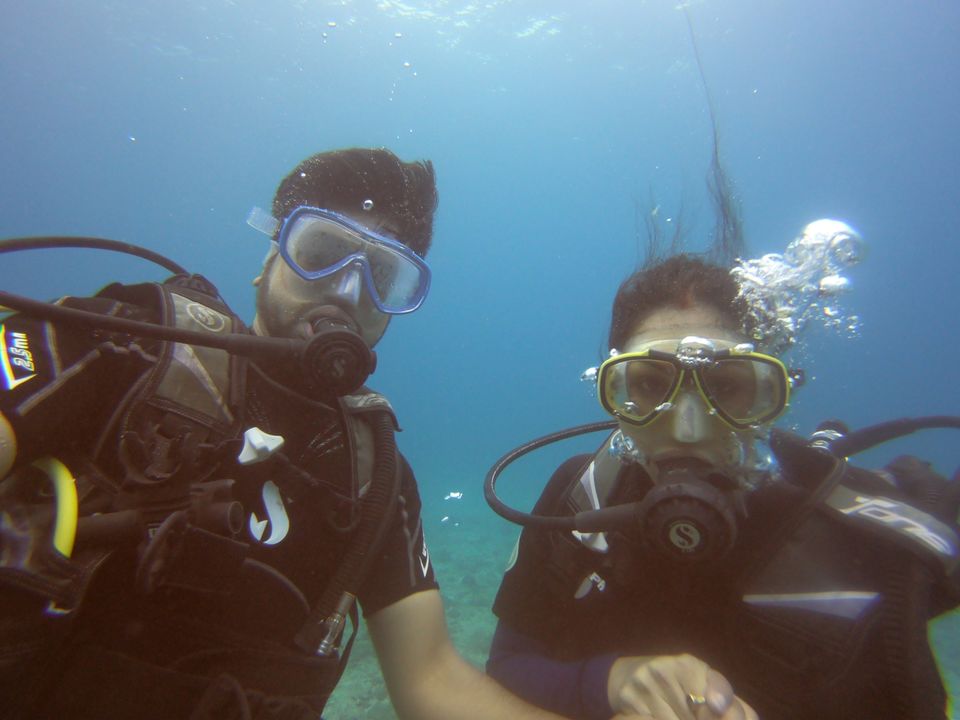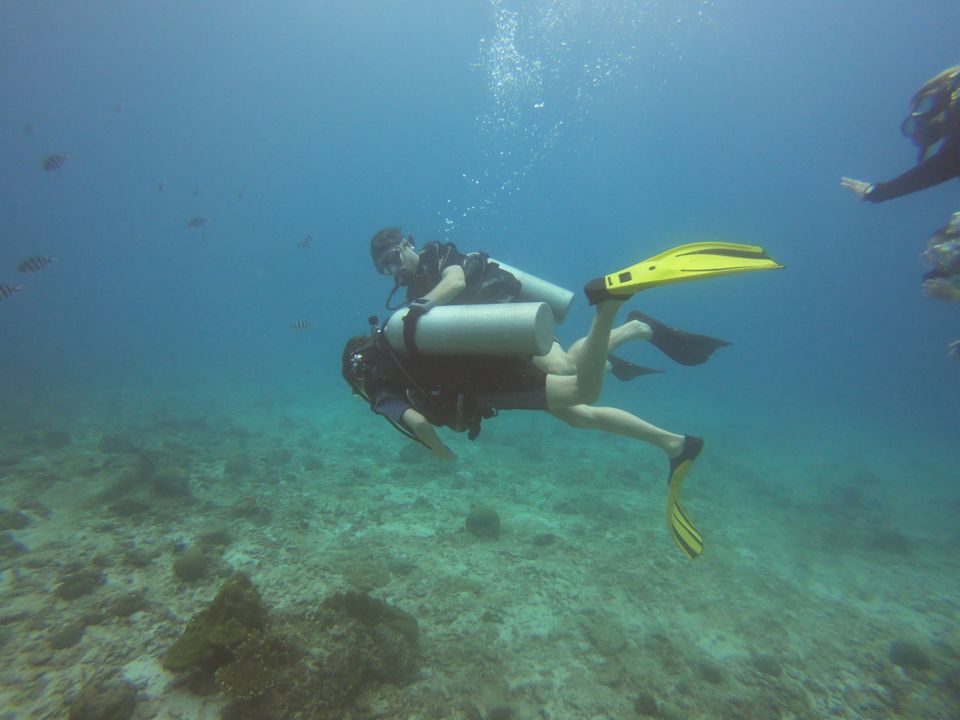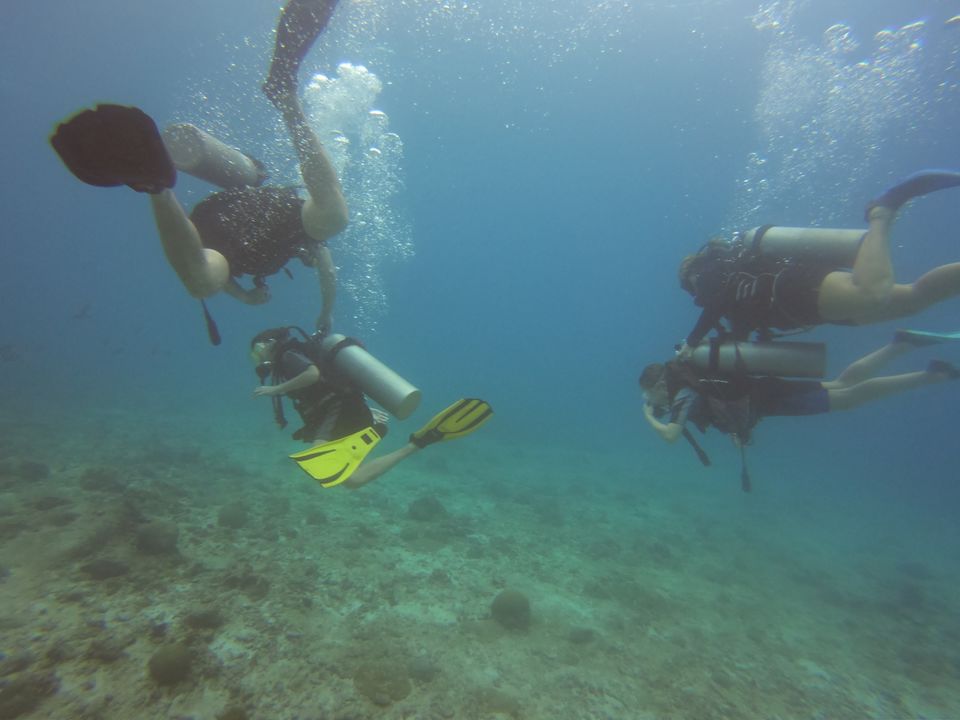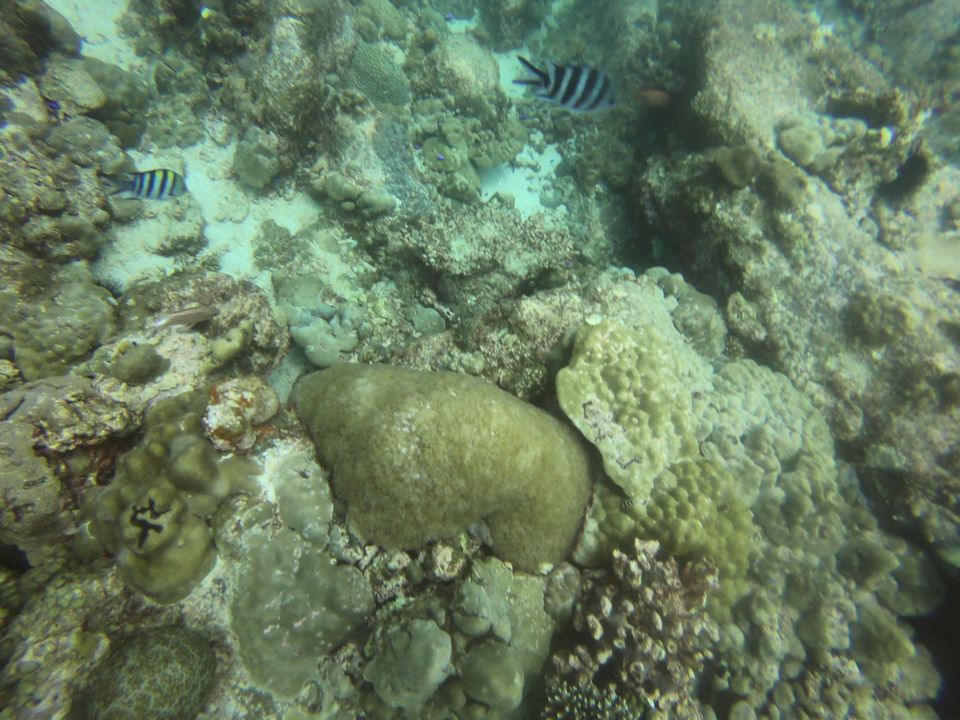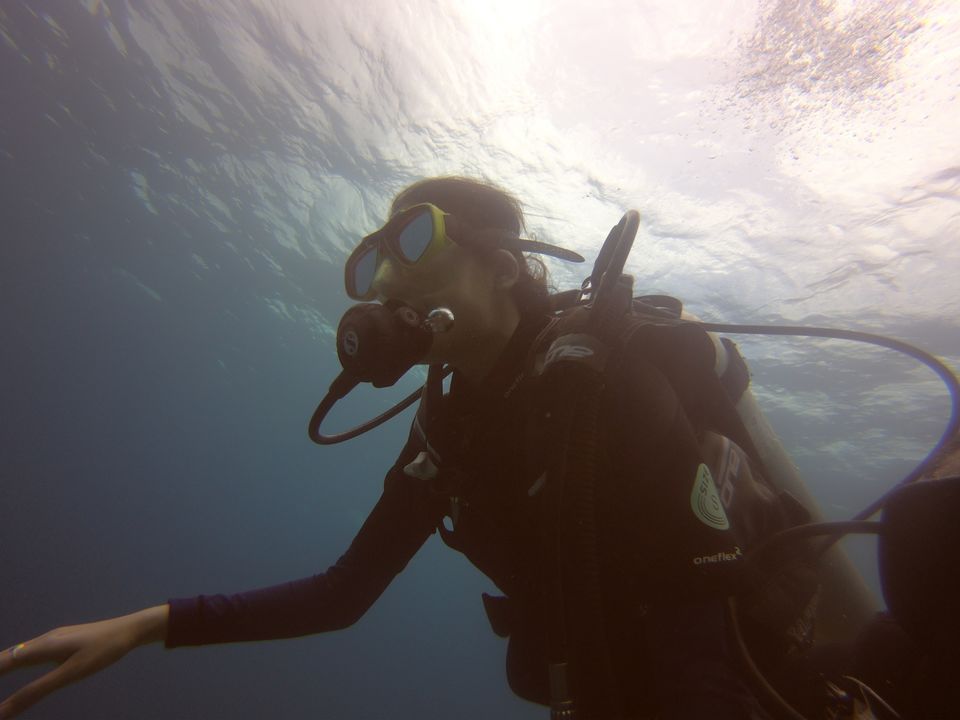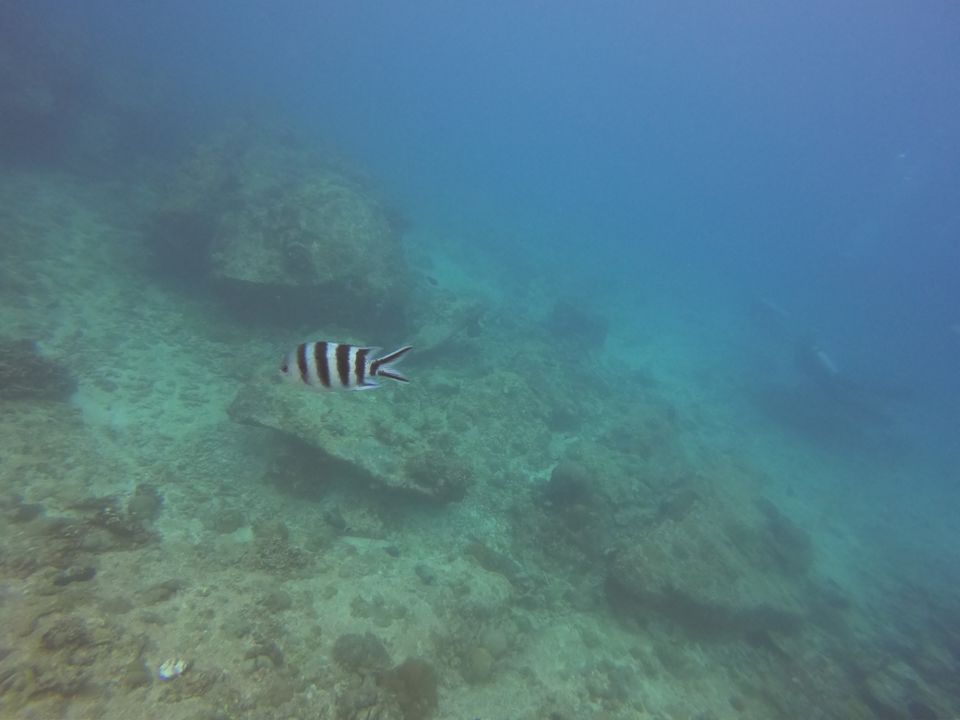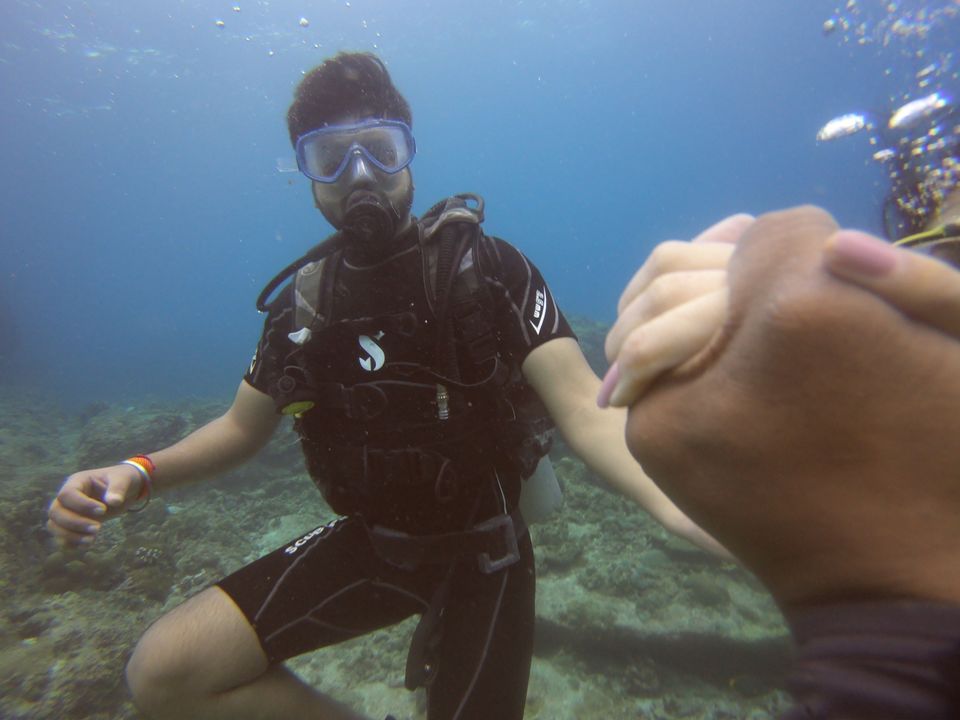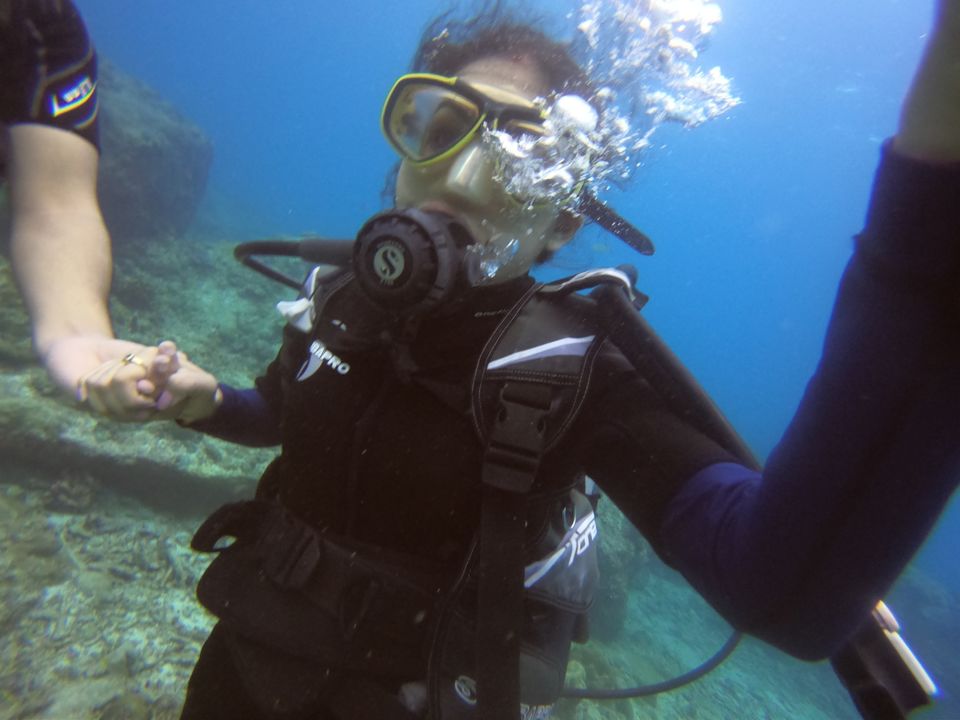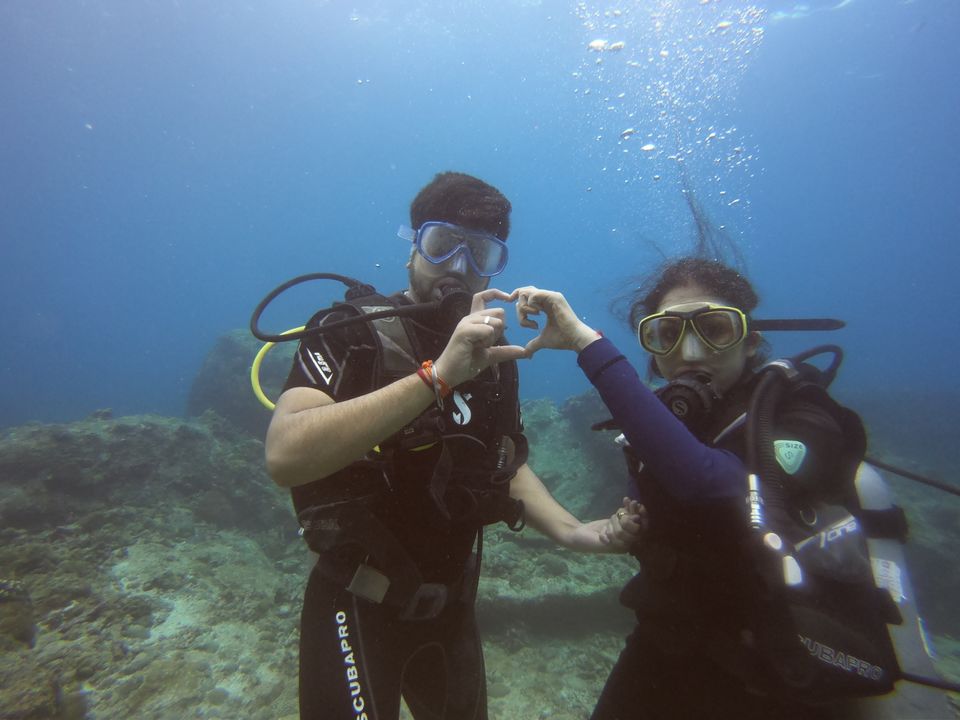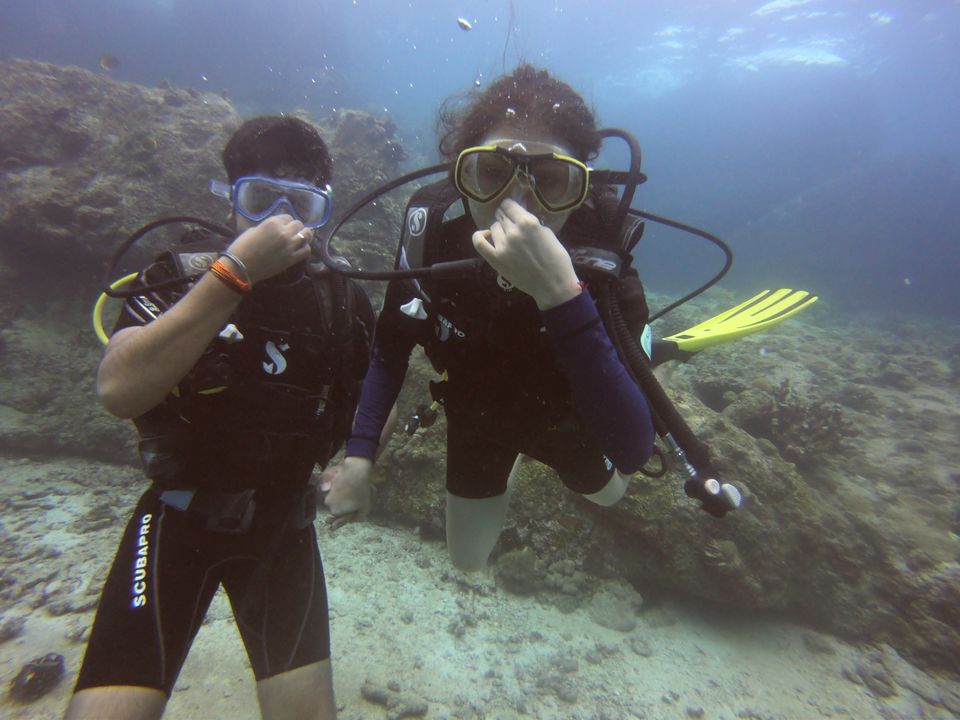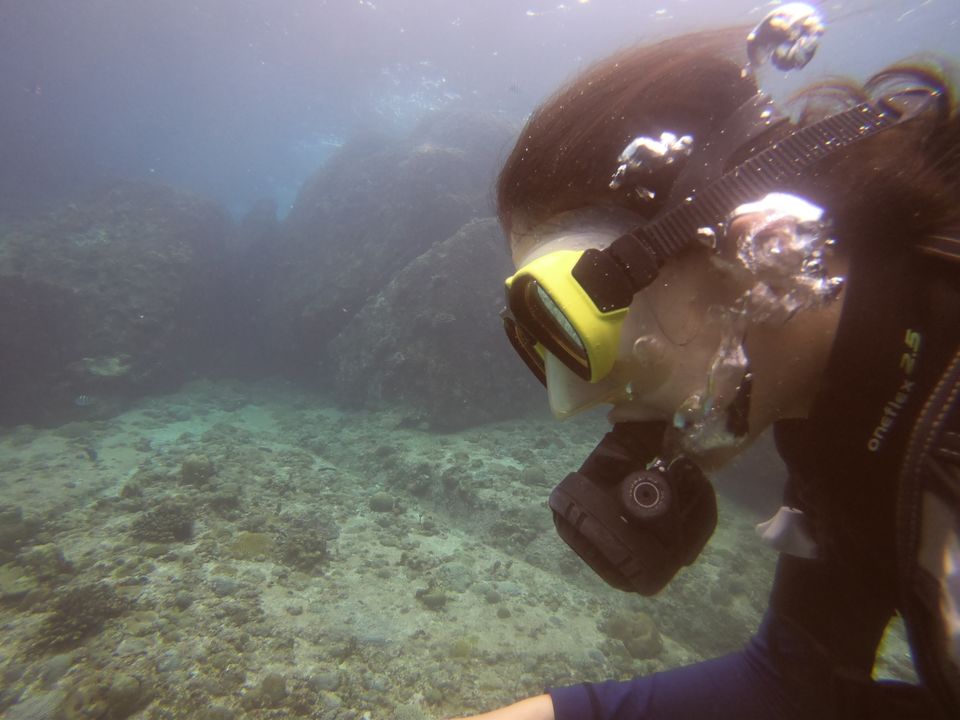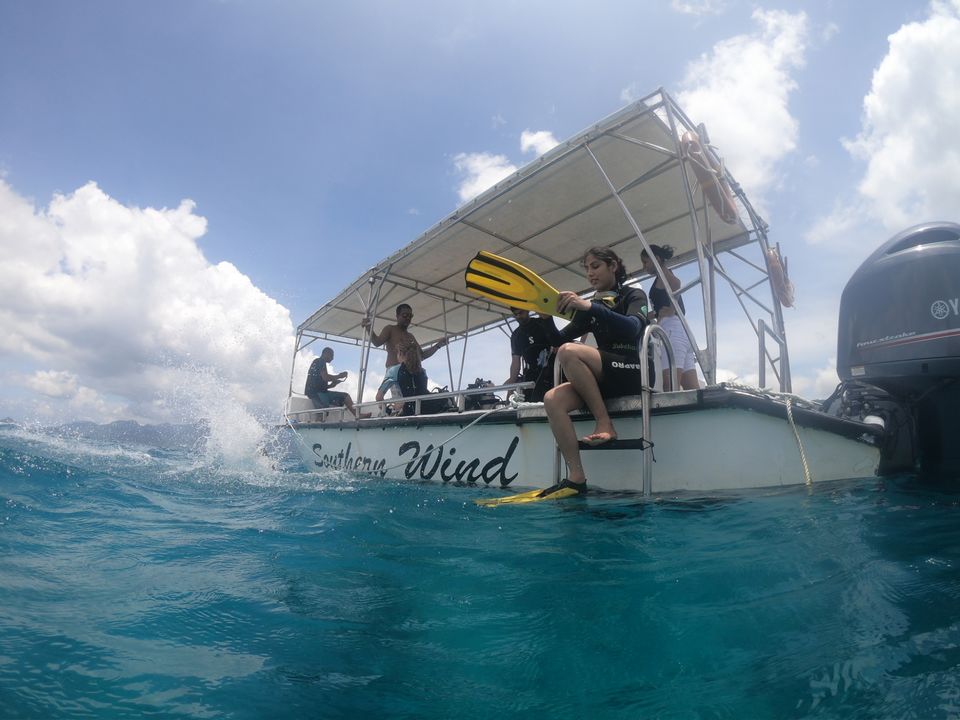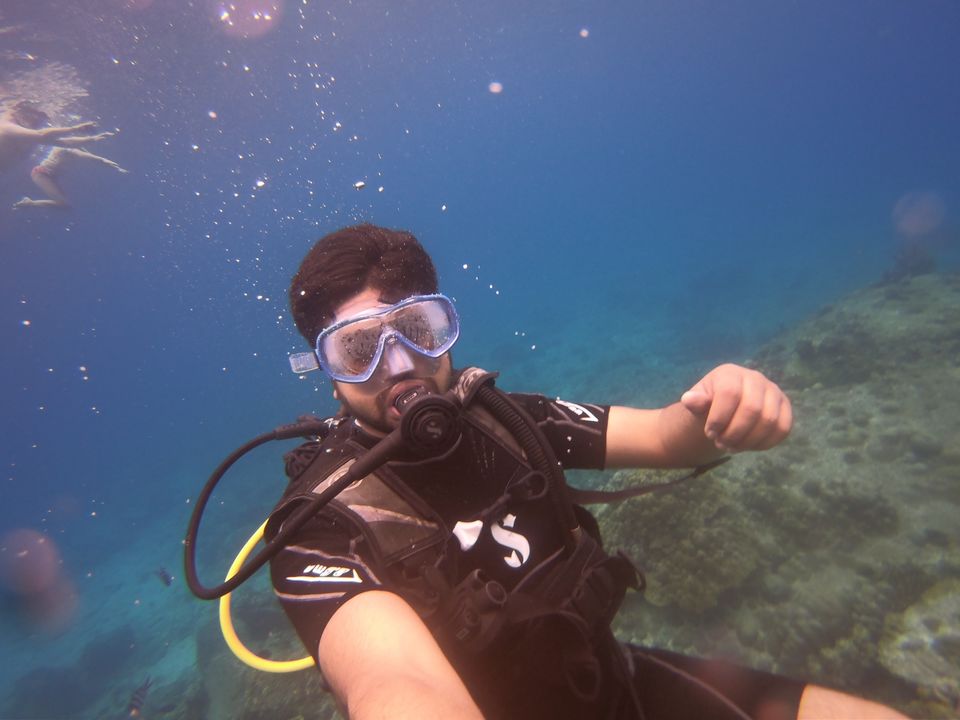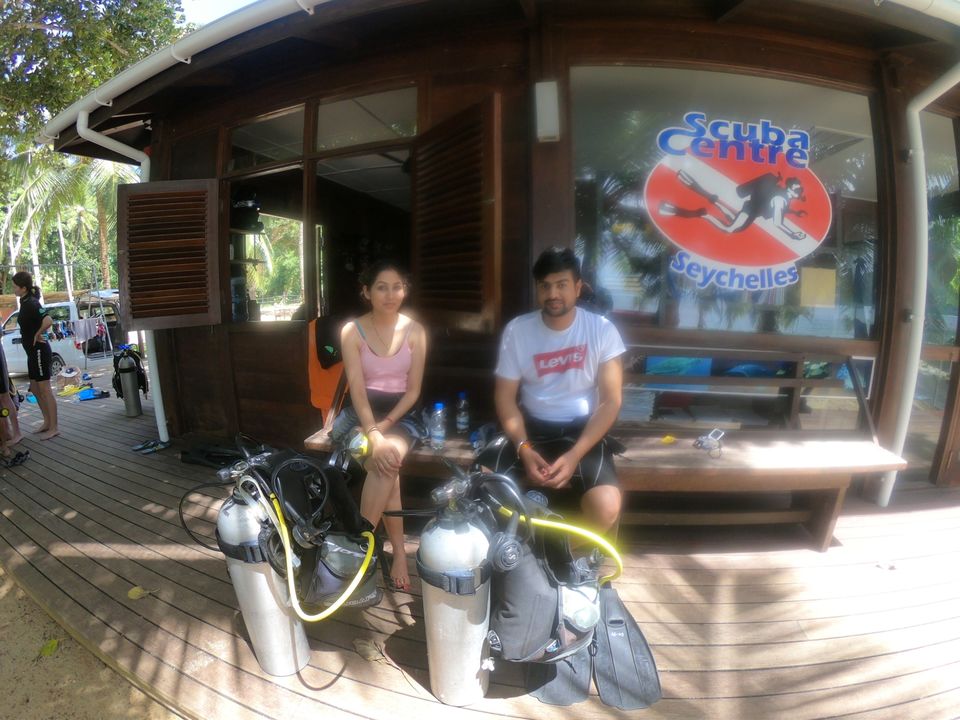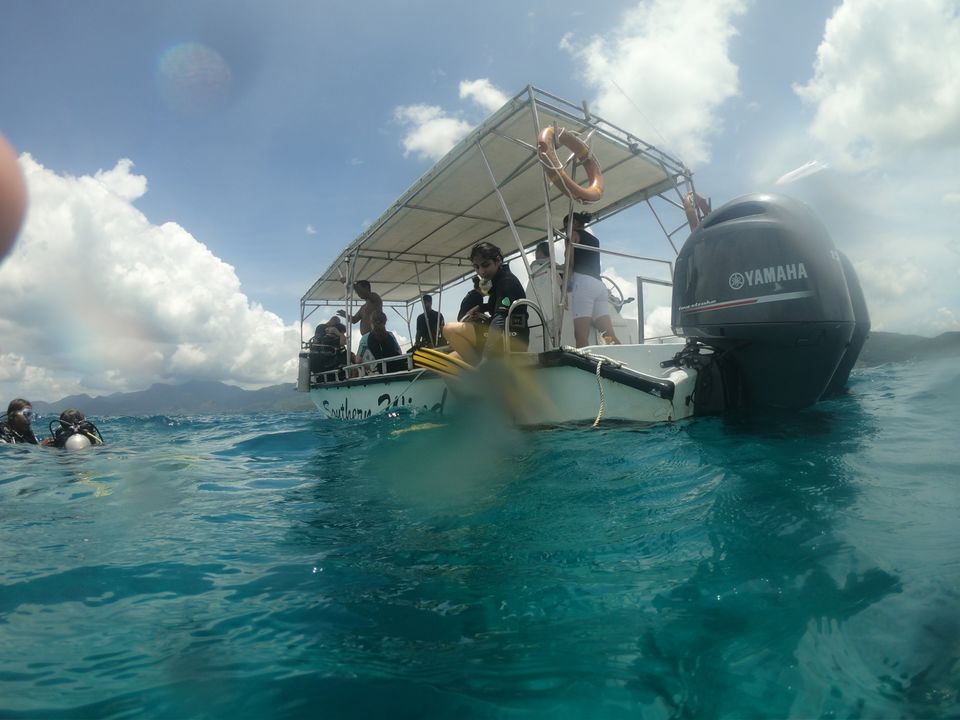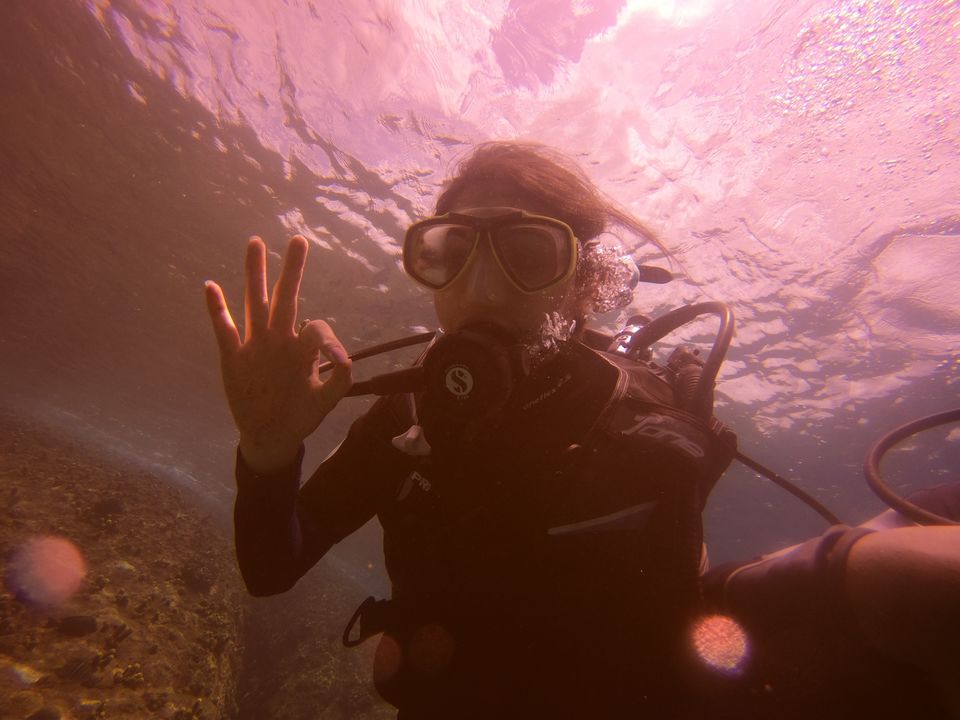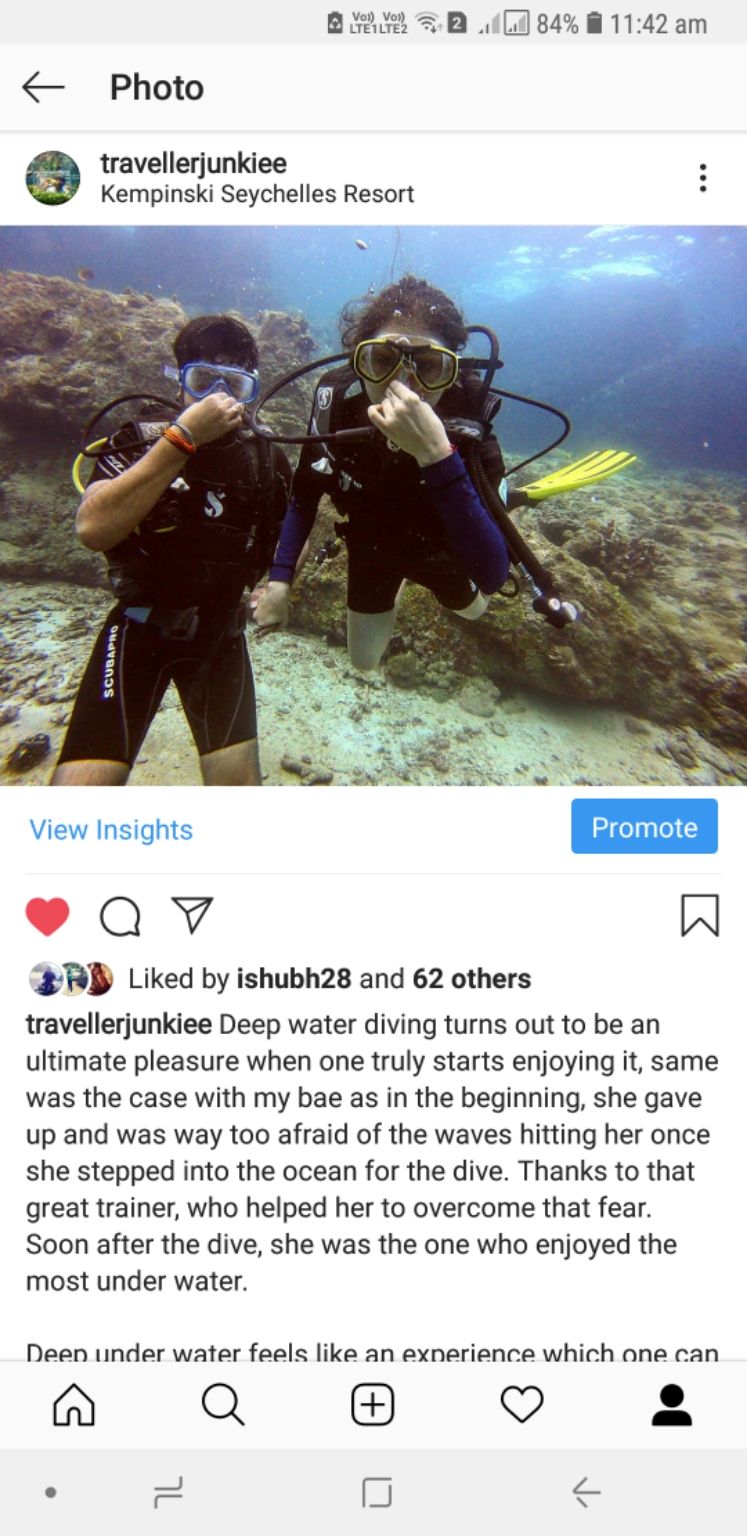 This was the when we said goodbye to Mahe island and headed towards Praslin island through the ferry ride. We were experiencing heavy downpour that day which resulted in high waves in the ocean and due to that most of the co passengers experienced sea sickness and started puking. After an hour's journey, we reached Praslin island and from there we headed to our hotel i.e. le relax, which was an Indian hotel and we were quite relieved as we were craving for Indian food. The staff here was very supportive specially the guy named Sagar, who was from Gujarat. In lerelax, you will be given only one time welcome WiFi of 300mb for free , rest you have to purchase. So guys have lerelax as an option for food only as the rooms are also too small. Moving on we completed our check-in formalities and we were quite disappointed with the quality of the stay. So we started exploring the hotels backyard which was again a beach and that too white sand beach, which made a perfect backdrop to get clicked and we started exploring along with the downpour and after sometime we relaxed our mind with perfect poses for the camera. Rest the day was at laisure.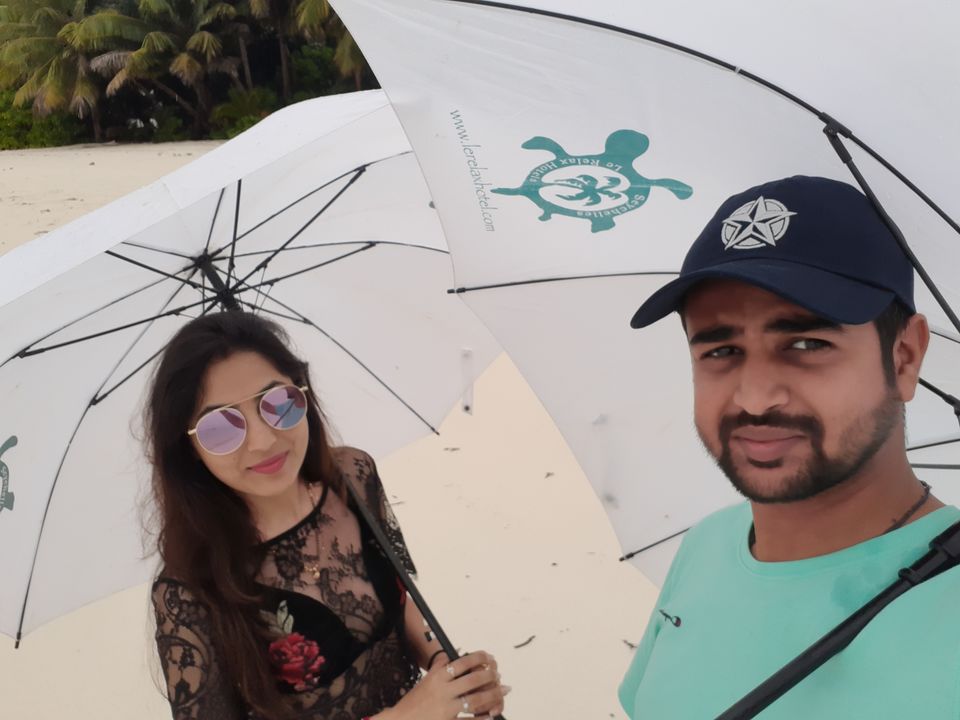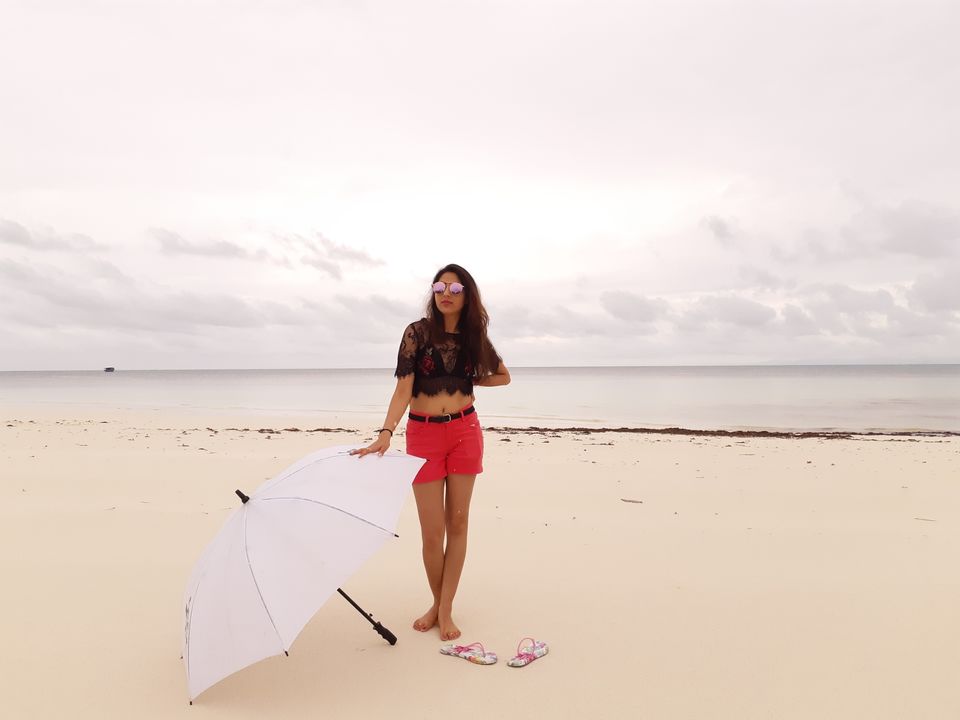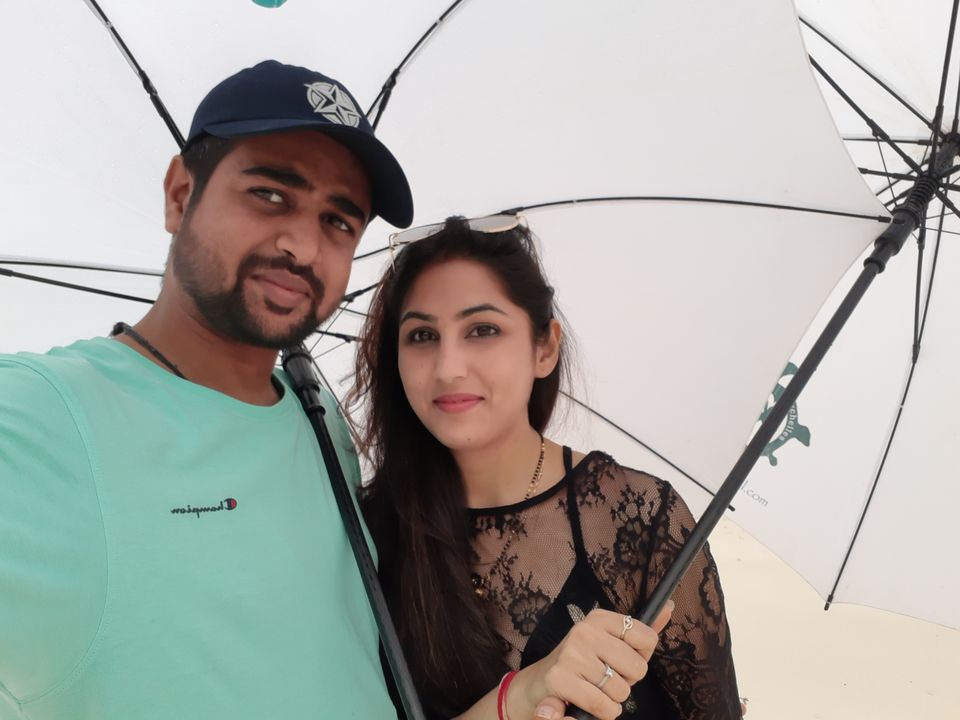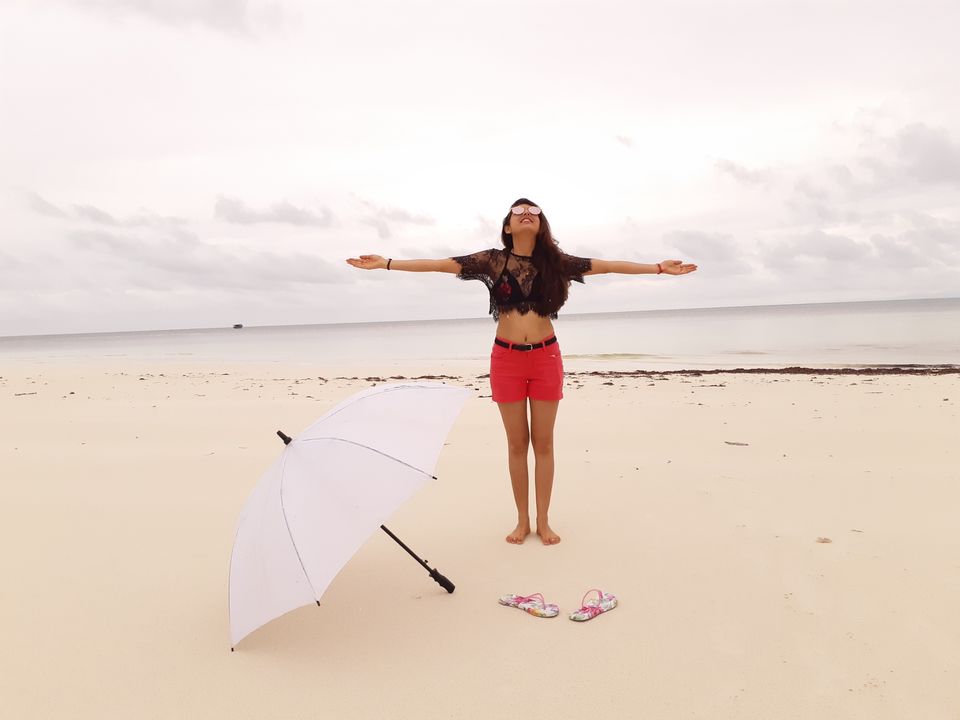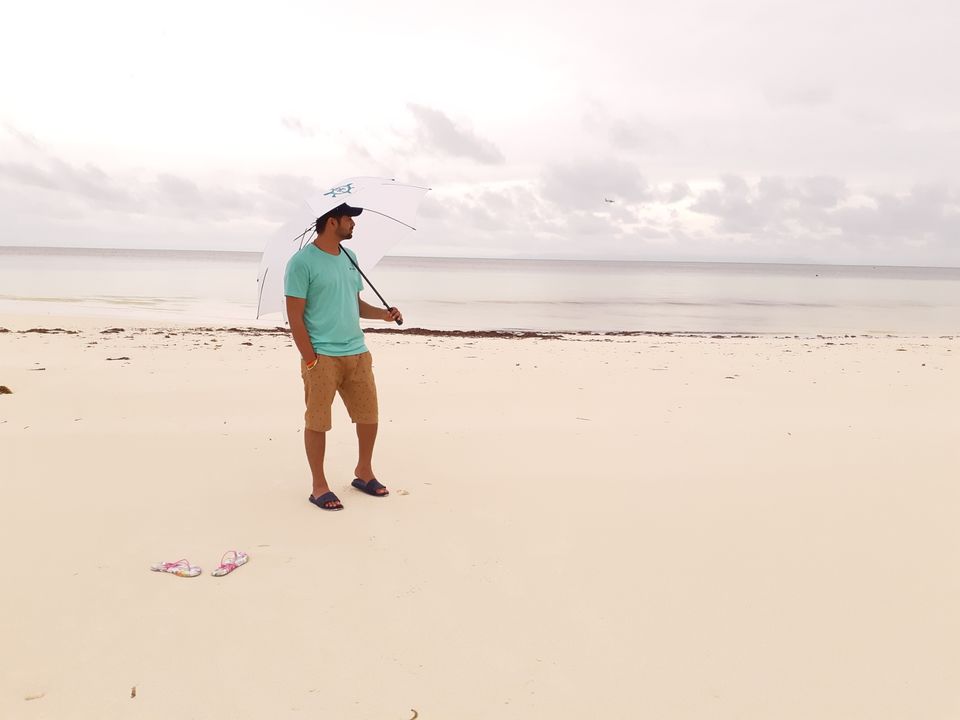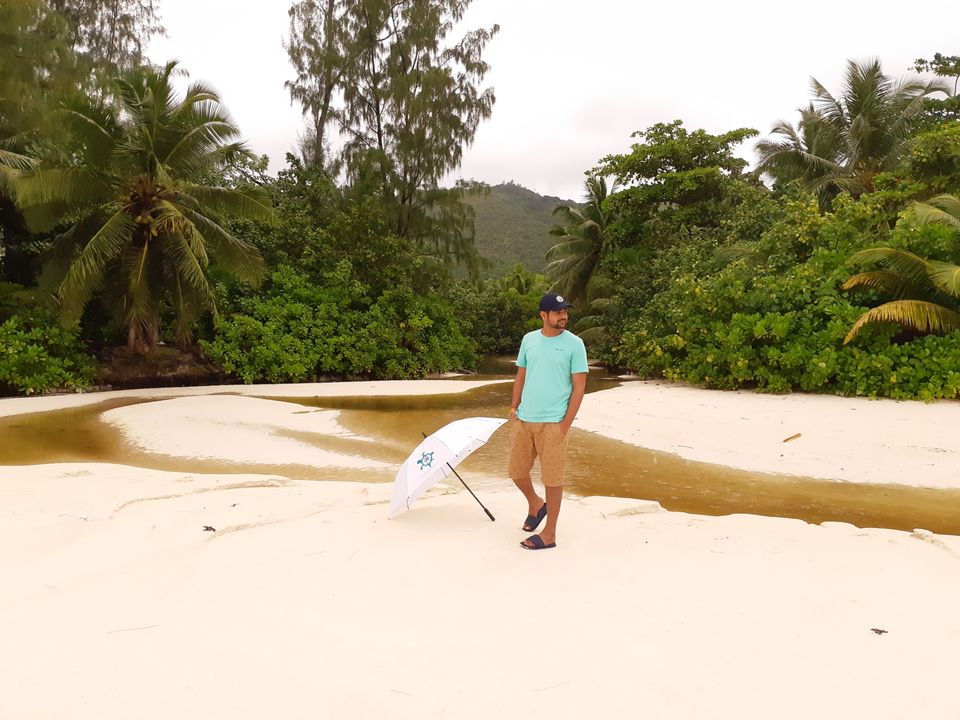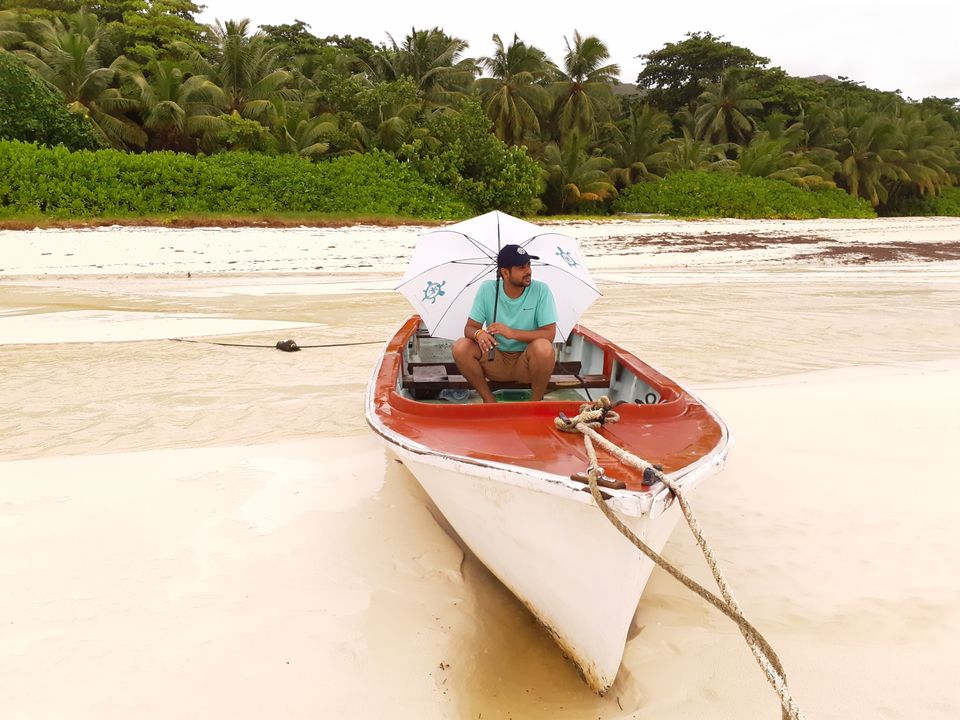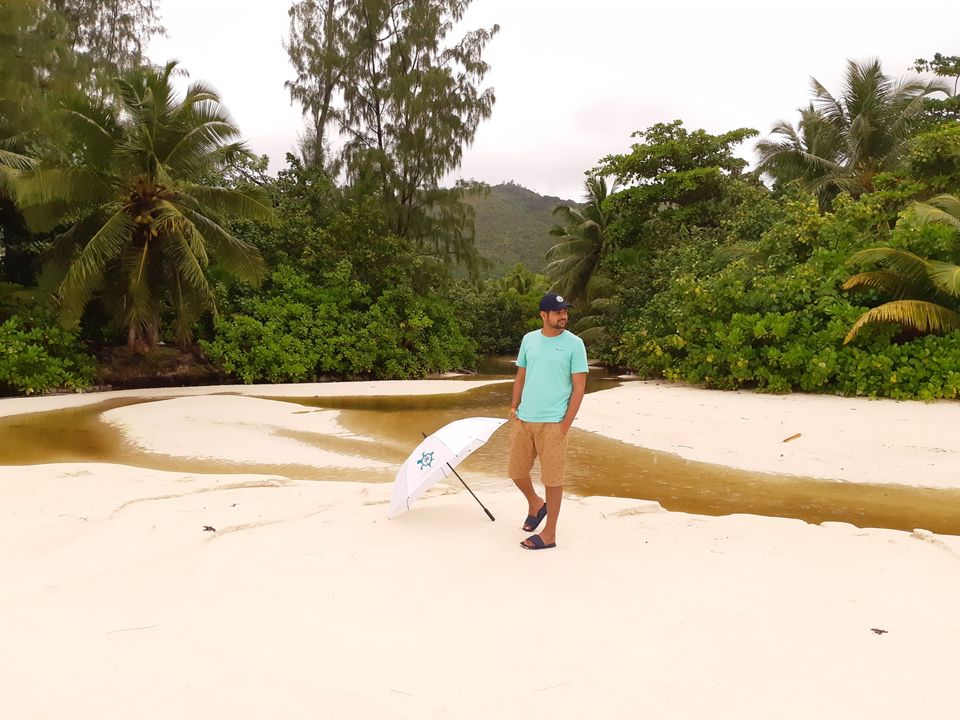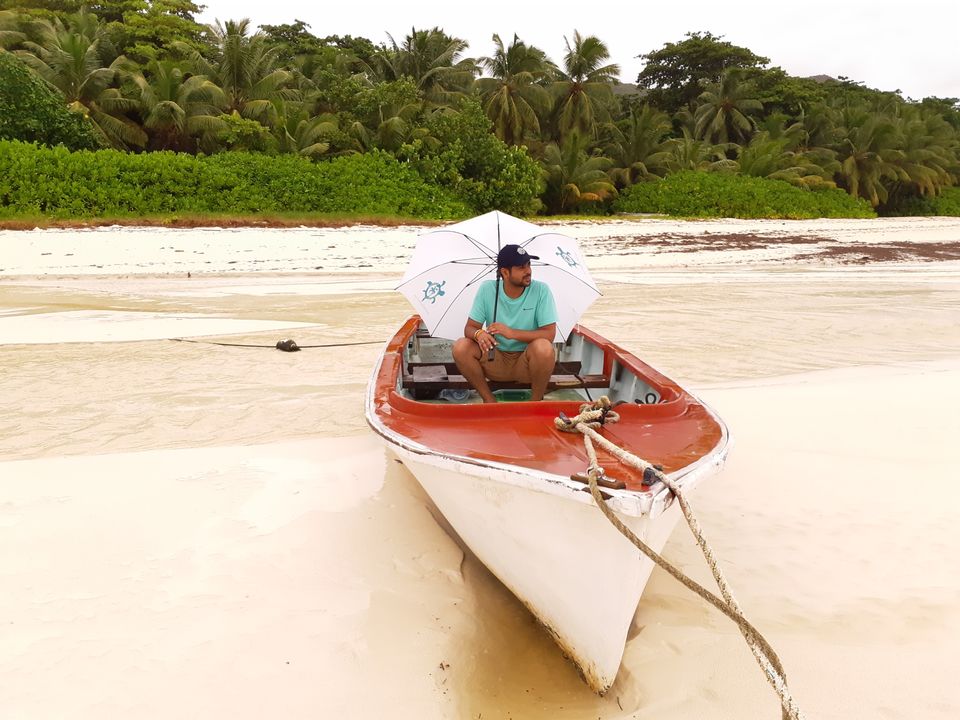 5th days excursion was pre-booked by us for Ladigue Island, which was just 15-20 mins away from Praslin island through ferry and Ladigue is the only island in Seychelles, which is very picturesque and you can roam around the island either through bicycle or by walk as the cars are not permitted on this Island. This is the smallest island of this nation which can be covered entirely by walk or through cycling. And this island is filled with giant tortoise which is one of the famous attractions in Seychelles.
There is a cost involved of 155 seychellian rupees as an entry to the famous beach of Ladigue and the only chance to meet and feed these giant tortoise with your hands.
Note: upon visiting these giant species, kindly feed them the green leaves as they love to eat them.
Over here also you can find 2-3 Indian restaurants, one of which is lerelax.
Or other than that you can only have cheeze pizza as a vegetarian option.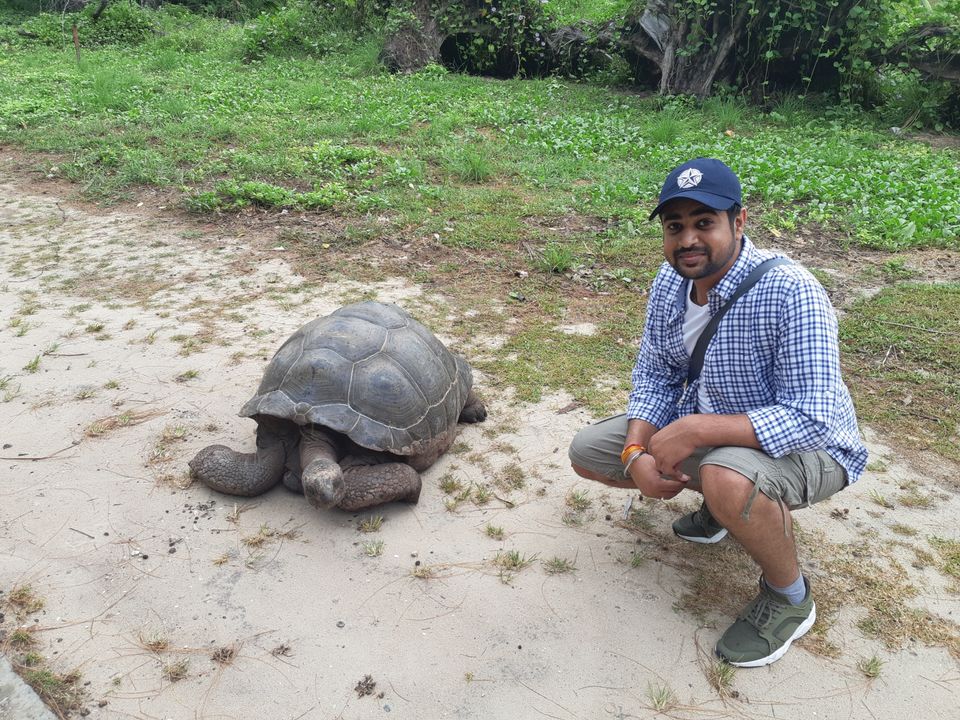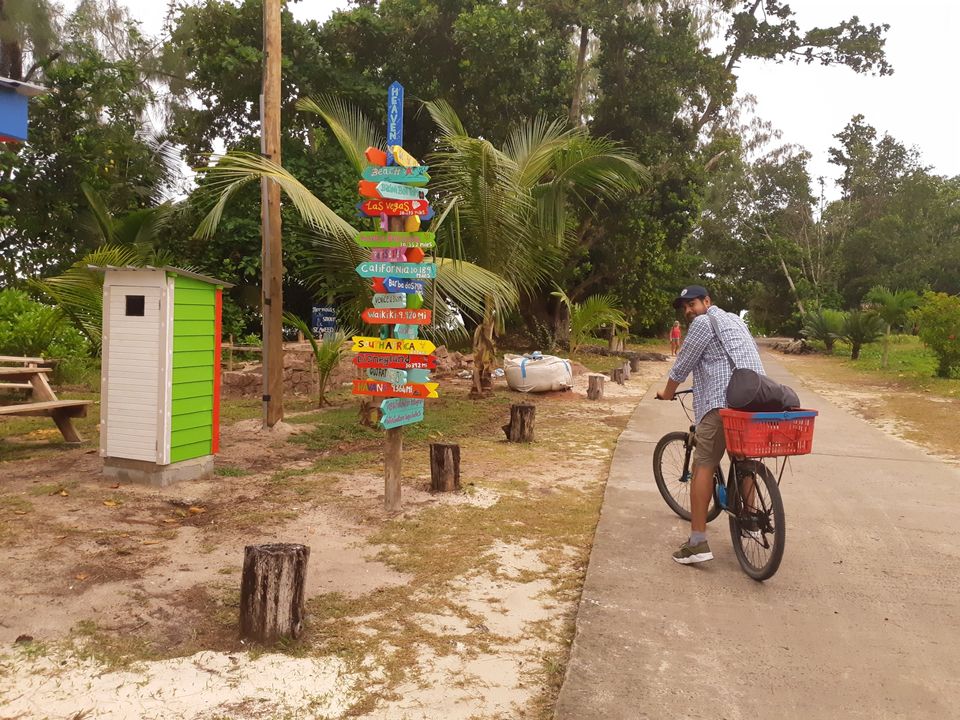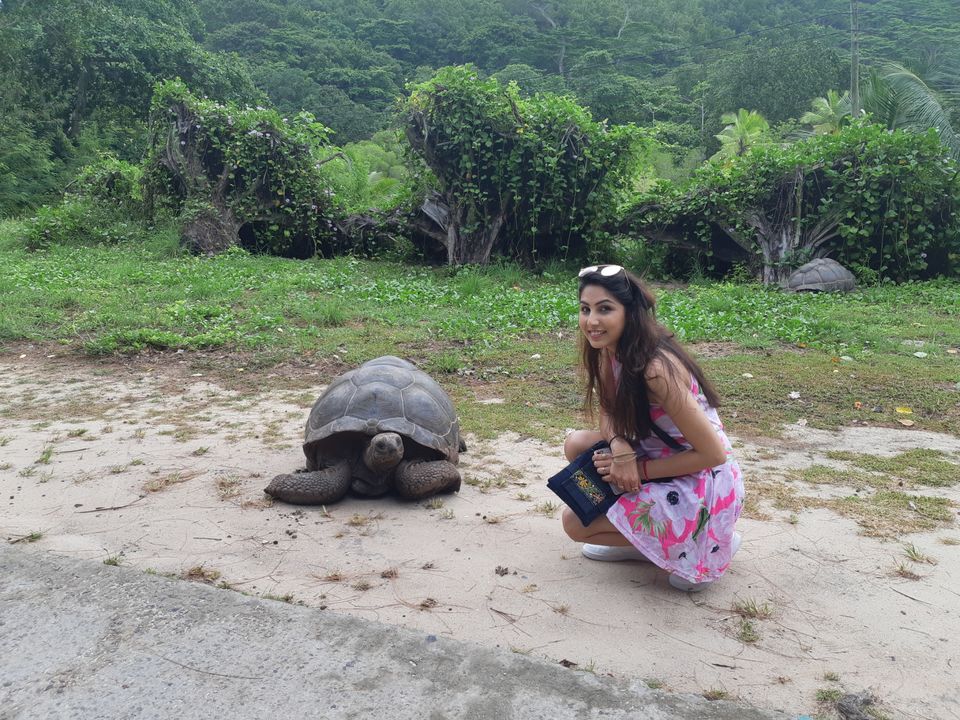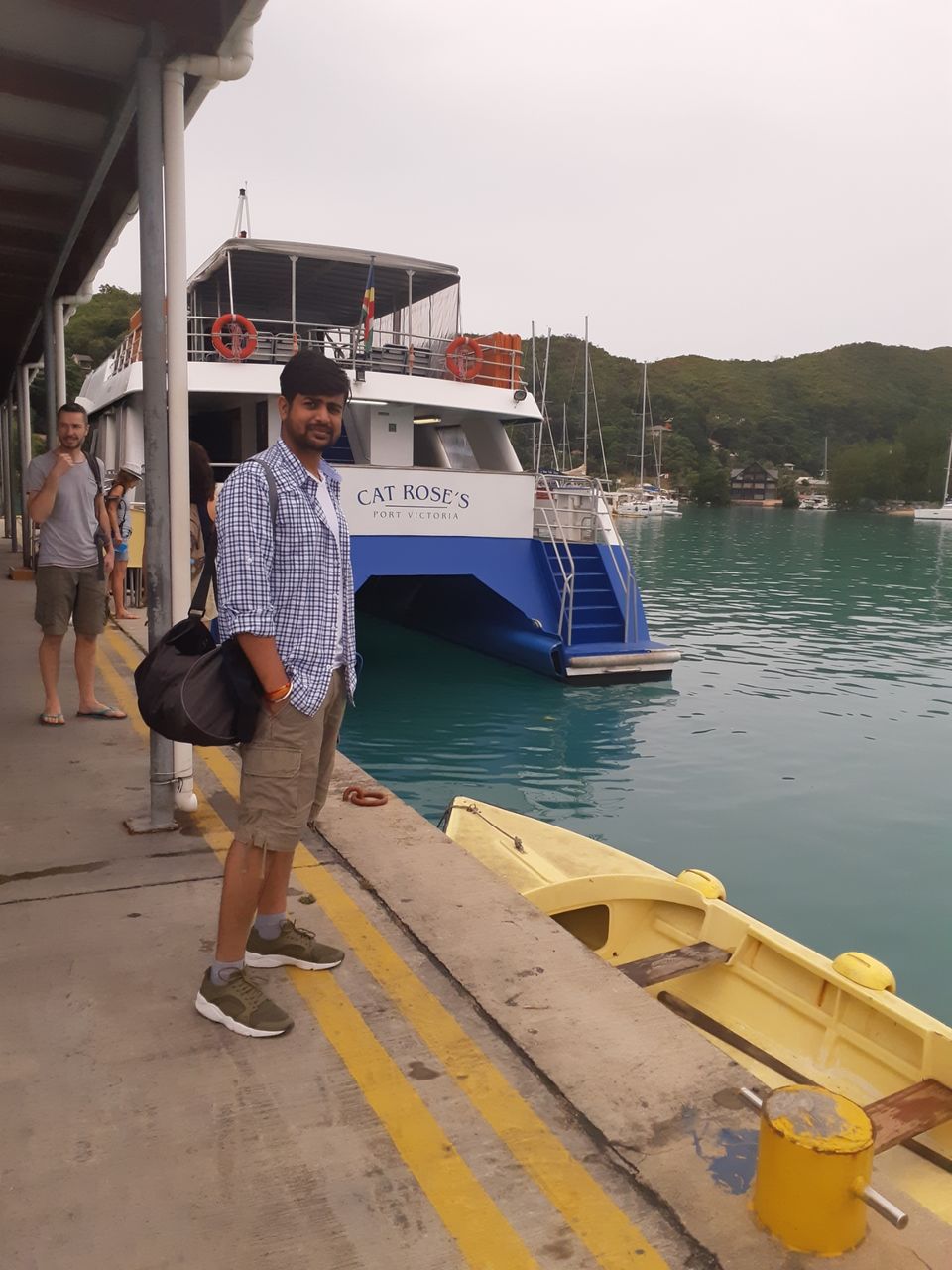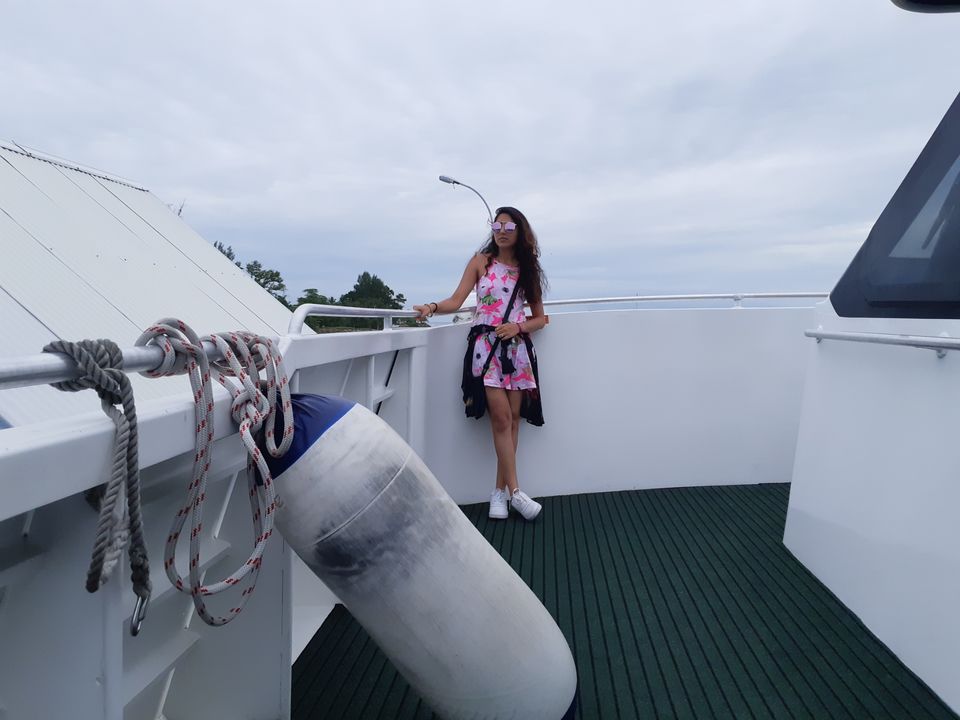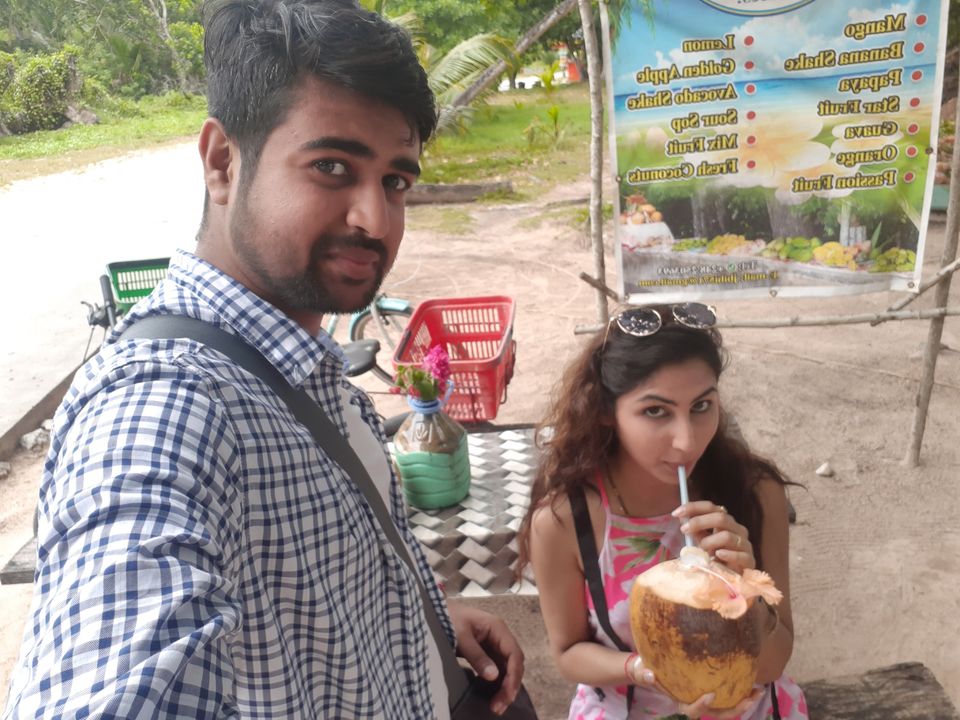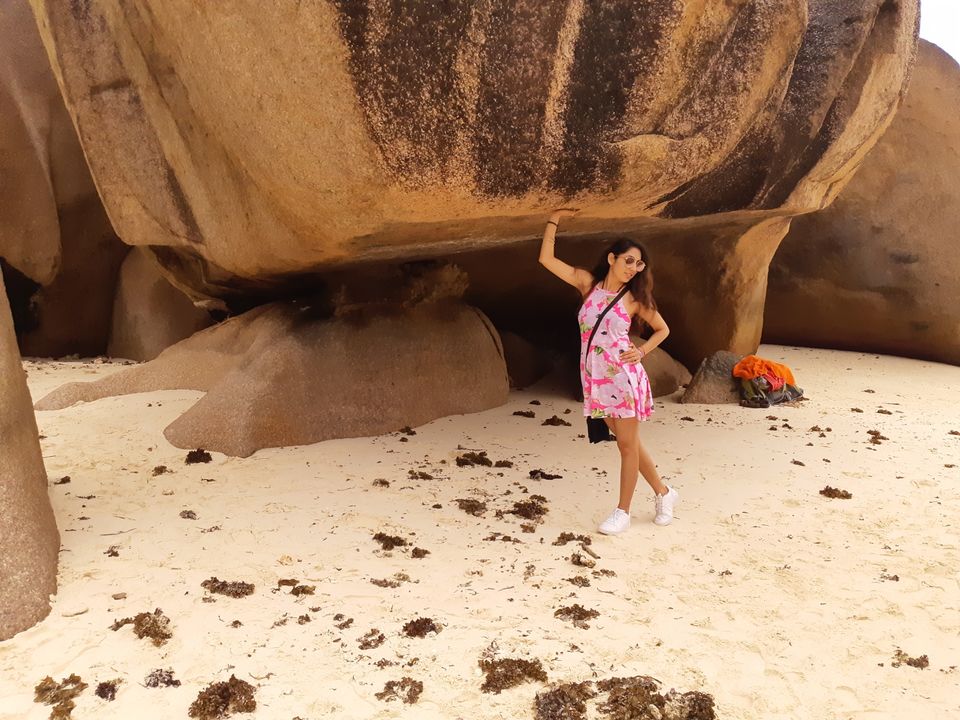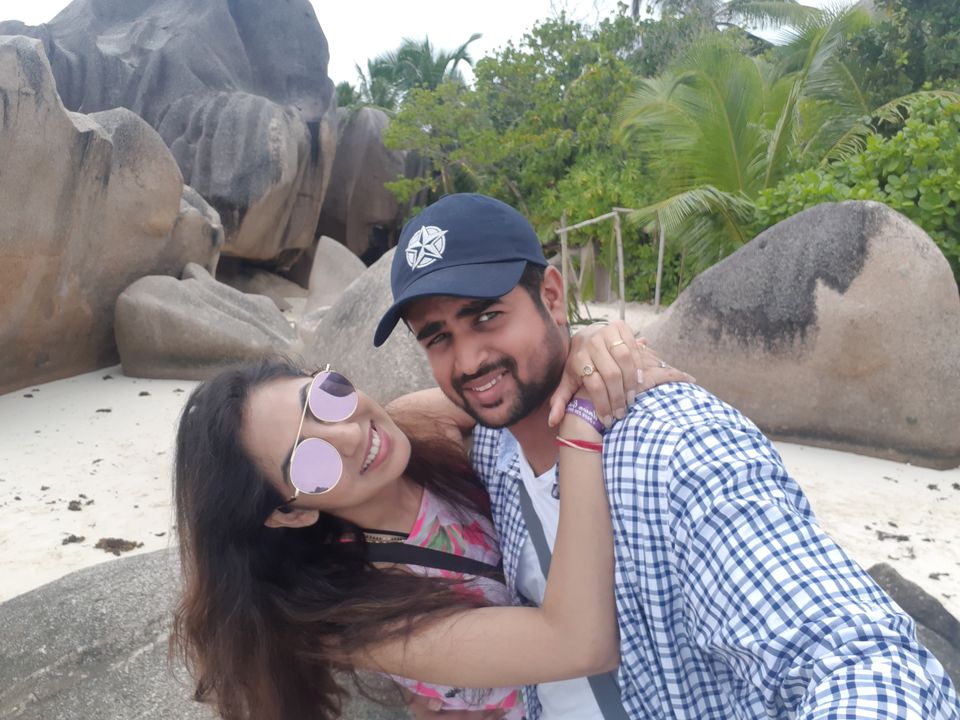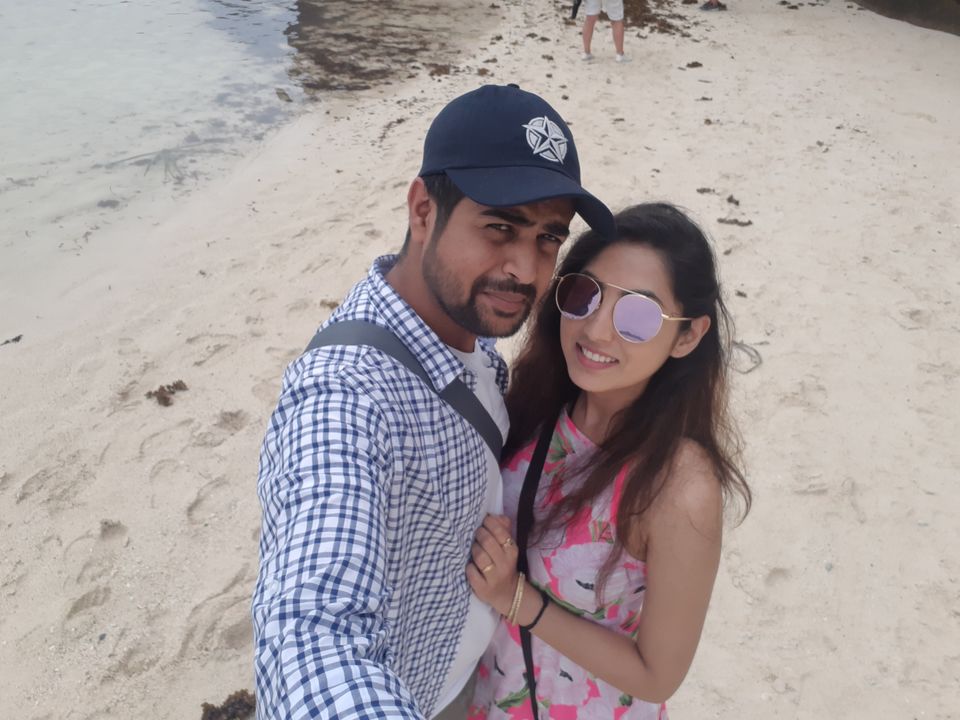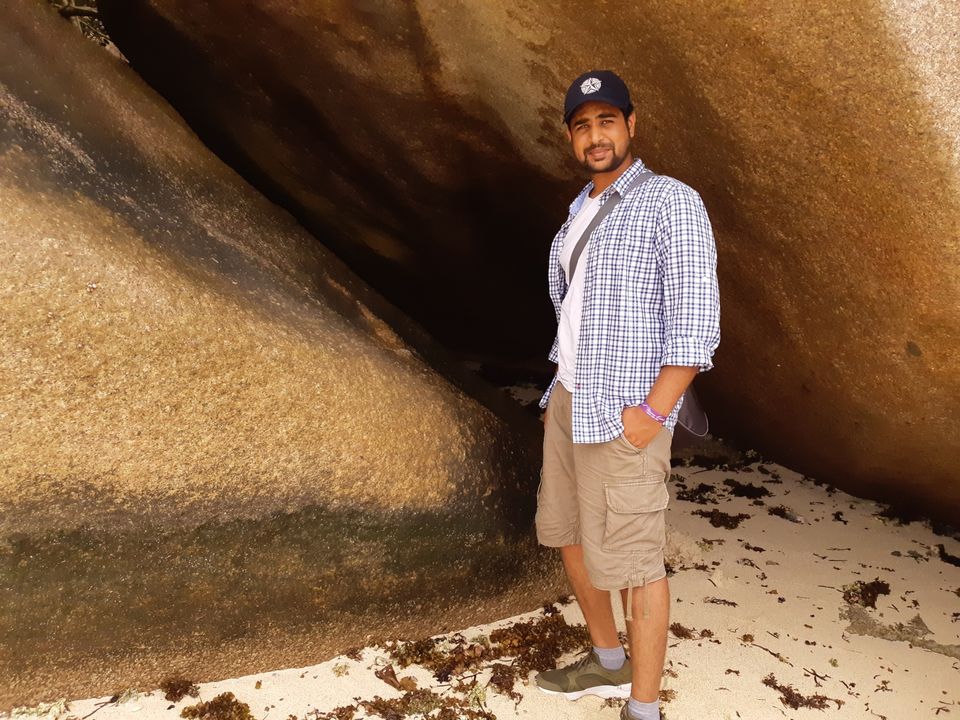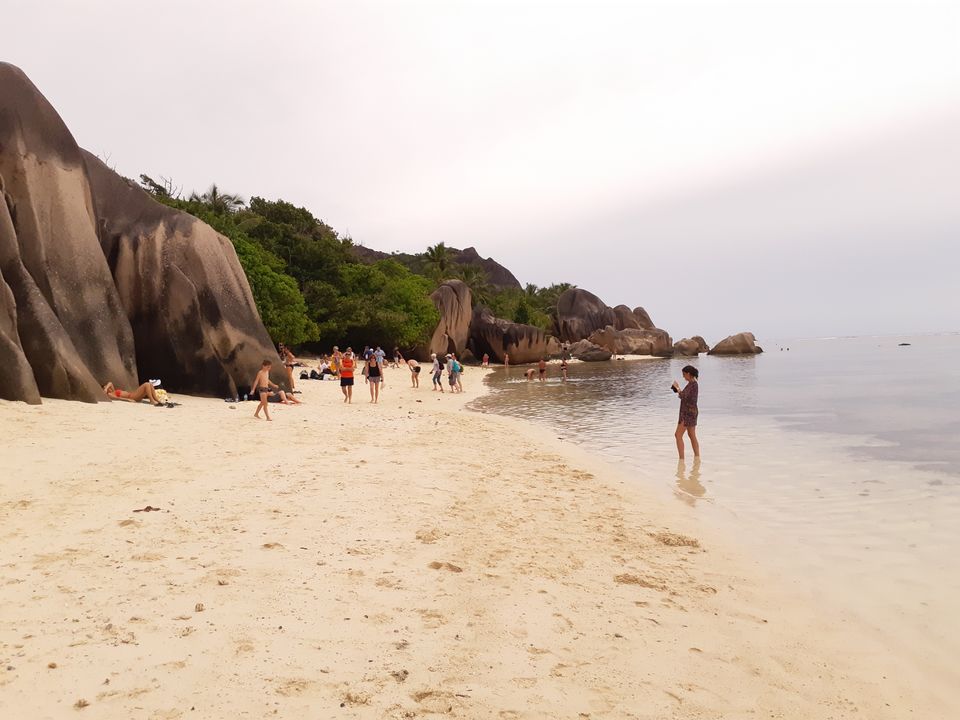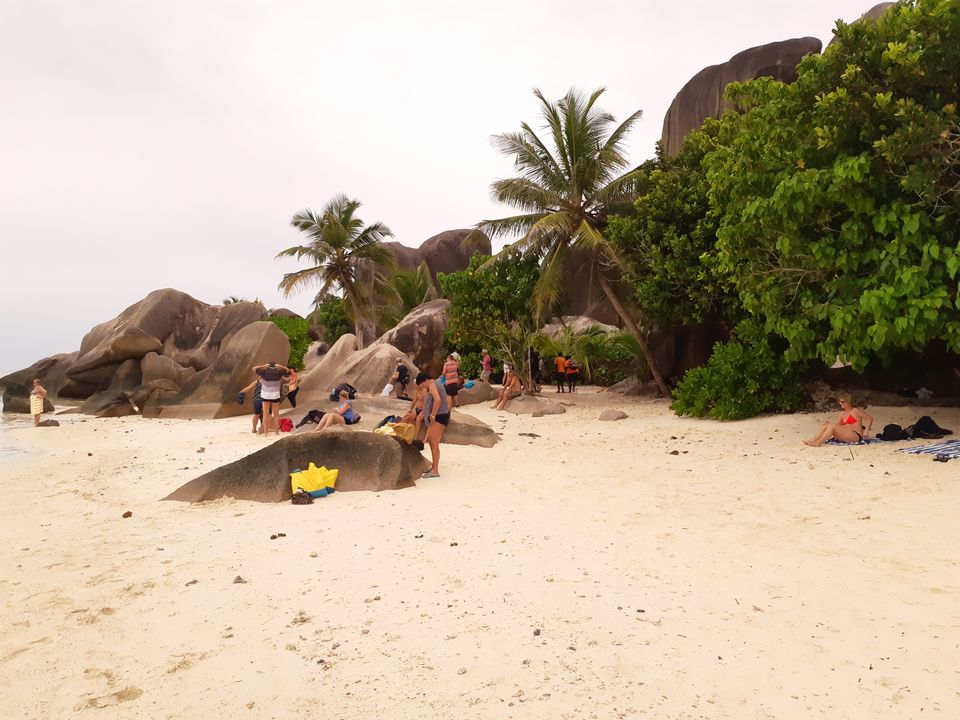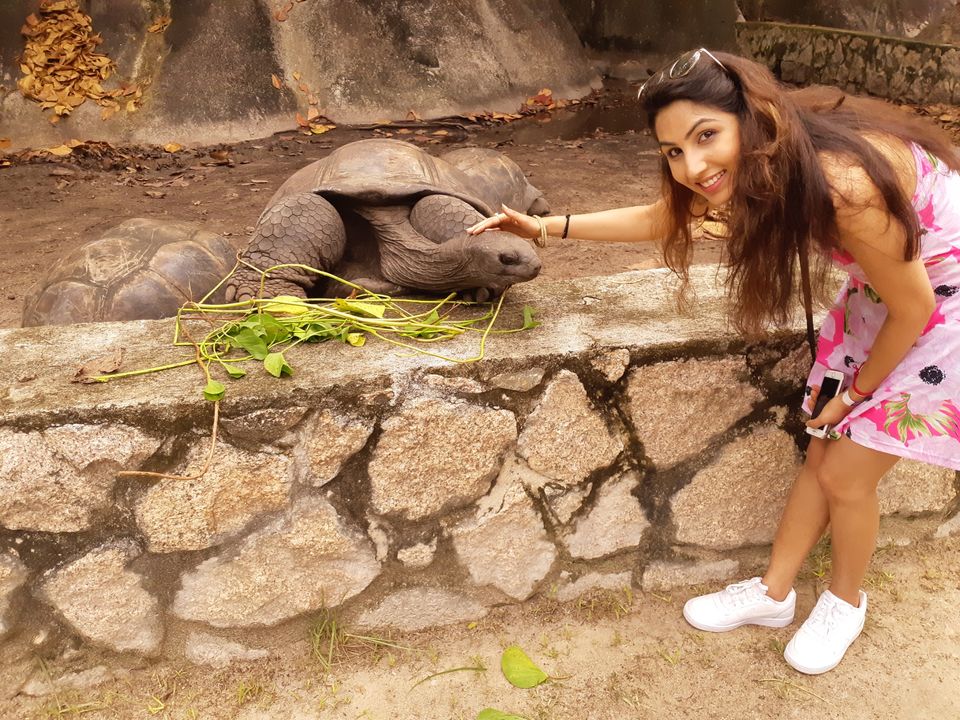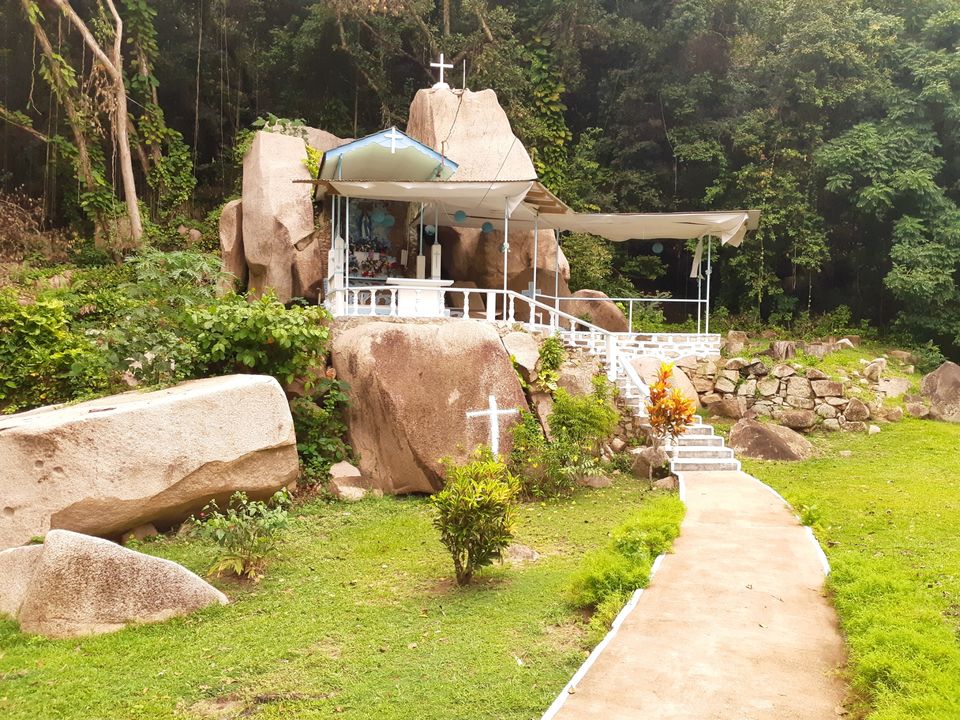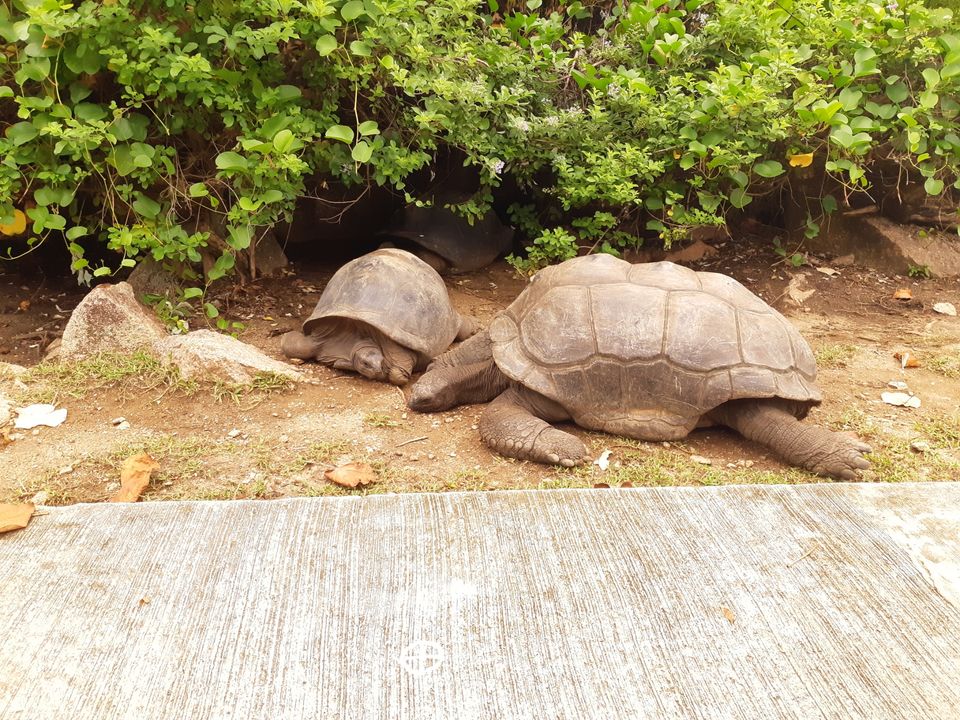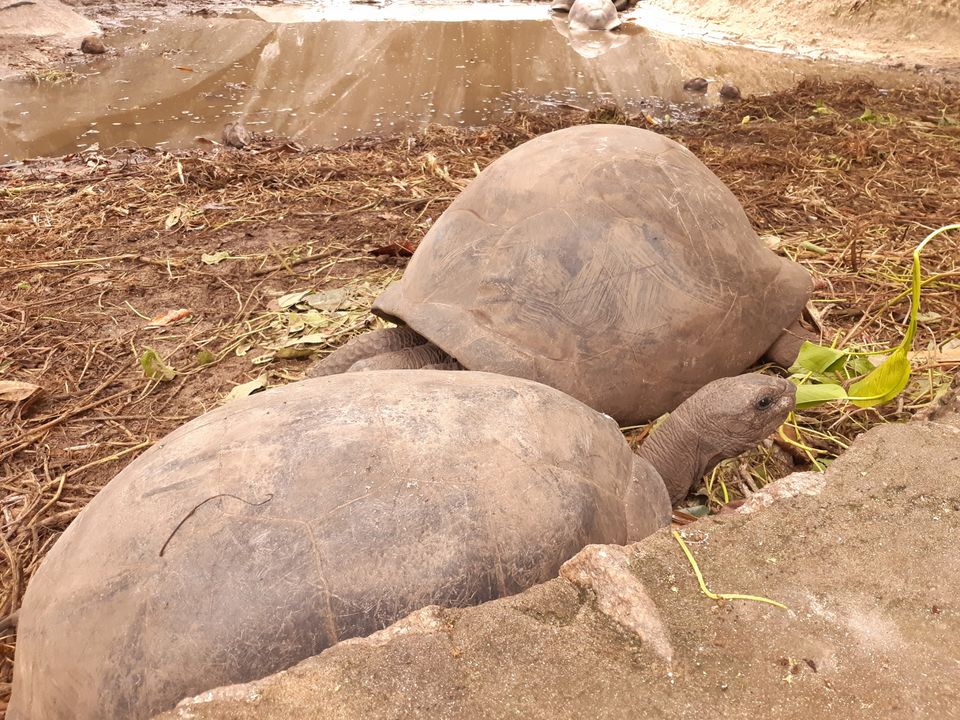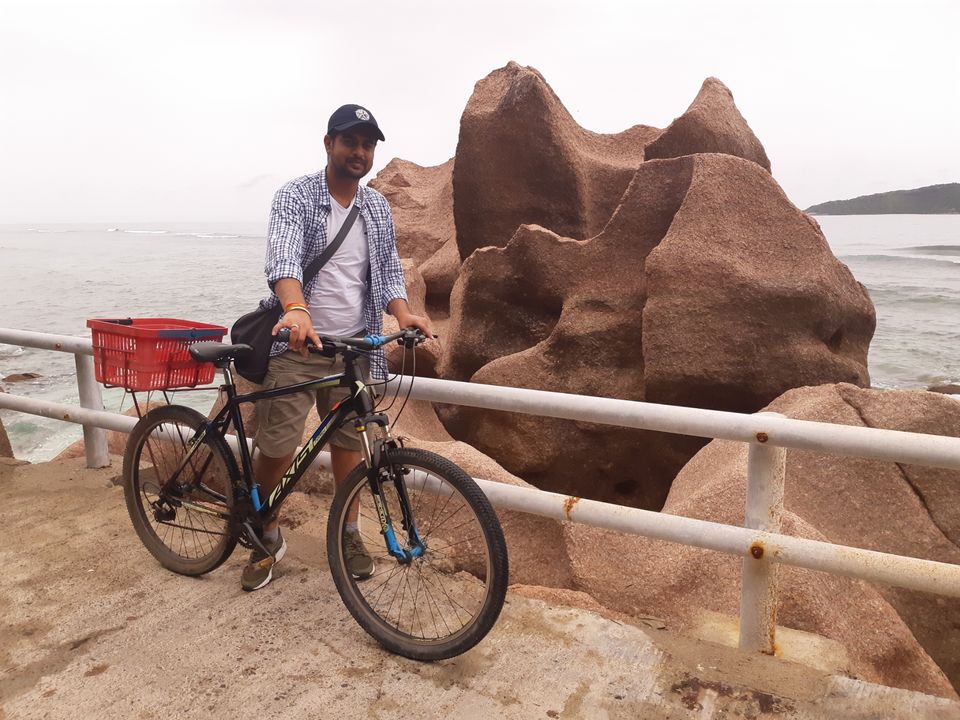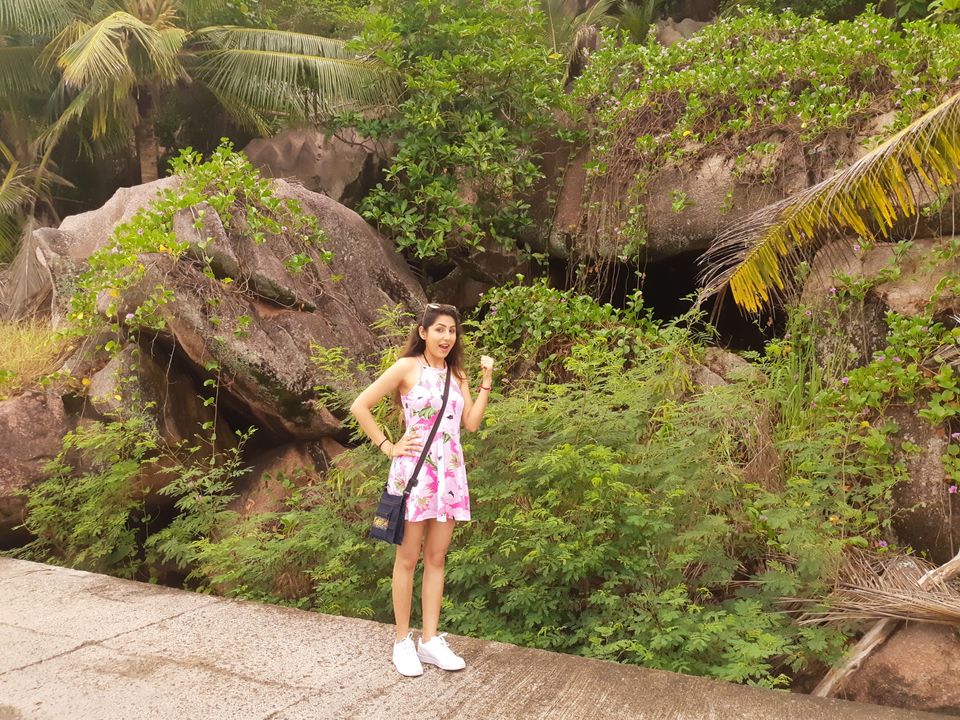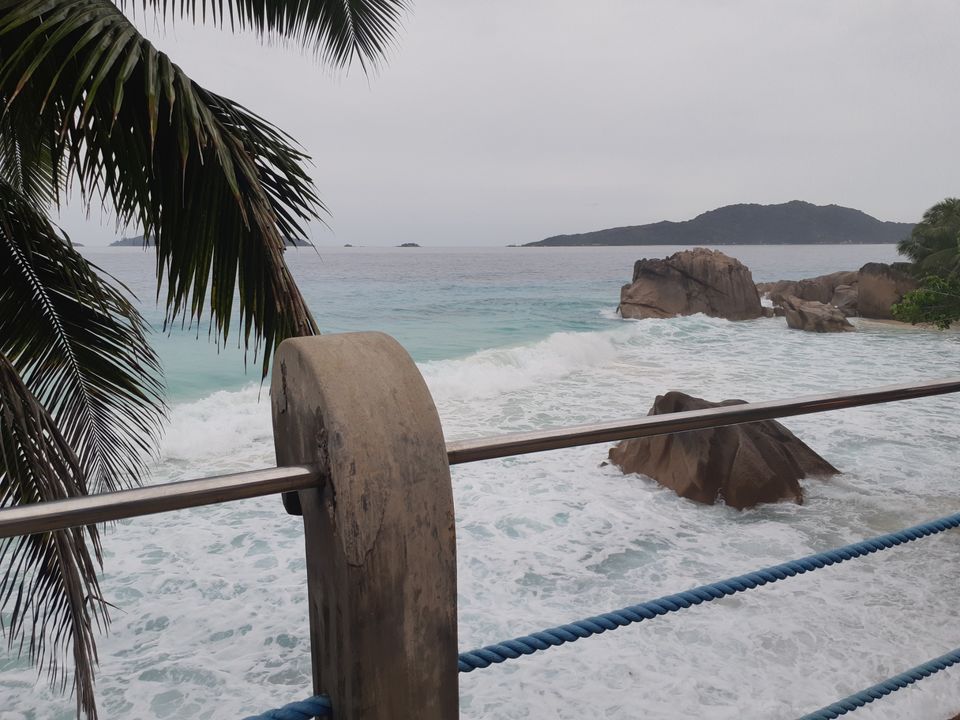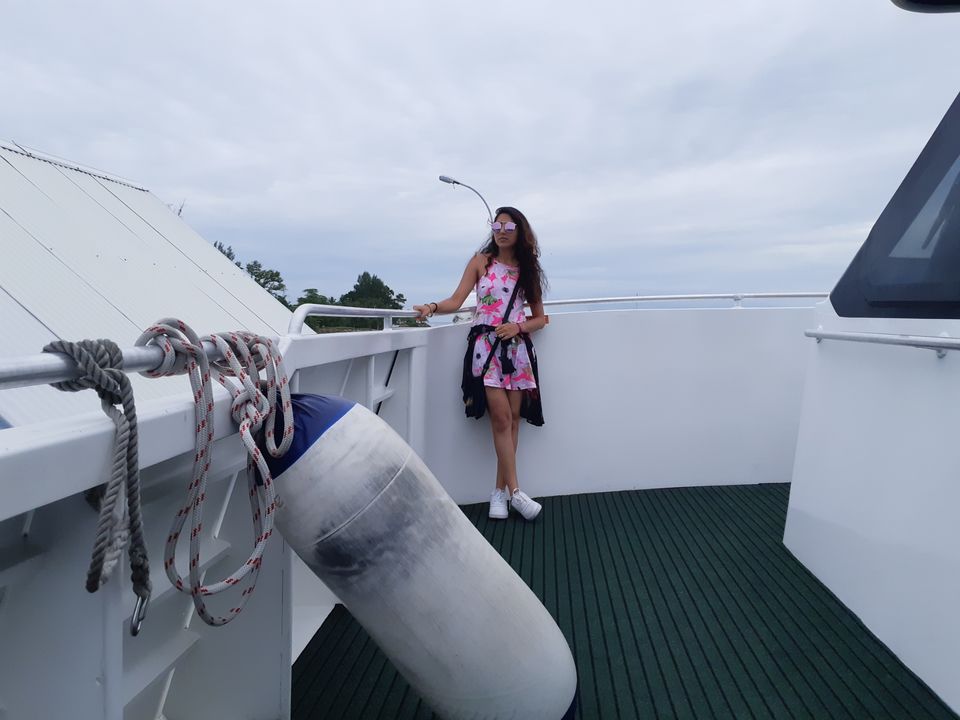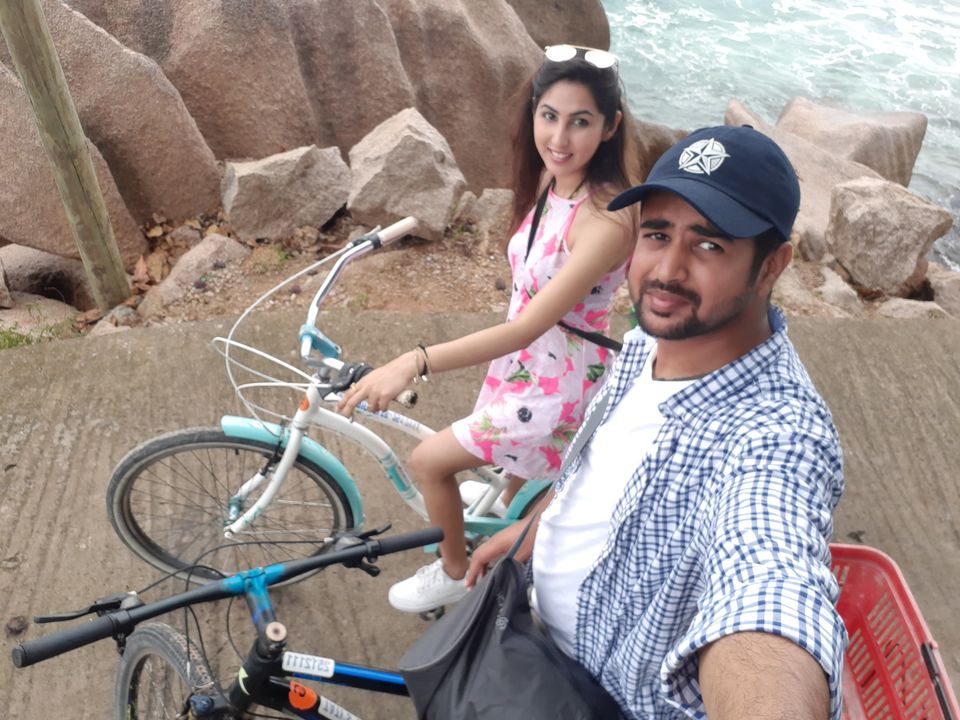 This was our last day to explore Seychelles and many things were remaining to cover, specially the very famous beach of Anse Lazio and also, vale de Mai and Anse gorgete.
This time instead of renting a car we opted to use bus as a mode of transportation. The best thing is that wherever you want to travel you can travel just by paying 7 seychellian rupees per ride and there is only 2 bus routes in Praslin and each bus is available in an hour's time. The list of the places to visit and bus timings were provided by the hotel manager.
Upon discussing with the manager, we were told that Anse gorgete needs, prior booking of 3-4 days if one has to visit this beach, so the same was cancelled from our list to visit the destination. Secondly we had to go again for shopping, so Cotd'or was the name suggested to us and we had planned to cover Anse Lazio for sure. So we started off with Anse Lazio as our first destination, which was the last stop of the bus route no. 61 , where we had to debord at Anse Bouden and from there it was a 20 mins walk and the walk was too tiring as the route was very sloppy and either it had inclination of 45 degree or 45 degree downwards. But the journey was worth the effort. Soon after the completion, we again get greeted with the grand species of tortoise at the start of the beach and again we feeded them with the green leaves and watching them eat was another satisfaction that one can feel of you are a nature lover. Then we entered the beach and the view was just magnificent and was not at all feeling like to leave this place.
After spending some awesome time here and clicking the picture, we headed back to the bus stand which was again a tedious task to complete. After boarding the bus we headed towards cotd' or for shopping and while doing that we accidentally landed up on another white sand beach with the very famous bent tree of Seychelles over here and had some pictures clicked with it and then had a long walk along the beach with hand in hand of each other like a perfect romantic walk. After the entire activity, we headed for souvenir shopping, but as i said on Victoria visit, kindly shop for anything over there only, nothing interesting was found over here and whatever was available, was available on a higher price with less of an option.
After all this we had a shortage of time so couldn't make it for vale de Mai, instead we headed back to our hotel and spent some quality time there and again had some great sunset pictures of ours to cherish upon.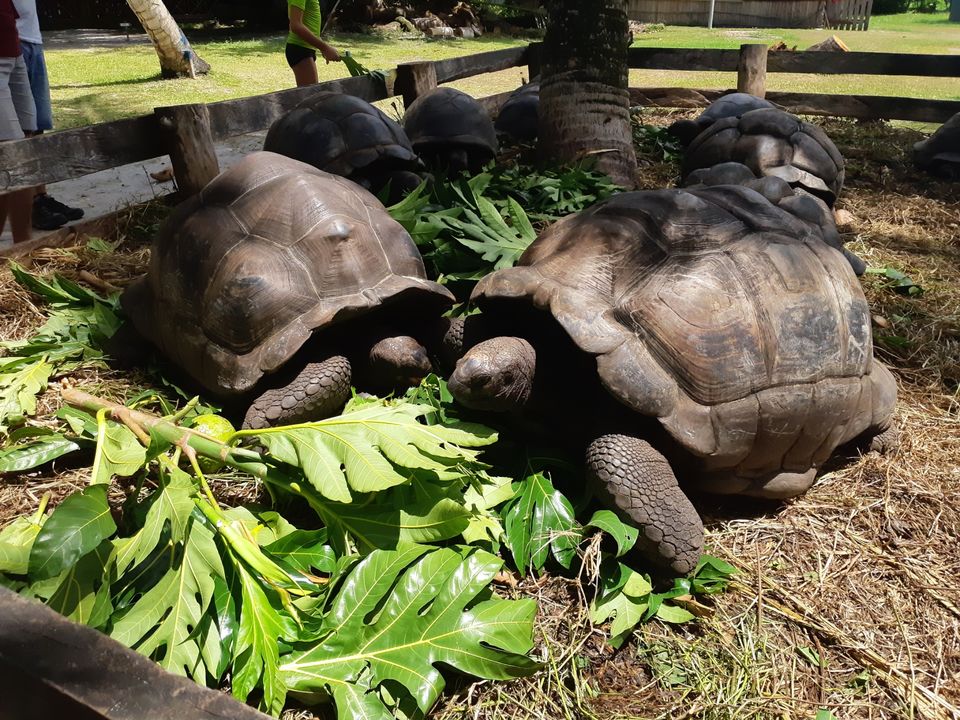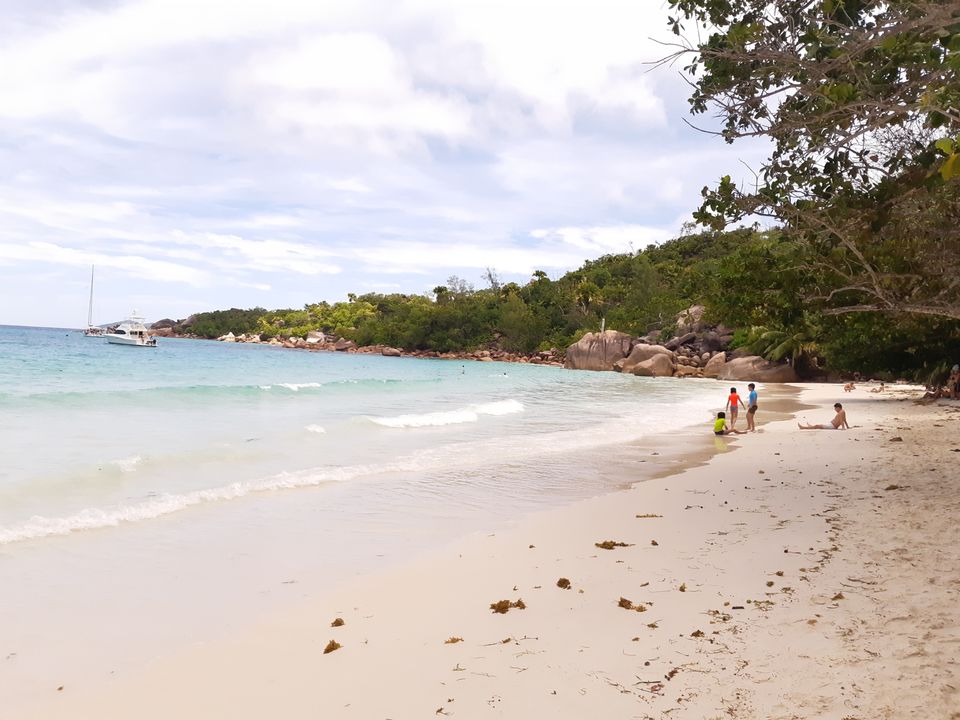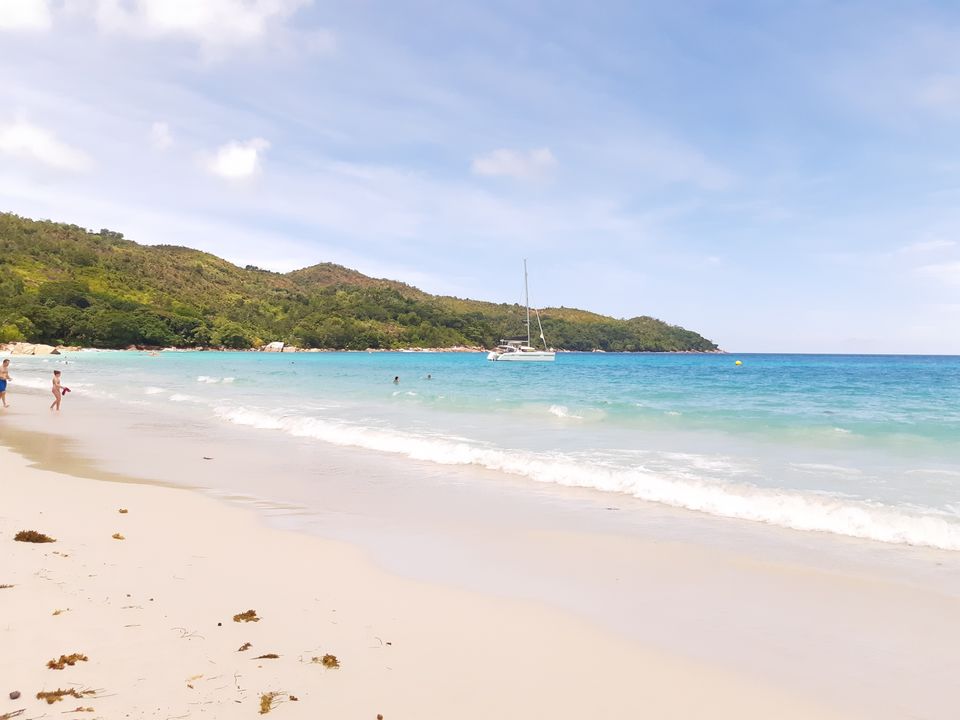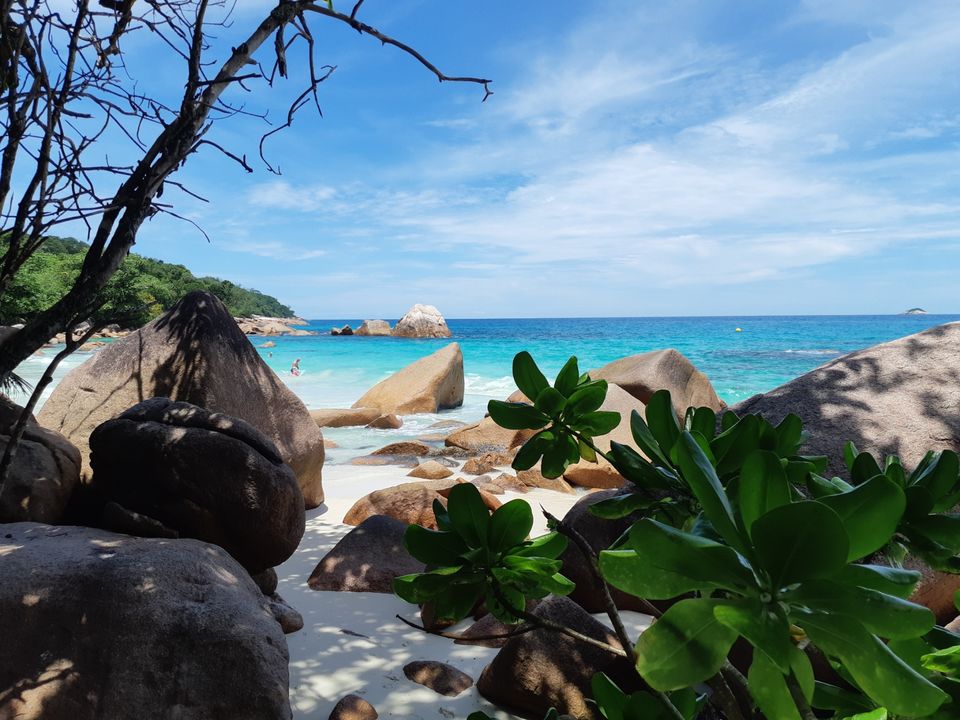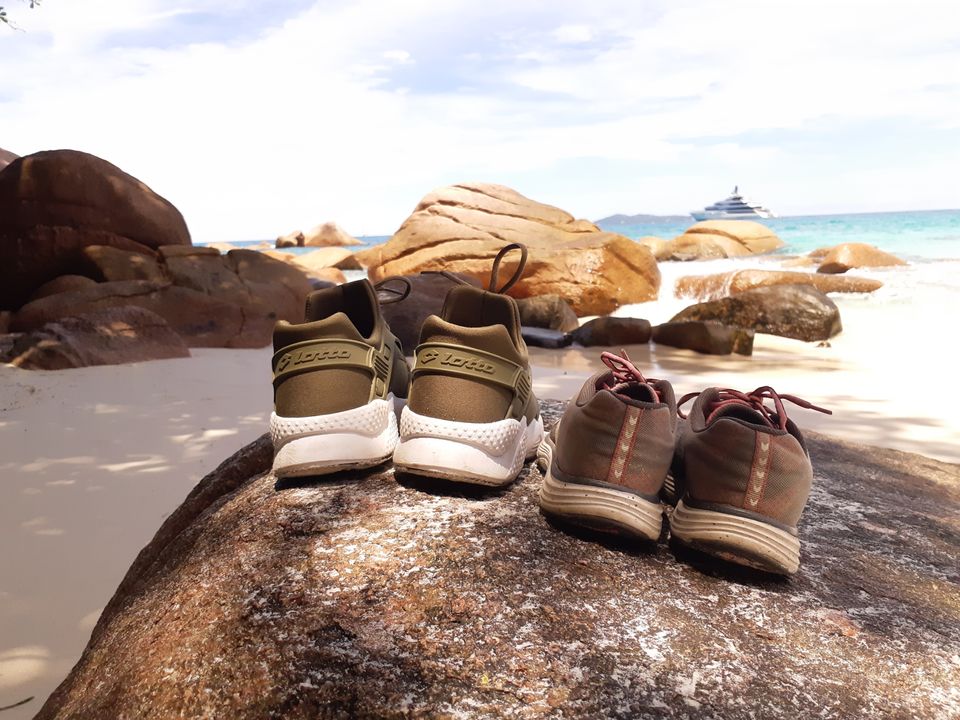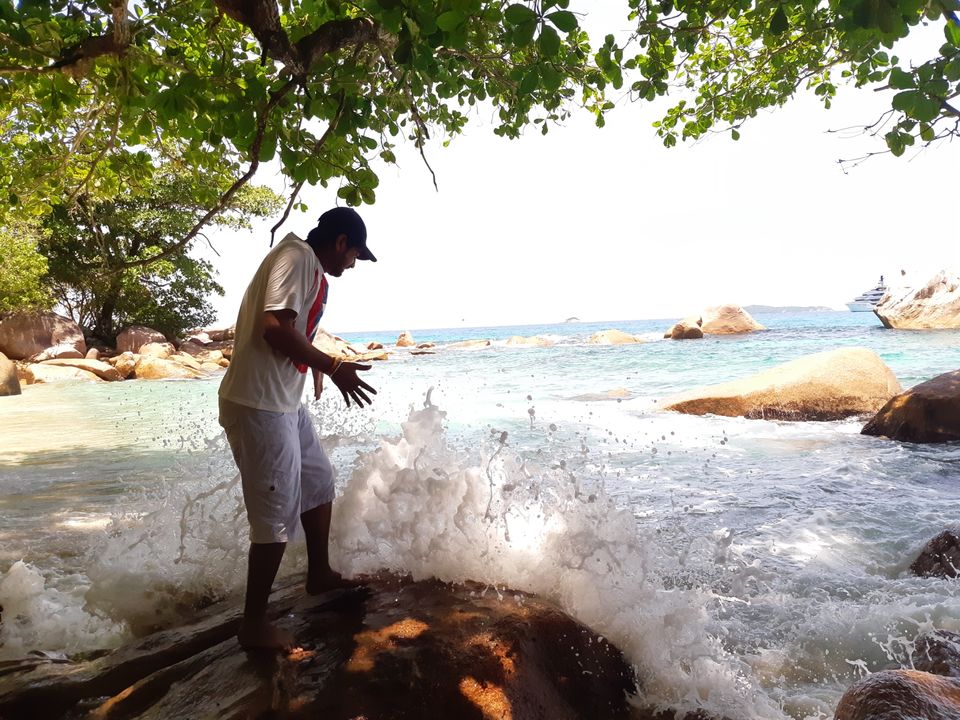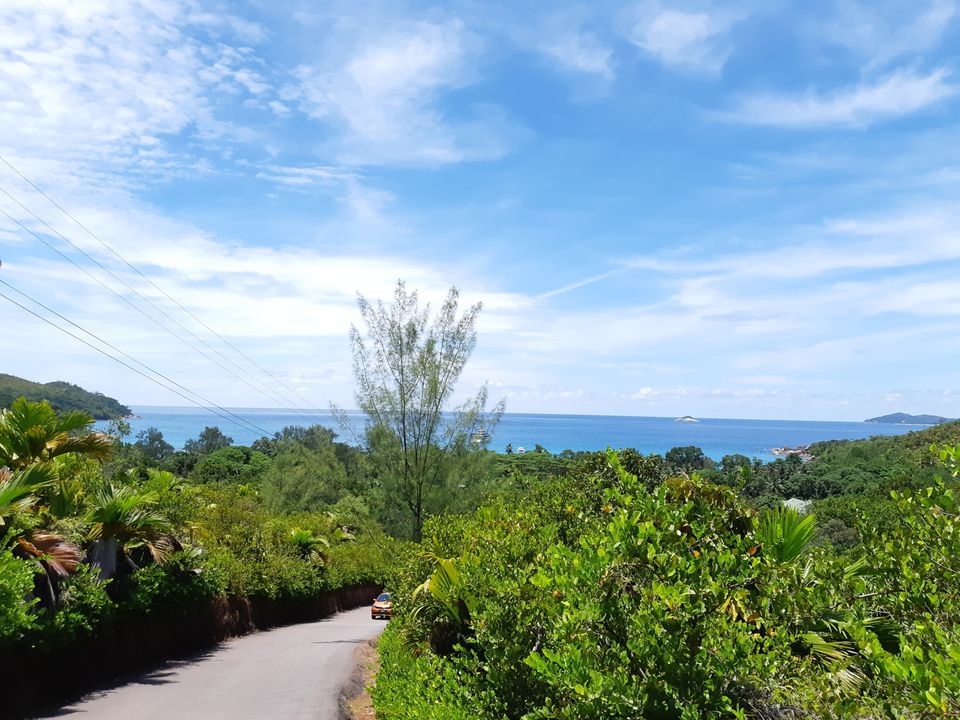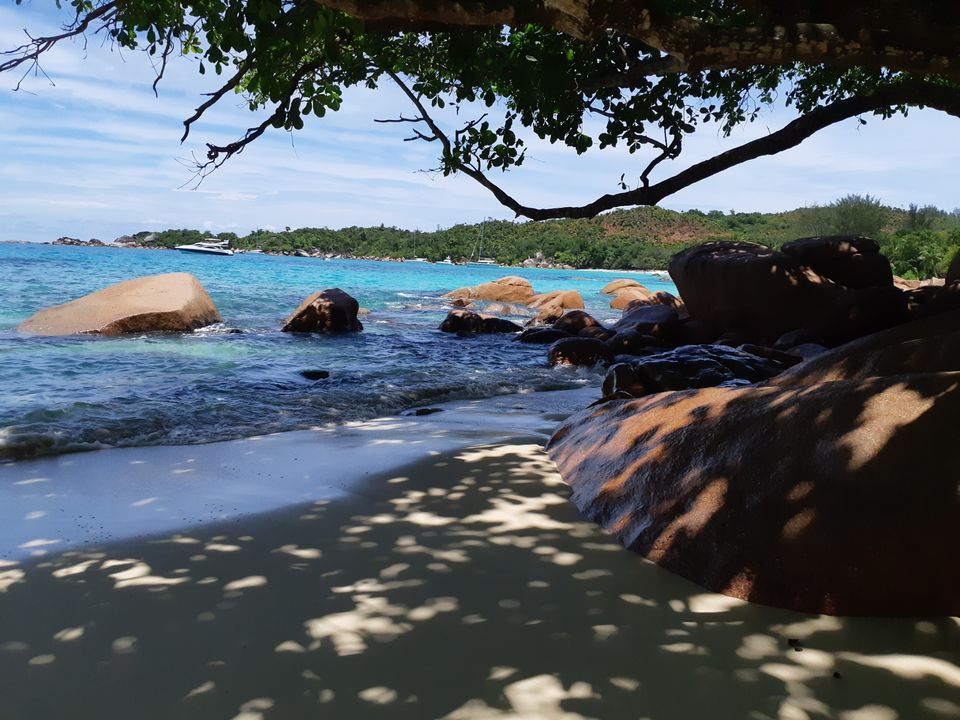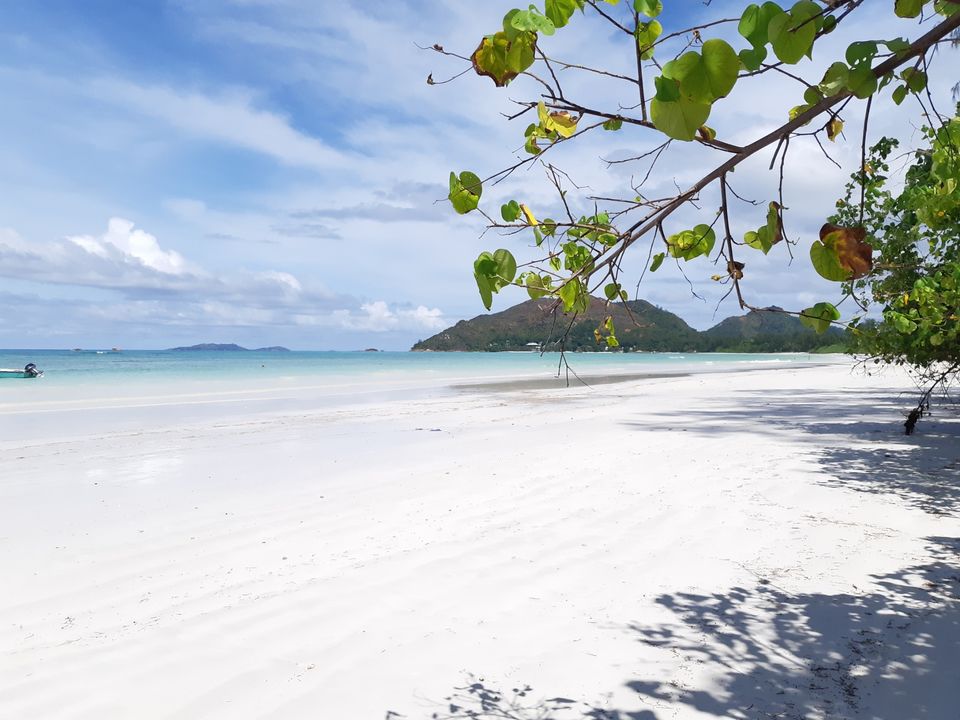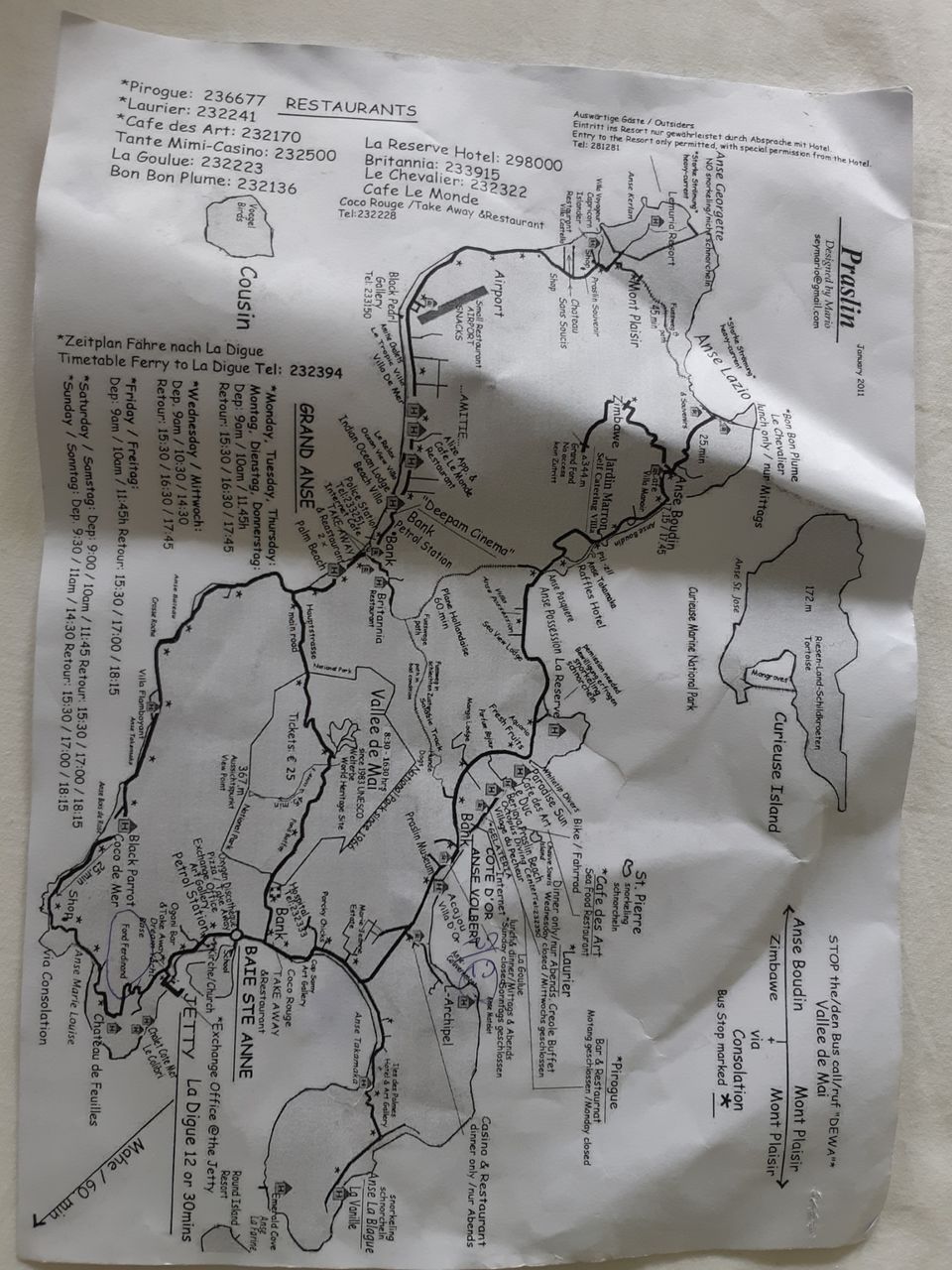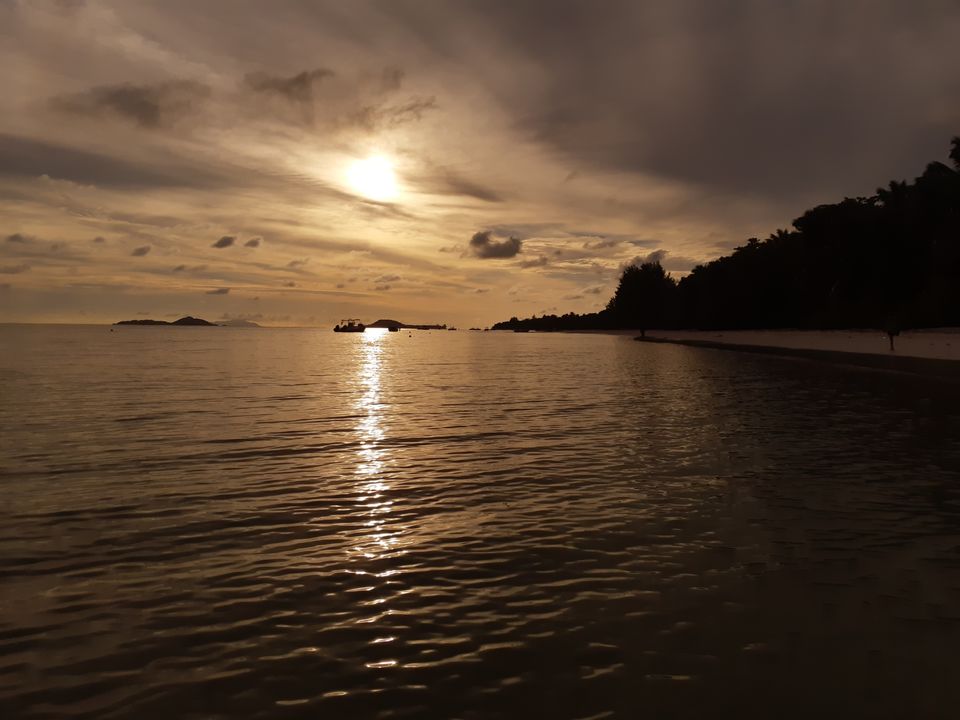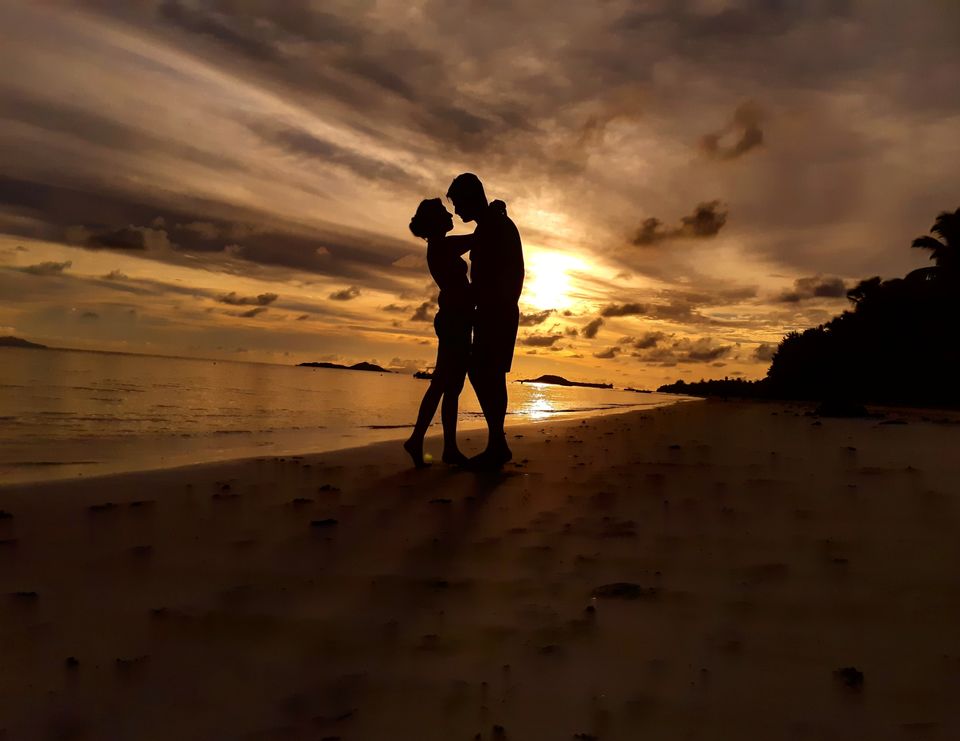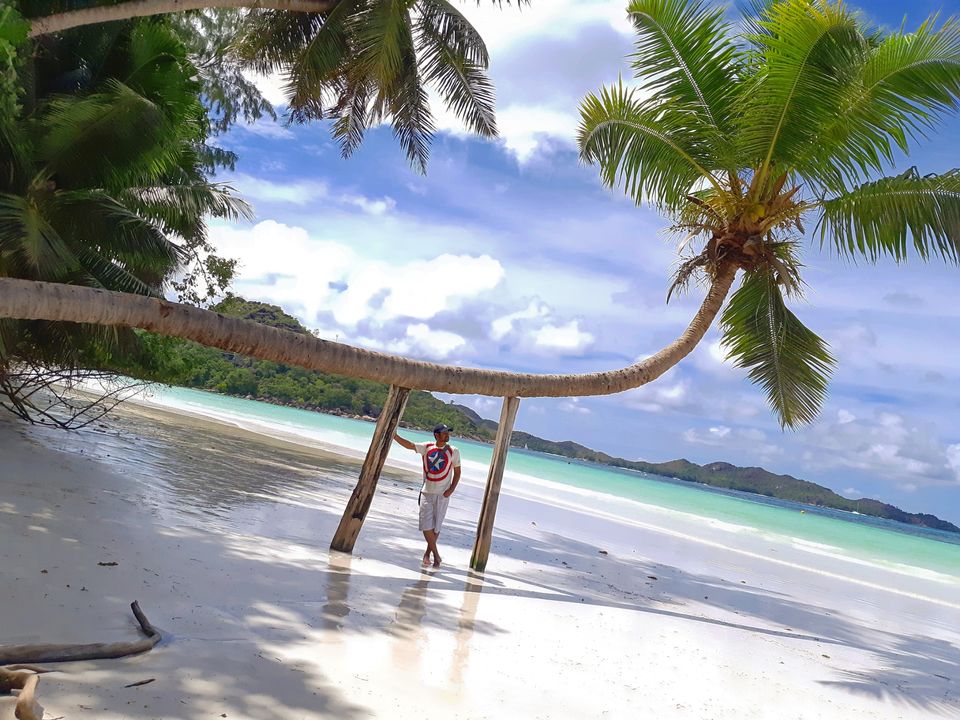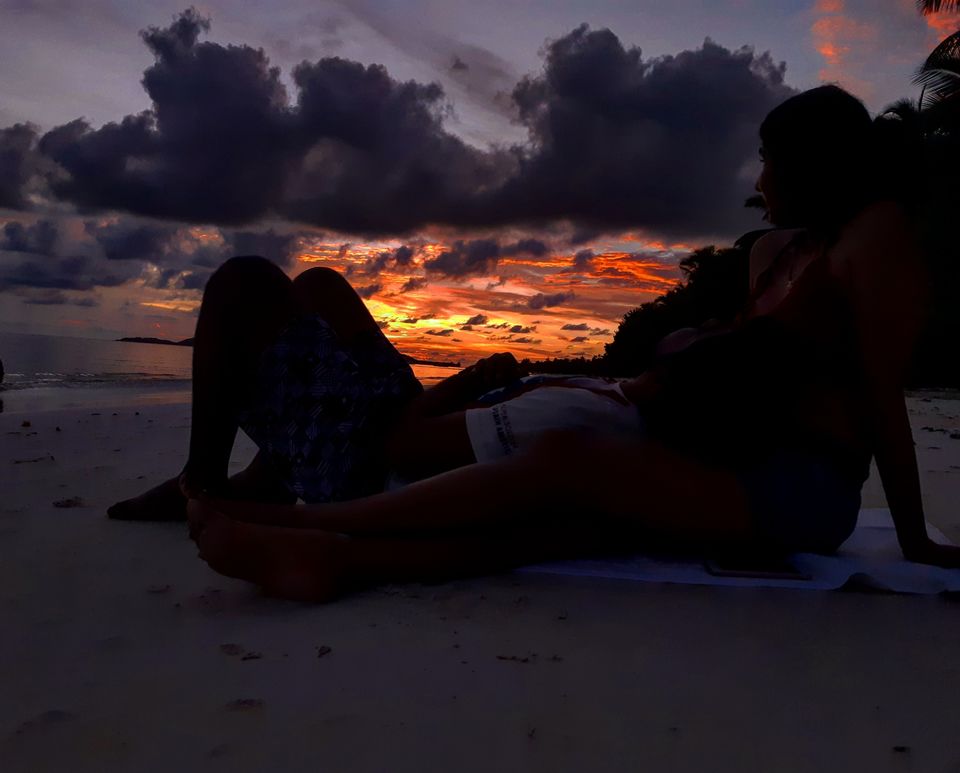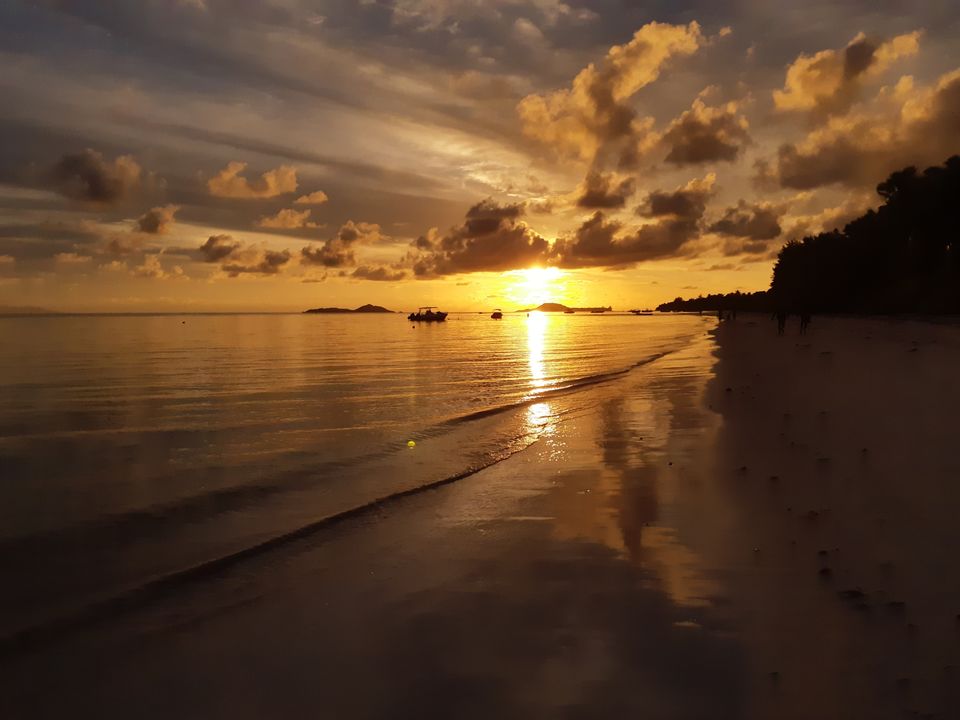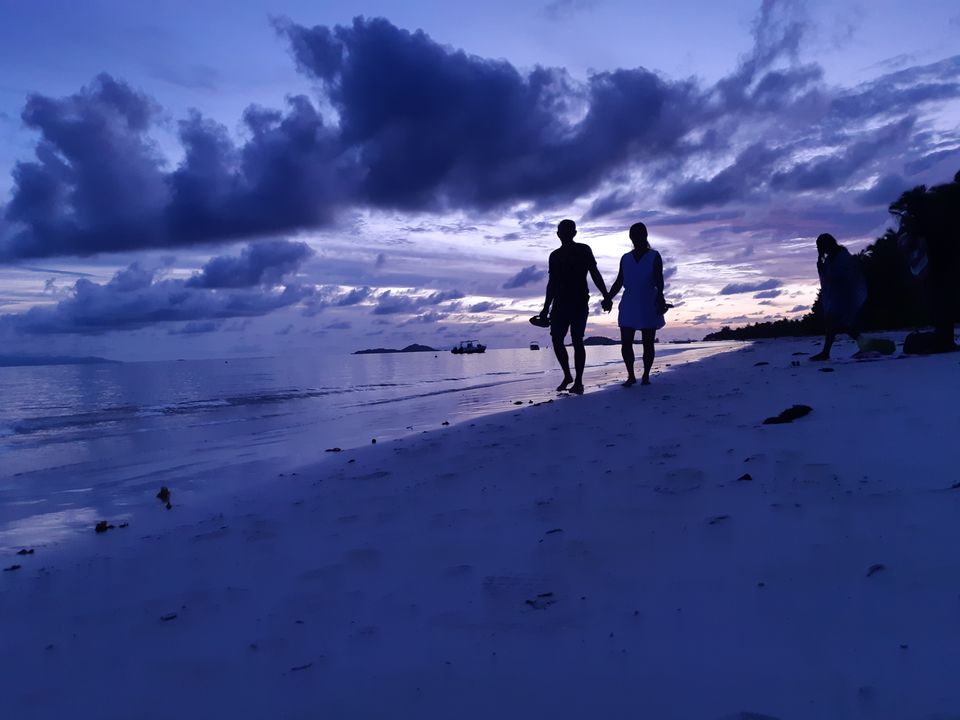 After completing perfect 6 nights it was time to say goodbye to Praslin, and to go back to the place from where the trip had begun.
Over all it was an amazing experience all together and this place is highly recommended for all the people who love some private time to spend with each other and want some peace around.