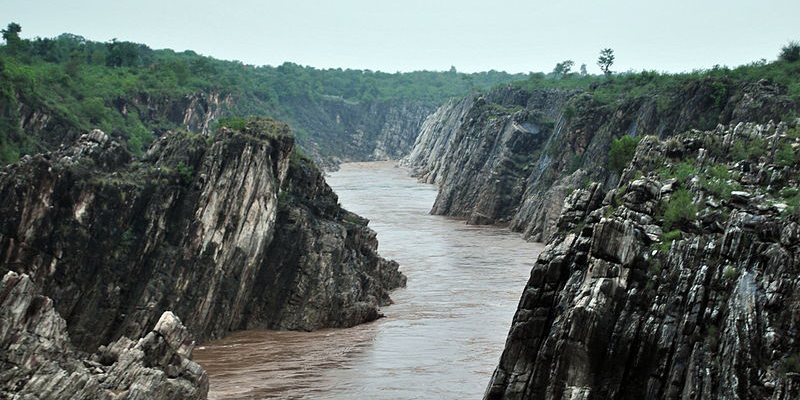 Madhya Pradesh - An Indian state profuse with infinite gems! One of them is Bhedaghat in Jabalpur. Subtly cradling near the heart of Madhya Pradesh, Jabalpur is a teensy town inhabited by people as sweet as their famous Kaali Jalebis. I find myself extremely lucky to have explored an unalike place when all I had in mind were the jam-packed streets and lip-smacking street food.
To my surprise, Jabalpur offered me much more than its authentic phulkis and poha. I visited Jabalpur in the super cold month of January where the tourism was not at its peak. Once I googled "Places to visit in Jabalpur", I had my day sorted. And, soon I was on my way to Bhedaghat.
About Bhedaghat Marble Rocks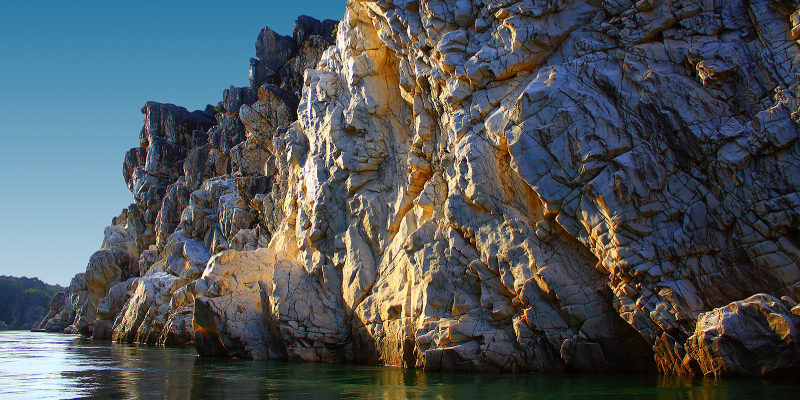 A place synonymous to the Great Canyon in the USA, Bhedaghat in Jabalpur is a marvel created by nature. After descending around a hundreds of stairs, I finally saw sunlight shimmering on the vast expanse of river Narmada. The first glance at Bhedaghat In Madhya Pradesh fills a rush in your souls when you witness a massive miracle created by nature. Boasting an incessant gorge, the Bhedaghat marble cliffs glisten their aesthetic reflection in the emerald green waters of Narmada. While sailing along the river, you realize Shah Rukh Khan and Kareena Kapoor's dancing moves on the cliffs of Bhedaghat. All my life I thought "Raat Ka Nasha Abhi" was shot at some hyped foreign location.
As you sail along, the 100 feet tall striking marble rocks are said to alter shapes and colours. These marble rocks in Bhedaghat creates an illusion of a light show as you sail along. In reality, when sunlight falls on the glittering surface of the rocks they become differently shaded. The sheer beauty of this place magnifies on a moonlit night. And the glistening marble cliffs appear like a shaft of diamonds half submerged in darkness.
A site to behold your eyes, this gorge in Bhedaghat takes you on a journey of calmness and stunning landscapes. In no time you realize that you have finally reached a dead end. The boat ride at Bhedaghat takes a halt when you hear faint roaring sounds after a dead end. The breathtaking view of this paradise then ends into a mighty cascade known as Dhuandhar falls.
History Of Bhedaghat In Jabalpur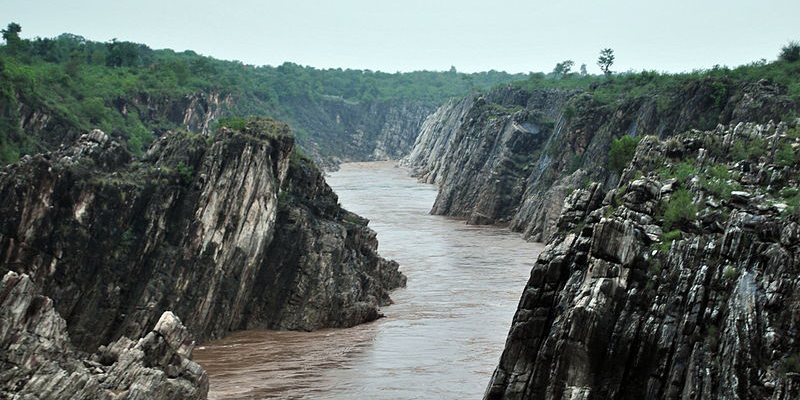 These massive marble rocks in Bhedaghat astonish travellers from around the world. Similarly, I was exhilarated to know about the history of these enormous formations. A native of Bhedaghat told us about an interesting mythological story about Bhedaghat and its formation.
There have been two stories following Bhedaghat's past, the first one is associated with the name of a Rishi Bhrigu who lived on the banks of the river Narmada. While the other one states the fact Bhedaghat, in history called as Bhairavi Ghat where a prayer knows as Shakti Pooja used to take place.
About Bhedaghat Boating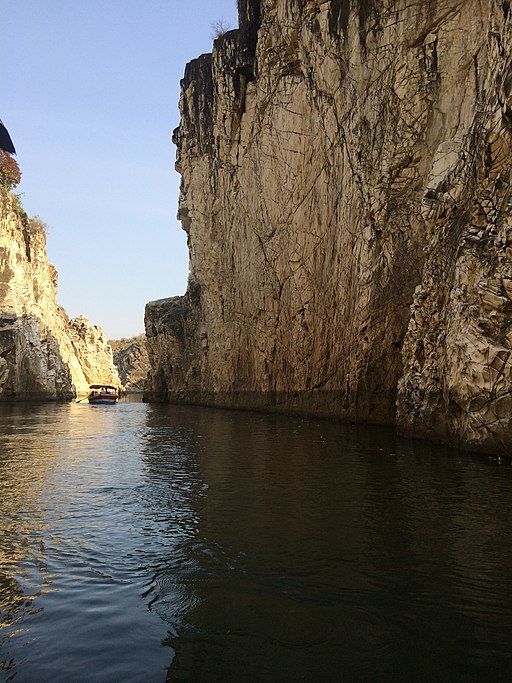 A boat ride in the profound waters of the river Narmada is an experience that one can never forget. Sailing down the river, the rocky marbles and the clear water of Narmada looked a little familiar. But I could not decipher if it was just my imagination or Déjà vu. Soon one of the guides told us that Bhedaghat was the shooting location of movie Ashoka. And neither my imagination was true nor any Déjà vu happened. It was the song "Raat Ka Nasha Abhi" that once was every millennial's childhood fantasy song.
On top of the peaceful boat ride, the guides keep you entertained until the end by narrating a comic love stories along with some interesting things to know about Bhedaghat. While you are sitting in the boat and admiring the serenity, the loud pitch of the guide alters your focus just to let you know a brand-new story about a shooting location at Bhedaghat. Let me tell you, the guides of Bhedaghat are obsessed with Bollywood.
As you move towards the narrowed gorges, the beauty of Bhedaghat magnifies. The marble cliffs change colours, shapes and sizes. All you can do in the entire boat ride is to gape at those glittering marble cliffs. In no time you realize that India has its very own Great Canyon near the city of Jabalpur. From spotting rocks in the form of Shivalinga to finding famous shooting locations, Bhedaghat boat ride is the most offbeat thing you can do in India.
Bhedaghat Boat Ride Timings: 9:00 AM to 7:00 PM
Bhedaghat Boating Charges: Rs.200/- per person
How To Reach Bhedaghat From Jabalpur?
You can reach Bhedaghat easily from the city of Jabalpur. Bhedaghat is 20 Km away from the city center. So, you can either book a cab or rent a vehicle for a day to visit Bhedaghat.
By Train: Jabalpur Railway Station
By Road: Ranjhi Bus Stand
By Flight: Jabalpur Airport
Look at TheTripr.com to find more travel stories!
Where to Stay At Bhedaghat?
You can either book a hotel at Jabalpur and travel to Bhedaghat using a rented vehicle or a cab. Otherwise, you can book a resort near Bhedaghat to enjoy the serenity for a little more time.
Things To Do At Bhedaghat
Bhedaghat is a magnificent gem Madhya Pradesh tourism can offer you. But there are several other things that can add a cherry on top of your trip to Bhedaghat. Here are some things to do at Bhedaghat to make your experience memorable:
Dhuandhar Falls
A waterfall cascading in a sense of urgency from a height of 30 meters are the mighty Dhuandhar falls. Creating a mirage of fumes, Dhuandhar falls can best be described as the Niagara Falls of India. The clear water of Narmada when falls off the edge creates calming turbulence that rejuvenates you from within. Rightly known as "the smoke cascade", the waters of Narmada are bound to take your breath away. Experience the magic of the Dhuandhar Falls near the spectacular city of Jabalpur.
Bhedaghat Ropeway
While you are at the Dhuandhar falls in Jabalpur, you can view the cascade from up above the sky. Take the Bhedaghat ropeway that gives you a magical view of the Dhuandhar falls and the gorges nearby. After reaching the top of the cliff you can take a deeper look of the Dhuandhar falls in Jabalpur. The distance of Dhuandhar falls from Jabalpur is approximately 20 Kms. So, you can simply spare a day and visit this marvel of mother nature.
Chausath Yogini Temple
An abode of Goddess Durga, Chausath Yogini temple is a sacred place near Bhedaghat. A climb of 150 steps, Chausath Yogini Temple's little trek is worth the while. The view from the temple is bound to fill your souls with serenity. Thousands of devotees visit the Chausath Yogini Temple to worship goddess Durga. The temple is home to 64 intricate carvings of the goddess that gives you a deeper look in the history of Bhedaghat.
Shopping Marble Antiques
As you descend the stairs at Bhedaghat, you can find local vendors sitting on the sides of the stairs. From antique marble Shivalingas to oxidized earrings for women, you can find plenty of Bhedaghat souvenirs to take back home. These items will cost you mere hundreds and will not even burn a hole in your pocket.
What To Eat At Bhedaghat?
When you are at Bhedaghat or places near Bhedaghat, the eating options are minimal. You can find local chaat sellers near Bhedaghat to satiate your hunger. You can also find small food stalls around the marble rocks of Bhedaghat that serves you with delectable chai and pakoras. However, if you are planning a day-long trip to Bhedaghat, then I would recommend you bring your snacks and food items.
Best Time To Visit Bhedaghat?
If you are planning a trip to Bhedaghat, then visit around November to May. At this point in time, the weather remains pleasant and you can make the most out of this place. However, visiting Bhedaghat during the monsoons is not recommended as the abrupt downpours may put a tail end to your trip.
Bhedaghat Itinerary - How To Nail A Day Trip To Bhedaghat
* Rent a car/book a cab to the Chausath Yogini Temple (1-2 hours) * Head to the Dhuandhar Falls and enjoy the scenic beauty (1.5-2 hours) * Enjoy lip-smacking delights at the nearby stalls at Dhuandhar Falls * Now, head to Bhedaghat marble rocks for a boat ride (45 minutes - 1 hour)
Bhedaghat is often overlooked as the best places to visit in India. However, this wondrous creation by nature is bound to be visited once in a lifetime. A trip to Bhedaghat is recommended. Also, if you loved reading about Bhedaghat in Madhya Pradesh, then simply share this blog with the world.