Have you ever wanted to stand on top of the world, just gazing at mesmerizing views wherever your eyes go, feeling the peace in your heart? If you have, then Razdan Pass, in Kashmir, is an unexplored destination you must visit!
This pass remains covered with snow for 6 months of the year, but once the snow melts, the serenity and adrenaline pumping drive will surely melt your heart.
About Razdan Pass:
Razdan Pass is the highest point between Bandipora in North Kashmir and Gurez Valley. It is situated at an altitude of 11,624 ft, and connects Gurez Valley to the rest of the state. It was once an integral part of the Silk Route, between Kashmir and Central Asia, but today it is barely used. In fact, due to its proximity to the Line of Control (LOC), it was not accessible to tourists before.
Razdan Pass is considered as one of the most dangerous yet beautiful roads in the world, offering breathtaking views of the mountains and gorges. Its fast icy winds, sheer drop offs and frequent snow accumulation make a ride on this road, nothing short of a natural adventure sport.
To get a feel of the place, watch this video by Nargis on Tripoto.
Why Visit Razdan Pass?
Razdan Pass offers a thrilling 3-hour ride to adrenaline junkies, unparalleled views of the Kashmir Valley, which will make you swoon. It is also the Gateway to Gurez Valley, one of the most beautiful destinations in Kashmir.
The Peer Baba Shrine, just a few kilometers before Razdan Pass, is a must visit place, as much for its spiritual vibes, as the 360-degree view of the mountains it affords.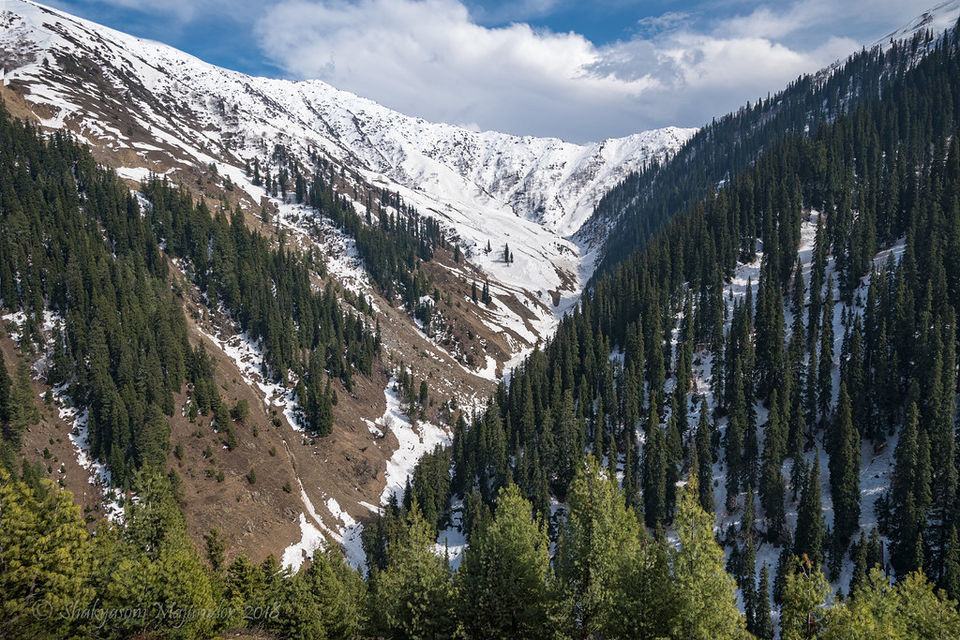 You can read Santosh's experience on Tripoto
Places to Visit Around Razdan Pass:
Manasbal Lake, Gurez Valley
Best Time To Visit:
May to October.
The pass remains covered in snow during winters.
How To Reach?
The route for Razdan Pass is Srinagar -Mansabal- Bandipora- Razdan Pass. The ascent to Razdan Pass will start from Bandipora.
You can reach Srinagar by flight or road. From Srinagar, Bandipora is accessible by road, which is in good condition.
As a day trip from Srinagar, it will take 6-7 hours for the roundtrip journey.
Add this offbeat destination to your Kashmir itinerary, and you are guaranteed to have unforgettable memories!