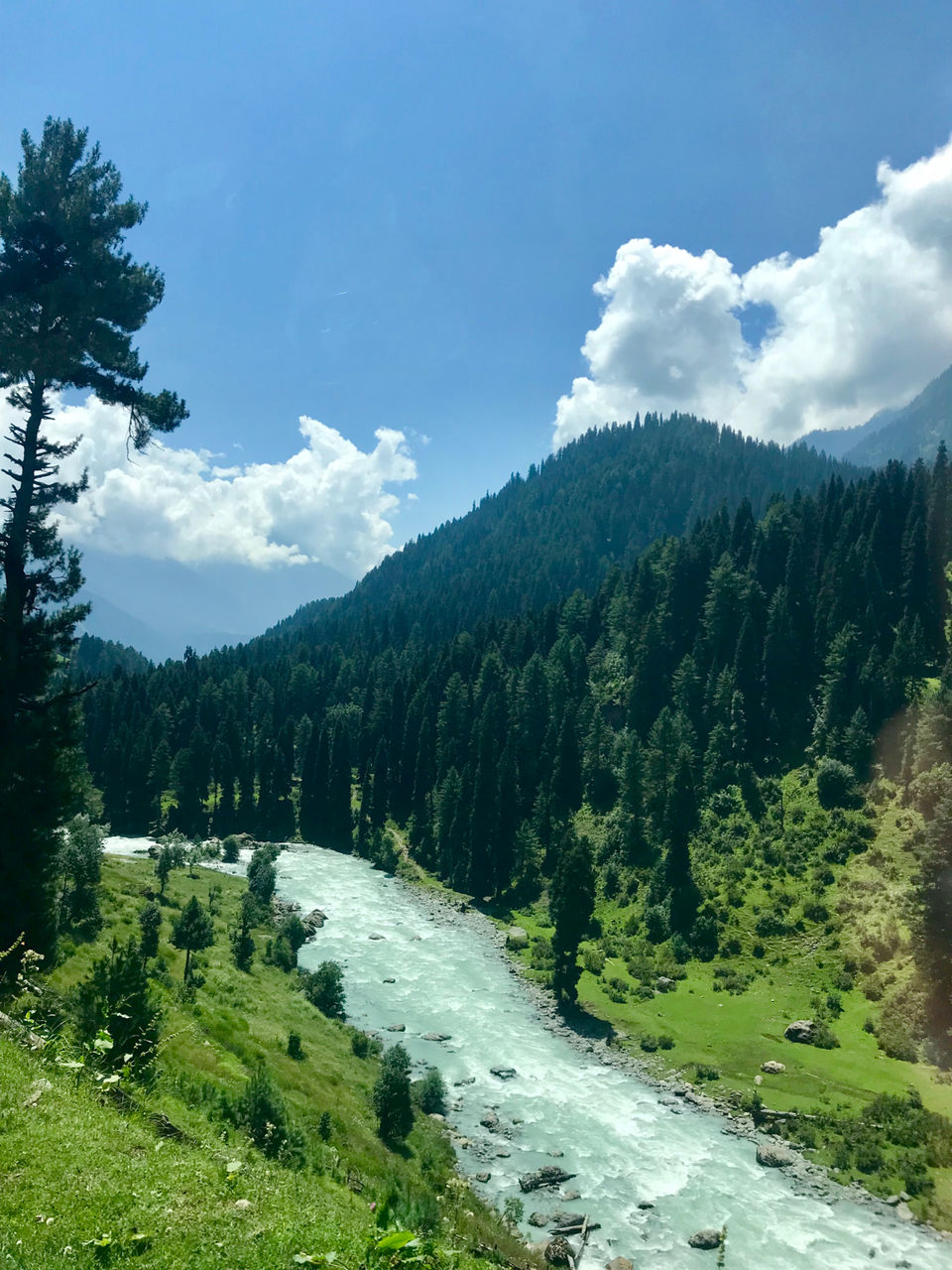 It was quiet night with only few street lights on. As if the night was trying to hide many mysteries and it was commanded to stay put.
As if it was not enough that we were disheartened to come back half way from the trek we dreamt of completing, we were forced to vacate the hotel in the middle of the night (Definitely considering safety measures). Quietly we loaded our heavy backpack in the traveler vehicle and got onto journey to the airport. Willingly or unwillingly we were all headed back home.
Army soldiers at every 100 mts distance, barbed wires and huge barriers kept ready to block the roads. The panic-stricken silence had even scared the Moon that night. While horrified moon was peeping down with one eye, loaded guns and confident soldier would turn down any strongest enemy.
Farookh bhai (Name changed)who had taken up the responsibility of driving us safely to the airport looked pretty confident and there laid all our confidence.
While the brain was trying to be attentive, heart was hoping for some adventurous scenes and there it was – road blocked, well Farookh bhai knew another route, so no worries. We were on the second alternate road to the airport and this time poor heart had no demands but yet the alternate route was closed too. Well-versed with roads, Farookh bhai decided to try his luck with another alternate route and quickly changed gears and turned the steering rigorously, all of us curiously looking out through car windshield, hoping there's no road block ahead and there comes heavy barbed wire fence blocking the road and our heart stopped beating for a second. Loss of confidence was when Farookh bhai said- 'Saare raste bandh he,..' in shrinking voice.
After a sigh, he added – 'ek aur raasta he' and he turned the wheels to the right.
There was nothing for us to be afraid of, yet it was risky to get stuck in an unknown place on not so pleasant day. And by now the focus was clear, it was to get back home safely.
Right when i was anticipating to see the airport gates, I there comes another car from the opposite direction and slows down to stop right next to ours. 'Es taraf ka rastha bandh he' – were the words from the driver in the next car had made my confidence level hit rock-bottom and i was slowly losing the hopes of getting back home.
In the mean while discussion between Farookh bhai and the other driver had got us another last route to try our luck and we headed towards that. It seemed like a longest and darkest night probably i had ever come across. There was pin drop silence in the car. Everyone was hardly breathing, fingers crossed, all of us were just hoping that the road isn't blocked.
Everything was so uncertain from last few days, it was 'one step at a time' kinda situation. While we were asked to return from the trek, it was about walking down the distance in 5 hours which we had taken two days to climb up and reach the base camp. While at the base camp, it was only about reaching Srinagar safely. While in Srinagar, it was about getting a flight ticket to get back home. While on the way to airport, it was just about reaching the airport gate. A glance of airport gate was something we were longing for at this point.
'Chalo, pahunch gaye' - almost sounded like Merry Christmas to me at that point. We thanked Farookh bhai and got down at the airport with our bags. Corps at the gate, pointed us to the side of the road and asked us to wait there with our bags since the airport is not open till 5 AM. And the dramatic heart starts singing- 'Rahane Ko Ghar Nahi Sone Ko Bistar Nahi, Apana Kuda Hai Rakhavaala, Ab Tak Usi Ne Hai Paala' (Song from Bollywood movie Sadak)
Now the new goal was to get into the flight which was at 3 PM, since the clock was in no hurry, it was still at 3 AM. Well passing time did not appear to be a big problem since we were twenty of us in the group. We got to know each other better and decided to stick together till we get into our respective flights. Few used the huge trek bags as pillows and dozed off on footpath and staircases. Few started playing games. Few got into some healthy discussion about the ongoing issue at Kashmir. Rest of us just sat and observed all of it quietly.
It was 6 AM when one by one we started going in search of cup of chai. Stomach wasn't really worried about what was happening in Kashmir. It was unlike any other day for the stomach. It was around 8 AM and there was an inner voice – 'Dude! Everything aside, where's my food?' and obliging to it we started walking down the road in search of food.
Hot chole bhature and aloo paratha were the only options on the menu and it was just perfect. Reliving all those funny moments on trek, getting to know more about each other, we finished our breakfast with another hot cup of chai.
Only thing which keeps girls away from shopping is food and when the tummy was full, no force could stop us from going around window shopping. We found few shops open and decided to kick start their day. Kashmiri kesar, dry fruits, kawa mix, pashminas were the focus.
It was 12:30 PM when we reached the departure gate at the airport. While there were thousands of people waiting outside the departure gate, few were standing in queue to get inside the airport and many of them inside the airport, getting done with security formalities to get onto the flight.
Situation felt much better than what it was at 3 AM but still not very certain on how the situations would turnout. Just when we were hoping that our flights don't get cancelled, there comes a heavy noise of fighter jets taking off one after the other. 'Not a good sign at all' - the brain screams. 'Please get me out of this place, I don't wanna die here' – dramatic heart screams.
'Let's get inside, finish all security formalities and wait inside atleast' - said one of the trek mate. Without much trouble, we passed all security checks and baggage check-in and headed for lunch. Good food had calmed the heart and the brain could think clearly now and get back its controls. Looks like the tough hours had come to an end.
Sigh! One hell of a day! But together we survived all of it. Hats-off to the great team who stood together and to Farookh bhai who made sure getting us to the airport safely as his personal goal.
Heart felt heavy when it was time to bid good bye. After spending so much time together, after going through all the havoc together, it did feel bad to go apart. Hoping to cross paths again, we bid goodbye and walked towards our respective boarding gates. We stepped into a state and flew out of an union territory!
Back at home, standing in my balcony, sipping my chai, everything seems so adventurous. Feels like as if we were part of some play and we all had our roles and scripts which we performed beautifully. How beautiful life is and how amazingly it's planned (or i would call it scripted ;-) ). It seemed like we were all brought together just to know each other and standby each other in crisis.
It's easy when the goal is to survive together. It's simple when there's nothing to compete with each other for. In this last 12 hrs,only goal was for all of us to get onto the flight safely, we did not want to leave anyone behind. We weren't from same family, neither from same state nor friends from different states, we were just a bunch of people who got to know each other in last 96 hrs and wanting to get back to our nest.
Why is that we can't adopt this attitude of survive together in our daily life? Why we-humans are called most dangerous and harmful animal on this planet? Why we are known as the only animal which harms its own kind for living? Argh! What an agony to be called as smartest creations. Let's accept the fact that - nothing on this planet belongs to us, we own nothing and we are only part of this eco system. Sooner we realize this, life would be much peaceful. Planet belongs to every living creatures as much as it belongs to me and you, so lets live in harmony.
We cannot go back and undo the damage that we have caused but we can start where we are and change the ending.
"When the power of love overcomes the love for power, the world will h peace" – Jimi Hendrix.