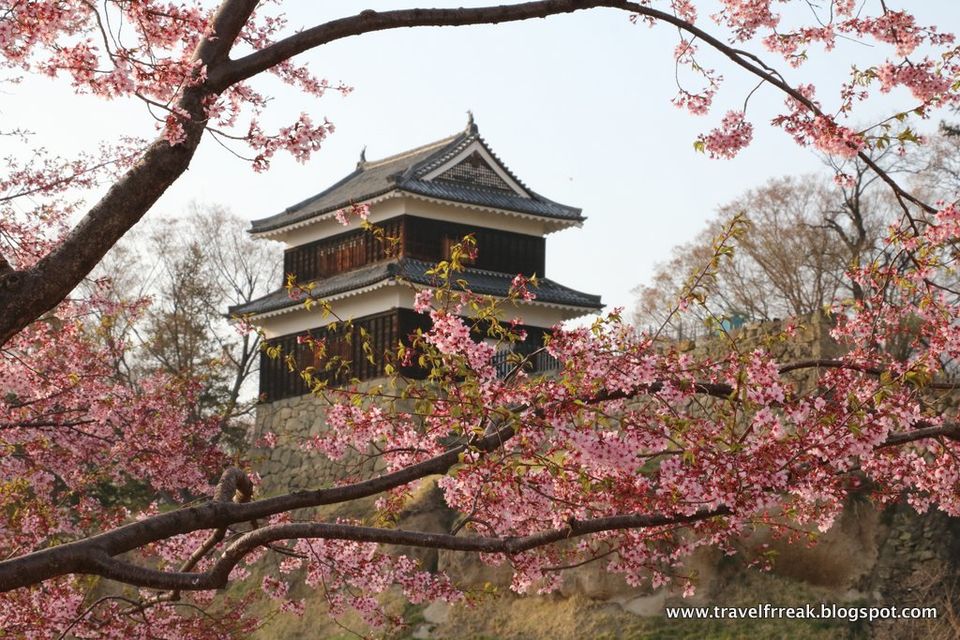 Details and photos on, http://travelfrreak.blogspot.com/2018/11/japan-land-of-traditional-and-modern.html
This year, I spent my Easter holiday and the week after in Japan. This is a trip which has been long pending and I must say, I wasn't disappointed! Everyone I mentioned my trip to remarked that it was going to be an exotic experience. And it turned out to be exactly that - exotic and amazing. We spent about 10 days in the country in total: 3 in Tokyo, 2 in Nagano, 3 in Kyoto and 1 in Koyasan. And I must say, the time we spent there was definitely not enough to explore all this fascinating country has to offer.
Some things in Japan of course felt familiar, but there was a lot which was so new, and felt like a whole world apart. Japan has a very deep and unique culture, different from most other nations, possibly because of its island identity. But more than that, we saw and experienced a mixing of the old and the new culture of Japan, so well done, that the whole experience felt a lot more charming, seeing the two co-exist peacefully with other. And on top of that, as it was the Sakura (cherry blossom) season, the whole country was blooming and presented a stunning sight everywhere. So all in all, a fantastic experience...
Our itinerary for the trip was as below.
Day 1: Travel from London to Tokyo via Beijing Day 2: Explore Tokyo - Meiji-jingu shrine; shopping areas of Takeshita-dori street, Omotesando, Shibuya and Shinjuku; lunch at Milan Nataraj; cherry blossoms around Ichigaya river; Metropolitan observation tower; dinner at Gonpochi Day 3: Explore Tokyo: Imperial palace; Yasukuni-jinja shrine; lunch at Ramen street; Sensoji temple; Ueno park; dinner at Ninja restaurant Day 4 - Explore Tokyo: Tsukiji fish market; experience VR zone; explore Ginza; lunch at Annam; leave for Nagano; stay at Nagano Metropolitan hotel Day 5 - Explore Nagano: Monkey Park; Ueda Castle; Nagano onsen; Zenkoji temple; dinner at Yamakusi Day 6 - Shinkansen from Nagano to Kyoto; stay at Westinn; explore Kyoto - Ginkakuji temple; Philosophers path; lunch at Arasch; Heian Jingu shrine and gardens; Kiyomizudera temples; Gion street and Pontocho alley Day 7 - Explore Kyoto: Tori gates at Fushimi Inari; bamboo groves in Arashimaya; Kinkakuji temple; dinner at Mughal; musical concert at Heian shrine Day 8 - Train from Kyoto to Koyasan; explore the temples and shrines at Koyasan; stay at Ichijoin temple Day 9: Explore Koyasan: morning prayer at temple; visit to cemetery; train to Tokyo; stay at Otani; explore Shibuya and Ebizu; dinner at Priya Day 10 - Flight back from Tokyo to London
This was one of the most and best planned trips of mine and I must thank my friends for this. We were 11 of us travelling together and a couple of us planned the trip to the level of which restaurant we would eat when ????. You can definitely follow the itinerary below to visit all the main places, as they are all close to each other and easy to follow. Given we were travelling in a big group, the excitement kept building about the trip much before we even left. Especially around when the Sakura season was going to start. The forecast kept shifting in the days before and it kept us guessing till the last moment if we would be able to witness or may miss the peak blossom season.
Day 1: Travel from London to Tokyo via Beijing; stay at new Otani; dinner at Satsuki
It was a long journey from London to reach Tokyo. We took connecting flights with Air China through Beijing and I must say that flying any Chinese airlines is bad. At multiple levels. For Air China, at least we were able to check-in online but it took 15 mins to check-in one person as the screen would refresh only after 3 minutes! Really, in this world of digital savviness, how can an airlines website be so slow?
And then the lines in the airport were in chaos too. We were flying on a long weekend, so the queues as expected were long. On top of that, the airlines had a stupid rule on the kiosk machines that if you had ordered vegetarian food, you could not check in your luggage! Anyways we sorted it all out somehow amid the chaos and finally made it to the plane just in time! The two flights were fine, a longer 13 hours to Beijing and then 3.5 hours to Tokyo. The transit in Beijing was quite long and we had to go through security again, with additional checking being done. We had to go through a heat sensing machine, get ourselves photographed and answer a lot of questions. Who does that when you are transiting through an airport? It didn't make sense unless the Chinese want to control and track the whole world, even those who are just transiting their country.
While flying over Beijing, I got my first glimpse of the Chinese capital - it was full of high rises, had a lot of fog/smog around it and a small river flowing through it. At some point, I definitely need to visit China and explore more of what the country has to offer. Flying into Japan was quite enchanting from the top too. We crossed the sea and then slowly the land came into view. It was dark by that time and city lights had been switched on. There was a full moon up in the sky. And lot of water bodies down below. And slowly I started seeing the reflection of the moon on different water bodies, hiding and unhiding at times, but moving all along our flight as we flew in. Sometimes it would show up when there was a long river and paddy fields, then vanish when there was land, and then come back in view again. And so on, for 15 minutes. It was such an arresting view. I wish I could have captured it somehow. But I was so engrossed in observing it, I forgot to record it completely...
While landing in Tokyo, I realised that Tokyo was located on the coast of the island. I had somehow never read about it as Tokyo isn't really famous for anything which is linked to the sea. Other than fishes, but that I think all of Japan is famous for. While landing, we saw the famed Tokyo lights extending till forever - and then some smaller structures came into view, a huge Ferris wheel, 2 colourful bridges and lots of high-rise towers. All of Tokyo glittered at night in different hues and colours, it presented a very fascinating first view!
The Haneda airport was right next to the sea and once we landed in Tokyo, I realised that my luggage hadn't arrived. I spent at least an hour with the lost and found team to figure out what had happened but they had no clue where my luggage was. It didn't help either that they didn't know English well. But still, I was shocked how they didn't have any proper procedures to track luggage, plus were very slow with the paperwork - it felt very unlike how efficient I always imagined the Japanese to be. At the end of an hour of discussion, they weren't even giving me a receipt for the lost luggage! I had to ask for it and wait another 15 mins to get it. Maybe it was the Chinese effect, but I had quite a bad and unsatisfactory experience with the luggage team at the airport.
Anyways we then took the metro to the hotel we were staying at - New Otani. The train map was very dense and intricate, more than any other system I have seen before. We changed 3 metro trains to get to our hotel and were impressed with all the discipline around. Everyone was quiet and on their phones, most of them wore black suits and a lot of them were wearing masks. And even at 9 PM, it was fully crowded with people going back after work; clearly everyone works late in Japan, even on a Friday. The metro wasn't as clean and spotless though as I had always expected.
Walking to our hotel, we got our first view of cherry blossoms - a row of trees next to a small river, all lit up in different colours. And then we noticed the whole street was full of flowers in full bloom. And then we reached out hotel. It was a huge one and had two towers, one old and one new. There were 15 restaurants in the hotel itself, tons of shops, a huge garden outside and generally lot of things to do.
During check-in we realised though that people here are quite stickler for rules and don't really like having to tweak them, however irrelevant they might be. For example, at the hotel they don't give you two keys to your room if there is only one person staying. It shouldn't matter, but they don't. Anyways, it was already very late by the time we reached and so we decided to eat in one of the restaurants in the hotel itself. However, it turned out that most of the restaurants closed before 10 PM. For a city which is awake all night, it was a bit of a surprise. So we had dinner at the Satsuki restaurant in the hotel itself, which was the only one open at that hour. The food was quite average but still expensive. And then we crashed soon enough, even though we were jet lagged and should have been awake.
Day 2: Explore Tokyo - Meiji-jingu shrine; shopping areas of Takeshita-dori street, Omotesando, Shibuya and Shinjuku; lunch at Milan Nataraj; cherry blossoms around Ichigaya river; Metropolitan observation tower; dinner at Gonpochi
Tokyo is quite a modern city, and the things to do there are mostly around shopping, experiencing modern experiences like virtual reality, visiting some temples and shrines and generally enjoying the crowds around. During our first day in the city, we explored the close by places on the western side of the city which included a visit to Meiji-jingu shrine, the shopping areas of Takeshita-dori, Omotesando, Shibuya and Shinjuku, walk around Ichigaya river to observe cherry blossoms and a visit to the the Metropolitan observation tower to get a view of Tokyo from above.
The first thing I remember from the morning is the panoramic view I had of the city of Tokyo when I woke up. I could see some gardens below as well as a small palace and then small and big buildings till very far. I saw some colours from cherry blossoms but not as much. And the view was very refreshing - there are not that many world class cities which offer such uncongested views. We had breakfast at the Tower buffet restaurant in the hotel which was on the 40th floor and again had a panoramic view of the city. It had a nice selection of food and was relatively cheap. We could also see the garden below and a palace right below the hotel, so it turned out to be a nice place to start the day.
After breakfast we all left for a very long and hectic day around town. Our first stop was the Meiji-jingu shrine in Harajuku which is part of the Shinto faith in the country and dedicated to the first Meiji emperor who brought peace and modernity to Japan. It had a huge Tori gate at the entrance and a walk through a huge forest - the Yoyoji Park - which takes you to the shrine. On the way, you come across huge sake and wine barrels which were apparently gifted to the shrine and are now displayed there. When you come to the shrine, you see a huge open structure built of wood, and even though it was quite expansive, it felt very simple in its essence.
There was a huge courtyard and then the main shrine where you can pray. And there were smaller places to visit all around, like a place where you tie prayer cards to get your wishes heard, some shops and so on. In a Shinto shrine, you wash your hands before you go in and there is generally a water source at the entrance. Also, when you pray, you alternately clap your hands and bow a couple of times. The whole place felt very quiet, very spiritual and calming. There was a wedding going on when we were there, but still it all felt very serene everywhere. I just did not want to leave the place, such was the effect it had on me.
Our next stop was a walk through the Takeshita-dori street which was known as the eclectic teen shopping street. It was a pedestrian only street with locals dressed in all kinds of weird clothes and lot of specialty shops on both sides. We saw a few cat cafes there too where you can go and pet cats if you cant keep them as pets ????. Then we walked through the Omotesando area which was a tree lined high-end shopping area and a good walk given the sunny and pleasant weather, even though we weren't shopping. By this time, it already felt so great to be away from cold and rainy London, and we had fallen for Japan already.
We then took the metro to the shopping district of Shibuya which apparently had 200 exits to the metro station. Right when you exit is (apparently) the busiest intersection in the world, where you see hundreds of people crossing the street every time the light is red. We took a few videos of the intersection and then we explored the area for sometime.
Shibuya was full of all kinds of shops and activities. Shibuya 109 was a mall for local shopping. There were loads of games arcades around. And a huge supermarket known as MODI. We also walked a bit around in the small alleys behind the malls and there were more authentic looking shops which seemed local and did not have boards in English. So behind the facade of the English touristy areas, the real Japanese Japan still exists...
Some of us even went out looking for a cafe where a robot serves the food, but it turned out to be just a robot arm serving, not really a full robot. So we skipped the idea and all of us split. Some people shopped while a few sat in the book cafe on the 7th floor of the building overlooking the busiest intersection and had coffee, and a few of us went for a foot massage. So all in all, this place has something for everyone to do.
By the way, the 7 floor building overlooking the busiest intersection was interesting too. It had a very well decorated coffee shop on the 7th floor with books, CDs and games displayed all around. And it also had a Starbucks on the 1st floor which was very crowded with all the tourists clicking the busiest intersection. So its a good place to sit, in a serene environment, while observing the chaos below.
We went to the restaurant in our itinerary to have lunch but it had a long queue. Thankfully right above it, we found an Indian restaurant, Milan Nataraj which had space available for us. It was an Indian vegetarian place and we had a hearty Indian buffet lunch there. To be honest, it was a low end place, with barely 2-3 things in the buffet menu. But the food tasted amazing, especially the naan. And turned out to be a pleasant surprise.
Our next stop was a last minute addition as part of our group went to play VR (virtual reality) games and the rest of us went out looking for cherry blossoms. We took the metro to Ichigaya station and walked all the way to the Iiadabachi station, along the Ichigaya river. It was lined with cherry blossoms on both sides and seemed like the local favourite for sakura picnics. People were sitting all along the river side, on picnic blankets, eating and drinking, and generally having a good time. Some of them were also boating in the river with petals floating around them. And everyone was enjoying the falling petals all around when the winds blew. They were all locals, with very few tourists around - clearly we had stumbled onto something the locals did!
We walked all along both sides of the river, enjoying our first experience with the blossoms. We also took a lot of pretty photos of the cherry blossoms there. With the white and light pink flower-filled trees all around, there was something soothing about watching these colours surround you with petals falling on you in the wind. We had a nice time there and I must say, it was the second best cherry bloom we saw in Japan (the best was again at a random addition to our trip at Ueda castle near Nagano).
Our next stop was the free observation tower on the 45th floor on top of the Tokyo metropolitan government office. The building has 4 towers and we went up the North Tower as that had the best view and was open in the evening too. There are multiple options to get such a view of Tokyo, e.g., Tokyo Skytree, but all the other options have a ticket and this one is free. There was a bit of a queue to get into the elevator but once on top, the view was impressive. We went in during evening hours, so we got to see the city and around both during the day and at night with the lights on.
Tokyo is such a huge city and continues till where the eyes could see. It has a lot of normal height buildings, dotted with high rises in some areas. There weren't as many high rises as I had always expected though, they were concentrated in a few areas only. And there were many parks around with cherry blossoms and people picnicking under them on blue blankets. We took a few photos from up there, especially when the city slowly started to twinkle once the lights were switched on and the moon was shining up in the sky. Apparently, on a clear day you can see Mt Fuji from the tower, but we weren't that lucky, as it was hazy that day. So our Mt Fuji view was still to come.
And then (yes, our day wasn't over yet), we went to Shinjuku which was another shopping area of Tokyo. It was full of dazzling lights and billboards everywhere, very lively and full of people even at night. We walked around a bit around the area, and also saw the Godzilla hotel which had a Godzilla on top of it. By now, Tokyo had started to feel like one of the liveliest city I have been to, with all the lights and people moving so fast all the time. I think it should definitely be called, the fast city.
Our last stop of the day was dinner at Gonpochi restaurant in Roppongi area. The restaurant is famous for having appeared in the second Kill Bill movie. It seemed a lot smaller in real though than what it appeared like in the movie. We had a sit down multi-course dinner with lots of different kinds of meats and vegetables. They also played the Kill Bill music theme when they got a cake for a birthday on our table, which was a totally amazing experience. After dinner, we had planned to explore Roppongi, but after having walked at least 15-20 kms during the day, we were totally exhausted and went back to our hotel and crashed soon after.
Day 3: Explore Tokyo: Imperial palace; Yasukuni-jinja shrine; lunch at Ramen street; Sensoji temple; Ueno park; dinner at Ninja restaurant
The hotel Otani we were staying in had its own 400 year old garden right behind it. We had breakfast at the Garden restaurant in the morning and then went into the garden for some time before leaving for the day. It was a well landscaped typical Japanese garden, with its ponds, colourful fishes, stone structures, lots of different varieties of trees and a few cherry blossoms in full bloom. A few couples were also getting their wedding photography done there in the park. There was also a multi-day daily programme held in the park every day for the long weekend, celebrating the Sakura season. It included kimono shows, samurai fighting demonstrations, ninja fights and so on. We only saw some of the performers practising for the samurai show and it looked worth attending. However, given the timing of those during the day, we missed most of it as we were out exploring Tokyo.
Today also we spent exploring Tokyo, but the eastern side and mostly the old part of Tokyo. We started the day with the Imperial Palace in Chiyoda. The Palace had a huge compound with a few older buildings, all surrounded by huge gardens. We kept looking for the palace building but couldn't find it at all ????. I think its all hidden or not open to the public. We did find the fort wall and moat though, which made it look somewhat like a palace.
The gardens were huge and we walked around a bit, starting from one gate and ending at another. There were a few cherry blossoms laden trees here and there which made for a picturesque sight. We spent some time in the Kitanamaru park - another typical Japanese garden. It had the standard landscaping of a Japanese garden, a pond, rock structures, flowing water, beautiful flowers up and down the hilly landscape and a lot of greenery all around. It was nice to sit in the park for some time and admire its peacefulness and charm in the sunny and warm spring weather.
From the Imperial Palace we walked to the Yasukuni-jinja shrine. It was a similar Shinto shrine as the one we had visited the day before. And cherry blossoms lined the path till the shrine, with the flowers providing a stunning roof-like feeling to all. There was a bit of wind around and the petals falling down in slow motion were very enchanting. I spent a lot of time outside the shrine. It was a calm place as all the Shinto shrines are. I also saw a small show going on on the side with women in Kimono serving traditional Japanese tea in traditional style to tourists.
I sat on the blossoms lined path enjoying the feeling (and calling China Air offices in Tokyo and Beijing airports, still trying to find my suitcase! It looked like they had finally found it in Beijing after I had called them with the colour and size of my suitcase and were finally sending it over to Tokyo! Phew...).
There is a Yushukan War museum right next to the shrine where some of our group spent time. Apparently this museum showcases a nationalist version of Japan's role in World War II and throws a more positive light on the role of Japan in the war. We had a very interesting discussion after, as we learnt that Japan's history is a lot more complex than we all know about. There is a view that they were forced to enter the war as America had been trying to curb its influence in Asia, and they had to fight it. I am not sure where my view stands as I haven't read enough about Japanese history, but its always good to hear a different side, and looks like this museum wasn't apologetic about their history as much as some other sources.
After the shrine, we walked for lunch to Ramen street at Tokyo station which was an underground market in the by lanes of the station, famous for its ramen.There is a whole underground world, lined with shops and restaurants at Tokyo station, which makes it very tough to use Google maps to get anywhere. It took us forever to get to Ramen street and I think we must have walked a few kilometres at least to get there. Anyways, once we got there, we realised that most of the ramen places were pure meat which lot of us didn't eat. And a lot of options were not even understandable.
So a few of us walked into one of the restaurants called Hiroshima, and asked the waiter to serve us one of the dishes on the wall, which looked vegetarian! I have no clue what it was called, but it had egg, noodles and cabbage - all of which we could eat. It was quite an adventurous order for us and turned out to be yummy too. So at least we were well fed! Also all the restaurants here had a vending machine outside for ordering food, where all the text was in Japanese. It was definitely not helpful, and we had to make guesses to order and then just hope for the best!
Our next stop was one of my favourite places in Tokyo - the Sensoji Buddhist temple in Asakusa. There was a feel here which was different than the rest of Tokyo. And it felt like a Tokyo of old, more cultural and less fast than most other places we had been to. There was a huge entrance like a Tori gate, and then we walked through a market street lined with small shops selling traditional stuff on both sides. This was the Nakamise shopping street, known as one of the oldest markets in Tokyo. It was well lit, very lively and full of people even late at night. I don't know if it was because of the sakura season, or the norm, but it felt like every place in Tokyo was full of people all the time.
And then we came to the temple at the end which was a lovely building in red with two huge gates and one huge orange tower on the side. It was all lighted up and looked like a painting at night. We walked around the temple a bit and then just sat and admired the architecture and peacefulness around.
By then, I was very tired and ready to go back to the hotel and rest. We however still went to the Ueno park as our last stop to see the cherry blossoms. We walked on one of the park lanes which was decorated with candles on both sides lighting up the cherry blossoms, though we could not see them in the dark. We ate some butta from the local market and then went to our dinner place which was very near our hotel - a Ninja restaurant.
It was based on the Ninja theme and was setup like an underground cave. The waiters there were dressed as Ninjas and would do some sneaky and scary things in keeping with the theme. During dinner, one of the waiters came in and showed magic tricks to our group. The food there was ok, and the experience a bit underwhelming. The high point for us though was that while leaving the restaurant, the main waiter came out with a ' Fir milenge' placard and took a photo with all of us! Apparently it is standard practice, but we loved it nonetheless ????.
After dinner, we went back to Shinjuku to a few pubs - the Hub British pub and then a wine bar. The area didn't feel as safe as usual though at night. We encountered a few people on the street who looked a bit shady. And they were all non-Japanese, the maximum number of non Japanese I had seen at any one place in the entire trip. Anyways, then we danced a bit on the street to Bollywood songs, which must have shocked a few Japanese around. It felt so different and almost like freedom to be able to do this.
Day 4 - Explore Tokyo: Tsukiji fish market; experience VR zone; explore Ginza; lunch at Annam; leave for Nagano; stay at Nagano Metropolitan hotel
Today was our last day in Tokyo before we returned here on the last day of our trip. We decided to make it a relatively relaxed day as the past few days had been very hectic. Some people went to see the famed Tsukiji fish market in the morning which needed them to wake up very very early. The market is in the open and full of different types as well as huge fresh fishes being auctioned. And I heard that the unique thing about the place was that it was so regularly and rigorously cleaned that even though it was a fish market, it didn't smell at all. I think I will have to visit it sometime to see it for myself.
Some of us had gone for VR - virtual reality zone - the previous day and raved so much about it that the rest of us decided to go there in the morning. And what a letdown it was! The centre had multiple games that you could buy tickets for - going down a steep ledge of a mountain, being in a hospital with zombies, shooting and fighting dinosaurs, going down skiing a tough route, racing cars as mario and so on. I tried two of them - the skiing and the dinosaur park and wasn't impressed at all. The graphics were not at all realistic or as realistic as I had expected them to be. It felt quite cheaply done actually and it gave me quite a headache. So I would say give it a miss unless you really want to experience it.
The rest of the day we spent in Ginza - the shopping district of Tokyo. It had wide tree lined roads, with huge stores on both sides. And popular among those was the multiple floor stores of Shiseido as well as a few specialty stores like Donki etc.. We spent most of our time sitting in some cafes and then went for another Indian lunch at Annam. It was one of the tastiest food I have had, and loved it totally. We also chatted with the owner, Deep who told his story of how he was an MBA and banker in his previous life but now a restaurateur. We also went for a massage at a place called Re Ra Ku in the area before leaving for Nagano. And it was amazing, one of the best massages I have had in quite some time - would definitely recommend it.
My overall experience of Tokyo was mixed. I liked all the old stuff - the shrines, temples, parks and so on but wasn't as impressed by the new side much. The shiny lights were too much for me. Tokyo also felt like a madhouse, especially the metro. There was a lot of walking around underground when travelling by metro, with very long connections at the same station. It was really a lot. And you had to tap in and out as you changed lines as all the lines were owned by someone else. The Tokyo station was especially crazy!
There are a couple of things in our itinerary which we missed, like Hamariku garden, Akihbara, the Rainbow bridge etc.. Also there were loads of typical city things in our itinerary which we could have missed, which could have made our time less hectic - the busiest intersection, Shinjuku, Godzilla hotel and Ueno park. I would suggest that if you are not a city person like me, it is better to only spend 1-2 days in Tokyo and see only the things you like, well. I would suggest spending more time in other parts of Japan which are less chaotic and more cultural.
Anyways, after finishing all this, we took the bullet train or the Shinkansen to our next stop - Nagano. We had bought a JR pass - which is a 7 day pass allowing unlimited travel on the bullet train. Apparently you can buy it only if you are foreigner. And you have to order it when you are not in the country. We were excited to go on a bullet train for the first time and they did not disappoint. The trains stopped only for 2 mins at any stop and surprisingly, everyone was able to board well within that time. The speed was super fast but we didn't feel it as much, especially as it was already dark and night by that time. But we could see on our app that the speed was above 250 kms. Inside, the trains were very comfortable and we figured out how to turn the seats so we could all sit facing each other. And they had very clean toilets. All in all, a good experience.
We reached Nagano late and checked into the Nagano Metropolitan hotel which was located right next to the station. Nagano felt like a quiet sleepy town. It was in our itinerary as some of us were planning to go skiing close by. But given the snow had melted earlier this year, we couldn't go for skiing and so did other stuff there. We had already eaten in the train, after picking up food from Eataly in the Tokyo station, so we called it a day very soon.
Day 5 - Explore Nagano: Monkey Park; Ueda Castle; Nagano onsen; Zenkoji temple; dinner at Yamakusi
Nagano felt like quite a commercial city in the morning, and something about it made me feel it was like Delhi. Though we could see mountains from the windows, so that's definitely different from Delhi. We had breakfast at Starbucks in the station as nothing much was open at that time.
Our first stop of the day was the Monkey Park. We had to buy tickets which included both the bus till the park and the entry fee. The drive was about an hour or so through the countryside. And very relaxing. All of us slept in the bus. It was warm and sunny outside and made it even more cosy to sleep. The countryside was full of some tree plantations which I couldn't figure out. And there were lots of hills and streams around, with some snow on the mountains. The place looked quite rural with small huts and people busy in agriculture.
The Monkey Park to be honest was nothing worth visiting. The USP of the place is that there is a hot spring there and the Japanese Macaques from the mountains come and spend time around the spring. And in winter when its all snowed out and cold, the monkeys even dip and stay in the hot spring during the day. For now, they were just usual monkeys frolicking around. Thankfully they were very friendly and not at all trying to snatch food from us, like the Indian monkeys.
Once back from the park, we again had a quick lunch at the food court in the station. During this time, I observed a man making yasoba noodles from flour. It was such an involved process going on for 15 mins in one cycle, of making a huge chapati and then cutting it in very tight thin noodles. The man went on working on it, like a machine, without looking left and right. It was a fascinating sight but I do wonder if this needs to be done manually even today?
After lunch, some of us went to Ueda castle in the nearby town of Ueda. The visit to the castle though decided last minute was one of the highlights of the trip for me. We took a bullet train to Ueda and then walked about 15 mins to the castle. There were loads of cherry blossoms at the bottom of the castle cliff which were in full bloom. And then we walked up and were faced with one of the most magnificent sights of the trip! The castle was a wooden structure and very cute and charming. There was a small shrine up in the castle, dedicated to the Sankada samurai family.
And all around the castle was a moat surrounded by blossoms. They were in full bloom then and the best cherry blossom photos of our trip were taken here. We walked all around the moat, just loving the views, of the reflections of the blossoms in the water, and enjoying just the feeling of being so close to such stunning nature. It turned out to be a very good idea to go there even if it was a last minute plan for us.
And while coming down the cliff, we saw a group of children playing basketball in the court, surrounded with blossom trees on all sides. It was so fascinating to see this sight, must be fun to play like this. Isn't it?
There is also a famous onsen (hot spring water bath) in Nagano which some people went too and was good. Could be a potential activity to do if you ever land up here.
Once back from Ueda, we went to the Zenkoji temple in Nagano and it was lovely. The entrance had a huge carved wooden gate. It had a huge compound with lot of Buddha statues. And cherry blossoms and trees all around too. We could have spent hours exploring the place, but as it was night, it was already closed. We still spent some time there as there was so much peace all around. I also realised that Buddhism in Japan had less symbolism and colourful art than what I have seen in Himachal, Sikkim and Arunachal. Its more subdued, almost different in some ways...
We then started walking downhill to our hotel and saw that all the shops on the road were closed. The road also had small wooden temples stationed on both sides of the road. They were all old wooden buildings and would look different during the day. Maybe Nagano did have some things to explore after all?!
For dinner, while walking back we stopped at a restaurant on the way - Yamakusi. It felt like a traditional Japanese restaurant and we had to take off our shoes before getting in. It had a multi course dinner - soba set meals - which was yum. The food was amazing especially the masala they give with the tempura. And it looked like things are different here than big cities like Tokyo. Here everyone who was leaving the restaurant was saying bye to us ????. It felt nice to see this side of Japan, how things can be different in smaller cities, even if we still had a bit of a touristic lens.
Part 2: Kyoto and Koyasan Part 3: Impressions of Japan