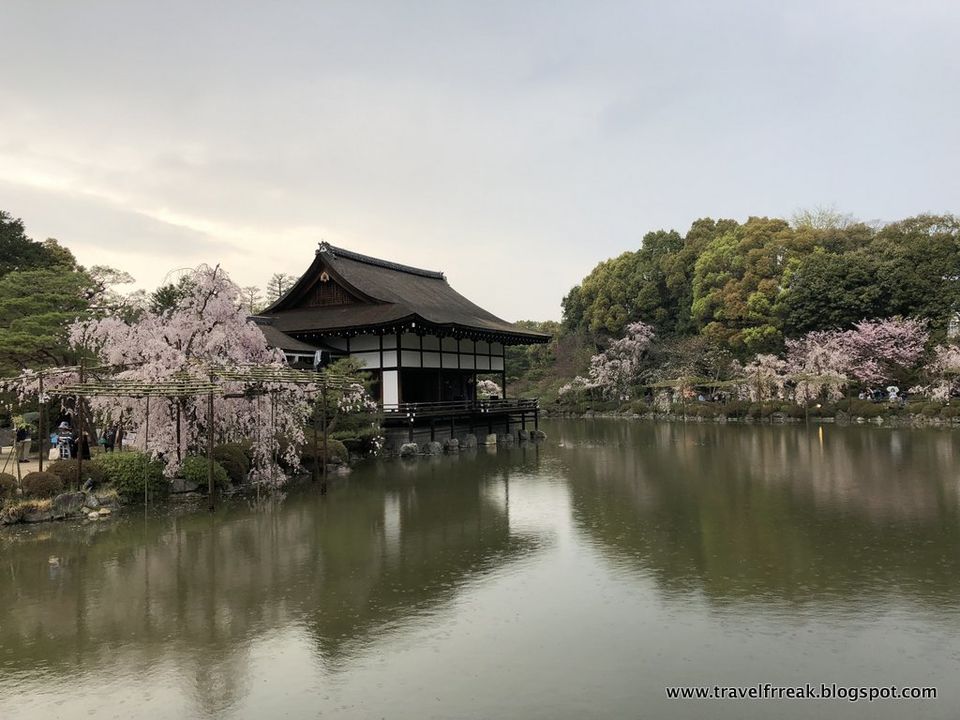 Details and photos on, http://travelfrreak.blogspot.com/2018/11/japan-land-of-traditional-and-modern_22.html
Part 1 - Tokyo and NaganoDay 6 - Shinkansen from Nagano to Kyoto; stay at Westinn; explore Kyoto - Ginkakuji temple; Philosophers path; lunch at Arasch; Heian Jingu shrine and gardens; Kiyomizudera temples; Gion street and Pontocho alley
The next day, we again took the train, first to Nagoya and then to Kyoto. It was a beautiful sunny day and the views outside felt even more scenic than before. The train to Nagoya was a slower scenic one where we passed by lots of small villages, with wooden houses and sloping roofs, people going about their agricultural activities, lot of hills faraway, rice fields extending till the hills, streams and ponds, and some snow covered mountains which apparently are known as the Japanese Alps. And on the way, there were a lot of cherry blossoms everywhere. Lining streets, canals and sometimes out of the blue randomly. We got a short glimpse of Nagoya town while changing trains and it felt very modern.
We finally took a bullet train in the day, from Nagoya to Kyoto and noticed how fast it was - touching 300 kmph regularly. It was banking a lot also as it moved. We were in Kyoto by mid-day (thanks to the bullet train) and our first view already gave us a different vibe than Tokyo. Kyoto felt like it was from a different era. It was a lot slower, lot more laid-back and lot more traditional than Tokyo. It had been the capital of Japan for more than 1000 years till 1870s when the capital was shifted to Tokyo. Also, we realised then that, Tokyo was named by inverting the alphabets of Kyoto ????.
We took a shuttle from the station to our hotel and it took us through a main road right next to a canal, which was lined with cherry blossom trees. Even though the leaves had fallen a bit, the flowers still looked quite fresh and rosy. We also saw lot of women wearing kimonos, walking along the road. Our hotel, the Westinn was quite nearby and we checked in quickly. It had a history of hosting the rich and the famous in Kyoto. There were loads of photos in the lounge attesting to this fact. It had beautiful rooms and a nice hilly area outside. In fact, outside our window, we could see some beautiful gardens.
We left very quickly after checking-in as we had a busy day ahead and quite a few places to cover. Kyoto is full of temples and shrines, and they are the biggest attraction of the city. We however prioritised a lot and decided to skip a few of the spots. The first day we walked to all the close by places, and ran into tons of cherry blossoms lined streets on the way. And later in the day took cabs as we were too tired of walking. The second day, we rented cycles and cycled to the 3 places we had decided to prioritise and visit.
Today, the first place we went to was Ginkakuji temple which was built by a rich nobleman. The entrance was through a path lined with bamboo trees on both sides. The place felt a bit like a residence rather than a religious place though. It had a Japanese landscaped garden all along a hill and a few wooden shrines in the garden. The garden was very well landscaped with the typical Japanese themes of rocks, water flowing through and a variety of trees and shrubs. The garden looked stunning, with all the plants in differently hued greens, sparkling in the sun that was out that day.
Our second stop for the day was one of my most favourite parts of Kyoto - the Philosophers Path. It is right outside the Ginkakuji temple and is a long pathway next to a small canal, again lined with cherry blossoms. The falling petals and reflections of the blossoms all along the water made this place seem stunning. There were many trees with weeping willow kind of branches, full of pink flowers and touching the water. And then there were small little bridges crossing the canal. It was picturesque and calm as we strolled along the path with every turn turning out to be a photo spot. It almost felt like a spiritual experience to me, just walking all along the path
After that, we finally stopped for lunch at Arasch which was a mixture of a Persian and Indian restaurant. They served naan, dal and ayran - a great mix and we devoured it all, it tasted so amazing. The food either was actually yummy or we were too tired after a full day of no food and would have liked anything anyways. But this restaurant became a favourite of ours very quickly.
Our next stop was the Heian Jingu shrine which was a huge beauty in orange and blue. It was a huge shrine and full of people. There were loads of women in Kimonos who looked like tourists and were photographing themselves, everywhere in Kyoto. Apparently that is a popular thing to do among tourists.
The Heian Jingu shrine also has a beautiful garden behind it with lots of cherry blossoms. We spent a long time exploring it. It had a long path, which ends in a small pond with a wooden structure right on it. The reflections there were beautiful and it was such a calm place, totally relaxing. Someone there was playing the flute and it almost transported the whole place to a different century. Slowly the lights started coming up and the place felt like someplace I could stay for long!
After that our group split and visited two other temples. And then we all converged at Kiyomizudera which is a Buddhist temple in orange on top of a mountain with a nice view of Kyoto below. The approach there passes through the Higashiyama street which is lined with small shops selling Japanese handicrafts. And the Kiyomizudera temple was all lighted up - all three structures shining in orange. And there was a beautiful cherry blossom tree on the top, which provided the perfect photo backdrop. By that time, there had also been some rains, the air felt clear and there was a very serene feeling everywhere.
After that we walked to our last spot of the day - the Gion area which is known as the Geisha district. We walked along Pontocho alley - the main Geisha street but did not spot any. It felt like a narrow but well lit street with a lot of narrow alleyways, small shops, tea places built of wooden structures and very quaint. I am sure we crossed Geisha houses but did not spot any.
We kept walking around for some time and then finally stopped at a sports bar where we had some American food for dinner. It was the most nondescript food we had in our entire time in Japan. And then walked back to our hotel. There were again lot of canals and cherry blossoms all along the way and it was again enjoyable. It did get a bit cold though by the end of the day. But all in all, it had been a lovely day, quaint and fun. And I had fallen in love with Kyoto by then.
Day 7 - Explore Kyoto: Tori gates at Fushimi Inari; bamboo groves in Arashimaya; Kinkakuji temple; dinner at Mughal; musical concert at Heian shrine
We kept the second day a lot more relaxed and visited less number of places. We rented cycles for the day and cycled to only 3 places during the day, plus visiting a concert at night. We got our cycles early morning from near the Kyoto train station and started for our first stop - the Tori gates at Fushimi Inari. It was fun to cycle on the roads, especially when we got slightly out of the city.
Fushimi Inari is a shrine located around a hill. And once you walk past the shrine buildings, you come to the orange Tori gates which go all the way up the Inari hill. They create a tunnel of sorts, and when the light plays games, they look ethereal. Each of the gates have the name of the person who donated them written on them. There are thousands of them all along the way, and even though in many photos they appear red, they are actually orange. It is a bit hypnotising too walking through them all the way up.
And on the way up, there were many smaller shrines on the sides. All of them had the same theme, a few stones kept there and foxes sitting protecting them, with a few wooden tori gates put on the sides as donation. And at some of the shrines, there were Buddha statues too. So the whole place felt like a mixture of a shrine and a temple. Its a long way up almost like a trek, and given we had started late, we stopped on the way and came back. And some from our group went up there the next morning to finish the trek. I can imagine it would feel very very spiritual walking up through the gates early morning, something one should definitely do...
Our next stop was the Bamboo groves in Arashimaya. It was a very long cycle ride there of about 1.5. It was fun, as we left town and cycled next to a river with rural landscape. It felt amazing, cycling at full speed, with the wind on your face while enjoying the scenes around. We also drove through some residential areas with pretty Japanese houses some of which were rich and some which were not, and then through some small back alleys .
As we started approaching the Bamboo groves, we could see the cherry blossoms concentrated along the river at one place. We parked our cycles there and then explored the area. There were again a lot of gardens and temples all around but we skipped most of them and just went to the bamboo groves. It was a nice walk, especially when the sunlight fell at different angles on the trees but honestly, I did not find it anything extraordinary. Also surprisingly, there was a separate and empty route for the rich people to explore the groves, which I found very interesting.
It felt like one of most touristy places around and was full of people, maybe because it was the end of the Sakura season. There were again loads of women in Kimonos. And the area was full of small shops. We had a quick lunch from a roadside stall as all the places were full of long queues. And then were off to our next stop - the Kinkakuji temple, a Zen Buddhist temple which had initially been built as a residence.
The Kinkakuji temple was a bit far and a few people told us not to go there, as apparently it was all uphill. We still did. And even though it had a bit of climbing up the mountain, it wasn't as tough as everyone had made it out to be. On the way, we crossed a few more shrines but did not stop as we had limited time. The temple was a golden one and its name means 'the golden pavilion'. It is set in the middle of a pond offering fascinating reflections and photo opportunities. It was nice to walk around and we got an excellent photo of a cherry blossom right on top of the temple.
Then we cycled back down to our hotel and were done for the day. It the evening, we visited a light and sound show at the Heian shrine. It was full of people to the point there wasn't enough space to stand or sit. The location of the show was around the pond. And the musicians gave a performance on 2-3 old Japanese instruments, standing in the wooden structure in between. The music was heavenly, and it was very easy to just get lost in the music, with beautiful views of cherry blossoms and the water all around. The garden was also all lit up which made the whole scene a lot more arresting. We spent an hour or so there and then were done for the day.
Our last stop of the day was the Mughal restaurant where we went for dinner. It was an Indian restaurant and had amazing food, though quite heavy. We had a hearty meal and soon called it a day. I loved Kyoto, the cultural depth and slow pace of life is something that I always prefer. We had covered the main spots in the two days but there are a few more places which were on our list but we never made it. They were Nanzenji shrine, Keage incline, Yasaka shrine, Maruyama park, Kodaiji, Haradanien garden, Ninnaji temple, Nijo castle, Tenryuji temple grounds and the Sagano scenic trail. Maybe you would?
Day 8: Train from Kyoto to Koyasan; explore the temples and shrines at Koyasan; stay at Ichijoin temple
The next day we had a relaxed morning in Kyoto and left for the train station in the hotel shuttle. We again went by the main canal of the city which looked charming with the cherry blossoms lining it, and men and women walking along in traditional Japanese attire. And the other side of the canal was full of pretty old wooden houses, right on the river bank. Part of it was also the Pontocho street where we had walked the day before. It all looked very old and ancient.
It was quite a trek to reach our next spot, Koyasan which was a very small village located in the hills and was a Buddhist centre of learning. So we took a bullet train to Shin Osaka and then a subway train to get to Namba. At Namba, you can buy tickets to Koyasan World Heritage which costs about JPY 3k. This provides for the travel to and back from Koyasan as well as entry to the site. Then you need to get to Gokurabashi. You can either take a direct train there or change two lines, both of which have a slight difference in fare.
We ended up changing the trains, and the second train to Gokurabashi goes through the hills through narrow ledges and narrow alleys in the mountains. It gains height every quickly and you start feeling you are in a different place altogether. Plus we encountered rain and clouds in the mountains soon and it started feeling heavenly, as if we were getting closer to the gods. And the last few train stations were located in a very narrow gap in the mountains, there was barely any place for the platform or for the train to pass. I wonder how (and why?) were all these stations made?
Once at Gokurabashi, you have to take a very steep funicular up to Koyasan. Once up the steep mountain, you can take the local circular buses which can drop you to the village centre and the temples you would be staying in. The same ticket that you buy from Namba in Shin Osaka is valid on all these modes of transport, all the way on the buses till your final location.
Koyasan is located in a valley with eight peaks all around, just like a lotus. The village was setup as a centre of Shingon Buddhist training. And there are many temples in the village where monks stay and pray, and which also offer a place of boarding to stay to tourists. Koyasan had 2000 temples at one time. Now there are only 80 left, of which about 50 take in tourists still. And even though its very remote and traditional, Koyasan still had all the modern amenities of living in a city.
We got down from the bus at our temple stop - the Ichijoin temple - and then checked in there. It was a nice huge temple all built of wood. And you only wear the slippers from the temple when inside. We all had a very simple room with barely any utilities, but it had everything we needed. They had heated blankets under the table to keep warm. And even wifi, TVs and ACs. All the rooms had wooden floors. And even though basic, the place felt quite modern.
Outside, there were loads of siting rooms for people to sit and meditate and some rooms to sit and have dinner. They were covered in traditional paintings and had a serene feel about them. Most of the rooms also had sliding doors, so you never knew if there was another room or just a wall behind the wooden partition. And they had different slippers for the bathroom too. There were even a vending machine inside the temple, I had never expected that. There was also a small little pond outside with fishes and its own Japanese garden. The whole place felt so disciplined and clean. There were lots of monks also around but we didn't see them much.
After checking-in, we went out for a walk in the village for about two hours and it felt completely like a hill station, with the cold, the trees and the mountains all around. All the houses around were wooden and simple. We also saw the local temple as well as a few pagodas. The first temple we went to was Kongobuji. And then we walked towards a collection of pagodas known as the Danjo Garan. One of the pagodas had a Buddha statue which was the first such big statue I had seen inside a building here in Japan.
By this time, I had started loving being in Koyasan, it gave a very beautiful feeling to be there , also because there were so less touristic crowds around. In the evening, it started raining heavily and started getting cold. So we went back to our temple. We had booked a night tour of the cemetery (which is a popular thing to do here) but it got cancelled given the heavy rain.
So we all had an early dinner at 630 pm in the temple. They served pure vegetarian food there - a multi-course dinner with loads of different kinds of small servings, known as the Shojin Ryori meals. It was very tasty and all vegan. We also all dressed in the traditional attire of the temple for the dinner.
After dinner, some of the people in the group still went out for a walk in the rain to the cemetery! It was apparently fun (and scary and cold) but I chose to stay inside in the warmth of the temple. The doors of the temple are locked at 9 pm and after that, we just played some cards inside. There was also an onsen within the temple which was good to use at night. The whole stay in Koyasan felt like a great way towards the close of our trip, to slow down and enjoy the depths of Japanese culture, and I was totally loving it.
Day 9: Explore Koyasan: morning prayer at temple; visit to cemetery; train to Tokyo; stay at Otani; explore Shibuya and Ebizu; dinner at Priya
The next morning, we first attended the Buddhist prayers in our temple in the morning, starting at 6 am. The inside of the temple was the most decorated Buddhist place I had seen in Japan as most of the other places were never so colourfully and lavishly decorated. It was within the temple complex and lot of the tourists were sitting on the side, while the priests sat in the prayer area and prayed. We did not understand what they were saying as it was in Japanese but we could feel everyone meditating. There was a lot of chanting during this time and again, I experienced peace. And then we had the simple temple breakfast, again with multiple courses of vegetarian food.
We then split into two groups. The first went back to Tokyo while the other stayed back in Koyasan as we wanted to stay away from the chaos of city life for as long as possible. We then went for a walk to the cemetery which the village was most famous for. Apparently, the version of Buddhism followed here was started by the monk Kukai (Kobo Daishi) who lived and died here and is buried in the cemetery. It is said that one day he will rise from here. And so lords and common people for the last 1000 years have been putting up tombstones along with him in the cemetery. And it is said that when he will rise, the rest will also rise with him.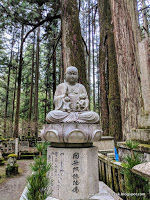 We walked through the cemetery and it felt like walking through 1000 years of history. All around were huge tall Japanese cedar trees which must be 100s of years old. There were huge stones and monuments to famous people. And then smaller ones which you can see are for normal people. And then there were the small Buddhas with caps and red clothes which are children's tombstones. It was eerie walking through this but also again calming. And that is one of the things about Japan I remember a lot - the calm and peace.
We walked till the end of the road and there were some places of interest on the way. There was a well where if you cannot see your reflection, you will die within two years! And then a stone where you can (apparently) hear the cries from hell underneath if you put your ear to it. And then a structure with a stone inside, a stone which you can lift and move easily only if you have a pure heart and haven't sinned.
At the end of the walk is the huge Buddhist mausoleum where we sat and prayed for sometime. They had a hawan like activity going on there for a long time. Next to it was the hall of lanterns where the lanterns have been burning since eternity. The entire place felt like from a different era and this was also one of the highlights of the trip for me, the visit to Koyasan. While walking back from the cemetery, we walked into some shops which were very small coffee shops. And they also felt different after our whole spiritual experience at the cemetery.
Once back from the cemetery, we went back to our temple and started our trek back to Tokyo - along the trains and the subways and the bus and the funicular. I felt sad saying goodbye to a place of such peace, to go back to Tokyo! It took us about 7 hours to get all the way back. We also crossed Mt Fuji on the way and were mesmerised by the view. It felt like Mt Fuji was a standalone huge mountain in the middle of nowhere and still covered with snow. I could also see why its revered so much, it looked so majestic even from the train!
We reached Tokyo by the evening and then went back to Shibuya to walk around before dinner. We saw the busiest intersection again and a couple doing their wedding photography there! We then had another Indian dinner at Priya. The food was as usual amazing - must say the Indian food at Japan did not disappoint us at all.
After that some people wanted to party and we kept looking for an hour for the area called Ebizu. We walked around a bit and once we reached there, it turned out to be quite a downer. The pubs were very small, had no place to stand and allowed smoking inside in the small places. Definitely not my kind of a place. Anyways it was time to say goodbye to Tokyo soon as we had an early morning flight. After a quick stop, we then came back to our hotel for a quick nap before leaving again.
Day 10: Flight back from Tokyo to London
We left quite early for the airport and were off for London, again through Beijing. Sometimes you can see Mt Fuji from the flight too but we sat on a side which didn't have the view ????. We again had a long stop in Beijing and were subjected to the Chinese lack of politeness which felt quite the opposite of what we had seen in Japan. And they scanned everything again! And we were soon back in London. Surprisingly, we saw (or definitely noticed) a lot more cherry blossoms in London this time after having seen them all around in Japan.
The trip felt so long and deep, it felt like we really had got involved with the country. I loved experiencing the cultural aspect of Japan, a lot more than the lights and the developed side. And I also realised that we had been able to explore only a very small part of what all Japan has to offer. I think another trip back there is definitely going to happen someday.
Part 3: Impressions of Japan