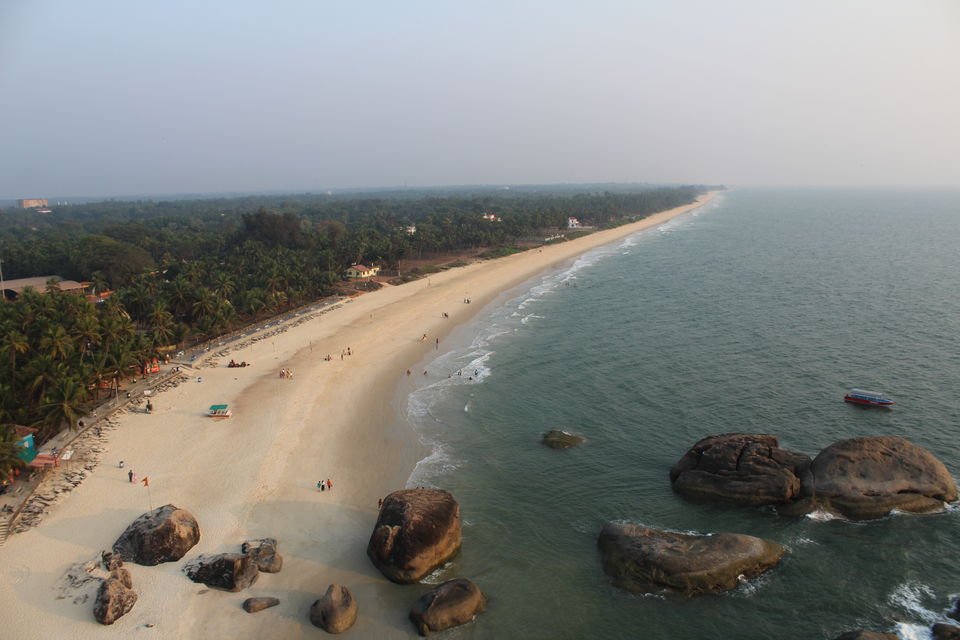 After having read a lot about solo trips, the idea seemed very interesting and exciting. Having grown up in Bangalore for 25 years (the city which has given me everything), I hardly explored Karnataka.
With a recently bought beast (Thunderbird 350 :) ), a frustrating time at work because of people around me, being clueless on what next in career and life and with just a week before I turn 28, I thought it was the right time for a solo trip. The love for beaches made me choose coastal Karnataka. My parents thought I was mad to plan a trip alone and so were many of my friends. After convincing my parents, I started off on 17th Feb.
Day 1:
I started off at 4:45am from Bangalore with my luggage and tripod firmly tied to my bike. Though I have driven near my house for atleast a few thousand times before, the joy and adrenaline of going on the first solo trip made the initial ride a memorable one. It somehow gave me a feeling of a bird being set free.
My first stop was Mangalore. The route was Bangalore - Belur - Charmadi Ghat - Mangalore. Shiradi Ghat was closed for the "n'th" time post monsoon to carry out road work. I also stopped by at Shravanabelagola to witness the Mahamastakabhisheka. I then learnt that the first day was reserved for people who had booked months ago! With the disappointment that the first stop wasn't a good one, I slowly moved on..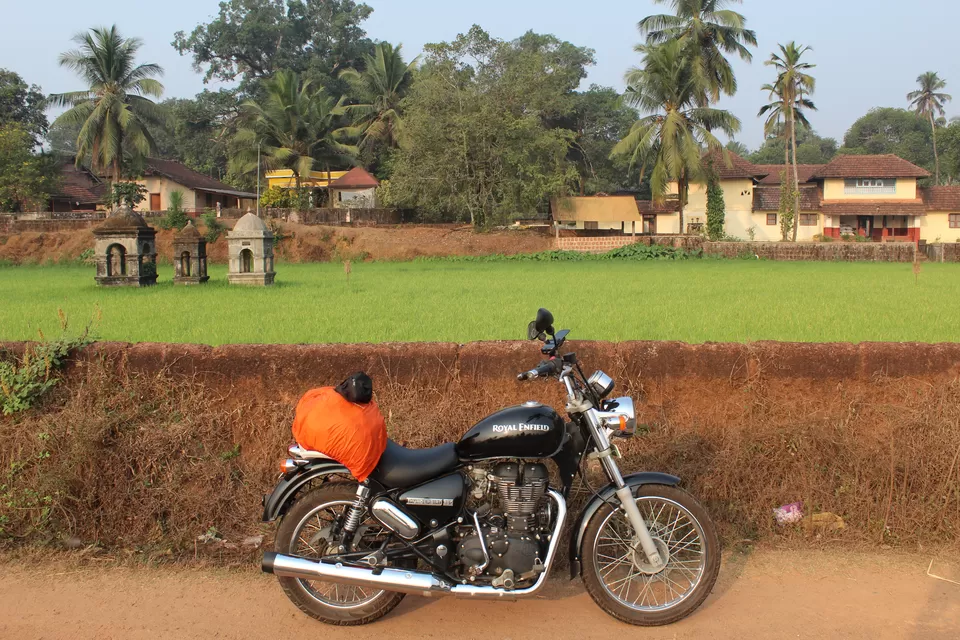 A good breakfast near Hassan cheered me up and I was again all excited :) I stopped by again near Belur for a short photo session and played around for about half hour. After having a good breakfast and a good break, the sun was starting to show its full effect and I realized, I had to cover the route quickly. Next was another excited part of my journey, the journey through Charmadi Ghat and it truly lived up to my expectations. Greenery all around me and a cool breeze made me thoroughly enjoy the drive. I stopped by for lunch immediately after Chramadi Ghat at a small eatery.
Having taken another good break, I headed to Mangalore and reached my Airbnb booking at about 2 30pm. A quick shower and as I sat in the living room of the house, I started off having a conversation with the Airbnb owner. We were soon talking a lot about trips and little did I realize that it had already been 6pm. I had planned to catch sunset at a beach but I was late. Nevertheless, I was happy with the new things I learnt from the conversation. I set out for a walk and found a place (also suggested by my friend) called Pabbas in Mangalore. I would definitely recommend this place for any visitor to Mangalore for a good ice cream/sandwich/pizza or the unique ice cream pizza. I feasted on a good ice cream and went to bed happily having covered a good 400kms on day 1.
Day 2:
A good night's sleep and the excitement of exploring a new place, I was ready by 7am. I headed out to Sulthan Battery as it was the closest to my place.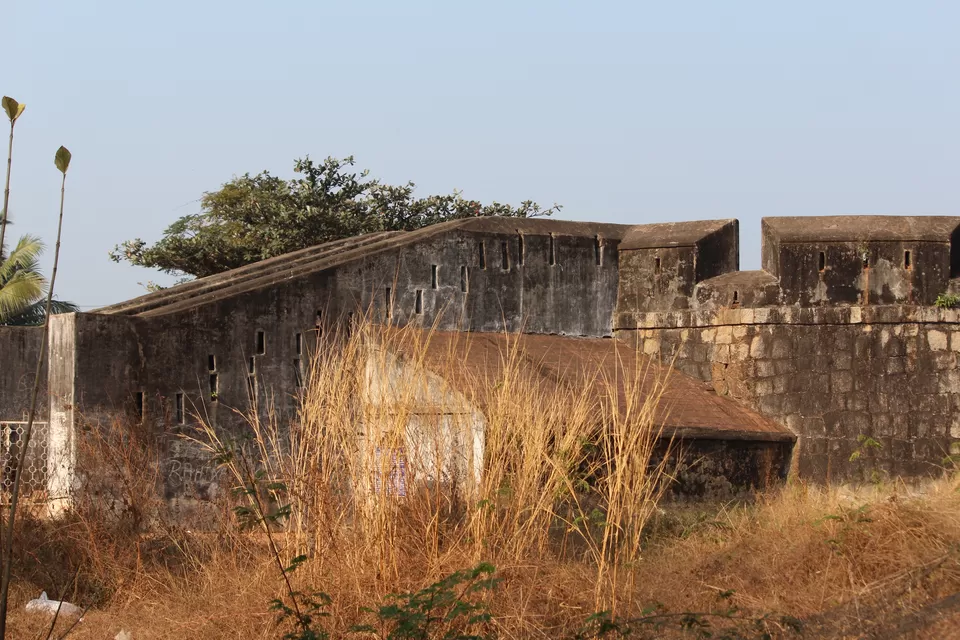 The early morning ride in Mangalore was a very good one. A few pictures on my camera and I set out to Gokarnatheshwara temple next. I was lucky to see a wedding ceremony and a good darshan at the temple.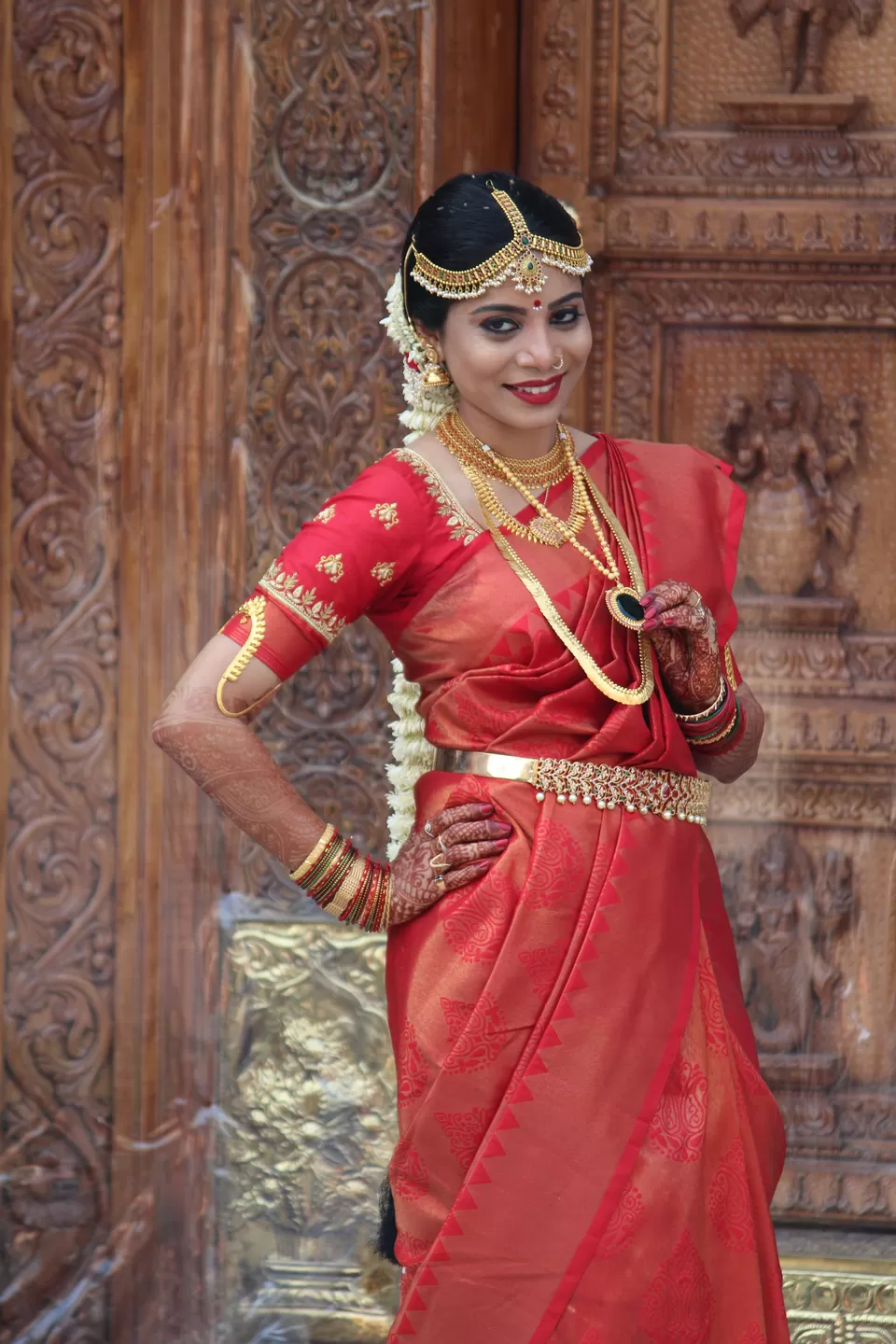 Next stop was Someshwara temple. This is the first temple I have visited on the edge of a beach on a small hill. I was in awe of the beauty of the location. I was again lucky to see a boat just return from the sea with a catch of fresh fish.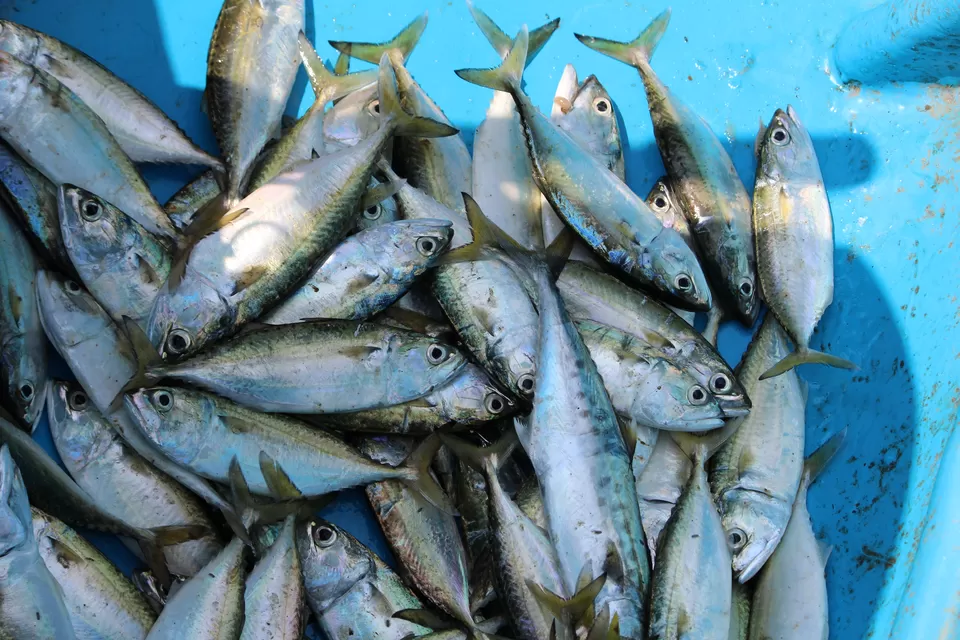 By now, the sun had again began showing it's full effect and my next stop was a small village called Thiruvail to catch up on a local event called 'Kambala'. Growing up in a city, I had never experienced the festive atmosphere of a village and it was a great atmosphere around the place. I reached the place just in-time for the semi-finals and finals. This was the event which was celebration time for farmers. A few fields were cleared off for this event and it was set up in an awesome backdrop of coconut trees, beautiful fields. Having captured the event on my camera (a sense of satisfaction), I returned to my room stopping by for lunch on the way.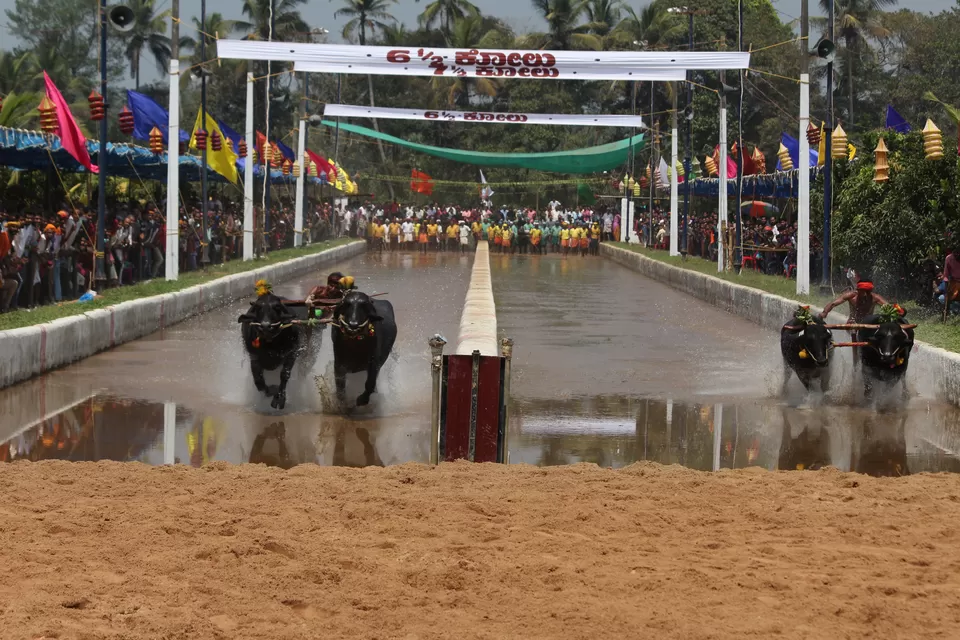 I took a good rest of about 2 hours and went through all the pictures that I had clicked. I then called up my doctor friend studying in Mangalore and we decided to watch the sunset at Sasihithlu beach. It is slightly far from Mangalore and hence is not explored my many. This was the standout beach I had been to thus far. I was fortunate to capture the beauty of this place on my camera.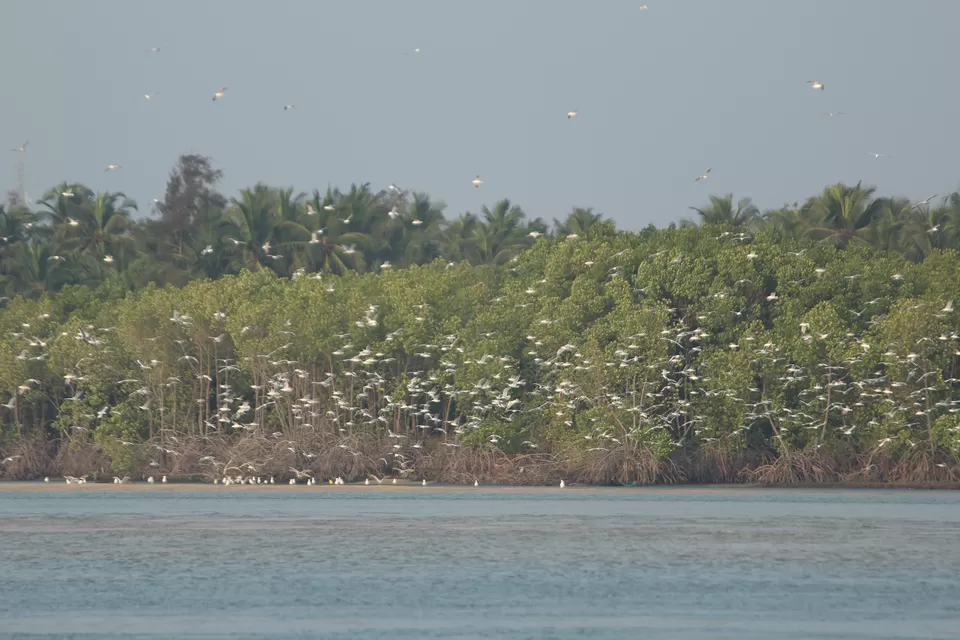 Both of us sat on the beach and caught up on what was happening in our lives. The small things gave me a lot of joy :) My friend then decided to better my day and took me to Bittu The Dhaba on NH66. Feasting on food and watching the first T20 between India and South Africa, we had a good time. I returned to my room and that was the end to my stay in Mangalore. I loved Mangalore a lot and took with me memories of a clean, green city and good people :)
Day 3:
The plan was to visit Moodbidri, Varkala, Koodlu Teertha falls, Barkahana falls and Agumbe sunset point for this day. I set out early again and Moodbidri was my first stop. The architecture of the temple was great and it was a calm, quiet place to be in.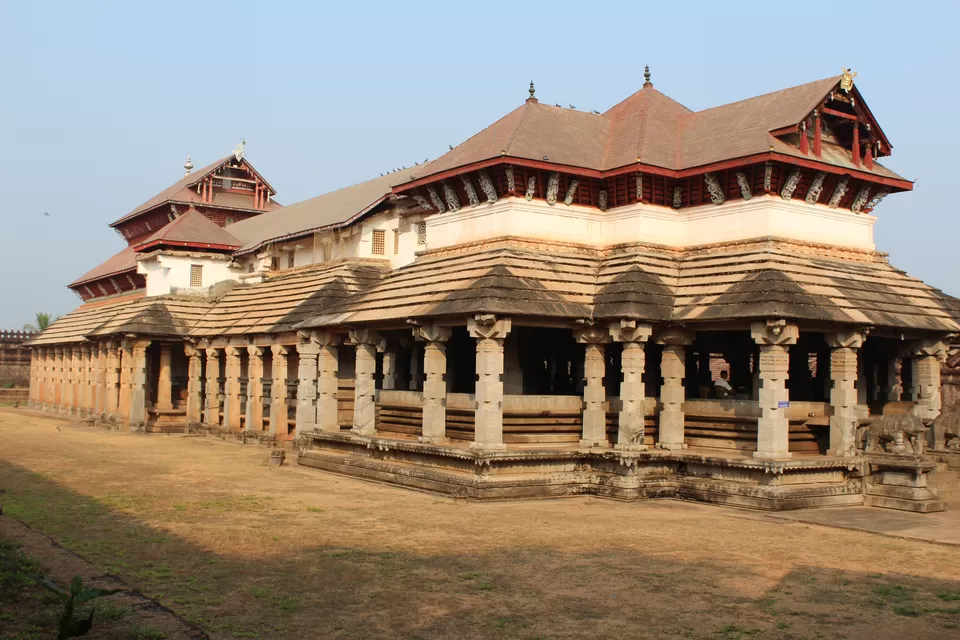 Next stop - Varkala. Again, unique architecture and the calmness of the place was a treat to the eye.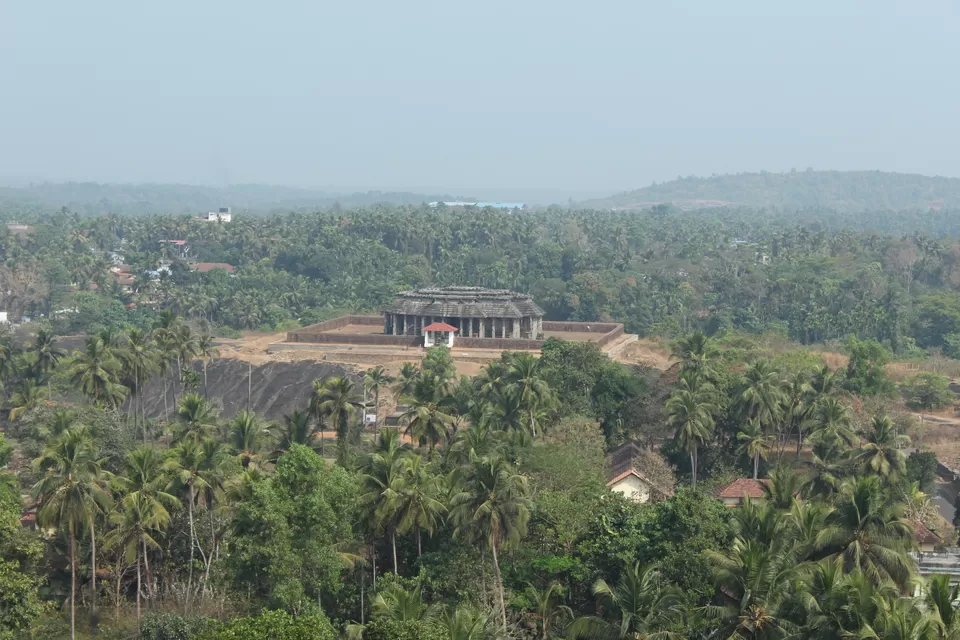 Koodlu Teertha falls was a 15km deviation from the main road and the road to the falls was bad. After covering about 7kms, a person told that I couldn't proceed further as road work was going on and it would 2hours to reach the falls by foot. I decided to head back and inquired about Barkana falls. As the monsoon had ended by Septemeber, he told that there was hardly any water and suggested that I skip the place. My plan for the day was all of a sudden over as I didn't want to wait for another 4 hours to catch sunset at Agumbe. I decided to head to my booking in Udupi and reached there by 3pm. Disappointed, I lied down and began to check for places around me and I decided to visit the Kaup beach. I was at the beach for sunset and loved the time spent at the beach.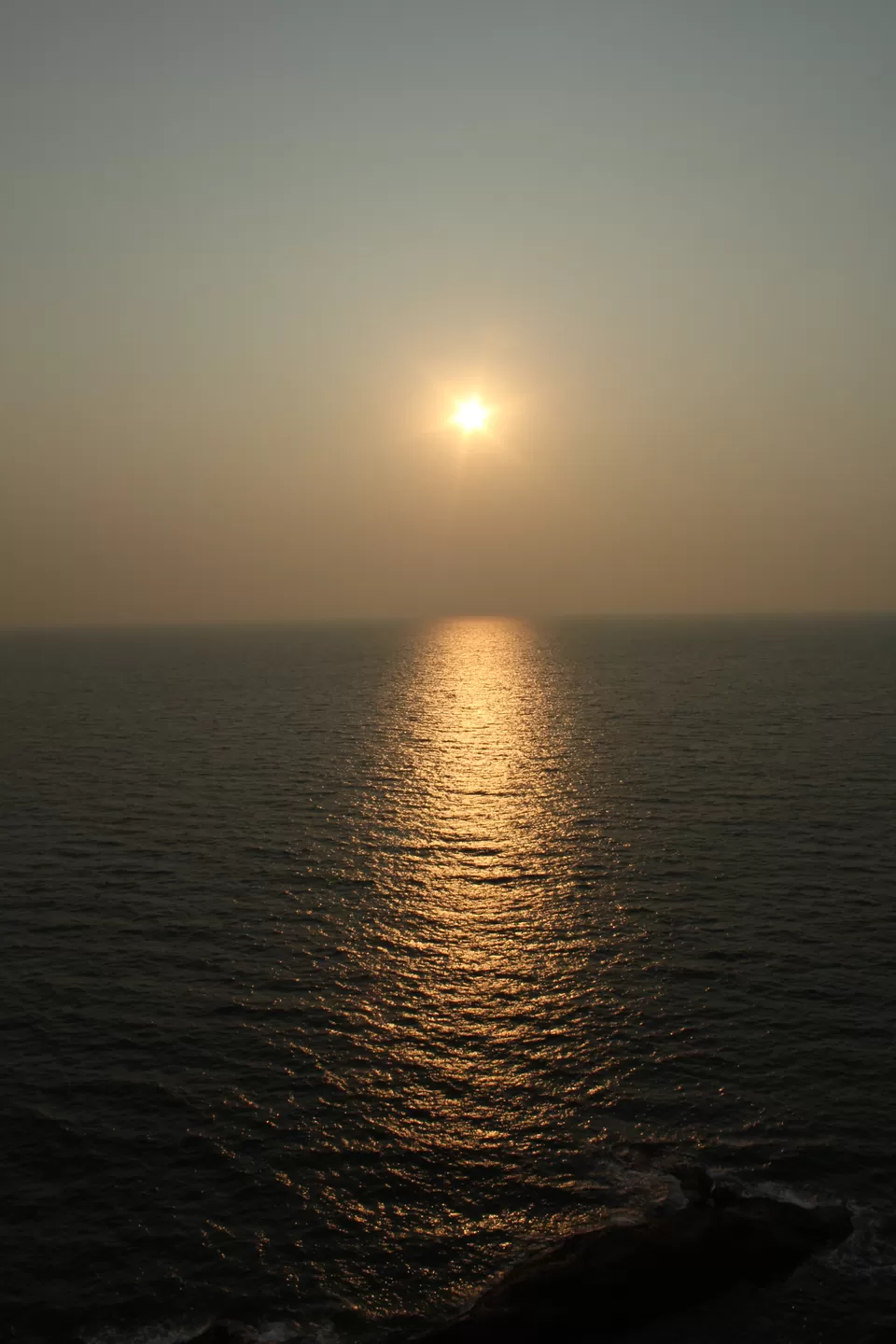 I was happy again and then decided to visit the Sri Krishna temple in Udupi. After a good darshan, I headed back to my accommodation.
Day 4
The Airbnb where I stayed was slightly off Udupi in a village called Aroor. The owner's dad (a 70 odd year old man) took me around the village for a 5km, 1 hour walk. It was a beautiful morning and I had a nice time walking through farms, bridges on backwaters and spotting a few birds.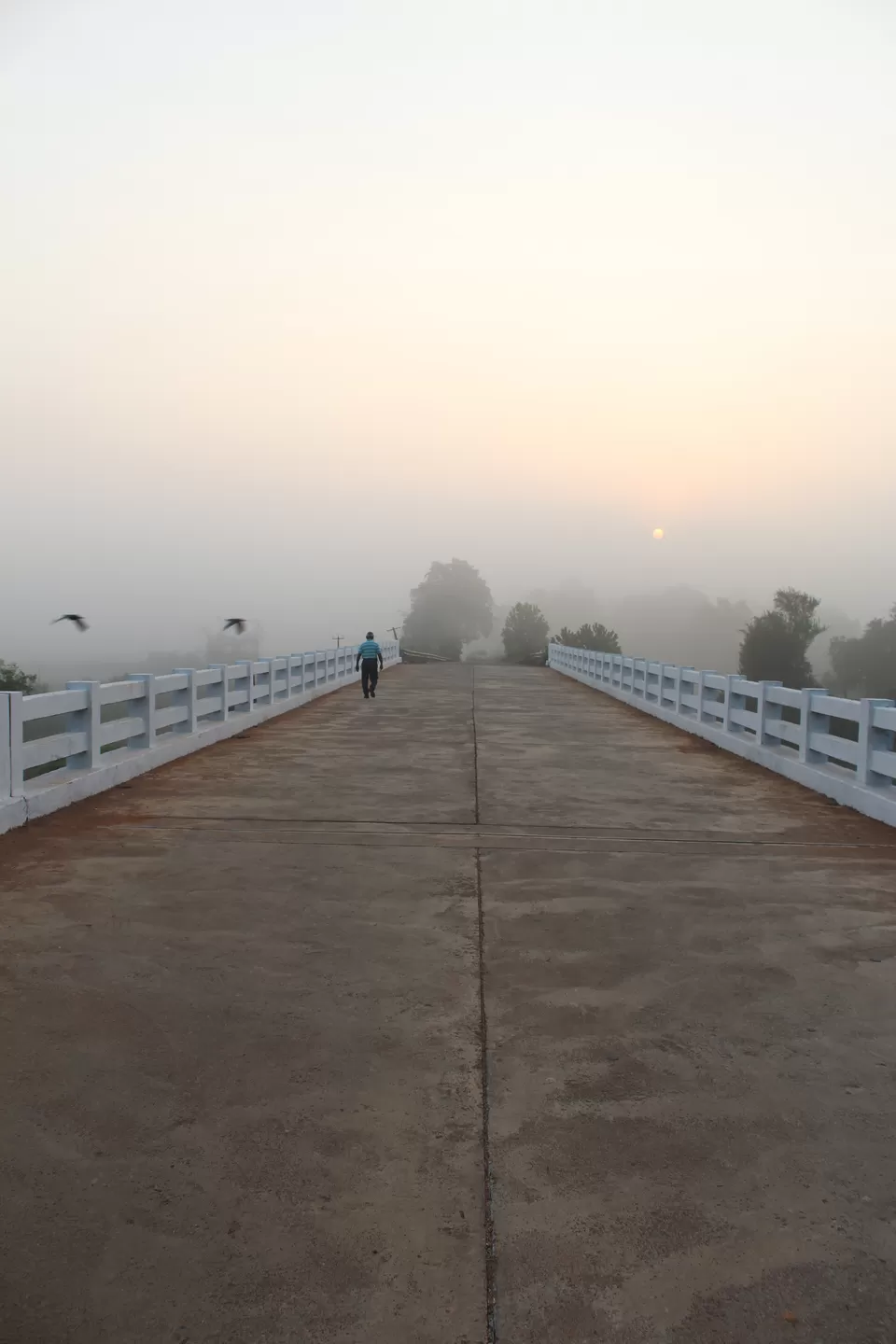 I then headed off to St.Mary's island. This island is an example of how we Indians can maintain tourist places when we care truly! The island is very clean, less crowded and small. One can easily see 3-4 colors of water. I played around for about an hour and returned to Udupi.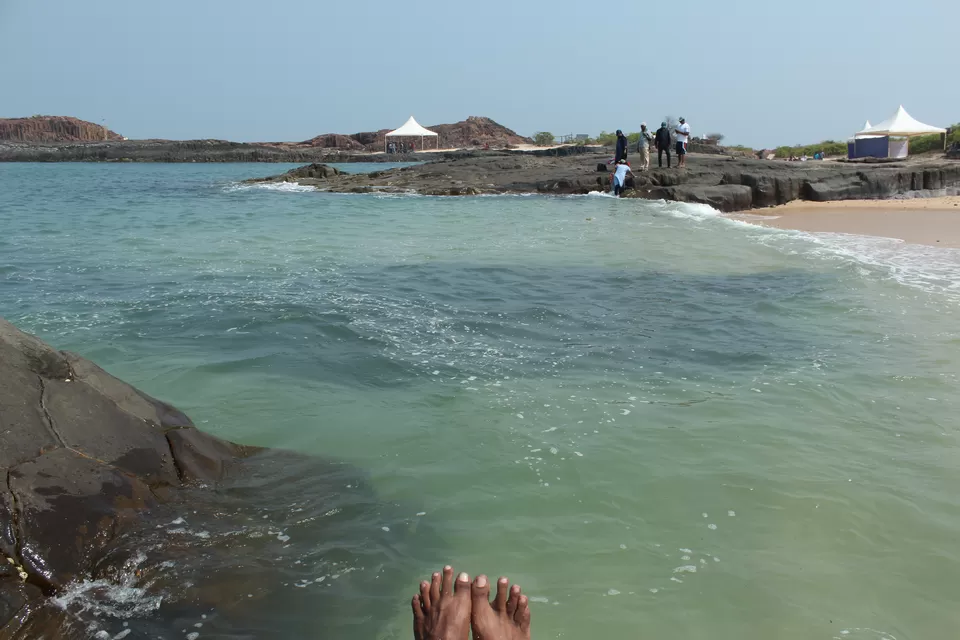 I feasted on an aswesome lunch at Woodlands Udupi :) The heat and humidity was beginning to take a toll and I happily dozed off after lunch. What is this holiday for after all? I wanted to explore new places and relax. That is precisely what I did :) I got up after a few hours and went for an evening walk around the farms near my place.
Day 5:
Like all days of my trips, I started off early. The plan was to visit Kundapura Vinayaka Temple, Maravanthe, Murudeshwara, Mirjan Fort and reach my destination for the day - Gokarna.
The Vinayaka Temple in Kundapura is unique that Ganesha idol is in a standing posture rather than the usual sitting posture. After a quick darshan, I headed off to Maravanthe. I was fascinated from the time I read about the fact that a road separates Arabian sea and Souparnika river. I was hugely disappointed to see a huge bridge (disadvantage of the modern developments) separating the sea and the river now!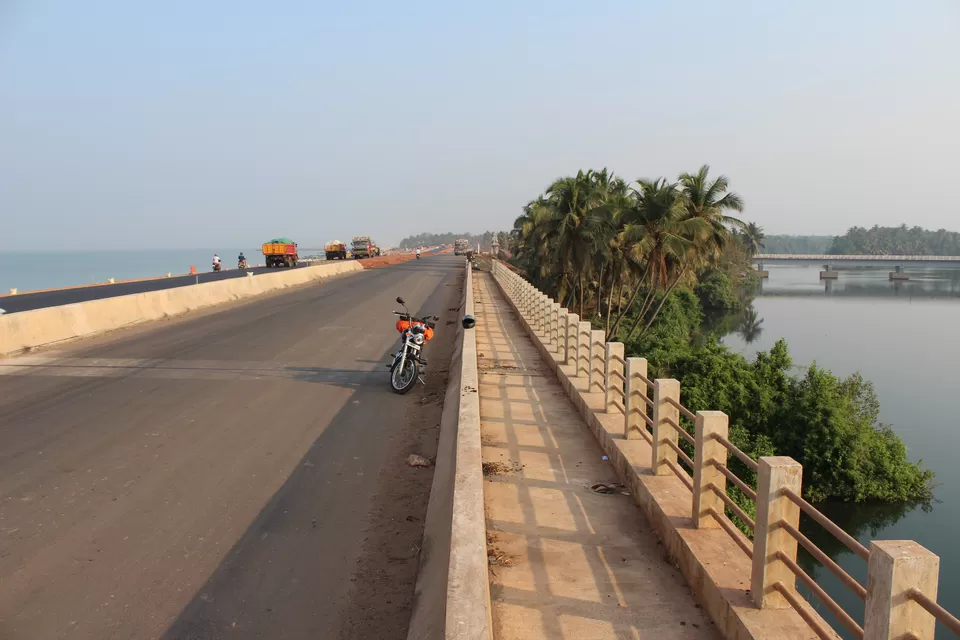 Disappointed, I headed on to Murudeshwara. The South Indian style of temples was evident here with a huge gopuram and a giant statue of Lord Shiva.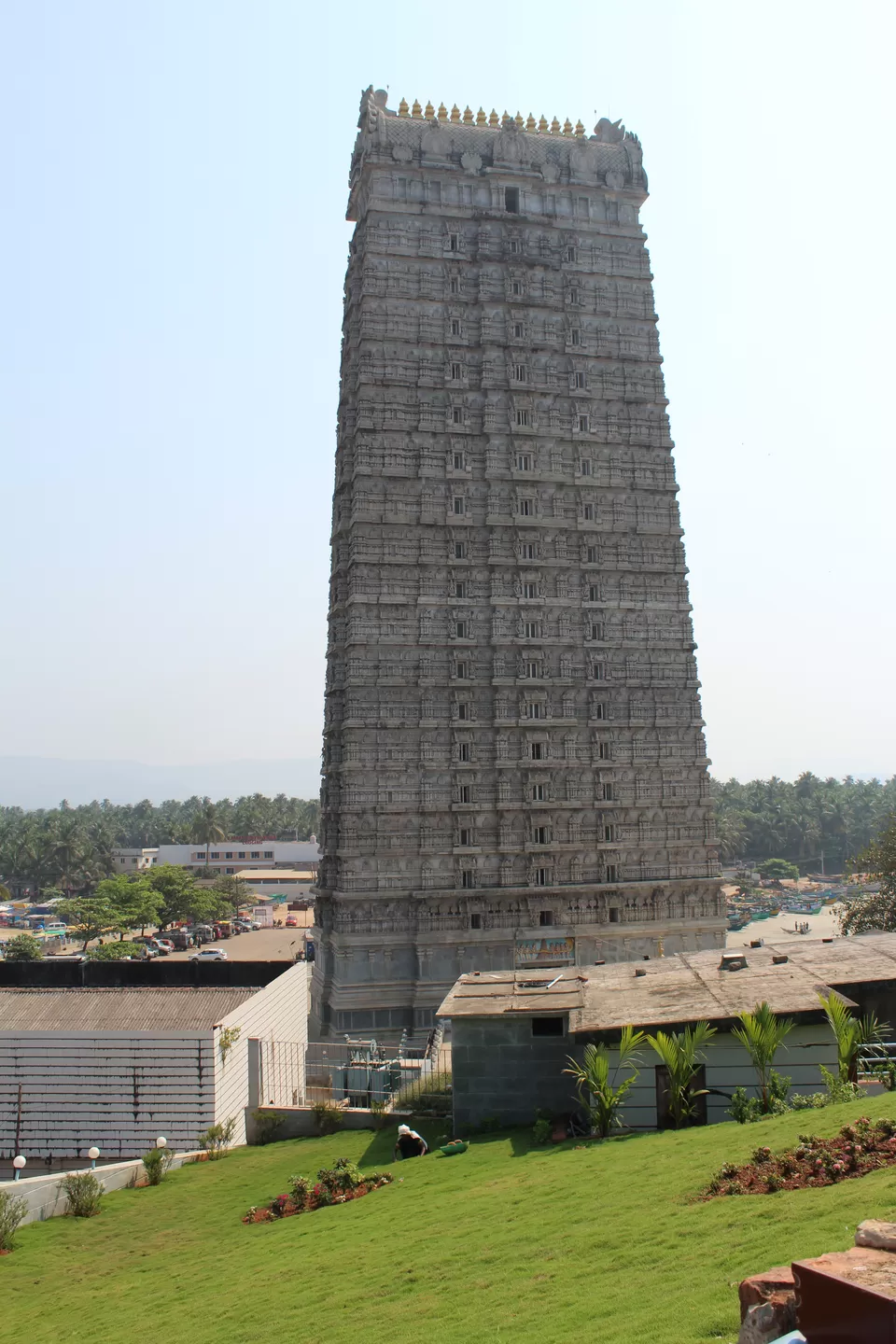 I went around this place for a while and then started off to the next place on my list - Mirjan Fort. This place is beautiful and people who love old monuments will definitely enjoy visiting here. I was the only person at the fort when I visited and spent close to an hour at this huge fort.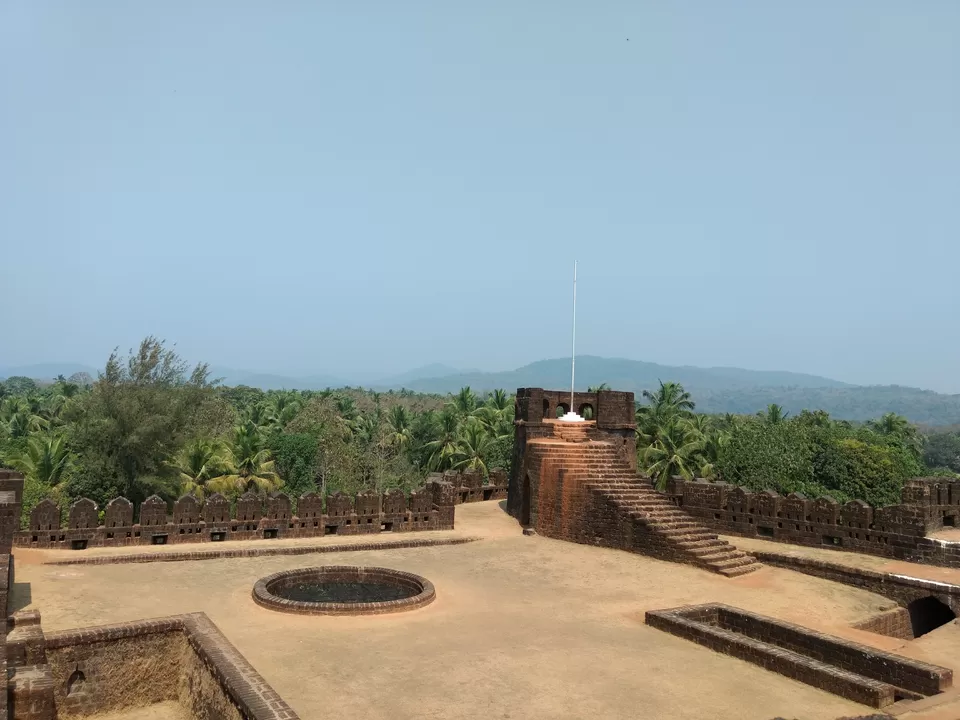 I then rested for a while under a tree and it was one of the best feeling on the whole trip. The locals then told me that Amit Shah, the BJP president was visiting Gokarna and advised me to reach Gokarna before he did. Otherwise, the traffic police would hold up traffic and like many times, a comman man would continue to suffer. I reached Gokarna by around 4pm and checked into my room. A quick shower, half hour rest and I was out again to enjoy the beaches of Gokarna. I thoroughly enjoyed a long walk on the middle beach of Gokarna.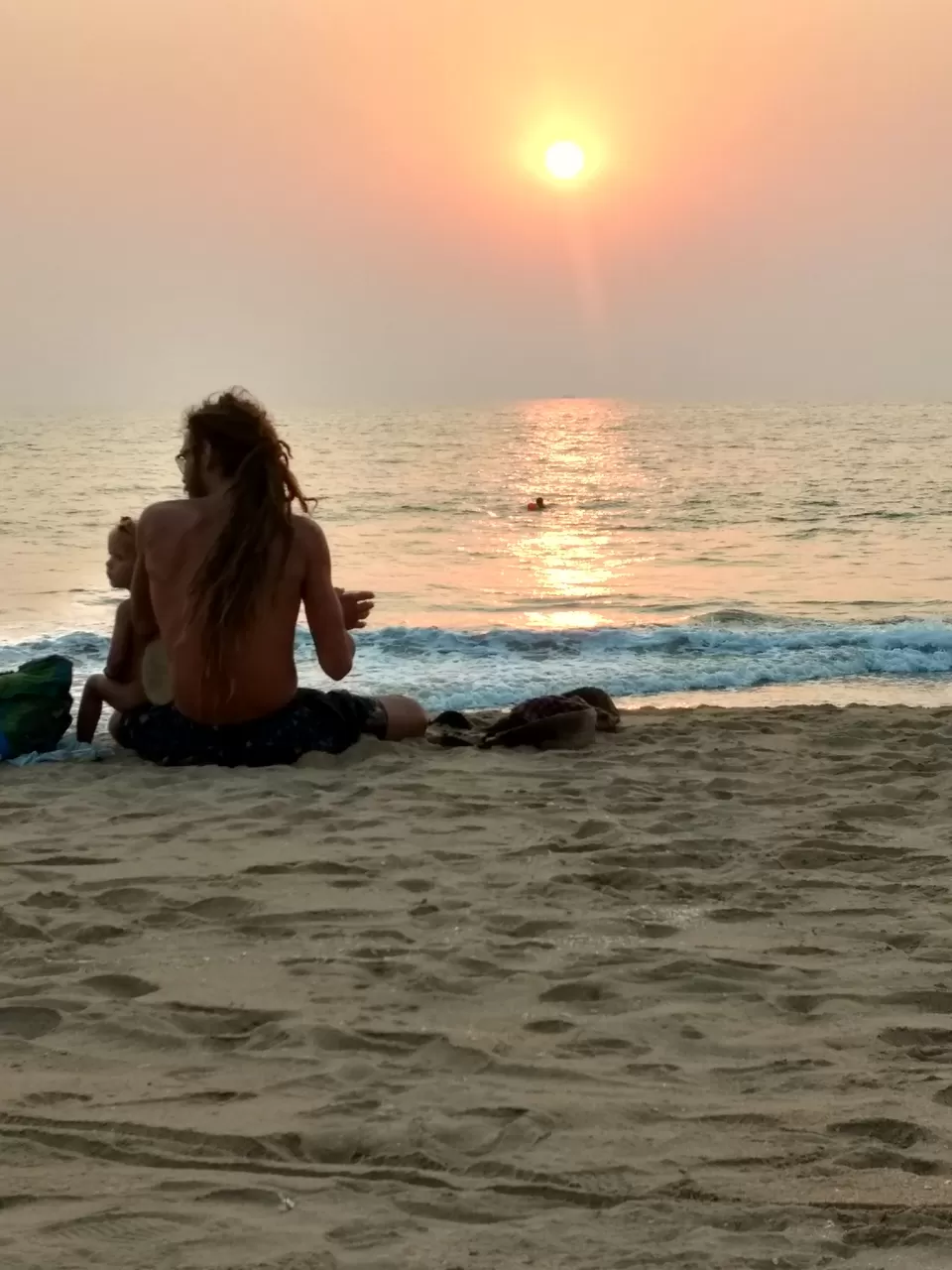 There are many cool cafes on the beach and I selected Sunset Cafe for my dinner. I thoroughly enjoyed my dinner and the cool breeze blowing from the sea to land made the weather enjoyable.
Day 6:
I got up early to witness the sunrise and had a long walk on the beach. After a good and happy start to my day, I planned to visit Yana caves.
The ride to Yana caves was very nice with greenery all around and cool breeze welcoming me throughout. There is a small temple at the base of the caves. Being the only person in all of the caves, it was indeed scary to go around. I still managed to around and admire nature's beauty. After clicking a few photographs, I returned to middle beach in Gokarna.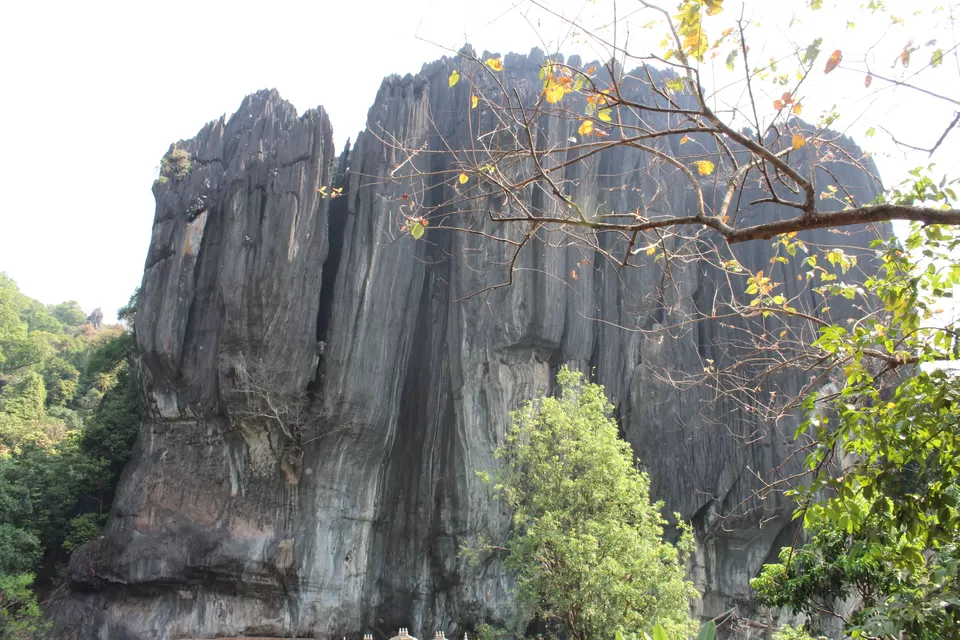 I decided to have lunch in another cafe this time called Kariappa B Garden cafe. This cafe has good food and I thoroughly enjoyed my meal. I spent close to 3 hours at the cafe, enjoying the weather and relaxing at this place.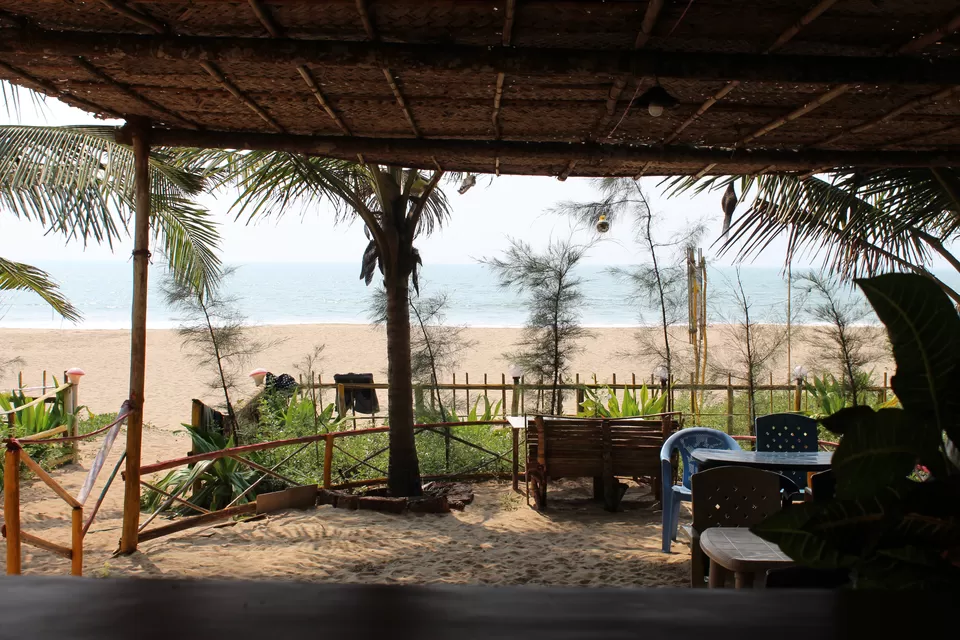 I then set out to visit Om beach and Kudle beach. Again, the beaches were very clean and well maintained.

After enjoying the time at these beaches, I returned to my room and packed for my return to Bangalore.
Day 7:
I started off in Gokarna at 6 40am and Sirsi was my first pit stop. I would rate the drive from Gokarna to Sirsi as the best in my trip. Ghat section, sun trying to sneak through the dense green cover, cool breeze and with my Thunderbird raring to go, I completely enjoyed the drive. After a quick stop at Sirsi, in another 100 odd kilometers, I merged onto the Bangalore - Mumbai highway. Once I hit this highway, there was no stopping me nor my Thunderbird :) I reached home by around 4pm and that was the end to my trip. It was my first solo trip and obeying the traffic rules on the road ensured that I returned home safe.
I wouldn't tell that this trip has solved all my problems in life. It has opened me up to new people, the willingness to start a conversation and learning to be a lot more calmer. I also realized how scared I am in dark and lonely places. I regained the lost interest in my photography hobby and the love for farming increased many fold.
Travel responsibly, don't litter and drive safe :)
I would dedicate this short write, the first time I have written an article after I passed out of PU to my English teachers from school, CN Geetha Ma'm and Vasavadatta Ma'm.
Frequent searches leading to this page:-
karnataka tourism packages to goa, goa karnataka tour packages, karnataka government tour packages, karnataka group tour packages, karnataka govt tour packages