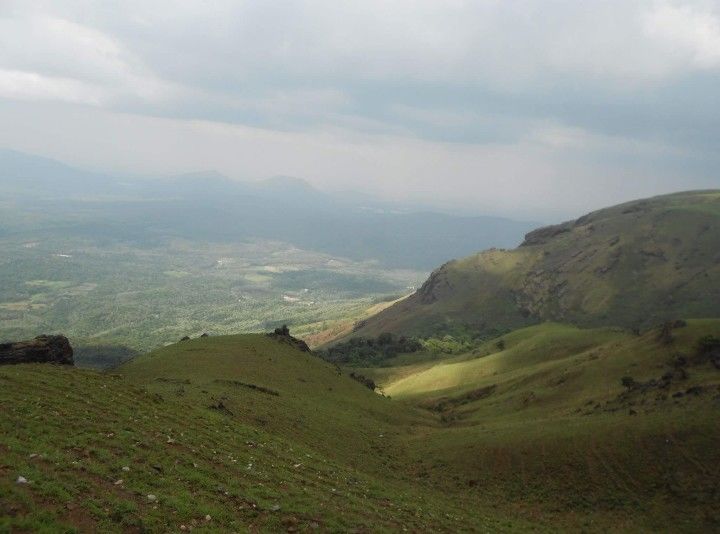 Lucky are those, to who the hills call. The hills have a serenity enveloped, which soothes the body, mind and soul. The hills are like a balm to the aching heart, especially of a hackneyed city-dweller.
I first experienced the magical aura of the Baba Budan Hills (also known as Dada Pahad, named after the Sufi Saint, Hazrat Dada Hayat Khalander) in the year 1973, but I have vague memories of them now. Later on, we consecutively went there with my family for seven years. So, whatever childhood memories I have of these lovely mountains is when I was in my 7th STD ie., roughly of the age of 12. But this repertoire is not culled out of those old memories, but of a very recent visit again after nearly a gap of 36 years.
The main peaks in the Western Ghats are Mullayanagiri and Baba Budangiri. Both the peaks are famous for wild treks. Collectively these peaks are called Chandradrona Parvata Shreni, because of its shape of a crescent moon. A lot of trekking groups visit here and camp over night in the wilderness. Its an experience to be experienced, and not something to merely read in blogs.
But, it appears global warming had left it's mark. The places were the same, the mountains were also the same, but still, something seemed amiss. Back then, when I had visited, at almost every short distance, there was a cool stream (which you could call as mini waterfalls) dripping from the mountains. As children, we were so thrilled to see those mini waterfalls. The water was so fresh, so pure and so tasty. We almost always quenched out thirst with it at every stream. Back then, it was not the era of bottled water – No Kinley, No Aquafina. Our trip lasted for a full week. Early in the morning, when you go for a walk here, the mountains are so high, that you can see the clouds hovering below between the mountains and the valley. Ever seen such a scene…? Come here to Baba Budangiri for such a visual delight. May be, Manisha Koirala was right in singing, "Aaj mein upar, Asmaan neeche". It sounds so apt here.
We left Hyderabad at 05.45 PM by Rajahamsa Executive, a KSRTC bus to shivamogga. Reached there at 07.00 AM. We had hired a Tata Sumo to take us to Baba Budan Hills from there. We had a typical south Indian breakfast of Idli, Dosa and Wada and the customary filter coffee at a Restaurant called Ashoka Deluxe just opposite the KSRTC Bus Station at Shivamogga. We left Shivamogga by 08.30 AM and started our journey of roughly 115 kilometers via Bhadravati. It takes about 3 hours, but we took an hour extra because we stopped by a Coffee Shop called Nisarga Coffee House. We finally reached Baba Budan Hills at 12.30 PM. Day 1 was meant to unpack, have lunch and rest after a long journey of 740 kilometers from Hyderabad.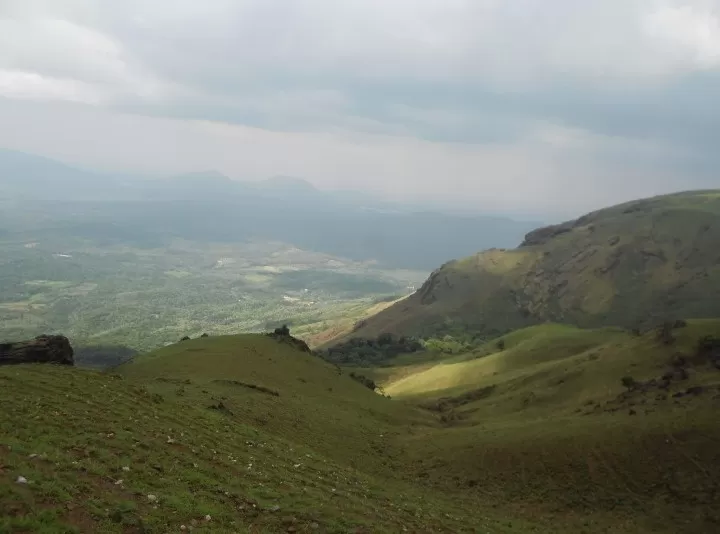 On Day 2, we woke up early, collected wood from nearby and prepared dal rice, had it and left for Manikyadhaara, which is near Kemmanagundi. Its approximately 8 to 10 kilometers away from the shrine of Hazrat Dada Hayat Khalander. Jeeps charge a nominal Rs.10/- pp to take you there, but mostly people prefer to walk. The view of the mountains is excellent and can be enjoyed only when you walk this distance. It is a waterfall which is considered pious by the pilgrims who visit the shrine of Hazrat Baba. It is customary to first take a bath at this waterfall before entering into the cave shrine. The waterfall has reduced drastically and what we found was only a thin stream of water falling which in no way qualifies to be called a waterfall.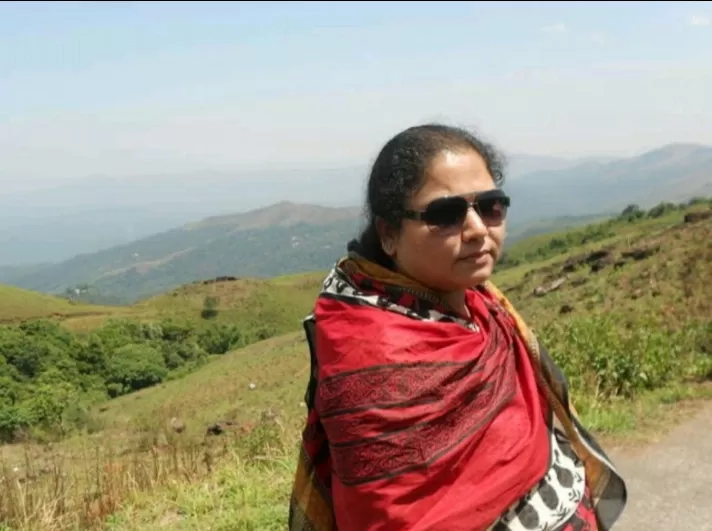 Day 3, we again woke up, prepared our lunch, packed it and left for Palang Talab, a lake on the way to Mullayanagiri. During the visit to this place during my childhood, I clearly remember that there were at least 7 mini water streams, cool and refreshing. Now, there was just one and that too with very little water.
These mountain peaks, especially between Mulayanagiri and Baba Budangiri are a trekker's delight. A numbers of resorts dot these mountains. Our trip was mostly of a religious kind, so cannot elaborate on the experiences of a trekker. But, of what I read from the blogs of various trekkers, this is a MUST VISIT if you love trekking. Camping in these mountains is a heavenly experience.
So, the next time the travel bug bites you, head straight to these mountain range. Mark my words; you will keep craving for more.