Yeah! Mountains are calling and we must go!
But how it all started????
On one fine day, an e-mail pinged into my laptop when I was ruthlessly hitting the keypad & maneuvering through excel sheets to complete the work asap. That brought a big smile on my face as it was the holiday list of 2017 and had so many long extended weekends.
Holiday 1: 13th Jan 2017 - Makar Sankranti
Although it happens on 14th of Jan, our HR was kind enough.
There it all started and the quest for destination began, the travel bugs started biting day & night. Since we had already over celebrated the new year's, we were a little tight on budget, so Goa was out of the question but as it was going to be the first ride of 2017, it had to be splendid.
A very good friend (& co-traveler in this trip) said "COORG". I nodded "Yes, I am in" and the plan is on.
Research started! Route map, road conditions, places to visit and what not?
It was 'Hyderabad>Chikmanglur>Coorg>Bangalore>Hyderabad' with more that 10 major & numerous minor spots to cover.
Very Soon we realized that the place has a lot to offer and cannot be covered in 1 or 2 days. Time to cut short the laundry list. With the time in hand the question was COORG or CHIKMAGALUR as both could not be covered. Internet got us confused even more.
Finally it was Chikmagalur, reason being 1) it has more to offer to explorers than tourists 2) less commercialized ~ more craziness 3) less distance to be covered to & fro Hyderabad ~ more time to explore.
So the day has come, motorcycles are serviced & polished, bags are tied up and we are all geared up (physically with riding gears & mentally with loads of energy).
Day 1 - January 12th, 2017
Completed our offices before time and rushed to the meeting point (friend's place) at Gachibowli around 10 in the night. We did our part of prayers, boosted ourselves, played songs, hugged each other, smiled & began the journey. I was scared, my first motorcycle ride where I would cover 700 Kms at a stretch. It was going to be a hell of a ride.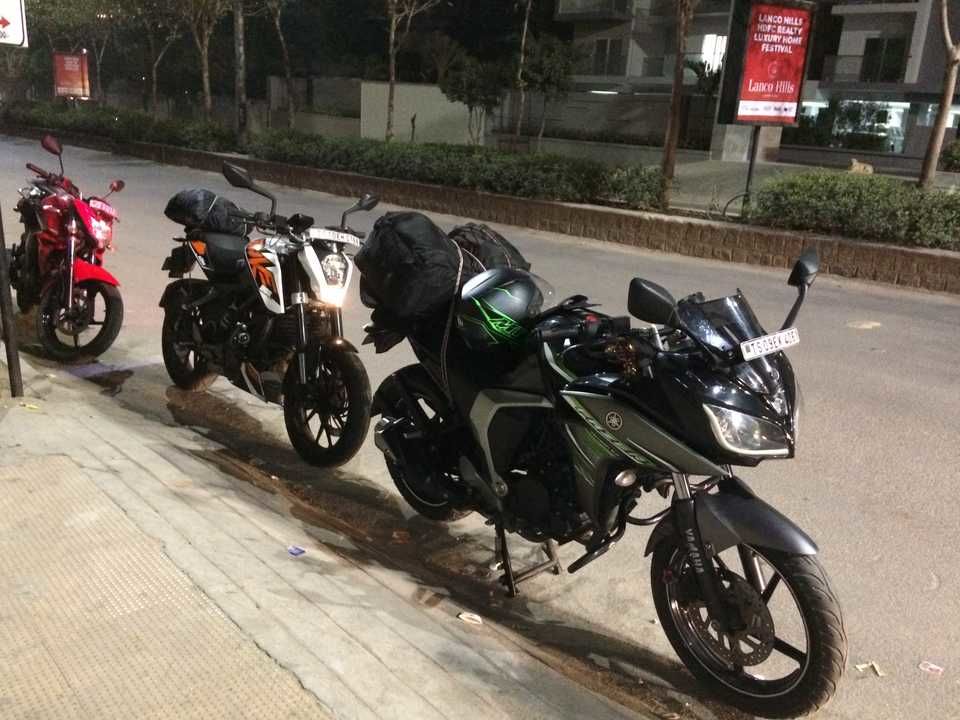 Itinerary for the night was quite simple Hyderabad>Airport>NH44>Anantapur, 360 Kms, to be covered by sunrise.
NH44 is butter smooth, with 6 to 4 lanes, without speed breakers & sharp turns. We maintained pretty decent speed. To our entertainment, we had big travel buses heading to Bangalore, racing with each other and making it unsafe for others.
It was 2nd week of January and the weather was just perfect, a little chilliness in the wind, cool breeze passing through the mesh of our riding gears and some beautiful songs playing in our helmets, teaching us the meaning of life, the feeling was indescribable.
It was getting colder as we were approaching towards madrugada. We stopped for another round of tea, by that time we almost started shivering due to cool wind blasts. A sweet & humble gesture by the tea stall owner when he put some hay on fire for us to get warm. These small things makes us rethink that truly "Life is about giving".
Day 2 - January 13th, 2017
We stopped for having our breakfast 50 odd Kms ahead of Anantapur at a small South Indian tiffin which served some extremely spicy but delicious Idly & mind blowing Poori. It was already 7 o'clock and after full night of riding, our bodies were demanding some rest.
Route as suggested by Google maps with a little modification was: Anantapur-Kalyandurg-Karikere-Chitradurga-Holalkere-Hosadurga-Tarikere-Chikmagalur.
We hit the road in an hour and it was a fresh ride again. We covered distance quickly until the sun came over us. The roads were good, emptied, mostly single/two lanes, with big barren lands & farms surrounded. We got to see lot of windmills on the way.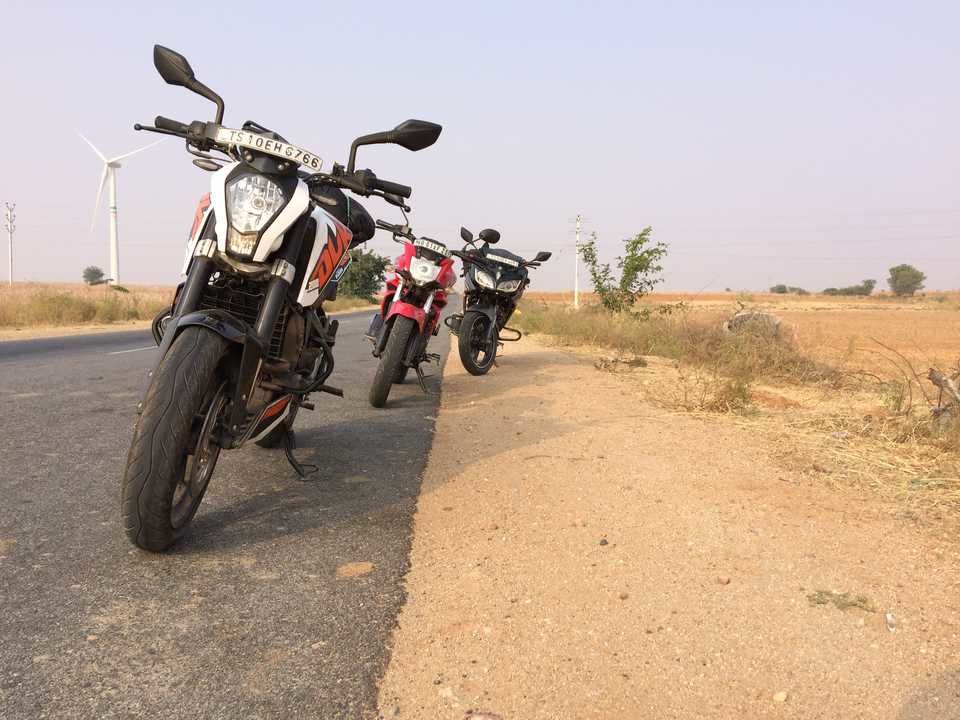 On the way, we had our lunch and entered the district around 4 in the evening. The temperature dropping down & change in landscape gave us the sense of what was waiting for us at the destination.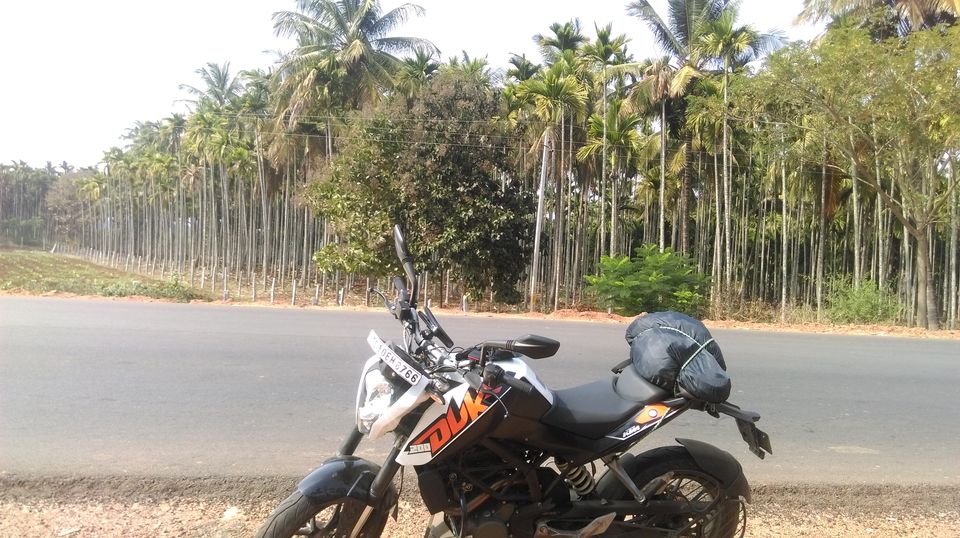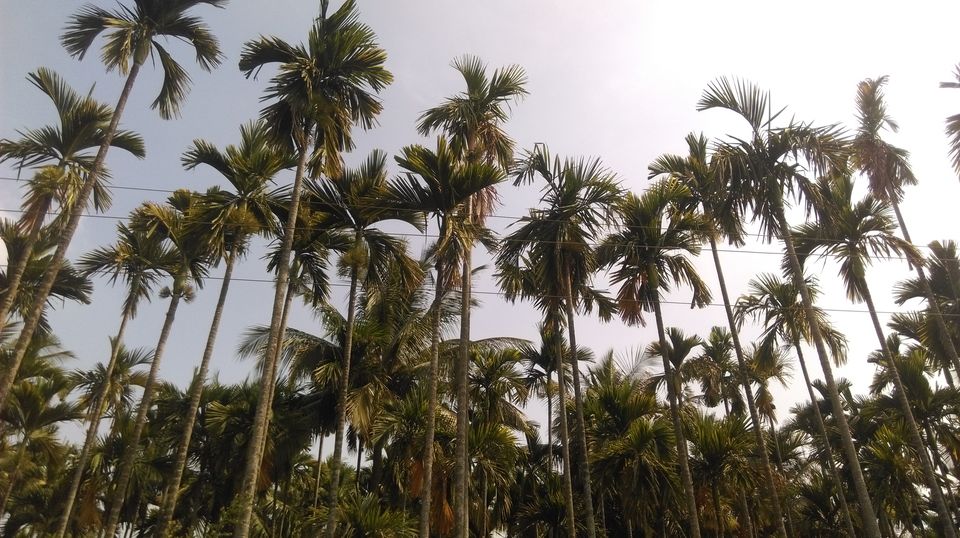 Until we realized, we were already riding over the hills, the scenic beauty was getting better by every move. We were amazed to see the ghat roads, we were enjoying cornering with our bikes and was looking forward for a great sunset view.
Kemmangundi is situated on the way to Chikkamagalur from Tarikere route. It offers ample no. of sight seeing spots & adventure to the tourists. It took us a ~10 Kms off-road stretch to reach the main view point (following the direction sign board on road). Although it was partially dark by that time, the view was breathtaking. When you reach the edge of the cliff, you feel like this is the definite way to heaven.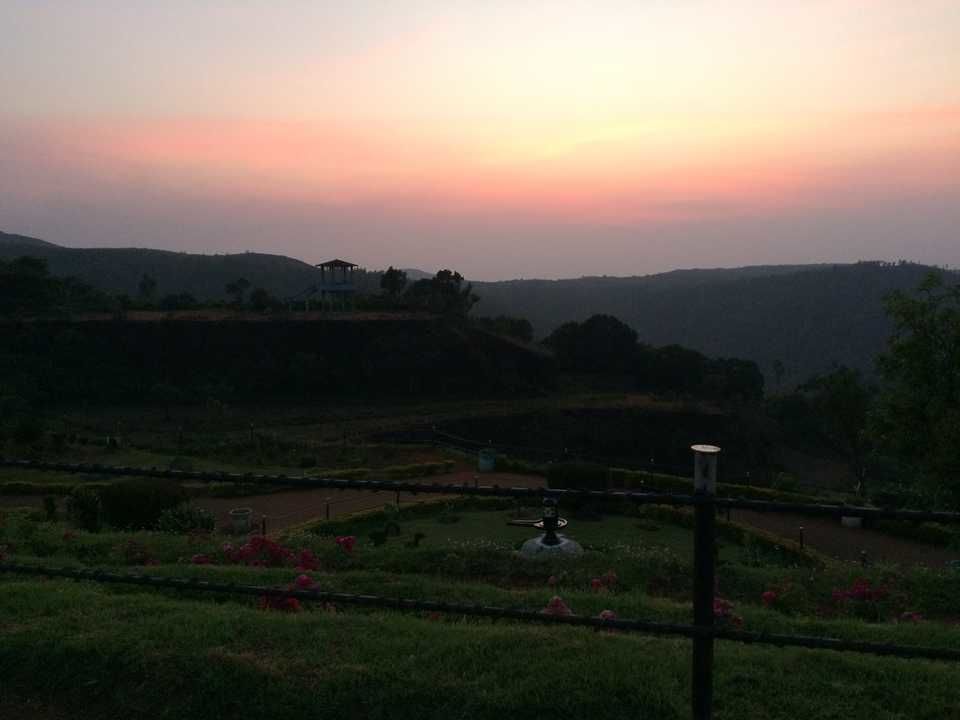 "The way to Heaven is ascending; we must be content to travel uphill, though it be hard and tiresome, and contrary to the natural bias of our flesh." - Jonathan Edwards
It is a 62 Kms ghat road from Kemmangundi to Chikmagalure. We had got ourselves booked a hotel room in Chikmagalur. It took us good 2 hours to reach our hotel, we checked in, freshen up, had a pint of beer to celebrate our ride, ate our food and crashed immediately for the night.
Day 3 - January 14th, 2017
We took our sweet time to wake up in the morning as we were very tired. However the travel junkie inside us got us ready to explore the place by 10 Am.
Chikmagalur is a nice small place in karnataka with a very favorable climate. It has got the Mullayanagiri Range which is the highest in Karnataka with ~6500 ft. It is known as one of the best trekking places in Karnataka & South India.
Finding an accommodation in Chikmagalur is not a difficult job. It is packed with numerous hotels & home-stays to suit all kind of budgets. Goibibo & makemytrip got it covered also. The city is famous for its Coffee & Spices. We got to see some part of city also as we move towards a wonderful experience of hill exploration.
We had a heavy breakfast at a South Indian food joint in the city. We were heading towards Mullayanagiri which was around 20 Kms from our hotel. On our way, we encountered some lovely curves on the road, breath taking views, endless trails in the forest, water dripping from the rocks, some curious monkeys and for the icing on the cake, the amazing weather. To our surprise, the place was very less crowded even on an extended weekend holiday.
Mullayanagiri is said to be the highest peak in Karnataka. We came to know that the Sunset presents a spectacular view from the peak. It is a paradise for trek enthusiasts. Also, there is a small temple dedicated to Lord Shiva on top of the hill. The small hillock in the temple premises is the highest point in Karnataka. With every breath, we could feel the serenity of the place. As far as we could see from the cliff, there were only mountains & valley one after another. You feel so tiny at the fore of such creation of nature. It makes you again rethink about your life & and about your existence.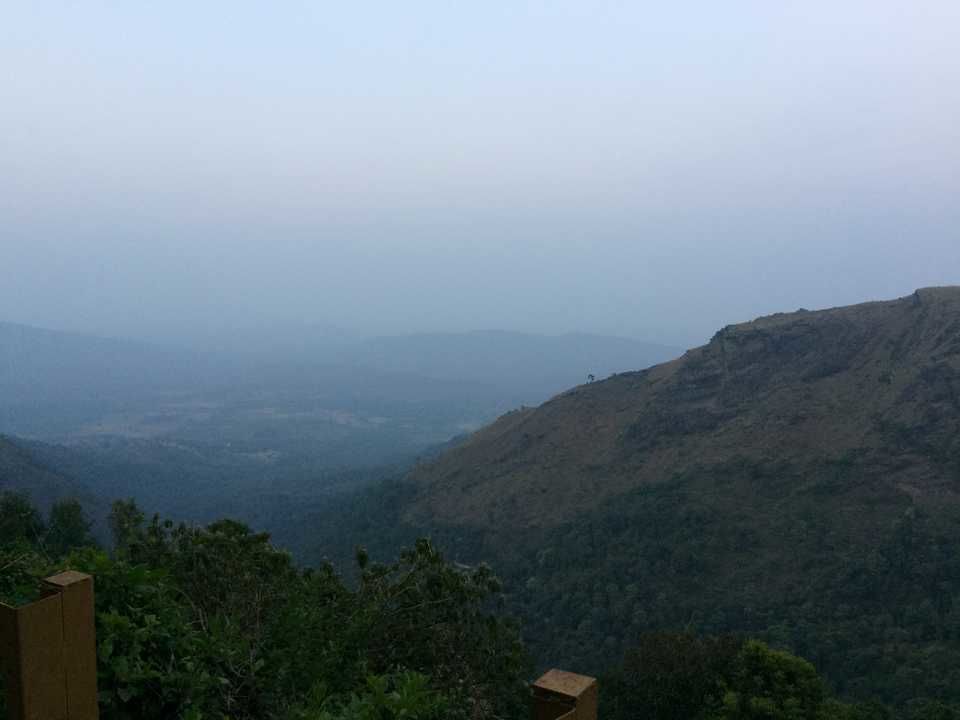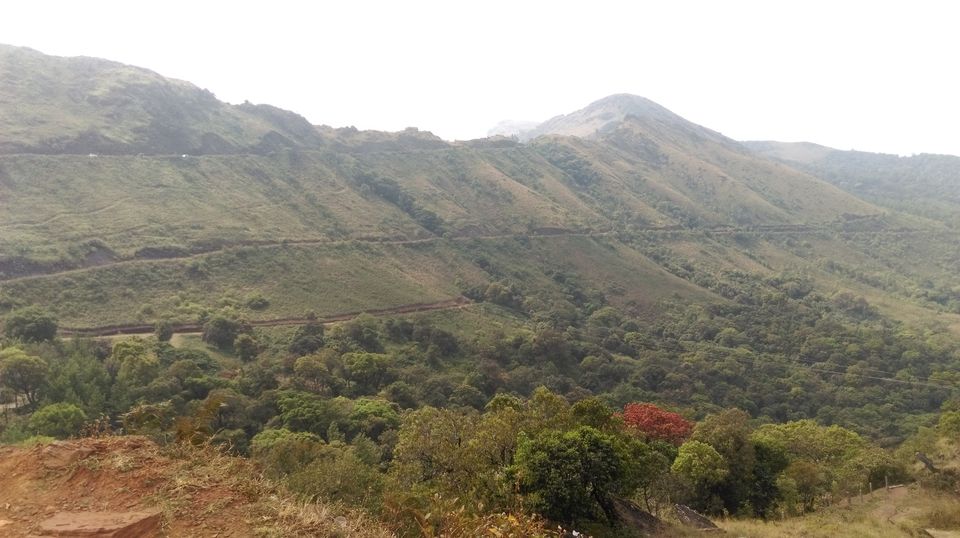 After an hour or so, as we climb down the hill, we realized that the elevation was so steep and going down is more difficult than going up. We were heading towards Baba Budangiri range, ride to which was again a 26Kms of super exciting ghat roads and the best form of off-roads. As we were riding on two wheels, it was pretty easy for us to maneuver through the off-roads. Soon we became an attraction for people in cars as we pull ahead of them without much difficulty.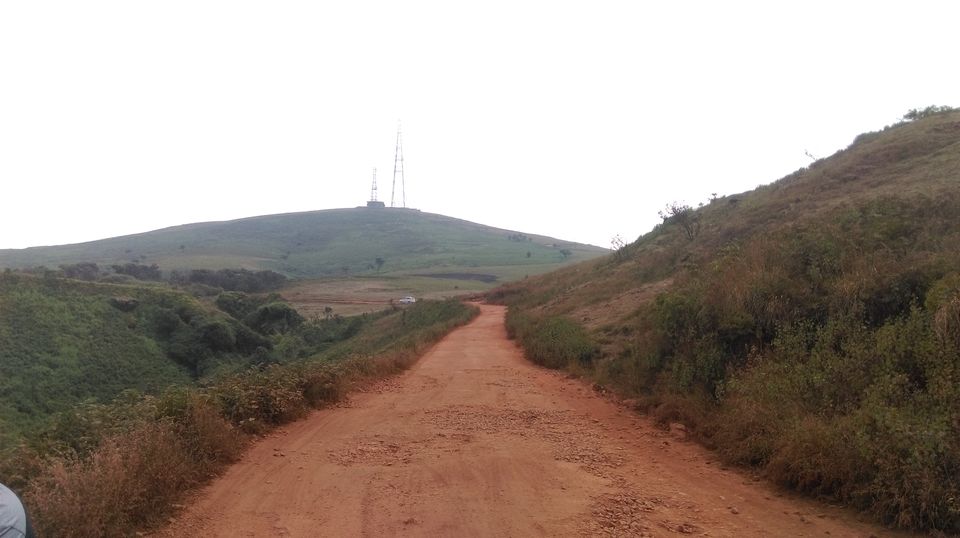 Baba Budangiri is known for its shrine to the Sufi saint Hazrat Dada Hayat Khalandar, a pilgrimage site for both Hindus and Muslims. Collectively, the Baba Budangiri peak & Mullayanagiri peak are known as Chandradrona Parvatha Shreni (Chandradrona Mountain Range) as they naturally form the shape of a crescent moon (Source: Wikipedia). There is a very famous trekking trail between Mullayanagiri and Baba Budangiri.
The first sight of this place gave goosebumps to us, its long mountain trials roused the adventurer inside us, the endless trails where you can actually take your motorcycle. We sat for a while, relaxed, praised the scenic beauty & surrendered to the nature completely.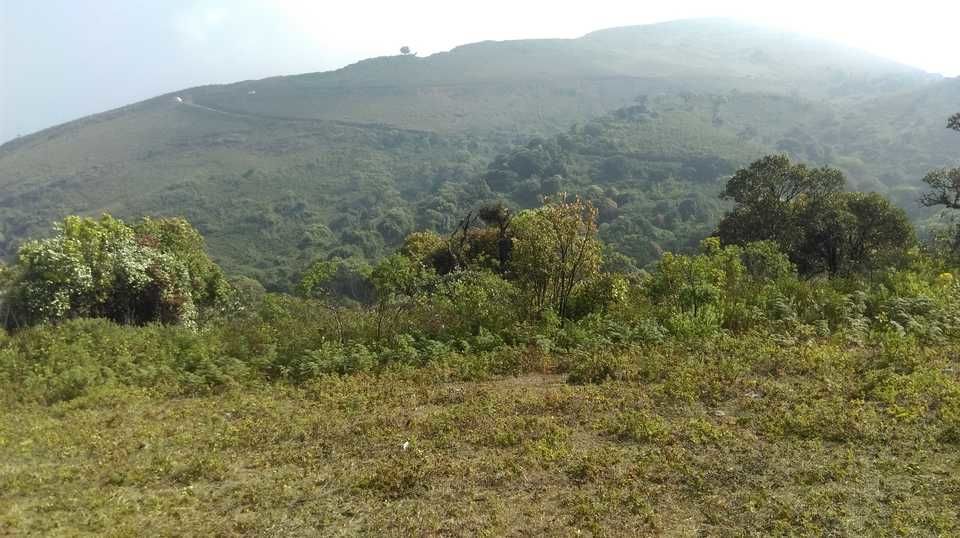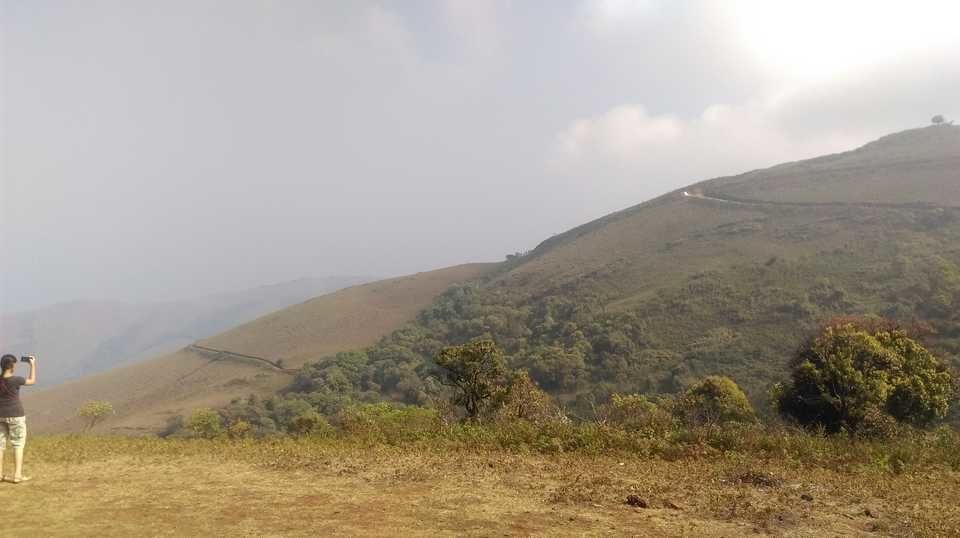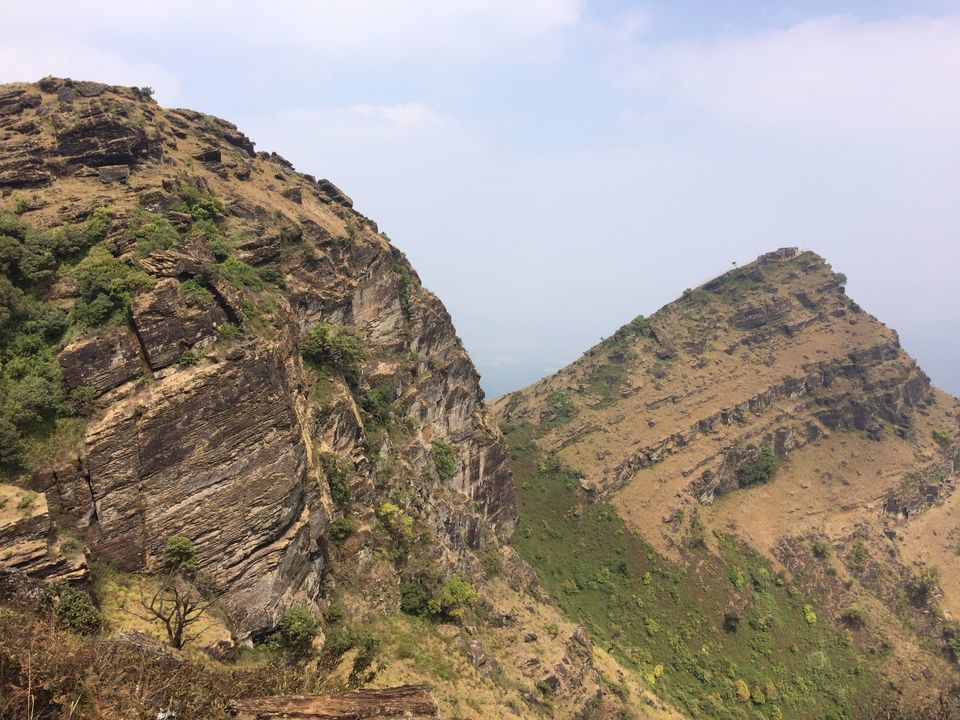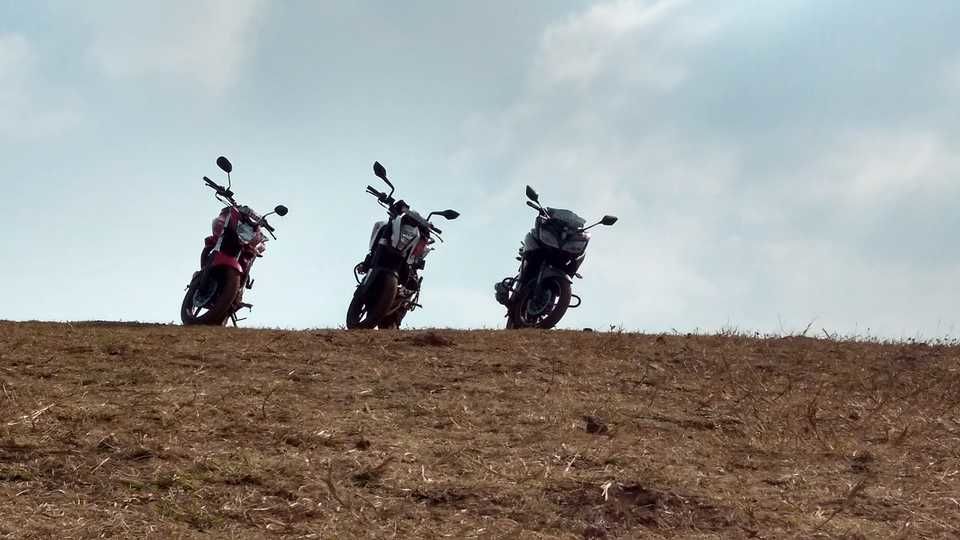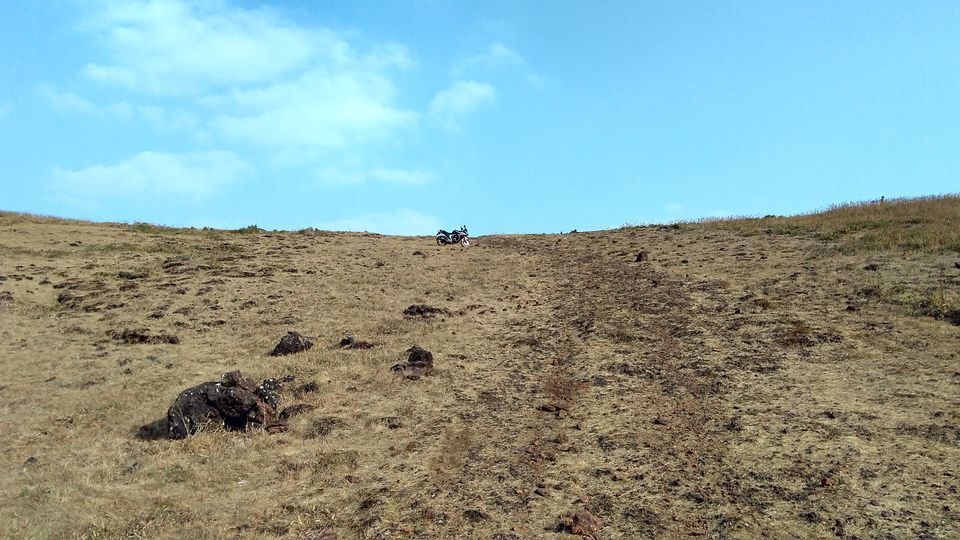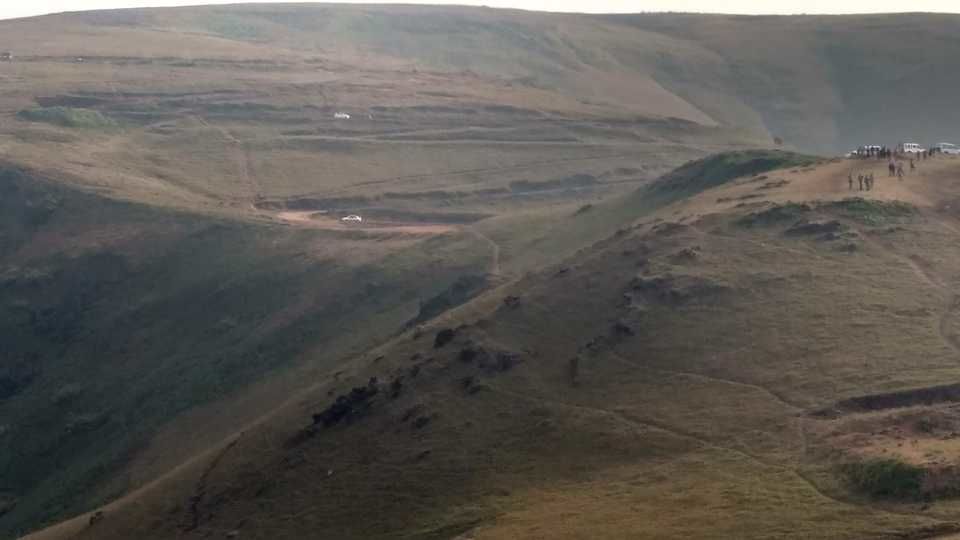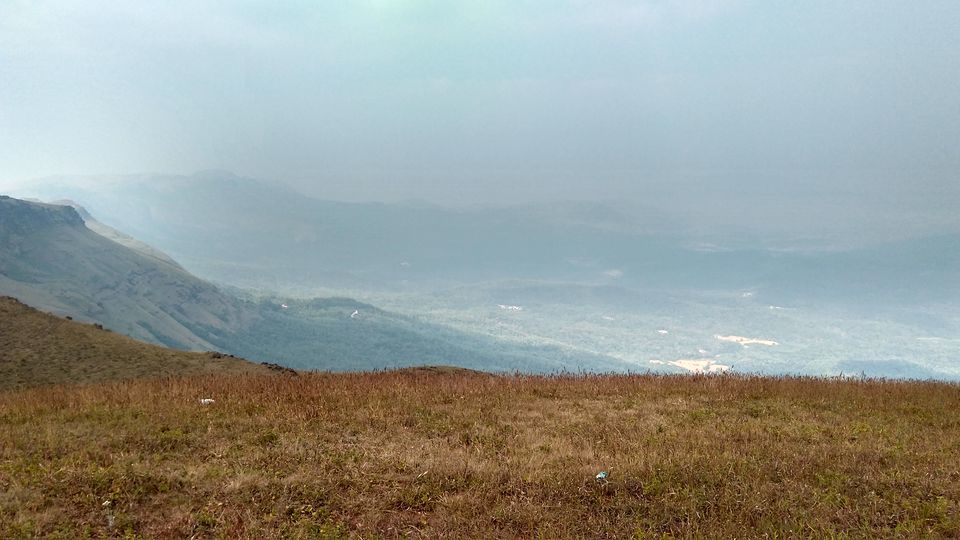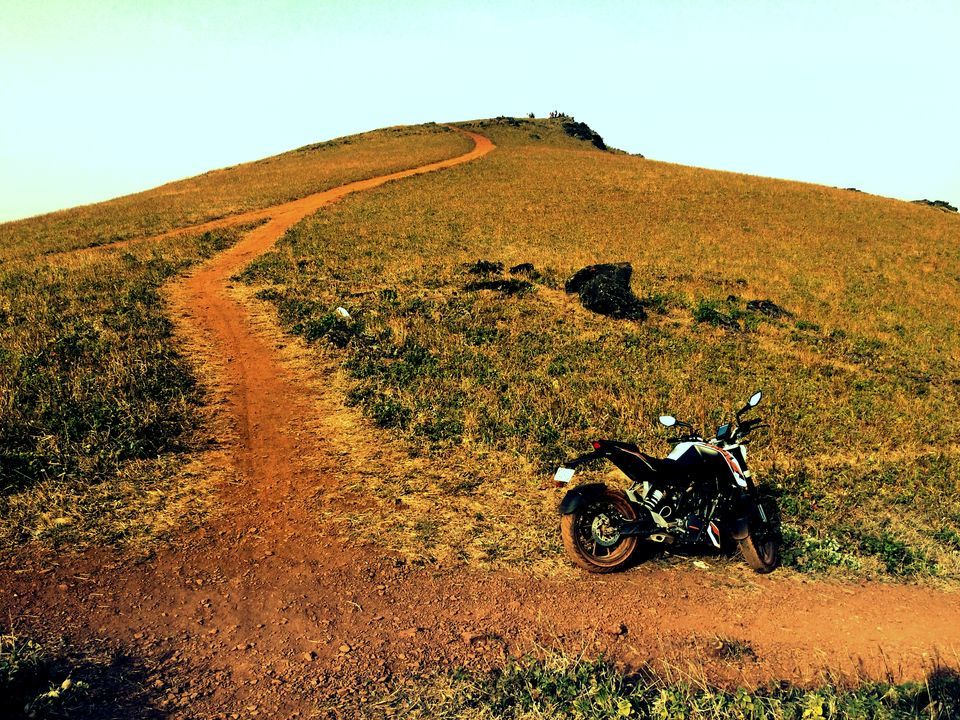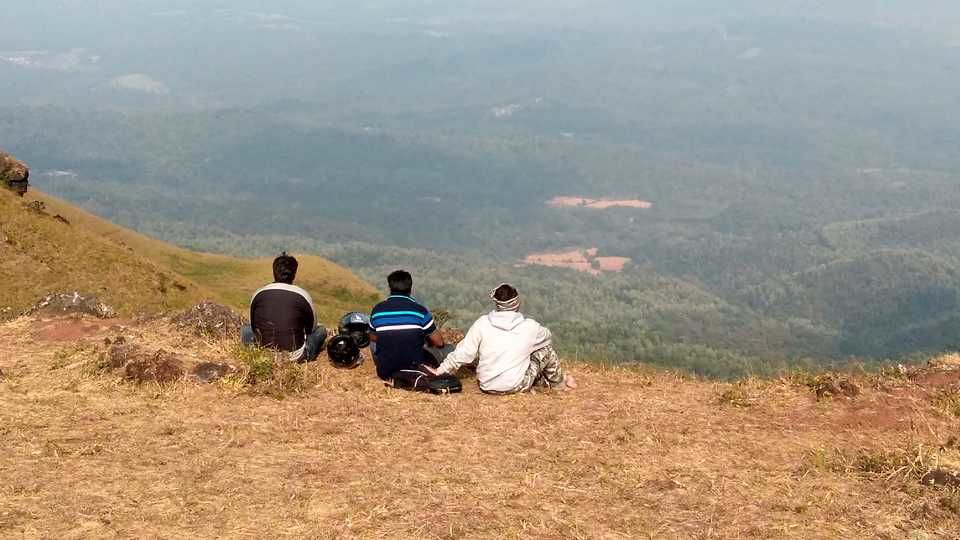 After spending some good time relaxing & doing some serious mountain climbing, we hit back the road. In few Kms, we saw this small hut on roadside serving some great food. It was already afternoon and we were hungry so we decided to stop by & fill our stomach. The food wasn't great but the atmosphere was so amazing that we almost overate.
We had planned to cover some more places around but these places made us so calm and satisfied that we didn't want to rush anymore. We wanted to go with the flow, we took our time and started climbing down slowly. We were not in hurry, we were collecting memories, we wanted to take all these feelings with us. As we reached downhill, it was already dark. We were heading towards the city when we spotted this beautiful cafe "Siri Coffee". The cafe was so beautifully built that a passerby could not resist stopping for a while. We spent more than an hour there, talking to each other, praising the beauty of this city & discussing the beautiful creation of nature. We were happy and sad as well at the same time. There's this feeling of saying goodbye to this place which was making us sad but still we were satisfied.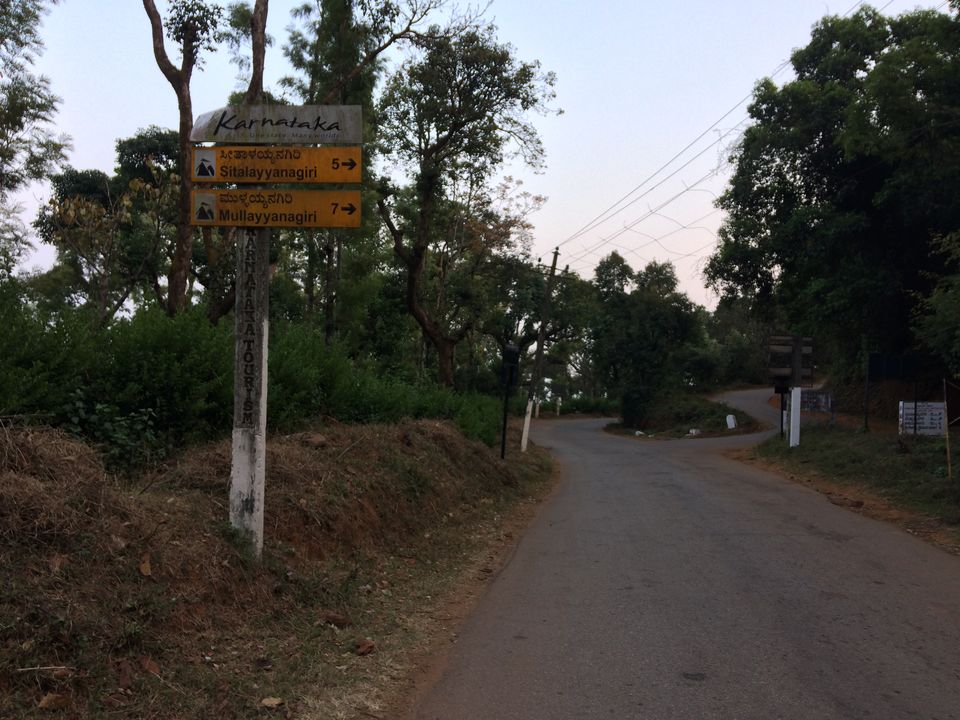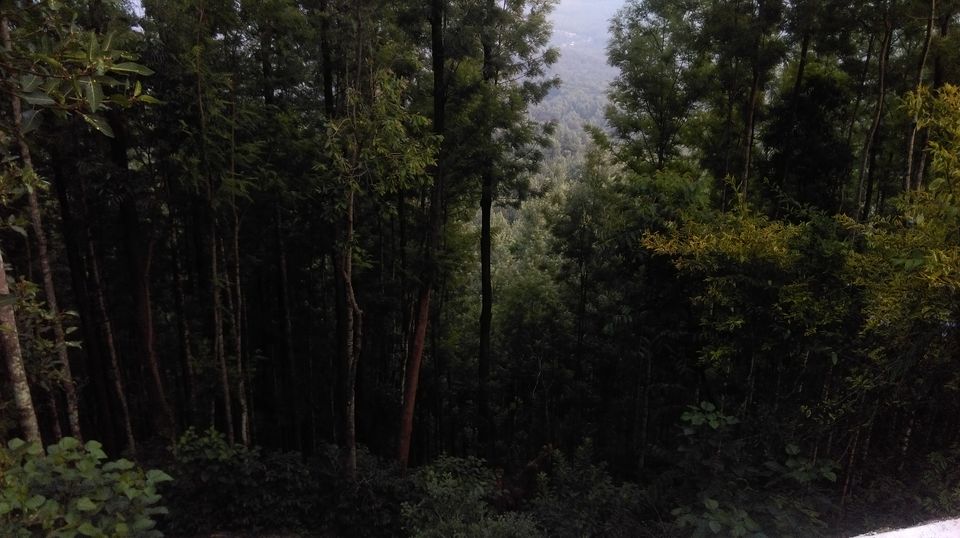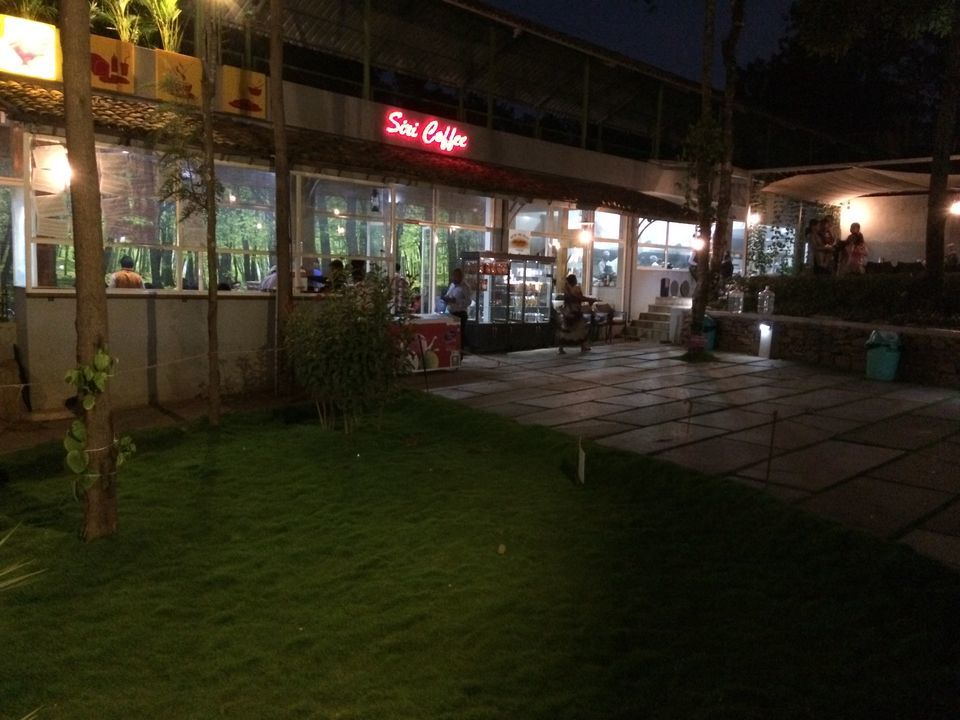 Next day was the day to cover a distance of ~700 Kms back to our routine life. We ate our dinner and slept like babies carrying heavy load of memories.
Day 4 - January 15th, 2017
We woke up early, freshen up & started our ride at 7 o'clock in the morning. It was a fresh morning with beautiful weather. Route was straight & simple as suggested by Google maps: Chikmagalur-Challakere-Anantapur-Hyderabad.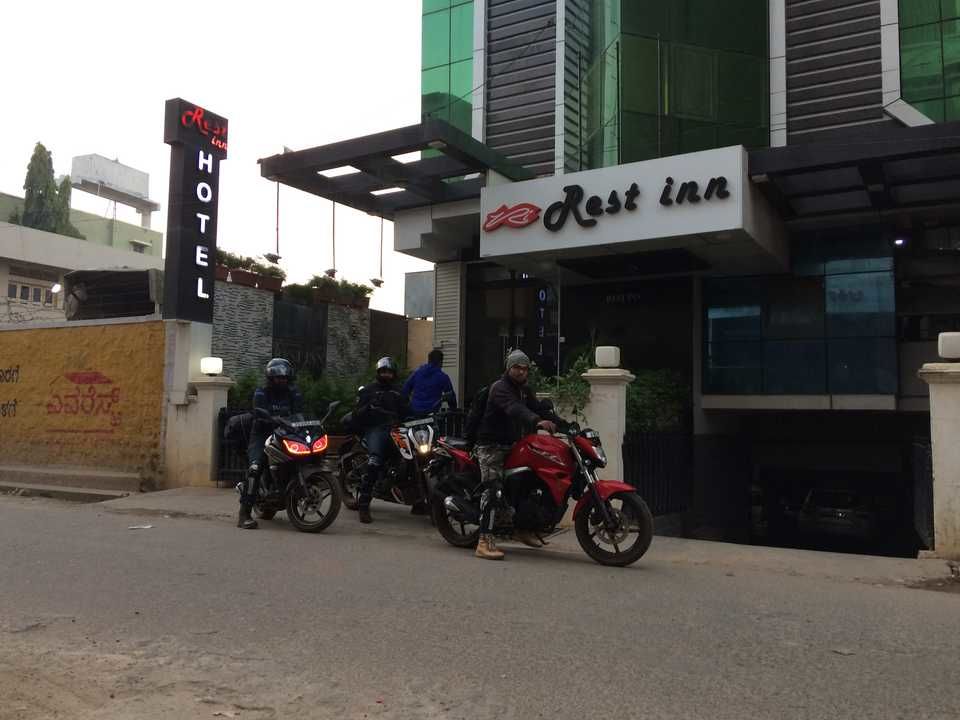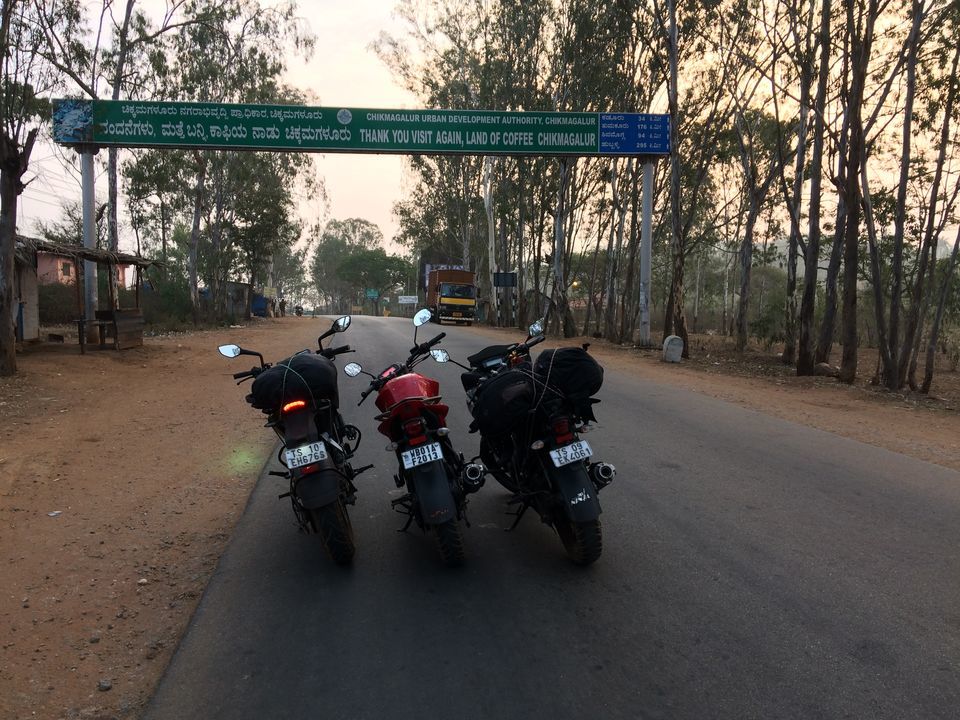 We reached Hyderabad at around 8 in the night taking sufficient no. of breaks.
Overall it was an amazing encounter with nature and which again brings back the thought:
"Travel is the only thing you buy that makes you richer".