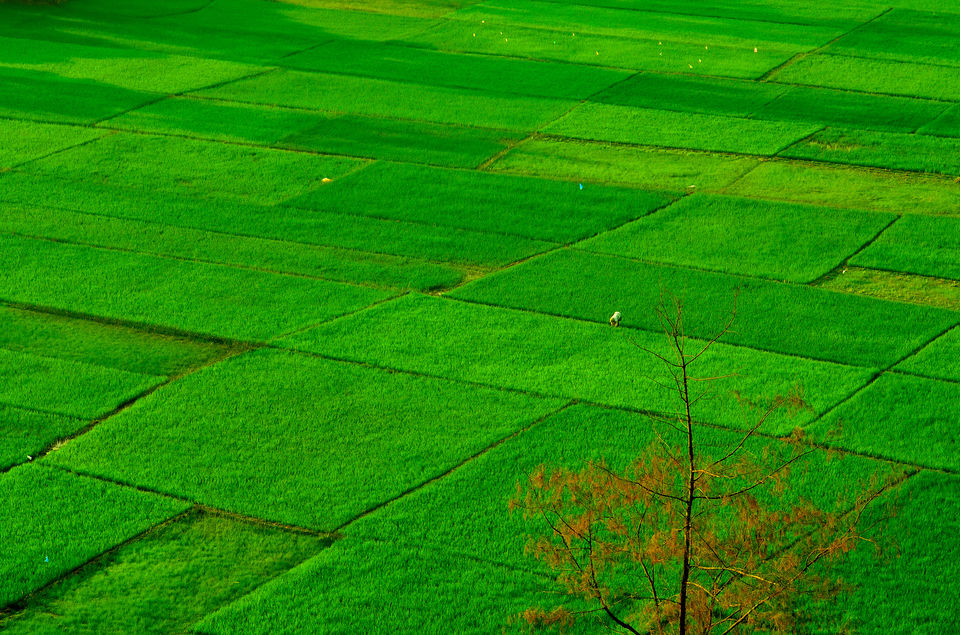 When I first heard the name 'Apsarakonda' I found it very interesting. Apsarakonda literally means a bathing place of nymphs or one can say angles or fairies, for the ease of understanding! Yes angles, you heard it right! Whether one believes in it or not is a different matter but a name like this is enough to create curiosity. Although I traveled on NH 66 from Mangalore to Goa many times and on numerous occasions I thought of visiting this place but somehow it remains unexplored for one reason or the other.
The monsoon was above normal this year in this part of the country and the most visible after effect of this could be seen in the water levels of lakes, rivers, streams etc- they are all full. It was late September but the end of monsoon is nowhere to be seen. Since it was likely to be a visit to a water body so choosing Apsarakonda did not require much brainstorming because of this extended monsoon. Once decided, this late September Saturday looked just fine to wear the traveler's hat.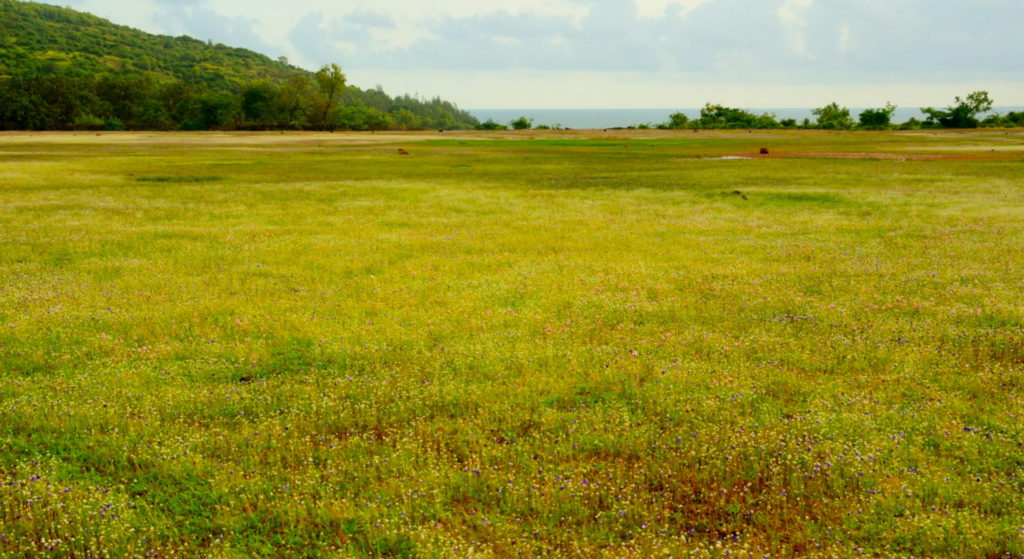 Although the day started with a long spell of rain by 8 'o'clock it looked good to start the journey. Soon we started cruising on NH 66 connecting Mangalore to Goa. The excellent condition of the road after Mangalore city limits was perfect to speed up at will. In no time we left the temple town of Udupi to our right and were driving on the road adjoining Marvante beach. This stretch of the road was most scenic with roaring sea on one side and a calm river on the other side of the road. Perhaps it's an inviting quick stopover for coconut water with a view! The very good road conditions only helped to maintain a good speed. Occasional diversions though due to ongoing road construction were a bit of an irritant. But soon enough we crossed the Murdeshwar on our left to reach the probable diversion as per google map! I missed the not so impressive, rickety signboard and had to take a U-turn to enter the narrow road to our destination. It took us nearly three and a half hours with a break of around 15 minutes to reach here from Mangalore.
Though not very hot but humidity was very high when we reached there. The road from parking slot led us to a beautifully manicured garden with sitting areas offering great view of Arabian sea. An entry fee of twenty rupees per person was paid to enter this nicely manicured lawn. The sitting areas here offer breathtaking views of the green valley below, views are only enhanced by the Arabian Sea crashing on the narrow Apsarakonda beach. A little stroll ahead took us to another viewpoint, this time it was dotted with replicas of wild animals. What caught our eyes was the tastefully designed benches and other sitting areas with discarded, broken materials like porcelain, tiles, seashells etc. A great way to re- use the waste which is otherwise hard to dispose of.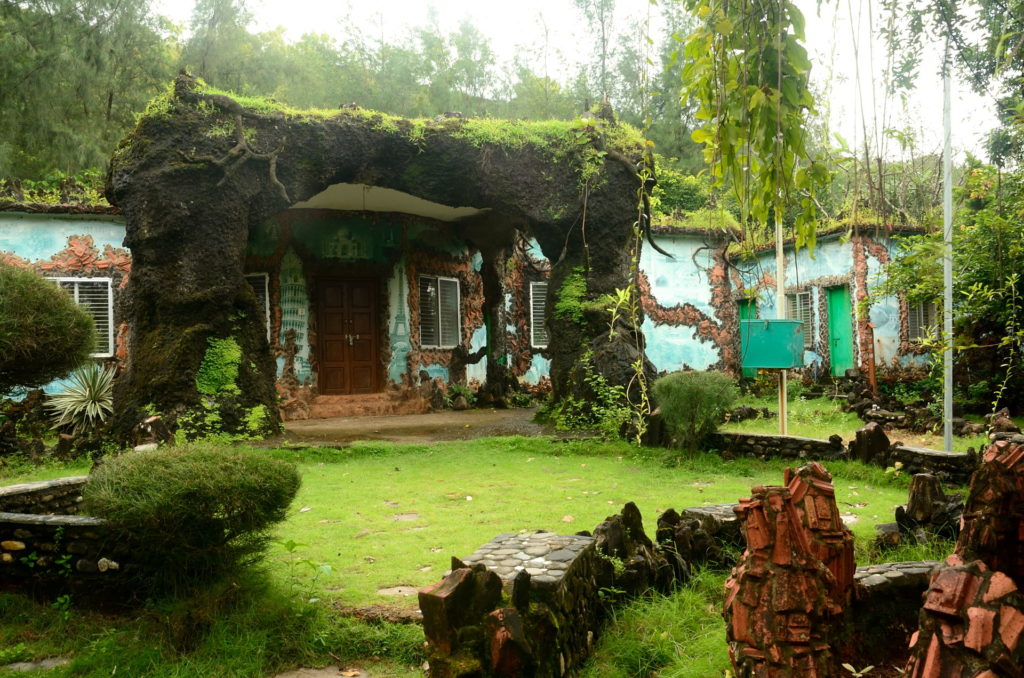 While these little innovations are great but where was our show stopper for which we came here all the way from Mangalore. Although we could hear a faint sound of water falling on the rocks it was still not visible to us. I asked the staff at the ticket counter about the waterfall and was pointed towards a small unpaved path leading down through a dense canopy of leaves. So dense was the canopy that it almost guarded the sunlight reaching the floor. The sound of falling water was increasingly becoming louder as we neared. After a lazy stroll of maybe fifty meters, we finally reached the stairs which took us down to the waterfall.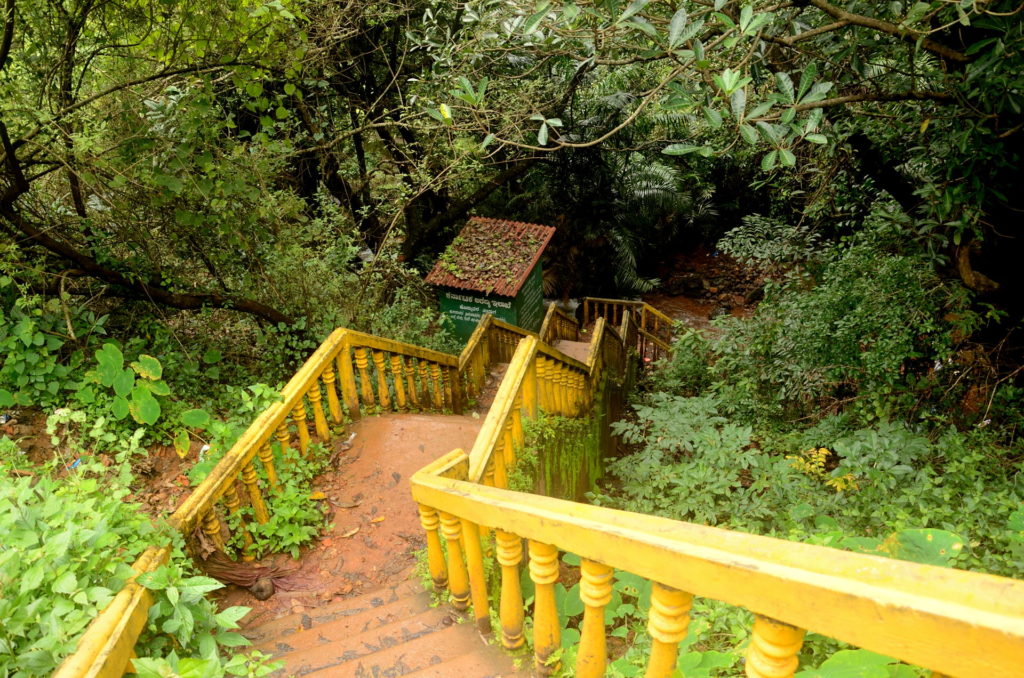 Once there I could see why this place is called Apsarakonda! It is secretive, guarded by trees from all sides, except for a single approach through which we came down no one could see what is going on at the falls. It's like a naturally secured private bathing place and that's the reason probably the angles would have chosen this at first place. The continuous flow of clean water of this wild stream forms a small shallow pool guarded by rocky walls from three sides only adds up to its secretiveness.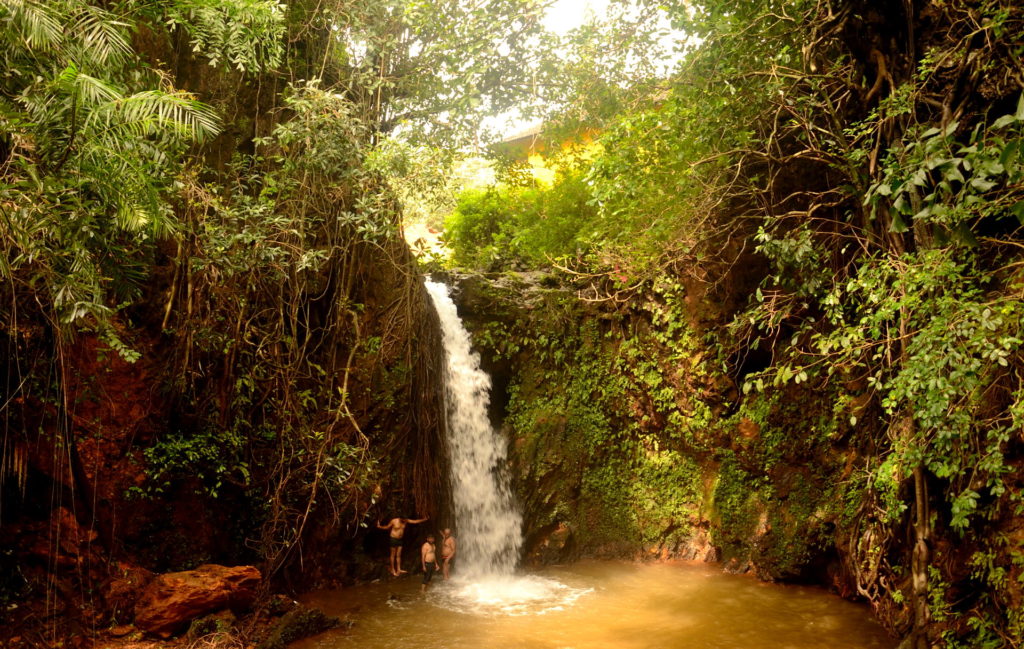 We could not see any angles though except for a few grownups taking a dip in the pool! The priest of the nearby Ugra Narasimha temple situated almost over the waterfall informed that the water reduces to a great extent during summer months. We sat for some time at his quiet but beautiful temple with constant background music of water falling below. There is nothing else to do other than to stay back, relax and feel the sense of calm within the peaceful surroundings.
Soon it was time to go back. Though this place offers nothing extraordinary in terms of exotic views but visit this place for overall peaceful surroundings and of course watching the sun going down from the edge of flat surface above the hillock where the temple is located with chirping sounds of different birds on the background.
Is it worth it? Oh, Absolutely!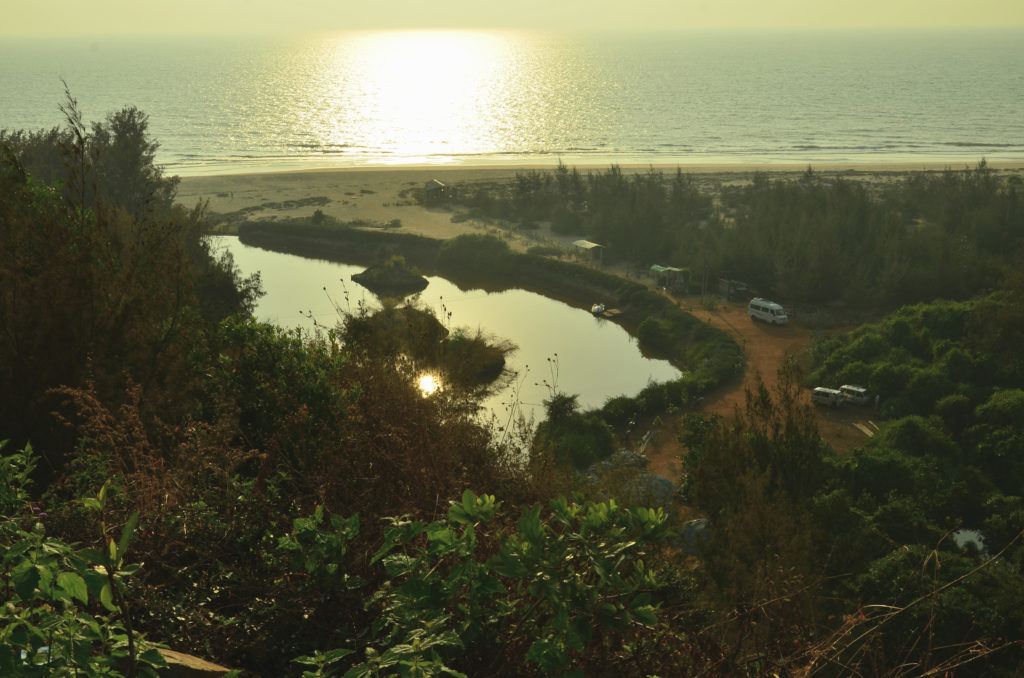 Although cloudy but the Sun came out briefly to say goodbye for the evening.
******
How to reach
By road - Apsarakonda is 176 Km from Mangalore, 22 Km from Murdeshwara, towards Gokarna/Goa and 58 Km from famed Gokarna, towards Murdeshwara/ Mangalore. Road conditions are very good with occasional diversions due to the ongoing road-widening project.
By Train - Nearest railway station is Honnavar which is 8 Kms from Apsarakonda. All passenger trains either going to or coming from Mangalore stops there. From station one can take an auto. One can also take a bus from the highway. Remember, it's about 04 Km walk from Highway to Apsarakonda waterfall. Booking an auto from Honnavar is recommended to avoid hassles.
By Air - Nearest Airport is Mangalore (180 Km), Goa (185 Km).
Where to stay - No proper stay options are available at Apsarakonda. One can either stay at Honnavar town or at Murdeswara. Murdeshwar has hotels, lodges suiting all budgets. Honnavar also has a few budget hotels. Hotels can be easily booked online.
Best time to travel - Post monsoon season is best as the water level in this waterfall is more. October to February is the best time to visit this place.
Precautions- This is a very calm place and situated at the end of the village. Baring a few shops selling cold drinks, tea, wafers etc no big restaurants are available. So keeping some light eatables would be handy. The place is very clean hence make sure we don't make this place dirty by throwing plastic packets/eatables here and there. Except for footprints, we ought not to leave anything behind.