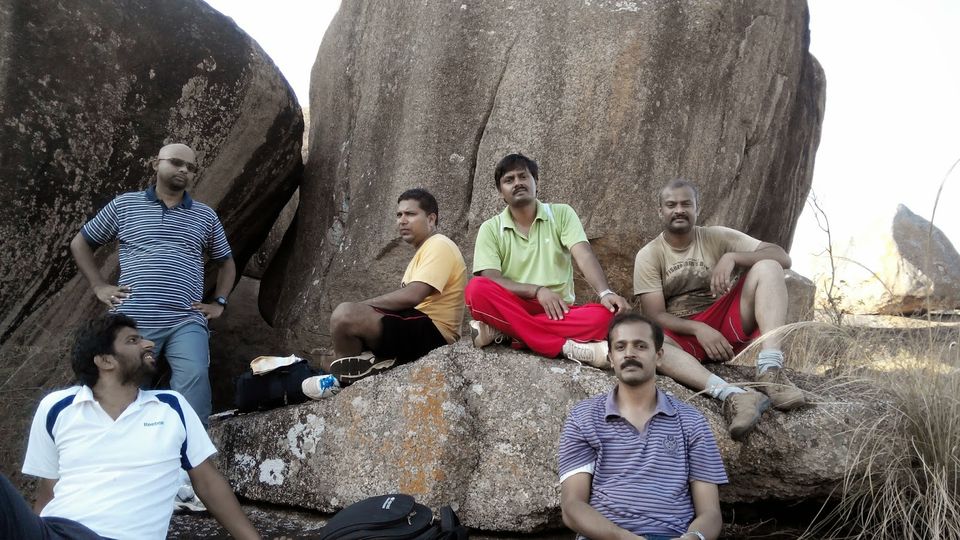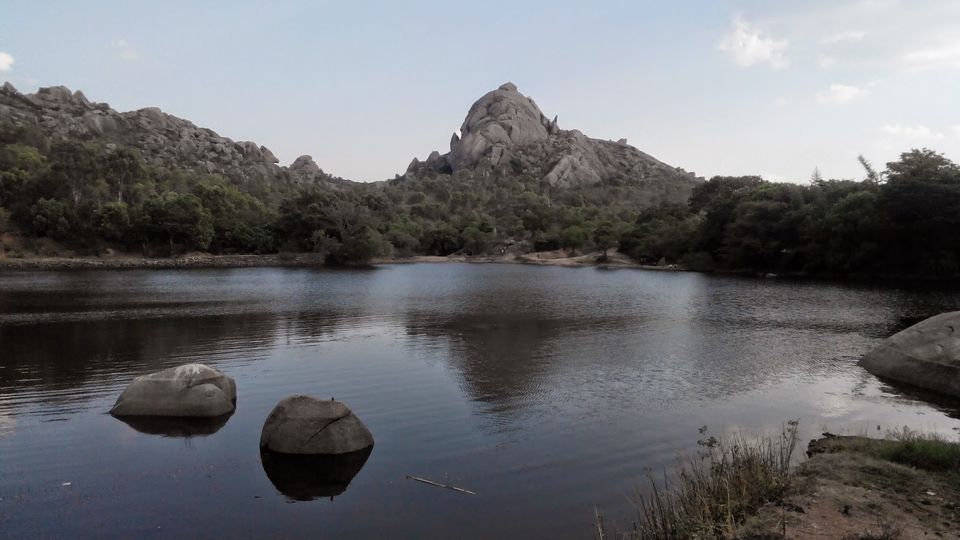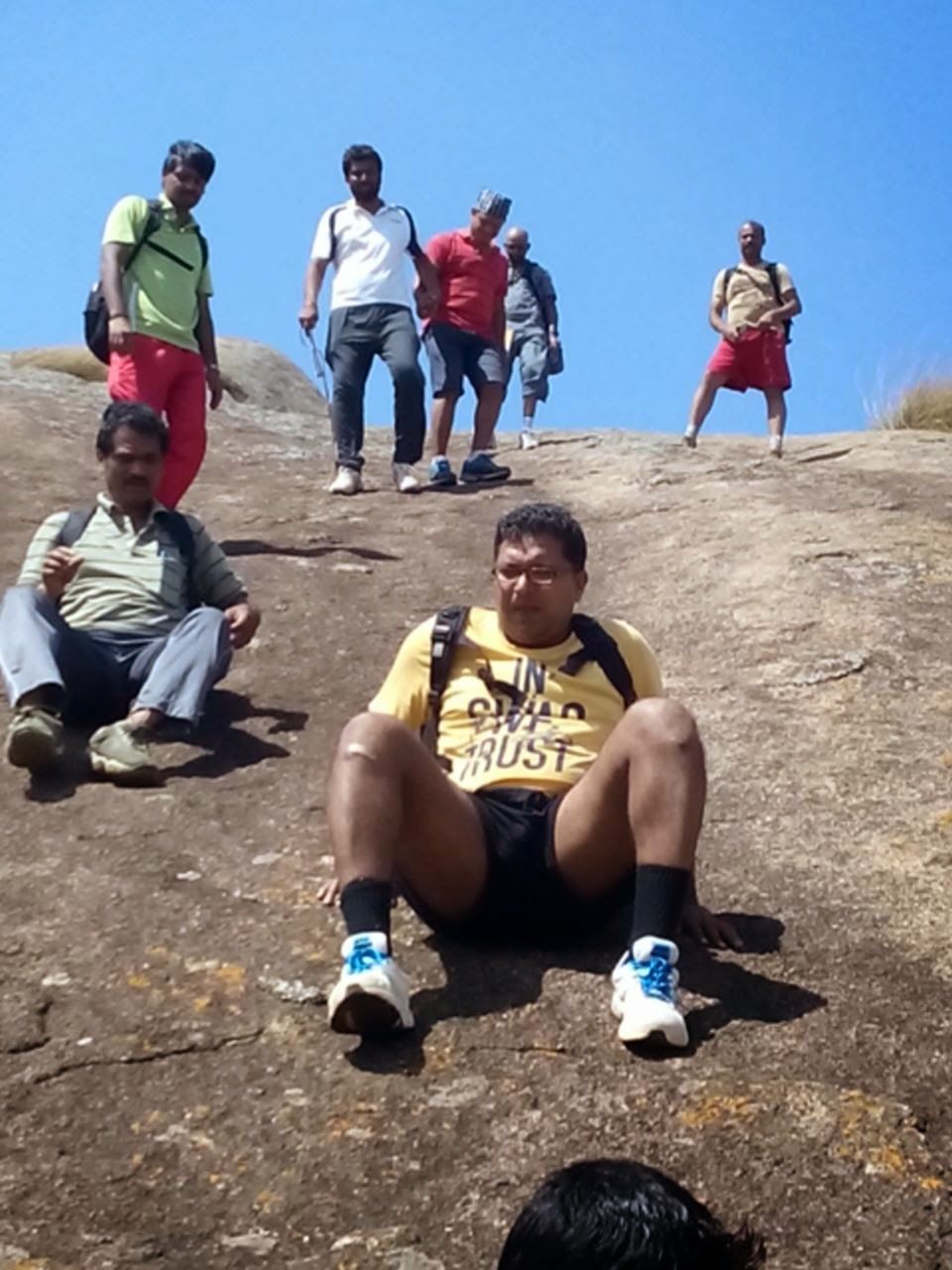 Our 3rd trek post Ramadevara Betta & Brahmagiri took a while since we could not gang up the entire "Weekend Getaway" group. The two Ravi's, Babu & Vimal missed out due to various reasons & hence Charlie, Kitta, Diwa, Manju, Murali & I could only make it this time. After much deliberations about the venue during which we discussed Kumara Parvata, Kunti Betta, Brahmagiri (Coorg) we finally decided upon the "Gandu Mettida Nadu-Chitradurga".
18-April-15, 14.45: After a brief chat at the Parle G toll gate on NH-4, we started the journey & reached "Chandravalli Thota" at 16.45. The caves were one place which had rave reviews, and that seemed a doable option for the evening. What awaited us took as totally by surprise! A sparkling lake, set against a hilly background, just as the sun was setting and the eveningturned cooler.We were ushered up to the cave entrance by the locals, as the guide was just packing up for the day. The cave, also known as Ankalagi caves, is known to have existed since pre-historic times, and used and modelled as and when kings of various dynasties visited at some points during their reigns. Interesting carvings and paintings made out of natural materials, meditation seats, resting sofas, bath tub and rain water harvesting systems, niches for holding lamps, name it and you can find it in these caves.. With the torches turned off here, one can experience absolute darkness. Though most of the structures were damaged to a certain extent over time, the beauty of the caves is remarkable.
Later in the evening, we checked into Hotel Aishwarya Fort, one of the better known hotels around the area. Vikram-our friend helped us with the bookings since most of the hotel rooms in the city were going full due to a SPB musical nite. After a sumptuous dinner & watching an IPL match, we retired to our beds.
19-April-15, 06.00: Charlie, the time keeper he is, ensured that everybody was up & ready by 6 a.m. We had packed our bags with loads of water & some chocolates & biscuits. We reached the Fort main gate at 6.15 where Charlie's BIL RaviShankar was waiting for us. He had already done couple of treks here & recommended this place to us. After a walk of 3 kms beside the fort bed, we reached " Thimmanna Nayakana Kere" the zero point of the trek. Our guides for the trek Mr. Nagaraju of Chinmooladri Adventure Club & his assistant Shivu were waiting for us along with 2 other local trek enthusiasts. The various trekking spots around the Fort are: Pandavara Gudda, Davalappana Gudda, Chittay Kallu, Seedgallu Bayalu, Gavi Bagilu, Nallikayi Siddappana Betta & Eeranna Kallu Betta. Nagaraju had chosen Eeranna Kallu Betta for us.
19-April-15, 07.00 :  We spotted some peacocks in a nursery of plants at the entry point & could hear the screeching sounds of them almost for a kilometre of our foot trail. To our surprise, a local dog started following us from the zero point. Nagaraju & Shivu feared that the Leopards can smell the dog easily & can prey on it. Hence they did not want to take a chance. However in spite of our best efforts to shove it away, it did not budge. The stillness of the place will surprise you.There are absolutely no people around, which is a partly eerie and a partly exciting experience. The initial part of the climb was not that difficult, we just had to wade thru some thorny bushes & small boulders. After clicking some pics & selfies midway, we continued our trail. At a certain point, Murali(Mama) almost slipped down on a climb but managed to cling on & with little help he recovered. It was a scary moment for us.  
Test of Endurance: Continuing further, we hit upon a point where we had to climb a 7 foot boulder. Call it the test of endurance or warm up, With absolutely no grips to hold on to, we helped one another in the ascend. The ropes that the guide had carried was'nt strong enough & did not make us feel confident. Raja (we had named the dog by now) was still following us. We all had developed a liking & soft corner for him. He had become the 11th member of the sojourn.
Cliff Hanger: with the destination point in sight we encountered the toughest part of the climb which was a Cliff.  In the middle of some closely adjoined boulders was the Cliff with a 25 foot ditch to its right & Left. We had to take a 2 foot jump from the barks of a tree to land on to the safest point on the cliff. The novices that we are, some of us including myself wanted to give up but with lot of encouragement from the rest of the brave hearted we risked & managed to overcome the cliff hanger moment. Raja(Dog) could not make it & he was left behind. Since it was a high risk point, none of us could help him. He was trembling & stranded on the barks of the tree.  All of us minus Raja reached the zenith point. It was a moment of pride for us, the sense of having accomplished something really great.
19-April-15, 11.00: Moment of Joy: We had all given up on Raja & thought that he will soon become prey to either a Leopard or Bear. But like they say desperate times call for desperate measures, Raja had built up the required courage to cross the Cliff & he had come out a winner. When he joined us at the Zenith point, we could not control our joy. It was the time for breakfast, Nagaraju had packed delicious Chitranna(Lemon Rice) & Bajji (Bhajiyas) for us. Raja who was still trembling felt better after the breakfast & some water.
19-April-15, 11.30:  After the breakfast & some photo shoot at the top, we embarked on the descent. While descending, I kept hoping we won't have to climb down the same way as the route was very tough. Thankfully Nagaraju had another route.
2nd toughest part of the trek: Well we did not know that there was more to come. After having conquered to the top, we thought the climb down would be easy. By & large it was but midway thru the descent, we had to crawl down a 15 foot ramp that was very steep. You could either 1) walk sideways with your body bent backwards for which you need strong feet & supporting ankles or 2) Sit down & slowly move on ur Bums with the body bent backwards. This is the point where Kitta gave up(almost). He wanted to simply slide down & somebody stop/hold him at the end of the ramp. Since it was'nt practical, he took the 2nd method mentioned above. My saviour Shivu held my hands & helped me in the ramp descent. Few others viz. Charlie, Diwa, Manju & Murali did not find this that challenging but for sure Kitta & I had our hearts in the mouth.
19-April-15, 13.00 : After this ramp, the rest of the descent was'nt tough & we covered it quite easily. Reached the zero point at around 13.00 hours. Raja had reached his territory of safety & he vanished thereafter. He did not even bid adieu, thankless Dog J. We thanked Nagaraju & Shivu for the successful trek & headed towards the hotel. Some of us relished on the military style non veg food at the Reddy's hotel while some others filled their tummies with vegetarian lunch at the hotel.
After a quick shower, we started our return journey to Bangalore & stopped in between for the steamy Thatte Idlis & coffee at the Pavitra Restaurant, Kyatsandra.
Treks are addictive. They make you give up your inhibitions and your fears, shuts up your doubts and confusions and pushes you towards the road less travelled. And you come back feeling better than ever, feeling the joy of experiencing the unseen, of exploring the unknown, of realizing that you have it in you to do the un-doable!! Treks are also the best place to meet awesome people, people you wish to hang out with even after the trip is over. By the time I finished Chitradurga, I realized how much more there is to do when it comes to building my endurance, to become stronger mentally and physically. So far, none of my treks demanded so much out of me as much as Chitradurga did. But, I loved it. I loved every bit of pain in my body, loved every step taken towards a new experience.
This blog was first published on My Cuppa Coffe.