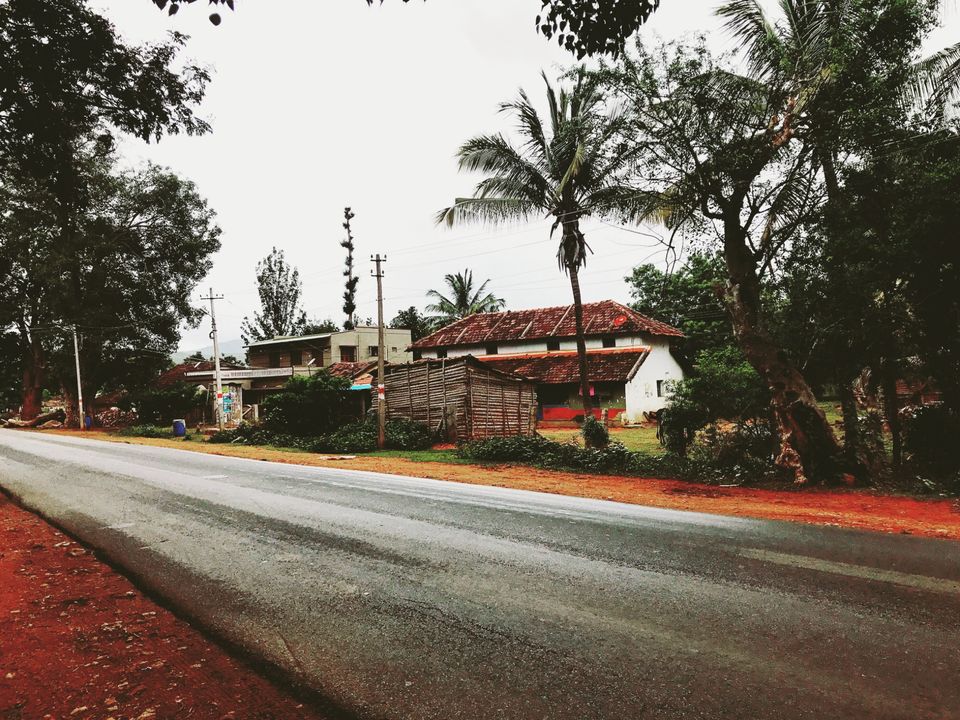 The contaminated roads, hub-bub residents , crowded sounds of cars and sad drizzling of rain left our thoughts mundane as we chugged our last mug of beer while sitting at the edge of the terrace which was the only deserted zone that we found in the first glance as we entered the loud pub. It was late, almost midnight when we finally decided to move our ass back home after a long conversation about our unenthusiastic day. " Let's go" , my mind couldn't stop thinking itself to be in the mountains where wind flew , leaves chirped and birds made love. That was just enough for our decision to take a ride to our place for salvation and rejuvenation , my first ever motor bike trip to Chikkamaglur.
It was a Friday night and like always the bikers got ready to drag race on the Bangalore – Yelahanka Highway. It felt lunatic , what we had was only a bike , couple of warm jackets and expectations to reach our destination without falling asleep in the middle of our fluky trip. It's a prodigy how we weaponized travel as an escape to visit ourselves once again in a divergent local where everything is still contemporary but feels timeless and extraordinary. As we rushed through the gust of wind and adjusted our vision with the light of the dawn which cracked through the firmament , we finally brought ourselves to the spot and put it to rest. I couldn't believe that I survived the six hours journey , almost covering about 152 miles , although it screwed my ass to an extent that I didn't want to sleep on my back as I threw myself on the softly made bed.
A soundful sleep is what we needed and that's what we did and it was almost mid-noon when we woke up to realize that we were actually away, away from actuality. No change of clothing , extremely cold but still it felt more pleasant than the other days where we were scrubbed and comfortable. We only had a day to stay and we could only explore a few out of many things that we would probably be leaving behind.
Off to Kemmangundi which is a hill station in Chikkamaglur , we took the bike to save time and dropped the idea of trekking and to be honest , it wasn't a bad idea. Lush greenery contrasting the subdued weather fit perfectly the mood that we were covered in. We felt refreshed , though after riding for a good two hours through the forest and almost near the tip of the hill, we longed for a break. Our shabby attire was frozen and with our body numb, we couldn't be flexible enough to climb few stairs that would take us to a nearby café which still looked far, the fog made it look faded.
We melted with every sip of the coffee that we took. The droplets of water hanging on the window beside which we were sitting set the mood perfectly which arose a sense of sensitivity between the nature and us. We struggled to have a conversation with each other but we knew that , this is what we wanted for that hour , to keep our calm , to preserve our salvation.
We reached the top , we touched the clouds , we stood separate in different corners and yet felt the same as the frost settled on our skin and dripped down and then seeped through the ground. Our consciousness buried itself somewhere deep with every second the unconscious prevailed and left us anesthetized. The time spaced itself to let us disintegrate ourselves into the moment and relive it again and again.
Leaving us unexplained.
We drove back to our homestay with no exchanged words but this time the silence wasn't the same like before, it was beamingly soothing. "Beer ?" , "Beer.", Yes, it always had to end up with a drink! We talked endlessly , we shared fearlessly and all we could think of was our destiny that brought us to this place where we not only felt revitalized but also permissive.
TO BE CONTINUED…
Note : You could also choose to camp and make it more adventurous.
Here's to link to guide you through : https://www.thrillophilia.com/chikmagalur-camping
More places to visit in Chikkamaglur
https://www.thrillophilia.com/places-to-visit-in-chikmagalur
Note : If you want to experience the waterfalls , it will be better if you visit in the monsoon season.
Most trips that I go to are very unplanned and spontaneous , that's how I prefer it and that's my itinerary for any place I've been to.
These are the top suggestions for you planners out there :
https://www.tripoto.com/travel-guide/chikmagalur/trips
Things that I observed :
· Clothing facilities : Since we didn't pack anything , we needed change of clothes and this place had tons of cheap clothing shops which really helped us out. Most of the hill stations that I have been to lack this facility but I was surprised to have found that there!
· Many Hotels : If you are camping and you want to fresh n up , this place has tons of hotel and homestays which are not only cheap but also close to most of the explorative parts of Chikamaglur. Link :
https://www.agoda.com/pages/agoda/default/DestinationSearchResult.aspx?device=c&network=o&adid=%7Bcreative%7D&rand=%7Brandom%7D&expid=%7Baceid%7D&adpos=%7Badposition%7D&city=17270&site_id=1744576&tag=805b449e-2f3f-b5f3-6e8d-0eccaa8a6f3b&msclkid=8388c300038e1ef8387998640f52a678&utm_source=bing&utm_medium=cpc&utm_campaign=Intent%20Engine%20-%20395&utm_term=hotels%20in%20chikmagalur&utm_content=hotels%20chikmagalur%7Cci%3Achikmagalur_17270
· You might want to carry snackies with you because as far as I have noticed , there are not many restaurants in Chikamaglur.