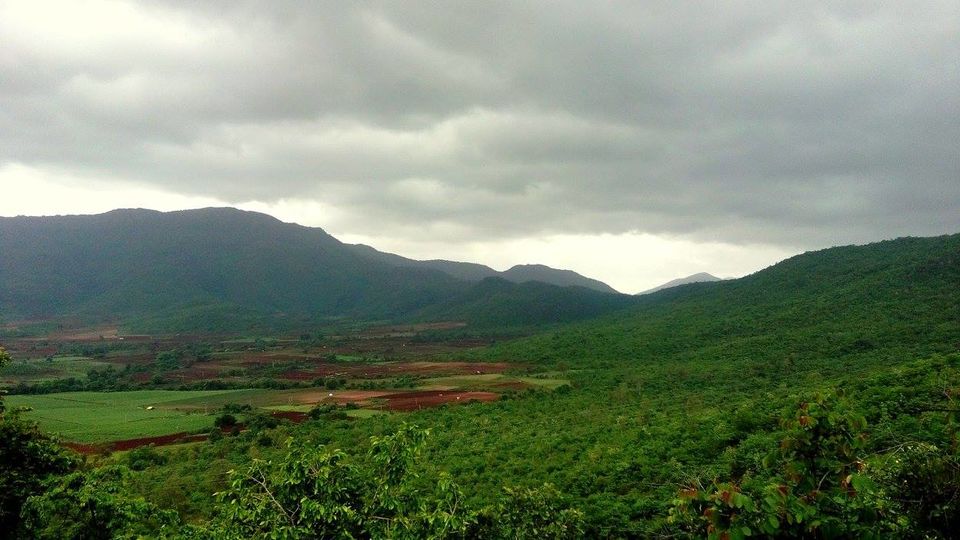 It is known to us that South India is bestowed with greenery and mesmerizing beauty ranging from hills to the lush green coffee plantations. I stay in Bangalore and it is quite natural for me to explore the sides and rocks of the nearby places, but what you need is a good company who is equally ready to jump in for joy. What's better than cousins !. People landed from Kolkata and Noida to bulk up for a trip to any nearby happening spots of Karnataka. We wrote and scribbled about quite a few names and checked Chikmagalur which would be the best place to cover in 3 days time along with the historic cities of Beluru and Halebidu. So me accompanied by my other 6 cousins jet set in 2 of our chariots (I call so because of her unstoppable service) in the frame of a car.
On way to Chikmagalur….
The city takes its name from Cikkamagala uru which means "Daughters town". Legend says the city was given as dowry to the youngest daugher of Rukmangada.
The journey started at 7 am from Bangalore and somehow we managed to force ourselves from the sea of vehicles at that hour and sneak into the esplanade of highways.
Highway to Hill The humans making all this happen Someone is returning back (The white car)
Bangalore roads you're horrible and so is the sense of her drivers!
Once I was out of the city the drive along the highways seemed like sailing in water without any sudden jolts. The roads sometime took the frame of an escalating flyover and sometimes the diversions were of a racing track from Grand Prix. The sideways of the highway were stumped with trees and sometimes it bent down to kiss each other making a shade for the fellow passerby. Ah! Beautiful. Its true, nature can be felt from eyes. Finally after 6 hours drive we reached our first stay "Mountain Valley" resort and amazing was our start. The rooms were fully furnished with golden wooden touch comprising of attractive bedrooms and interiors.
The garden at Mountain Valley Sipping coffee was never coloruful Our nest
Interiors Showpiece They look good there..don't use them
Sofa which helped as a bed due to over accomodation Check the glaze..dont ask why I took the ceiling Grandfather also lived with us Interior looks good with any random objects
Chikmagalur is also known for coffee plantations which you can smell in the air whether you are driving or walking, it's kind of a O2 blend with the dessert. On top of it the place is blessed with a mixture of cool breeze and twinklings of raindrops. It's a rare kind when you can feel the touch of rain and not feel like running under a shade, because it's a pin prick and not a slap of droplets. Our stay was as beautiful as those rich cottages we see in the English movies where the protagonists family resided in wooden burnished interiors and among the woods, somewhat similar to Forrest Gump's place or that of Kate's stay from Holiday. Greens and Breeze accompanied our eyes and ears respectively for close to 72 hours slaying away the monotonous wreckage of hullabaloo in the city.
Buttermilk Falls…
We refreshed ourselves with a South Indian lunch and thankfully it tasted quite distant from being horrible. I was full and fool enough to hog too much, given that we were to drive out for nearby sites like Buttermilk Falls, Mullayangiri hills as we heard they are more alluring for our sight. We started off sooner than later as after dusk the beauty of the hills turns into beast and can be treacherous to drive amidst the turns and tantrums of the fog and mist in the hills. Our first halt was at Buttermilk falls where we had to park our cars few miles away and hire the local jeep. We had our series of questions to the locals who were conducting and earning with the help of the Jeeps. They strictly mentioned regular city drivers can't drive their way down to the location of the falls as the roads are turbulent and can be fatal.
Well we had no other questions left when rules are set. So, jeeps were hired and 7 of us started the journey. I was curious enough to see what the roads are going to offer as a treat. Firstly, it was lovingly uncomfortable and would have given a good competition to Shakira in terms of body shaking. Hits and blows were our series of tastes in turn while the Jeep ventured into the mud scattered and rocky roads. It was perfectly edgy and perfect enough to jump to death if not perfectly driven. Prayag Da was an expert but I wondered if he could have driven in the dirt race tracks. 3 kms as they said seemed like a ride back to Bangalore and again back. It took hell of a time. Finally reached the spot and the sight was a treat. It made me forget the tiring journey of past 3 kms.
We stood quite far away from the body of water fall however, getting drenched was not a tough factor given the thud noise of water when it landed down the stream from the top. Few clicks and selfies were must and clicked quite good amount of pictures together. After waiting there for half an hour it was time to ride back or call it climbing back in a Jeep , Innovative word Eh ! The journey back to our car was not so hectic given that we had our own share of experiences and were ready for the next dish of bumps.
Mullayanagiri played spoilsport….
As we were about to start for the next destination Mullayanagiri, it started raining. Rain I must say wakes up the nature and blooms the greenery around. I wonder people who stay in such places on the lap of greens procure health benefits more than city goers and have long life ahead with less chance of being unhealthy. With such thoughts we ventured out for Mullayanagiri known to be the highest peak in Karnataka elevated at 1930 metres. It is part of the Baba Budan Giri hill ranges. After driving back from Buttermilk falls there are two ways which goes down to Chikmalagur and the other sways top Mullayangiri. We took a halt for few minutes to decide whether to drive ahead to Mullayanagiri or rest it for the day and come back next morning. So, had a small debate with Didi and Sohini voting for going down and me and Prayag da settling that we must make it today itself as we had time, but it resulted as a flop. After venturing few miles towards Mullayanagiri it became obvious that we took a wrong decision that day.
The Baba Budan range
Few meters ahead the roads turned narrow with succumbing space for one vehicle and nobody can cross our paths coming out from the other side. The most terrifying site was the ocean of fog, although it was beautiful and mesmerizing, yet it brought it's own sense of tragedy if the weather at that time played against our wish then we are all set for hundreds of feet down flying (use udna nahi girna kehte hai). I looked left-right-straight-back, it was all white and the wiper dancing on the front glass. Great ! we are in for an adventure and might well be able to work our way upwards. After driving few miles up, the whiteness turned heaven and came around to hug our car which is not so comfortable. We decided to stop for a while as there was an approaching vehicle who was stuck. Prayag Da walked to them and came with the news not to go ahead as things are not favorable to reach the peak. Sigh ! disappointed I was. I came out of the car so that I can be the traffic guide for our car. Interesting ! I am guiding a car to not land in danger at a spot where it was more like heaven than hills. To my dismay wind was firing from machine guns and it was difficult to control my friction. I thought it would have been better to get those magnetic boots used by SRK in Badshah. It worked well for me to guide and we came down the roads with exchange of words between the husband and wife who were with us. All of a sudden I was inside a moving parliament with Didi and Prayag da becoming Lok Sabha and Rajya Sabha quarreling with each other. Rajya Sabha always had the defending sense for me. It took us an hour or two driving back to Mountain Valley with a chai break at a roadside tea stall whose name I couldn't read as my knowledge of Kannada alphabets is negative. The spot was dazzling and the sense of attraction was the sculpture of a lady in the posture of Cleopatra carved out of rocks and bushes. After sipping 2 cups of coffee served late and onion fries, we were all done for the day and we lay ourselves back. Freshened up and all of us got engaged in a game of UNO and I won twice that day, my back to back win so far. Snacks were our fuel and goodbye to hunger until dinner. Game done , Dinner done !.
Peace prevails amidst pristine lamps hanging at every corner of the cottage with strange yet soulful sound of wind. My ears never had the honor to such blare of wind. It's one of those little moments I took pleasure during my trip.
Hebbe falls..
First day down, Chikkamagalur was a treat and the stay an author's retreat. We started our campaign and the next visit was Hebbe falls. The place is 10-12 kms away from Kemmanagudi and almost 55 kms from Chikkamagalur. Hebbe falls can be seen from plain lands when you are driving your way to the hills and the view is luxurious to your eyes. It is a straight white mark in the middle of a big green canvas. The sight is exquisite and sprinkles of water during rainy season blossoms an oil paint image of the scenery. Mesmerizing it is !
Hebbe falls Sometimes capture something which looks beautiful even if you don't know what for Car you stay there...We will be back...
When the falls took a selfie with me.. I crossed the Nile thrice...Seriously!!..
Not only the destination, even the journey was accentuating. We stopped by the roads which lay like too many "S" joined together. It struck my mind then that we just zoom when we are driving, it is also necessary to stop and enjoy the stillness devoid of sound.
I stood at the edge of the road and down lay the cliff, but if you look straight across the horizon you will see carpets lay all over with range of Baba Budan Giri encircling the area. In the middle of those carpet fields stood few houses. Lucky they are who own them. The roads came with surprises in between where navigation app showed the shortest way but did not mention it was full of dirt race challenges. Prayag da was genius enough to sneak out of the rural roads. It took us an hour to come out in the highway for the smooth journey we were anticipating. After we started escalating the hills, we reached a spot where there was a gate with something written in their local language making me feel alien again and a left turn. We stopped for a while and discussed whether to take left or straight should be our destination. Don't know what struck us we took left but stopped after gearing few meters. I Got down and asked one of the passerby whether Hebbe is all the way up, they wronged us and asked to take U turn and head through the gate we just ignored. The road we are facing would have taken us to Kemmanagundi, and probably the place we marked for our next bag. So, we turned back and entered the vicinity of big trees and a red wet mud avenue. I could see this road taking a sudden right turn. I was eager to head that way. The road had something unique because you can't see how does the path look once it shot the naive turn because the entire area is covered with blanket of greenery. It was beautiful and peaceful !
As we parked our cars we fell in the hats of another out of nothing business. We cannot proceed with our own vehicle, rather had to take the forest Jeep as the roads won't fit the bill of regular plain drivers. Hence shelled our amount and booked our jeep. I put on my Wind-Cheater to fight the pin pricking breeze at such an altitude. We boarded the Jeep and had no idea what the journey would be like. We heard that Hebbe falls is 3 Kms away from the place we parked our own cars. What would be coming was not in our minds. The roads were more of a terrain and not a normal road. Somewhere it seemed we are the first one to create roads in mankind and hence exploring the way to Hebbe for the upcoming generations. 3 Kms seemed like 30 kms which the guard at the gate couldn't relate to. Even though it was a roller coaster ride, but the beauty and the mist were glorifying. This tour kept on surprising me with devotion of gods creation. Clouds were sailing all around us and the lush green surroundings were shining creating an ecstatic ambiance. These assets of nature can only be felt through eyes, not by touch.
We reached a spot where the driver parked the car and mentioned that the Falls is still quite far away. Screwed !!. We were wondering now what do we do and what challenges are going to welcome us. I stood and looked around, the trees were standing too high in a queue and completely deep into a forest. I wished no wild boars or big cats would surprise us in such a dense forest. Anyway, we started tapping our feet forward to struggle our way to Hebbe falls. After walking for few minutes, we came across a stream. It was gentle and clear, slowly flowing on it's own unperturbed by the humans staring at her. There were stones and rocks beneath the water, which means it's not deep and we can easily cross. My cousins decided to take off their footwear and walk, but I decided to cross with my footwear on. The water in the stream was bone chilling and I had to summon my nerves to tolerate that. Next we were challenged by the muddy and slippery soils all wet, if not controlled you can land on the earth with a thud and it would be a nasty fall. So to avoid that we helped each other and came out strong without a fall.
So we could see the water fall at a distance and it was indeed a worth watch. But, our interest was to reach the spot instead of watching it from a stage like that of a Multiplex backseat. Thus, we went ahead.
The slow and careful walk was not at all easy, we don't belong to the ManVsWild crew nor Bear Grylls my father. I really liked what I was doing because how often do you get to cross streams within a look alike set of Jurassic Park, and no Dino's were after us; the missing point.
Once you look up and straight, you get to feel the pin pricks and gush of water which has no color turns white entirely breaking the stillness of the place for ages. Isn't it beautiful !. I was at that place and watching those consistent fall created an ambiance where you can stay there without any disturbance. I could hop from one rock to another and tried to get as close as I can. The camera lenses were dripping and opaque enough giving me VGA shots. We all had a great time taking pictures, the only way to celebrate our trek.
Half an hour later we were done with our enjoyment and time to roll our sleeves to head back to jeep. The expedition back to jeep was good one as I carried little babies on my feet with me and thought of keeping it as pet. I was not happy about the fact they were trying to enter my skin hence took it and threw it there. Leeches have bad taste of food which I can't afford and they left a permanent mark in my life ! sorry legs.
We returned back with an increased amount of roughness and like champions just back from diamond hunt.
Once back it was time to descend. Bye Bye Hebbe. I was scrolling through the google pages to know more about Hebbe and read that it is banned for tourism as it's a tiger reserve and open tourism is not allowed. Can you believe that ! We just played and sprung here 'n' there least knowing Tigers can join the party too and we their food.
Phew! Enough of Discovery Channel, time for History TV as the next platter.
We are somewhat familiar about the Cholas, Guptas, Chalukyas, Mauryas, Mughals, Marathas etc from school times and history classes, but what kept me awestruck was Hoysalas gargantuan level of art which was highly rich and beyond our imagination of creating the same impact in today's time. Both the towns of Beluru and Halebidu which is 13-14 kms apart and still holds their culture of ancient period thus preserving the tales of modernization during the 10-14th centuries through artifacts and stone carved tales on the bodies of the Chennakeshava temples. History and Art are not enough if you don't touch them with your vision. Pages from books can let you know and understand, but staring at those beauties and acknowledging the pinnacle of skill Indians had during those period is beyond explanation, and only exclamations.
The Chennakeshava temple took 103 years from laying its foundation till its inauguration. Vishnuvardhana started building the temple. Legend says the reason to build the temple was to commemorate their victory over the Cholas. It was completed Veera Ballala II (Vishnuvardhana's grandson). The structure explains the daily activities of the people during Hoysala rule and the understanding of strength, knowledge, power magnificently displayed at the base of the entire structure. From a distance the temple looks like a majestic structure with carved stones displaying the skills the artists possessed, but when you take a eye to eye look, it explains how the women used to live and their fashion statement. The explanation of using binoculars and sculptures of human sipping drinks from bottles is beyond our thoughts that today's lifestyle were already a part of India when technology was not the ruling base of survival. It was complete art and human skills. Human hands were the right set of arms than machine made tools. It is unquestionably not a pleasure to read and enjoy. History is itself rich what I understood looking at them which no pages can elate your sense of amazement.
After Beluru we drove to Halebidu which was another arm of the Hoysala heritage. The history behind its rise and doom is intriguing. Malik Kafur who was the General of Alauddin Khilji attacked and vandalized the city of Dorasamudra- the then capital of Hoysala empire. Kafur attacked twice and devastated the region thus throwing them into ruins. It was later Beluru became the capital of Hoysala empire after the grounding of the Dorasamurdra. The hoysala temples comprises of two hindu temples- Hoysaleshwara and Kedareswara. At the entrance of the temples there is a large lake, from which the name Dwara (Entrance) Samudra (Lakes or sea) got her name. The temples of Halebidu resembles striking similarities to that of Beluru and was almost similar to that of the depiction of tales from Hindu mythology and abundant dancing figures. It is to be kept in mind not only were the artform exquisite but what was more eyebrow raising is their uniqueness. No sculpture was a second form to each other. One structure is one in the whole world. It is a matter of thought how peculiar and highly accurate the artists were with their magnanimous brilliant hammering strokes so that no structure resembles to each. I still wonder how is that possible and what went wrong to our heritage that we lag so much today and we all talk about Italy, France and Europe when art is spoken about. For me these soapstone structures were much more alluring than The Monalisa or preservation's at Louvre (I am yet to see this, hopefully in future). I lose words when explaining and beautifying what I saw, Better drive your way their and write your own choice of spots.
Hoysala was done, and it was time to return back to Bangalore with a stop at Shravanabelegola.
Bahubali The view of the pond..they say it turns white during the ceremony every 12 years Landscape with rocks and greens... after climbing 700 stairs we had to cross this also...I think now I can say I am the Ship of stairs..
I was holding a booklet purchased from Beluru for a basic concept of the place. After rolling eyes over the pages of Sravanabelegola, It was even more amazing. The place has two hills Chandragiri and Vindhyagiri where Chandragupta Maurya is believed to have meditated. The site is wordily famous for the 58 feet gigantic statue of Gommattesvara Bahubali. History says Chandragupta Maurya transformed himself into a Jain and breathed last in Shravanabelegola. After every 12 years a ceremony takes place where the statue of Bahubali is bathed with water, rice flour, sandalwood paste, saffron gold and silver flowers. Thousands of pilgrims from different states of India congregate here to experience and perform the Mahamastakabhisheka. It took 12 years to construct the worlds largest monolithic stone statue and thus the 12 years interval between the ceremonies. We reached there just before the temple closure for the day. When we entered the premises it was not in our mind that we will play the role of mountaineers. It was undoubtedly a smaller version of Amarnath Yatra considered to be the most Vigorous pilgrimage which my Granny went for and returned like Tenzing after Everest as per her expressive tales. I was panting and puffing with less strength in my lungs but sheer interest and urge to visualise the structure made me reach the spot after stepping 700+ stairs. It was a treat to take a look at the Bahubali. The priests were generous and kind enough to appreciate our tenacious and knee jerking climbs. The view from the top of the rock was deeply satisfying after the successful ascend. It was indeed delightful for me.
We were knocked by the priests to descend as it was already 7.30 PM. We spent 2 odd hours in going up and down and the end of our journey was stupendous and rocking.
After descending down and putting in our shoes we relaxed with the help of coconut water and ice creams. All of us were discussing about the tiring journey, others were scrambling the pictures, my sister showed dissatisfaction at not having a good picture of her, but strange enough I found her pics quite beautiful.
We started back for Bangalore and rested our spines over a cup of tea at a roadside stall. The journey along the NH27 was soothing until we hit the monstrous traffic jam of Bangalore and the stop- start- drive till home.
..@|\|kan