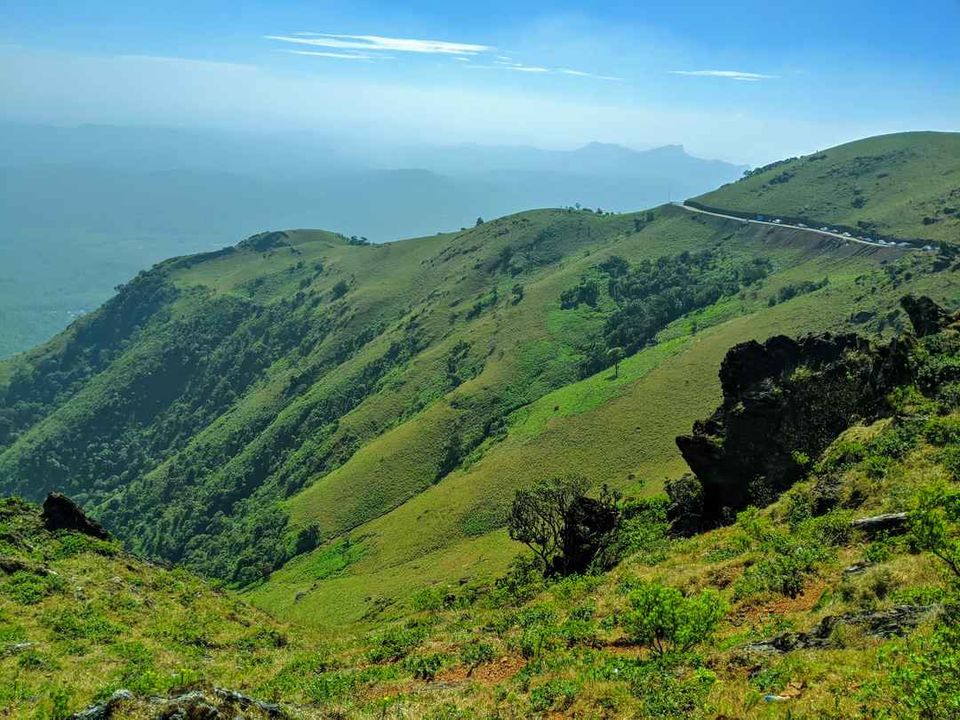 We started our trip by 5 in the morning from Bengaluru. After a 6 hour tiring ride we reached Chikmagalur.
Our first destination was Mullayanagiri peak. A 40 minute ride from Chikmagalur.
First of all, we went during winter season (December) and not during the monsoon. To see the lush green meadows you should visit this place during the monsoon season. It won't be like the photos you see in google images if you go in winter. And it is advisable to reach the peak early in the morning or else you would miss the mist. We were very late and went there only by 1 pm. You have to climb some steps to reach the top of the peak. During this climb there are many spots on the sides to take photos with awesome backdrops. Most of the instagram photos with location Chikmagalur is taken at this point. At the top of the peak there is a small temple and from there you can get the 360 degree view of the surroundings.
After seeing the temple we climbed down and we were starving. There were many maggi noodles shops down and for the quantity they give, the price was a little high. But, it was tasty.
Then we got in our car and went to Jhari waterfalls. It is a 30 min drive from the peak. We went there around 4pm. It is open till 6 pm. We can go there only by a jeep ride from the main road. A jeep ride up and down costs Rs 700 for 5 members. It is a bumpy ride down hill across coffee plantations. And don't wear your favourite clothes in this ride as the road is muddy and it would splash inside. After this ride you have to walk some distance to get a clear view of this exquisite falls.
This is one of the coldest waterfalls I have ever experienced. You cannot stand inside the falls for more than 20 seconds. This waterfalls has three layers and all the 3 layers are accessible. But the second and the third layers are pretty dangerous.
After soaking ourselves in the waterfalls we went to Chikmagalur and had our dinner in a restaurant named Taj. The food was super spicy that it bought tears in our eyes. After this we started to our homestay. Tripspack was the name of the homestay we stayed in. It was located approximately in the middle of our route to Hebbe water falls ( Note : It takes 2.5 hrs to reach Hebbe waterfalls from Jhari water falls ). It was also present in a place with no light pollution and was an awesome place for stargazing.
We have to leave Chikmagalur by 3pm the next day. We had a bus to catch in Bengaluru at 9 pm. So we planned to get up early and visit Z-point trek and Hebbe water falls. But we were so tired to get up early and we woke up around 9 am. We trimmed down Z-point trek from our plan and started our journey to Hebbe water falls.
Hebbe waterfalls is present inside Bhadra Tiger reserve. The last 7-8 km of the journey will be rough. There were no shops in this area.We can only go till the forest check post by car. From there we have to travel either by trekking or by a jeep. The falls is 12 km away from this check post.If you opt for trekking make sure you go before 10 am as trekking is not allowed beyond this time. The jeep travel costs 400 per person. We got into the jeep and it was a hell of a ride. We climbed hills, passed through beautiful meadows and forests.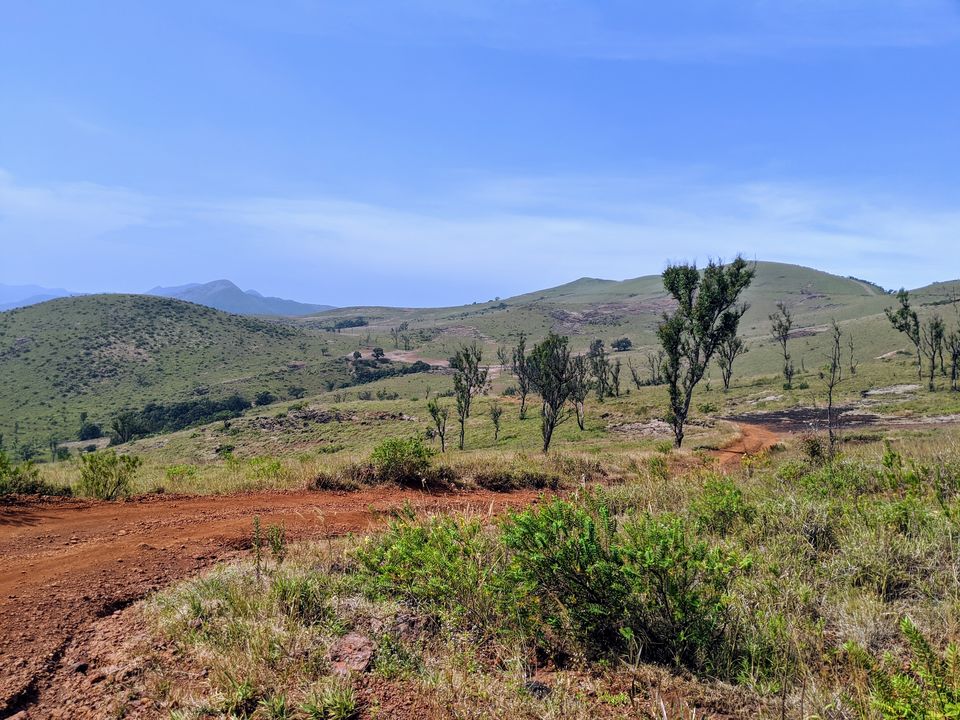 Our driver knew tamil. We asked him whether he has seen any tigers at that place recently. "Yes", he replied and he added that the sound of the jeeps drives them away. The jeep ride took us 45 minutes to reach a place from which we have to walk another 10-15 minutes to reach the falls. The driver asked us to return within 1.5 hrs. We started to walk towards the falls. We crossed three streams through a jungle and we could hear it from there.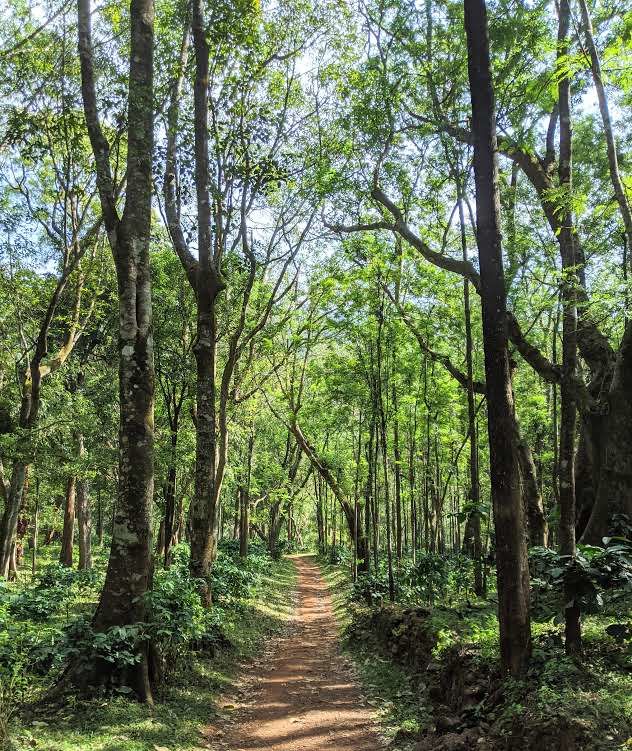 And then it appeared, tall and majestic!
We were not allowed to get inside the waterfalls and we could just take pictures there. After spending some time there we returned with a touch of disappointment.