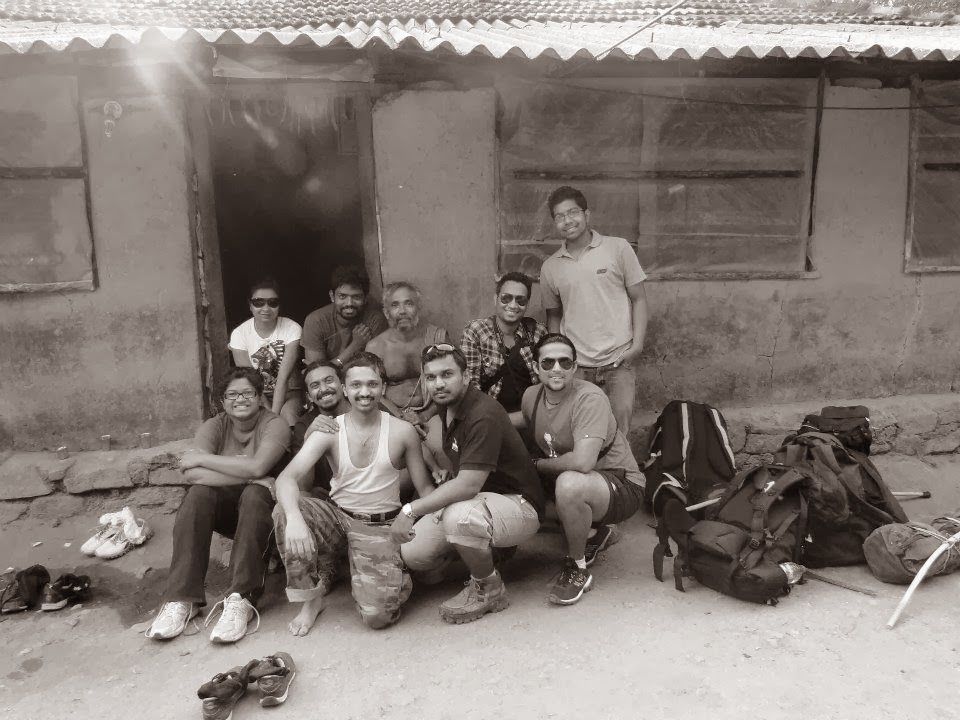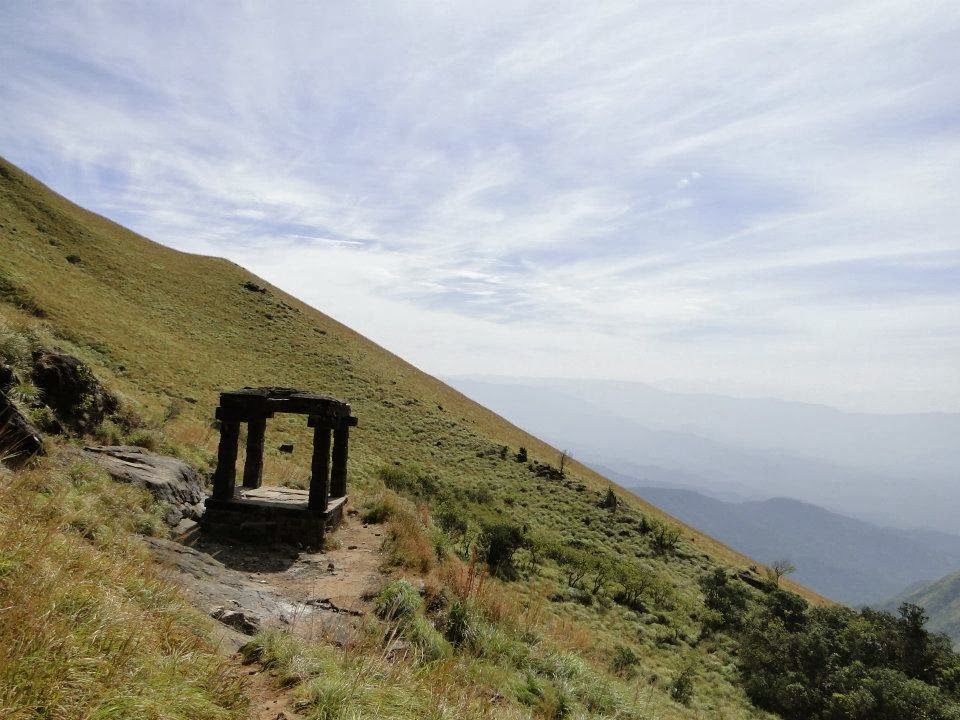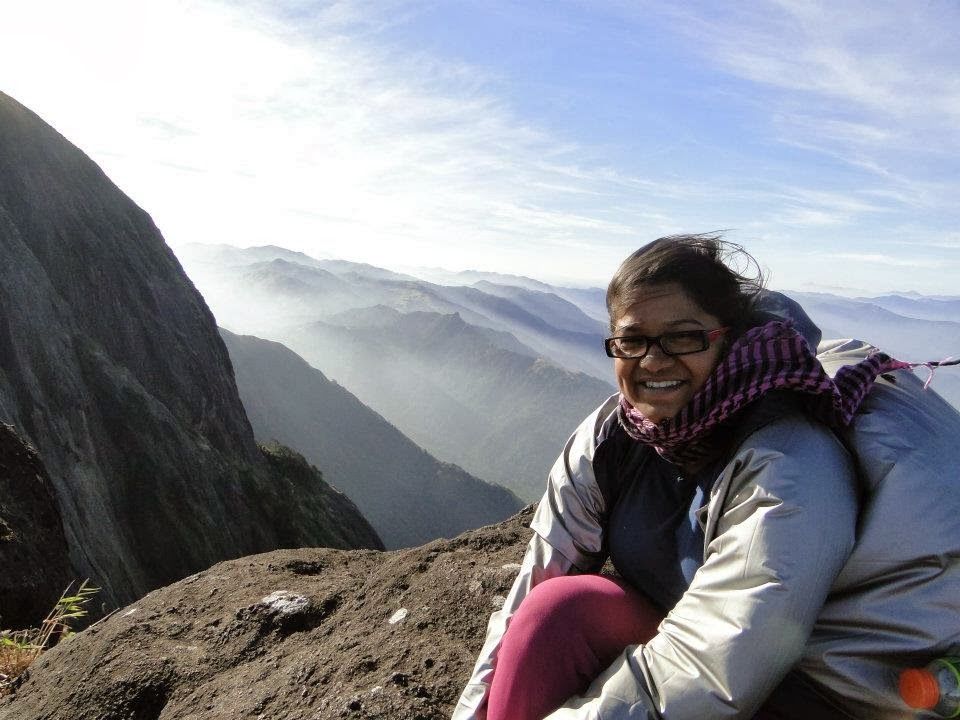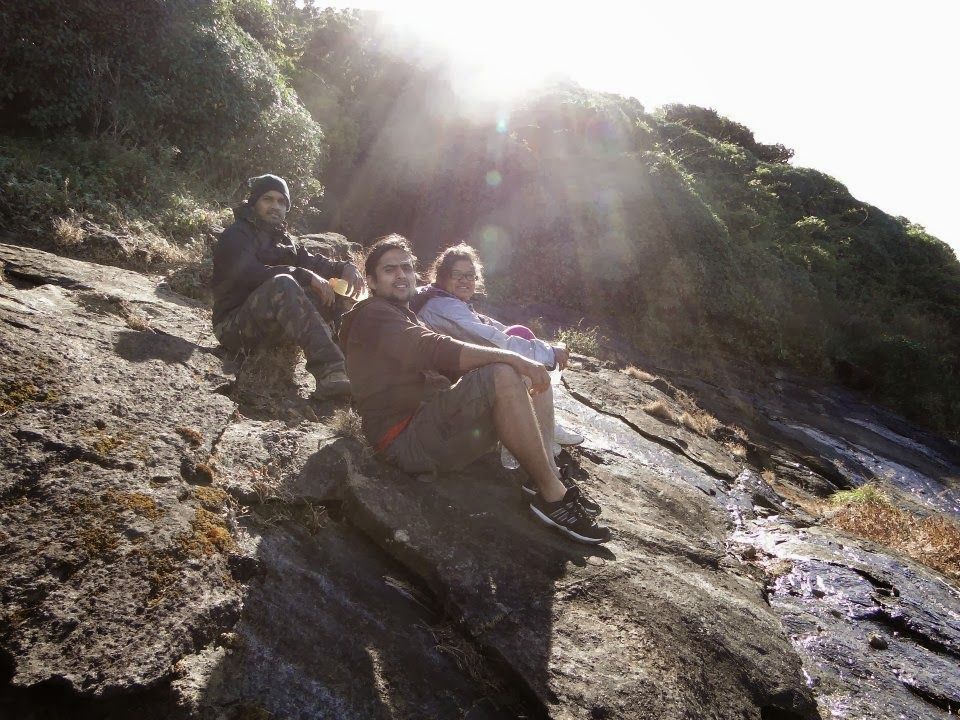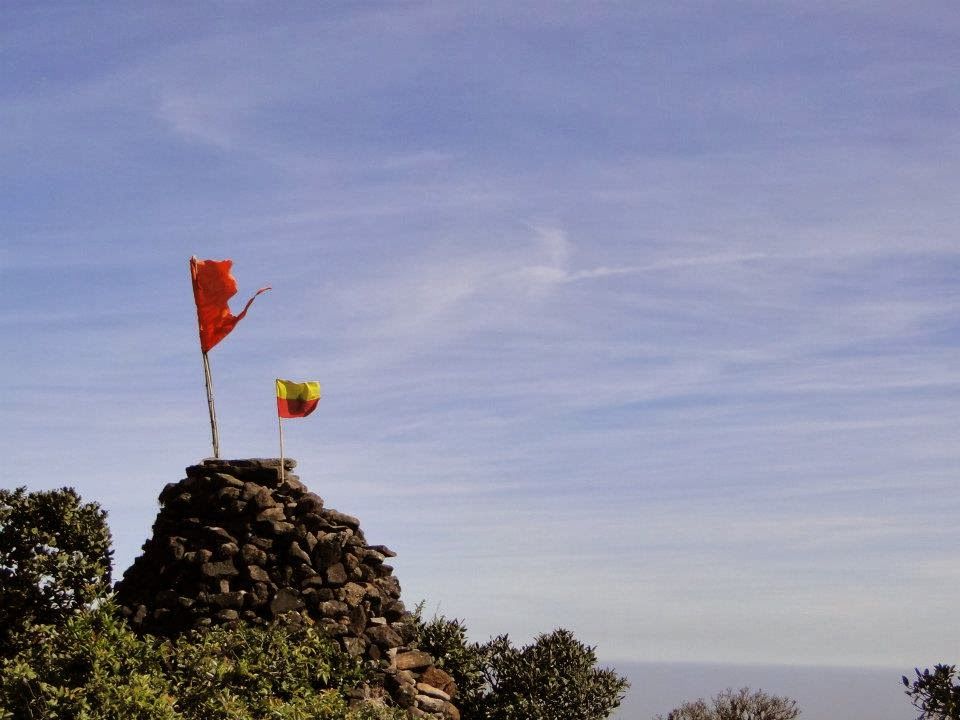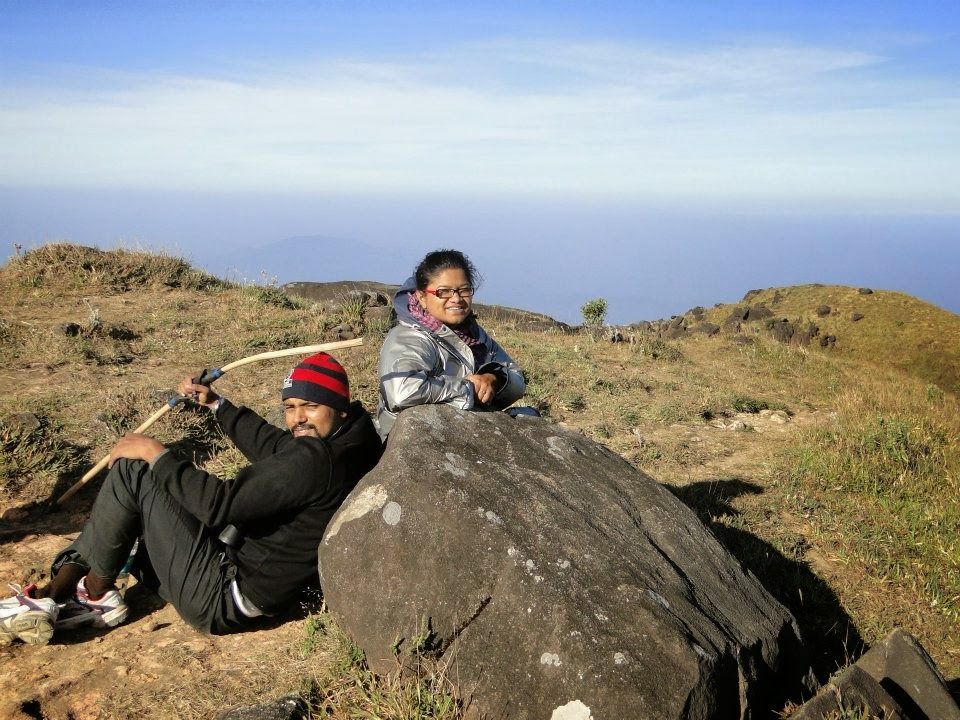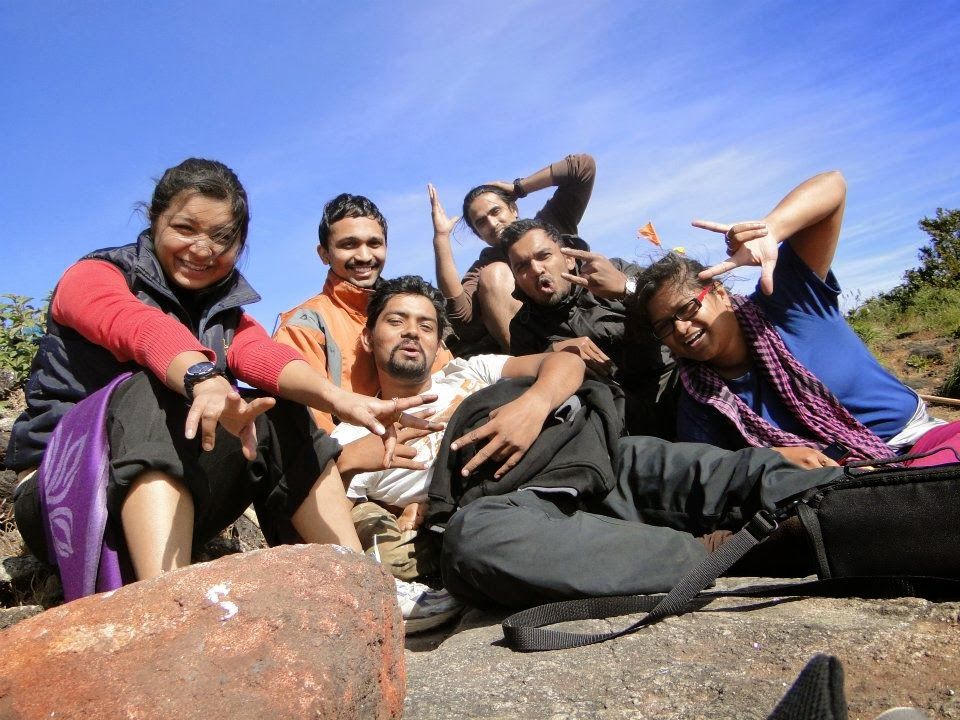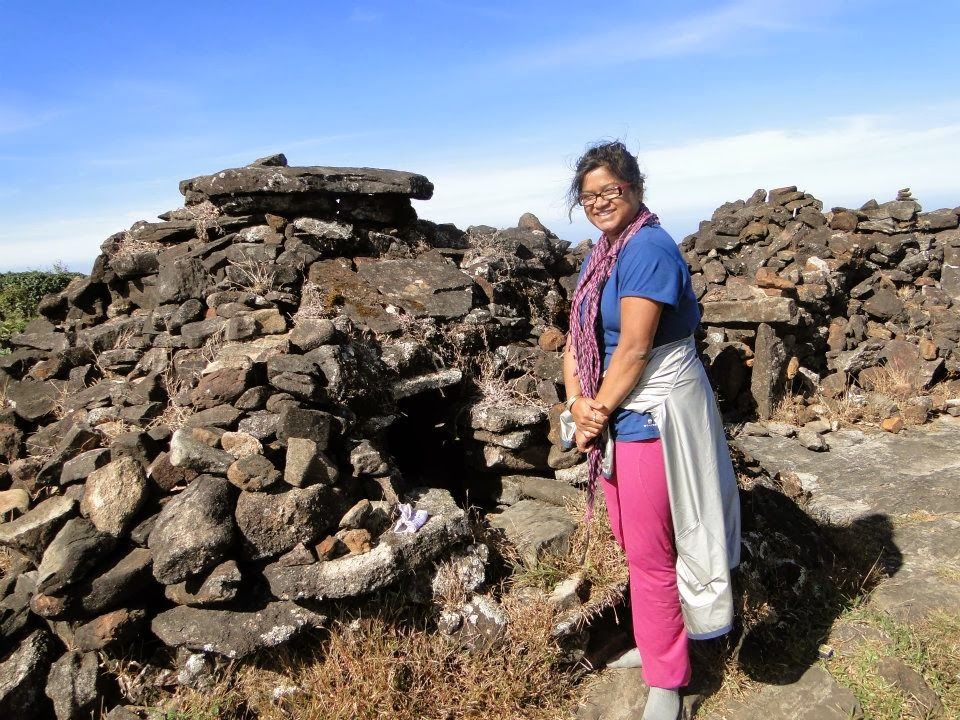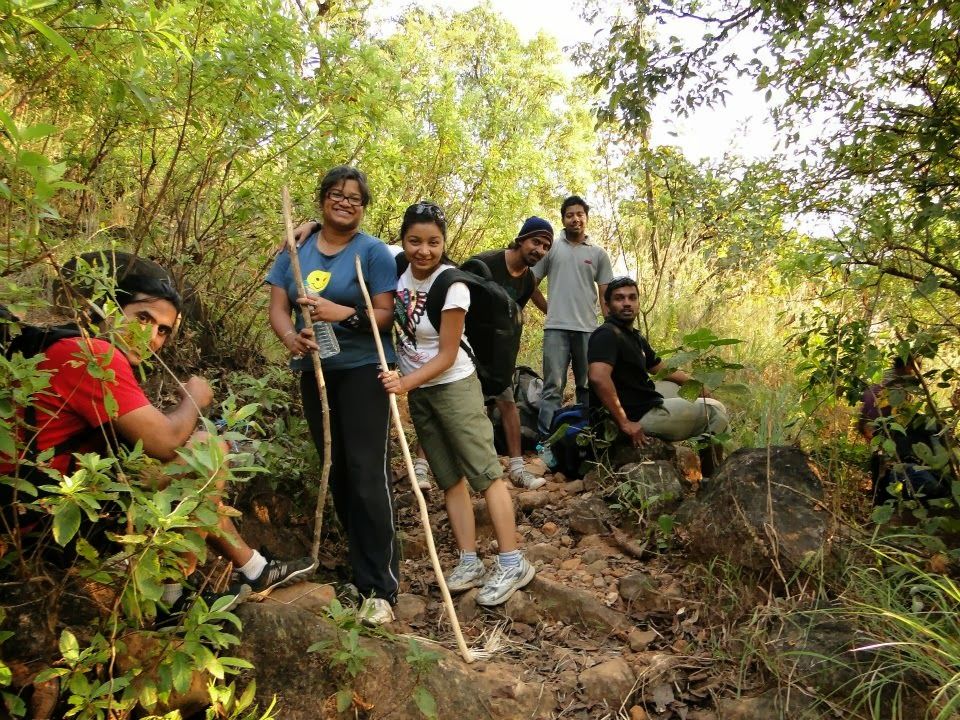 Well then I was a wannabe trekker....and was so sure that only my will power will help me trek for 14 kms one way in a day. Clueless of how we are traveling, and relying on Arvid, I had decided to come. After dodging between options of travel, at about 12 midnight, we started in Abdul's Tata Safari to the temple town named Subramanya. The roads were fine until we were 30 kilometers from the town. The road after that were horrible and took our naptime away. As soon as we reached the town at 6 am, we checked into a hotel/lodge. It was Rs. 200 per head, just to freshen up. However since the boys has taken turns to barter sleep with driving, we decided to catch up with sleep for at-least an hour. At about 9 am, we had breakfast, picked up some bread and jam, a vessel to boil water and commenced.
The trek started right behind the temple. Ahead of us, we spotted some more trekkers with rug sacks, and we were sure that this is the right route. We were heading for 5 kms of a trekking in a forest area. We had been warned to look before we stepped, as these forests were known for king cobras, and other wild reptiles. You basically step on ascending natural steps made of tree roots and stones, and the humidity is painful. Its better advised to wear a T shirt and full length pants, to avoid scratches or bites from various creatures that you are likely to encounter. This was a never ending stretch of the forest. We could hear birds, insects, the whistling of mild breeze between the branches. It was green. I was super alert and looking at every step that I was taking, because the last thing I want is getting a snake bite. It was about 3-4 hours by the time we could see the grass land start. Soon we were way past the 5 kms stretch of the humid forest.
Our planning in terms of water and food was pathetic. It was almost lunch time, and we were almost dehydrated. Scorching sun was sucking up all our energy and now, after all the curses we gave the forest region, we had no tree for shade. This was the toughest part, where we had no water, no food and no shade. We had to play our mind over body and search for the famous "Bhattara Mane"- house of the hindu priest.
Interestingly, this tough trek had one solid hope of food and shelter and that was this house of the Hindu Priest. He prepared a basic lunch of rice, sambar and butter milk with some pickle. It was located right at the mid point of the trek, after about 7-8 kilometers from the start. We had started hallucinating, started spotting the Bhattara Mane everywhere, but none of us gave up hope. Finally we saw a wooden fence and some trees, and sighted tiles,.... yes it was the house of the priest! After washing our face with cold water from the pipe in his courtyard and throwing our bags on earth, we rushed in to the house, where the priest smiled and greeted us to sit down. The floor was polished by cow dung that attracted houseflies all over the large vessels of FOOOOOOOD!!!! We ate, rather we binged.... we ate the " Buffet" like gluttons.... That was one point in my life where I realized the importance of food!! After chilling for some time in the shade of the trees, filling our bottles of water and paying the priest Rs. 60/- per plate, we took some photographs and proceeded upwards. Our destination was " The Mantapa", a small stone shelter, which had a tiny stream of water flowing and flat land to pitch our tent.
However we failed to reach there, and decided to call it a day way before that. After collecting firewood, pitching the tent and taking pictures, we realized that 1 tent was way smaller for 6 of us. Winds at an open mountain top mob you with no mercy. The speed of the wind was so high, we were not sure if the tent would stay. There was very little food supply against the alcohol supply we had, which I confess saved us from the cold and the sounds of wind. By midnight, we passed out. Losing no hope, we decided to start the trek to reach the peak at about 6am in the morning. I walked up till the Mantapa, only to realize that my stamina was over, and I could not take another step ahead. I looked at the green range of mountains I had trekked up, from the "Mantapa". I had achieved a lot compared to what I had thought of. I thought to myself this was it of the " Kumara Parvatha". As I saw two of my friends walk up, I had mixed feelings, of jealousy, defeat and breathlessness. Every drop of my sweat was making me heavier, and ever cell in my brains were shouting motivation!