Being a history fanatic, with a belief that travel is the requisite to quench my desire to explore and learn the unknown; Hampi had to be stripped off of my bucket list. My major motivations were: the architectural marvels of the Vijayanagara kingdom that left the European and Persian wanderers stupefied, the way the empire attracted international trade and commerce, the enormous wealth and the bountiful merchandise (like diamonds, rubies, pearls, horses, etc.) the empire possessed, the geographical realm of the surrounding area, the glory and fame this majestic kingdom entailed, and last but not the least, the Bahamani Sultan had to literally conspire to knock down the empire's military defense and eventually the whole kingdom altogether; making it the last non-Islamic dynasty to have ever ruled the Deccan.
From the past couple of years, I had been looking for opportunities to visit Hampi but was held up by an umpteen number of things, but, nevertheless, it seemed like I just couldn't make up time and this trip wasn't happening.
The idea for this road trip got implanted in my mind during the interlude I got from work when I had made a company switch. I did not want to fritter away this golden period of recess from work into doing nothing, hence, decided to do something exciting, something I had never done before, something that had been alluring me from quite some time, something that had always been enigmatic to me, the list of "somethings" would go on and on; probably all I needed was a change in my routine and busy lifestyle most of which was work engulfed; this is what I believe had propelled me to impel on a solitary journey of ruin hopping through the magnificent ruins of the erstwhile kingdom of Vijayanagara and the weird, randomly balanced stone boulders surrounding the area.
I wanted to experience all these things extensively and in real which would take me back to the aureate and gleaming times of the glorious Vijayanagara kingdom. I personally being involved in creative fields like art and photography, was even more excited to understand how the kingdom patronized art and craft with a great deal of emphasis given to culture and heritage. The Vijayanagara kingdom was famed for its affinity towards the aforementioned aspects.
For me travelling has always been not just about places but also meeting people. There are no places without people; it's the people who bring life to places, making them what they are; instead of mere empty spaces. More to that, I always prefer travelling solo to places and keep meeting divergent sets of people en route, making connects and engaging with them about various things and topics as different people would notice different aspects, thereby, understanding their perspectives. Along with all these, I am an avid photographer. I wanted to capture anything and everything on the way to Hampi. As a basic attribute prevalent in me, I am constantly in awe of the things around me and the nature surrounding them. This helps me strengthen my memories about places by getting immersed deeply into the surroundings and think peacefully; in turn gain deep insights about it. I strongly believe that photography and travelling go hand-in-hand; it's all about exploration and discovery. Hence, to experience all these on my own terms, at my own pace, I had decided to commute by a bike. Since, I didn't own one, after reading many travelogues and asking around in various groups and friends, I decided to rent out a Royal Enfield Thunderbird 350cc.
Once I procured the bike, I was determined to set out alone. Thus, I finally packed my bags and set course towards Hampi, marking my first major solo journey.
The Journey
So, who doesn't enjoy a ride on a bike, whether a short one or a long one for that matter; the essence is to ride and experience. For this, I decided to start my commute early in the morning. I had planned to start from my place by 04:00 A.M in the morning as Hampi was about 400 km from Hyderabad and hence, wanted to get there before it got sunny. I had finished all my packing and other preparations like fuel, tyre pressure, route map, etc., just the night before my travel date due to which I ended up sleeping late. I made sure I put at least a couple of alarms for the fear of missing out on waking up on time. I woke up at 3 A.M and got ready. I left my place at 04:00 A.M sharp as per my plan. I had made a rough plan of the route, actually the main cities/towns on the way and stuck that on the engine tank for easy access. The route I had followed was Gachibowli - Jadcherla - Mahboobnagar - Gadwal - Raichur - Sindhanur - Gangavati - Hampi.
After continuously riding for about 3 hours, I stopped for breakfast break at Gadwal town, and after a break of about 45 minutes, I restarted my journey. On the way, I was astonished by the beauty of the nature and the way it was acting as an eye candy, forced me to take a couple of stops, major ones being a bridge while going to Raichur from Gadwal over the River Krishna which was at its full level, I believe and another at the sunflower farms which were found on the sides of the highway for quite a stretch. It gave me a sense of liberation like never before, it was something like I was all by myself on this amazing stretch exploring the landscape and the world around me. It was great feeling initially riding in the dark (early morning), good cold weather as it was the rainy season; was lucky that it didn't rain that day; and smooth highway roads with not much traffic or any other road blocks to interrupt until we crossed Raichur, to enter into the Sindhanur stretch from where the road started to become a bit unpleasant make the ride a tad bit time consuming and this continued this Gangavati. From here, the highway had started again and the roads eventually got quite good.
Finally after about a half an hour of commute, I see a sign board with Hampi written on it and I was just 10km away from the destination. Hampi could be reached through two routes; one from the Hospet end, it being the nearest town to Hampi, about 12km or the Kamalapura route which is on the other side of the river Tungabhadra, about 5km from Hampi. I chose the Kamalapura route. From Kamalapura village, I had to traverse through an amazing but a weird road as the approach to Hampi was a minor hill terrain road section, with hills made up of randomly placed boulders; they were as if placed one on top of the other like a heap and greenery on both the sides. I stopped at multiple places taking photographs and enjoying the scenery, finally reached Hampi.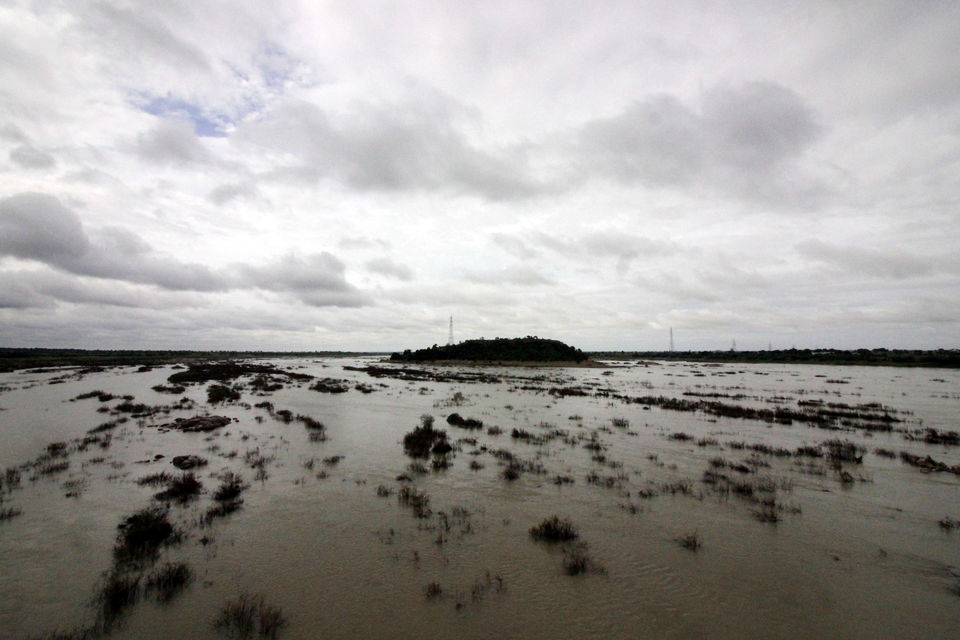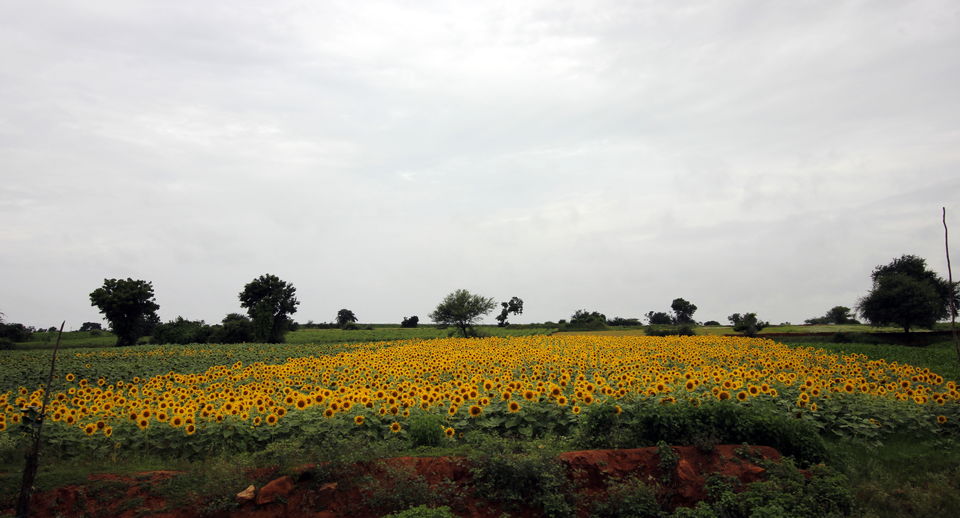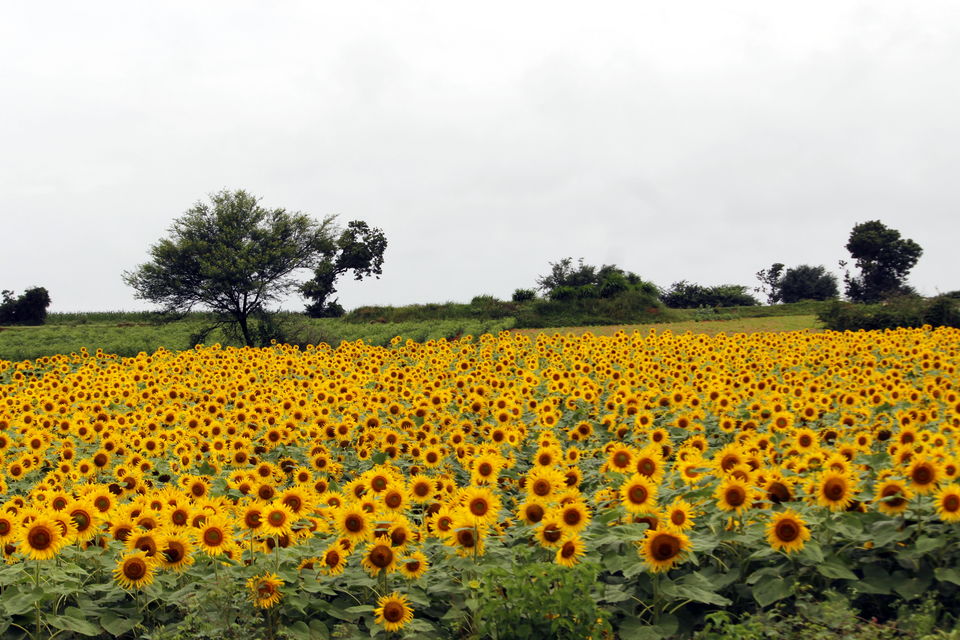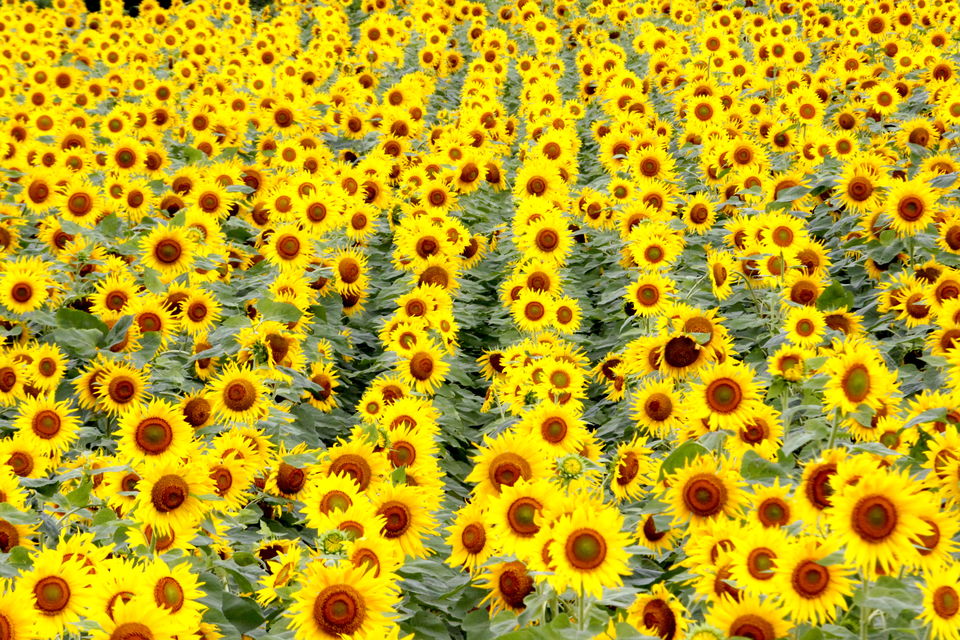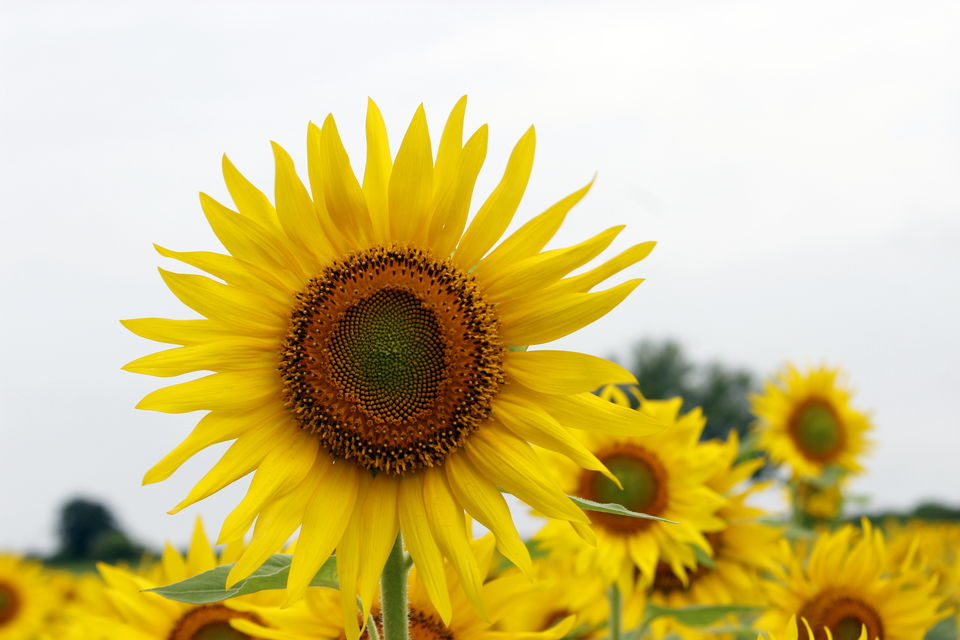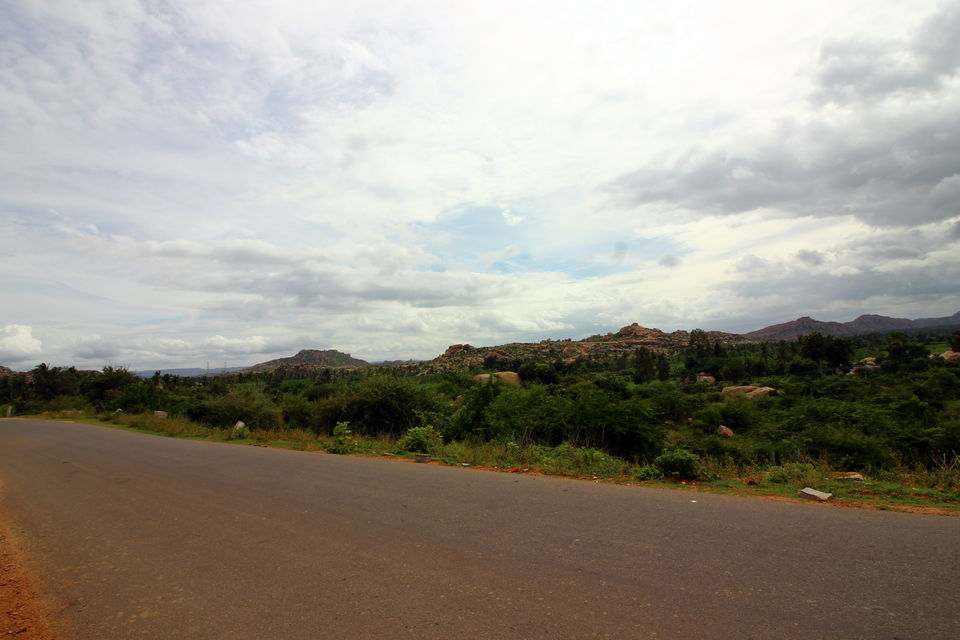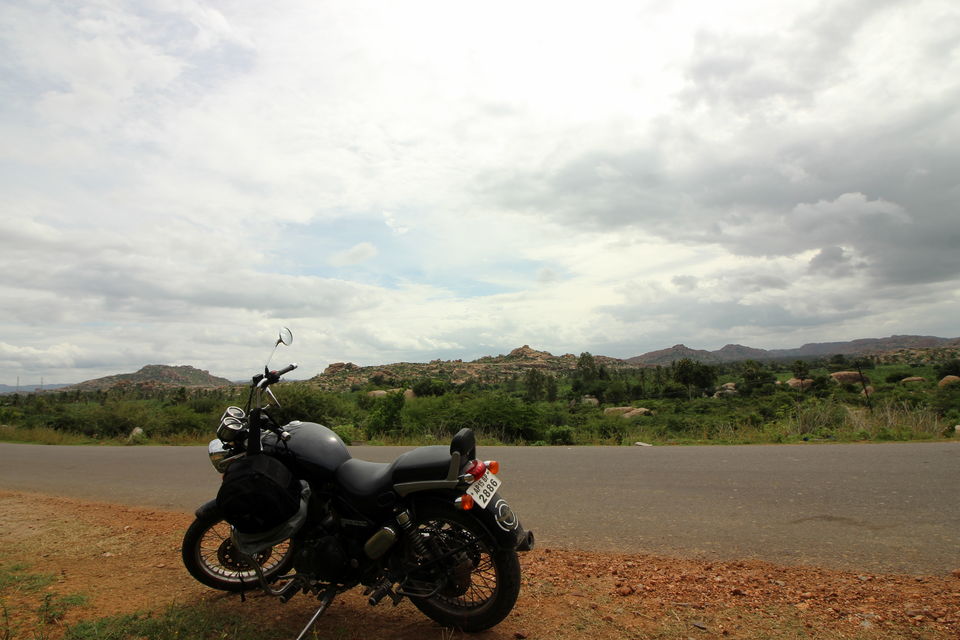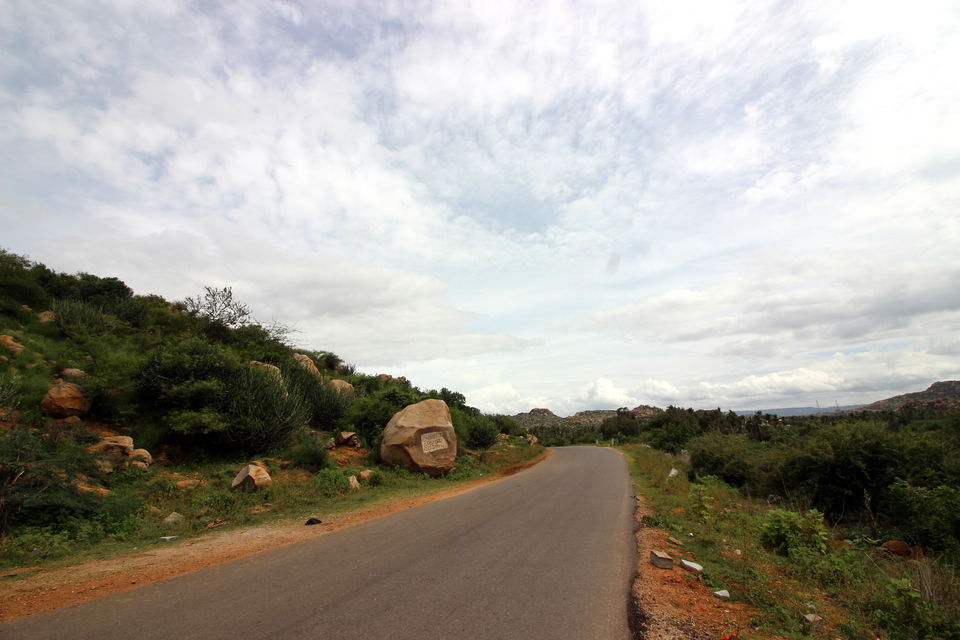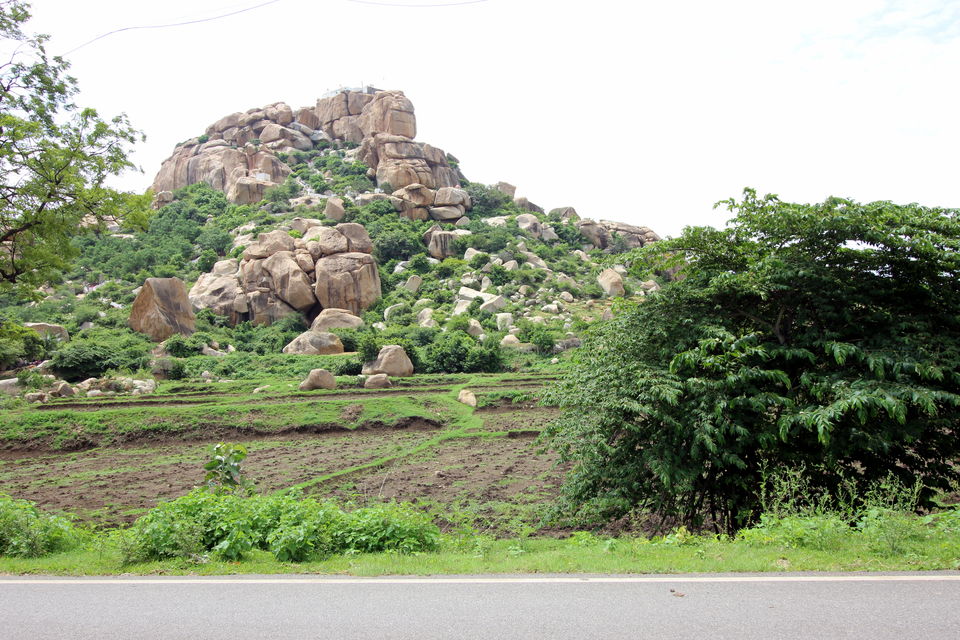 The Destination

When one reaches Hampi the Tungabhadra valley unravels to the world; with this the human interaction with the nature unfolds at Hampi. I could see a fine blend of human and natural physical landscape going hand in hand at Hampi. I, then felt and understood, it is this visual expression that attracts people from far flung places. This region speaks of volumes of history of the past.
I reached the main market type of area in Hampi, which is kind of the area which had guest houses and restaurants, shops, etc. It is on the banks of the river Tungabhadra. This area is generally known as the Hampi Bazaar. The temple in the midst of the main area is the Virupaksha Temple which is not exactly a ruin but still frequented by the local populace for worship. Here, I checked in to a guest house, Vicky's guest house. The accommodation was surprisingly pretty cheap. I was charged Rs. 400 per night for a double – bed room. The terrace of the guest house offered a good view of the nearest ruins atop rocky hillocks. In fact the whole area is full of large rocks and more rocks. There are an umpteen other options as well, no personal preference though, but my experience at the guest house was pretty good.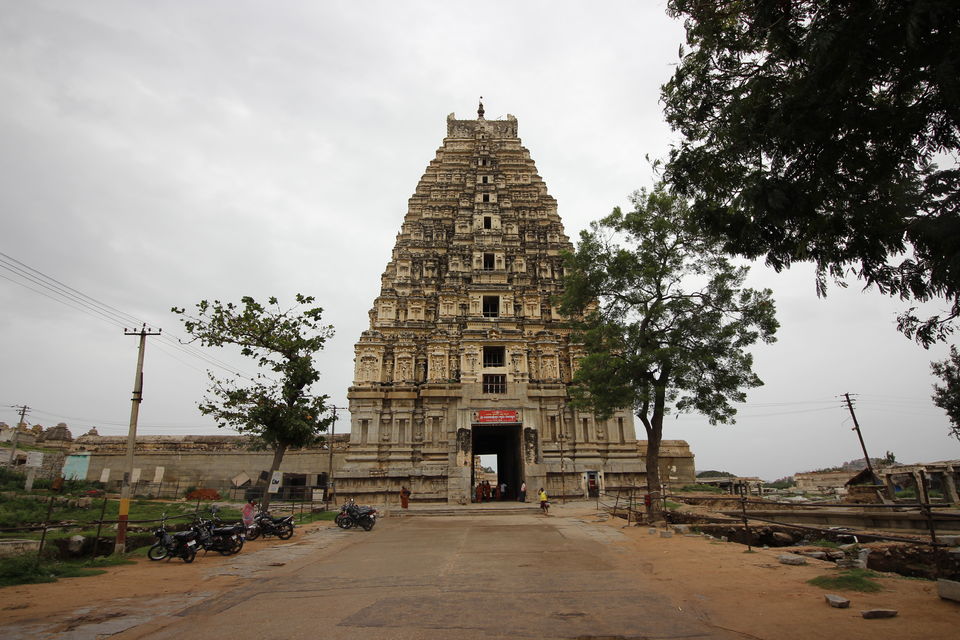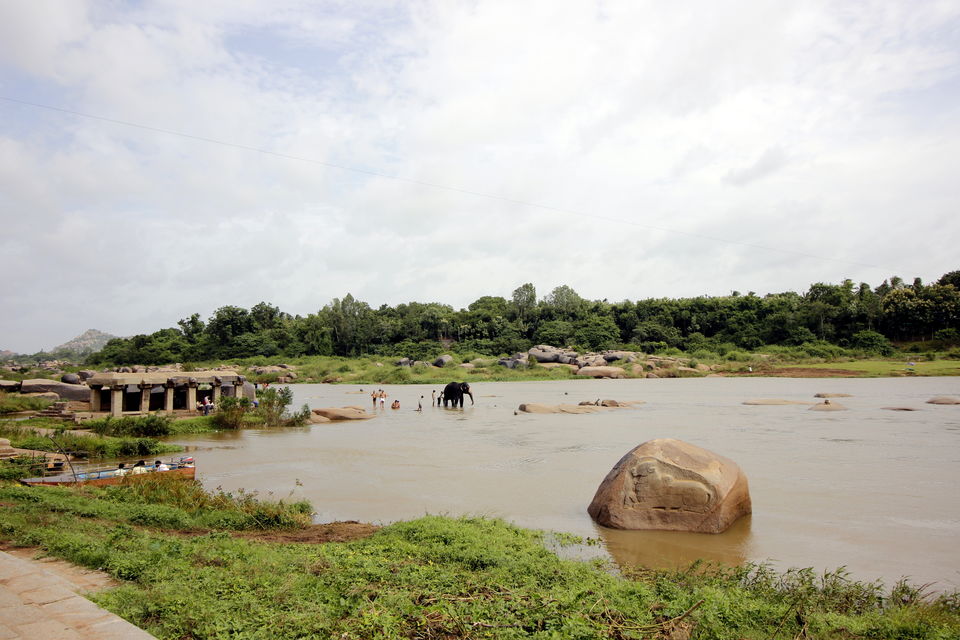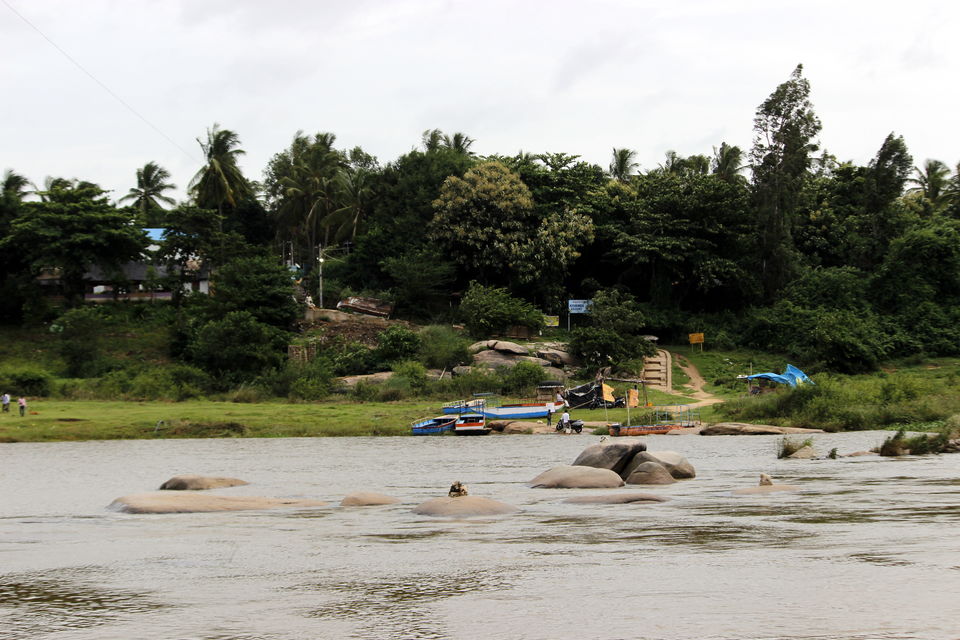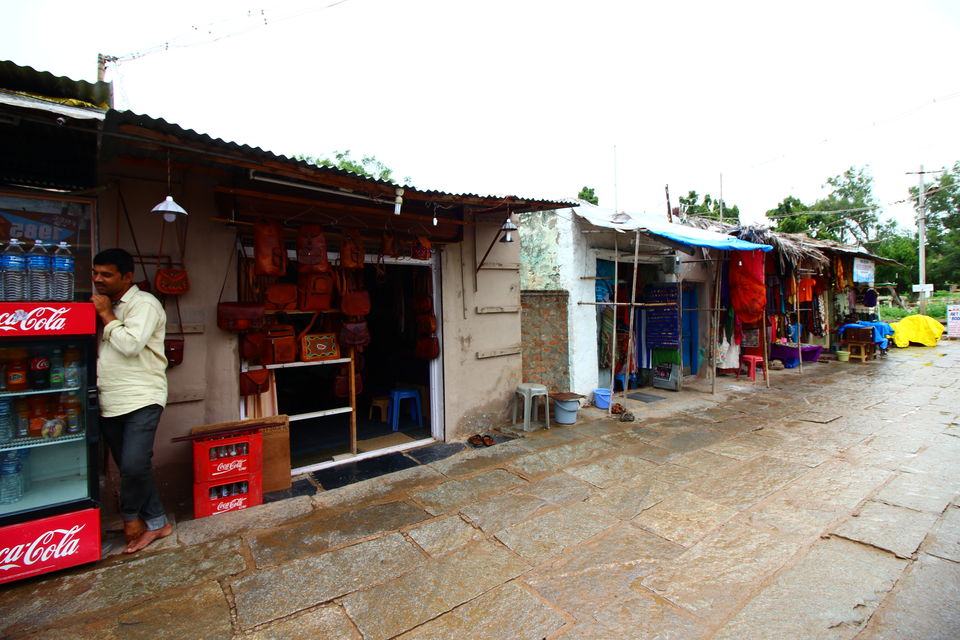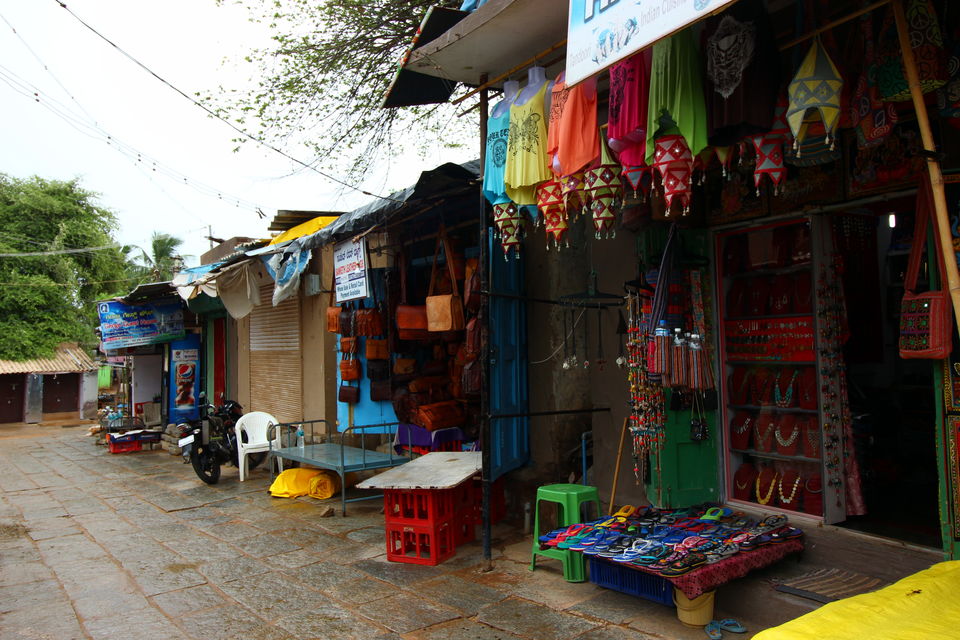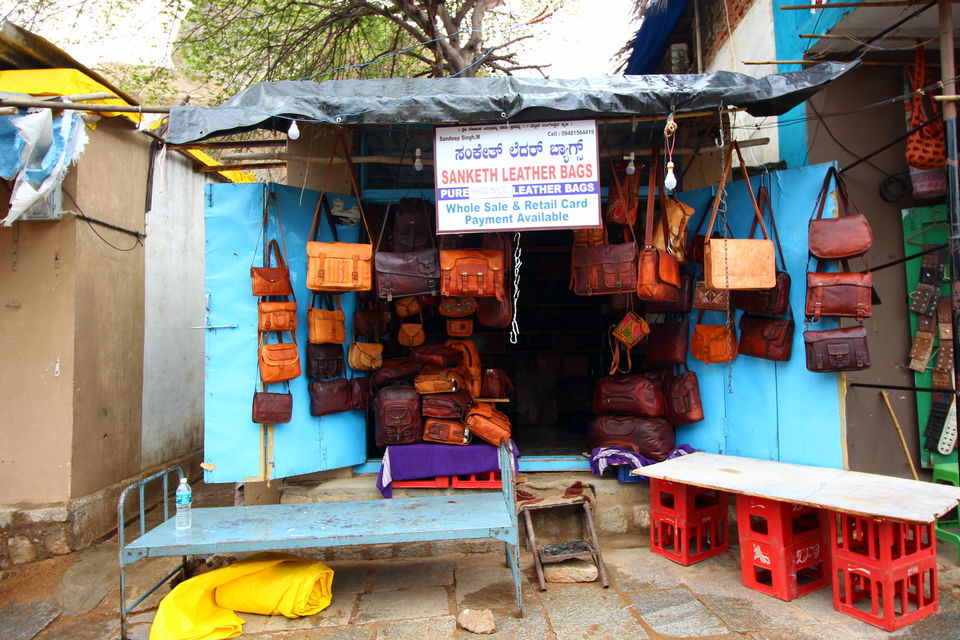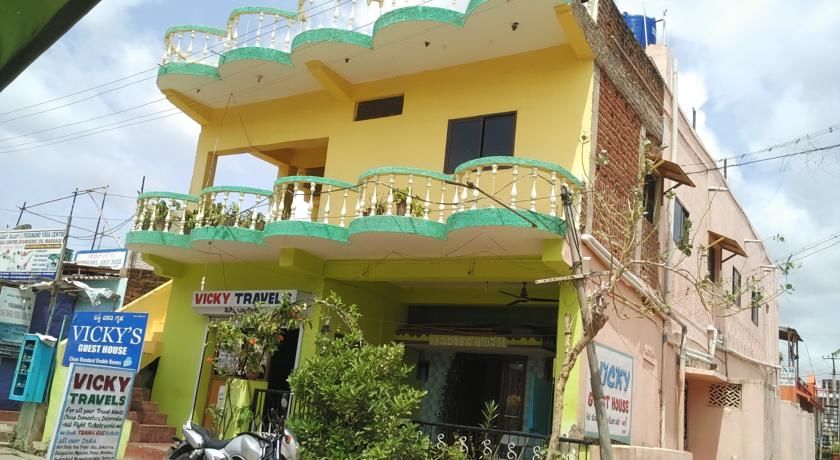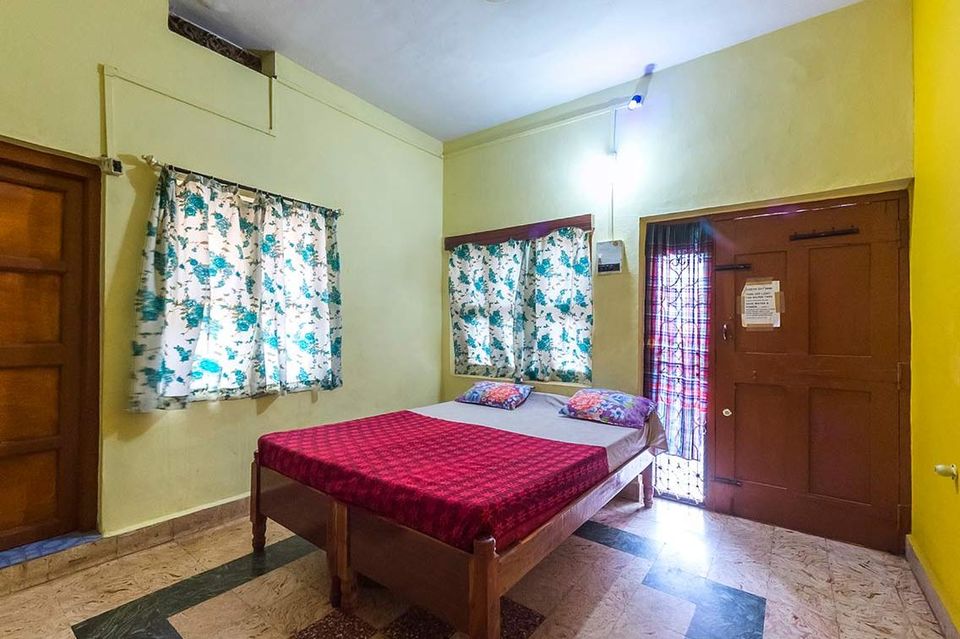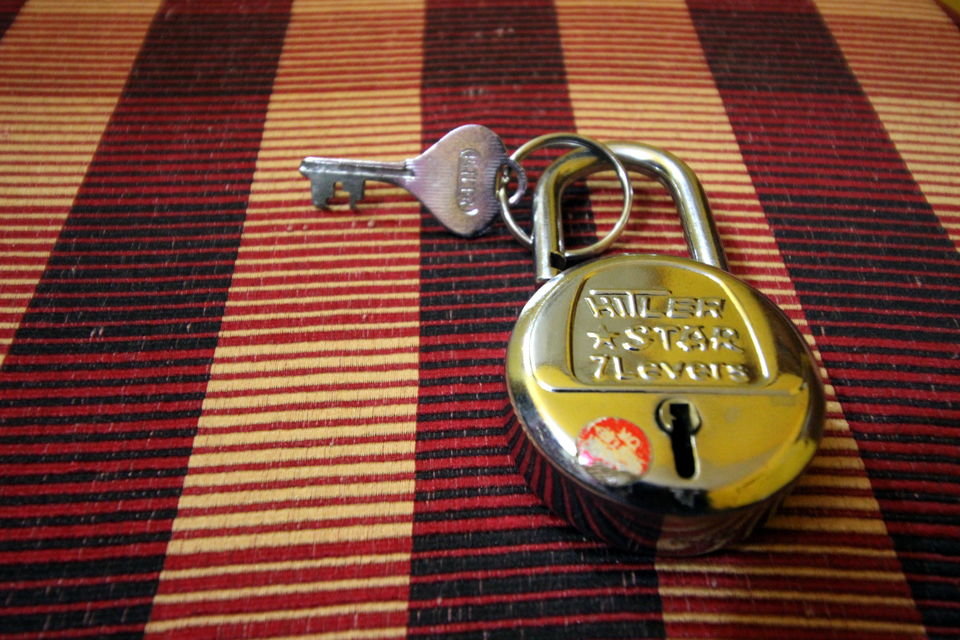 Places of Interest
Virupaksha Temple:
The Virupaksha or Pampapati temple is considered to be the most sacred living temple at Hampi. It is believed that this temple has been functioning uninterruptedly ever since its inception in the 7th Century A.D., making it one of the oldest functioning temples of India. It is dedicated to Lord Shiva, known here as, Virupaksha, the calm and soft meditating form of Shiva.
The temple, originally a worship place, only had a few separate humble shrines, was expanded into a sprawling complex of present dimensions with many sub-shrines, pillared halls, flag posts, lamp posts, towered gateways and even a large temple kitchen, during the first half of the 16th Century A.D. The temple is accessed through the main entrance tower through the chariot street, now popularly called the "Hampi Bazaar".
The main entrance towered gateway (gopuram), which is eleven storeyed, towering to a height of 165 ft., with a pair of cow horn like projections on the top is the most prominent landmark in Hampi. The lower two storeys of the tower comprises of decorated stone work of Hindu deities of Lord Ganesha, Lord Vishnu, Lord Krishna, etc. and all around the exterior, many other interesting stucco figures can be spotted. The progressively diminishing superstructure was made with brick and mortar.
The main gopuram is called the "Bistapaiah Tower", after the architect who built it. According to the history records and inscriptions, it was only on the third time, this tower construction could be completed, which apparently took around 10 years. It is said that, the architect, Bistapaiah after his initial couple of failures, had offered his pregnant wife for sacrifice on a special day with a congruence of Amavasya (New Moon), Surya grahana (Solar eclipse) and a Sunday.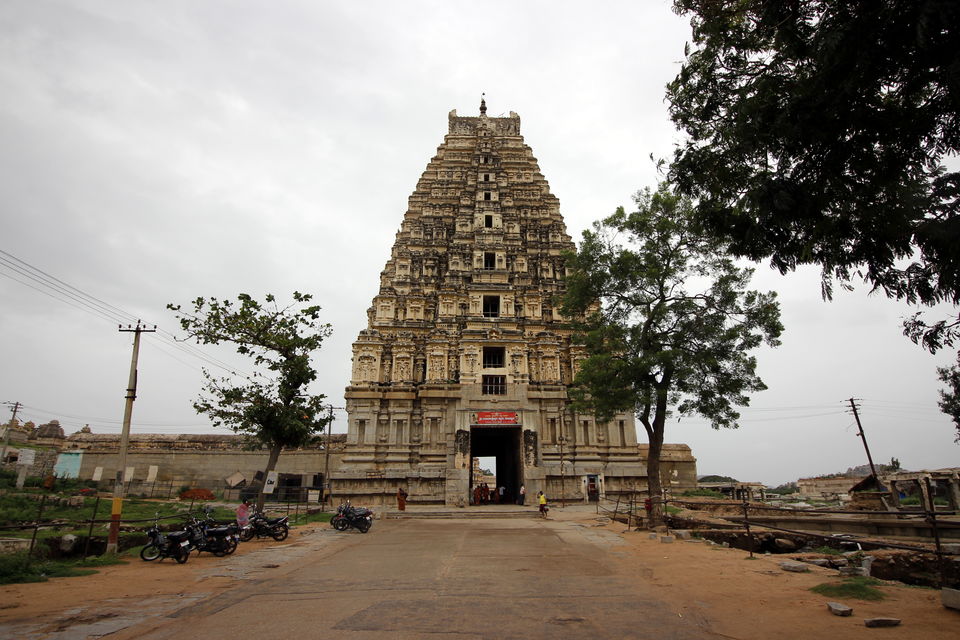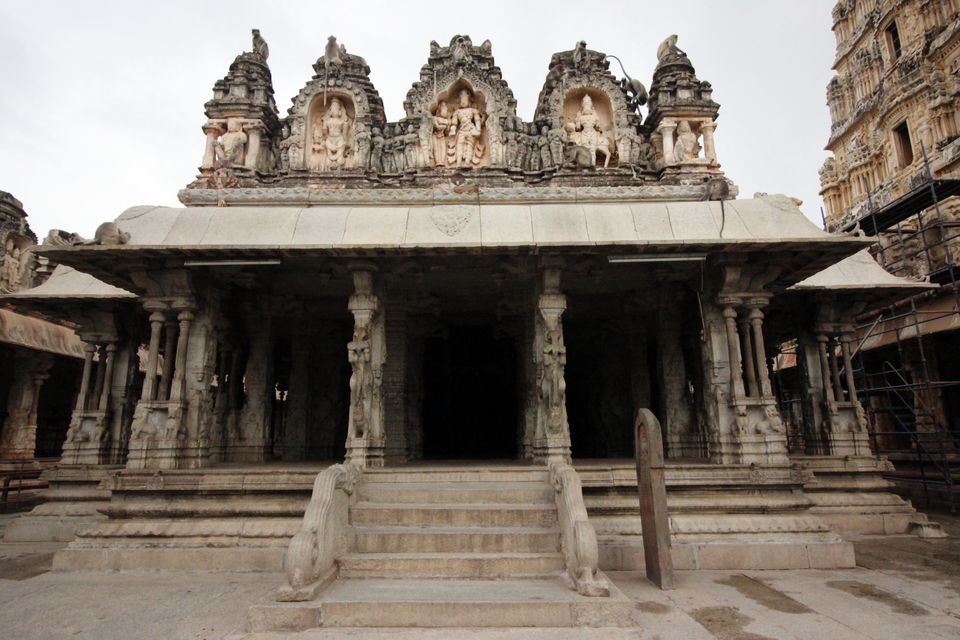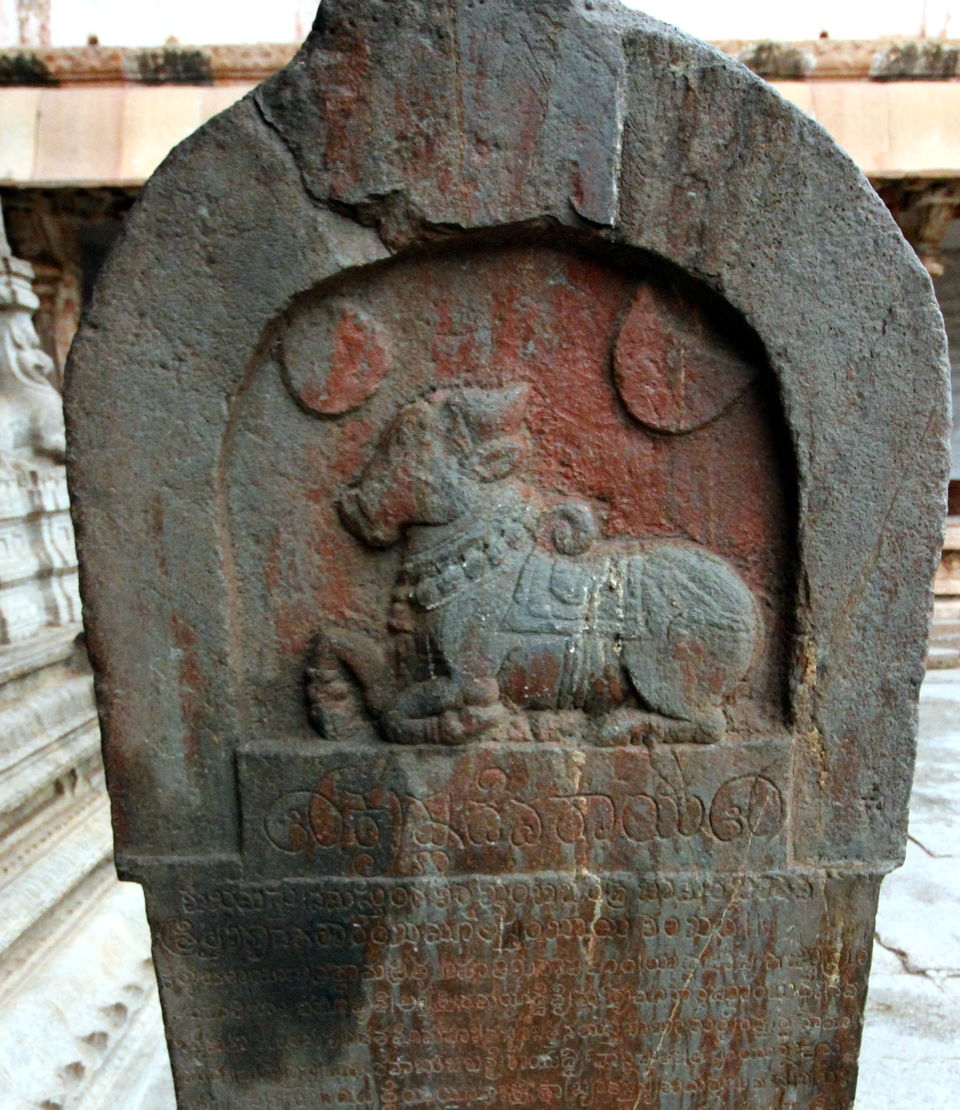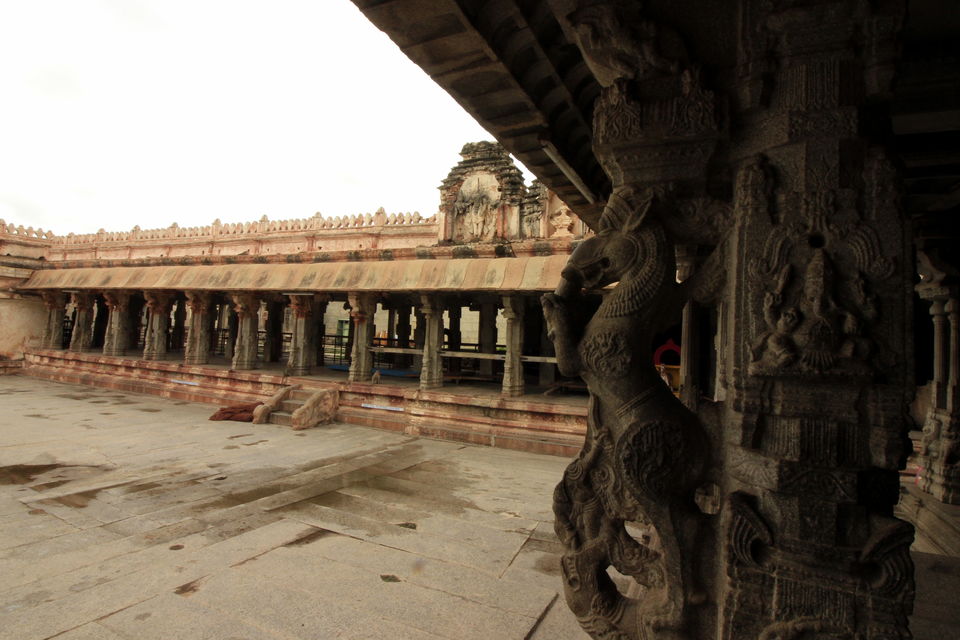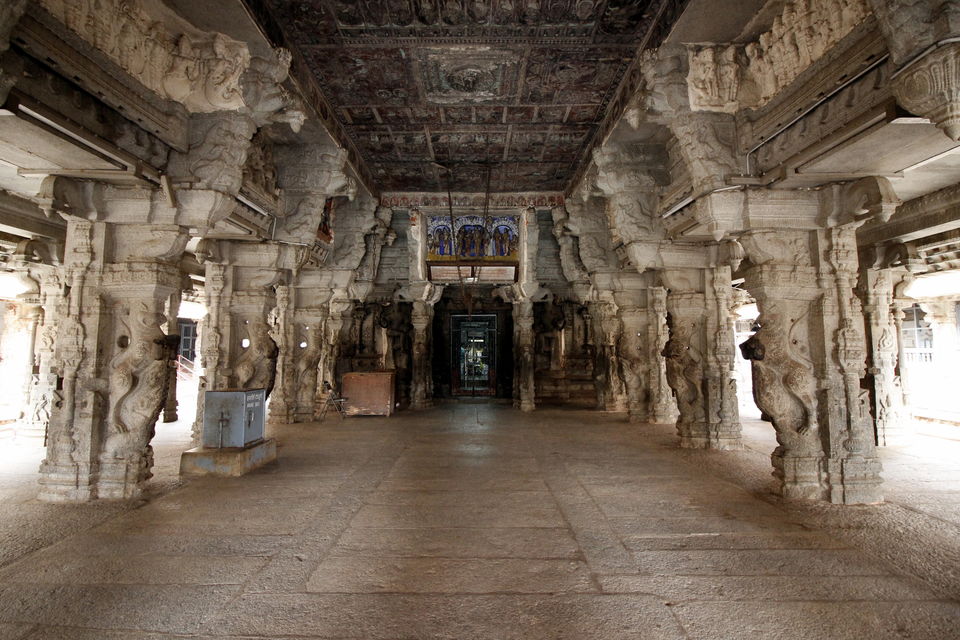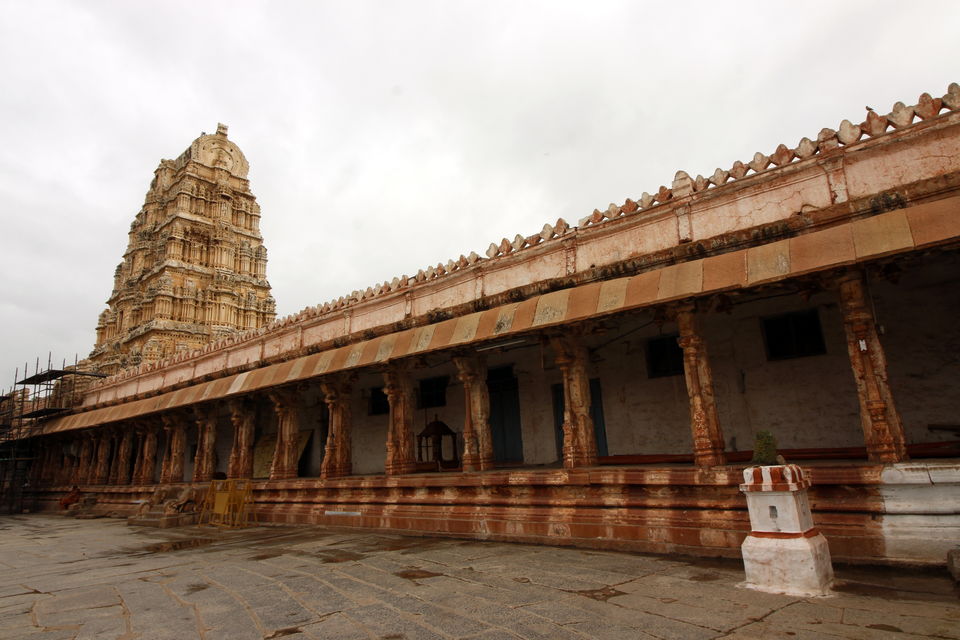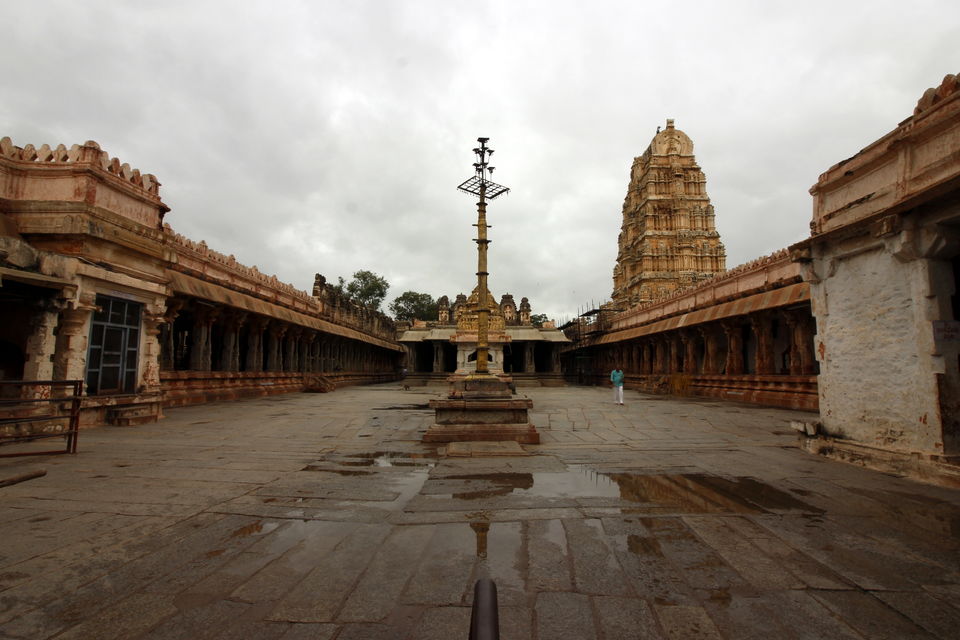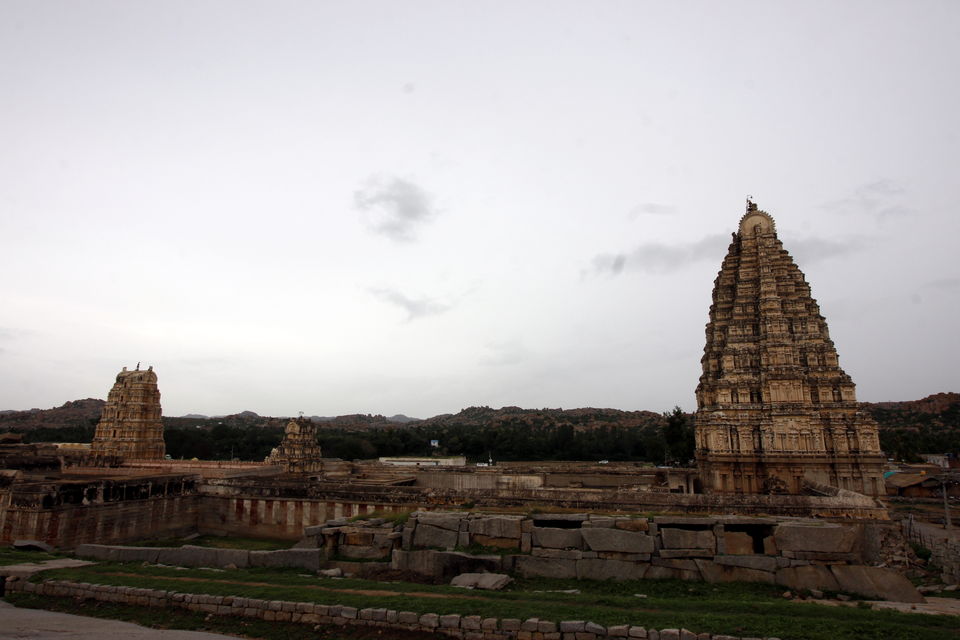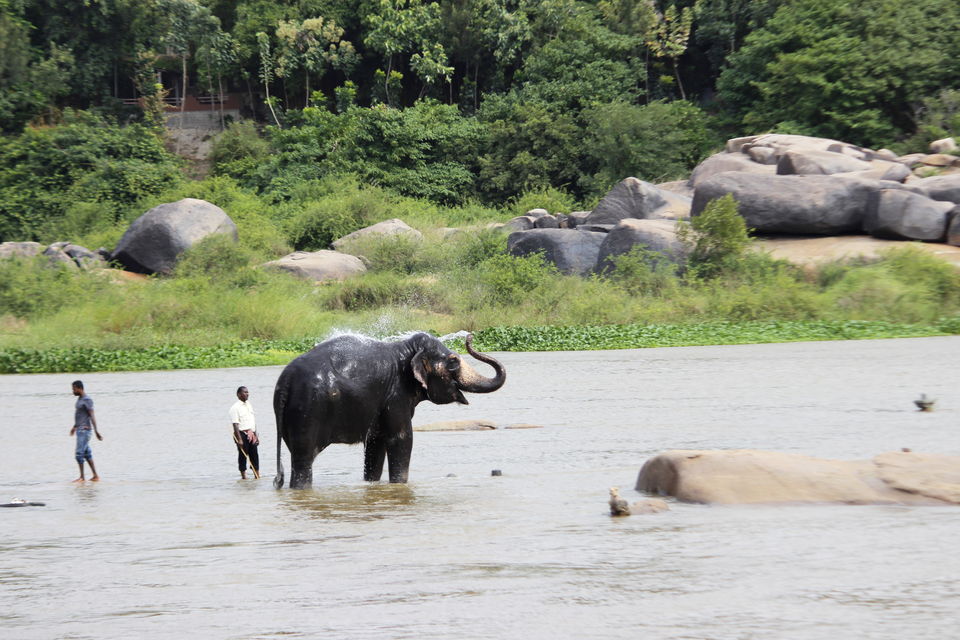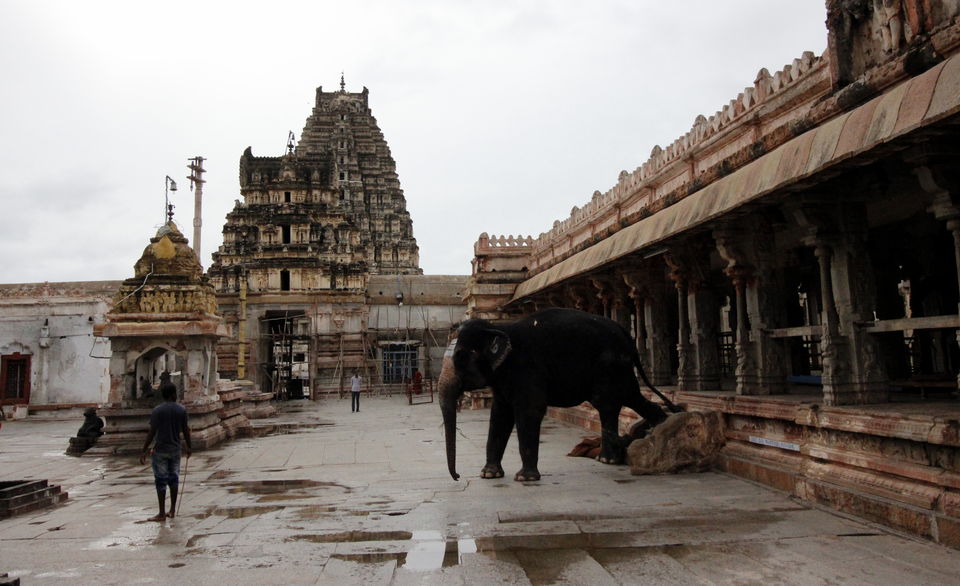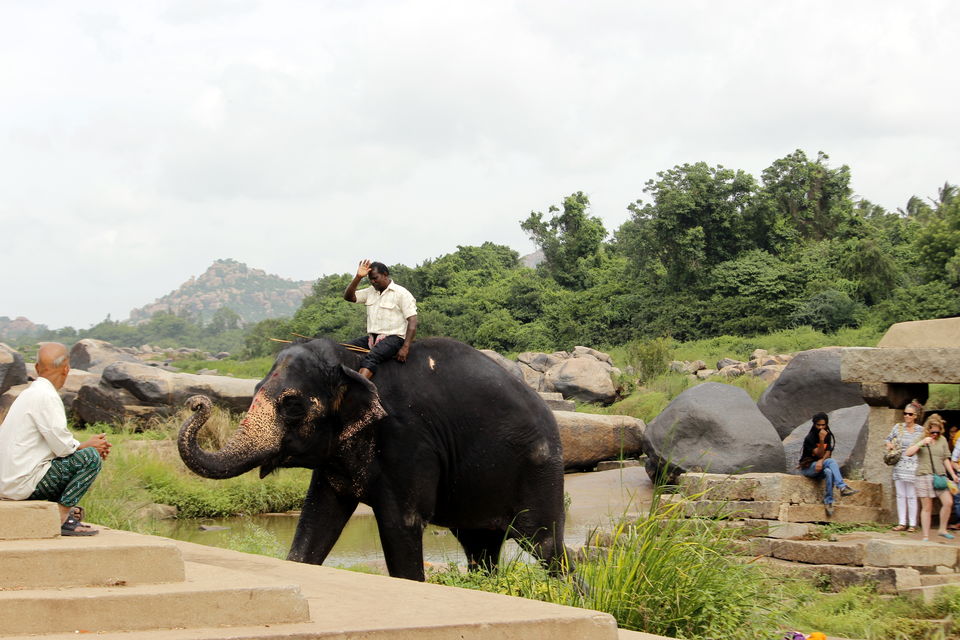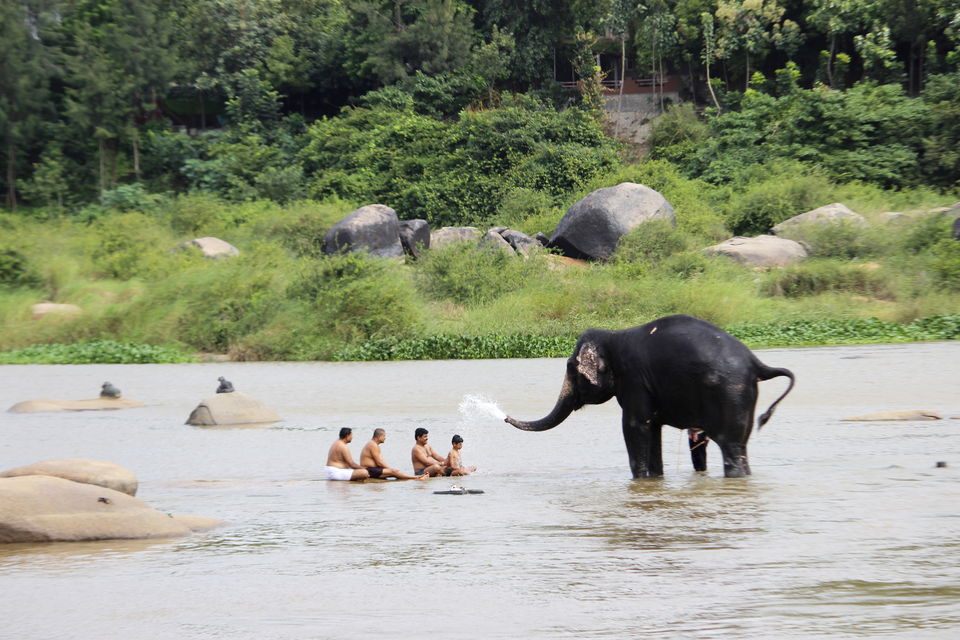 Vijaya Vitthala Temple Centre:
This is one of the most important temples found at Hampi, an architectural wonder; it marks the highest workmanship indicating the outstanding phase of Vijayanagara architecture. The deity in the main shrine of the Vitthala temple is known as Vitthaleswara (a form of Lord Vishnu) as per the inscriptions. This temple complex has many architectural edifices added by various kings of the empire with Krishnadevaraya known to have made substantial contributions. Apart from the main shrine, the complex has Devi shrine, Kalyana mandapa (wedding hall), Utsava mandapa (dance hall), a hundred pillared mandapa and the much famed stone chariot – the Garuda shrine in the courtyard.
The main shrine is known for its musical pillars which resonate with different sounds when struck.
The Garuda shrine fashioned in the form of a chariot with detailed decorations with four wheels. It houses an image of Garuda, the vahana of Lord Vishnu (deity's mount or vehicle), hence, placed in front of the main shrine. This chariot is known to have a brick superstructure over it, which is now missing due to vagaries of time.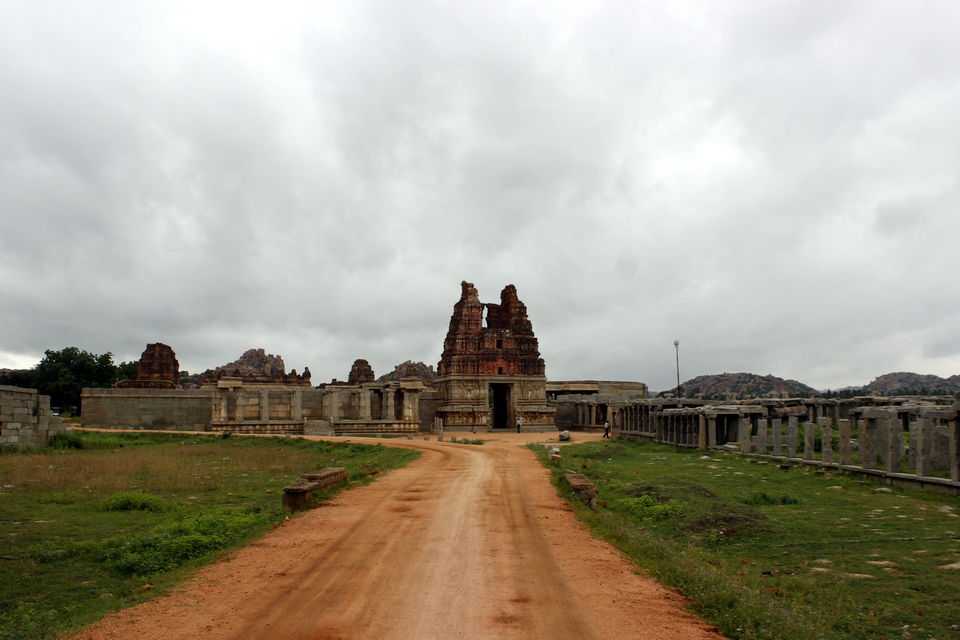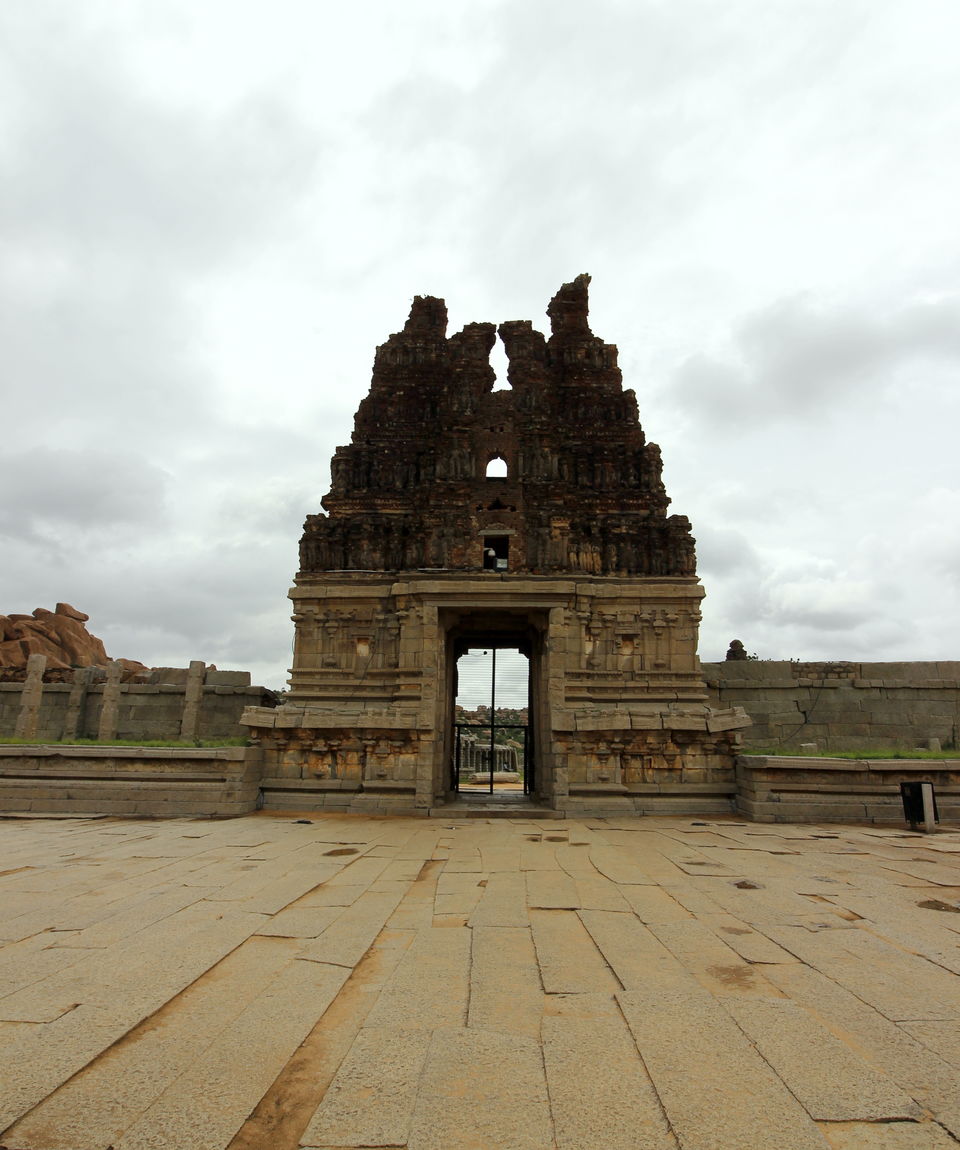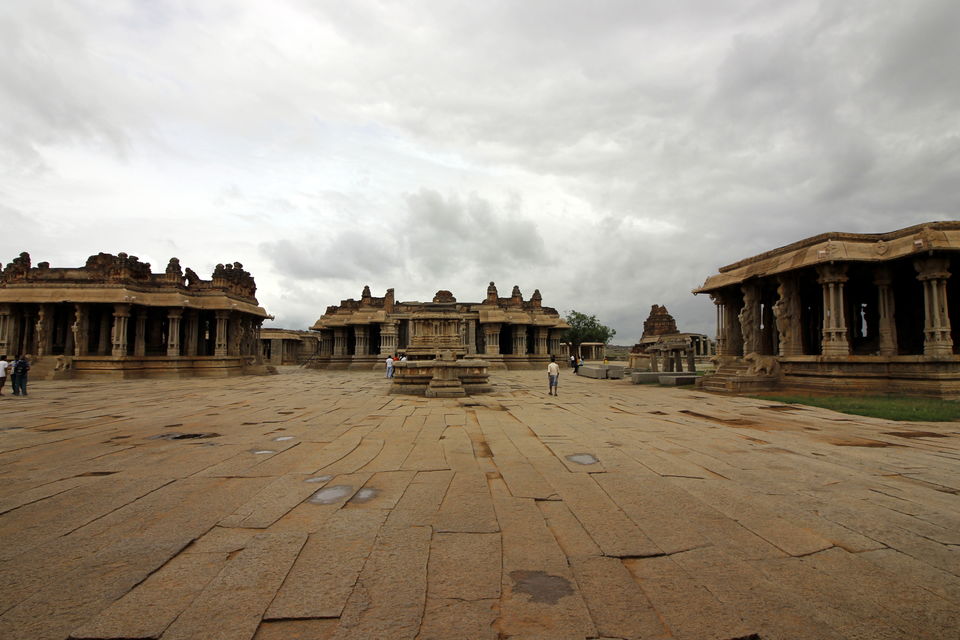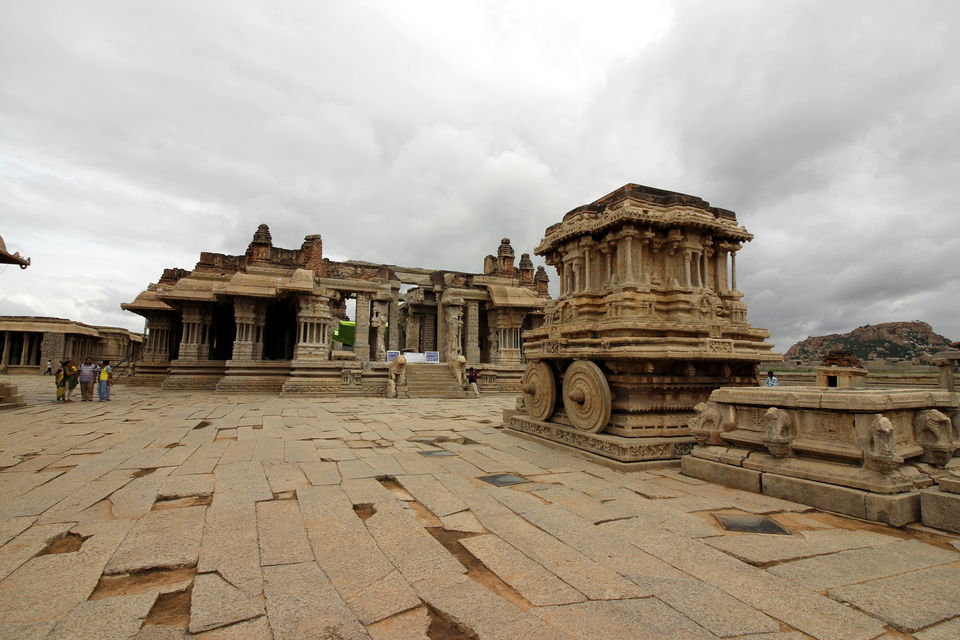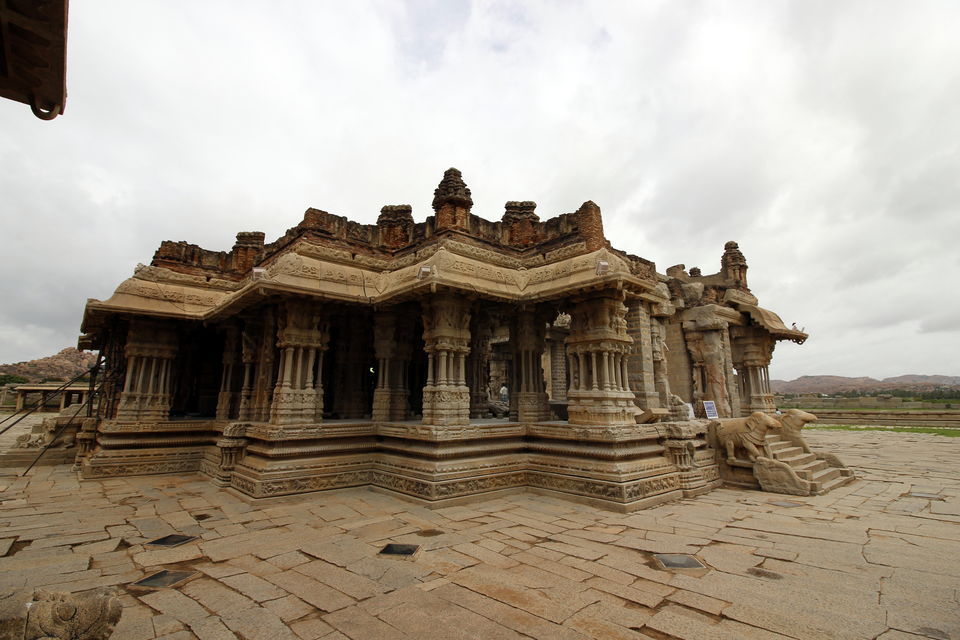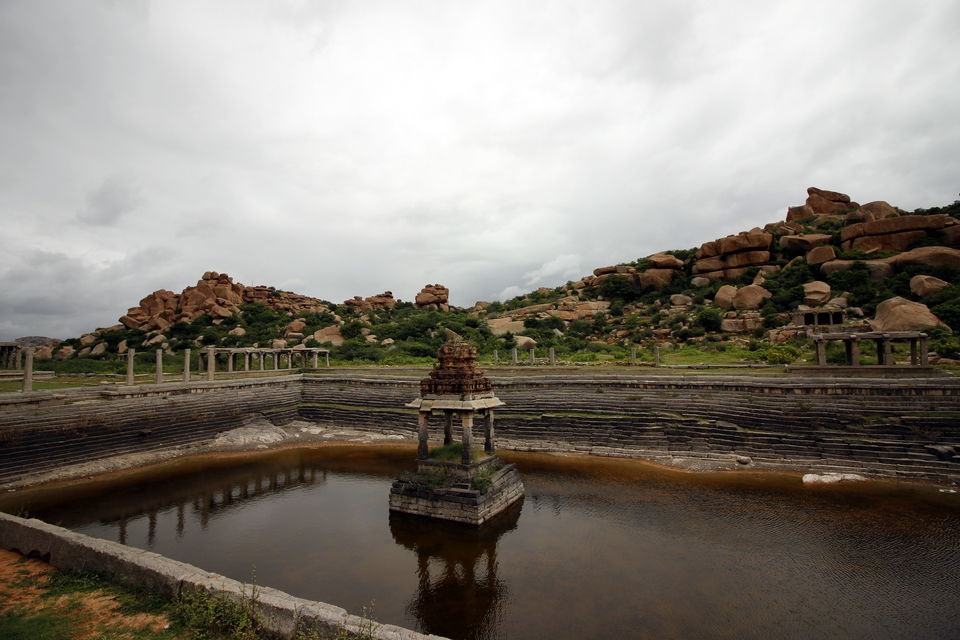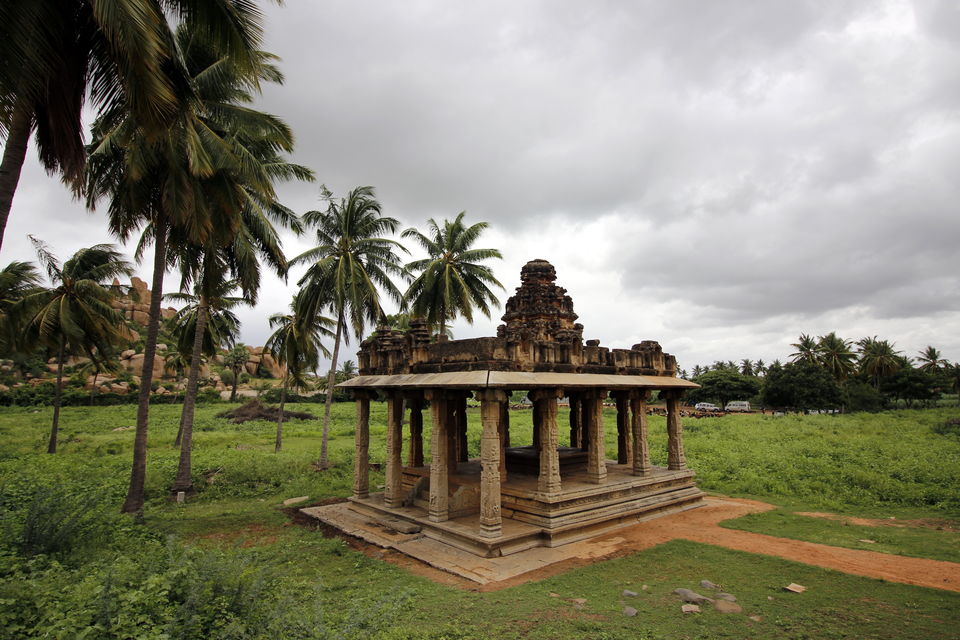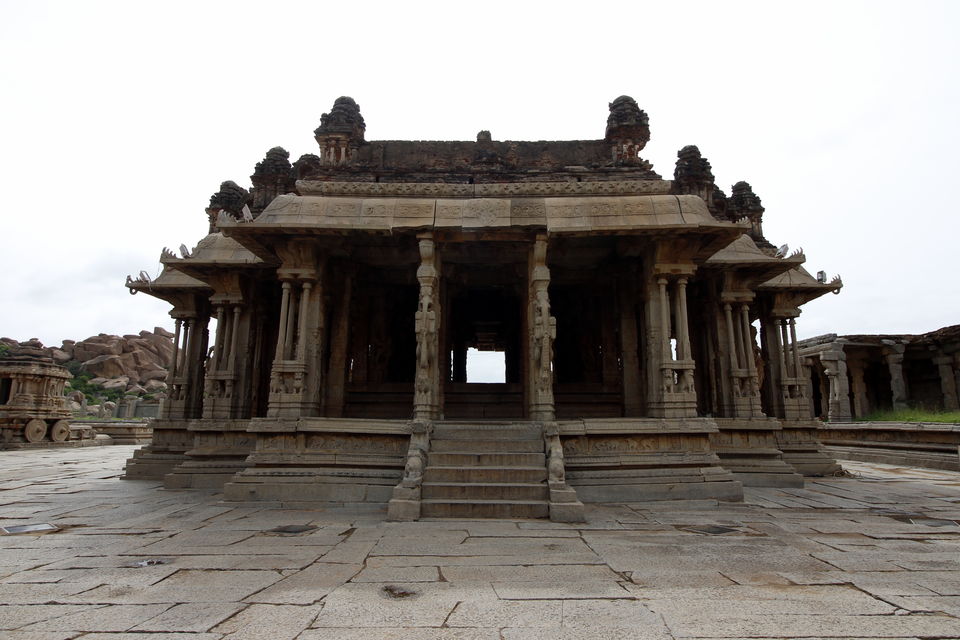 Lotus Mahal:
The Lotus Mahal is a splendid secular structure at Hampi. This mahal, also known as the Chitrangi Mahal, is a two-storeyed structure built with an Indo-Islamic architectural style. It is an elegant arched monument crowned by nine miniature structures resembling the gopuram. The mahal has cusped arches all around it with stucco ornamentation on their edges.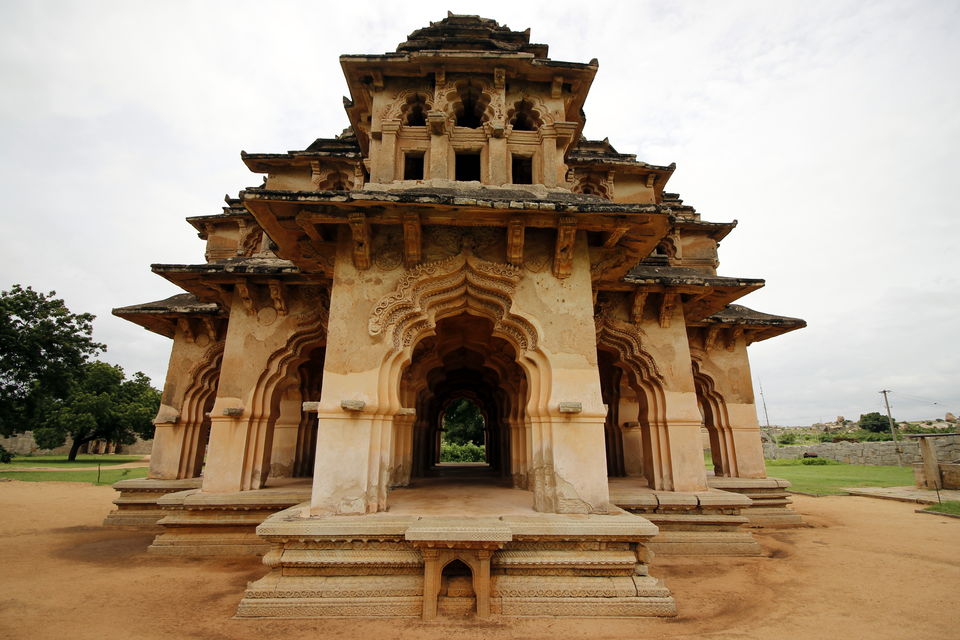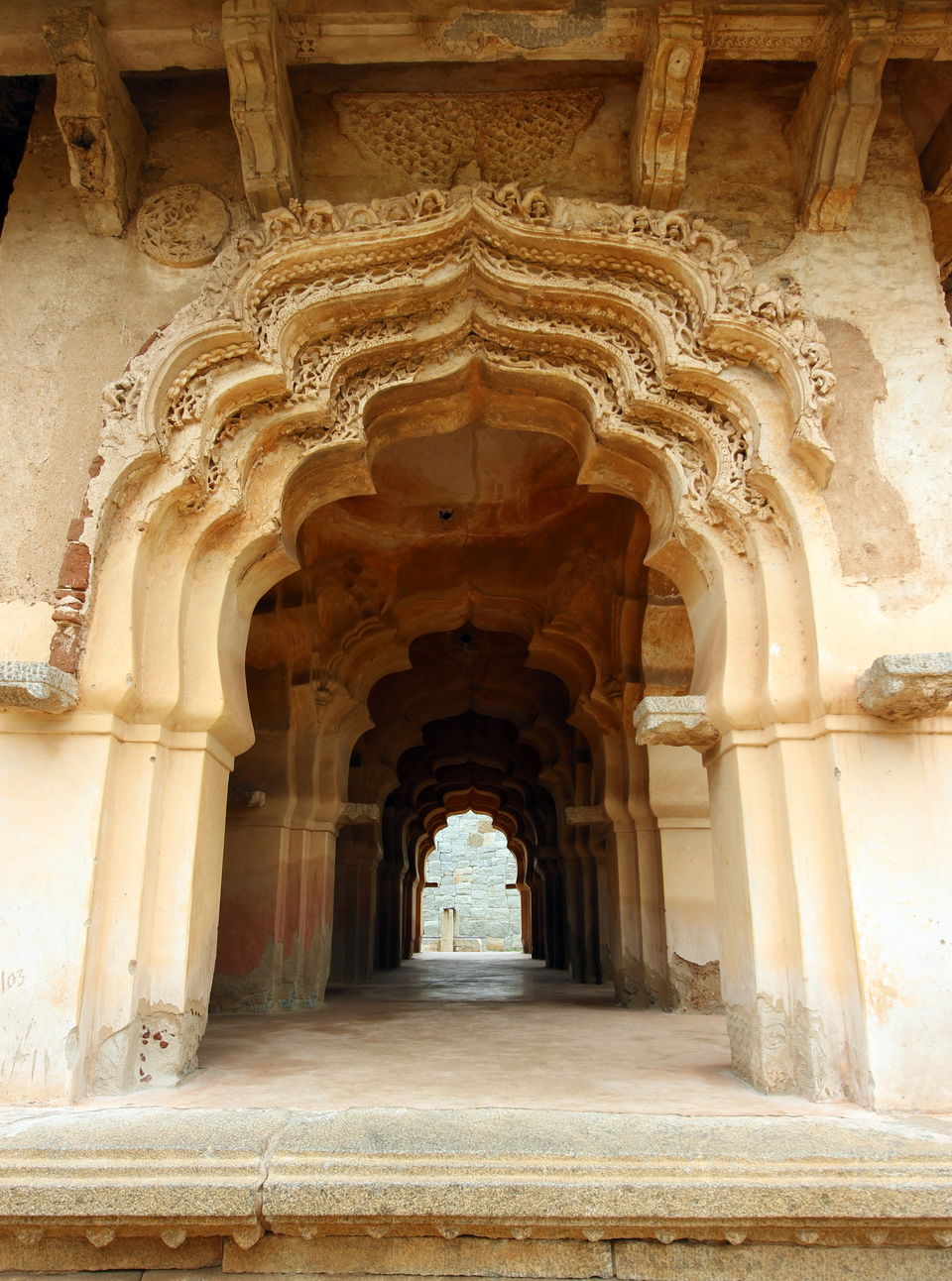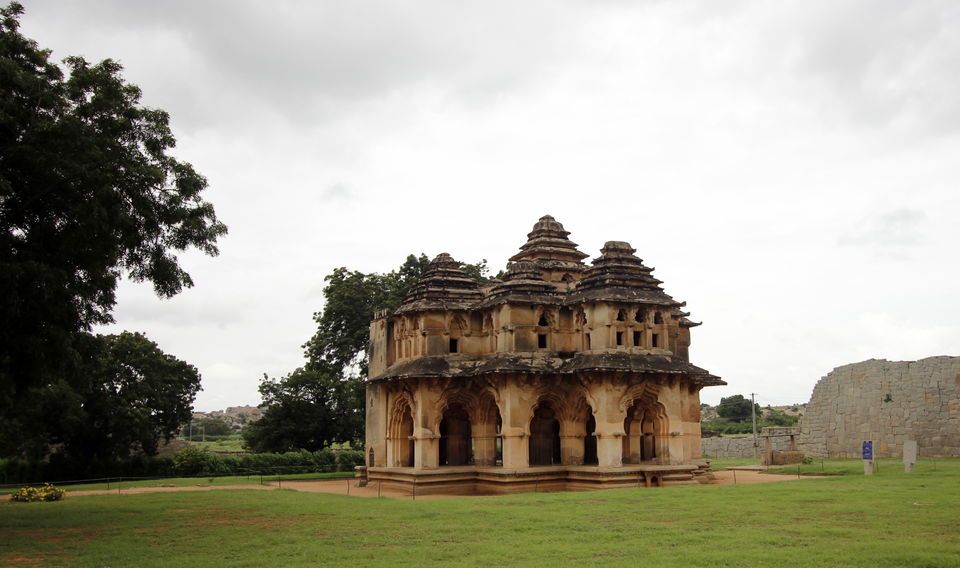 Elephants Stable:
The elephants stable is a coherent group of homogeneous chambers with high arched façade with a lofty domed roof; the central chamber having an elevated roof.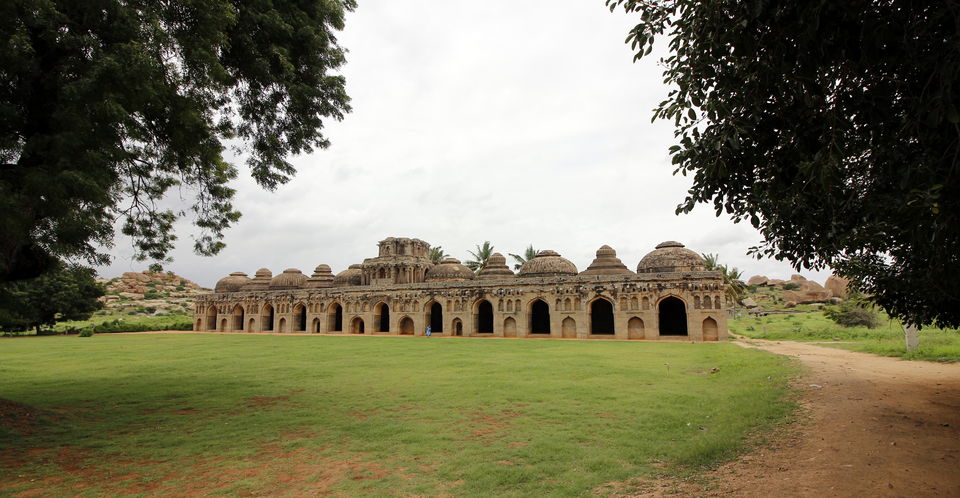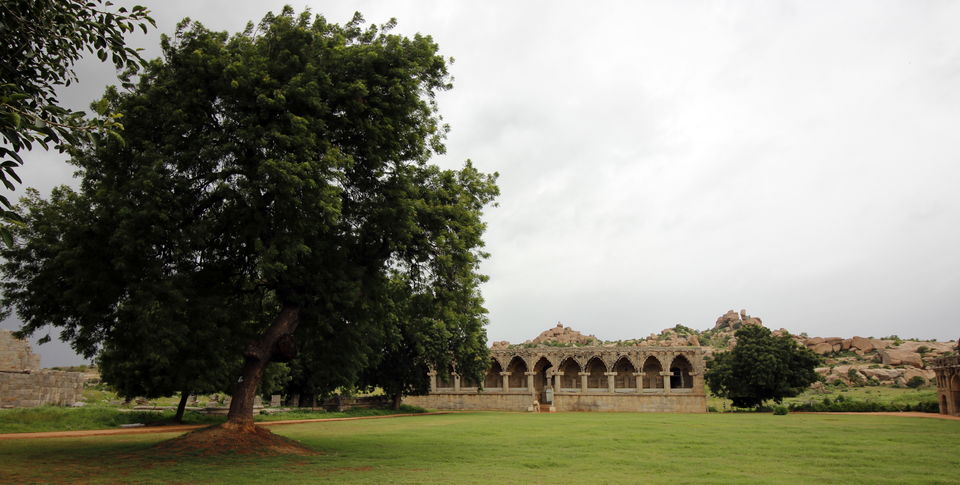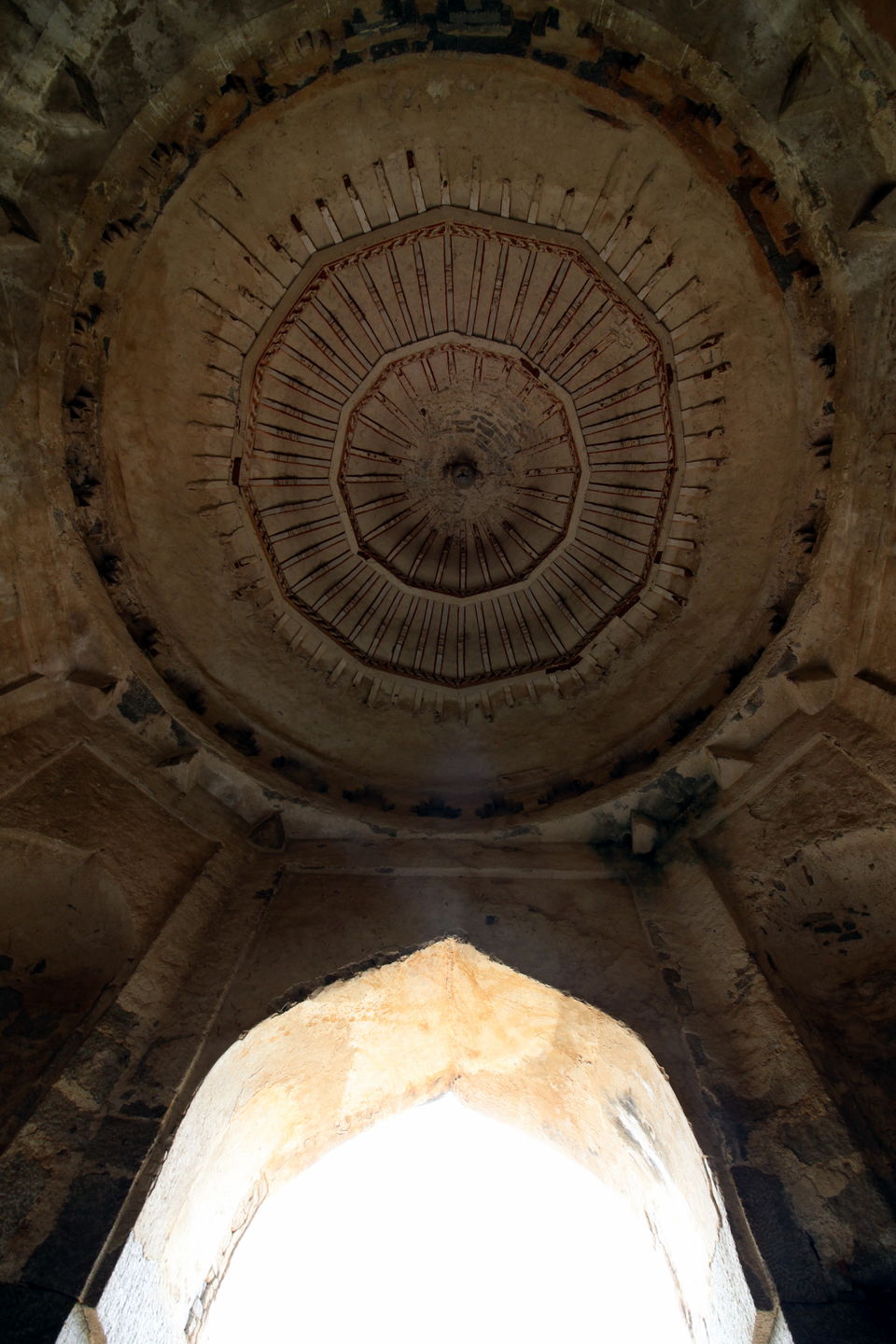 Zenana Complex:
The term "Zenana" means "pertaining to women" in Urdu. This complex houses the residential quarters for the women of royalty, through now in ruins, containing a terraced platform (basement of Queens' palace), basement structure of treasury and a water pavilion. This place used to be heavily guarded, hence, the presence of three watch towers with balconies, each built in different architectural styles.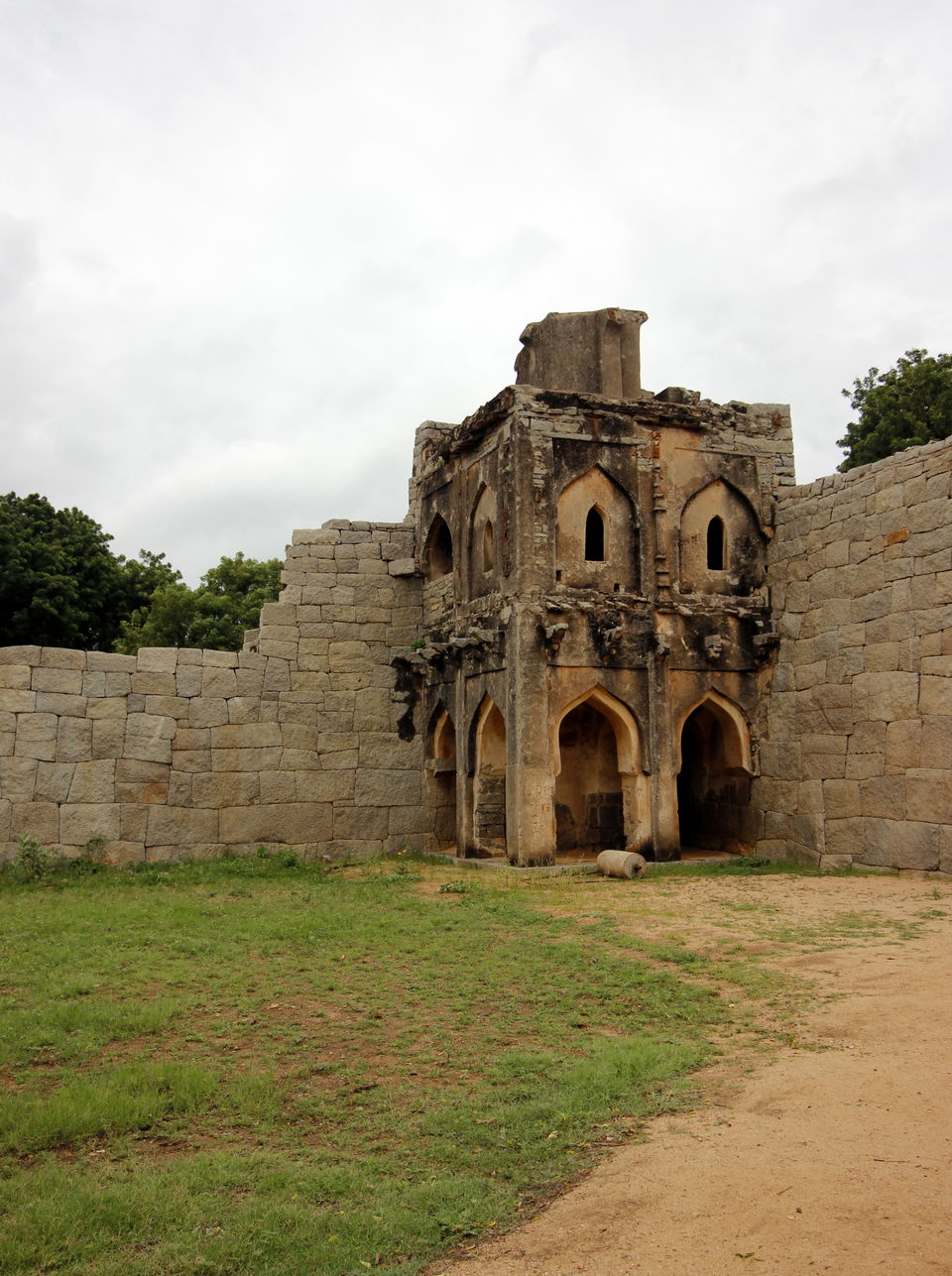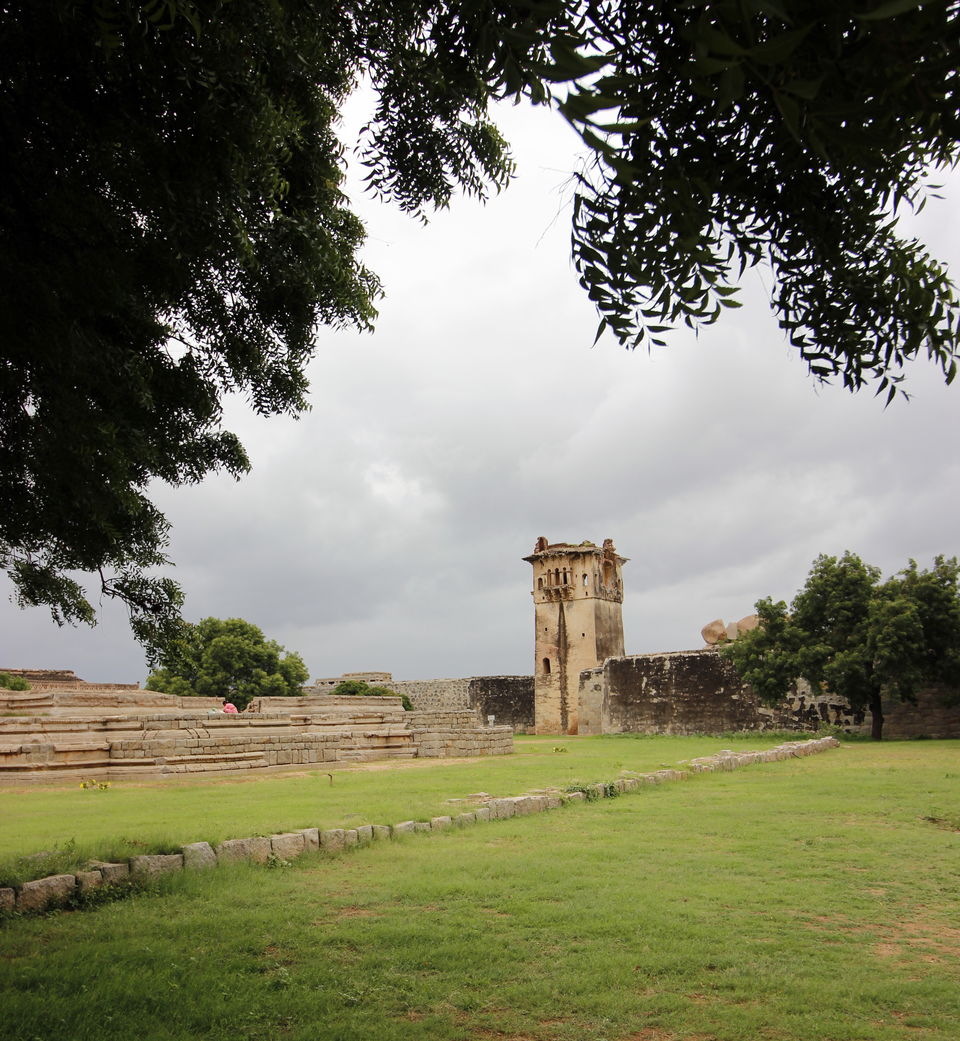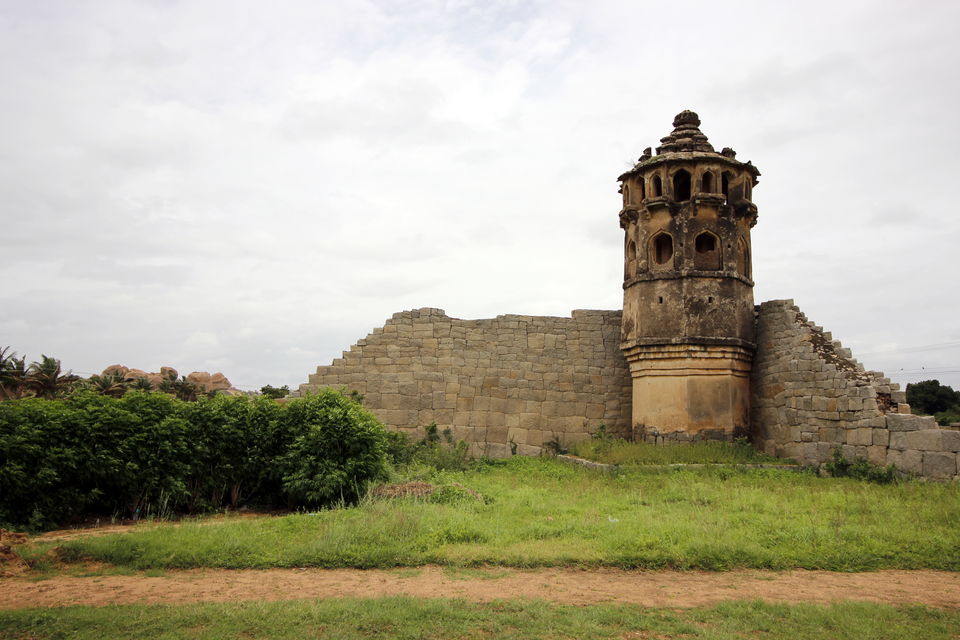 Royal Enclosure:
The Royal Enclosure used to be the heart of the royalty and this enclosure is known for its elegantly arranged water systems, sculptured terraced platform known as Mahanavami Dibba, ornate stone stepped tank, large tank known as the public bath and the basement of the King's audience hall known as "Bhuvana Vijaya".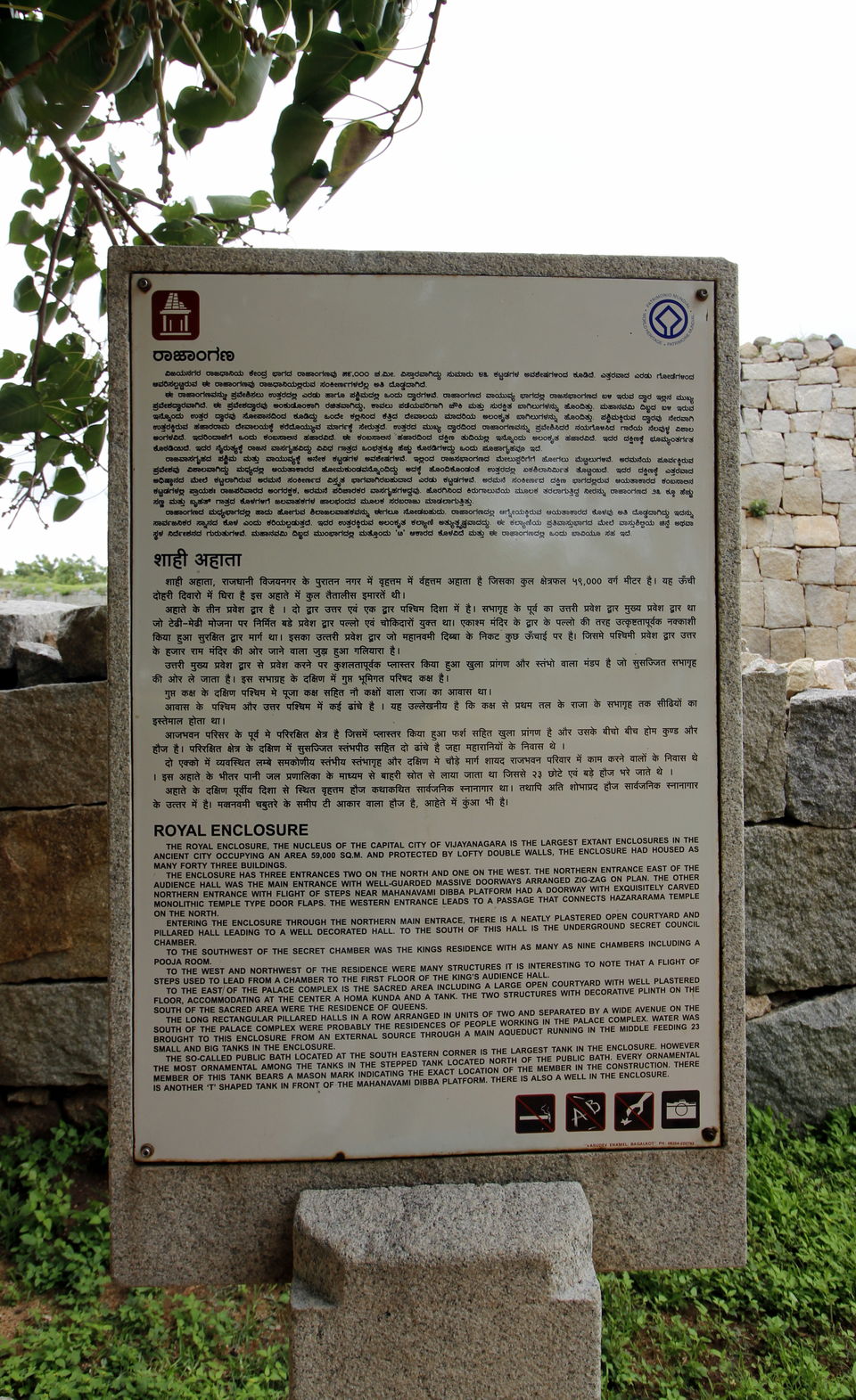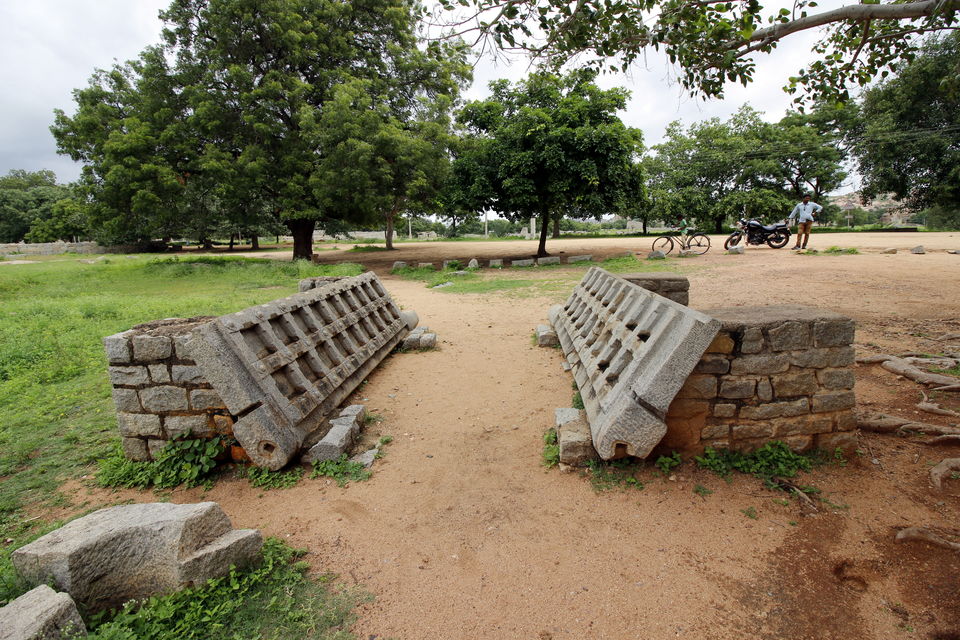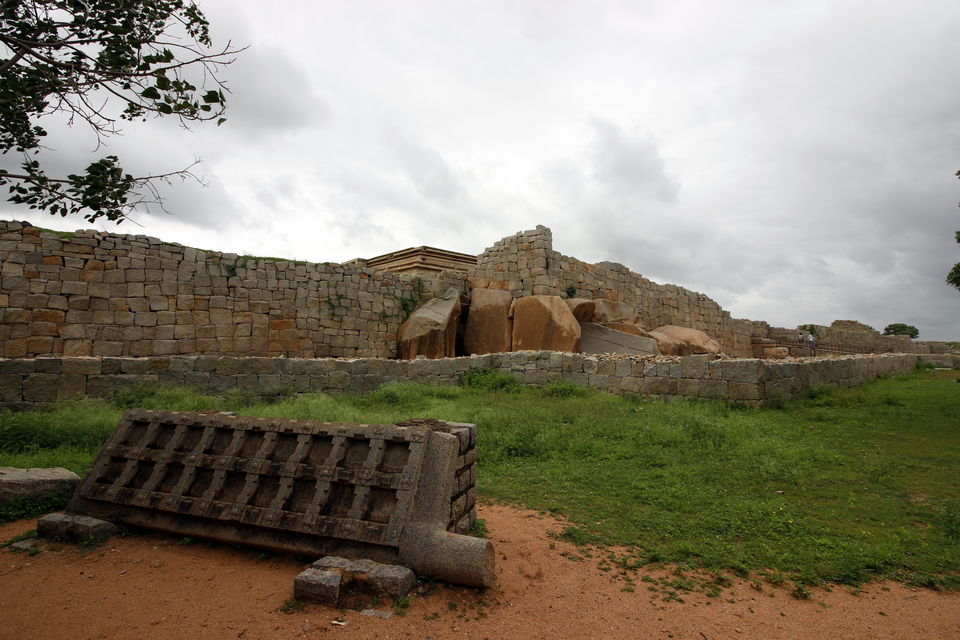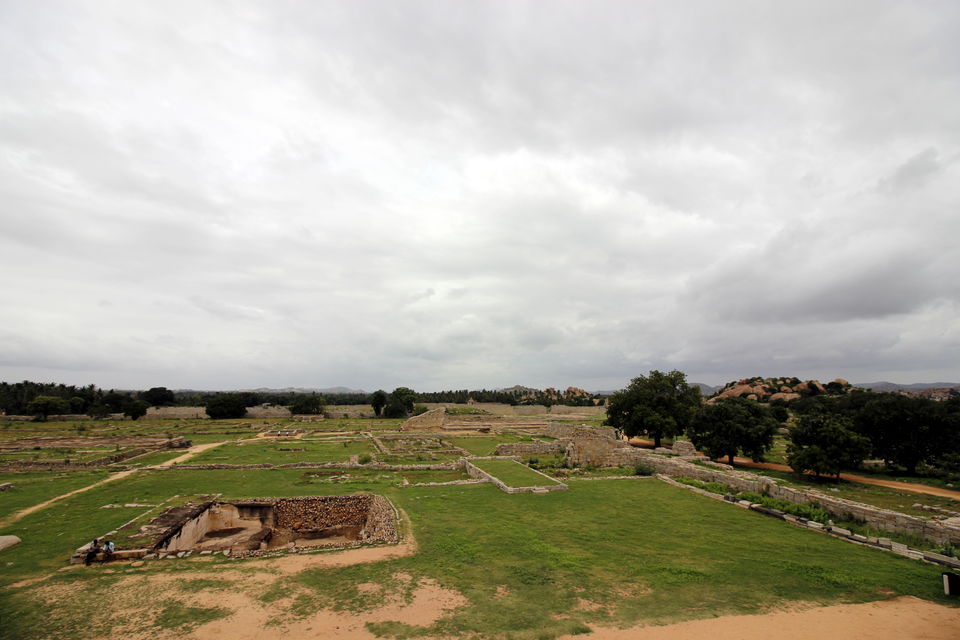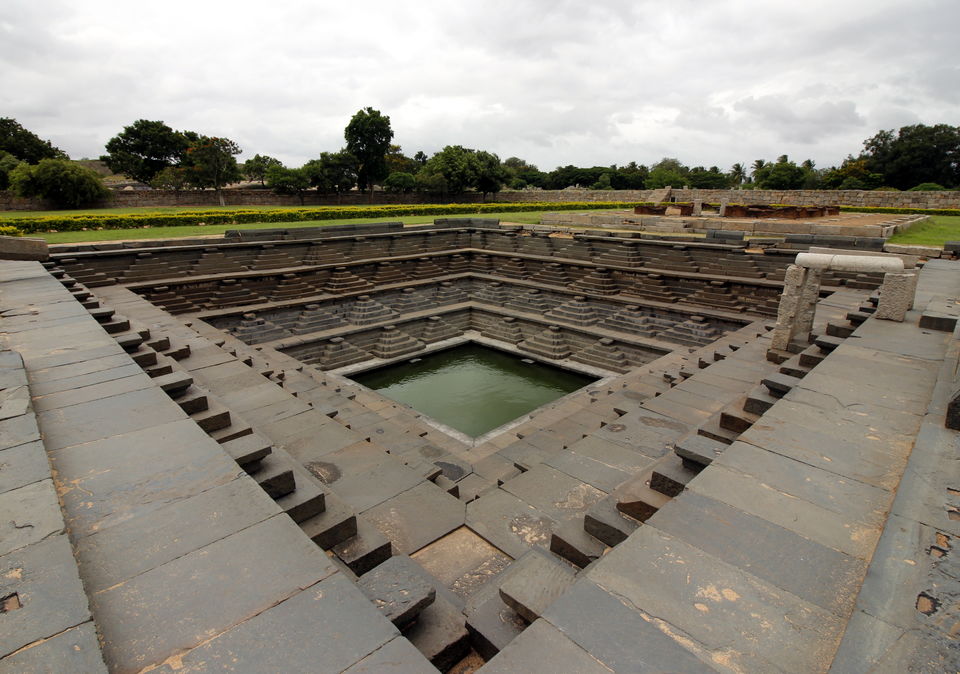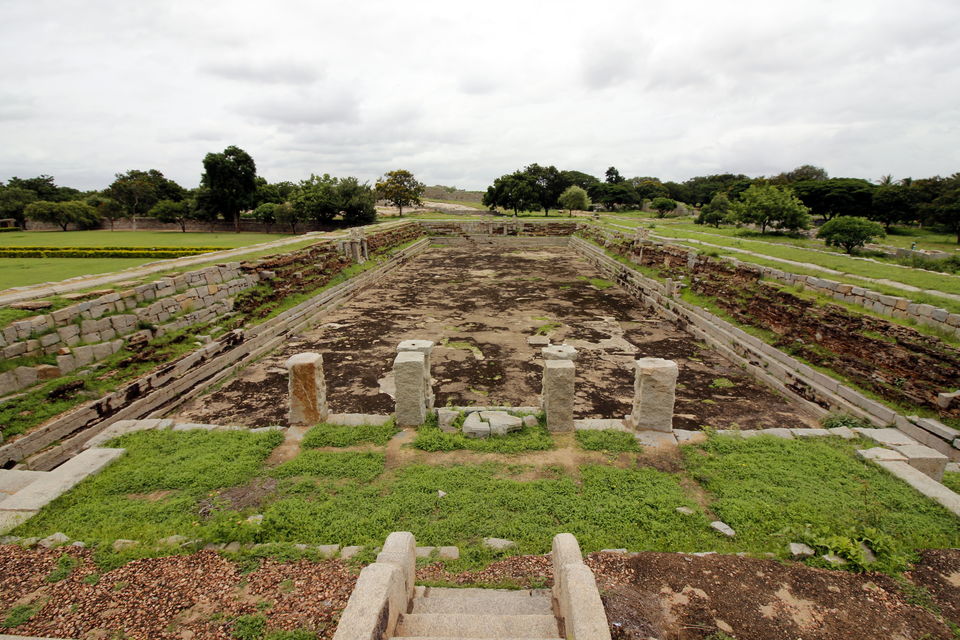 Mahanavami Dibba:
The Mahanavami Dibba is a prominent structure that attracts the attention of visitors, is situated in the Citadel area (Royal Enclosure).
This was built to commemorate the victory of the king Krishnadevaraya over Kalinga, erstwhile Orissa. It was on this elevated platform, the king used to sit and watch festivities during the ten day long Dasara festival which is also known as the Mahanavami festival. Different cultural functions were held in front of this platform and were watched by the king and the members of the royalty. This platform is about 22 feet high and has on all four sides prominent sculptures depicting animals, royal portraits, foreign travelers, hunting scenes and wildlife, acrobats, etc., most of which portraying the daily life of Vijayanagarapattana (as Hampi used to be called then in the era), the capital as well as the empire. It's a piece of palatial architecture, on the top of the structure, a square open platform with traces of pillar sockets are found, indicating that this platform had a superstructure, probably built of wood. The top of the platform can be reached through a flight of stairs with the view of the other monuments in the Royal enclosure.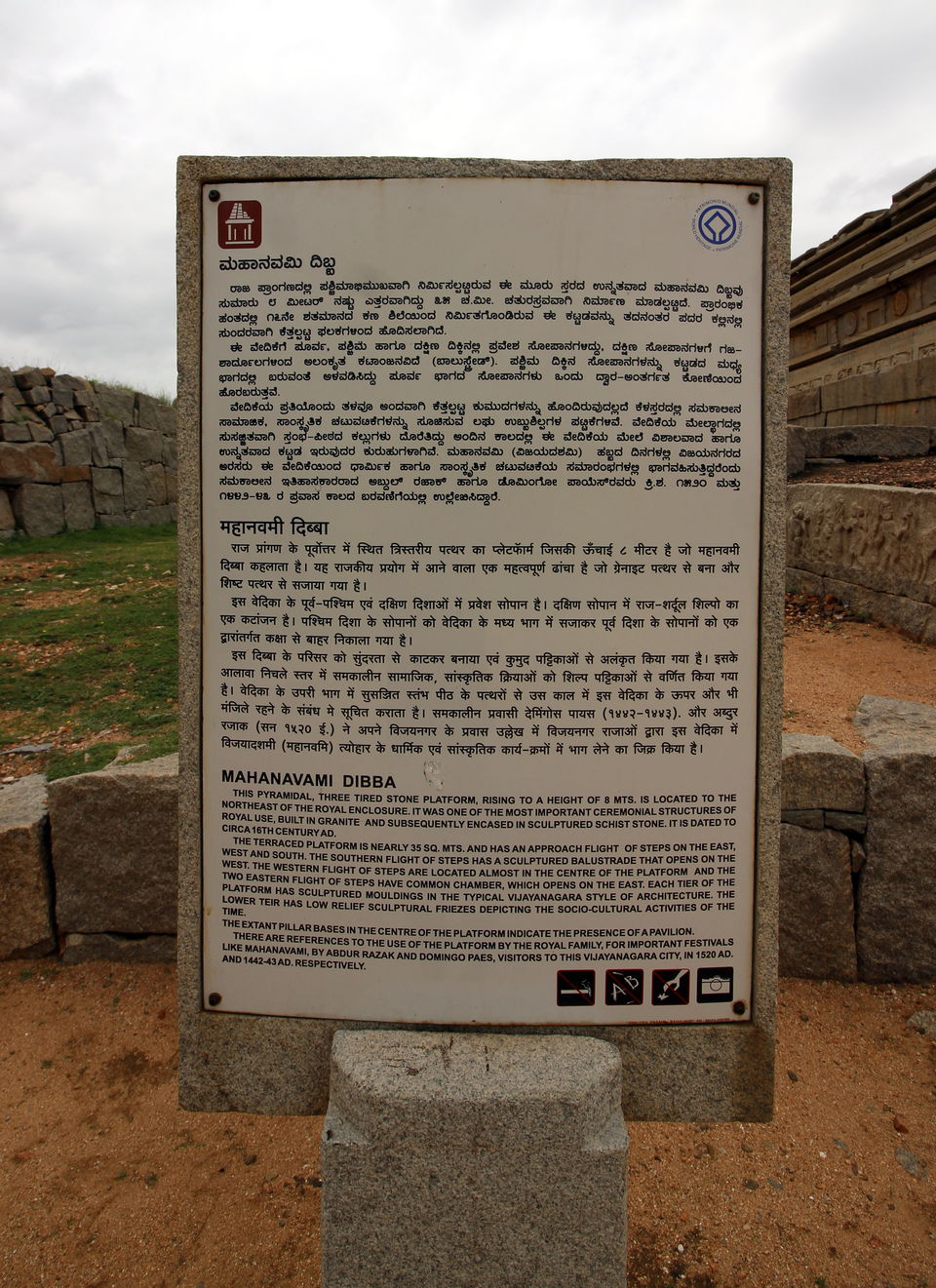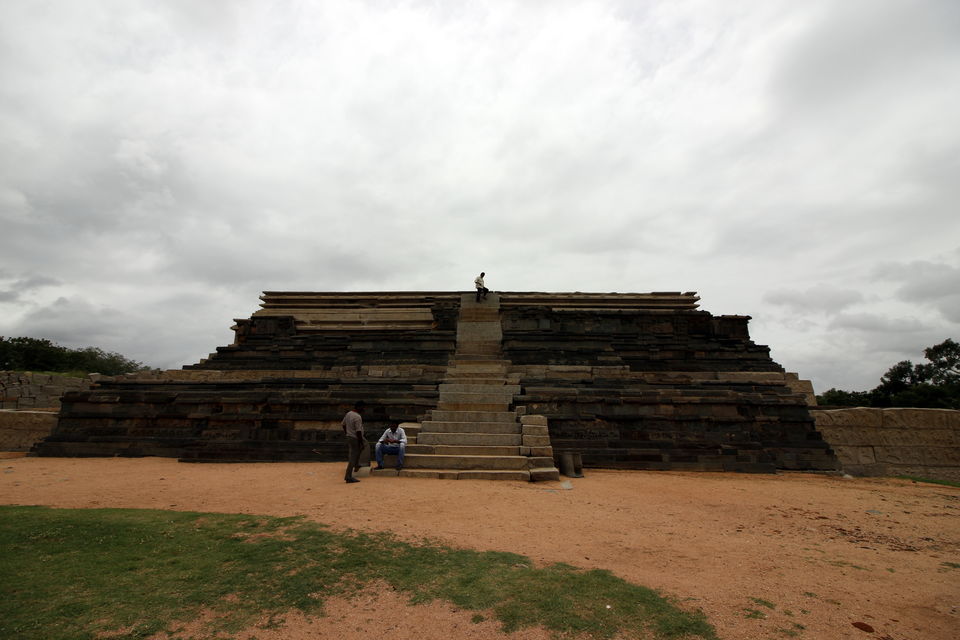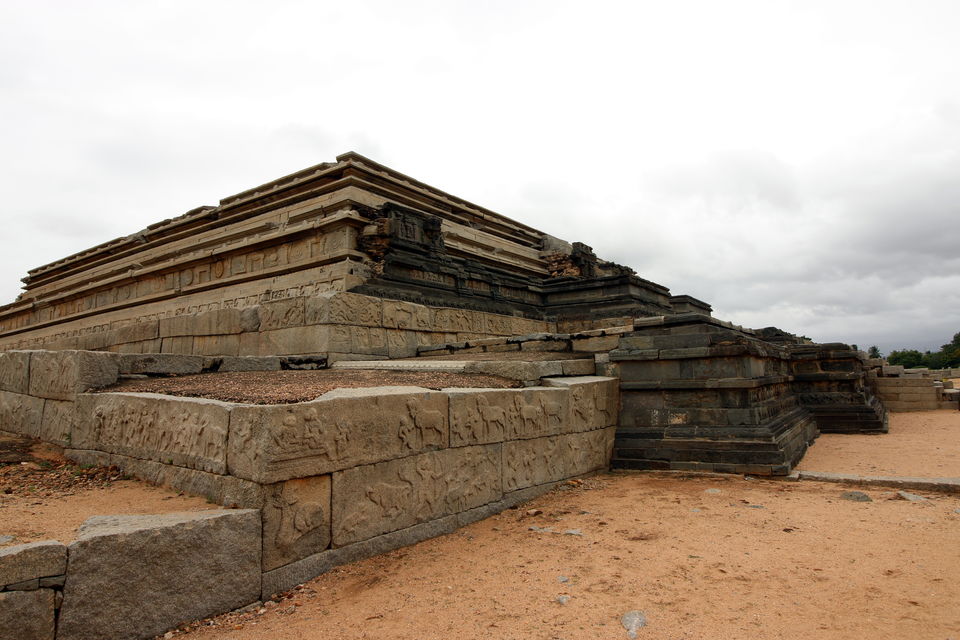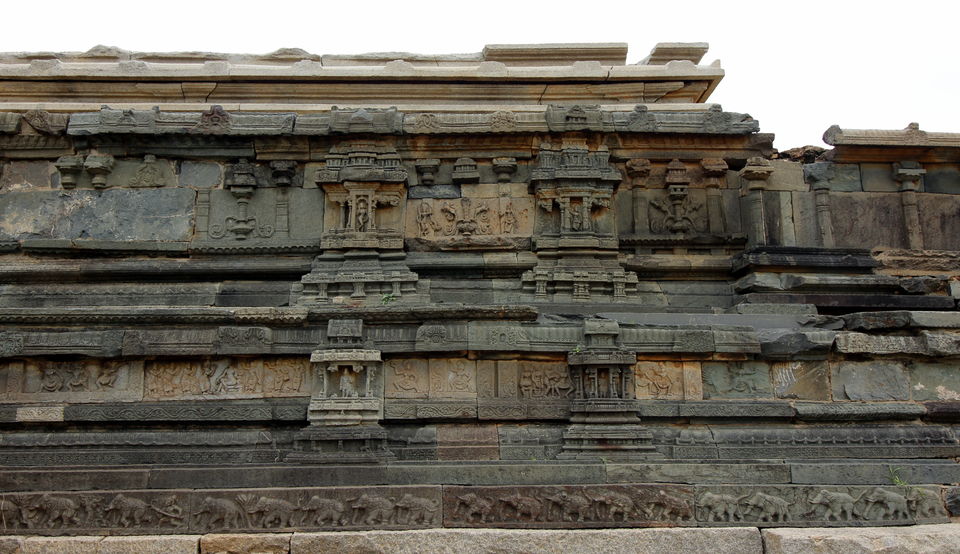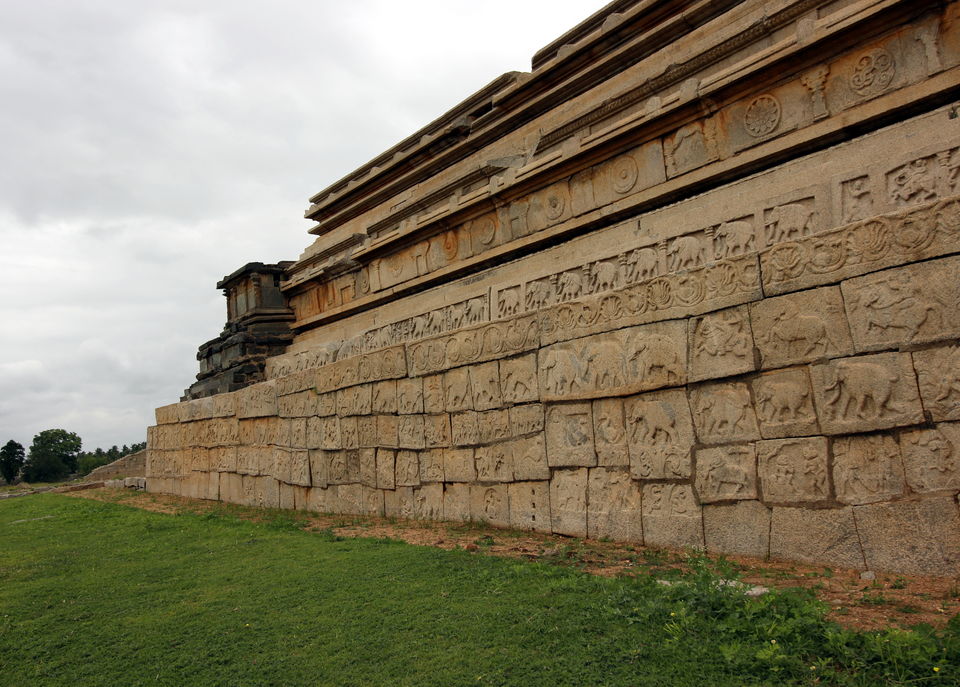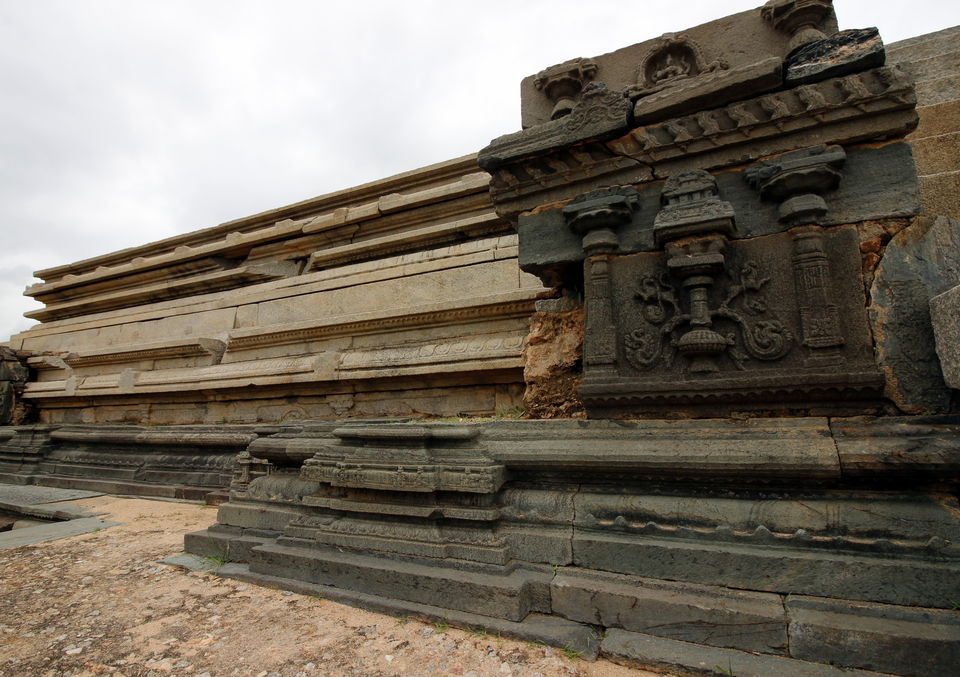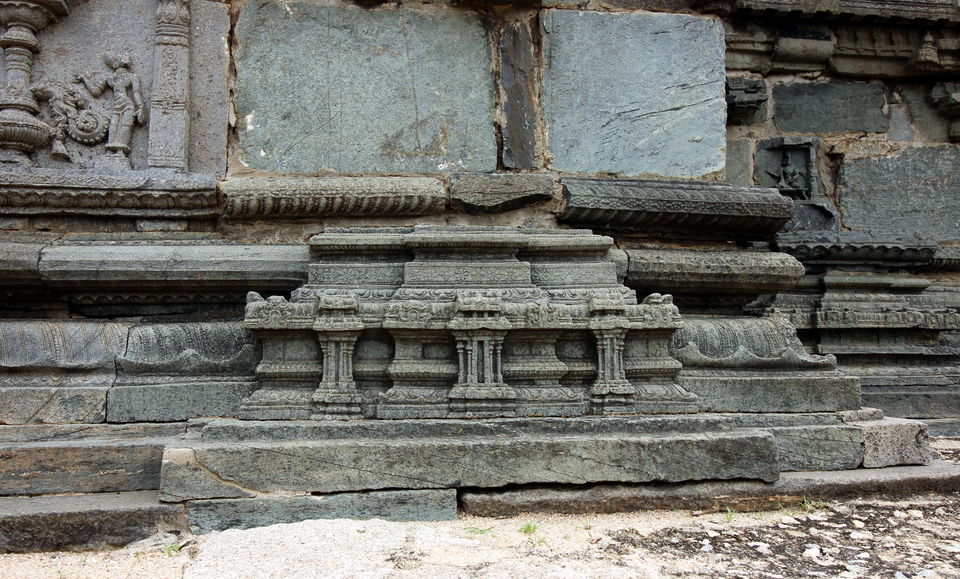 Hazaara Ramachandra Temple:
The term "Hazaara" means "thousand" in Urdu. Tis temple has numerous depictions of sculptures of Rama, majorly in the form of wall friezes narrating the epic Ramayana and also including a few episodes of Bhagavata, hence, the temple is aptly called Hazaara Ramachandra Temple.
The temple complex has various structures including the Devi shrine and a pillared hall. The main shrine has four polished stone pillars with ornate sculpturing known as "Chitrakhanda pillars".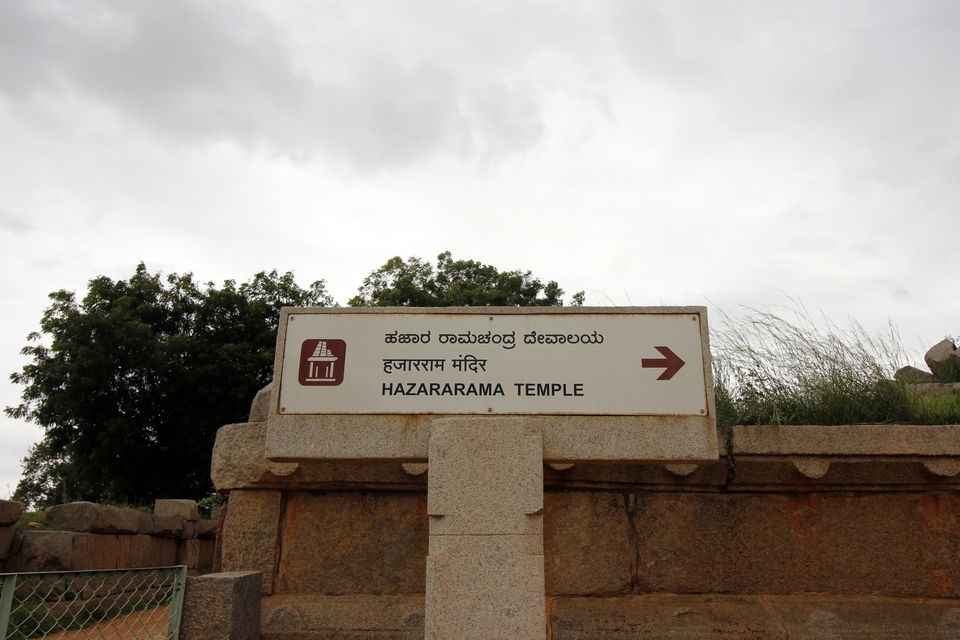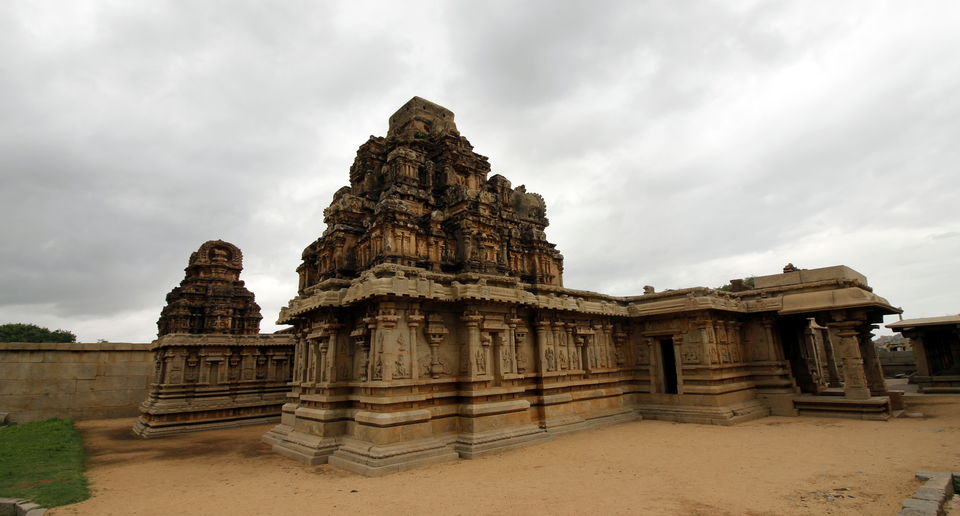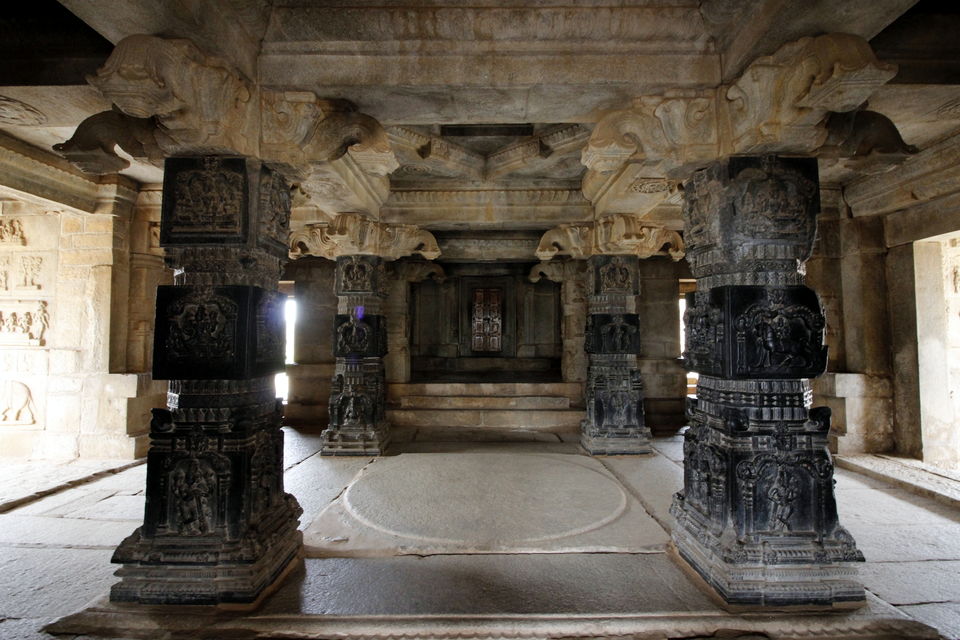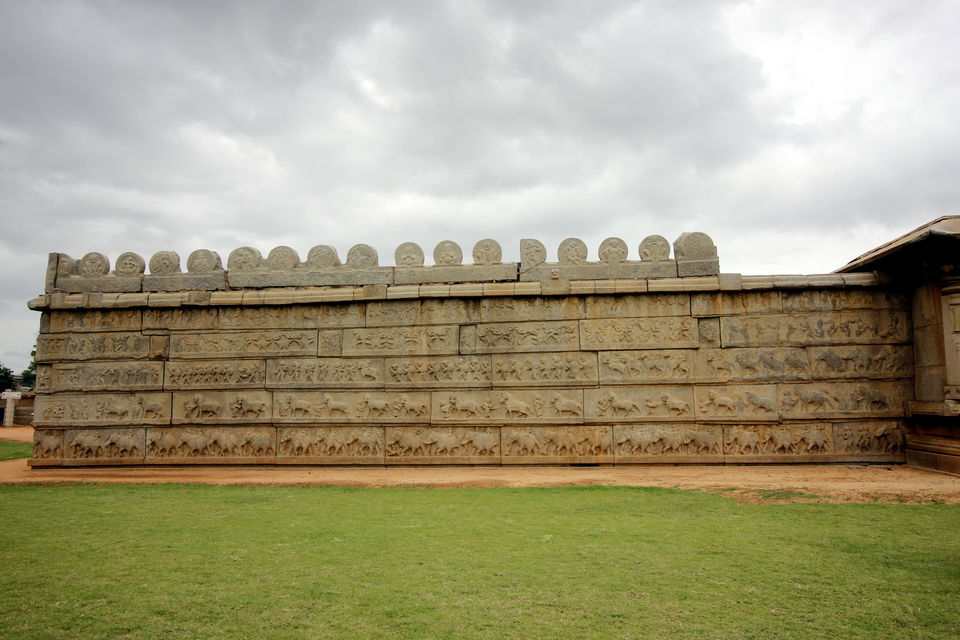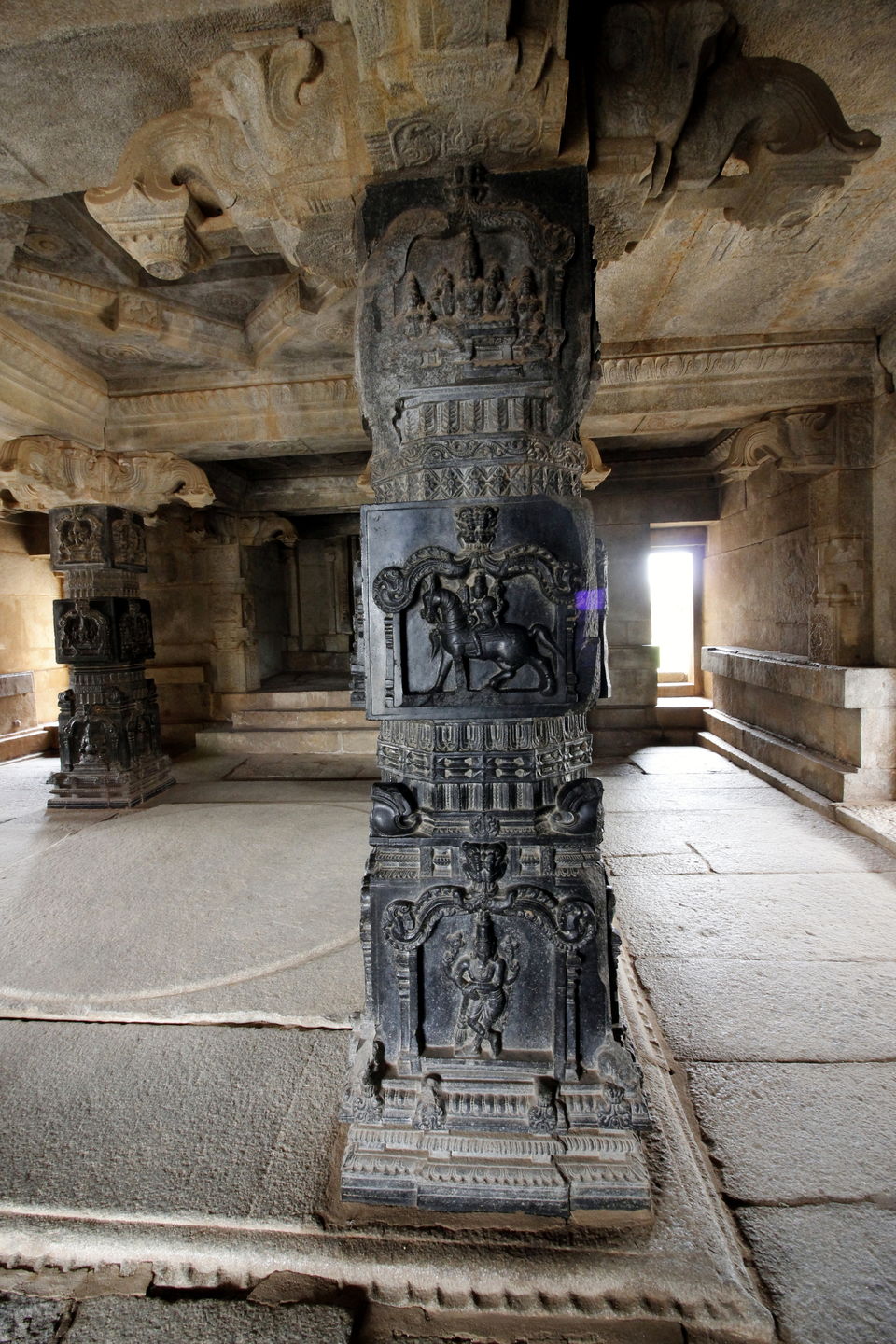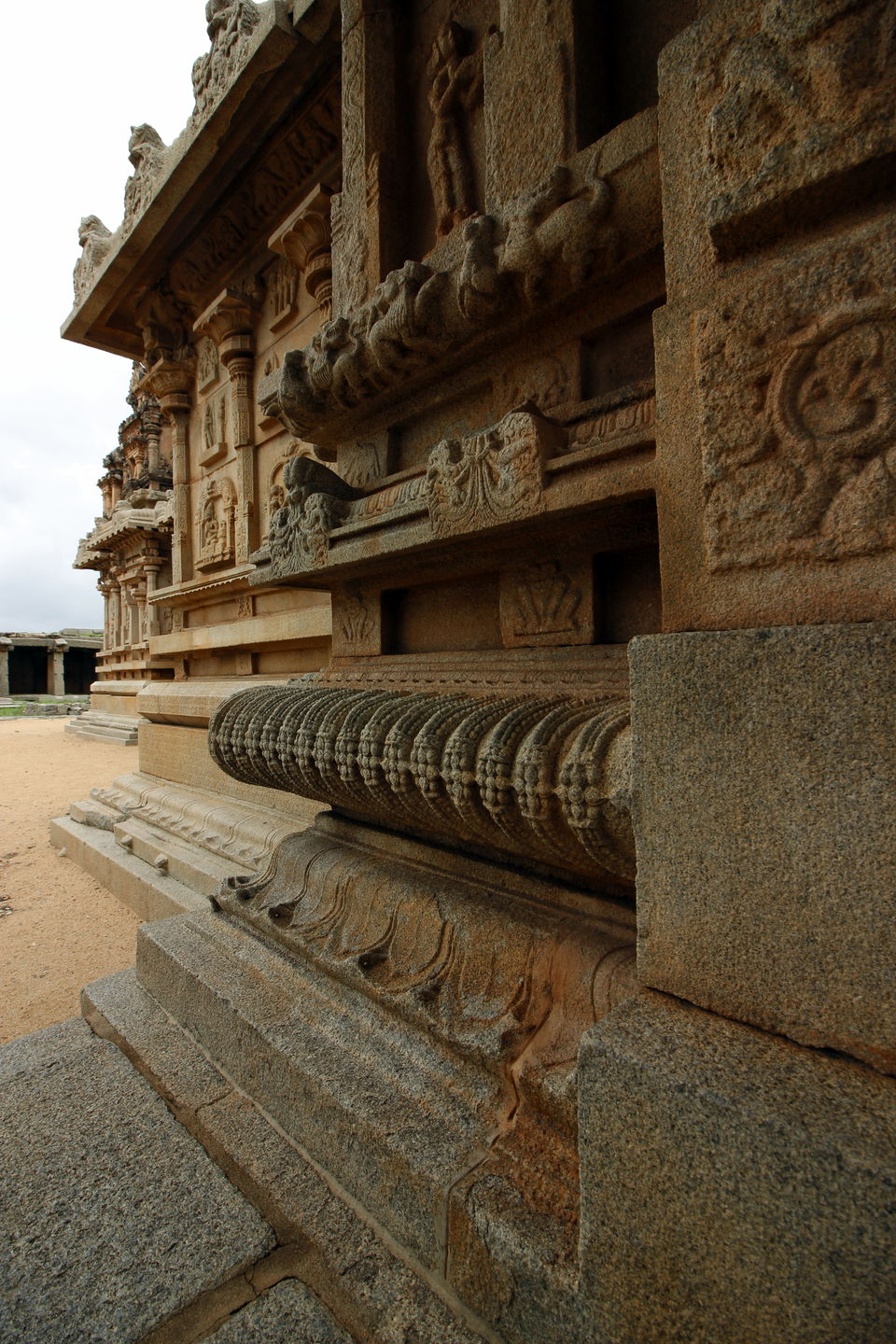 Queen's Bath:
The Queens bath is a large square structure with a plain exterior and an embellished interior, built in Indo-Islamic architectural style. Around the square bath in the middle are corridors with adorned balconies, projecting into the well and three arched openings on three sides, providing necessary lighting to the monument.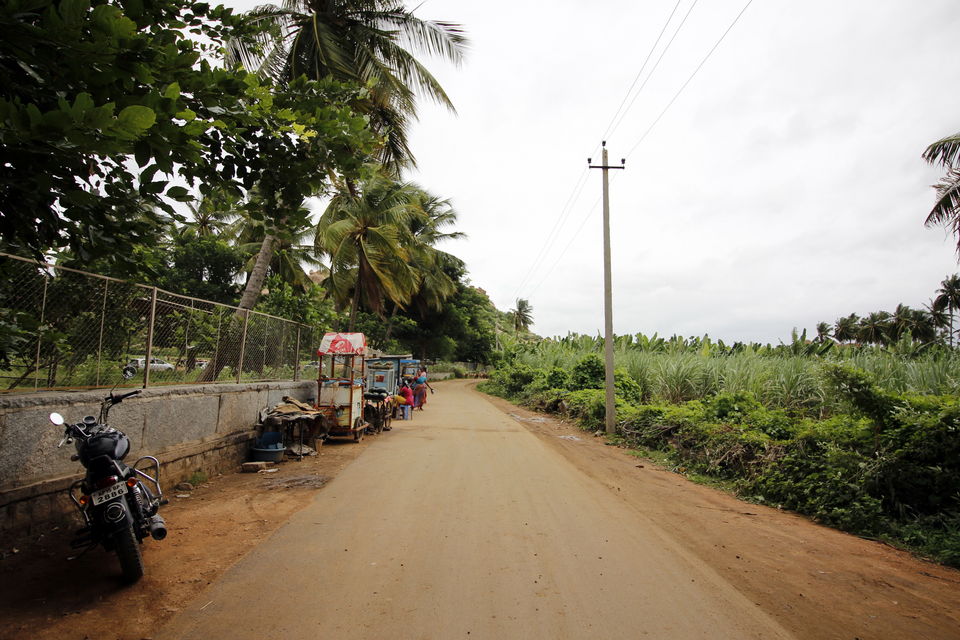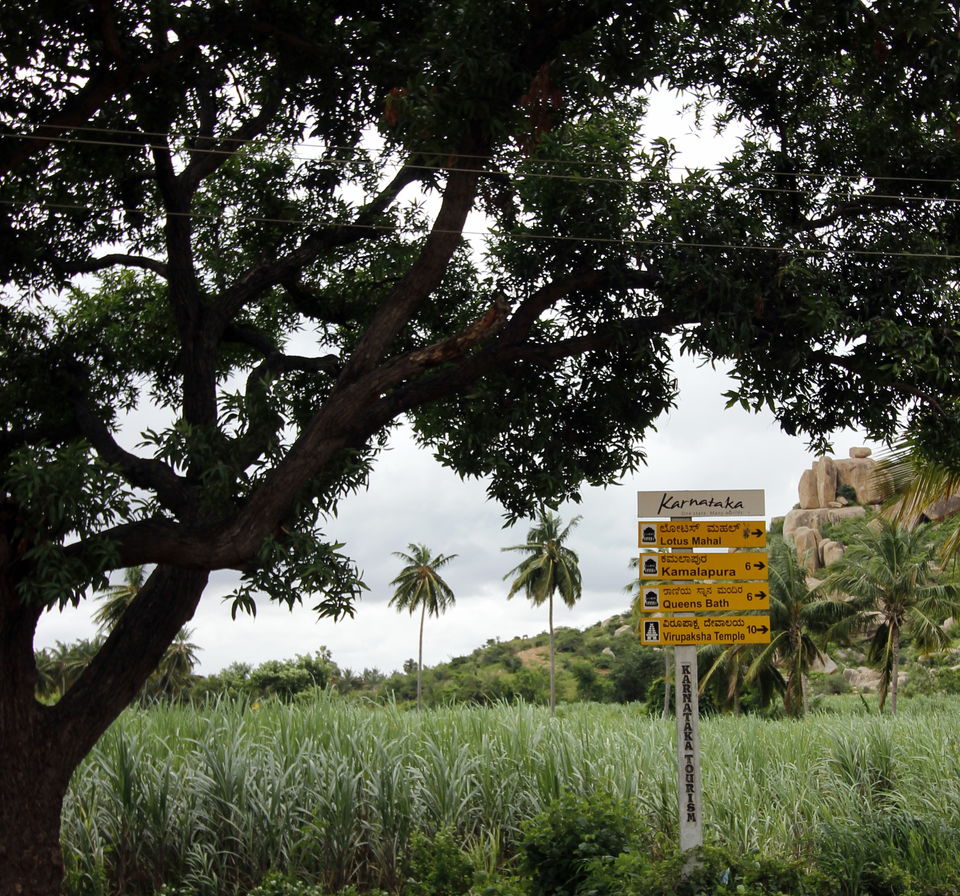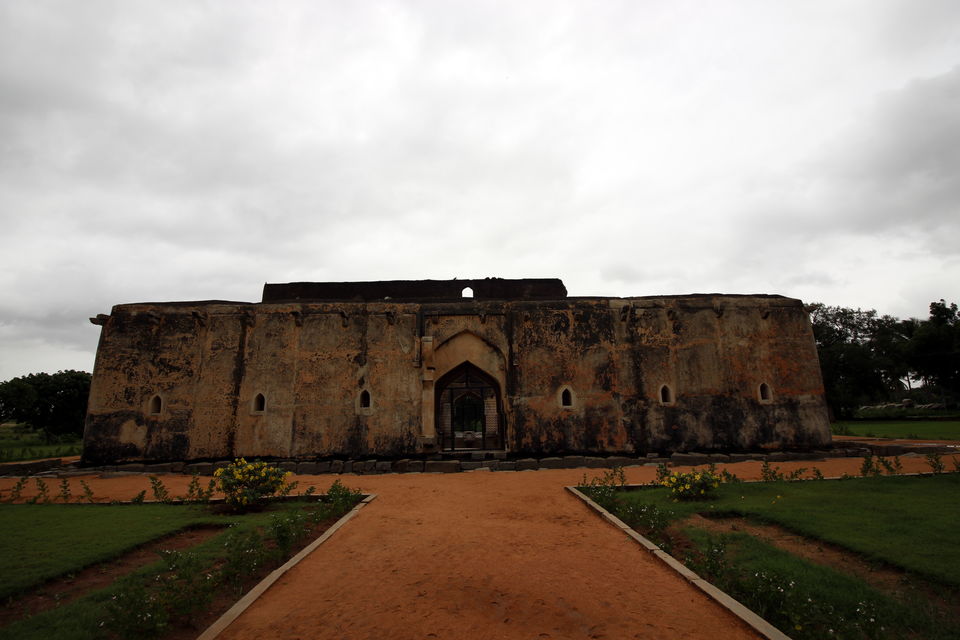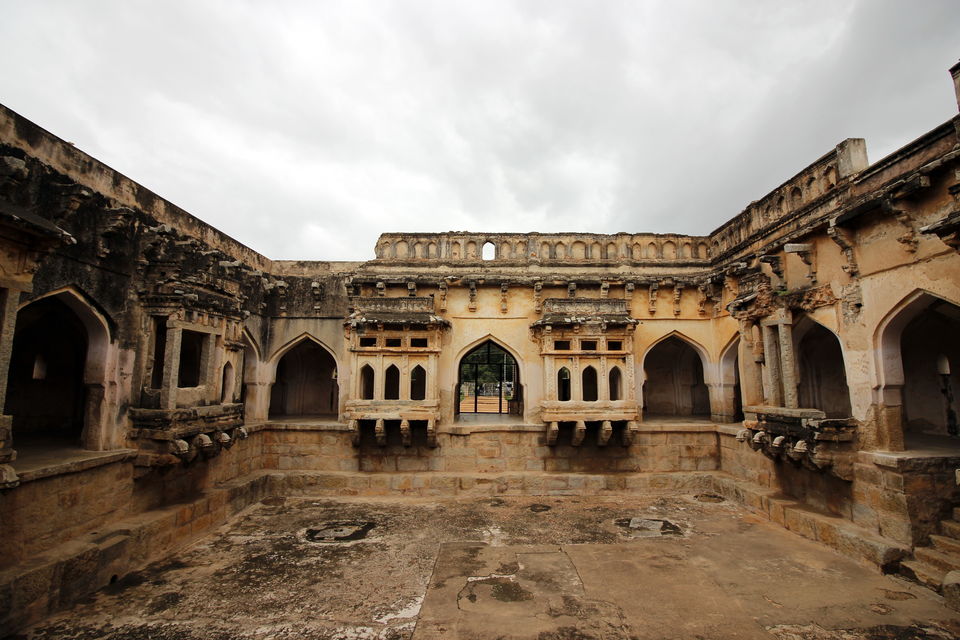 Lakshmi Narasimha Shrine:
This temple has the largest idol of a deity in Hampi; a giant statue of Lord Narasimha (a violent form of Lord Vishnu) sitting on the coil of a seven-headed snake. There apparently used to be a statue of Goddess Lakshmi sitting on his lap, which got destroyed after the fall of the Vijayanagara Empire by the multiple raids by other rulers.
It is said that, if one gets into the enclosure, you can still see Goddess Lakshmi's arms wrapped at the back of the statue, with the fingers and ring still visible, though fragmentary; testimony to the craftsmanship during the reign of the Vijayanagara Empire.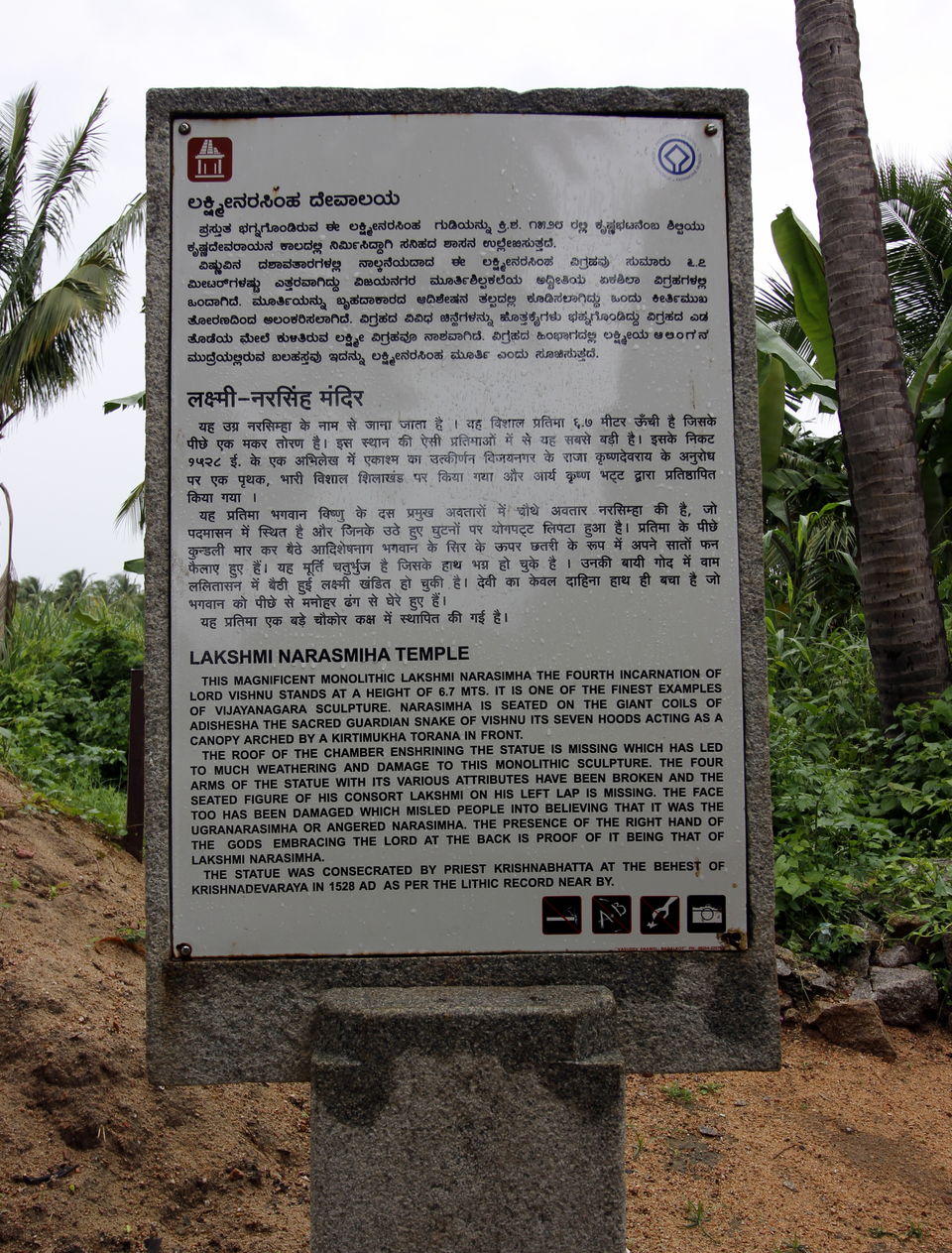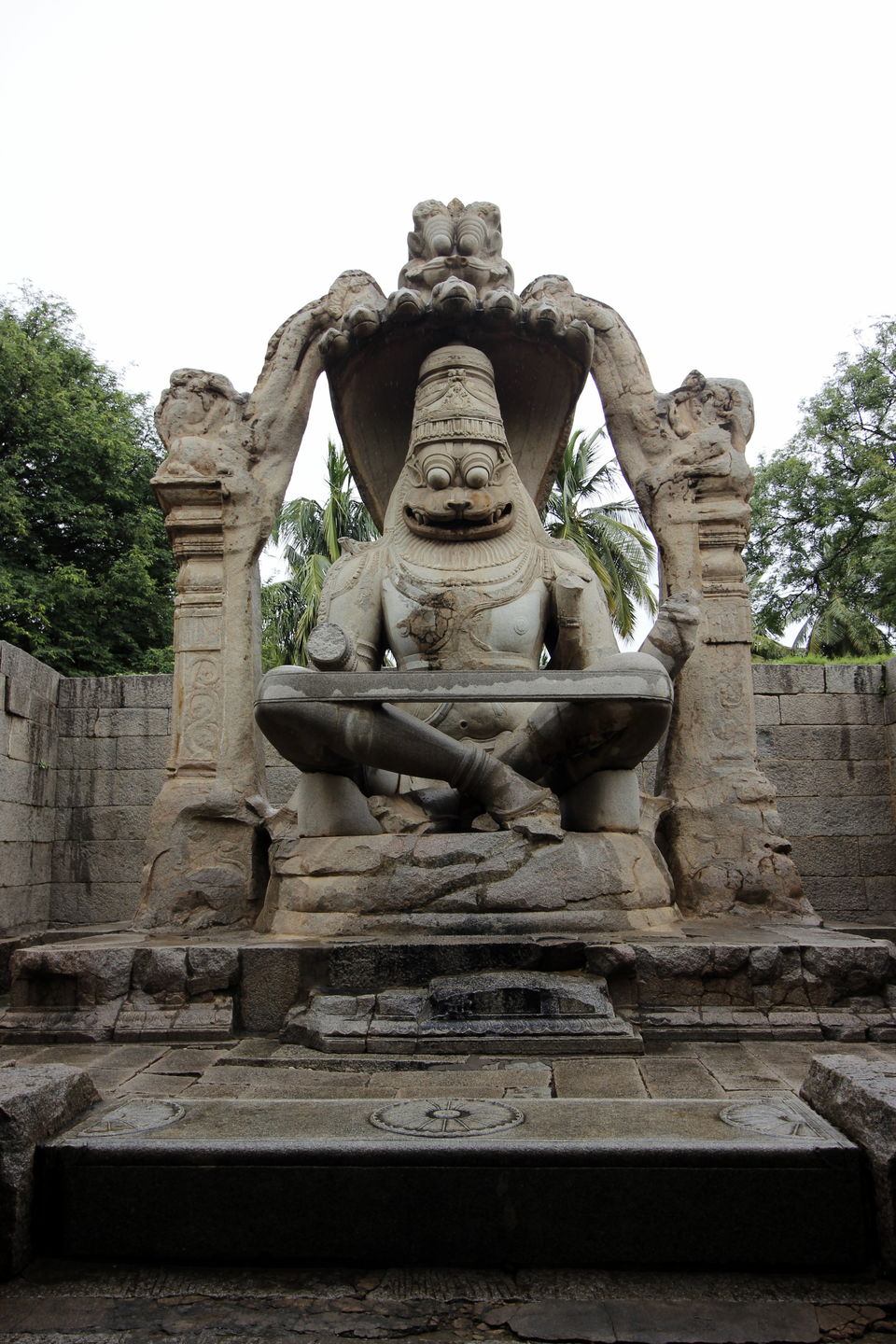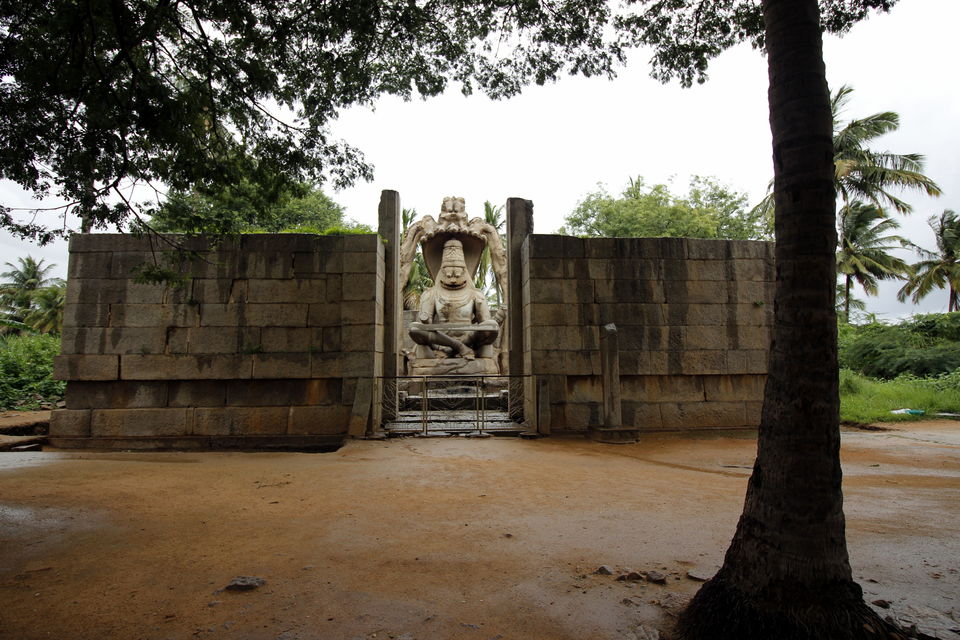 Badavi Linga:
This structure is situated very close to the shrine of Lord Narasimha. It is an interesting shrine with a huge monolithic Shiva Linga of nearly 3 meters high. The lower part of the Linga remains under water throughout the year, the source of water being a small canal drawn from the Tungabhadra River.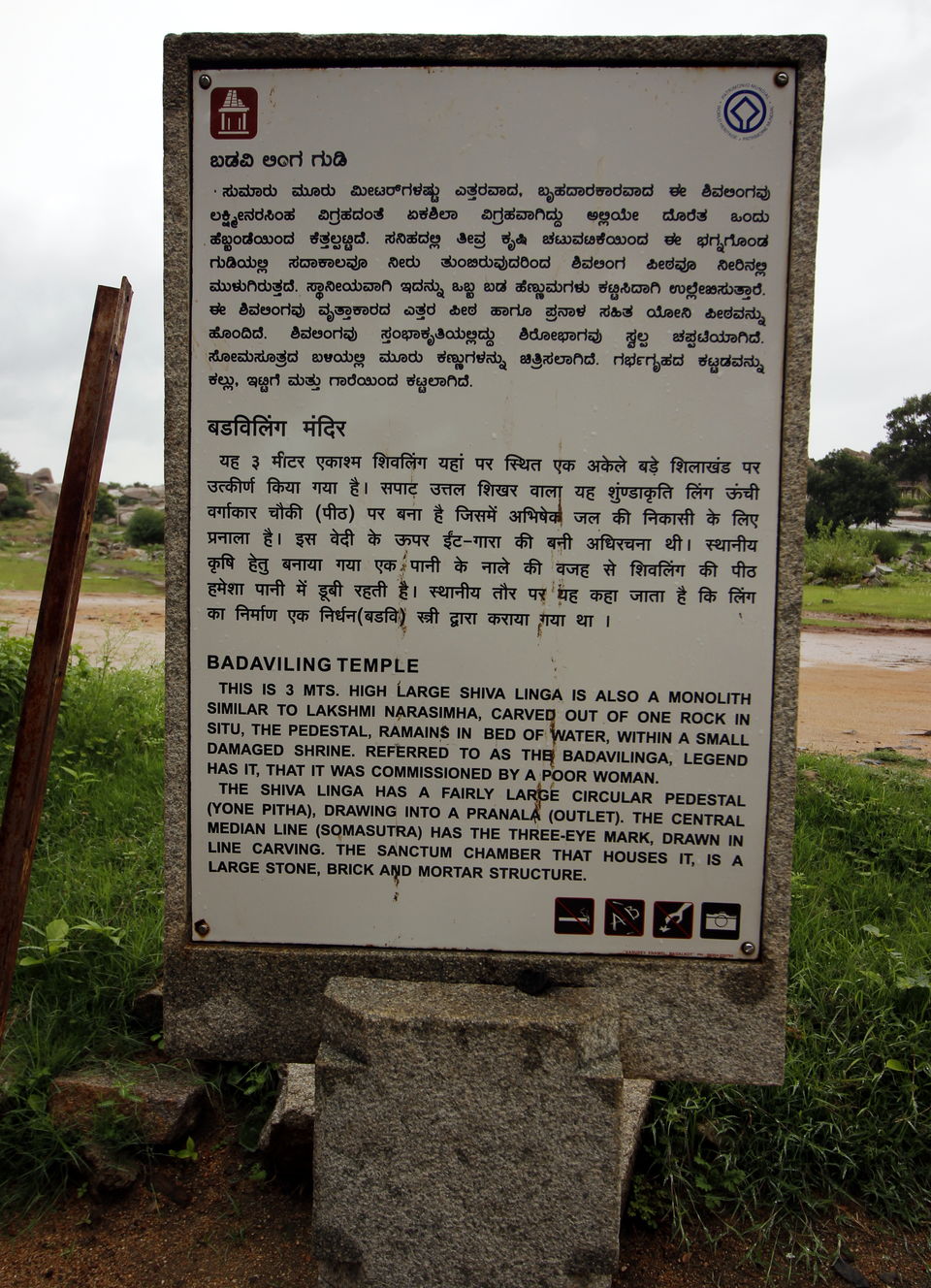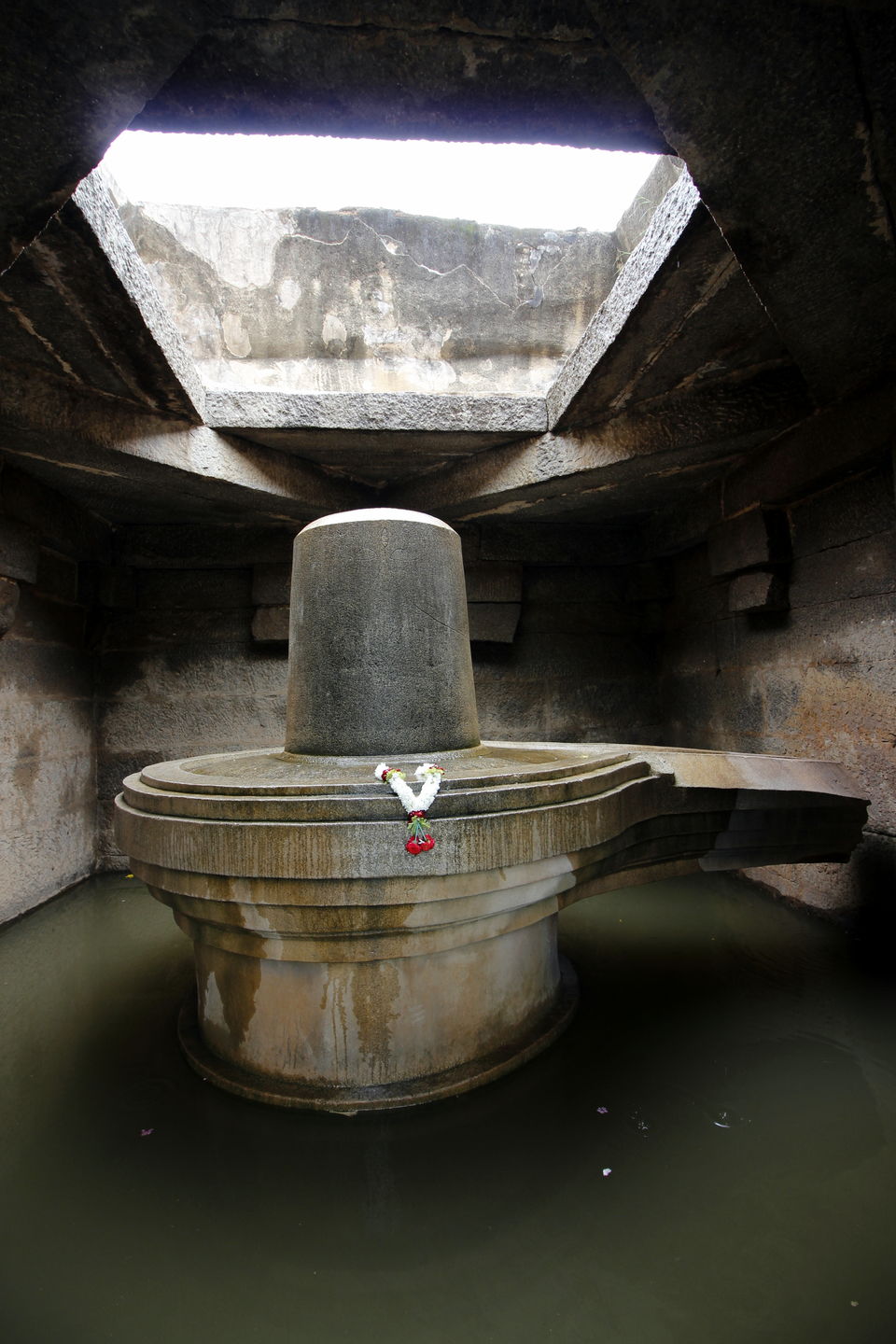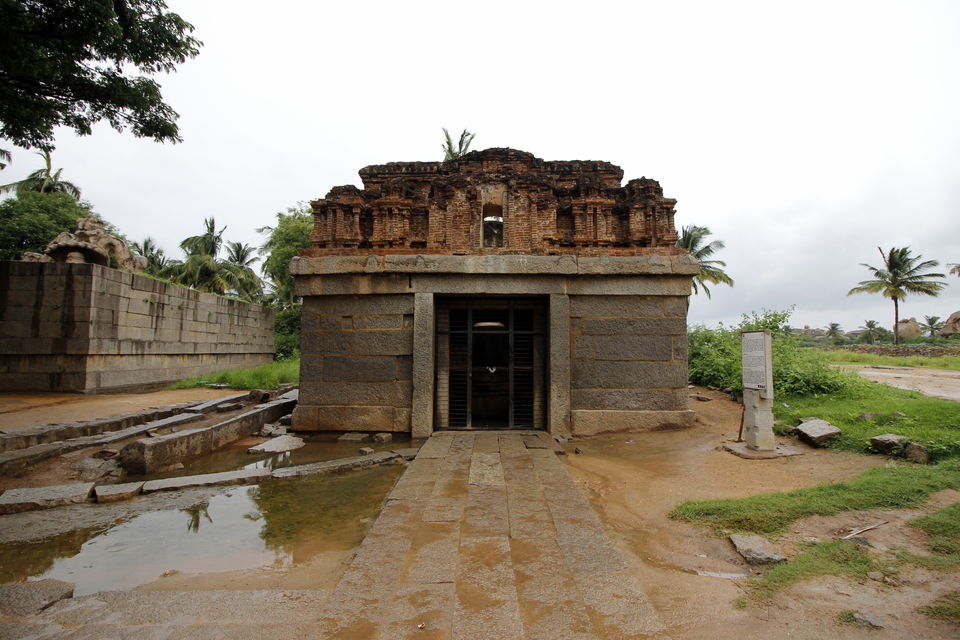 Krishna Temple:
This majestic temple was built by the mighty king Krishnadevaraya. The temple complex has many sub-shrines built around. The main deity here is Bala Krishna (baby form of Lord Krishna), known to be brought here from Orissa after the victory over the Kalinga kingdom, according to the inscriptions.
The temple complex is well-known for lion and elephant balustrades. The temple also has the ten incarnations of Lord Vishnu and other carvings as well such as stucco figures of a war scene of Kalinga campaign of Krishnadevaraya.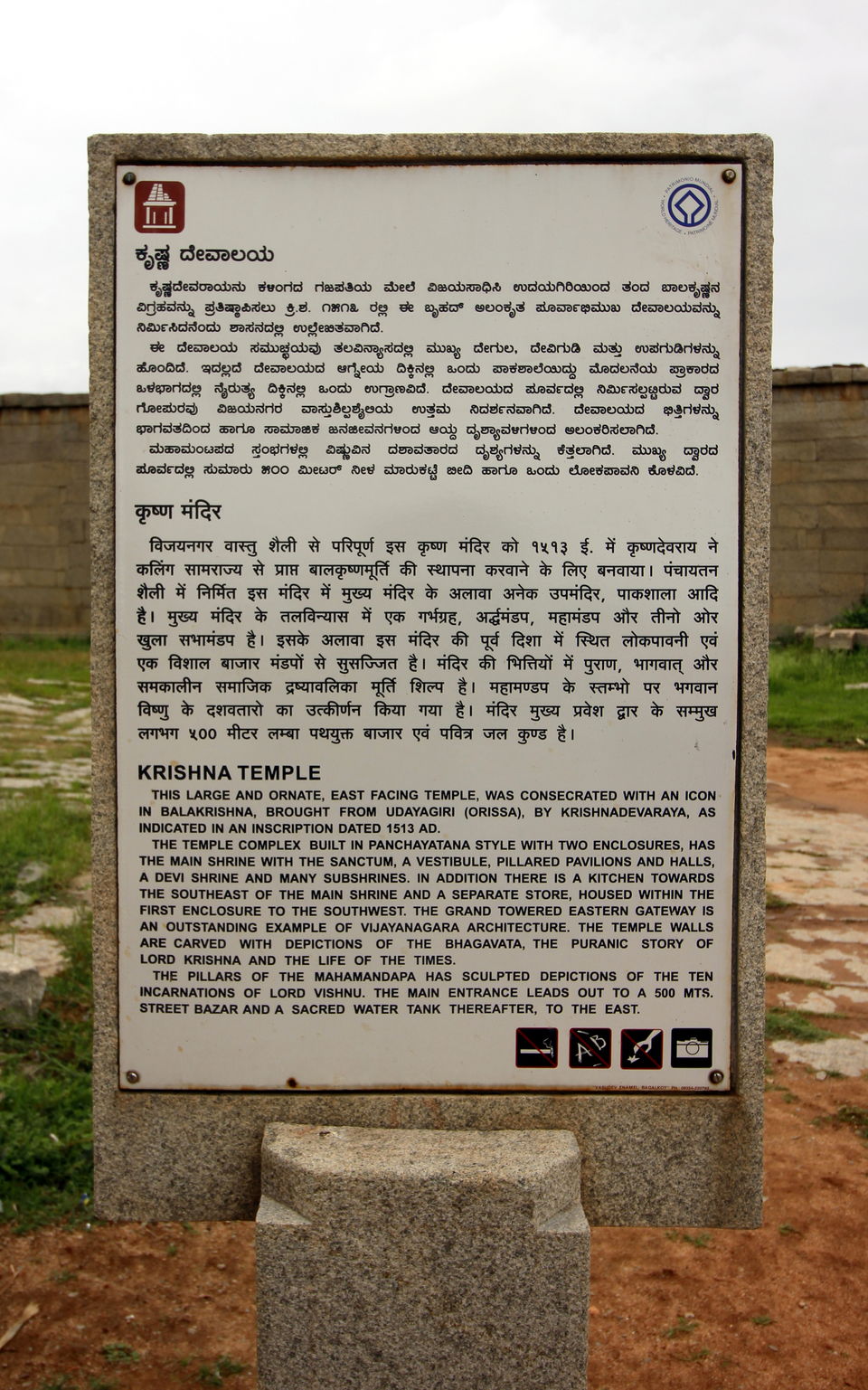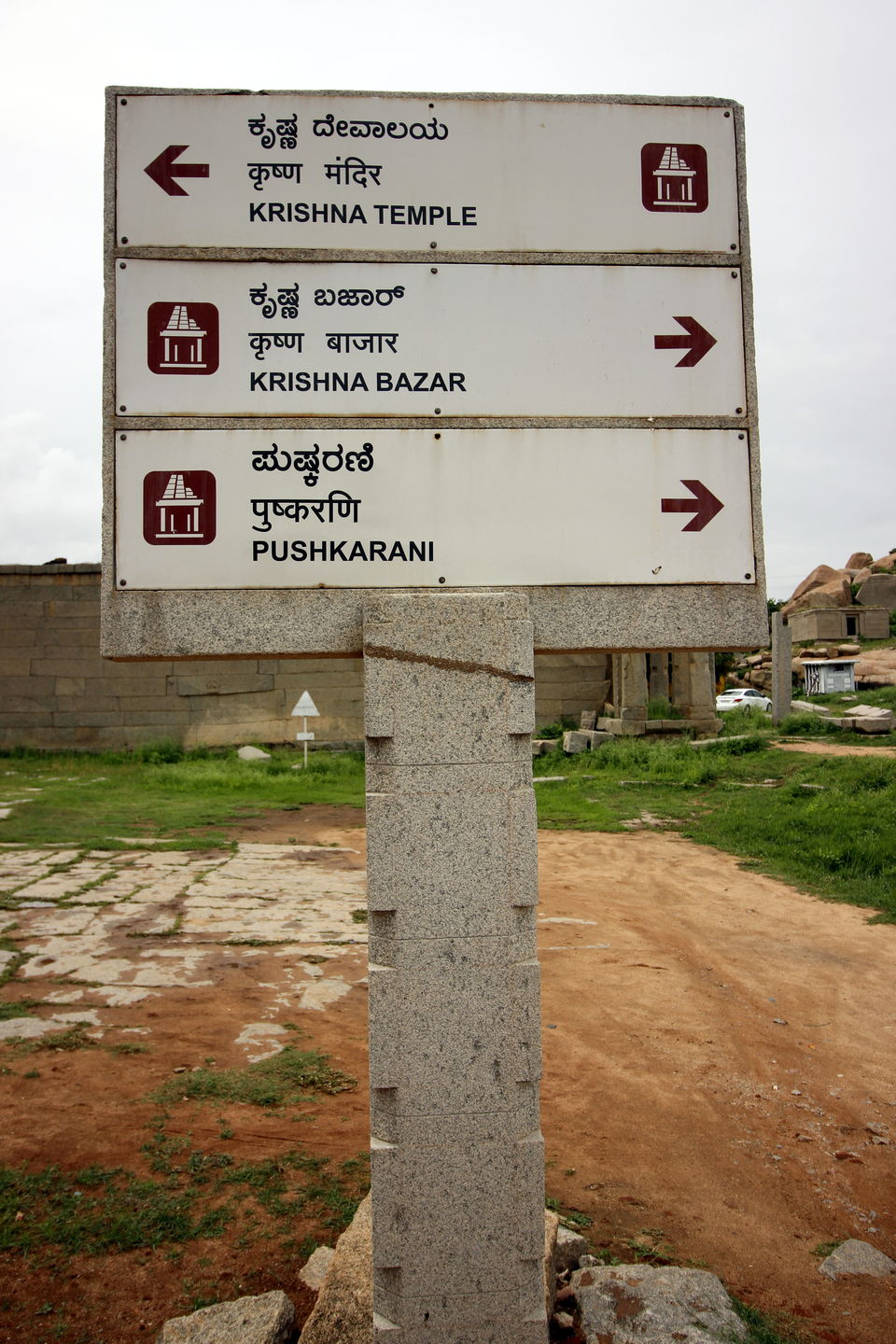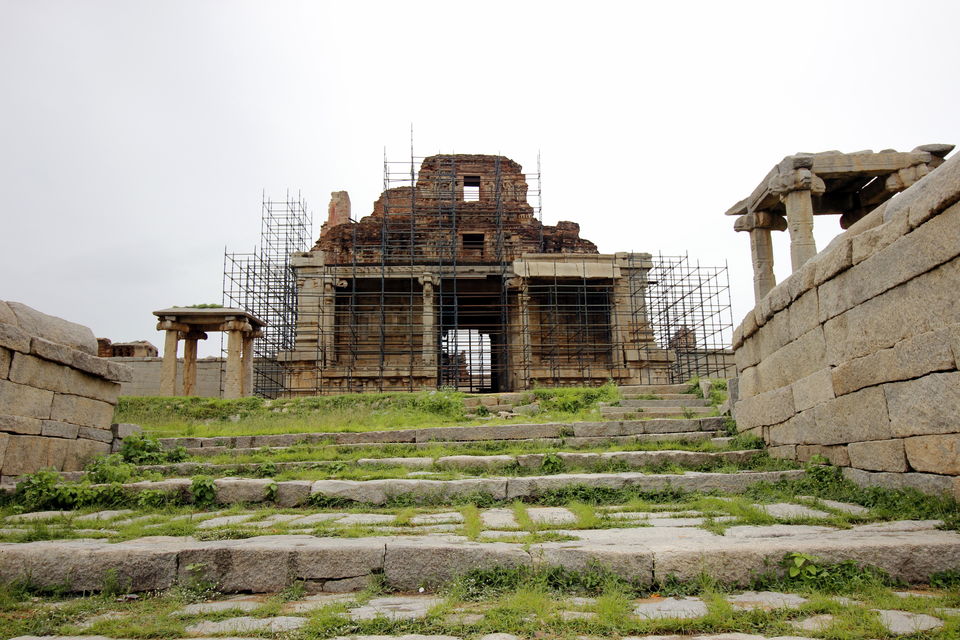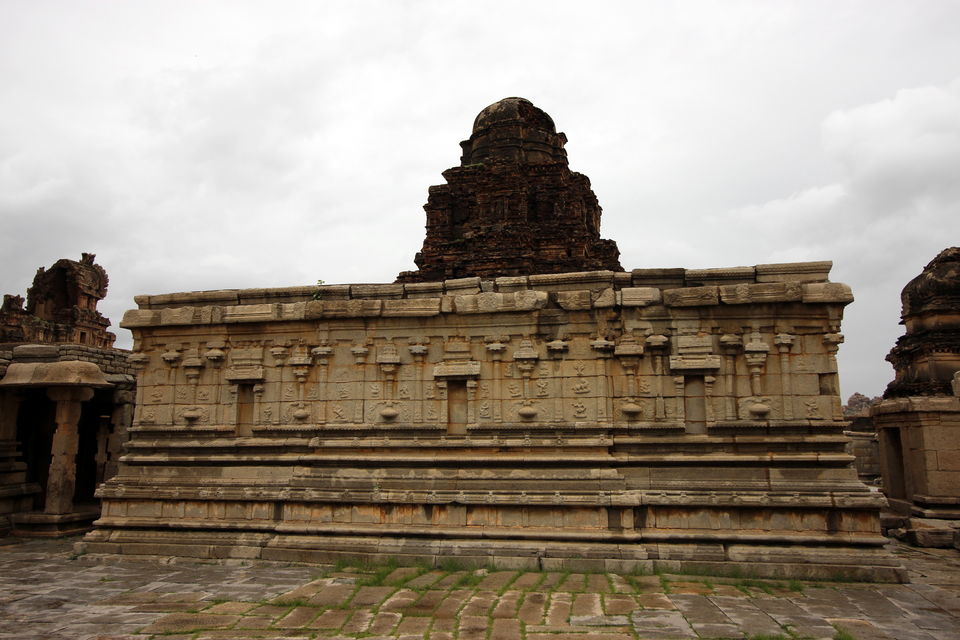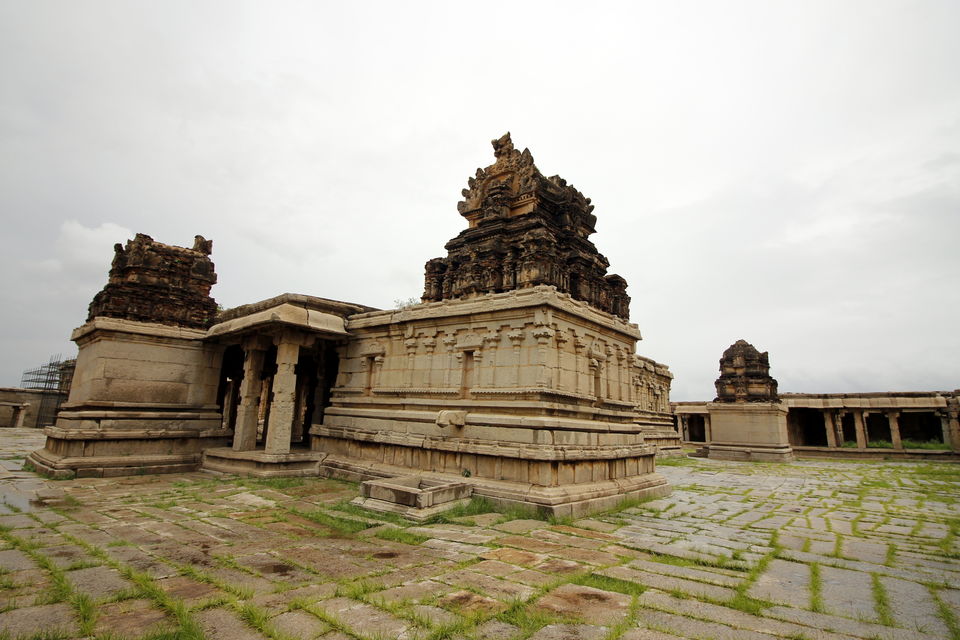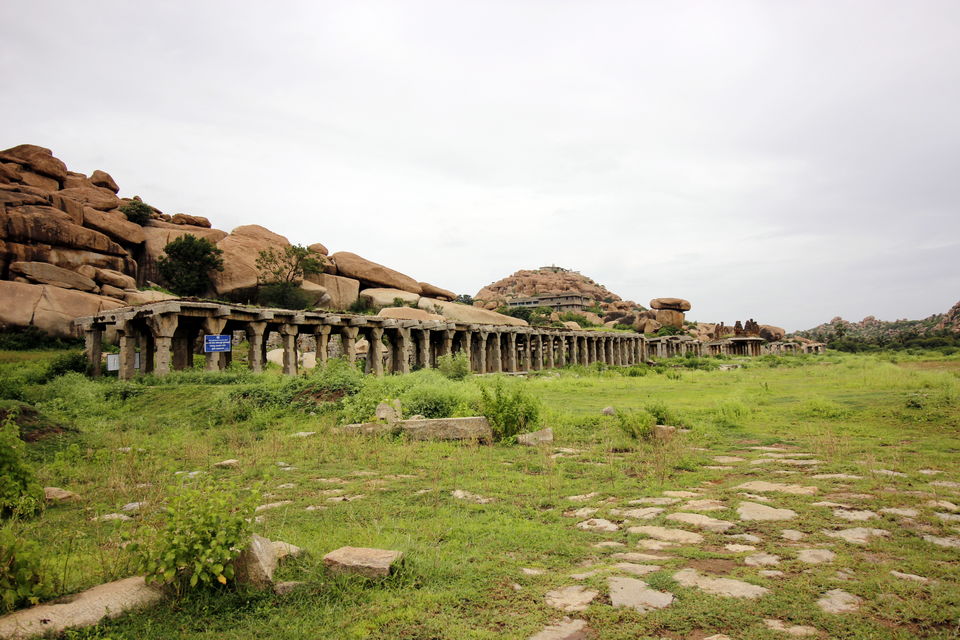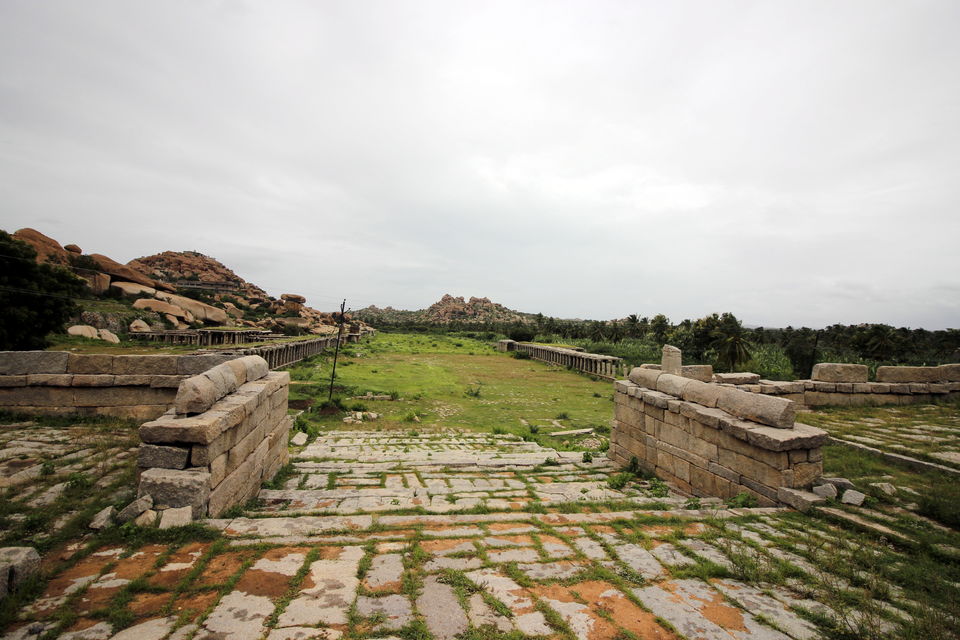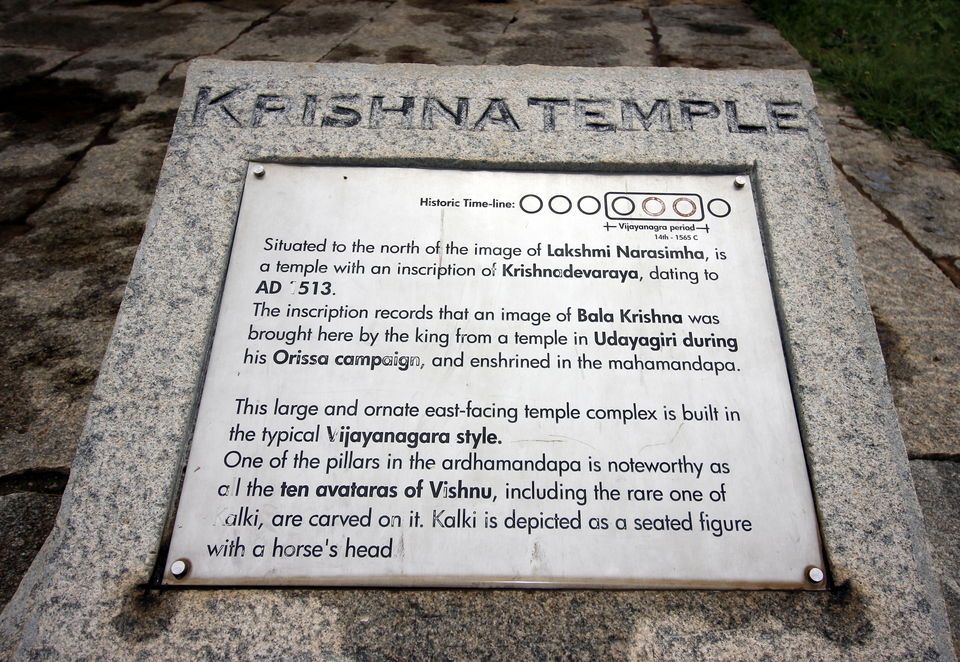 Sasive Kalu Ganesha & Kadale Kalu Ganesha:
Sasive Kalu Ganesha - A huge monolithic sculpture of Lord Ganesha is housed in an open pillared hall structure. This sculpture is called Sasive Kalu (Mustard seed in the local language, Kannada), due to the way it is sculpted. The Ganesha is carved over a huge pedestal and it is carved in such a manner that the Lord is seated in the lap of his mother Goddess Parvati; if one sees the monument from its rear side. The huge size of the Ganesha image over wits Parvati and she is almost inconspicuous.
Kadale Kalu Ganesha - This place again, has a monolithic statue of Lord Ganesha carved out of a single huge boulder and a sanctum structure built around it, with an elegantly carved pillared hall. This sculpture is called as Kadale Kalu (Gram seed in the local language, Kannada), due to the way it was sculpted.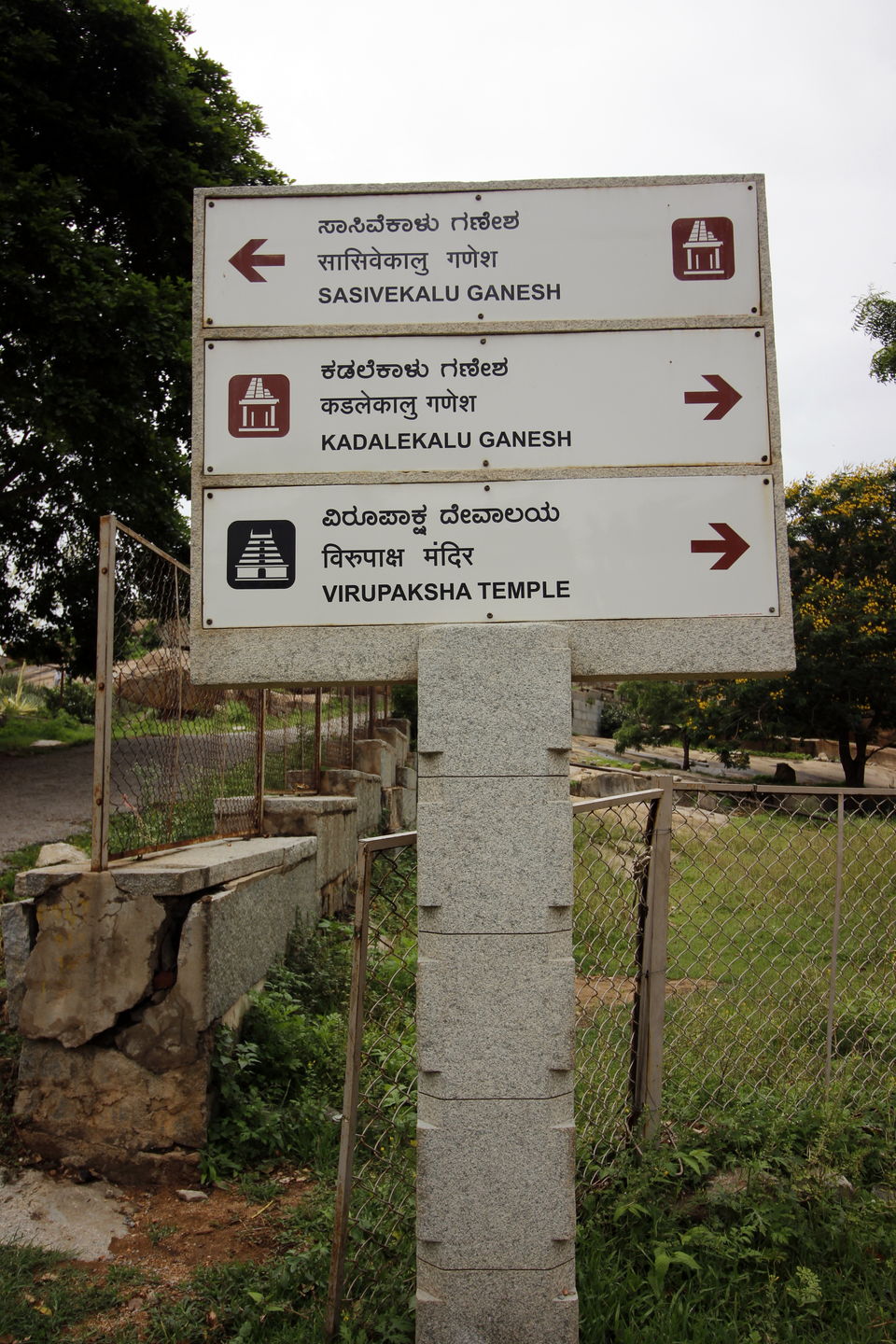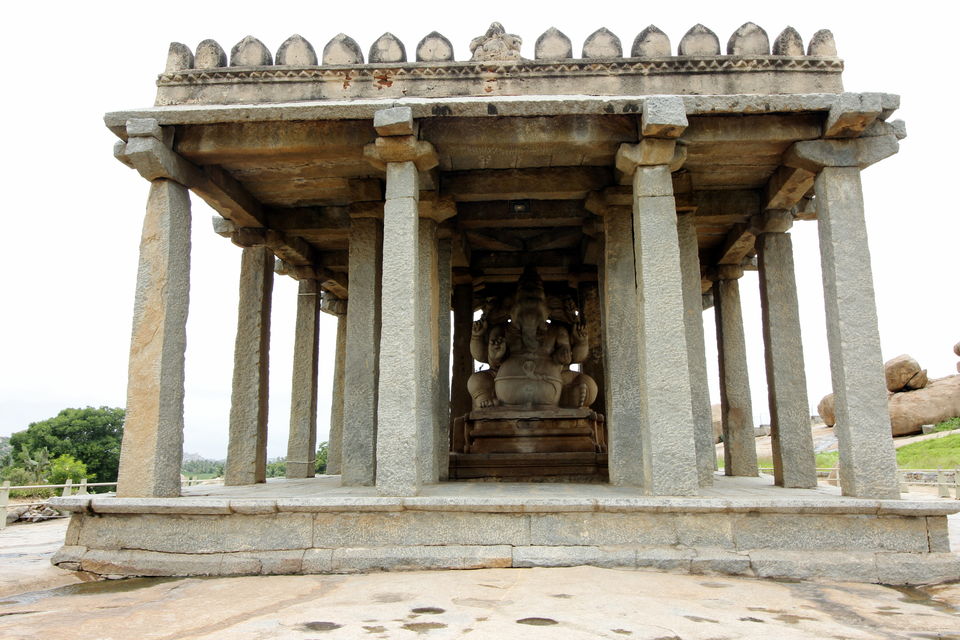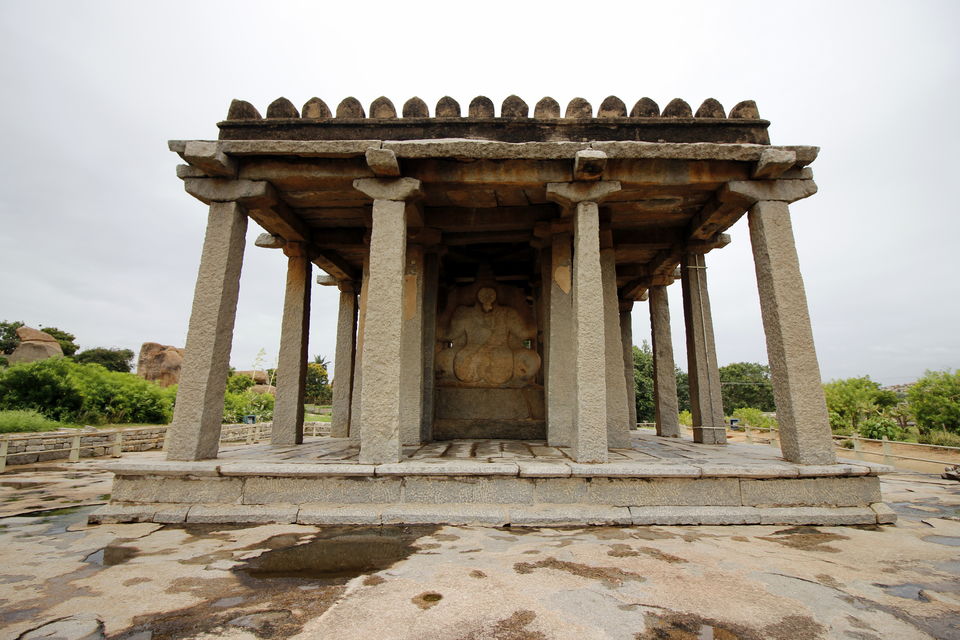 Anegondi:
Anegondi is situated on the left bank of the Tungabhadra River. This place can be either reached by a motor-able road from the Hospet side or from the Hampi Bazar area side bank of the river, by ferrying through the river on a steamer boat (Rs. 10-25 per person) or a coracle boat (Rs. 25-100 per person).
Anegondi was the first capital of the Vijayanagara Empire and hence, has many archeological and architectural vestiges ranging from the pre-historic to post Vijayanagara period.
The major attractions here are Sri Ranganath temple, Anjanadri hill, Vali Kila and Pampa Sarovar.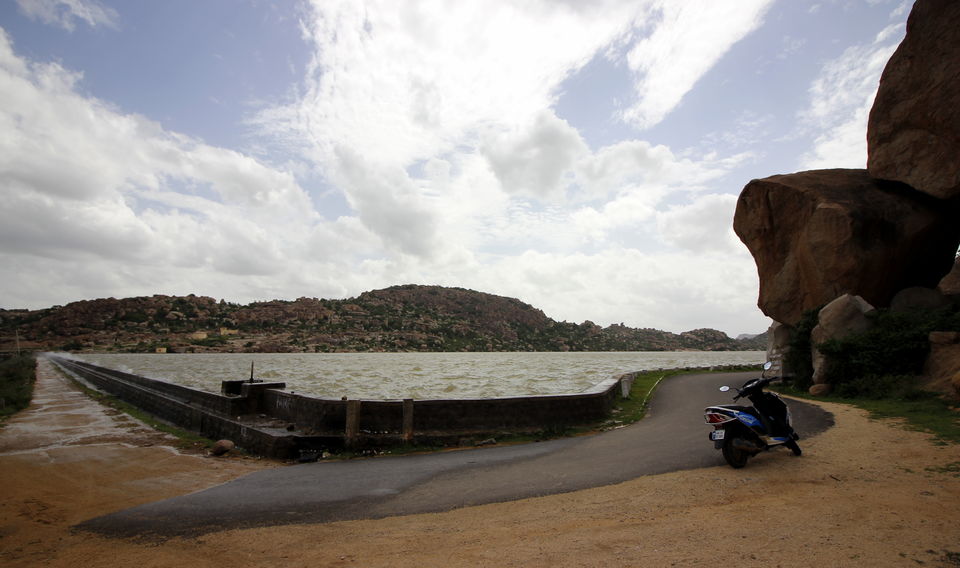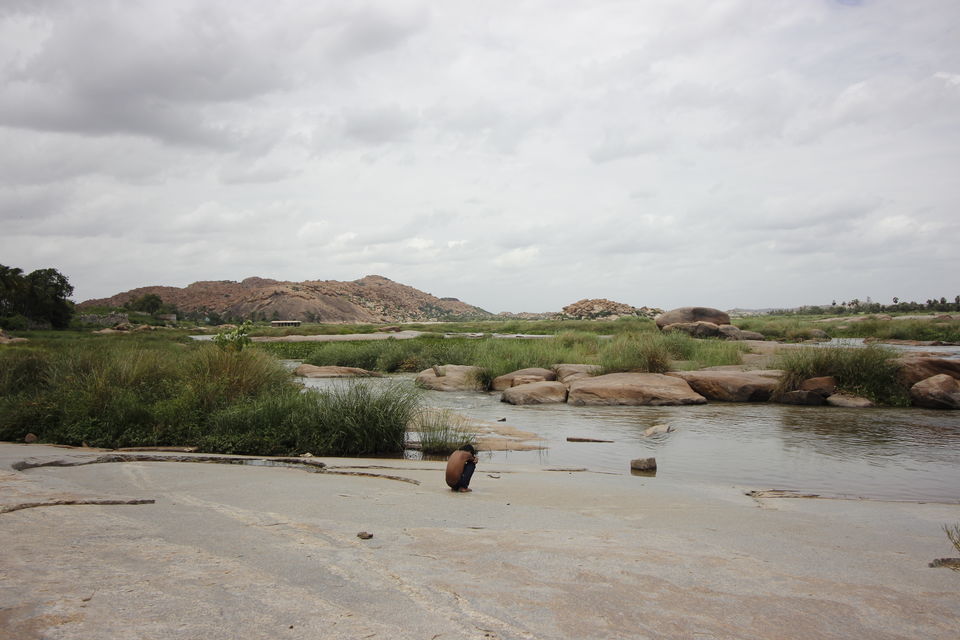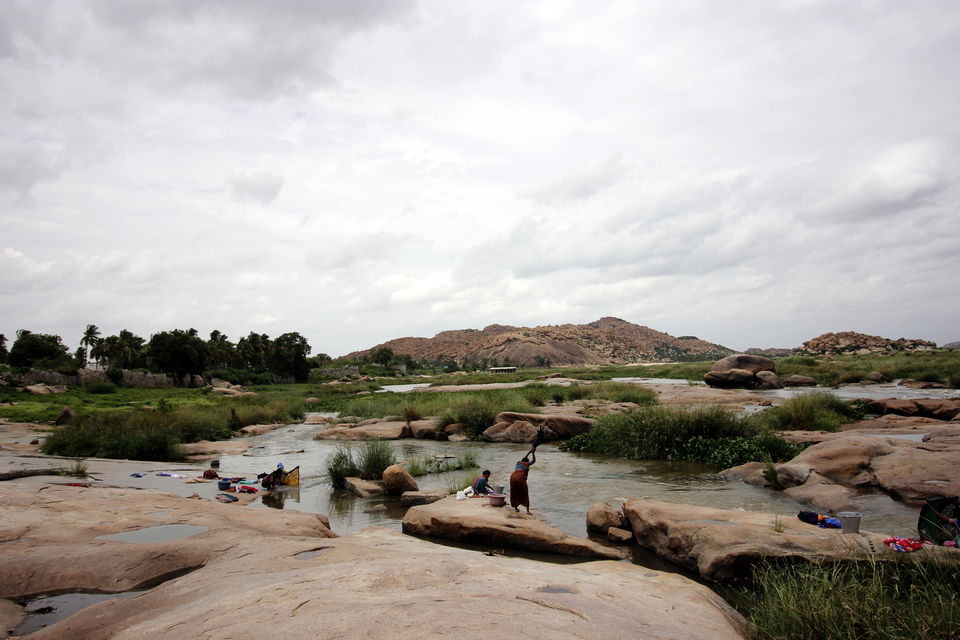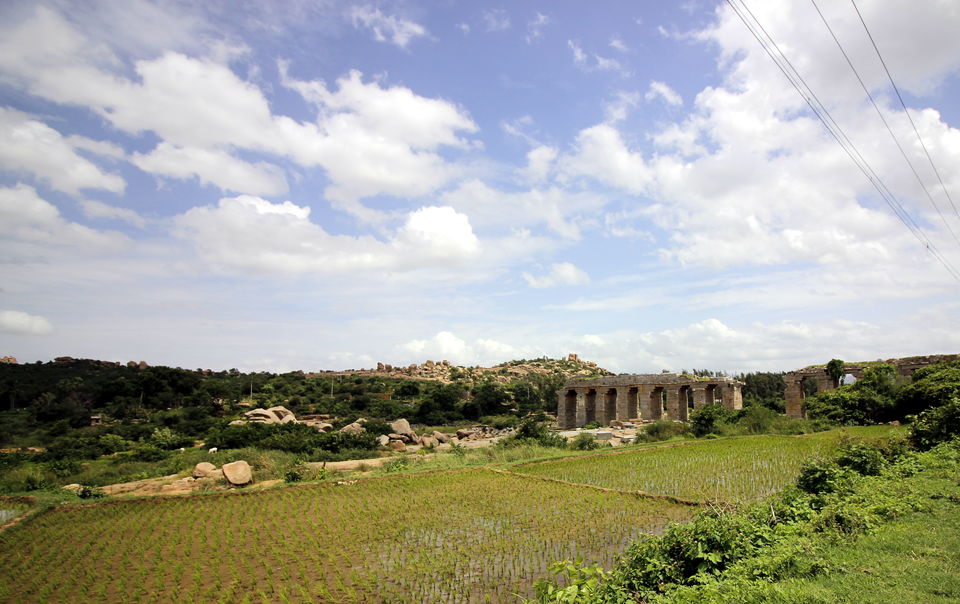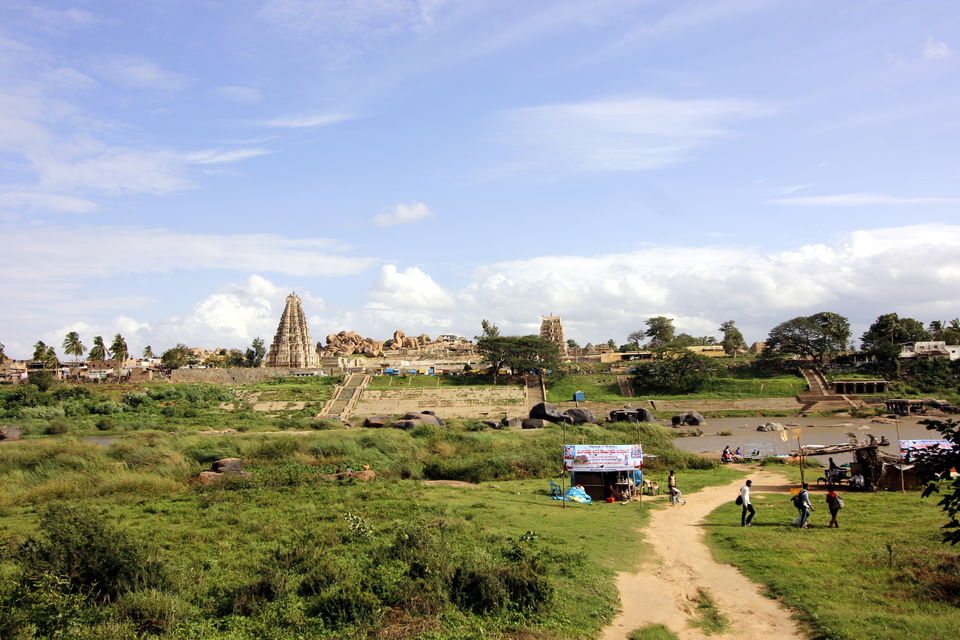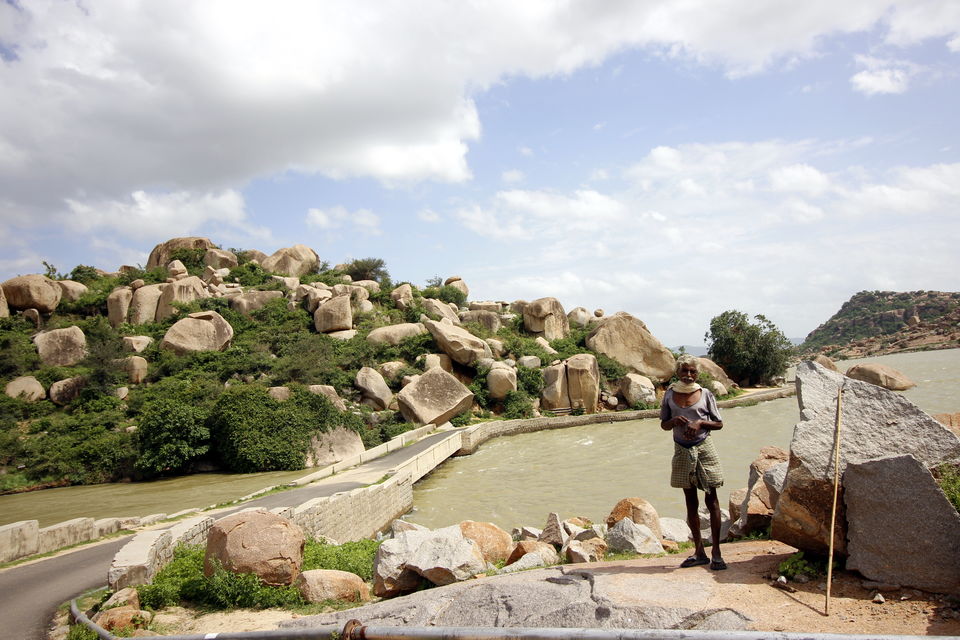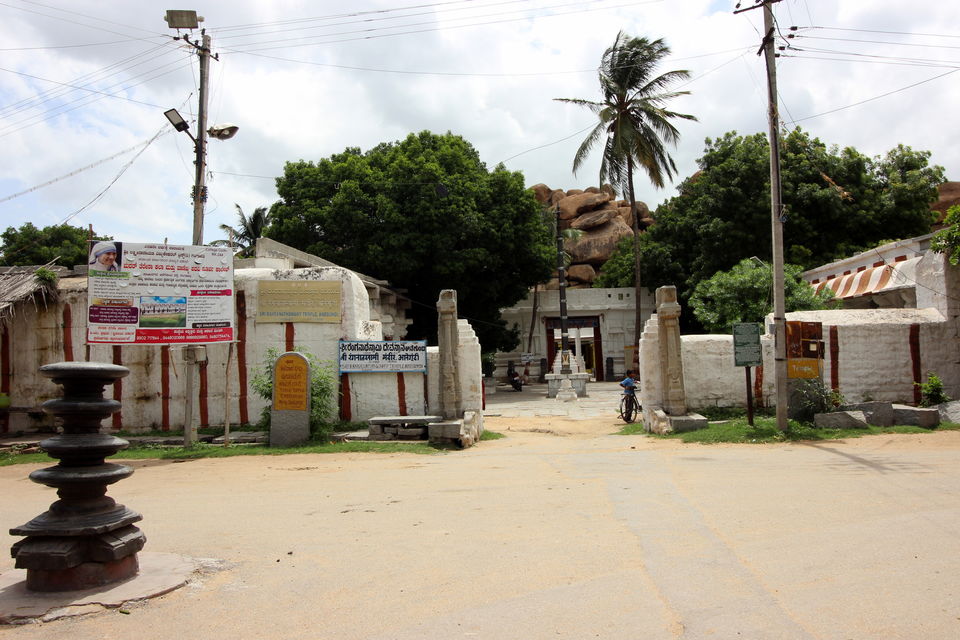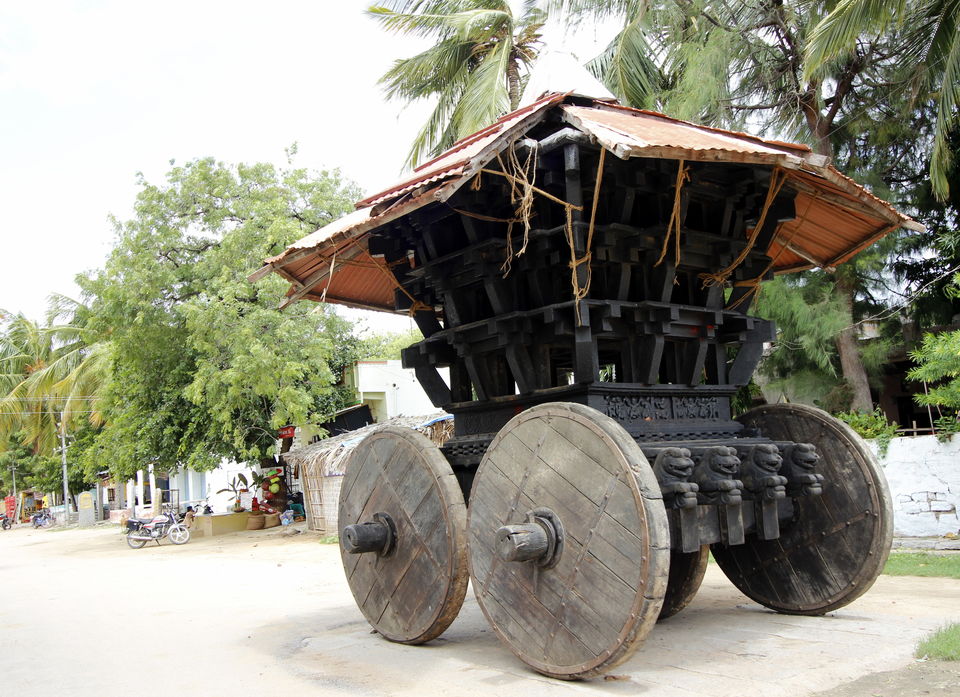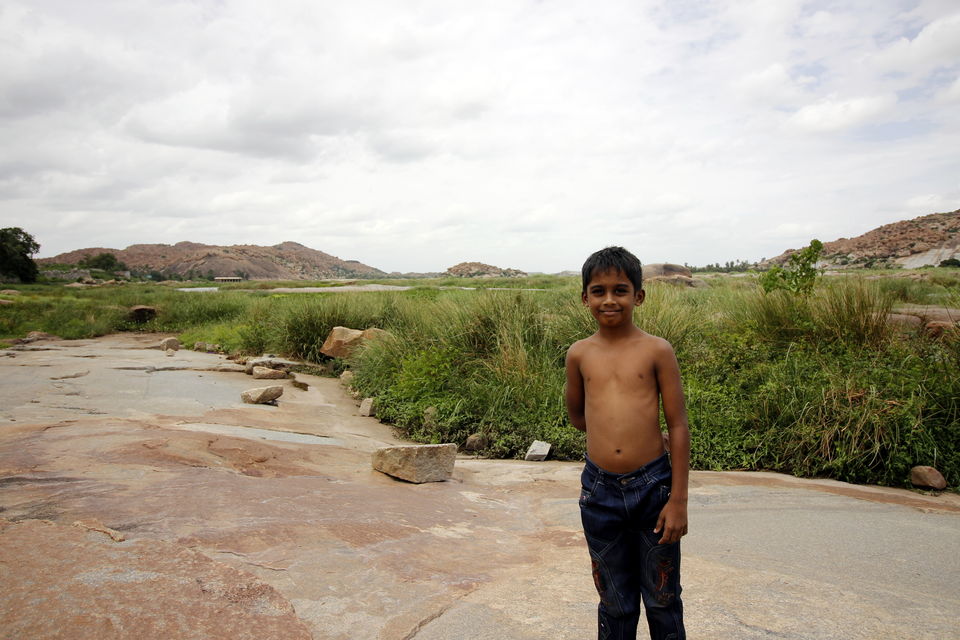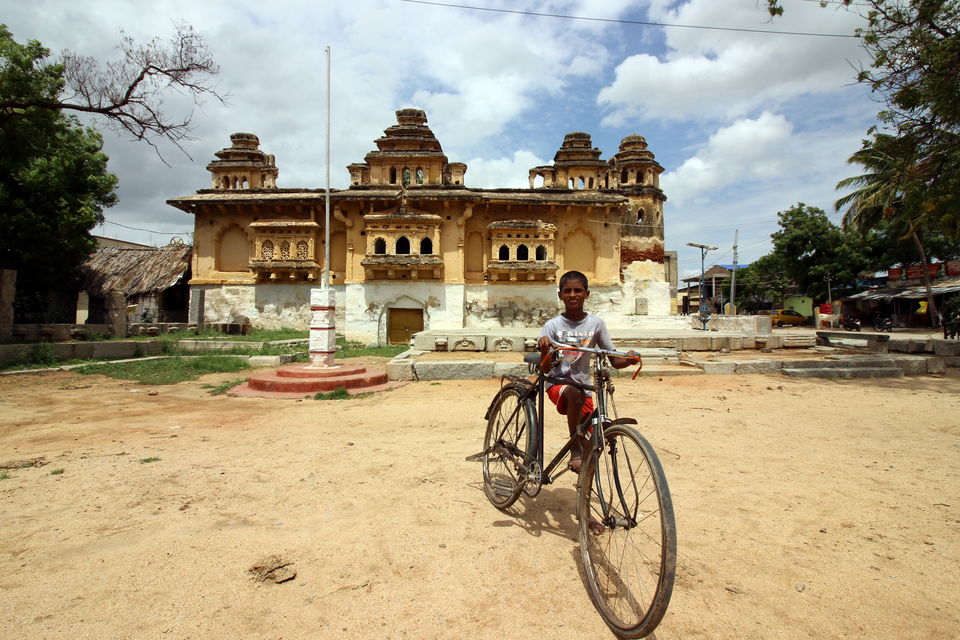 Anjanadri Hill:
Anjanadri hill is a tall hill which overlooks Hampi. On the top of the hill, a temple is situated and one could reach the shrine through a flight of steps (around 500….LOL!!!!).
According to the inscriptions, the Hampi area is generally identified with Kishkinda region as stated in the epic, Ramayana. It is in this area, the kingdom of monkeys existed and Vali, Sugriva and Lord Hanuman lived. Anjanadevi, mother of Lord Hanuman or Anjaneya lived in this hill; hence it derives its name after her.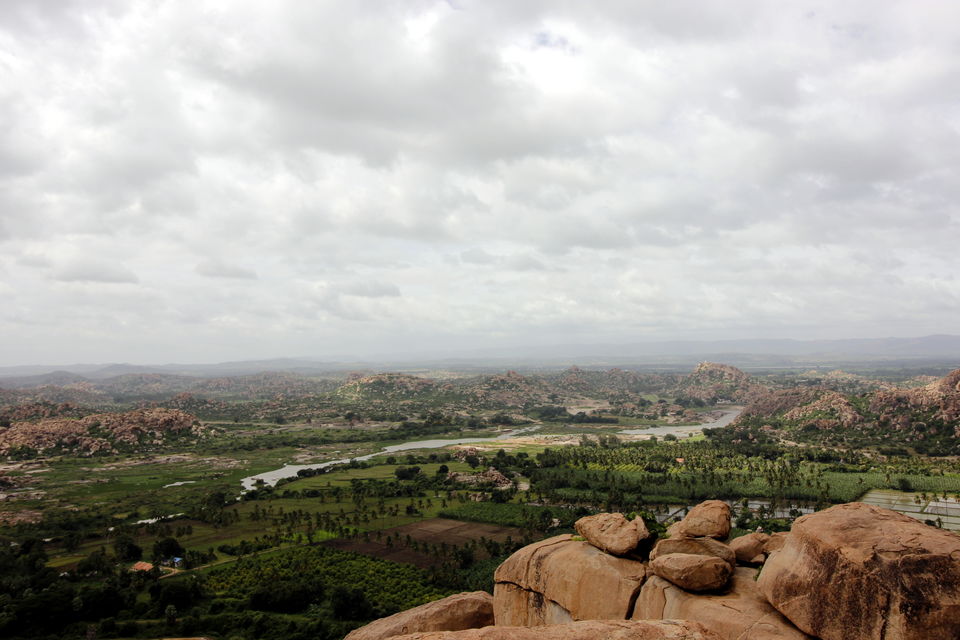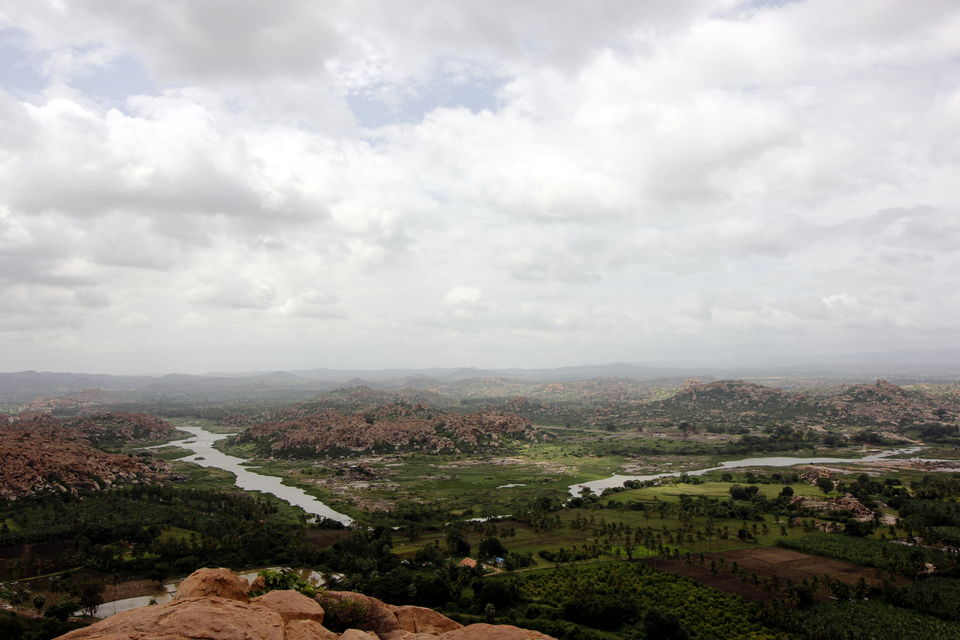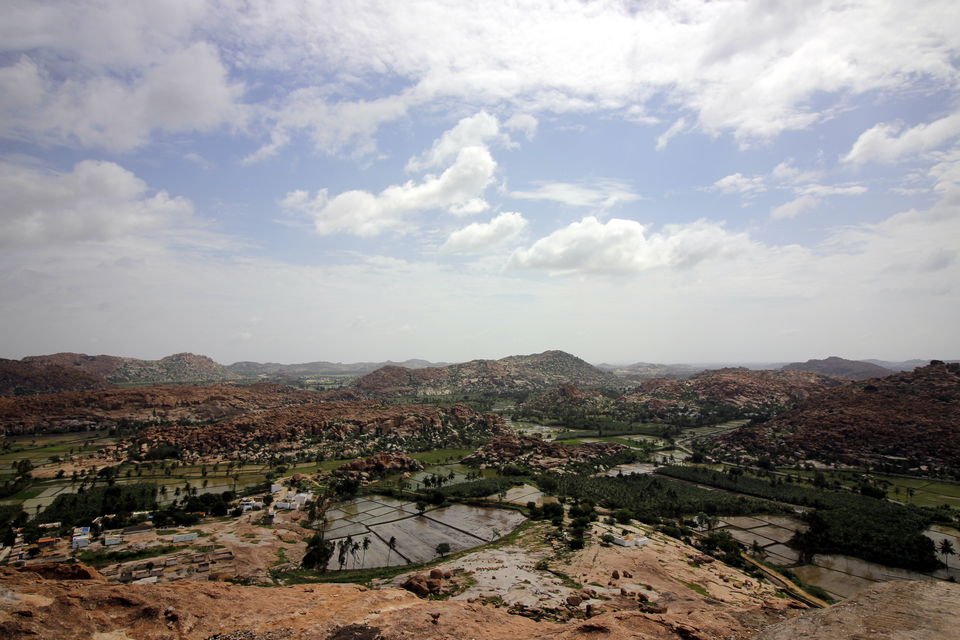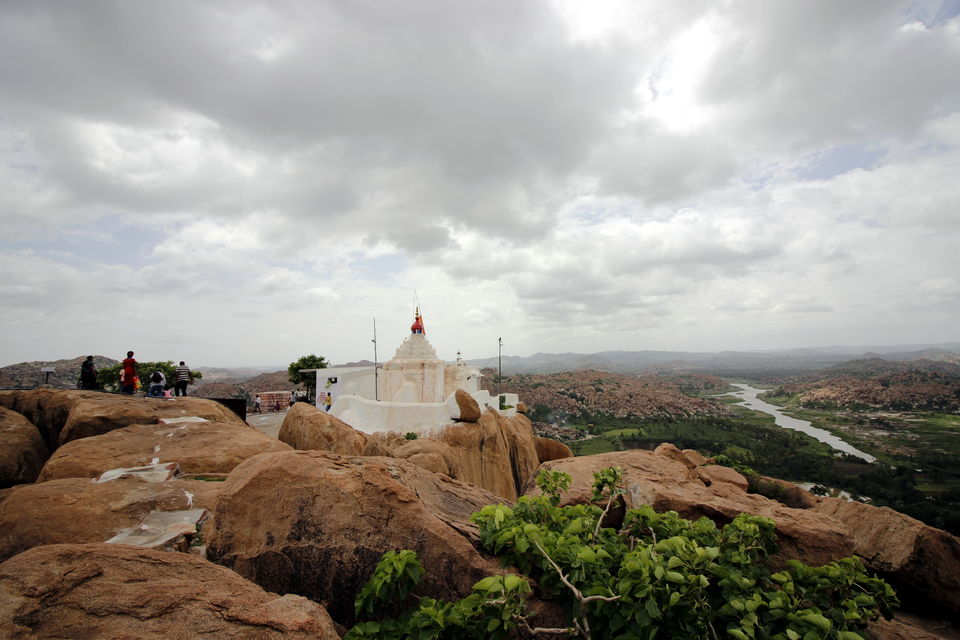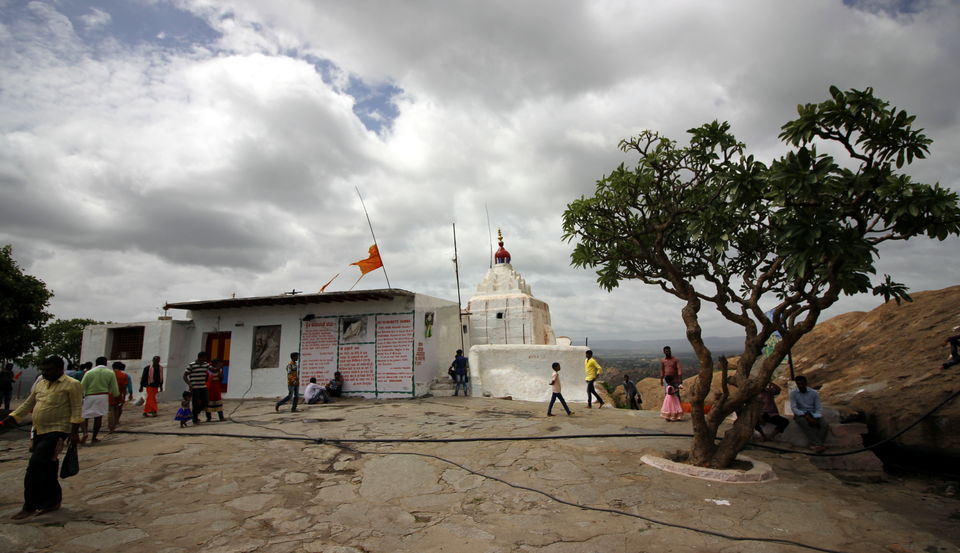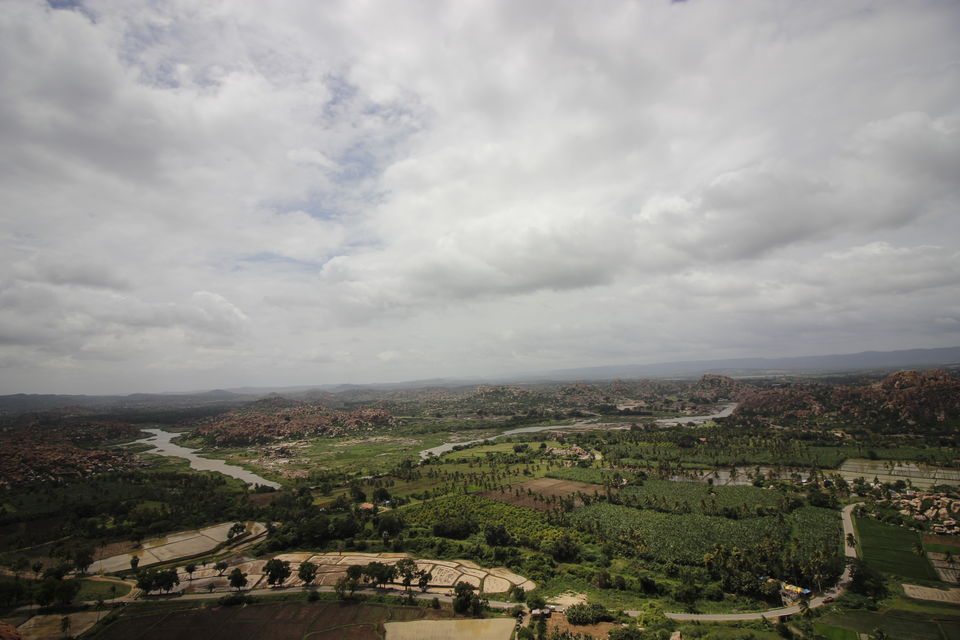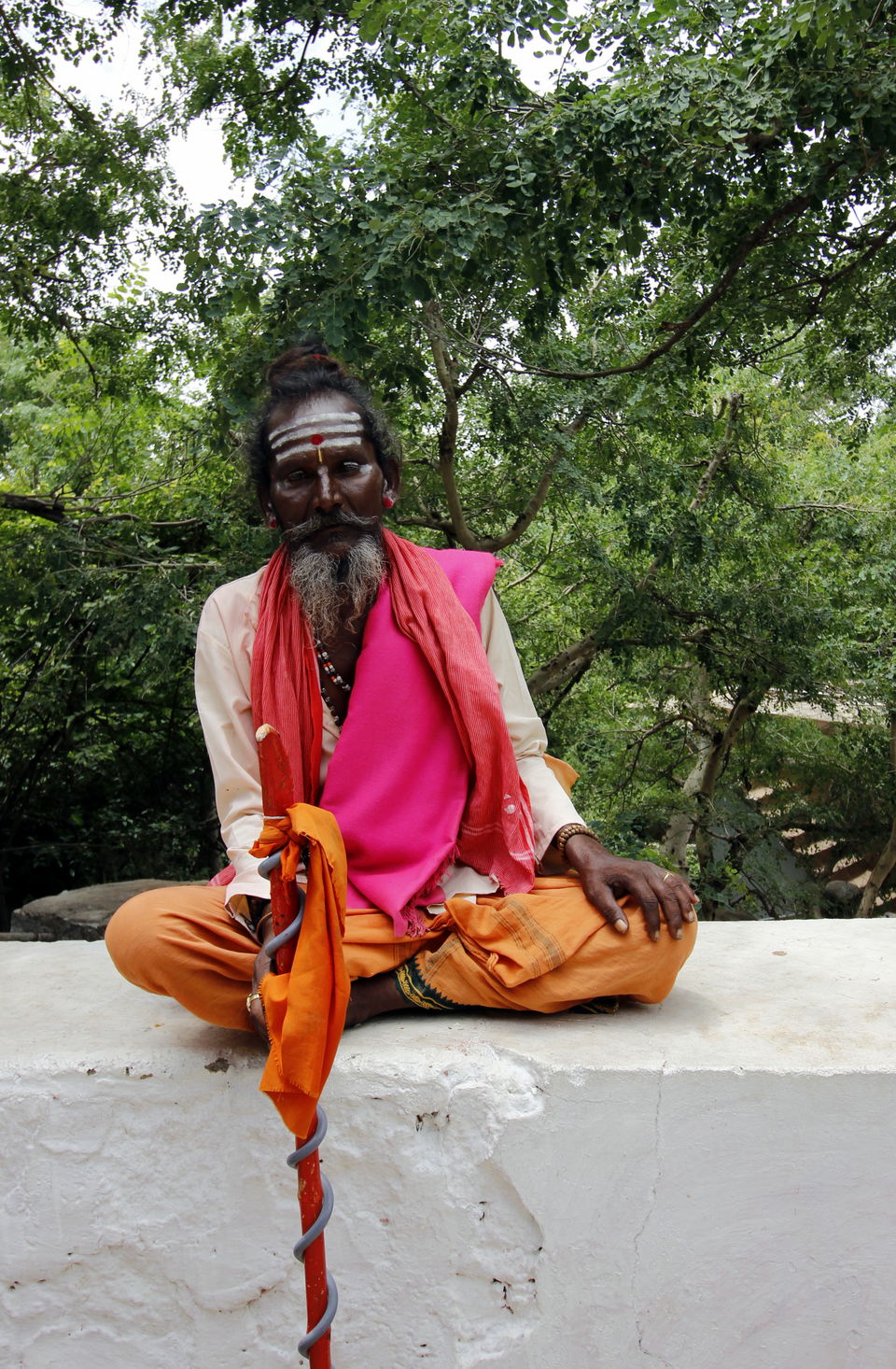 Pampa Sarovar:
Pampa Sarovar is a square tank situated at Anegondi. According to various literary works and inscriptions, Pampadevi, daughter of Lord Brahma conducted a deep meditation on the banks of a tank with the sole intention of getting married to Lord Shiva. Shiva pleased upon the prayers of Pampadevi, married her and blesses that the place be known as Pampa Sarovar. It is hence, considered a very scared and a holy place.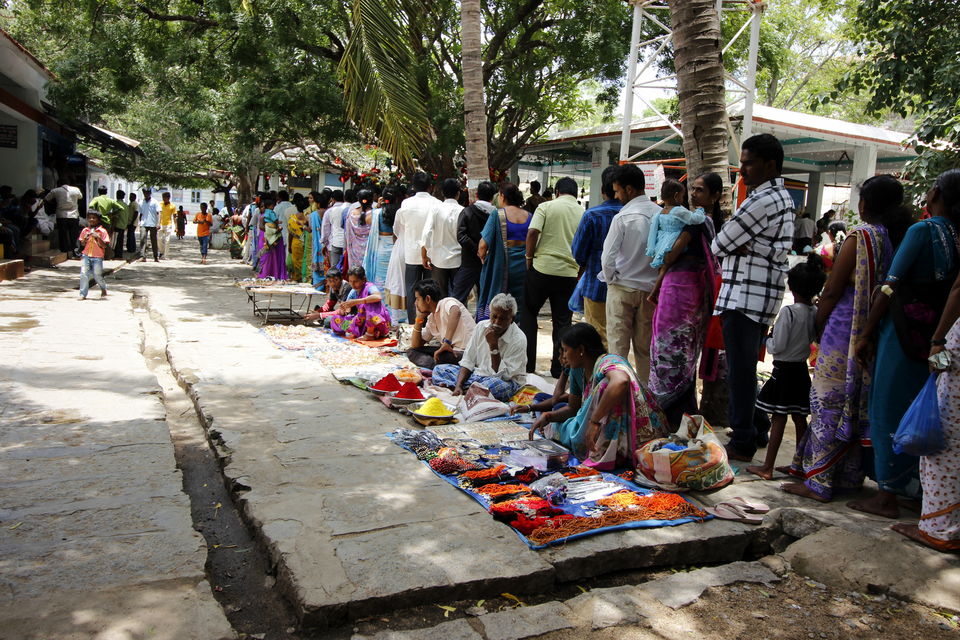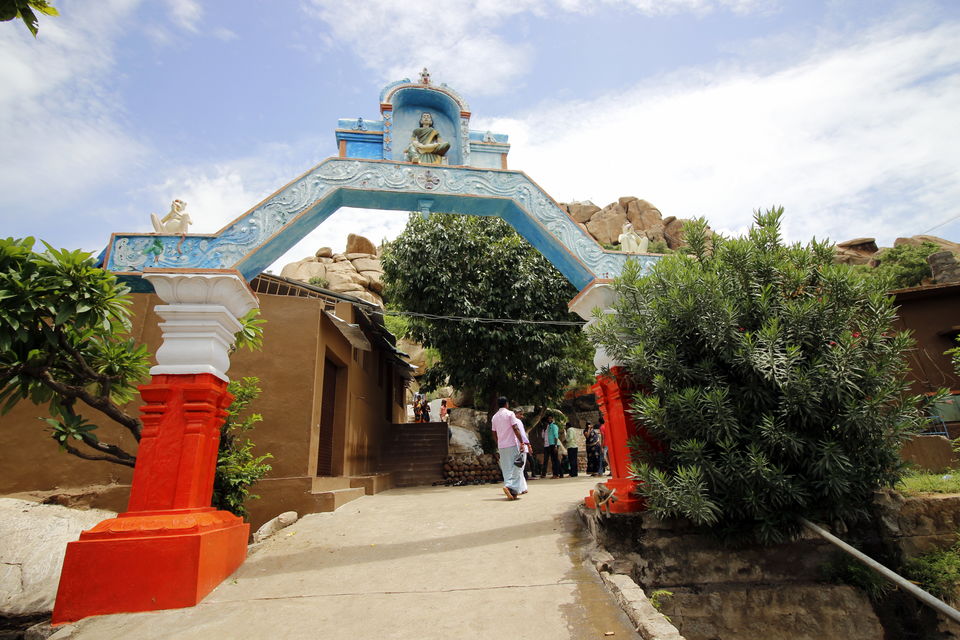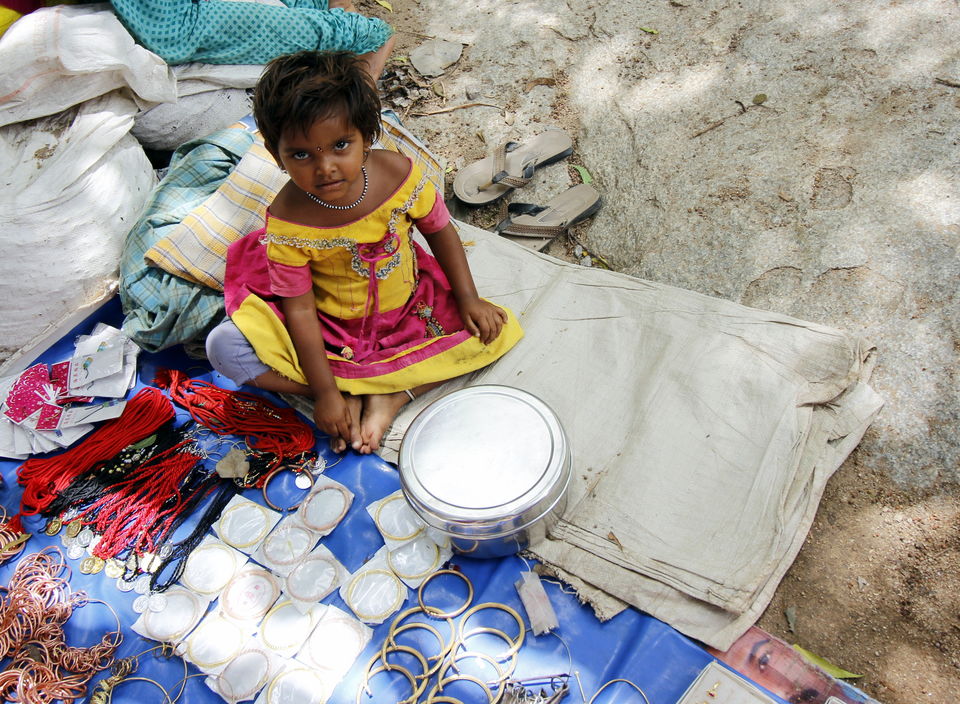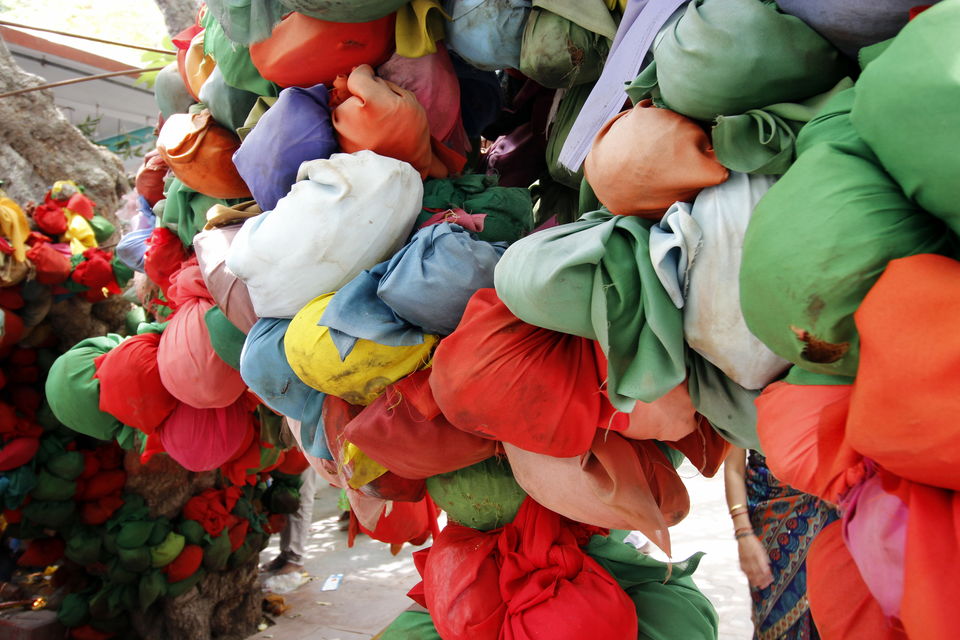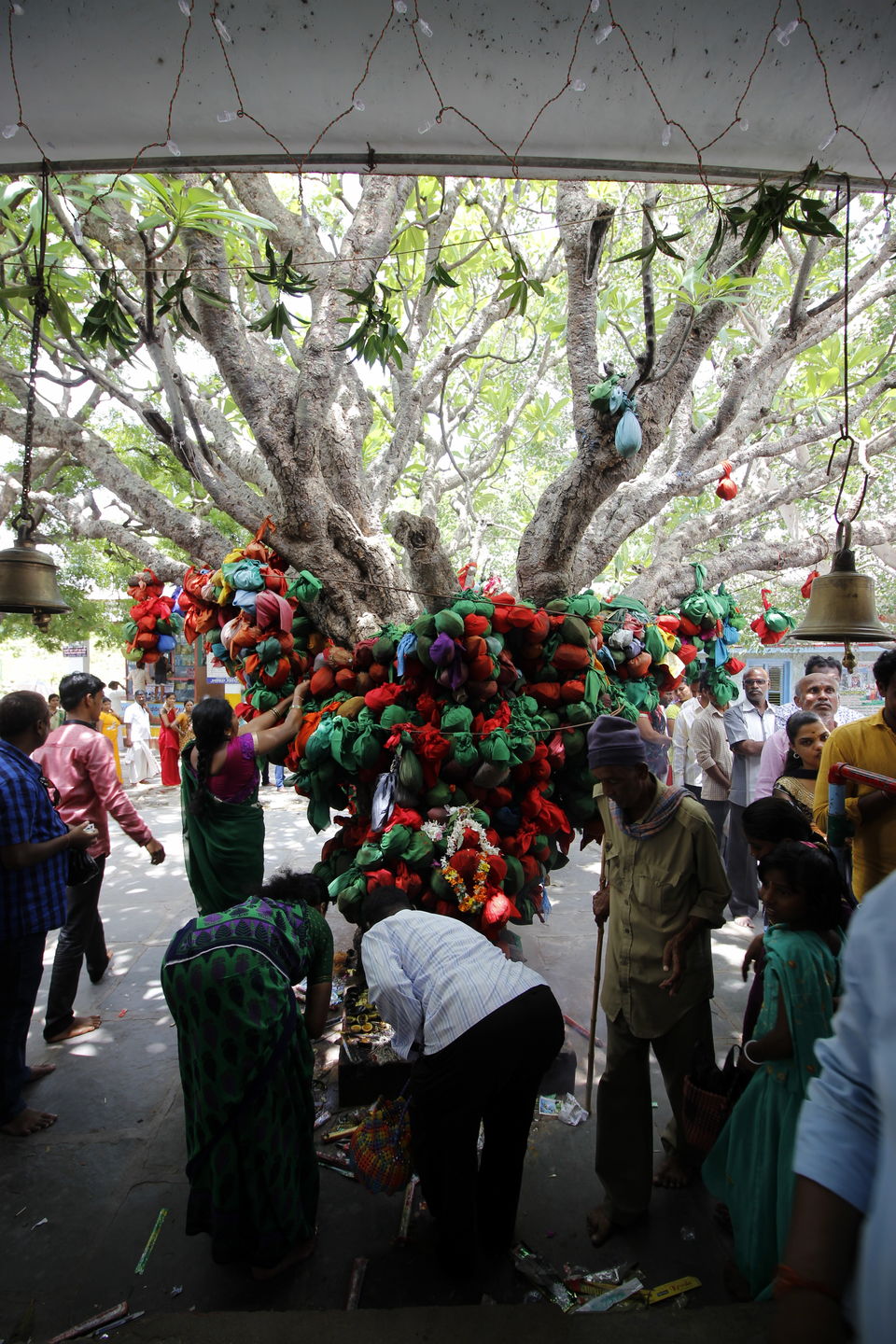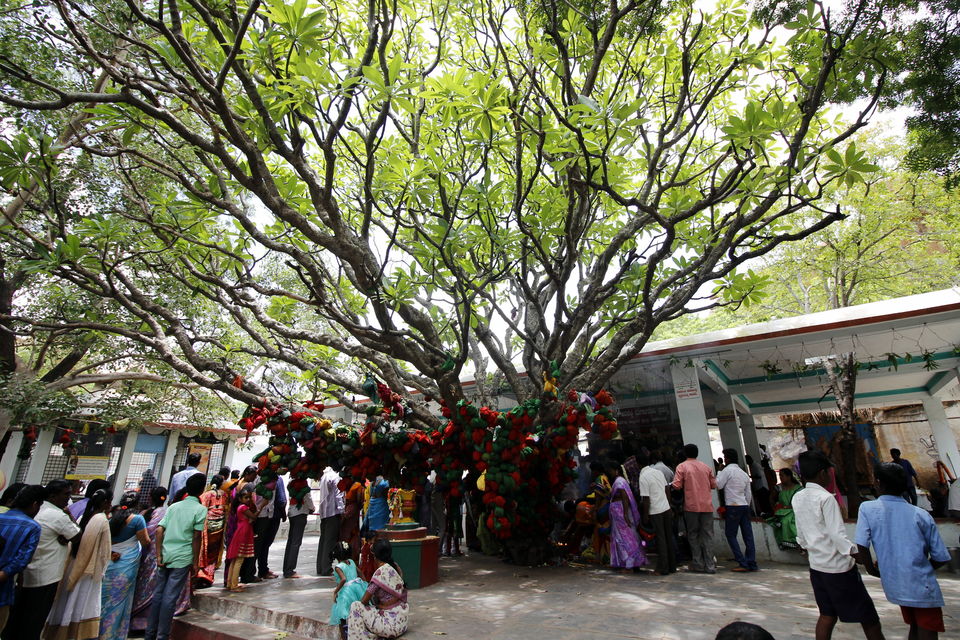 My share of stories about how I met some very interesting people and how I engaged myself in conversations about the nature of their lives, culture, traditions, travel inspirations and motives, over good food and drink.
It is through these various interactions with the locals and the fellow travellers, whom we meet along the way, have some of the most incredible stories to share and valuable insights to offer.
The following stories are accounts of my connections I had made along the path of my journey.
On the first day, I had met a group of travelers at a restaurant which I had visited for an evening snack after a tiring long ride from Hyderabad and a tad bit of freshening up. The group looked like a set of people from different parts of the world for sure as the peoples' faces looked quite contrasting with each other. I sat on a table (basically on a cotton mattress on the floor with chest level tables) next to them. I struck a casual conversation with that group wanting to know about their experiences, where they were from, etc. As the conversation grew, I found out that there was an Israeli couple, a group of French and another group of Spanish travellers who had met at Hampi as they were all living in the same guest house. Of which, the Israeli couple were on a pan India trip from the past 6 months by then, which took me aback and my respect towards them grew in a jiffy; and the French and Spanish travelers were in India from the past two and three months respectively. They were all quite young, probably the same age as me or a couple odd years older than me, in their late mid-twenties, travelling around an enthralling country that India was, with its stunning beaches, rich cultural heritage, ancient architecture and majestic temples, the never ending list goes on. Most importantly, all of them were genuinely kind and seemingly predominantly absent of any ulterior motives. All of them had quit their corporate jobs and ventured into travelling, majorly to understand life in a better way, to attain a greater extent of maturity and eventually become more open minded towards things, along their road to self-discovery. This experience made me re-establish my trust in people significantly.
Next, on the second day, I was strolling down the streets of the Hampi Bazar which had a slightly paced tempo due to the constant rush of travelers and locals and feel of the old times, but it was on equilibrium, a cheery affair. During this intriguing casual stroll, searching for something compelling to buy as a souvenir of this place, I came across a small shop in blue, in front of which, a person probably in his mid-fifties, was sitting in a chair sipping on his evening tea. Probably sensing my inquisitive nature, invited me in to his shop to check out the assorted collection of various things for sale. They looked quite interesting. The main attribute of that shopkeeper that captivated me was the way he was talking, pushing me to strike a conversation with him regarding common interests, if any. Further to our conversation, I got to know that his ancestral town was Kakinada and tis probably got us connected in a manner deep enough to keep me engrossed in the conversation for two hours straight. Next thing I know, I was invited for dinner at his house, which was about 5km from the guest house I was staying. I accepted his offer right away and went back to my guest house to unload my bag and get my bike. Meanwhile, he closed his shop and was waiting for me, sipping another tea, ready to leave.
It was quarter past seven in the evening by the time we reached his house. On the way, we had bought some snacks and drinks. His house was in the prime town area, in lane next to the bus station. We were greeted by his wife and he introduced me to his wife, who had asked me to feel at home. After freshening up, we sat in the living room to continue our conversation from where we had stopped; we spoke about a diaspora of topics ranging from sports to politics and entertainment to socio-economic issues. Meanwhile, his wife had prepared dinner, some nice tasty chicken curry accompanied with sambar and fryums with rice, I literally hogged on the food. As the conversation grew, I learnt about an enthralling fact about his way of life. And, that was inevitably our next topic of conversation.
His life story goes about like this: Mr. Venkateshwara Rao is the person's name. His father was in the IFS (Indian Foreign Service), so, from a young age, his family had been moving from one country to another once every couple of years, in accordance to his father's stationing. Mr. Rao pursued his graduation in India and then went on to do his Master in Business Administration (MBA) from a well-known university in London. Further to which, he joined an exciting role in a leading head hunting/executive search firm, with major stints in the U.K and the U.S, and then was sent to India to open an India branch office at Bangalore, where in, he performed extremely well. He had not only set up the India branch office, but also was instrumental in garnering a 300 plus clientele base. He received accolades for his business success. The firm, appreciating his work, had planned a similar assignment for him next, either in Singapore or New Zealand, leaving the choice of place to him.
So, here, another important snippet from his life came into picture, that is his family treats Late Shri Satya Sai Baba with ardent devotion, right from his father's time, making their family have a good personal connect with Satya Sai Baba himself. All crucial life decisions in their family were taken only after consenting with the Baba. Hence, following the same tradition, Mr. Rao went to Shri Satya Sai Baba's ashram at Puttaparthi, a town in the Anantapur district of Andhra Pradesh, India; to seek his blessings and consent over his next life step. At the ashram, for a period of six days, Mr. Rao had had been asked to wait by Satya Sai Baba each and every time he approached him to consent with him regarding his next hop and seek blessings regarding the same. Finally, on the seventh day, Mr. Rao had made up his mind to firmly put forward his thoughts as and when he met Baba that day, for which was his actual agenda, the reason why he had even decided to visit the ashram in the first place.
At this juncture, he eventually met Shri Satya Sai Baba and told him about why he had come to see him. After all his talk, Satya Sai Baba just said a few words, namely, "How much more do you want to wander?" [Translated into English, the actual phrase being in Telugu; "Inka enta tirugutav?"]. The Baba apparently just walked right away leaving his company. Mr. Rao was dumbstruck by the Baba's words, so much so, at that point in time, he wasn't in a position to comprehend the turn of events and countless random thoughts were running amok through his head. Finally, after a couple of days of deep thought into the matter, Mr. Rao decide to stay back at the ashram by declining the offer of the company he had been working for all these years, and also resigned his job. He had decided to leave aside all the materialistic things and live a simple life at the ashram along with his wife and daughter, by indulging in service to Shri Satya Sai Baba, to gain an upturn in understanding life in a better manner and attaining peace simultaneously. And this went on for a period of six years, after which on one fine day, Satya Sai Baba himself personally met Mr. Rao and had advised him to leave the ashram as the Baba felt it was time for Mr. Rao to take of his family, i.e., his wife and growing daughter, to which Mr. Rao was not ready to accept as he wanted to stay the ashram doing service to the Baba and to continue his life with a new found meaning. This decision of his, basically his thought, was politely turned down by Satya Sai Baba and after further rounds of realistic elucidation, Mr. Rao decided to move out of the ashram. And since he had wanted to be close to the ashram, he decided to set up a souvenir shop along with a publication trust inclined with the vision and mission of Satya Sai Baba, which was blessed by the Baba. This continued for a period of four years, meanwhile his daughter had come to the graduation stage, and hence, under the guidance of the Baba, he had enrolled his daughter into the Law College that was affiliated to the Satya Sai Baba Educational Institutions at Puttaparthi. Next, Mr. Rao and his wife had decided to shift to Mysore, their family hometown, now that their daughter had joined college and had gotten busy with studies and other college driven activities. In Mysore, they had set up the same business, souvenir store as it was blessed by the Baba, and lived a peaceful happy life over there for a span of 5 years. Further, their next hop was Hampi. They had relocated to Hampi a couple of years ago, continuing the same souvenir shop business. And, this was the time when I had met them. Now coming back to the present, Mr. Rao and his wife have decided to stay at Hampi for another couple of years before they decide to hop on to a new place to embark on a new journey revolving around discovering new cultures, meeting new people, understanding local culture and traditions better on a first hand basis. So, this is about Mr. Rao and his family.
So, this is the life they had chosen to live which I believe is a constant learning process, gaining wisdom along the way and unwinding themselves into better human beings with a beautiful understanding of happiness. Meeting this person and his family, and the conversation that unfolded was truly inspirational. More to that, taking such a huge life decision to lead a simple life, especially after experiencing many highs in life, and most fascinatingly being as happy as a clam about the way of life chosen, was extremely thought provoking and also, was what inspired me the most. This experience helped me amass a new meaning for life and also boosted me up with various positive thoughts about the way of life. It made me realise and reinstated the age old fact that money and assets are not at all the important aspects of life, in fact they instil the fear of losing in you and also that it is the kind of experiences that we encounter and the way we swim our way through those situations define our values, character, wisdom and in turn, our life altogether.
Places to eat