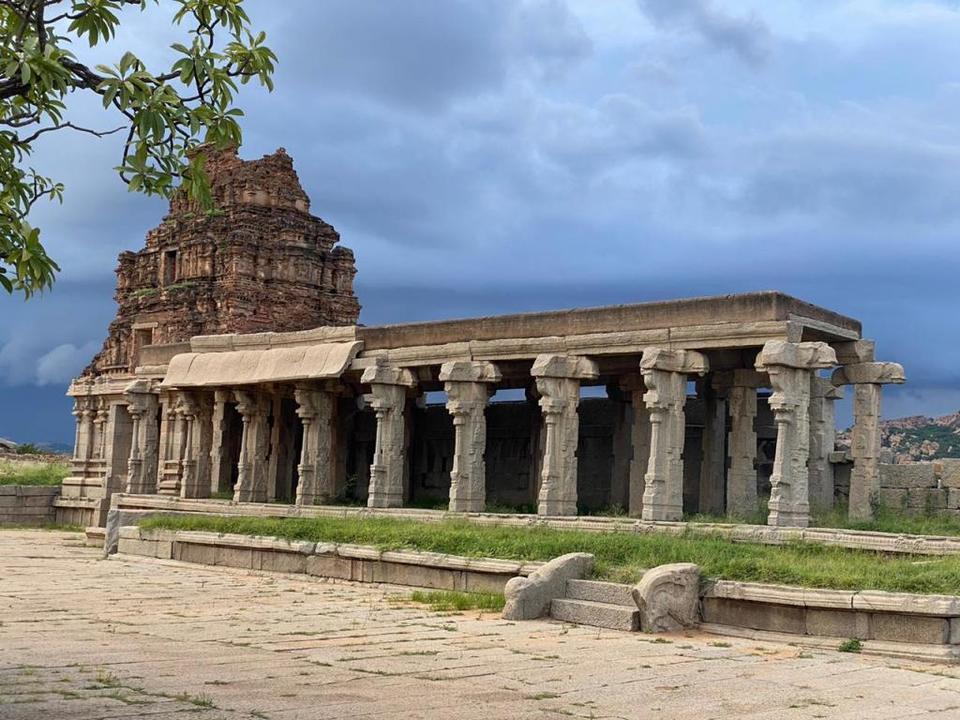 That one liner "You will love Hampi" appealed to my traveller soul and thus I decided to pay this UNESCO world heritage site a visit at the first opportunity. Listening to my inner voice once again yielded me an experience extraordinaire. Not only was the place magical but the road trip on my motorbike to Hampi was exceptional too, as I travelled between two different eras or time zones during this trip. Reaching Hampi was actually like being a part of that golden era of Vijayanagar Empire as all that meant being in the 21 st century was forgotten in an instance. Hampi is surreal. It is actually like experiencing a time travel. The roads leading to Hampi are equally exciting as you witness the greens, the emerald paddy fields, the mountains made of huge stone formations and what not.

Wait is over -
My ride started from my hometown of Kalaburagi (Karnataka) and I travelled 220 kilometres to Hyderabad via Mumbai-Hyderabad National Highway 7. Road trips are all about excitement, uncertainties and thus they are thrilling. On this ride, I had an unforgettable experience of riding my bike through a road flooded with water from an overflowing canal. There was water everywhere owing to a heavy downpour the previous night.
The sight of that flooded place gave me goose bumps as I awaited my turn to pass that horizontal cascade. Crossing that flowing water was one experience that I am going to cherish for a long time. It was like I was riding on a river for quite some distance. The best thing about a road trip in the rainy season is the serene atmosphere that helps to go long distances without tiring yourself. Fresh air, dark clouds, cool breeze, lush green surroundings and presence of water everywhere energizes you. It took me 3 hours to reach Hyderabad and I spent a peaceful night at a lemon tree hotel after handing over my motorbike at a servicing station.
Picking up my bike the next day, my journey towards Hampi had resumed. I had to cover a total distance of 375 kilometres and it was going to take me at least 8 hours. Then as I crossed Gangavathi, I entered into a new world; the golden era of India. I was entering the magical world of Hampi, where the stories of a bygone illustrious era are being told through the magnificent ruins and beautiful temples with intricate architecture. The paddy fields and mountains with huge rocks on the way gave me a glimpse of the things to come.
At 6.15 pm, I touched Hampi. I never wanted to stay away from the magical temples and the ambience of a glorious era. I wanted to absorb every sight and thus chose to stay at a local guest house that offered a perfect view of the temple and its surroundings. You should not miss the experience of sunset with the gigantic monolithic rocks and monuments in view.
Hampi vibes -
For the next three days, I was hijacked from the 21 st century into the golden era of Vijayanagar Empire. The surroundings, the temples, the spiritual experience, the legendary stories carved in stone, the stories of valour, commitment and struggles narrated by the government approved guide, etc. was very life enriching for me. The Ramayana connection of Hampi is also interesting. Hampi has a special place in the Hindu religion and also a place in the world for its UNESCO heritage tag.
My 3 DAY ITINERARY OF HAMPI
To understand, absorb and live a bygone era, no time is enough. You almost want to stay at this place forever. However, those 3 days spent at Hampi was a decent period for me to explore its magnificence. My 3 day itinerary is as follows:
DAY 1
Virupaksha temple:This is one temple that was safe from the destruction unleashed by the invaders. The idol is intact and it is the only temple where worship is regularly done. Its tall gopuram towers over the Hampi Bazaar which is quite small in size and dusty too. This temple is very significant for Hindus as Lord Shiva was married to goddess Parvati. My tourist guide narrated the entire story explaining the story in the carvings and meanings of the rituals.Taking the guide proved to be a blessing otherwise I would not have known about the secret underground temple dedicated to both Shiva and Vishnu. There is a small room at the back of the temple from where you get to witness an inverted image of the temple's main gopuram on the wall.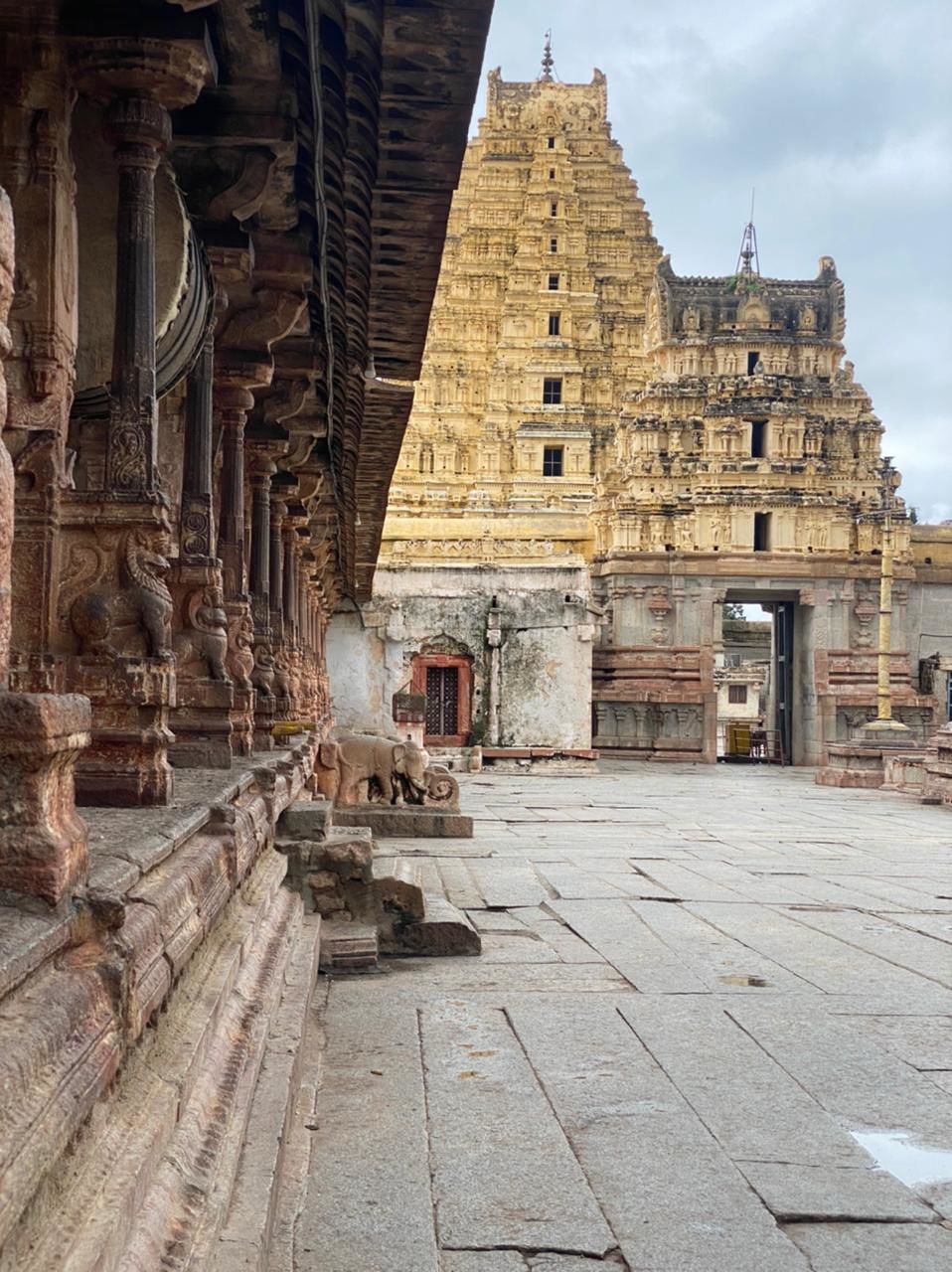 2 ) Kadalekalu Ganesha:
The 4.5 meter tall monolithic statue is seated in a shrine with many surrounding pillars. The statue's abdomen was broken during The Deccan's attack on Hampi, which now resembles the Bengal gram; hence, the name KADALEKALU Ganesha. Unlike the Sasivekalu Ganesha, the Kadalekalu Ganesha was then open only for royal family members and royal guests of the Vijayanagara empire.
3) Sasivekalu Ganesha :
Sasivekalu Ganesha is a small shrine dedicated to lord Ganesha. Here, the lord is presented with four arms and seated on lap of mother Parvati. The sight of this place has a magnetic feel to it as you get drawn towards it.
4) Sri Krishna temple:
This beautiful temple was built by Sri Krishna Devaraya II in 1513 AD to celebrate his victory over Kalinga. Watching minutely the smaller details along with the explanation from the tour guide was very entertaining and informative experience.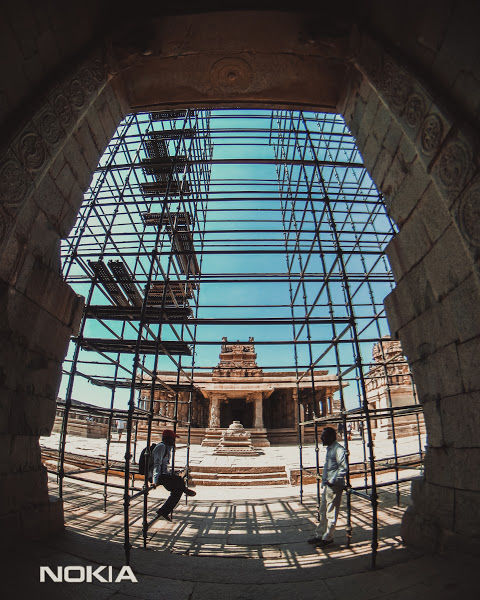 5) Hemakuta Hill Sunset :
Do not miss the sunset at Hemakuta hill, which is adjacent to Sasvikalu Ganesha and Kadalekalu ganesha. You will cherish the sight and it will inger in your memories for a long long time.
On this hill, there are two huge statues of lord Ganesha and a 6.7 meter lord statue of lord Vishnu carved out of a single boulder. It has the head of a lion and a body of a man that lays under a 7 hooded serpent.
DAY 2
Go to this place to watch a beautiful sunrise. Salute the power source that runs all the ecosystems on the earth. Make sure that you have shoes with good grip as you need to trek this place. Elderly people should avoid this place as it might prove strenuous.
2) Badavi Linga:
This monolithic shivalinga is situated close to the Krishna temple, with its lower body submerged in water all the time. The divine linga is about 3 meters high and it has a third eye carved on it. This was not the first time that I was having a darshan of a Shivalinga, but it certainly was my first time to watch a Shivalinga so ancient and beautiful.
3) Ugra (Lakshmi)Narasimha :
This massive statue of lord Narasimha seated in yoga mudra on a seven-hooded snake is indeed an experience to witness from close quarters! This 6.7-meter-tall sculpture was carved by the sculptor Krishnabhatta in 1528 AD as a symbol of his devotion towards the lord Lakshmi Narasimha.
4) Hajara Rama Temple
This temple was built in the courtyard ('hajara' in local language) of the royal palace and dedicated to Lord Ramachandra. Hence it is named 'Hajara Rama Temple'. This 15 th century temple was built exclusively for the devotees of the royal families and was not open to the public. Although not in good condition, the beauty of this temple is magically inspiring.
5) Mahanavami Dibba
This Elevated platform once used to be a grand hall for the celebration of the Mahanavami festival. Hence the name 'Mahanavami Dibba'. Built mainly of granite stones, the platform has many steps leading to the top.
Mahanavami Dibba, Royal Enclosure Hampi
6) Pushkarini ( Stepped Tank )
This Pushkarini is situated very close to the Mahanavami Dibba and is undoubtedly one of the most beautiful Pushkarini in Hampi. This prefabricated ornate schist stone stepped tank was unearthed by the Archaeological Survey of india (ASI) during excavation work done a few years ago in the royal enclosure area. I had explored the place at a snail's pace to know the story completely as I am a history person. If you wish, you can do the complete tour in 2 days.
Day 3
Kamal Mahal, Also known as 'Chitrangini Mahal' is a two-storied open pavilion, square on plan with recessed sides. This beautiful structure was built in rubble masonry and finely plastered to give a smooth wall finish.
This huge structure with lofty domed roofs is seen facing west, just outside the Zanana area (fortified and secluded area designed for the residence of the royal ladies). The 11 spacious rooms with domes of different shapes (square, round, octagonal, and vaulted) look amazingly royal and symmetrical from far.
Elephant Stable
Queen's Bath
This large square structure is located very close to Kamalapura in Hampi. This south-facing structure has a bath area 15 square meters and is 1.8 meter deep with many Indo-Islamic styled arches. This was the private bath house of the royal ladies with an access to the roof so that royal ladies could also enjoy a sunbath occasionally.
Vijaya Vitthala temple Complex
This temple occupies the numero uno position amongst all the temples at Hampi. This is one of the most-visited temple complexes in Hampi. It represents the architectural perfection and grandeur of the Vijayanagara dynasty.
Stone Chariot at Vijaya Vitthala Temple
The reverberating musical pillars are also a part of this temple and to avoid damage, tourists are not allowed to play these musical pillars.
The Vijaya Vitthala temple complex stands proudly on the southern bank of Tungabhadra river facing the Vitthala bazaar.
Temple inside Vijaya Vitthala Temple Complex
Malyavantha Sunset
Very few people actually show interest to visit this place but actually it's really worth for sunset view. You have to walk some 200 meters to witness the vast sunset point just behind the Raghunatha temple.
1) When to visit Hampi ?
October to February is best time to visit the hampi. You will love the weather which is perfect for exploring the world Heritage sites.
2) What to pack for Hampi ?
Comfortable clothes, Toiletries, A DSLR or any smart phone with good camera, Sunglasses, Sunscreen above SPF 30 and lip balm. Do not forget to carry cash. Keep your debit and credit cards with you.
3) Where to stay at Hampi ?
Staying near the monuments and temple is an unforgettable experience. I recommend Padma guest house as it offers one of the best views of the temple. Owing to its location, it is easy to explore nearby places. The Room tariff varies from Rs. 700 to 1500 and it may cost you Rs. 2000 in peak season for a double occupancy A/c room.
4) Best places to eat in Hampi?
Hampi has the best organic food in town ranging from South Indian to North Indian and from Israeli falafel shakshuka to Italian pasta and pizza.
Chill out Ganesh restaurant (organic food) is a must1) Shakshuka falafel
2) Any pizza
3) Polo 65 (chicken )
The rate is Rs. 400 to 600 for 2 persons. The Mango tree restaurant is also a must try. The Veg thali with roti and curry will cost you Rs.300 to 500 for 2.
5) Is Hampi safe for solo female traveller ?
Yes Hampi is undoubtedly safe for solo female back packers. People of Hampi are pro-tourist and incredibly friendly. Hampi is one of the safest places for female travellers.
6) Places where you will witness breath taking sunsets:
Matanga hill (Sunrise) 25 minutes trek
Malyavantha hill (Sunset) 10 minute walk
Hemakuta hill (Sunset) 10 minute walk
Anjanadri hill (Sunset) 1 hour (550 steps)
7) Transportations in and around Hampi ?
Vehicles of all types like E-Bike, scooters, Motorcycles and cars are available on rent facilitating your movements.
Tariffs for E-Bikes range from Rs. 200 to 300 per day
Motorcycles cost Rs.400 to 500 per day
Car rentals vary from Rs.1500 to 2000 per day
You may get in touch with Parmesh bikes and cars. Their contact no. is: 9480213640
8) What clothes to wear at Hampi?
As Hampi is a temple place, it is recommended to wear clothing that is covering the body properly. Avoid wearing hot pants, crop tops, and other clothes that show too much skin.
9) Are ATM's and credit cards accepted in Hampi?
Card payment not available due to network issue. There is no ATM facility, therefore carry cash with you. Withdraw the cash at Kamalapur which is 5km on the way to Hampi. Only a few restaurants have access to Gpay and Phone pe and other payment apps.
10) How much does a trip to Hampi cost ?
It all depends upon your comfort zone where you want to put up as Hampi has budget home stays to luxury resorts. I had explored Hampi with guide inclusive of all meals and stay (AC) for 3 days under Rs.5000.
11) Which mobile networks work in Hampi ?
Only BSNL network works in Hampi.
12) Train, bus or cab - which is the best mode to get into Hampi?
Hospet is main junction near hampi. It is 13 kms away for which the auto rickshaw will charge you around Rs 150 and the bus will charge you Rs 12. You can find a bus every half an hour. The buses operate from 06:30 am to 08:30 pm. For people travelling from Bangalore, the road distance is 350 km. Train Journey will take 9 hours. Train Journey Fare will cost you Rs 350 (Non-AC) and Rs 500 (AC). The journey by bus will take 7 hours and the cost ranges from Rs. 500 to Rs. 700.The nearest airport is Bellary Jindal Vijayanagara airport which is 36kms away from Hampi.
Things to remember while visiting Hampi
Please note that Veepapura Gaddi (hippie island) is totally demolished by the government (no home stays and restaurants). Do not forget to bargain hard. Maintain decent dress code while visiting the temple. Hire KSTDC approved guide to know the finer details of the forgotten empire. You may contact Manjunath guide on his mobile number 9620662209. He knows many languages like Hindi, English, Kannada and Telugu. Photography allowed but video camera, drone and tripod prohibited. Most of the monuments in Hampi are open for visitors from 8 am to 6 pm every day. The entry is free.Vijaya Vitthala temple, Hampi Museum, Lotus mahal, Royal enclosure area need 40Rs entry fee. That 40Rs ticket is applicable at all mentioned location for same day.
Note: No cash is accepted here. Tickets through UPI only or you may buy tickets at asi.payumoney.com
For more backpacking and adventure trips do check my personal blog - Nomadic Travel Stories