It was a very unexpected visit to Hampi.Me with my family members planned to go to Kerala(my hometown) in Dusshera holidays of 2015.I heard of Hampi just a week ago before our trip from a travel blog i felt that it would be difficult to go as i came to know that roads to Hampi is not well maintained and it is situated in a village area.
So, started at morning 5:30am in Innova and got on to 555km long Hyderabad-Bangalore Highway heading to vadakara(my hometown in Kerala).On the way saw some interesting videos on Hampi and showed it to everybody.We stopped at Kurnool at around 9 a.m for having breakfast and it was from there we set up our minds to Hampi.Kurnool to Hampi was 211km with a journey time of 4 and a half hours travel time according to google maps.
A right turn from Gooty national highway will take you to Bellary and finally to Hampi. At the time of our visit,the roads were in very bad condition."Is it the road to The famous Hampi?"-i had a doubt throughout the journey.But kept my belief alive on google maps :) .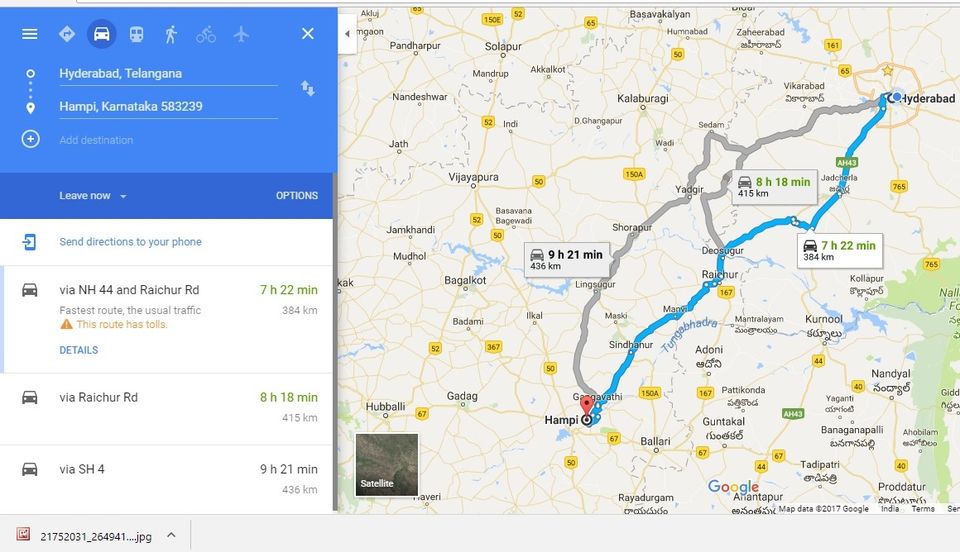 Around noon 1 o clock we reached Hampi.I could see village boys jumping from a bridge into the canal nearby as we neared Hampi.parked our Innova in parking space and rushed to the famous Virupaksha temple.It was too hot though it was not summer .Virupaksha temple relishes with it's looks.It has a Drawidan style gopura.It has a lot of monkey in it.They were so ferocious on that day and tried to attack some of the tourists.From the backside of this temple complex,you can have a view of the magnificant Hampi...so peaceful sight.
In the same temple there is a gopura (opposite to entrance) which has a small slit inside it which forms inverted image of entrance gopura inside it without help of any lenses used...greatness of science at that era.
Searched for good hotels in Hampi and finally got into three mangoes hotel.It was a small hotel with heavy rush,average food and 3/4th of the hotel had foreigners and we had to wait 15 min to get seat.
We had prior made list of places to visit in Hampi and made a time plan.so after lunch we rushed to complete the places in the list but we were not able to execute the plan due to the reason that we have to leave Hampi by 5 p.m as we had to reach Kerala border by night.
So as fast as possible,went up to many of other sites to cover maximum places possible like underground shiva temple,queen's bath and some other sites.
If you go to Hampi,you should have plenty of time to enjoy the place.Hampi is an explorer's paradise.if you have a well planned trip,it will be an unforgettable trip.