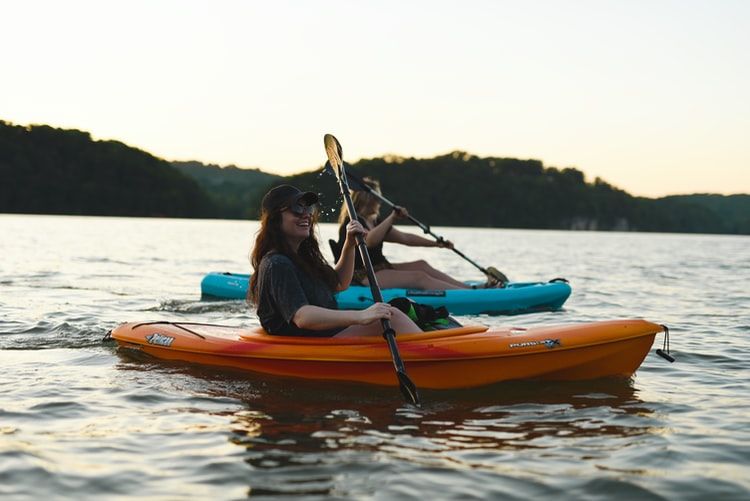 Bangalore is surrounded by some of the most beautiful lakes and rivers in the world, beckoning you to jump into the cold water and splash around to your heart's delight. Kayaking tours in Bangalore have been growing popularity, and more individuals are venturing out to try their hand at the activity, as well as to repeat their participation. Kayaking, as the name implies, involves a Kayak, which is a low-to-the-water cone-like watercraft in which the paddler or an individual inserts his or her legs leaving them straight and sits facing forward.
1. Camping Paradise Kerekaadu
Kerekaadu Camping is a lovely natural setting within a few hours from Bangalore. You can have a true camping experience away from the rush and bustle of the city, with the majestic Savandurga Hill as a backdrop and crystal blue water. On your little vacation, disconnect from technology and enjoy the best that nature has to offer.
Location: Veerapura, Ramanagara, Karnataka.
Check-in Time: 9:00am
Check-out Time: 11:00 am
Price: INR 1,500 (approximately)
Things to do:
a. On-site activities: Go for a trek and enjoy the lush greenery and rocky terrain. Spot the wildlife in the surrounding area. Paddle in the water with a kayak. Splash into the water for a refreshing swim. Build a campfire and sing songs under the stars. Cook your own meal on a grill.
b. Off-site activities: Go for an early morning trek on the Savandurga Hill. Identify the flora and fauna around the area. Go for an evening walk around the campsite. Read a book near the edge of the water.
Note: Dinner and drinks are excluded. Only breakfast is served in the morning. Guests usually prepare or cook their own lunch/dinner at the campsite.
2. Kanakapura Nature Adventure Camp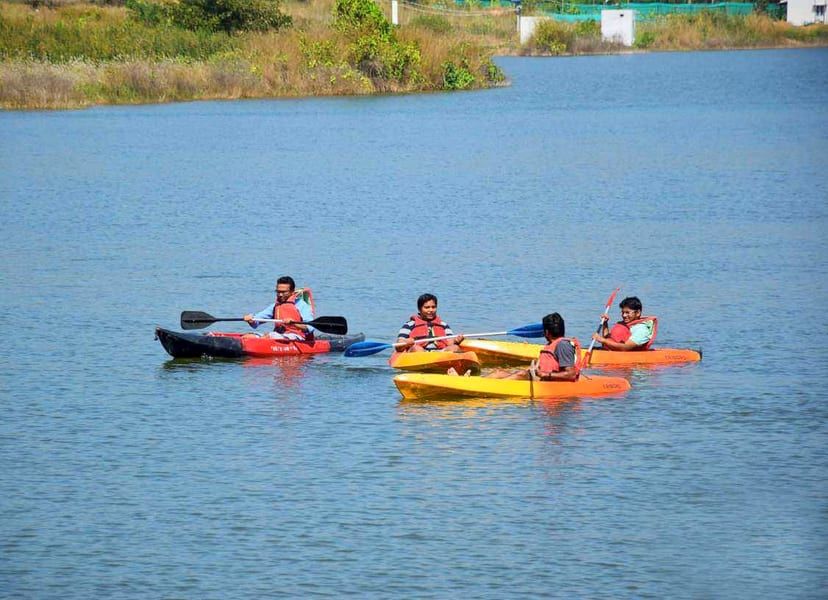 The Nature Adventure Camp will assist you in immersing yourself in nature and discovering the wonders of the outdoors. This camp, which is bordered by the Hasadoddi Lake and surrounded by the lush Bananthimari Forest Area, offers treks, cave investigations, rock climbing, kayaking, and other activities. You receive a glimpse of Mother Nature in all her glory as adrenaline rushes through your body, and you leave the fast-paced metropolis behind.
Location: Kanakapura, Bangalore
Check-in Time: 12:00 am
Check-out Time: 12:00 am
Price: INR 1,000 (approximately)
Things to do:
a. On-site activities: Hike to Devara Gudda hill top and encounter lush bamboo forests, caves and natural hot springs. Try the Splash Landing Zipline. Paddle around in beautiful kayaks. Float down the water in traditional Coracle boats. Go for a swim in natural water. Try Wall Climbing and Spider Web Climbing. Watch the sunset on the deck facing the lake. Go rappelling and jummering.
b. Off-site activities: Lean back and watch the stars. Read a book and unwind. Identify the wildlife around the camp. Go bird watching.
Note: Those who don't want to do any activities can relax and go for other options like cricket, badminton, football, archery, frisbee and indoor games.
3. Ramanagara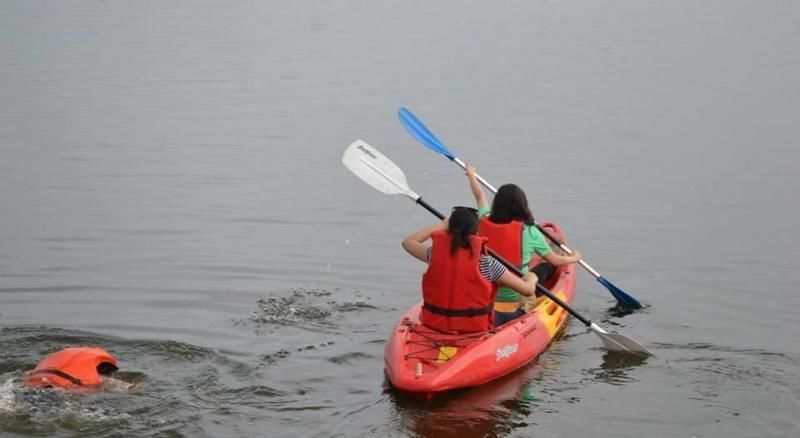 Spend the night in a rural campsite in Ramanagara to get away from the weekend crowds and cacophony of Bangalore. As night falls, you'll gather with your fellow campers around a roaring bonfire to enjoy the cool breeze. After a nice dinner, return to your tents and snuggle up in your sleeping bags. The next day, you'll have a blast paddling your boats across a nearby lake during a fun kayaking session. This camping and kayaking excursion to Ramanagara is ideal for anyone looking for a unique weekend activity.
Location: Ramanagar, Karnataka
Check-in Time: 08:00 am
Check-out Time: 06:00 pm
Price: INR 500 (approximately)
Things to do:
a. On-site activities: Stay in tents at a picturesque campsite at Ramanagara. Enjoy the night around a bonfire with your fellow campers.
b. Off-site activities: Try your hand at kayaking. Escape from the city life for a day spent outdoors.
Note: Carry all your essential required for your visit.
So where would you go next for an adventure sport for a perfect weekend getaway? Post your suggestions in the comments section below!
For more such content follow me on Instagram (@tanishamundra)