Murdeshwar is a small temple town at around 200 KMs from Mangalore and 115 KMs from Karwar. Murdeshwar is a major tourist hub owing to its lengthy beach shores, water sports and a famous Lord Shiva temple. The place is also known for its 123 ft tall Lord Shiva Statue which happens to be second largest in the world followed by Kailashnath Mahadev Statue of Nepal. The temple and the statue is built on Kanduka Hill which is surrounded by Arabian Sea on three sides. There is a 20 Storied Gopura for which access to top floor can be gained through the lift . View of the statue and town from top of the Gopura is stunning.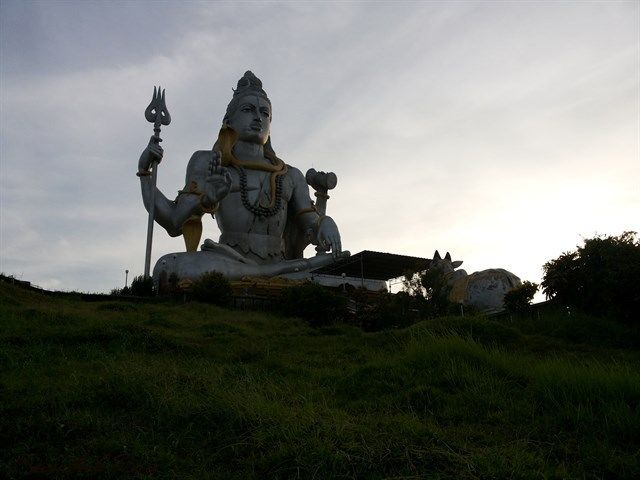 Underneath the Statue, an artificial cave is constructed which has various sculptures of characters resembling the below story. Audio will be played at regular intervals so as to correlate with the sculptures. This whole experience is amazing and you must be definitely pay a visit to this cave. There are plenty of resorts available, we personally suggest you to stay at RNS Residency which is built on the hill and has balcony facing the beaches.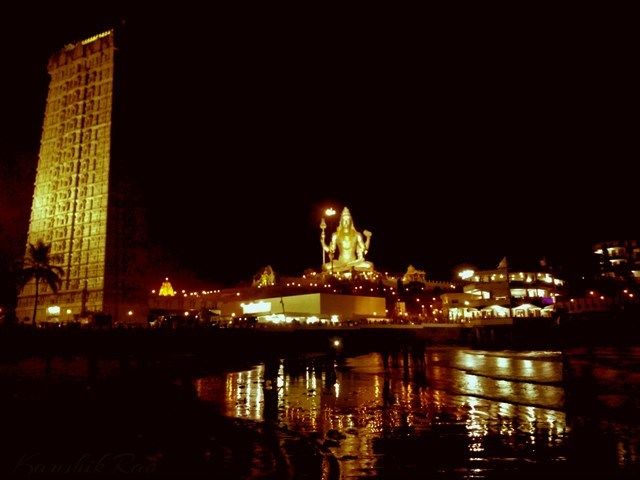 It is believed that Hindu Gods attained their Invincibility and Immortality by worshiping and obtaining Atma Linga which belonged to Lord Shiva. Ravana, King of Lanka also wanted to attain the same so he began worshiping Lord Shiva with great devotion. Pleased by his devotion Lord Shiva appeared before him and asked him for what he wanted (Varadaan). Ravana asked Atma Linga from Lord Shiva who agreed to give him the same along with a condition that he had to carry it back to Lanka without keeping the Linga on ground for which Ravana agreed.
Narada Muni comes to know about this incident and realizes that it may create havoc if Ravana attains immortality. He approached Lord Ganesha who plans to fail the intentions of Ravana to carry Atma Linga without keeping on the ground. He was aware of Ravana performing prayers every evening without fail and hence Lord Ganesha asked Lord Vishnu to create a dusk like situation. Ravana fell to this prey and he was looking for someone whom he could handover the Atma Linga so that he could finish his prayers.
Lord Ganesha appeared as a Bhramin boy before Ravana who then requested the boy to hold Atma Linga untill he finishes the prayer. They had an agreement and Ravana had to return before the boy calls Ravana's name thrice. If he doesn't appear then the boy had informed that he will keep the Linga on the ground and go. As soon as Ravan began his prayers the boy started calling his name and even before Ravana returned the Linga was on the ground. Ravana tried to lift the Linga but as Lord Shiva said it became heavy and he couldn't lift it.
Angered by this incident, Ravana lost his cool and broke the Linga and threw its pieces to different parts.
Sadashiva temple, Suratkal
Sajjeshwar temple, Karwar
Guneshwar (Gunavanthe), Honnavar
Dhareshwar, Kumta &
Murdeshwar
All the above 5 places are having Lord Shiva temple which is built around the pieces of the Linga.
This place can be visited for a day which will include temple visit followed by any of the water sports activities such as Scuba Diving, Steam/Boat ride to Netrani Island, Skiing, Para Sailing etc. and a relaxing walk on the beach. Murdeshwar is a perfect weekend getaway.