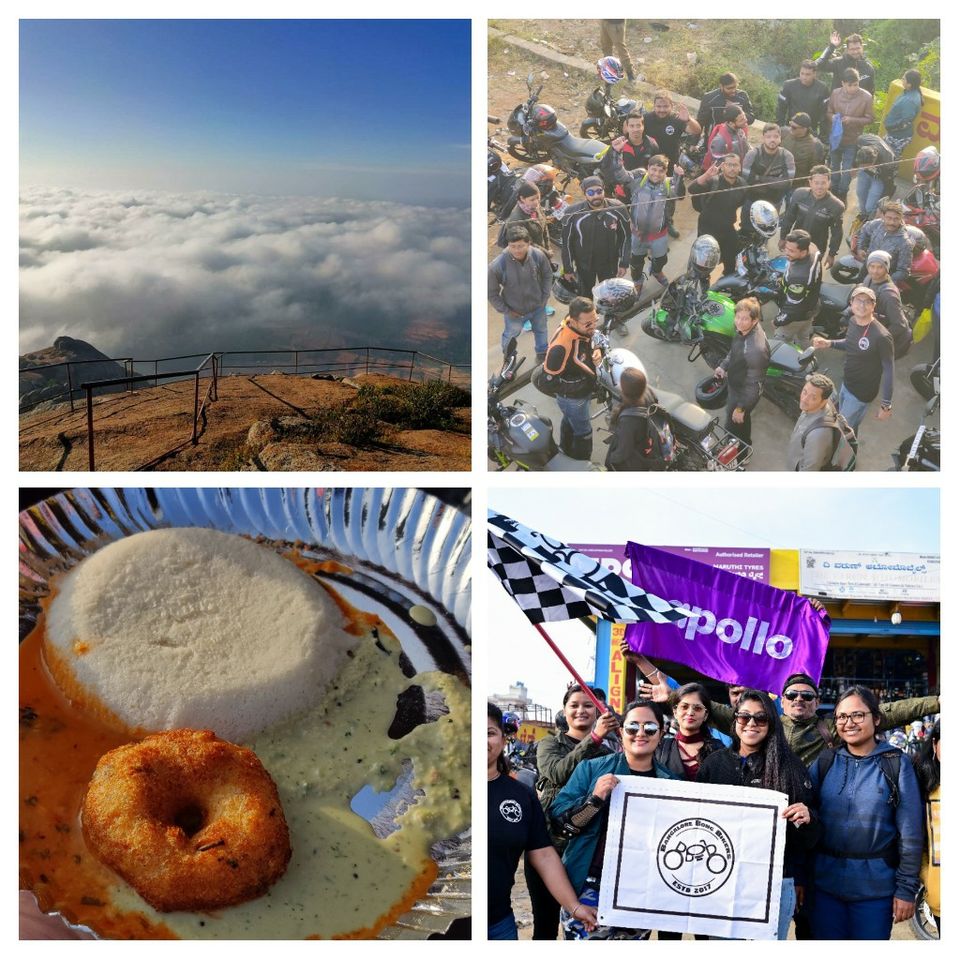 Destination - Shivagange
Distance - 60 kms from Bangalore
State - Karnataka
Road - Tumkur Road, Bangalore Nelamangala Highway
Road Rating- 7.5/10
Date of travel - 12/01/2020
Season - Winter
No. of Day(s) - 1 day
Terrain - Plain and Hill
Group/ Solo - Group - Bangalore Bong Bikers (BBB)
Sponsor - Partially sponsored by Apollo Tyres, Nelamangala
Cost - ₹200
The last ride and night trek to Kuntibetta with BBB has made me develop a new hobby of trekking. It had been a day or so since the last trek and that I had started to develop a desire to move out of my busy schedule and go on a trek. With this desire, my wait for the intimation of the next ride become more restless. I started to look for places around where we could go on a trek this weekend and if possible give some suggestions too.
It had been 2 days since the last Sunday's ride and then came the most pleasing thing. The BBB WhatsApp group had a message - "Youth day trip to Shivagange on 12/01/2020". Immediately on receipt of this, I resorted to google and was pleased to know that it was a trek to Shivagange. YIPPEE! HURRAY!!
In my trip to Kuntibetta I had faced some difficulty as I was not wearing trekking shoes. This trip was an opportunity for me to upgrade my footwear wardrobe by including a pair of trekking shoes in it. And guess what?! I upgraded it and special thanks to Decathlon!
A night before the trip I started to look for necessary things that were to be carried for the trip. Thanks to my brother that the bike was fuelled and lubed. This time I did not worry about my tyres as the Apollo Tyres, Nelamangala had sponsored my group, including me a free tyre health check up, among other things.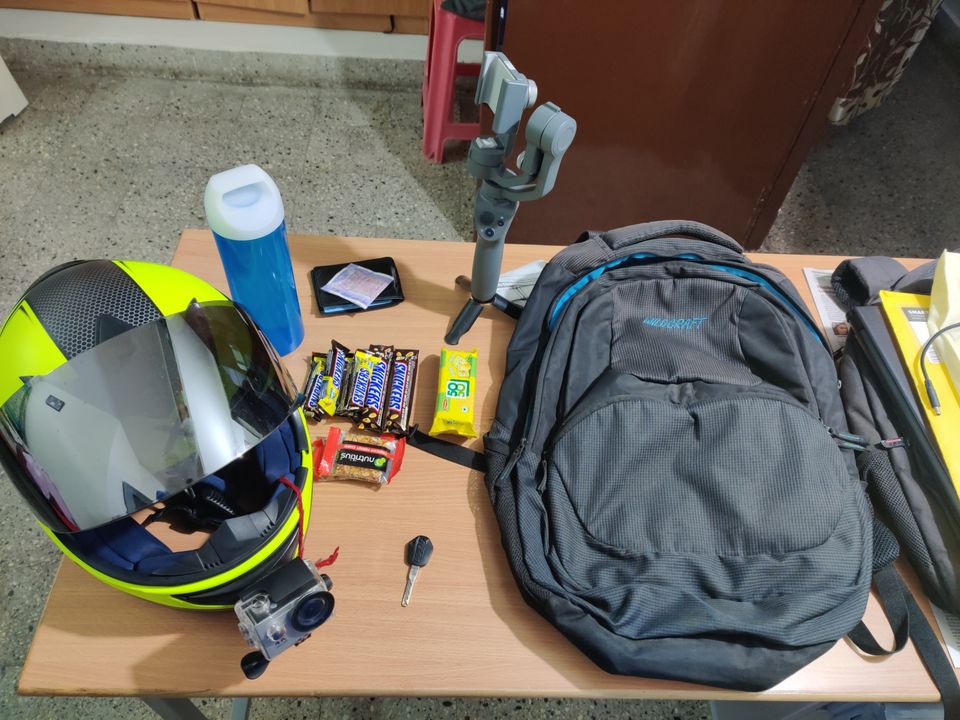 I must confess that the previous day of the trip has the maximum adrenaline rush. It makes it quite difficult to have a sound sleep. Usually, I get up at 8 in the morning, that to after multiple alarms but since I have started to travel quite ofter with the group, I wake even before the alarm rings.
A 5 hour sleep and then I had woken up. I had a bit over half an hour to get ready and get going. Brushed my teeth, took a hot water shower, put on my jacket, wore my shoes, took my bag and was ready to vroom!
This trip had approximately 50 bikes and people from nook and corner of Bangalore were to come. It was decided that there would be three meet up points before the flag of at Apollo Tyres, Nelamangala. The first meet up point was in Marathalli, the second was at Silk Board and the third was in Yeshwanthpur. I was scheduled to join the group at Silk Board, from where the group was to depart at 0600 hrs.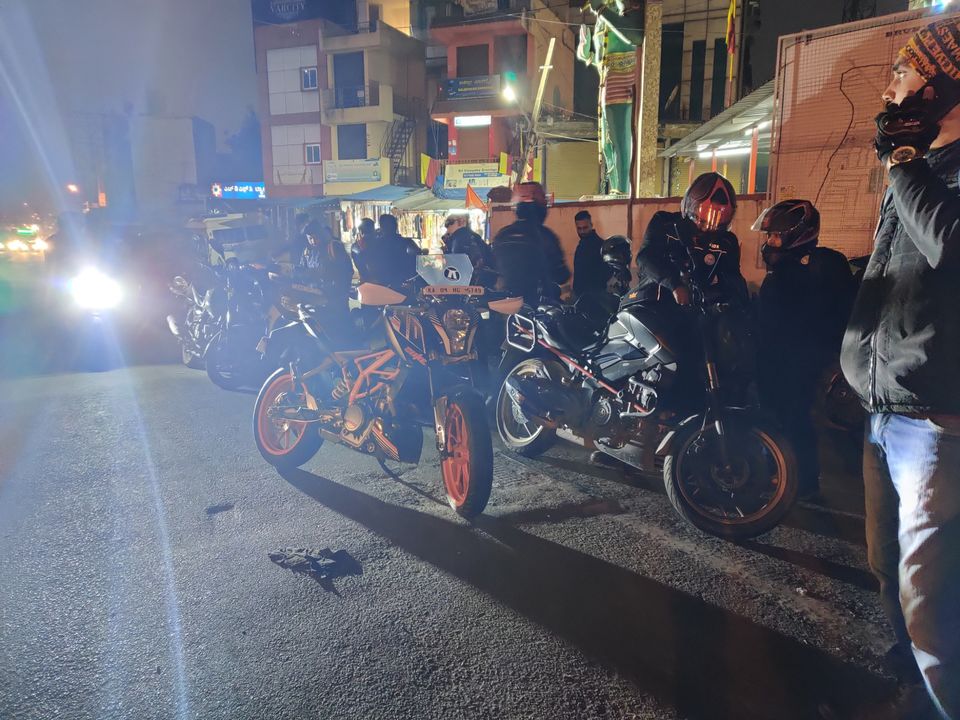 After having a quick introduction with the new riders and chat with the other riders, we were headed to our next meet up point - Metro Cash and Carry, Yeshwanthpur.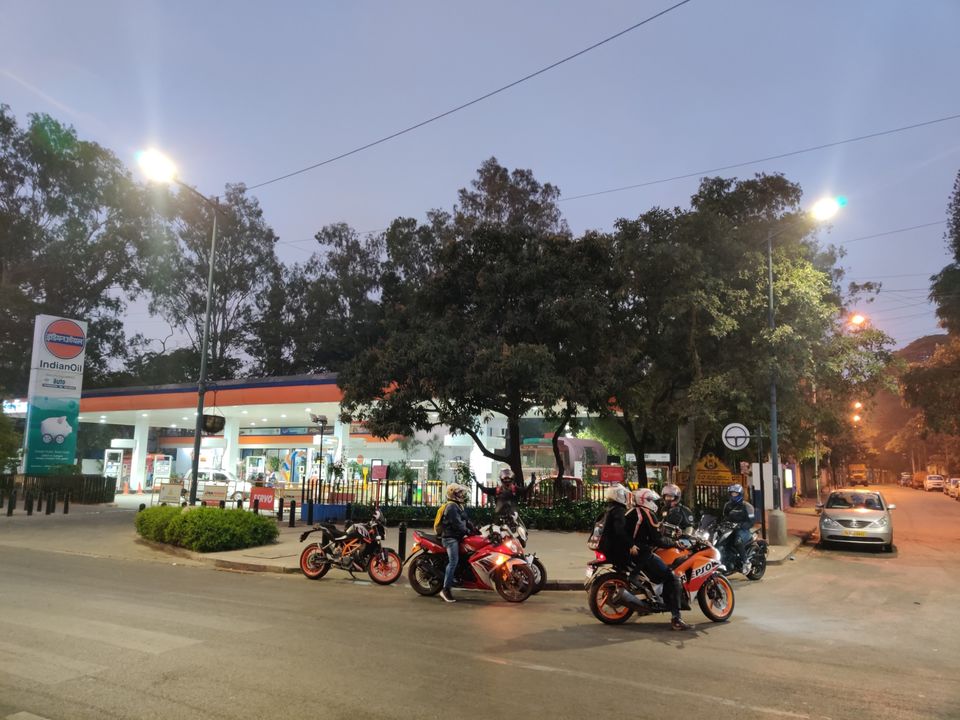 Sunday mornings are every rider's favourite time to vroom their bikes. This was evident from the various biker groups that we came across on our way. From Harley, BMW to Ducati all were seen crusing to various places.
By the time we arrived at Metro, there were a few brother bikers of our group who has already arrived while a few were yet to arrive. Within a span of 5 mins every member for this ride was there. A complete diverse group with multiple brand bikes! Some of them were from northern part of India, most of them were from Bengal and a few of them were from southern part of India.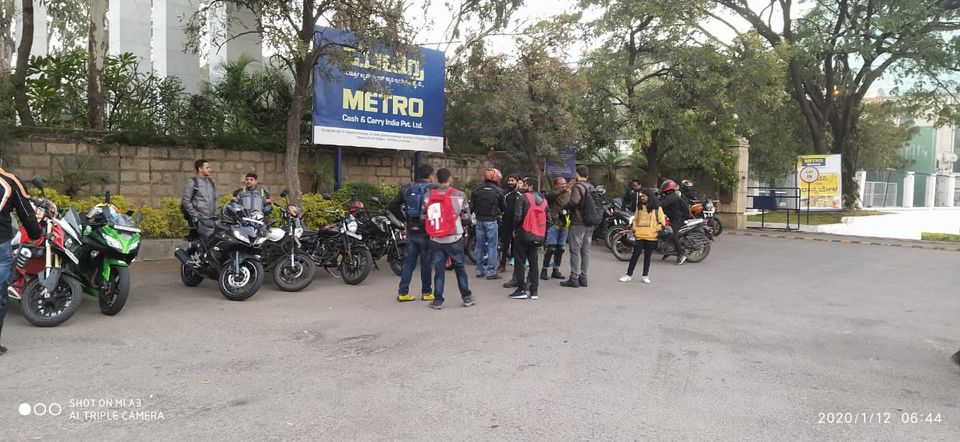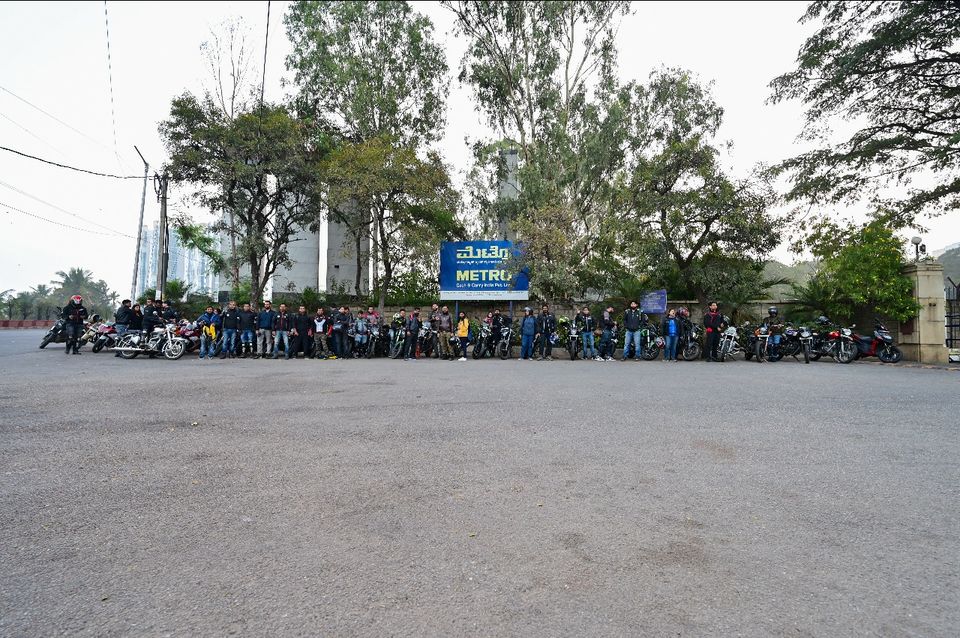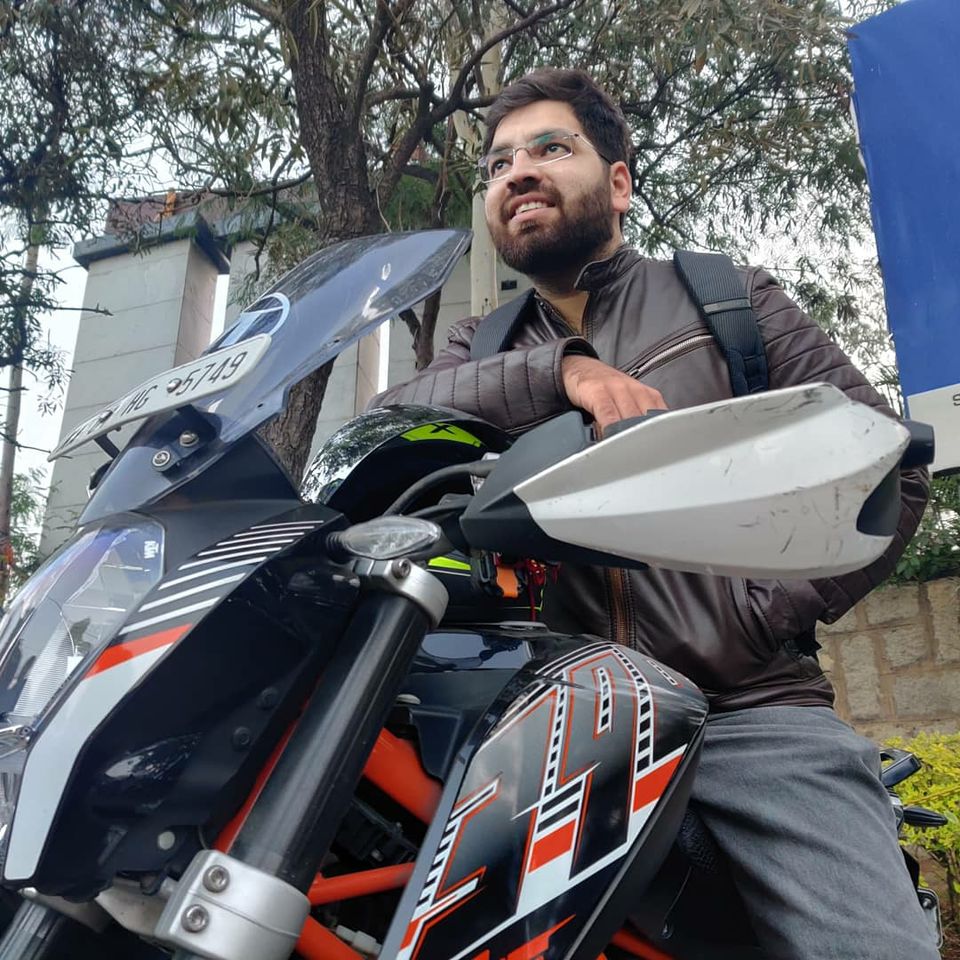 Now we were headed to the flag off point which was Apollo Tyres, Nelamangala. As soon as we crossed to city, we raced ourselves to the flag off point so as to reach by 0700 hrs. The road was smooth, well maintained and had significant dividers.
We had a warm welcome at the Apollo Tyres and were offered tyre health check ups. After a brief check up, we were offered some breakfast and beverages.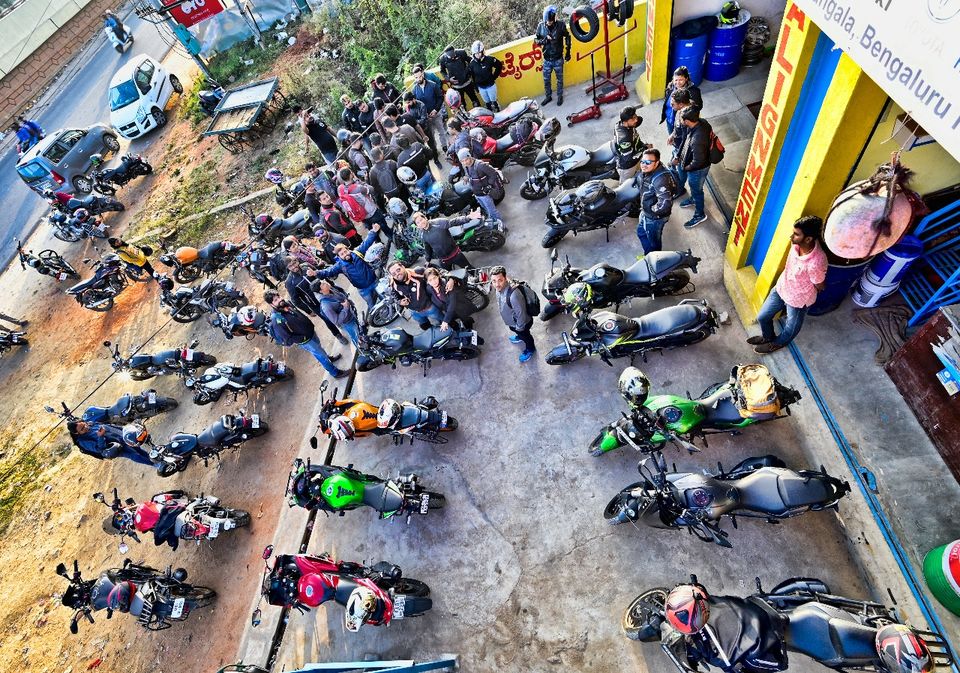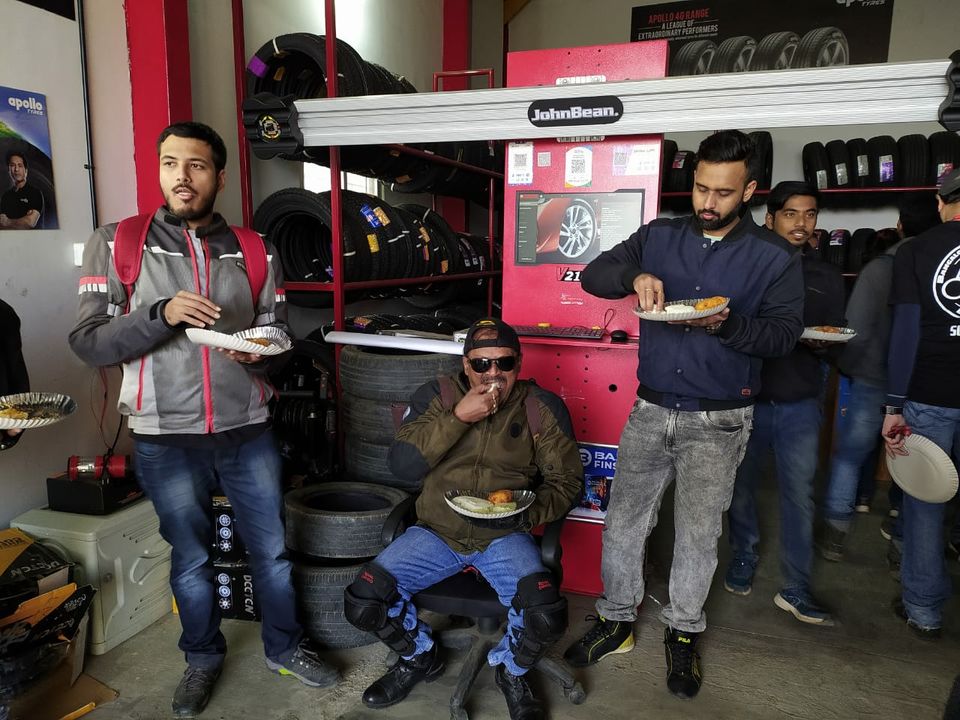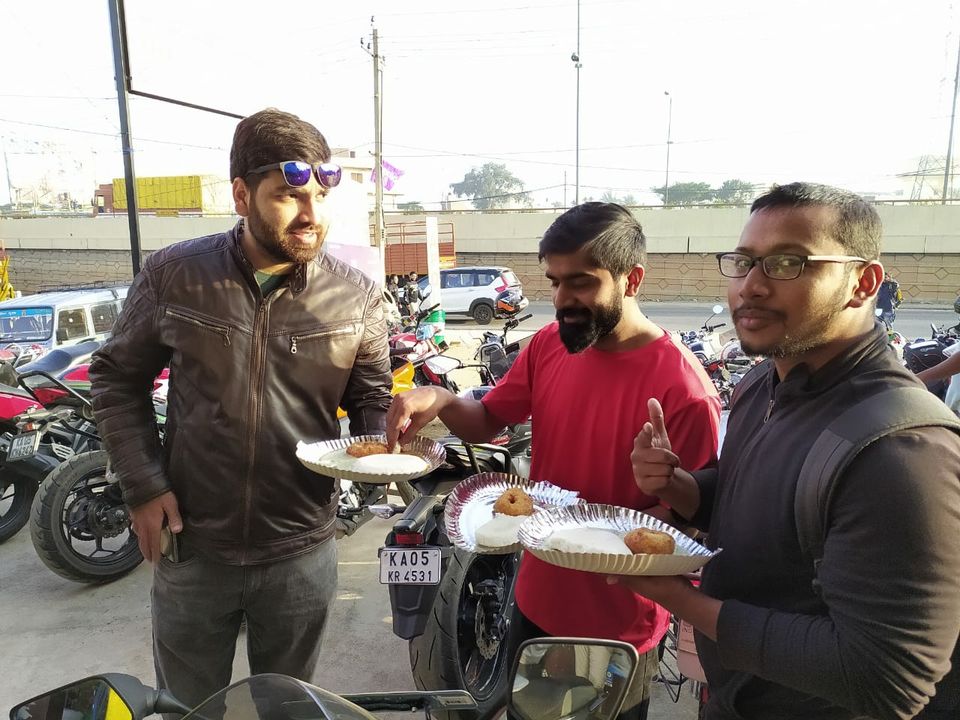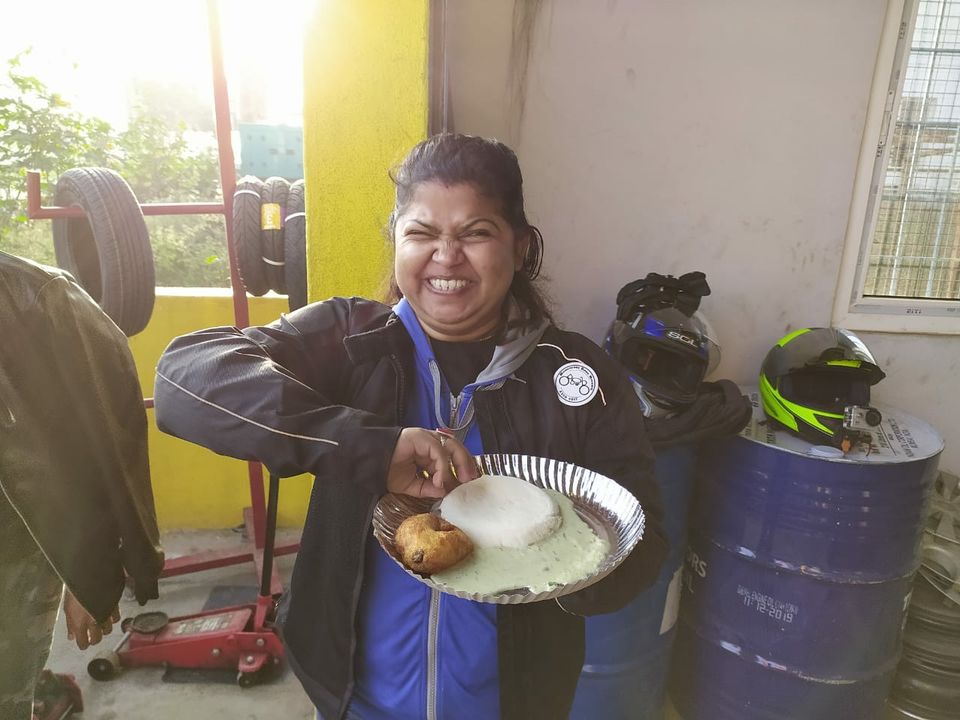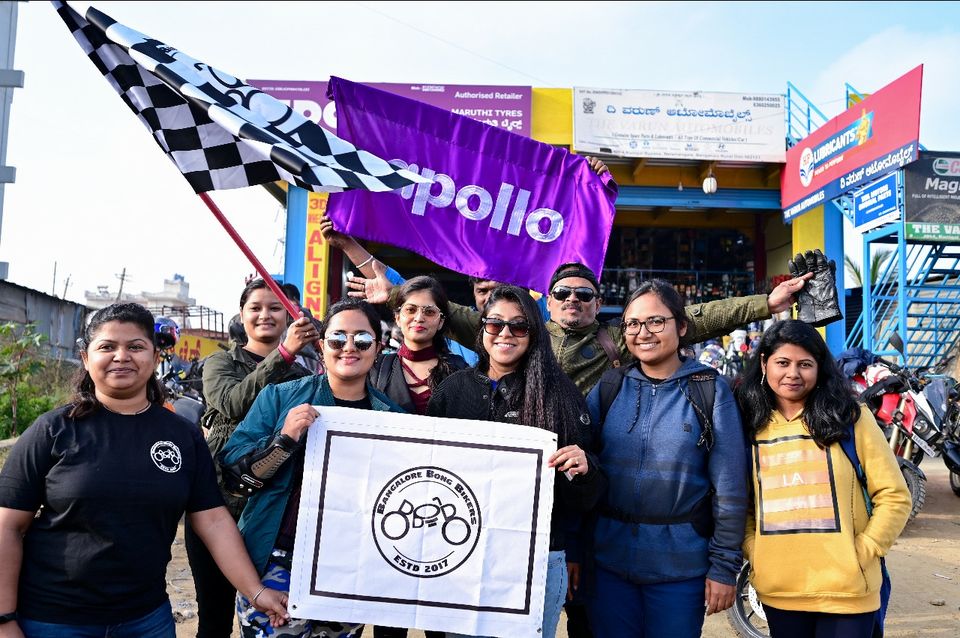 We were given great hospitality and were fortunate enough to get some great expertise at the Apollo tyres and were even told that Apollo tyres has launched all new radial tyres for two wheelers and that Apollo is a pioneer to do so.
As we enjoyed our ride in midst of green bushes, black roads and cool breeze, towards our left hand we had the first glimpse of our destination. The feeling of disassociation from the busy metro life was automatically felt. The speed dropped and every moment of the ride was being enjoyed - steep turns and the windy mountains.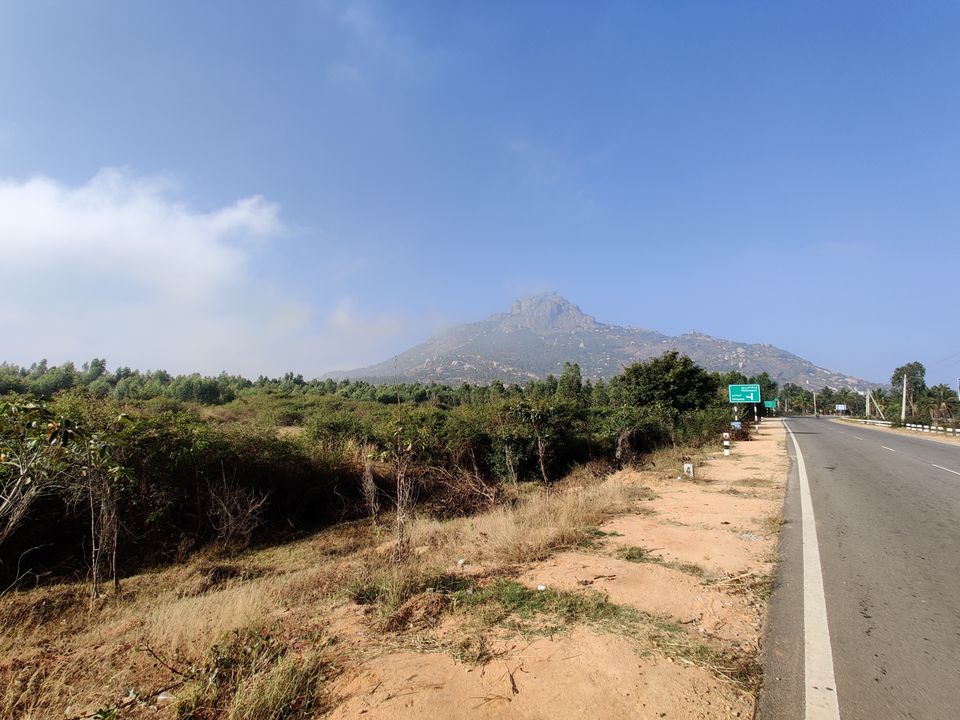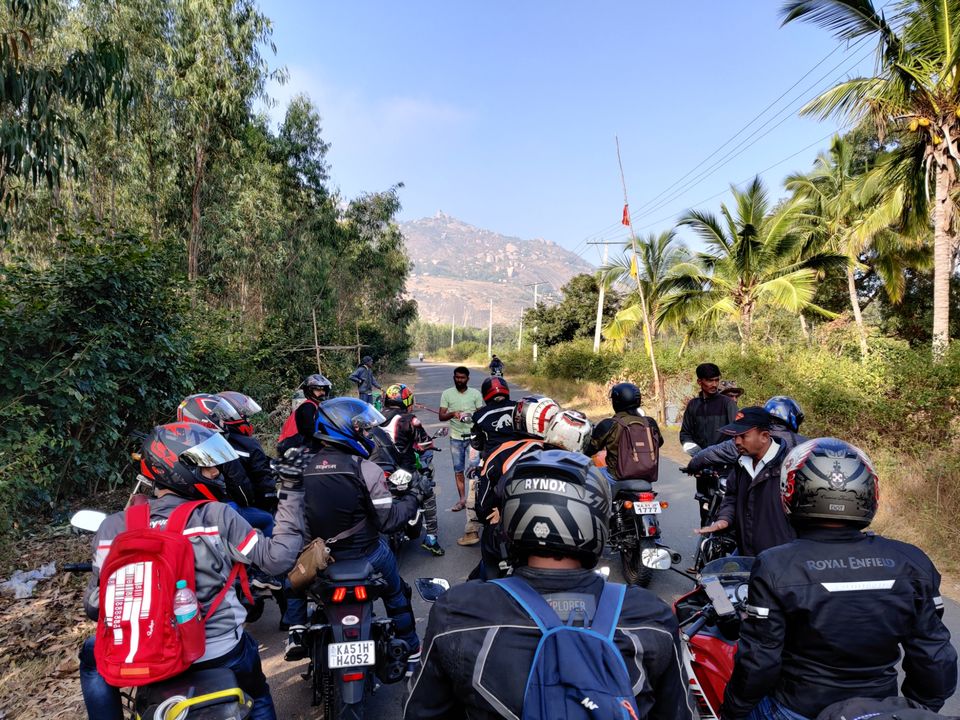 A few minutes of ride since the first glimpse and we had reached the entrance of Shivagange. Shivagange is a temples hill which has many devotees who visit it.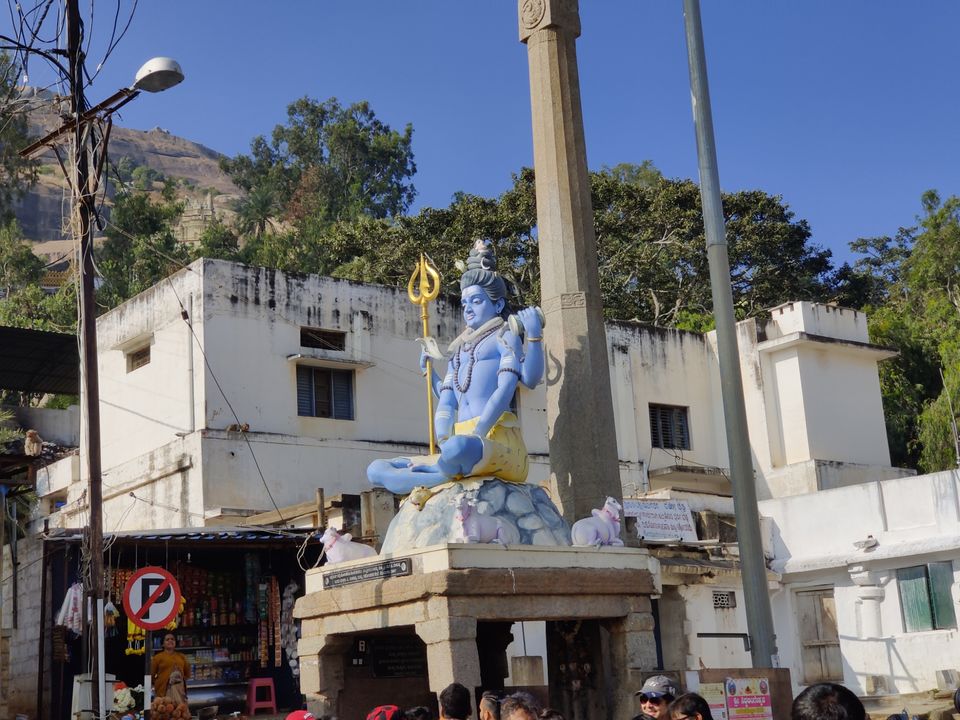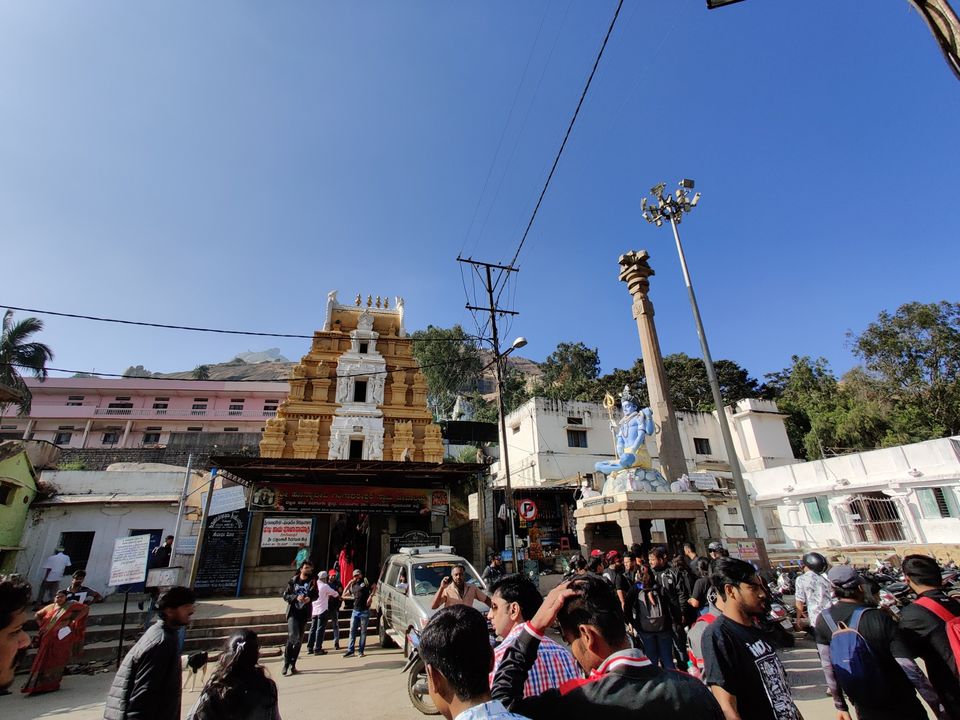 There was ample space for parking and we faced no difficulty in finding proper parking space despite being so many in number.
As we went towards the top we realised that the trek is going to be difficult and would take a considerable time and energy.
Few things that can be done here are
1. Visit the temple.
2. Have a great trekking experience and
3. Sit on the top of the hill and enjoy the some cold wind
As we were on our way to the top we came across many small temples on our way. Some were of Shiva and some were of Nandi. Though none of us was here to visit the temple, but it was to good to see people pouring their faith here.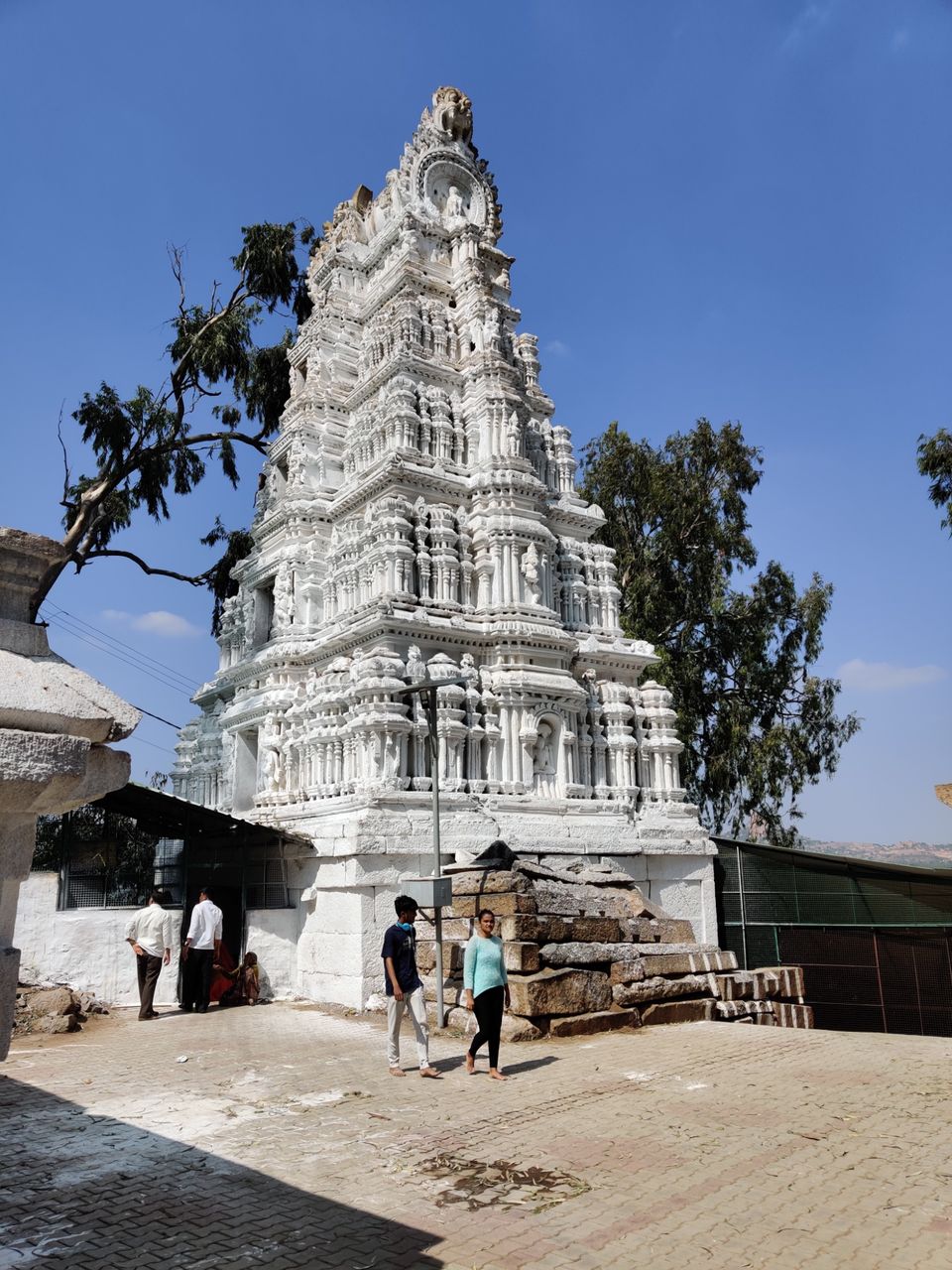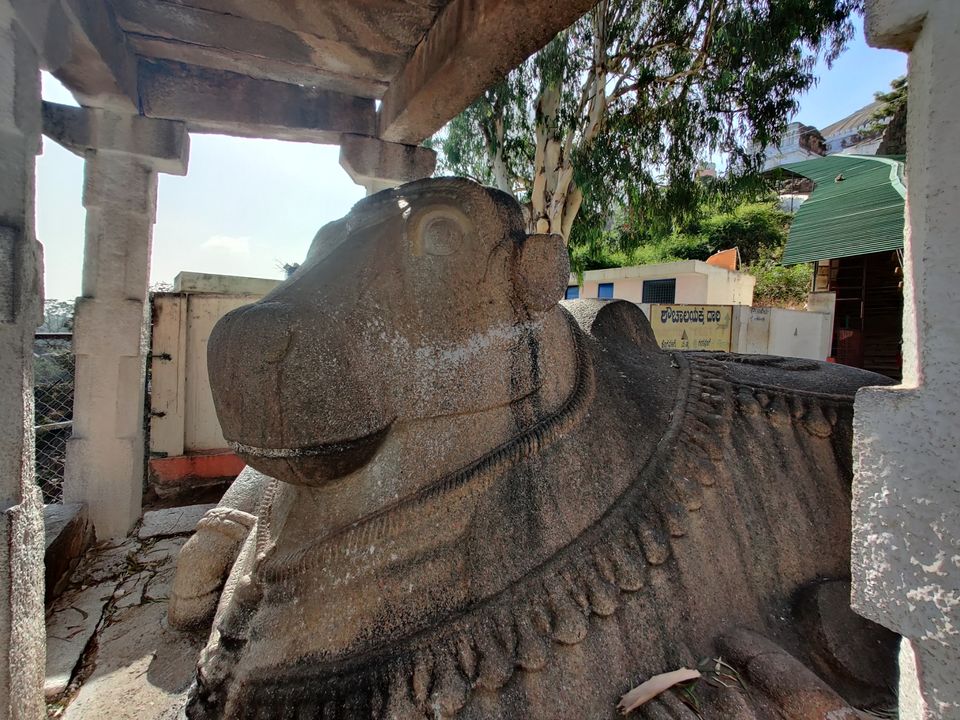 We were here for the trek. I and many others were of the impression that the trek to the top would be a small one which could be covered in about half an hour or so. This is what one would believe from the entrance of the temple. But as we were trekking, we realised that we had underestimated the difficulty of the trek.
The trek can be divided into two parts. The first part being the one till the last shiva temple on the hill and the second one begining from the last hill to the top of the hill. To simplify things, I would demonstrate the difficulty on a scale of 10. 1 being the easiest and 10 being the most difficult. The first part would be 5/10 and the second would be 8.5/10. The notorious monkeys on the hill were seen attacking the trekkers and were seen snatching belongings made the trek even more challenging.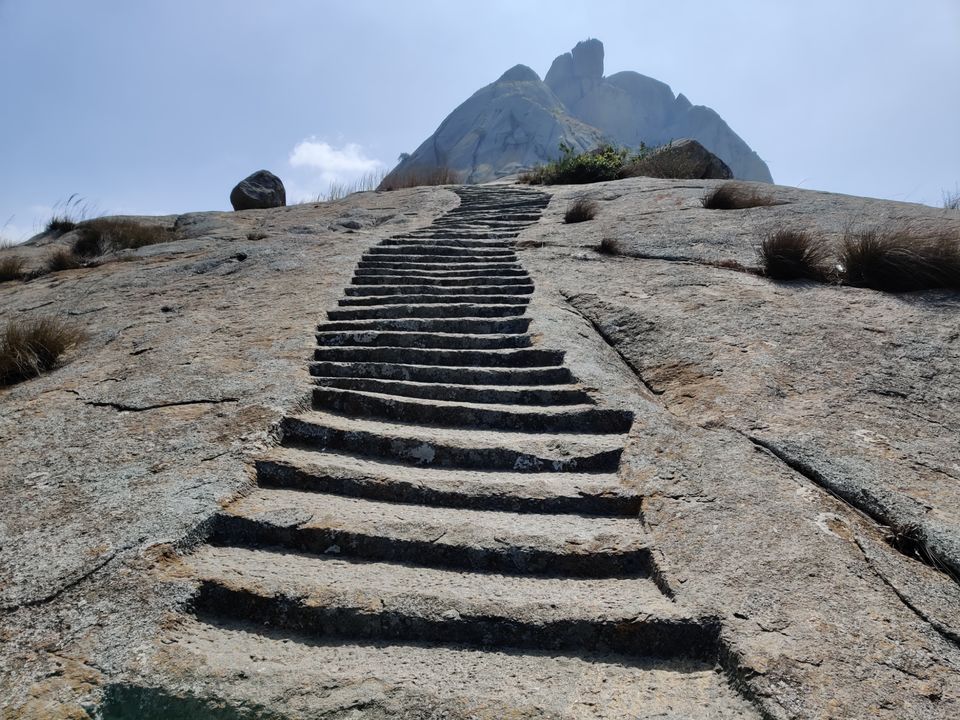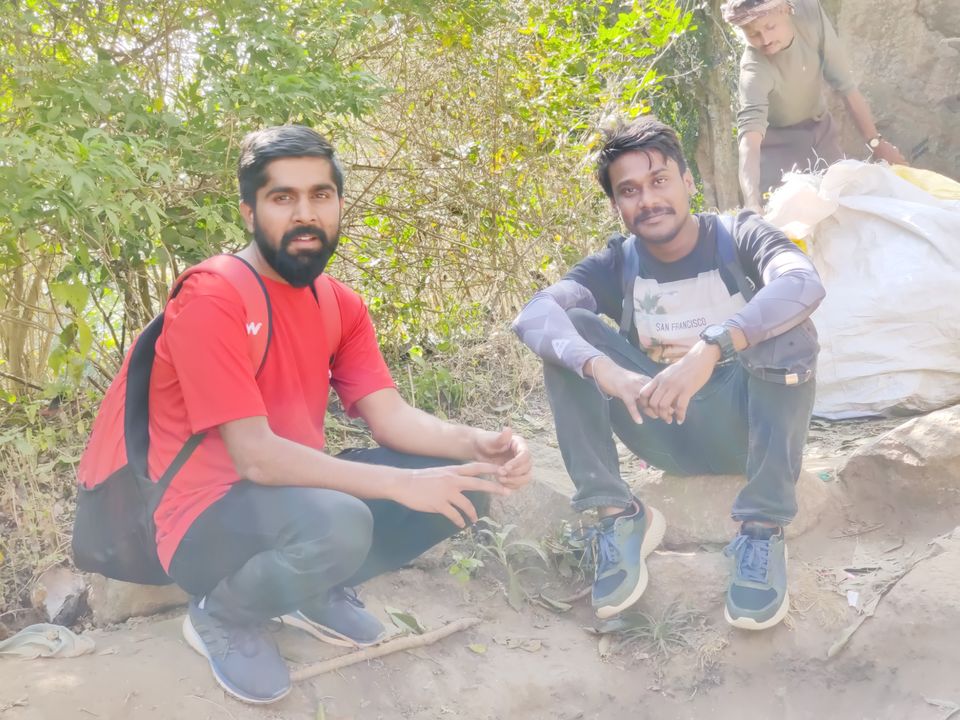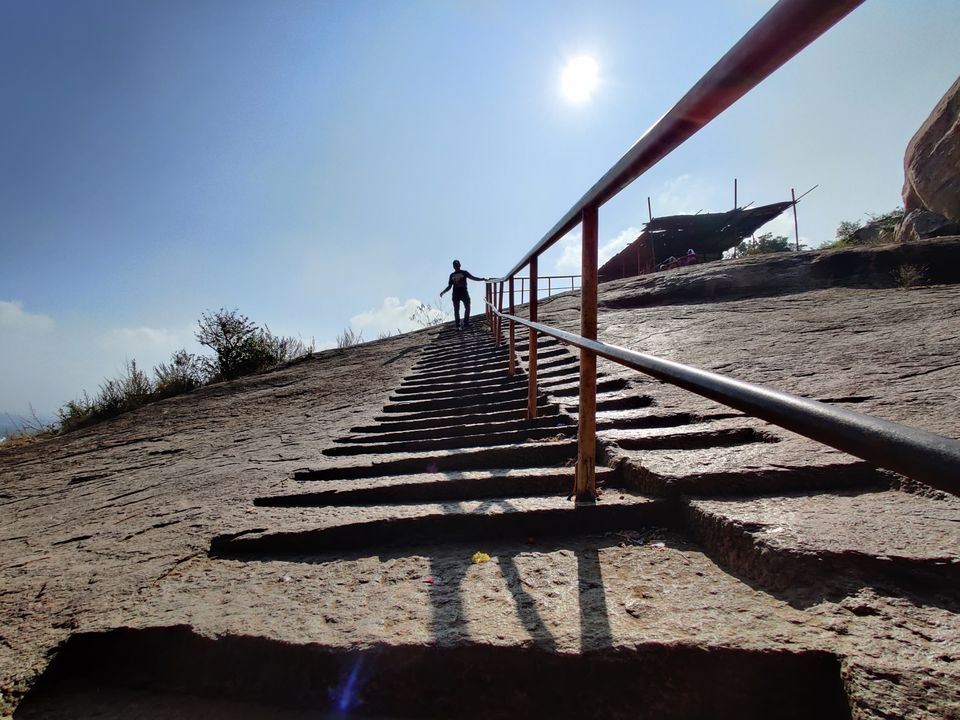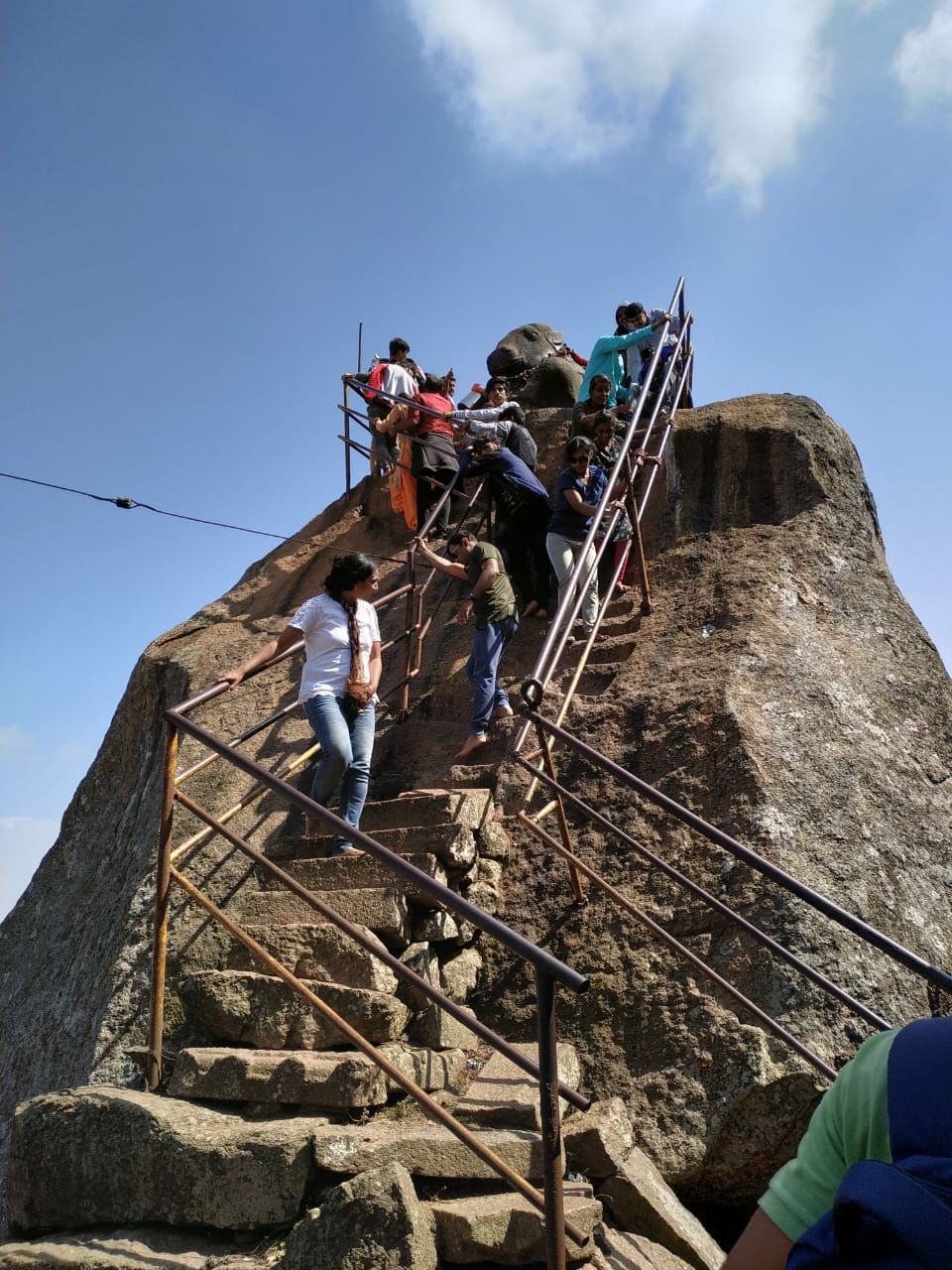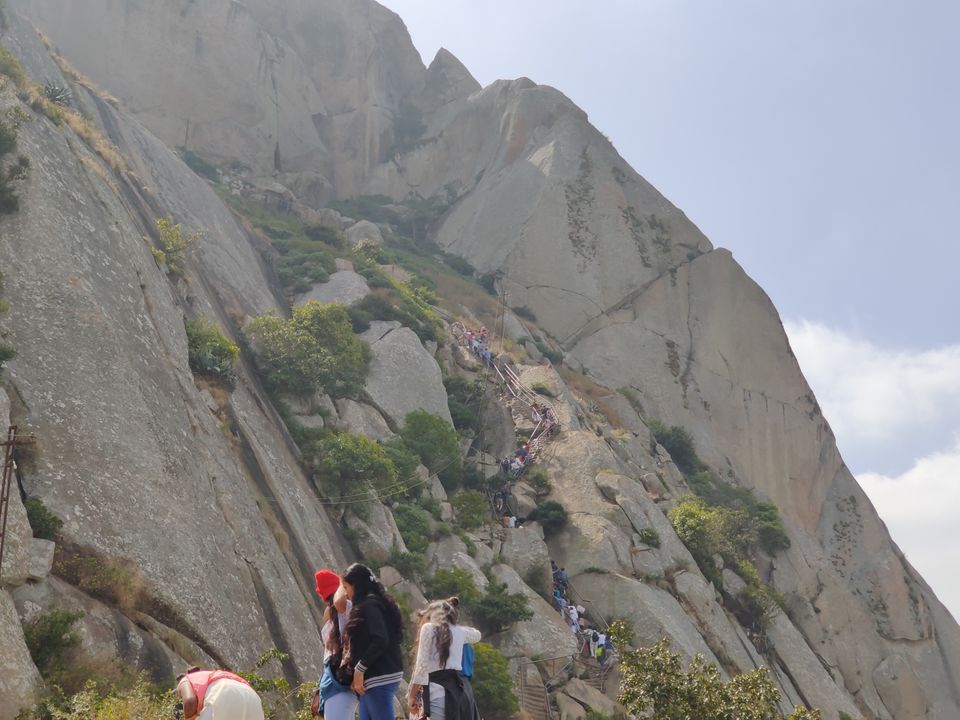 The 2 hour trek to the top was rewarded by some cold winds on the top of the hill. Winds were such that it became difficult for us to stand with stability.
Now it was time for the third thing to be done. Some of them sat down while some like me were so exhausted that they preferred to lay down and get lost in their thoughts looking at the sky.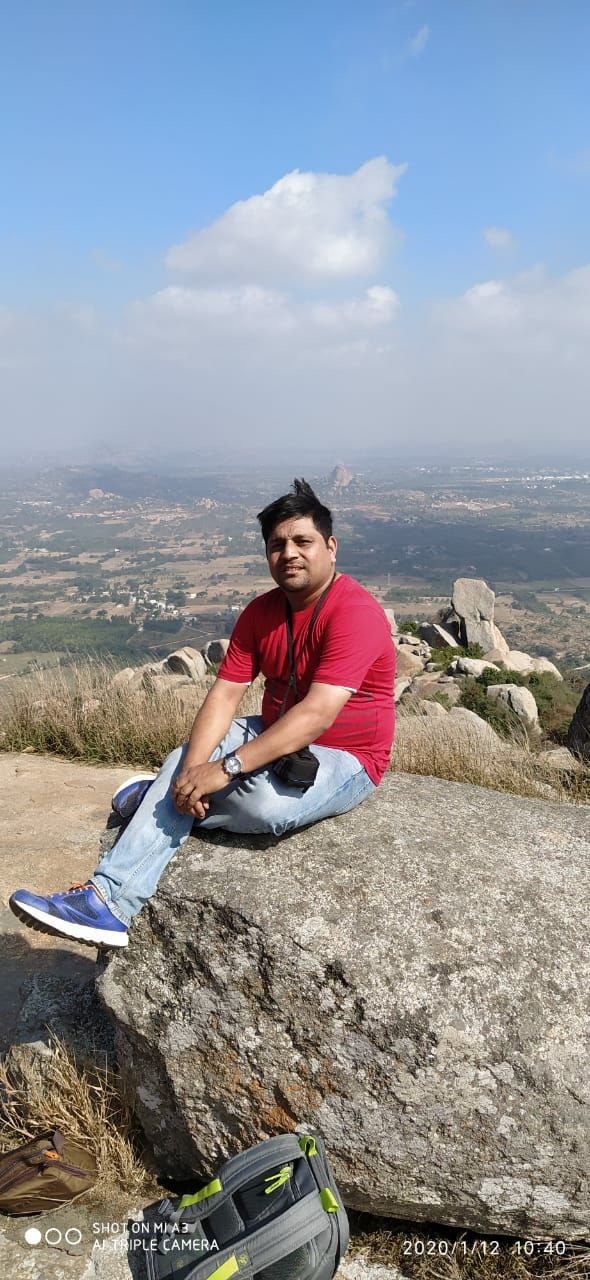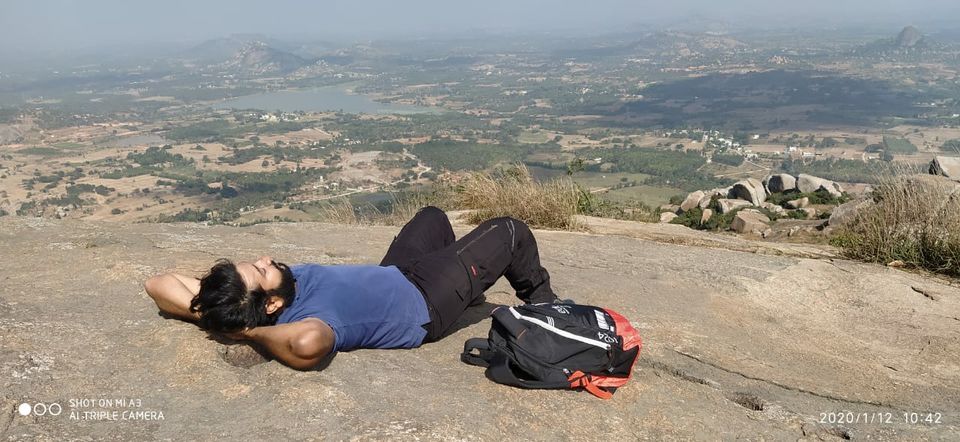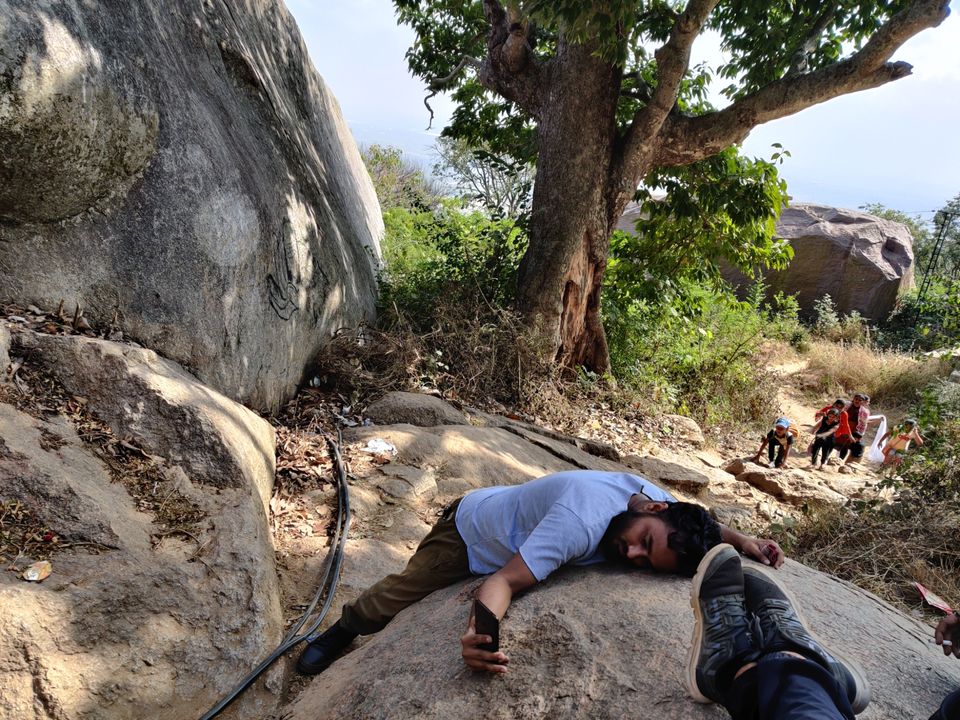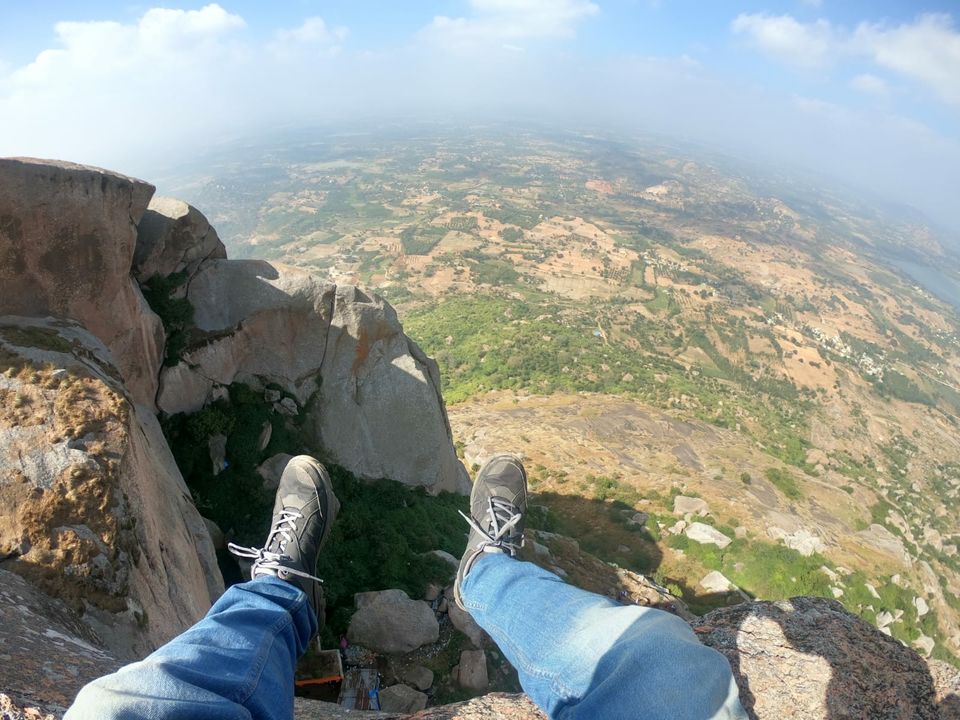 Once on the top everyone tried to capture memories. Some tried to capture themselves, some wanted to capture with the group and some even went to the extent of capturing it with the monkeys which were around.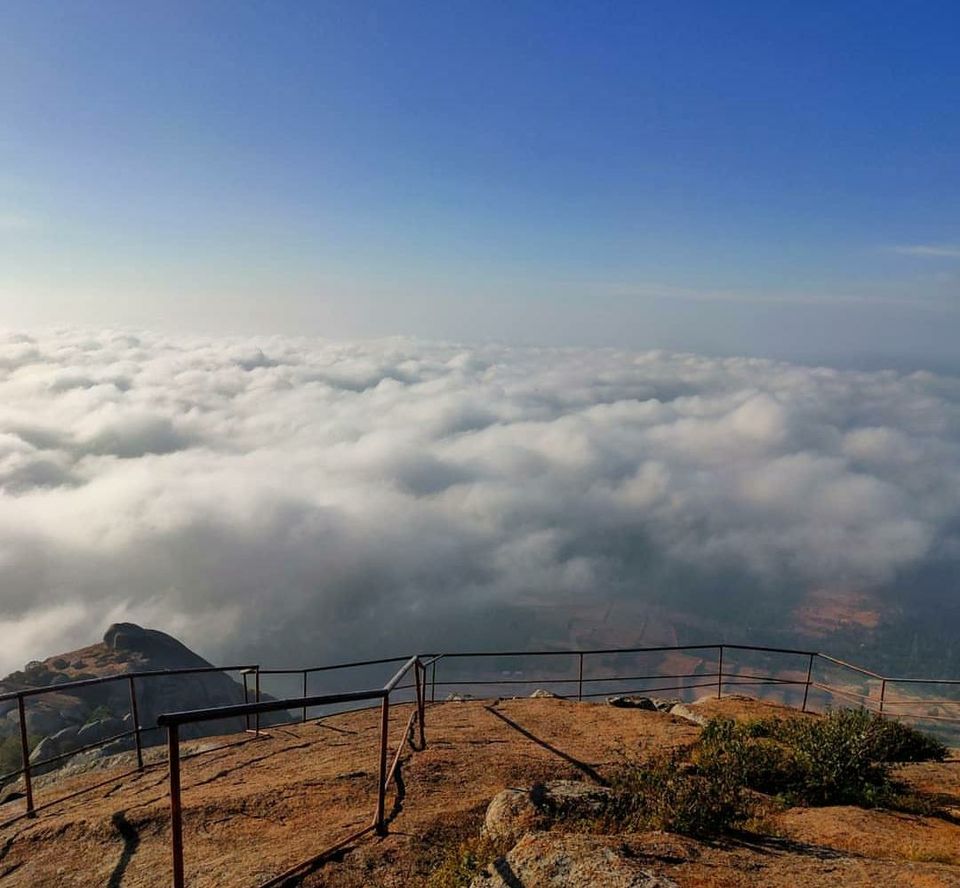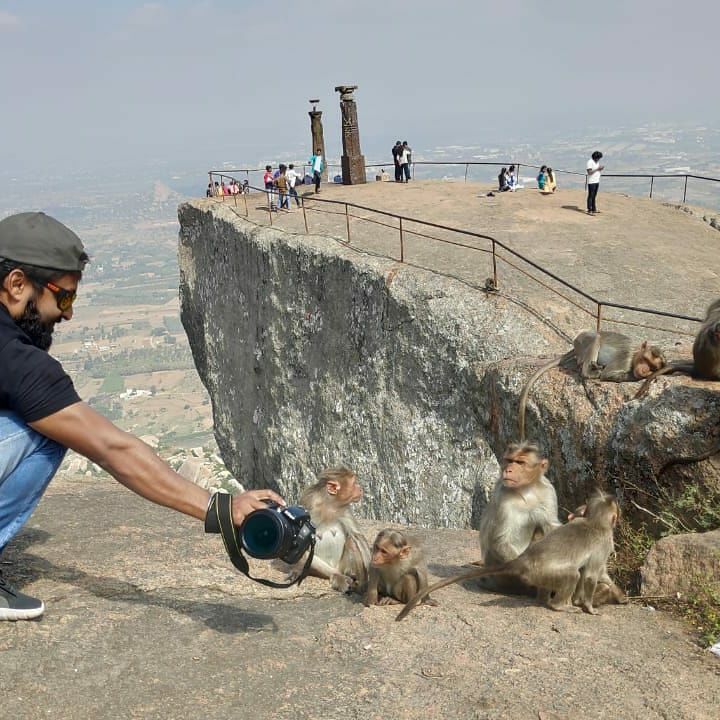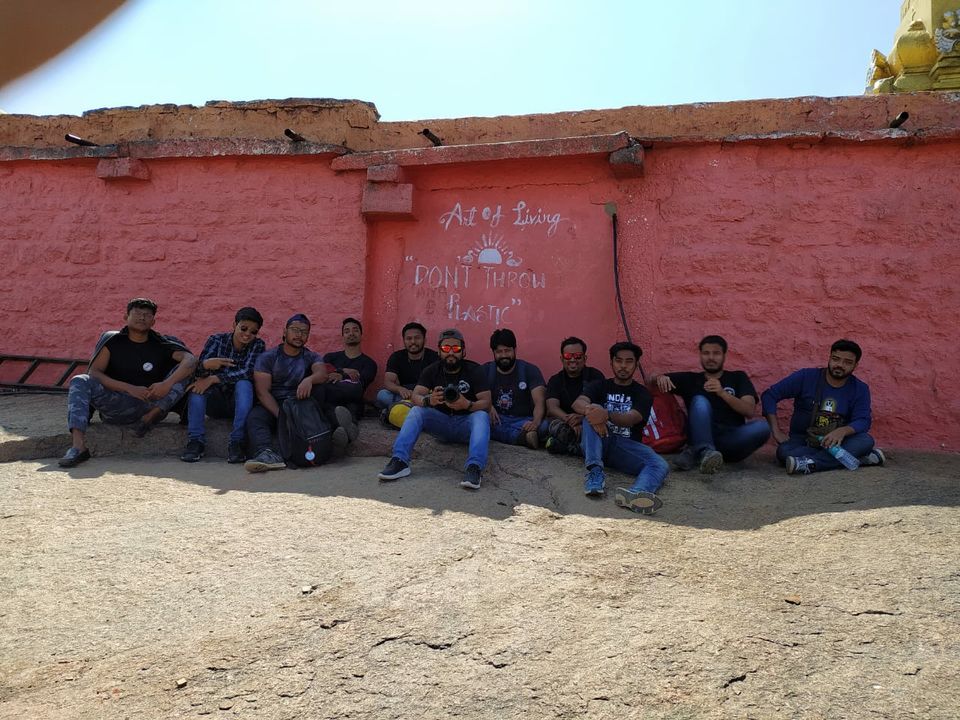 A couple of hours on the top of the hill and we decided to descend. The descent was comparatively easier and felt a bit less time consuming. May be this was because of the fact that we were reenergized. It is advised that you must carry a stick to shoo off the monkeys. We took a couple of stops in between before reaching down.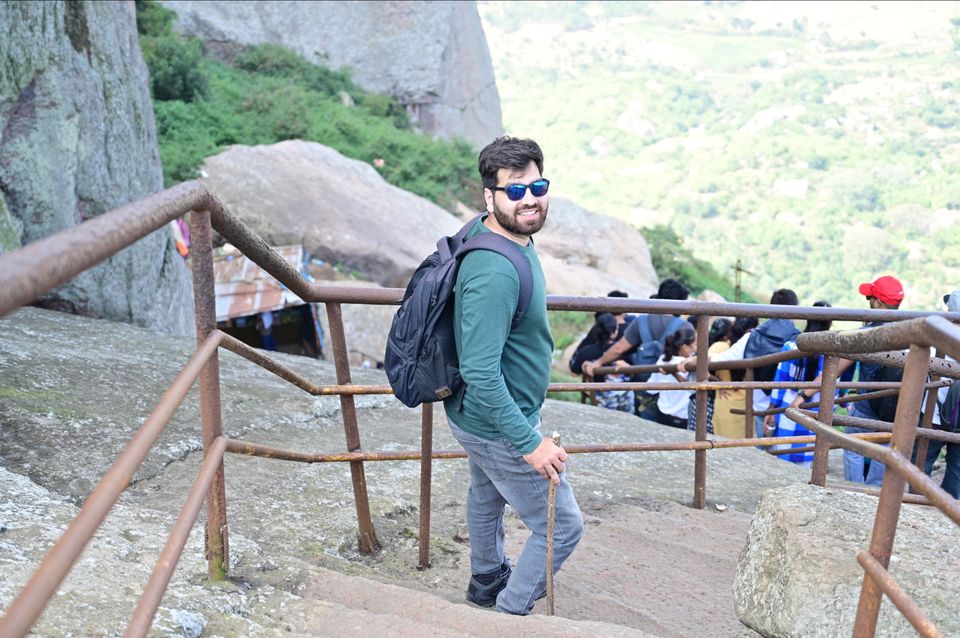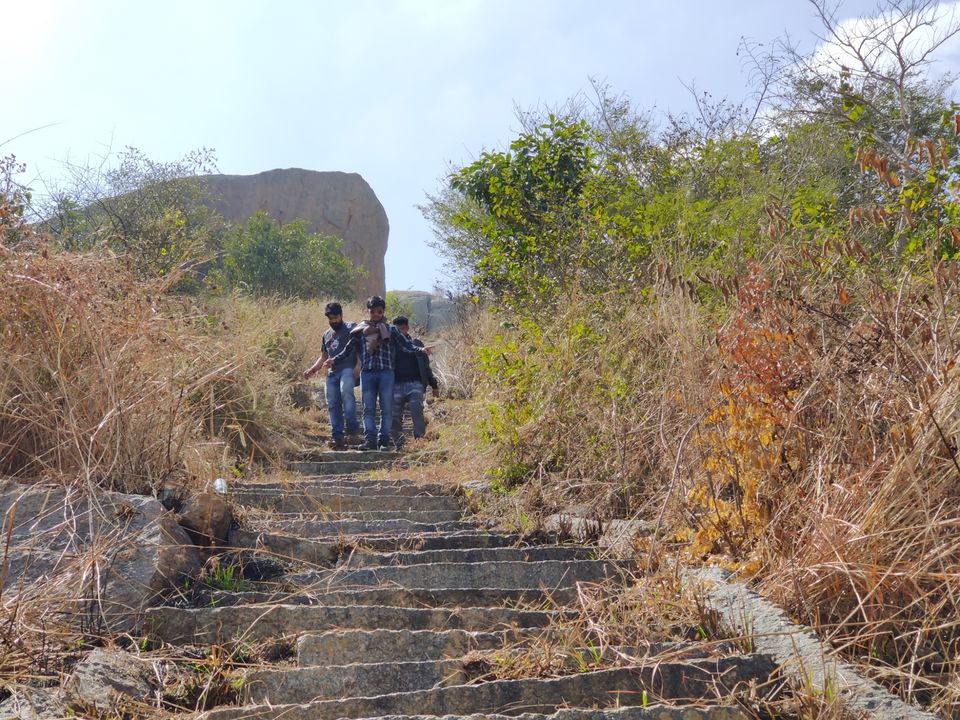 Soon we came out of the temple and subsequently exited the hill. We were happy and developed a sense of achievement upon our arrival. We then had some snacks and juice and soon left for Bangalore.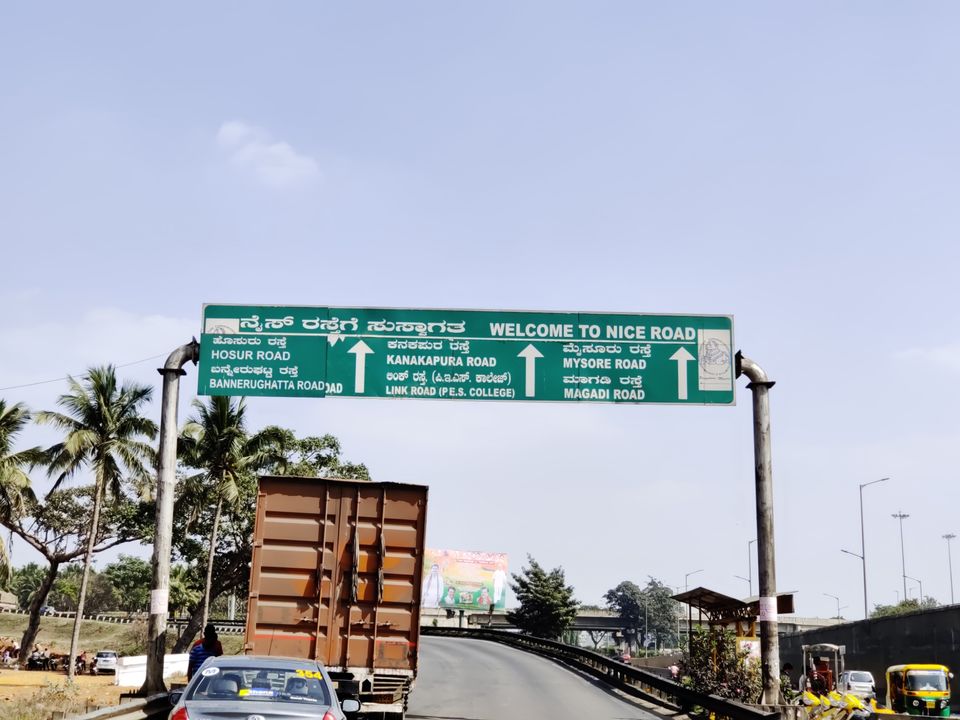 Note:- You don't have to burden yourself with food and snacks as all things that would be required is usually available and please act responsibility by not littering the place.
See you soon with another story of another place.