Napoleon Hill once stated , "The starting point of all achievement is desire".
Skandagiri Hills presents itself as an excellent spot for amateurs who wish to start their trekking journey. It gave me that perfect start that I was hoping for and I was thrilled and super excited to set about my trip.
I along with my friend(Sriram - yes I needed that one guy who can steer me out of my laziness :P) started our trip from Bangalore. Skandagiri was just an hour long drive from Bangalore. What started as a casual bike trip ended in a trek and our first attempt to summit started.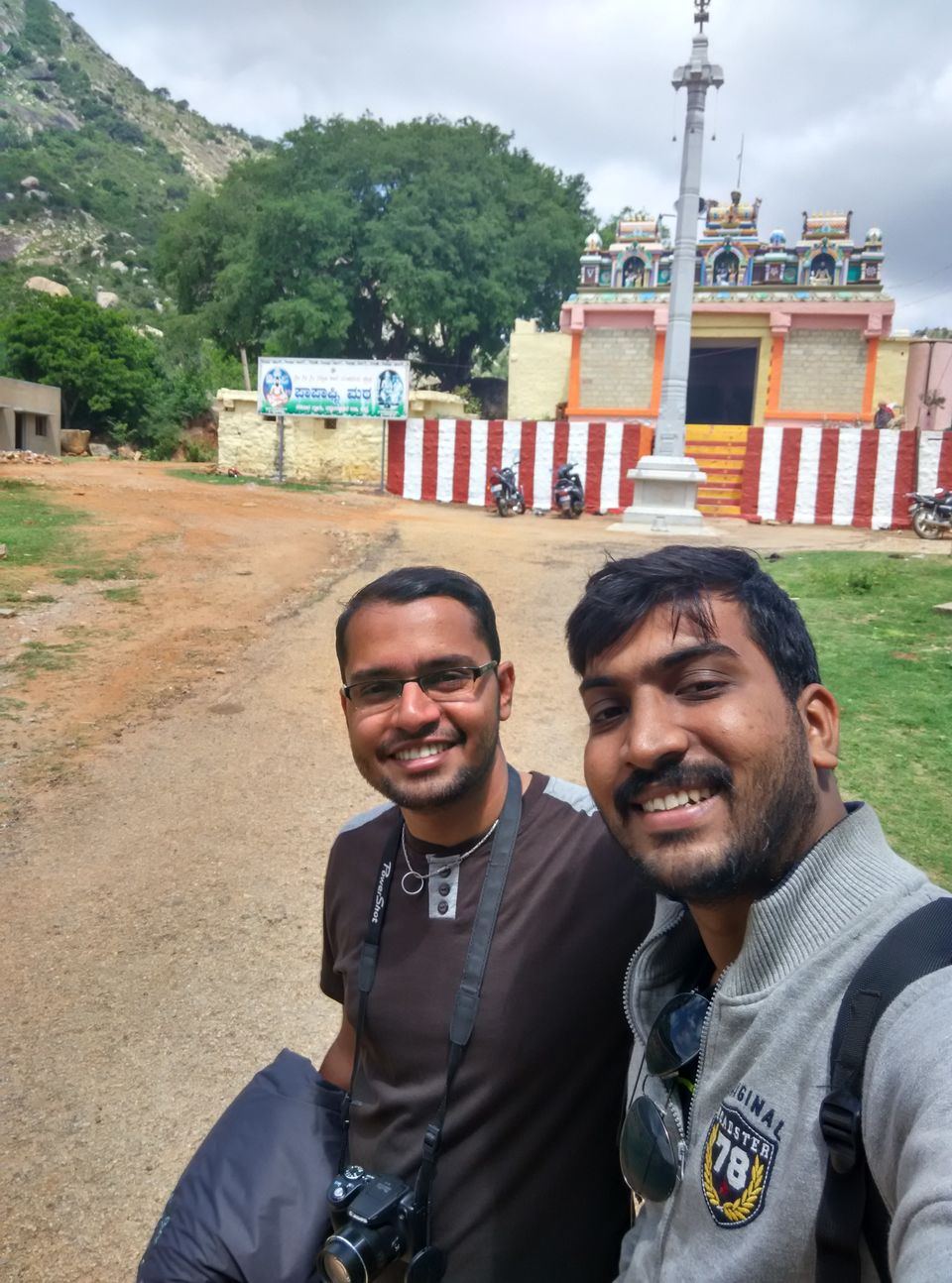 Although it is relatively easy, our IT lifestyle made it extremely difficult and treacherous to climb. (This is what sitting in a cubicle for 8-10 continuous hours can do - Lethal and yet we completely ignore these signs)!!!
One thing we did, was underestimating this mountain. We almost started with little to no water and energy bars. We lost our energy soon and halted few times. Halfway we saw some beautiful caves, which gave us the necessary rest and lifted us spiritually and motivated us to move. We gathered momentum and regained our focus and resumed our journey.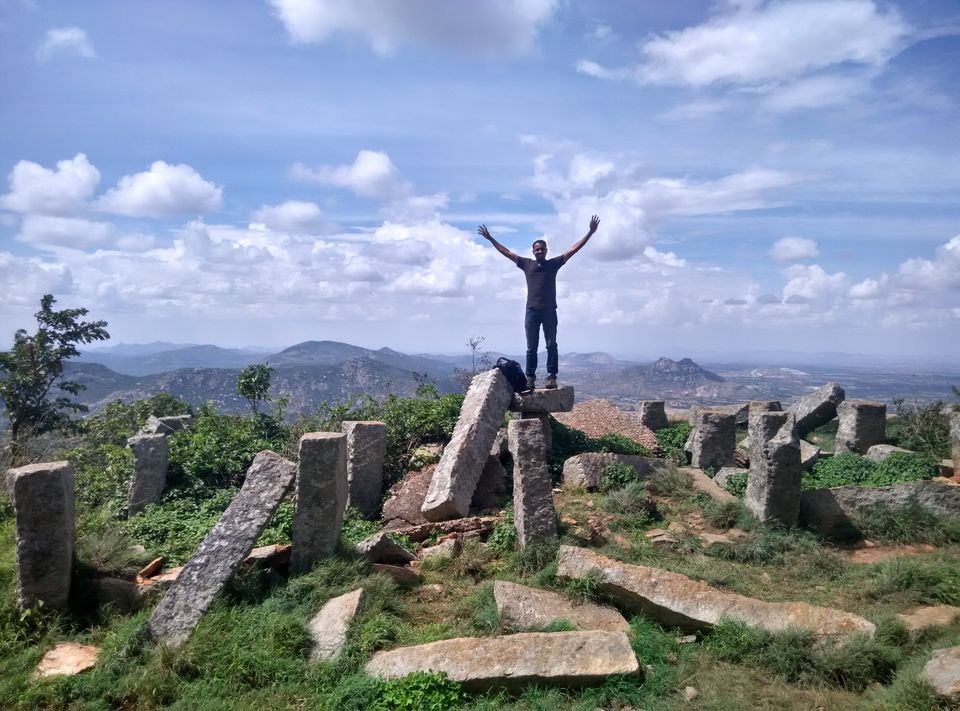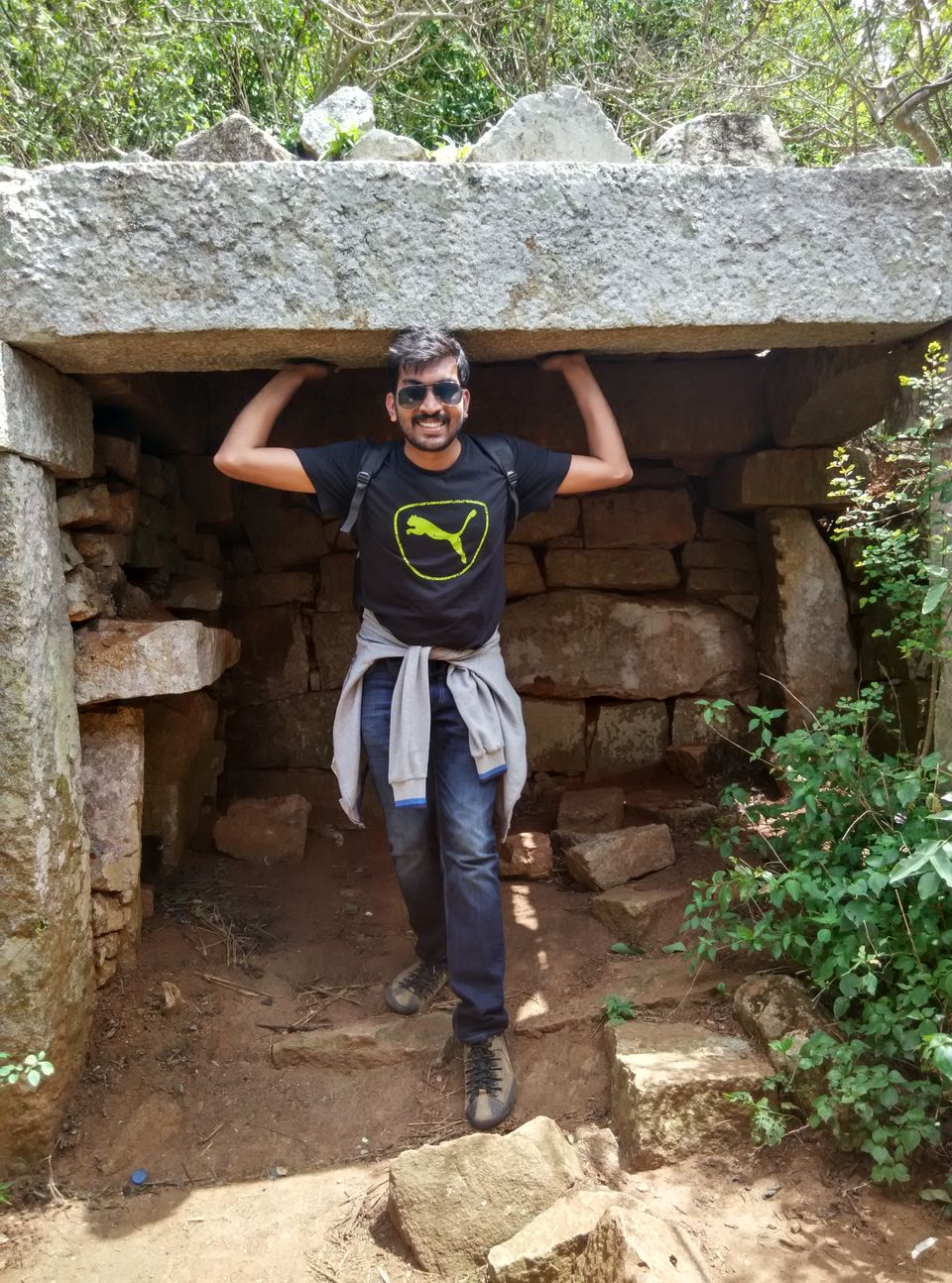 This guy travelled and trekked alongside us and soon became our companion. Technically, this lad was showing us the right route and ensured that we followed him.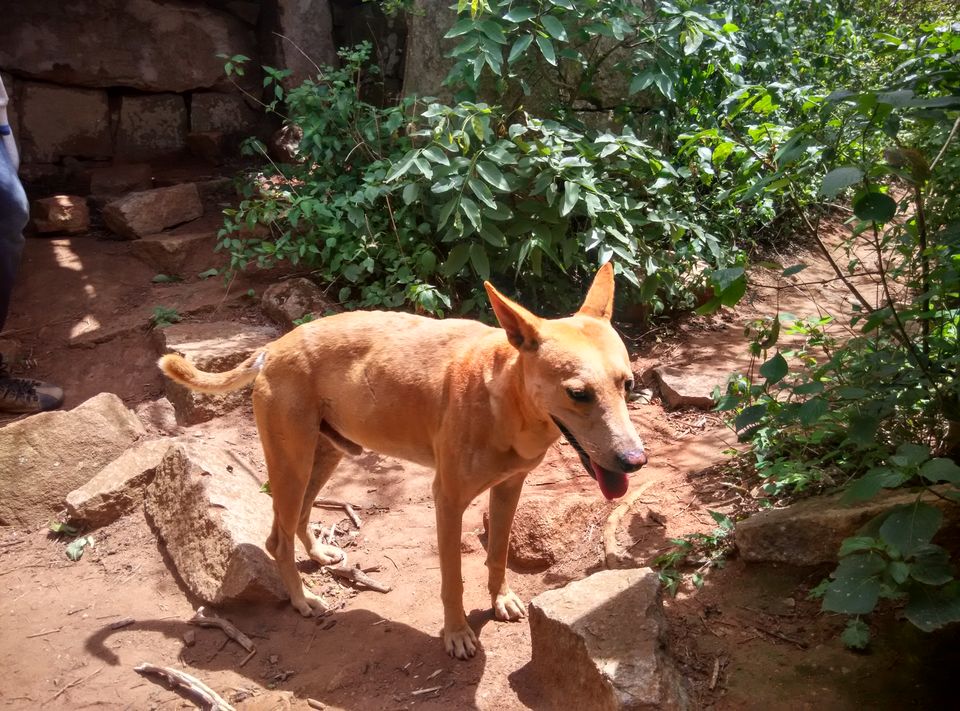 Indeed, Mother nature never fails to impress us and her beauty was surreal. It took us nearly three hours to reach to the top and that sight was simply astounding and hard to describe by words.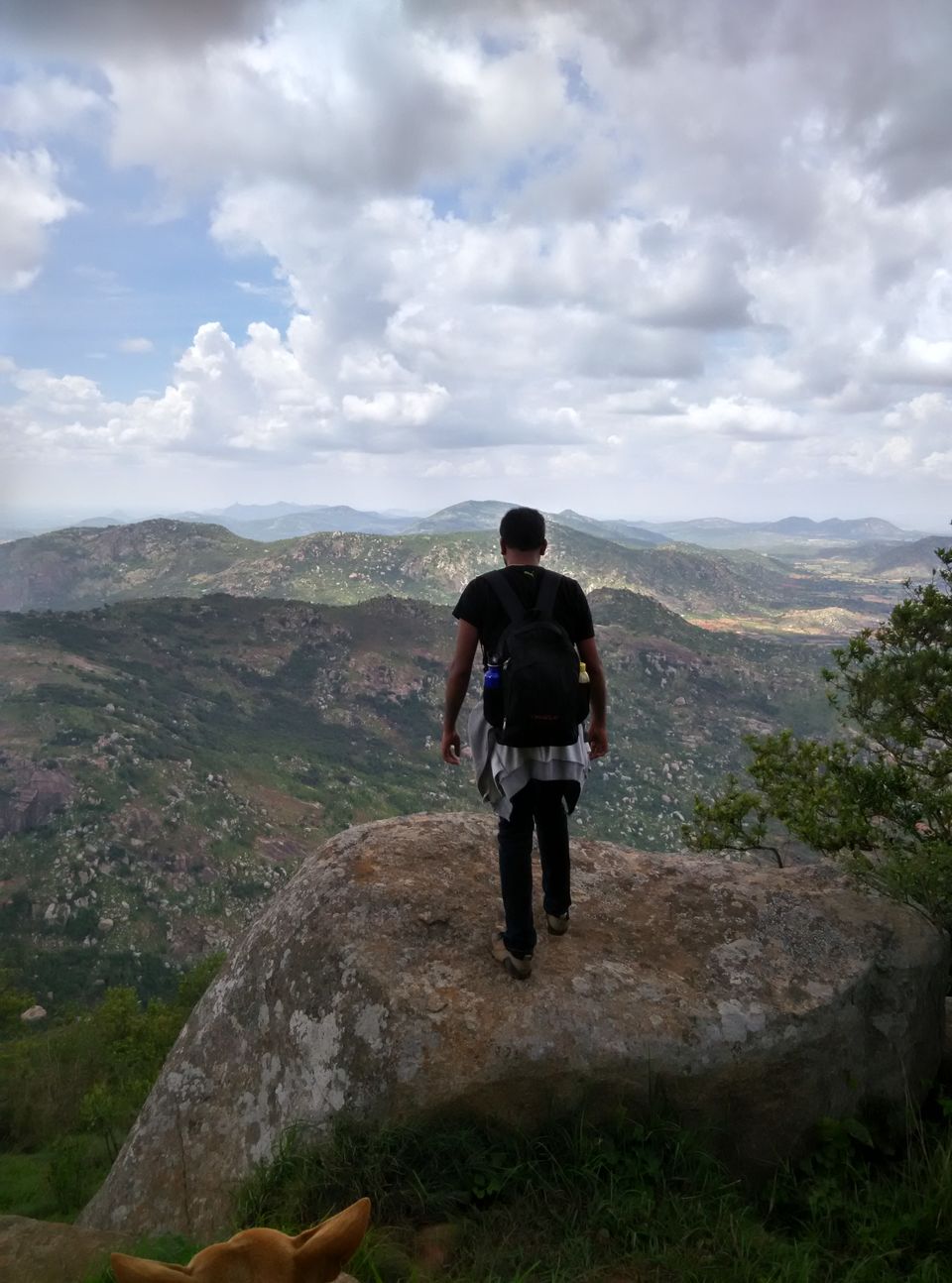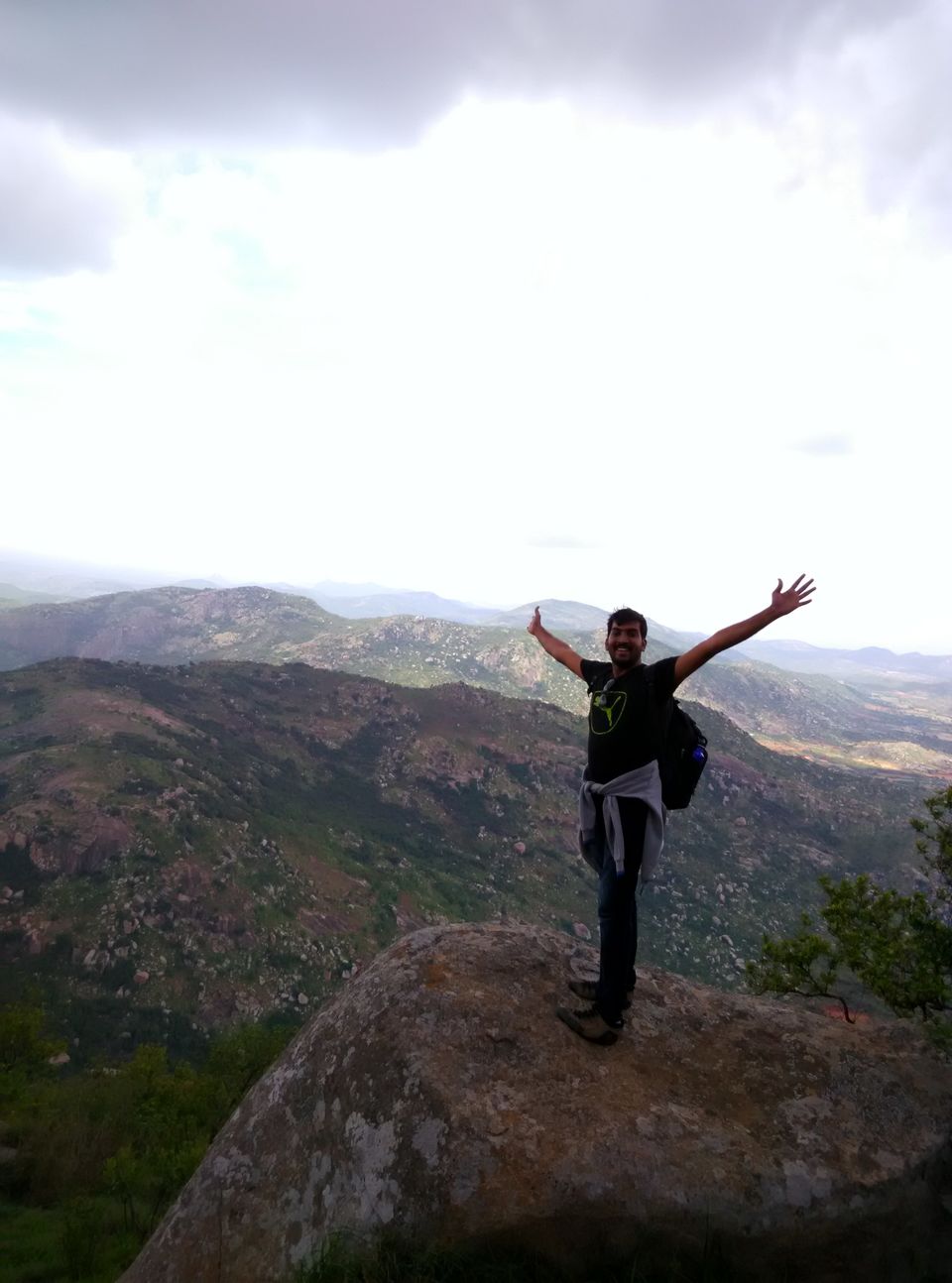 We were there at the top for a good hour and then started our descent around 14:45 IST and reached the base around 16:00 IST. We headed back to Bangalore around 17:30 IST with great satisfaction and profound happiness.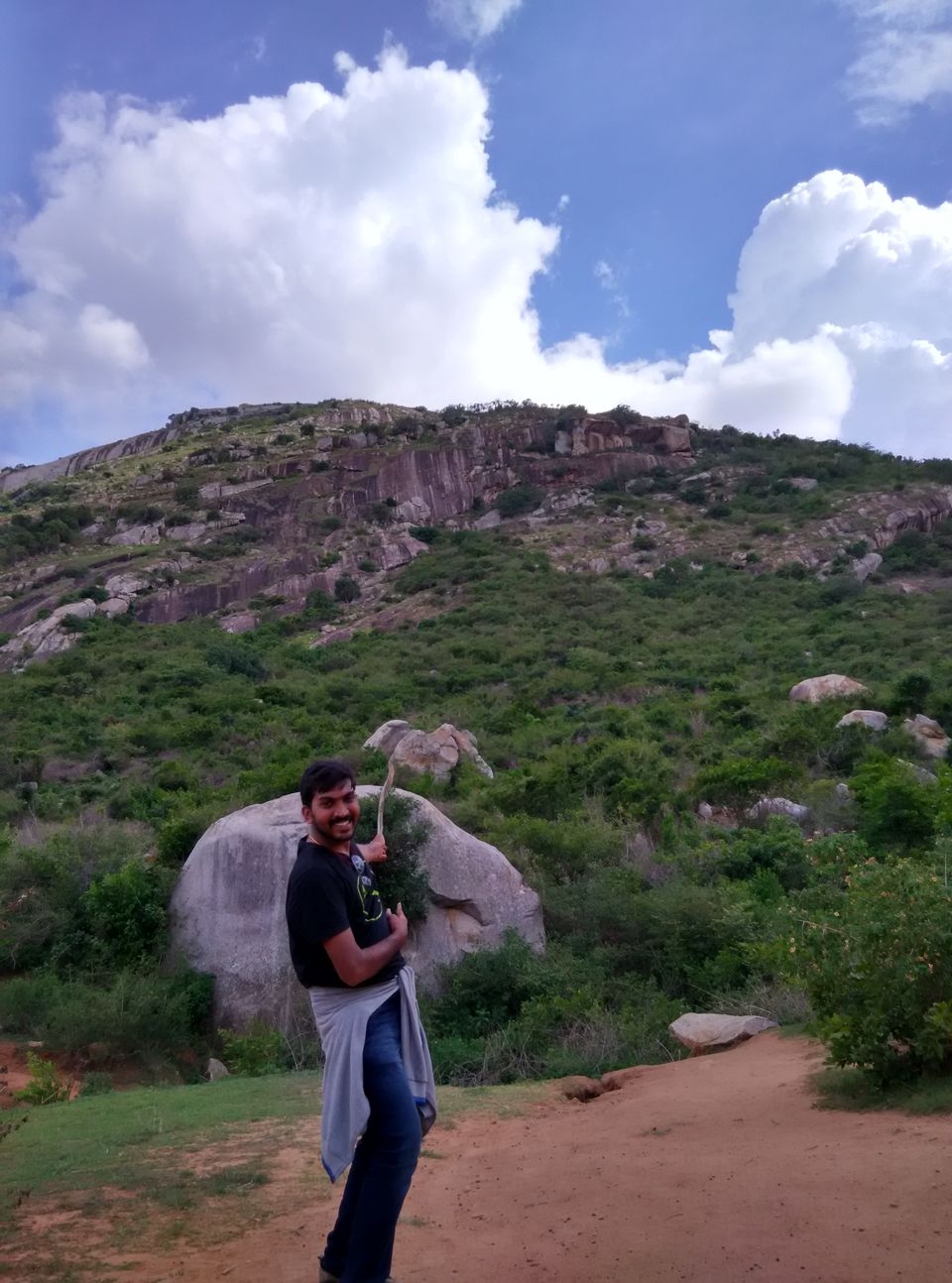 Trip Details –

Skandagiri, also known as Kalavara Durga, is an ancient mountain fortress located approximately 70 km from Bangalore city, and 3 km from Chikballapur in the Indian state of Karnataka. It is off Bellary Road ( NH 7 Hyderabad- Bangalore Highway), and overlooks Nandi Hills and Muddenahalli. The peak is at an altitude of about 1350 meters.
There are two routes to Skandagiri:
From NH 7, turn towards Nandi Hills. At the base of Nandi Hills turn right and proceed to Kalawara village via Muddenahalli.
From Chikballapur proceed directly to Kalawara village.
Trekking Gear –
Its better to carry water bottles, light snacks and a first aid box. Heavy clothing is not required as it usually gets quite hot at the top. The trek is 8 k.m long and it usually takes around 2-3 hours depending on your level of fitness.
Wish you a wonderful journey and requesting trekkers and enthusiasts to not litter these amazing places.
Cheers,
Wanderer, Lost in Travel????
Trip first published on Whispering Mountains