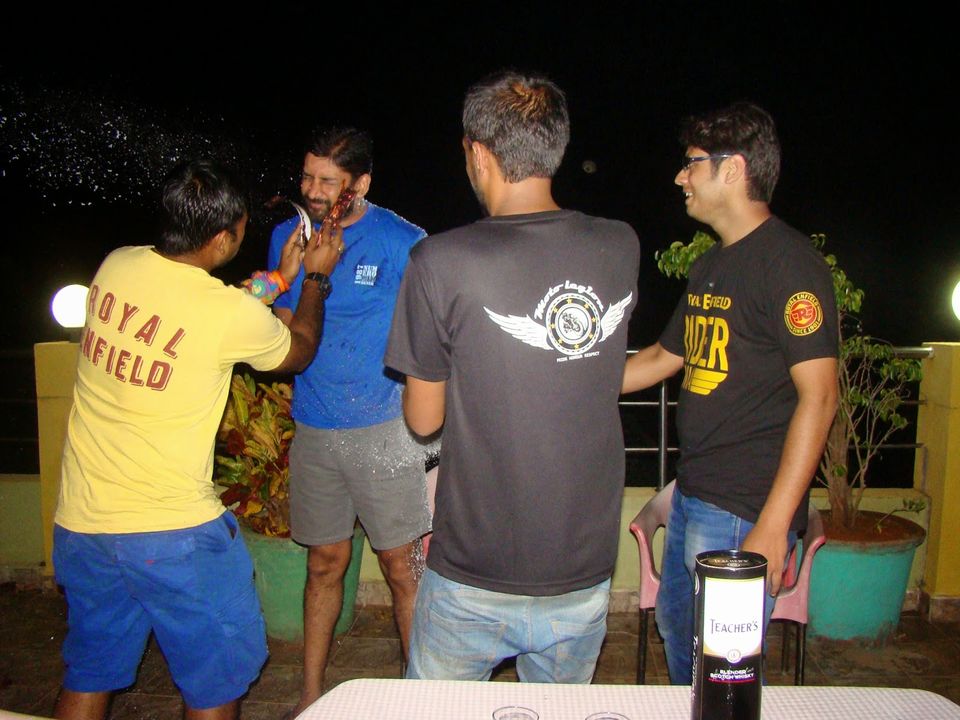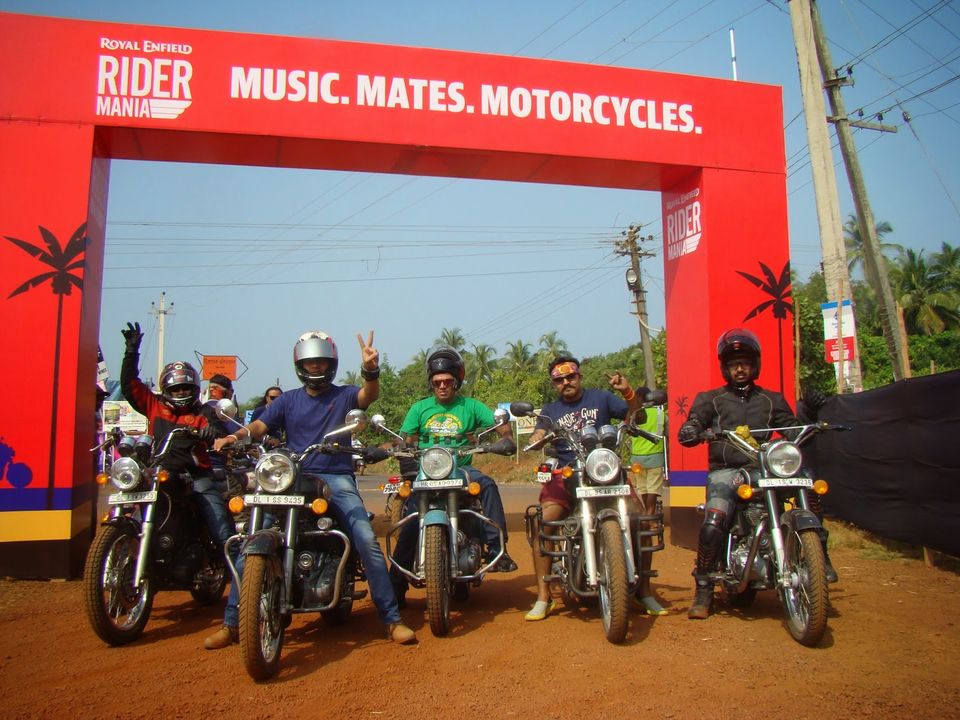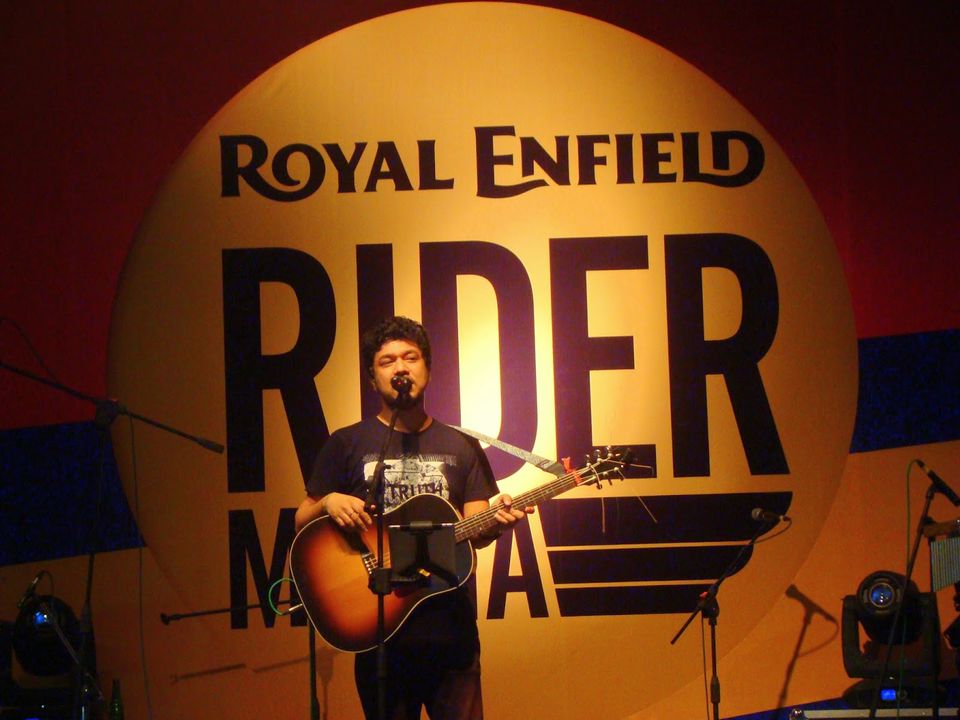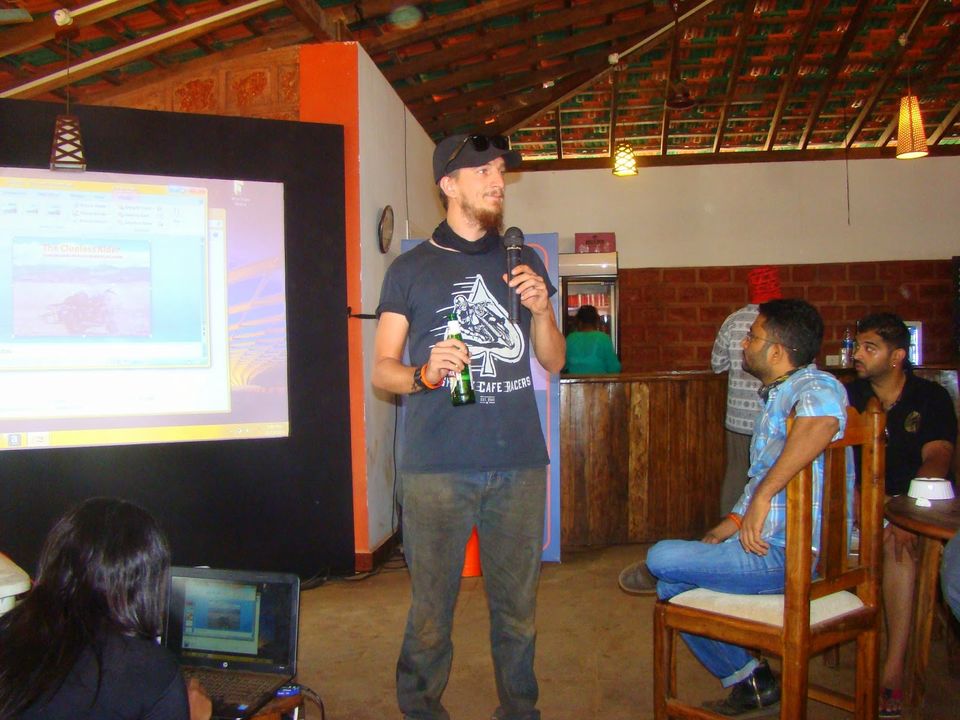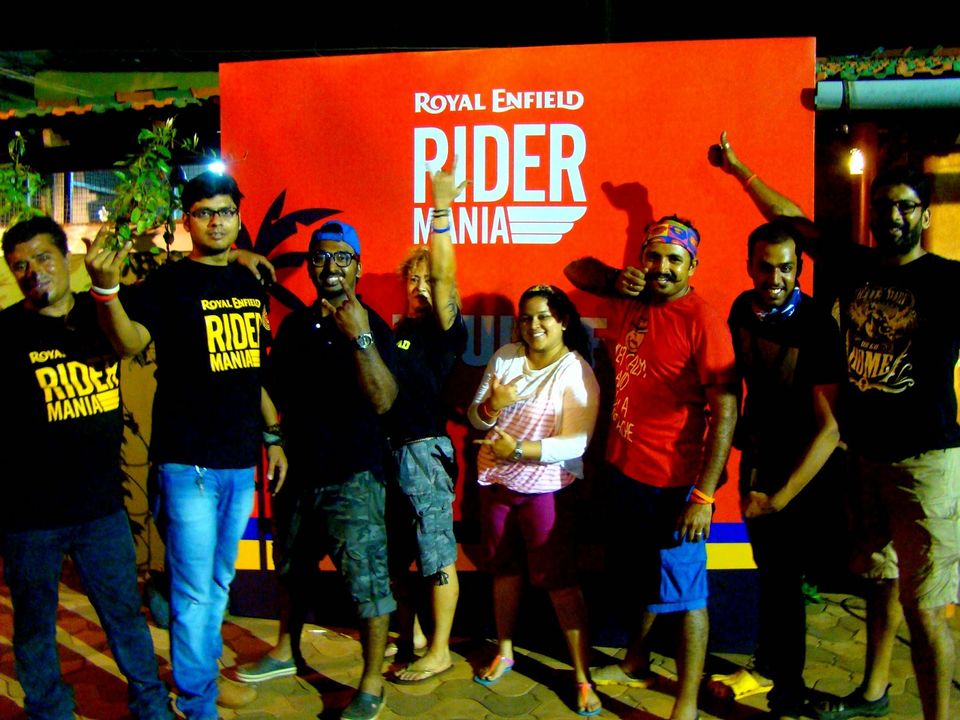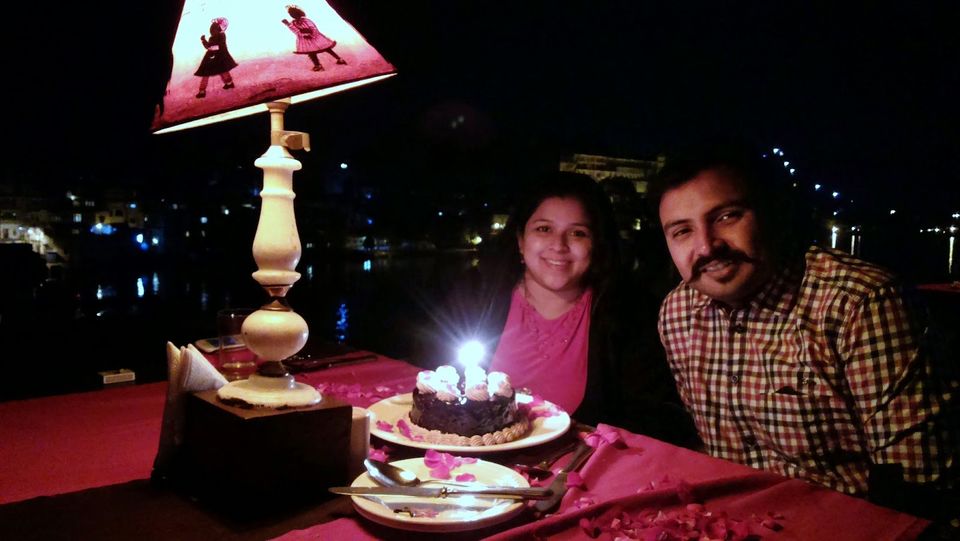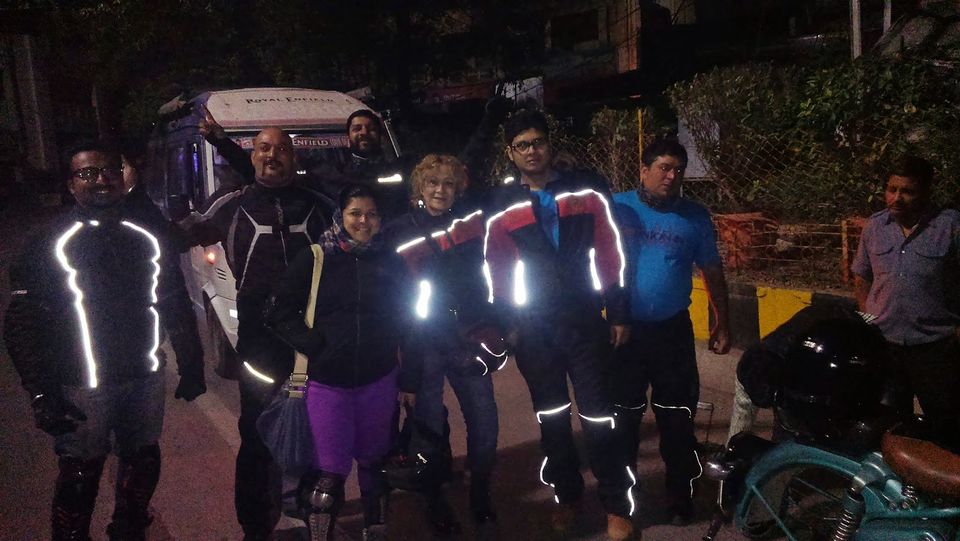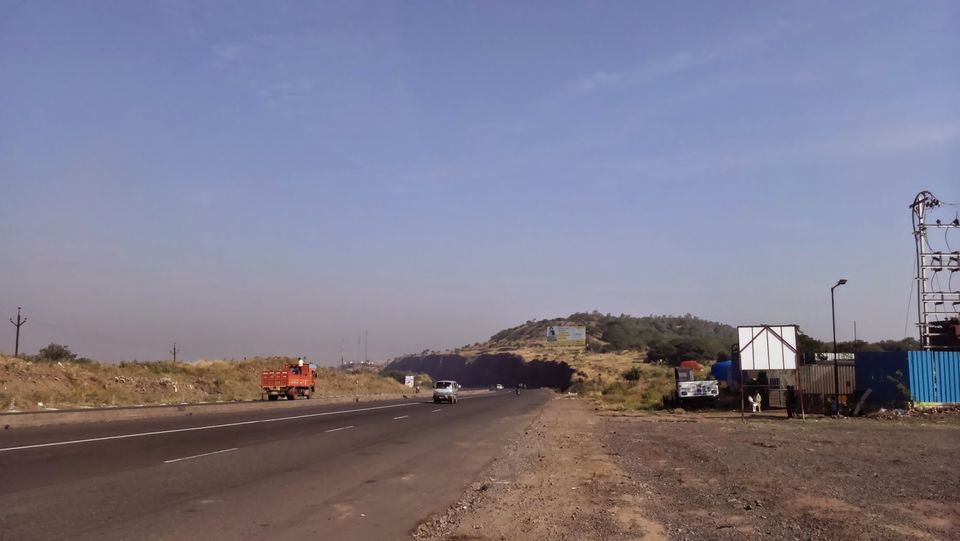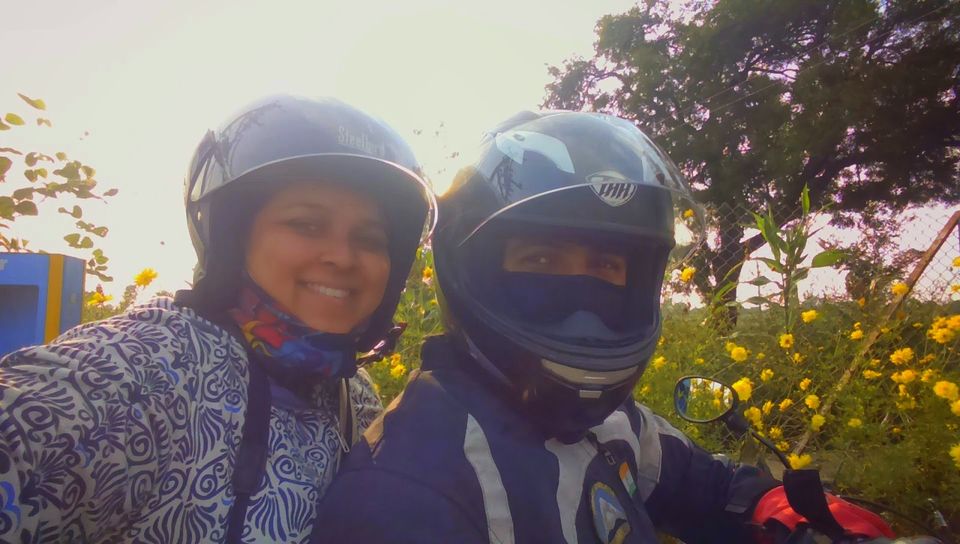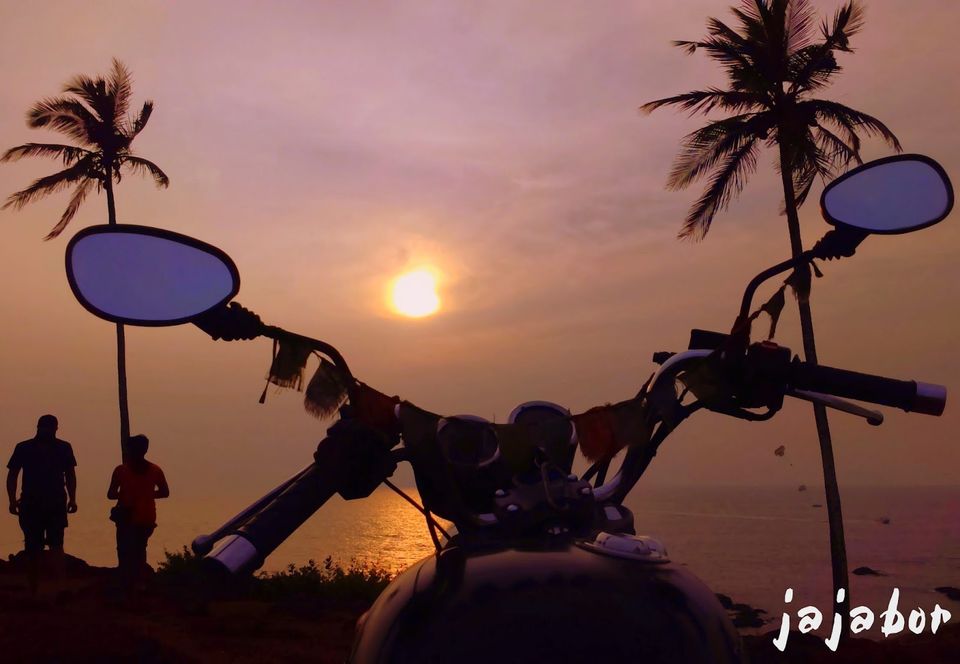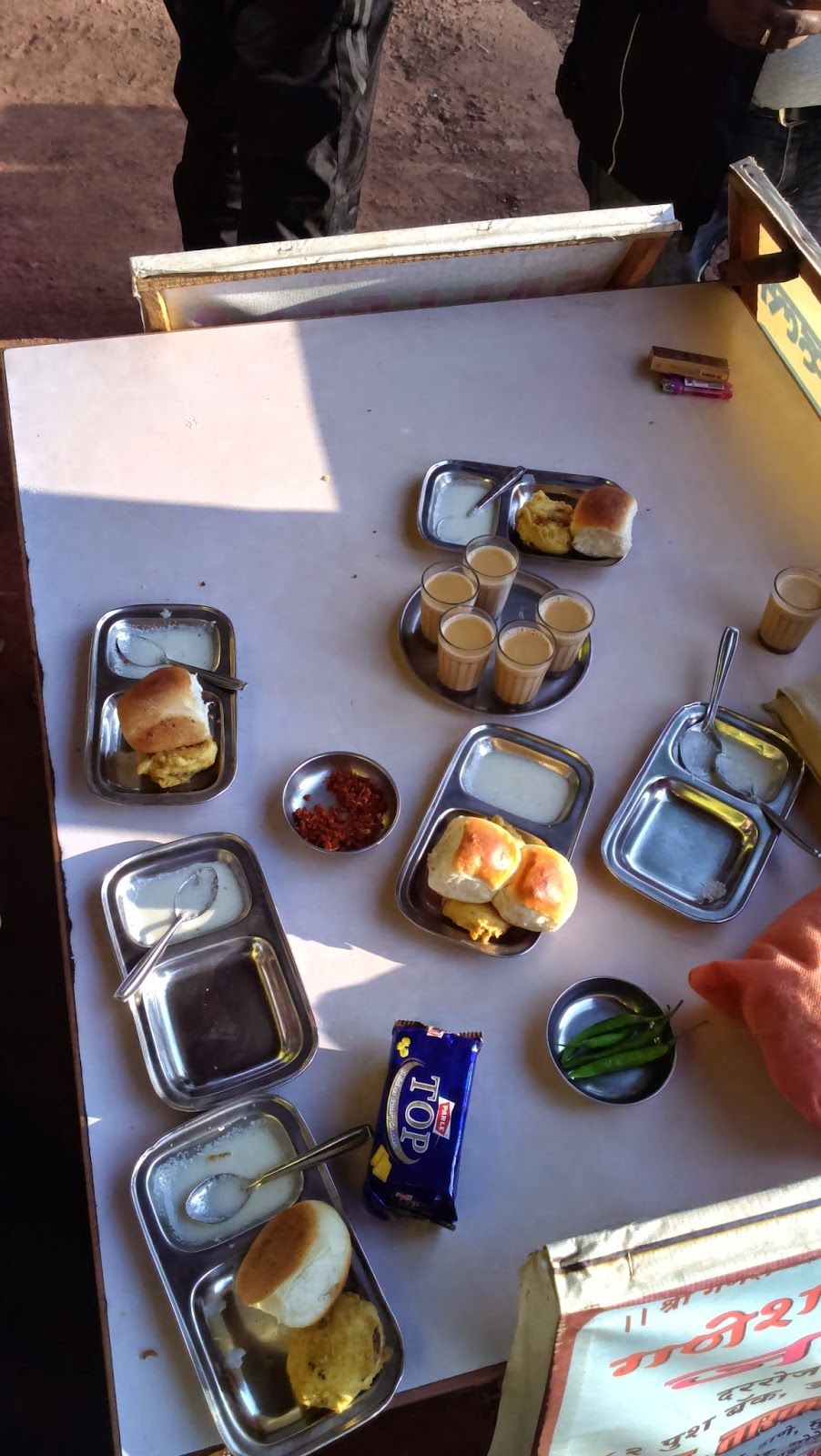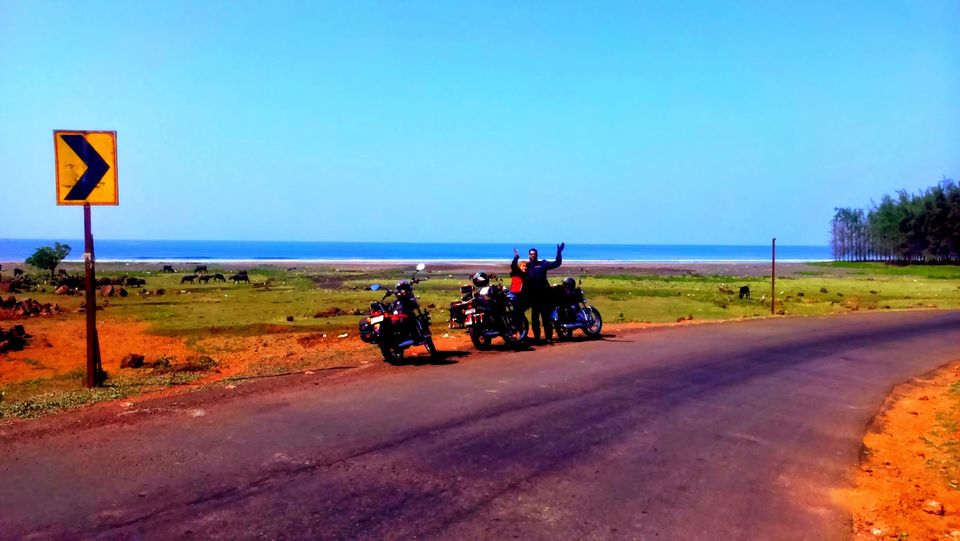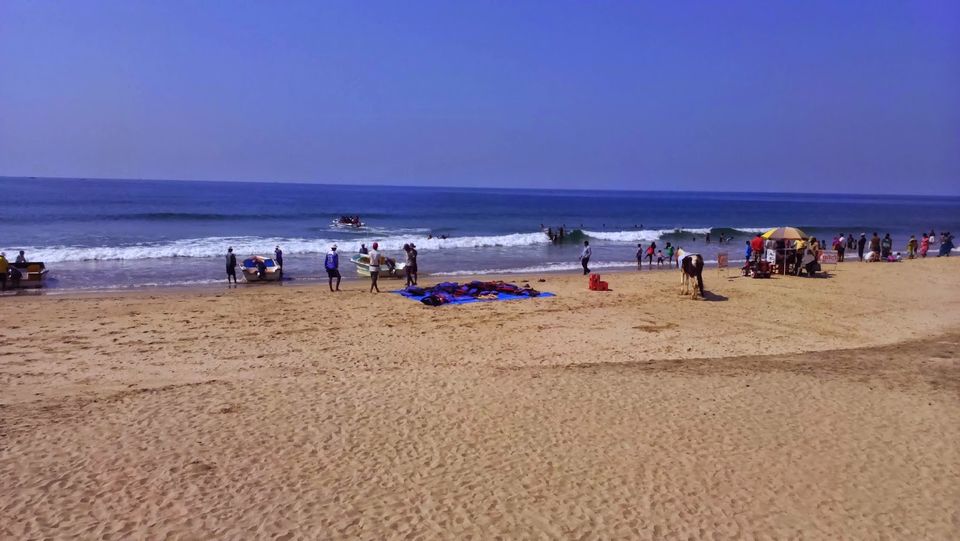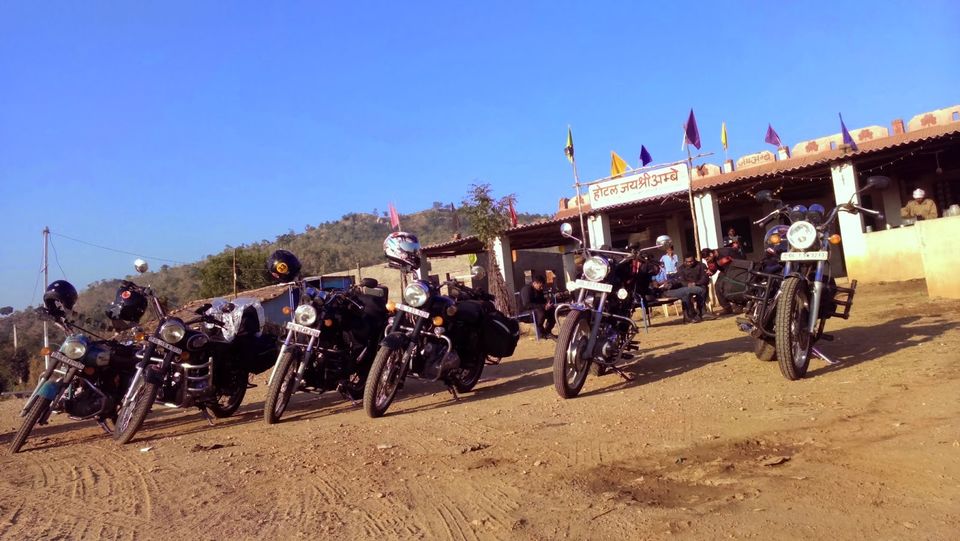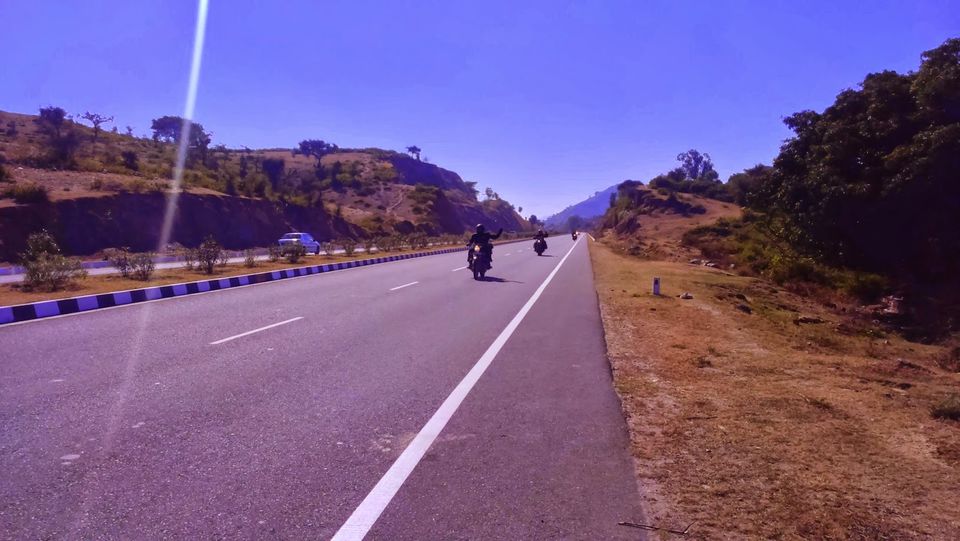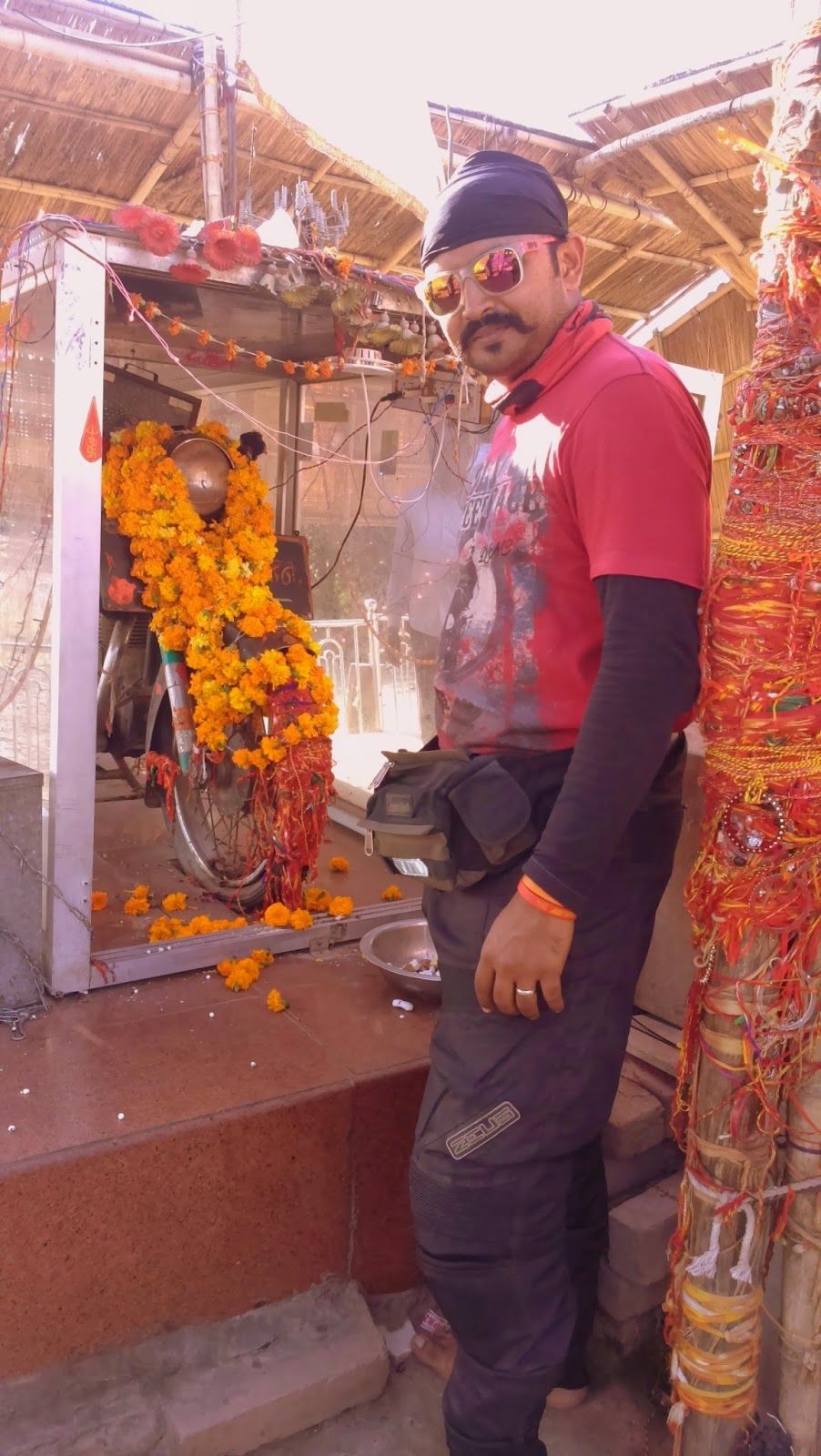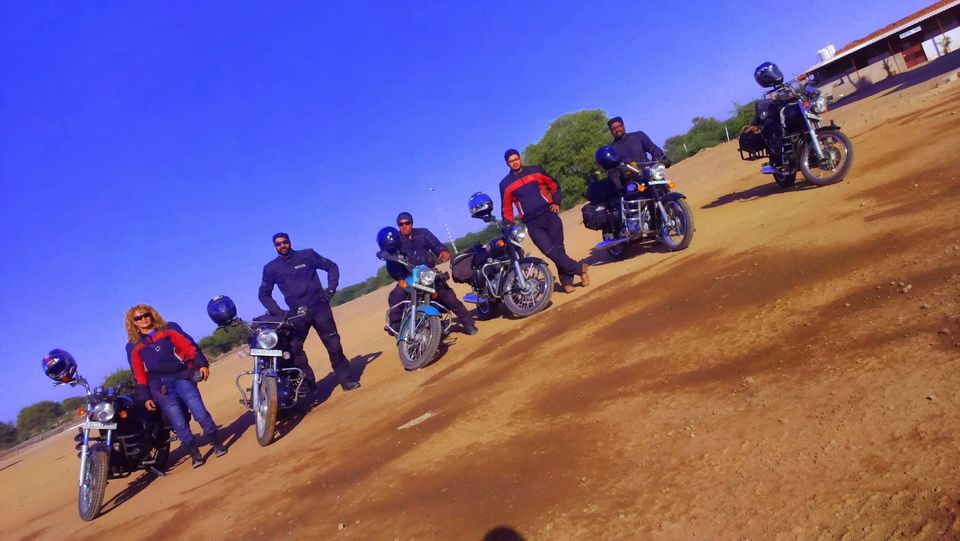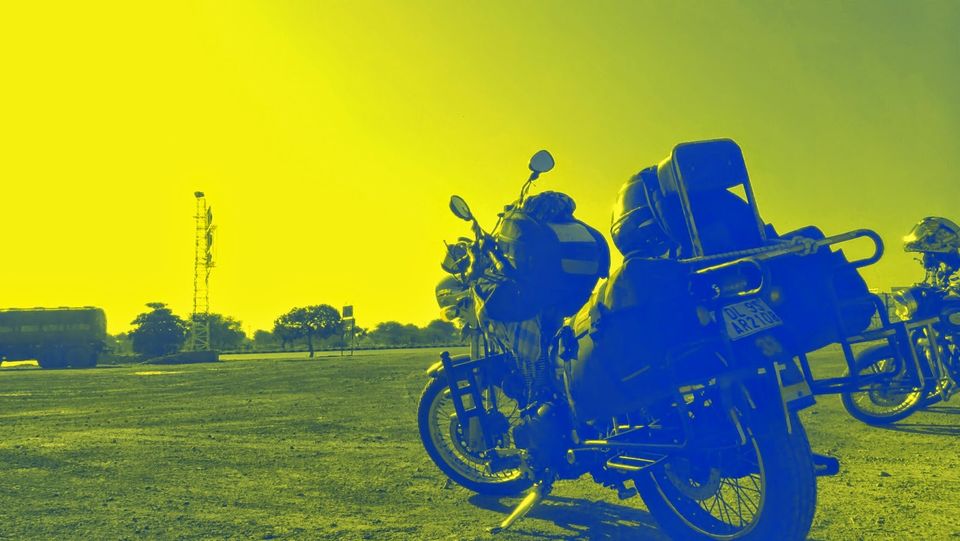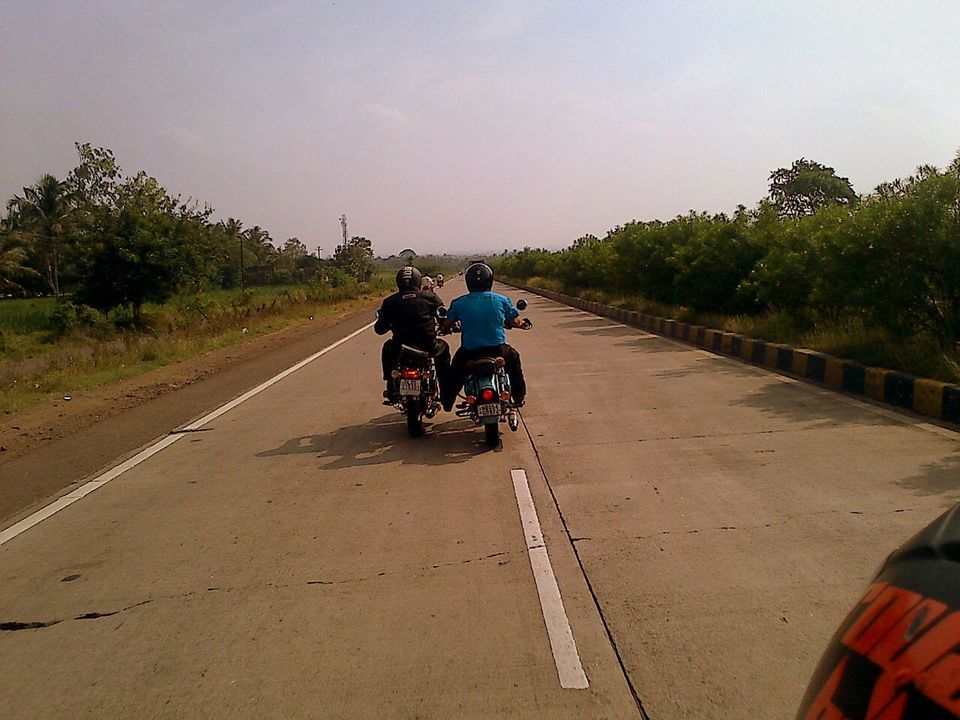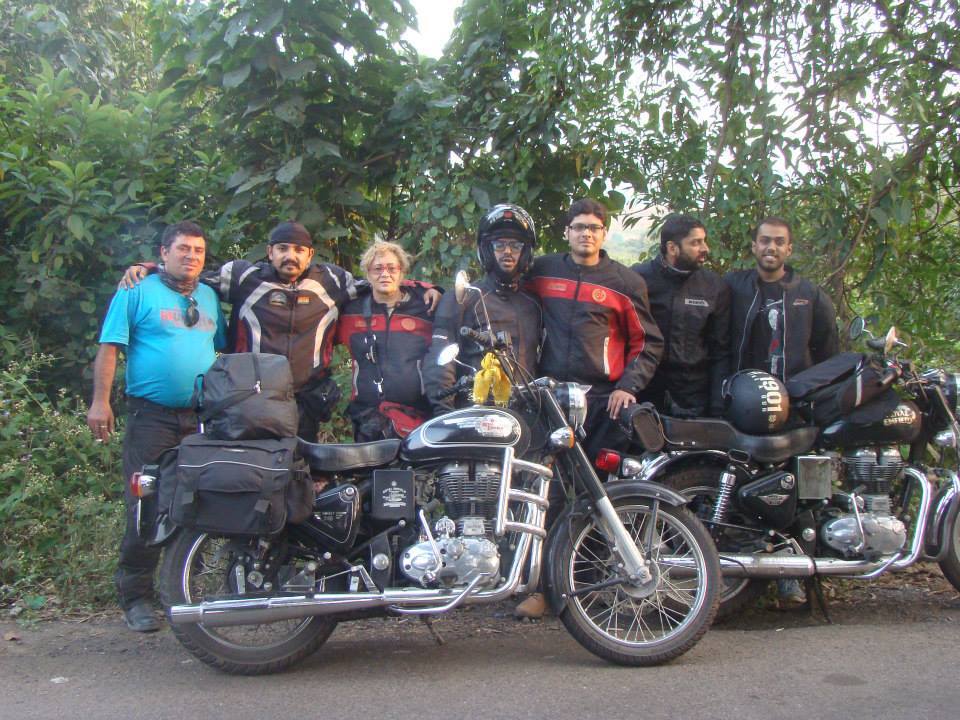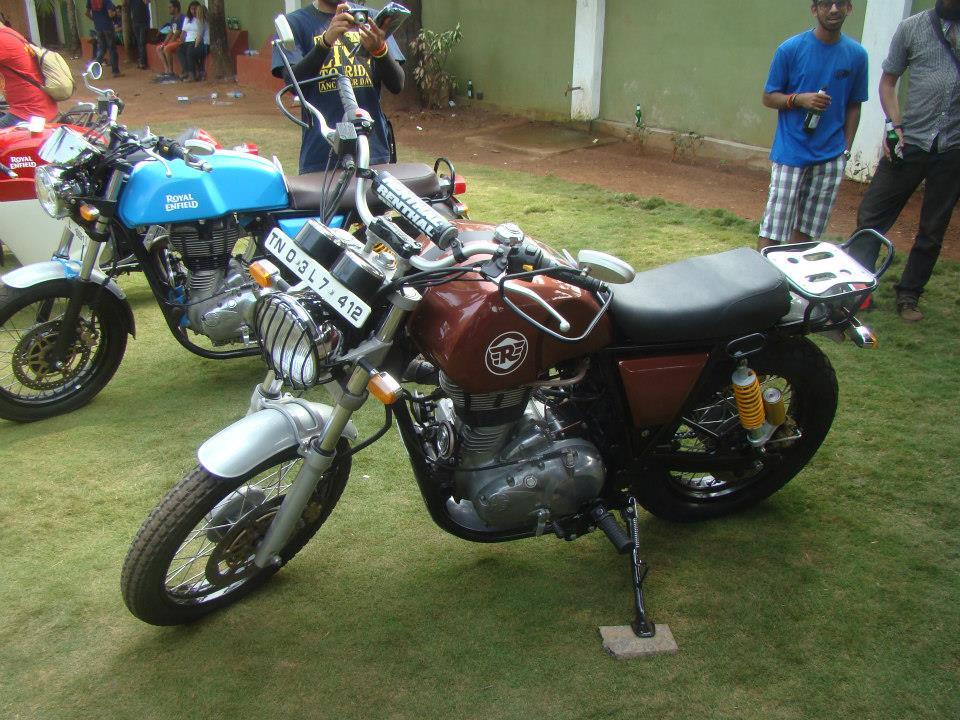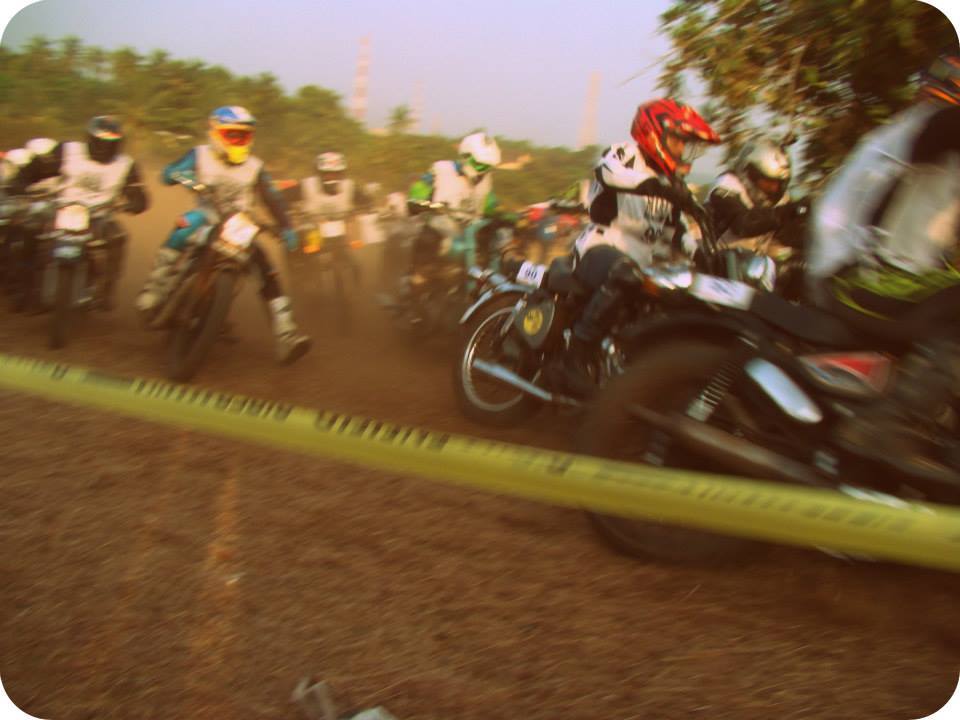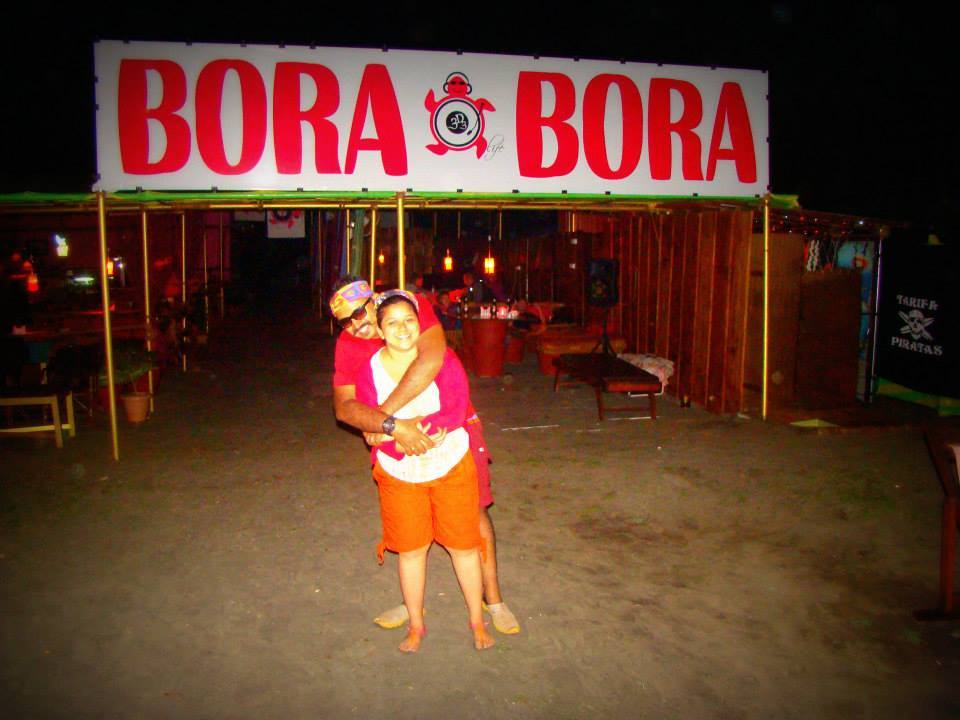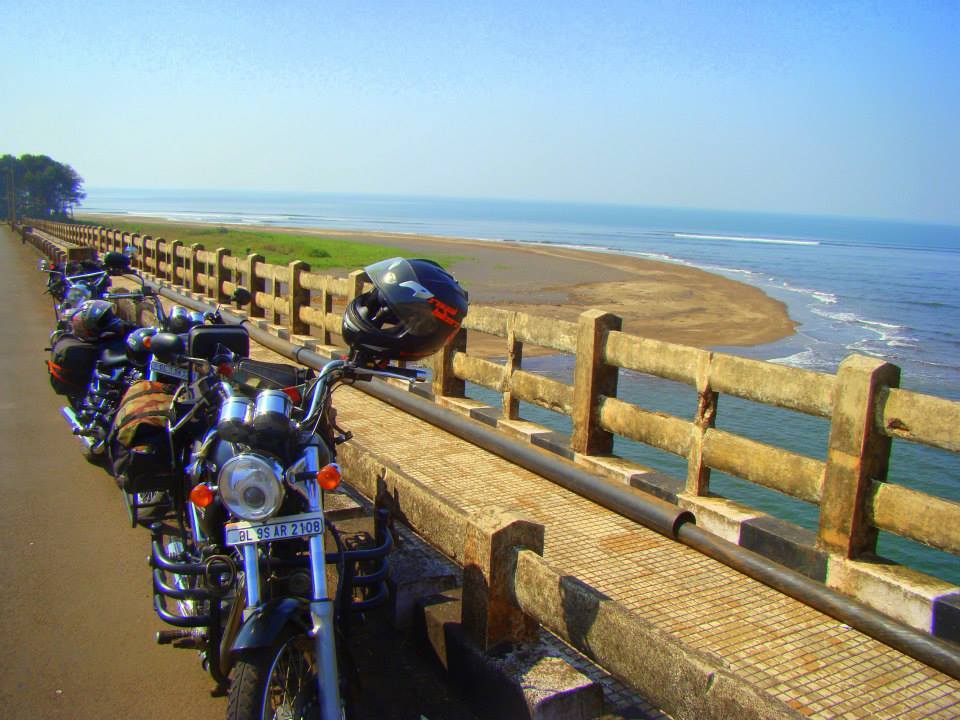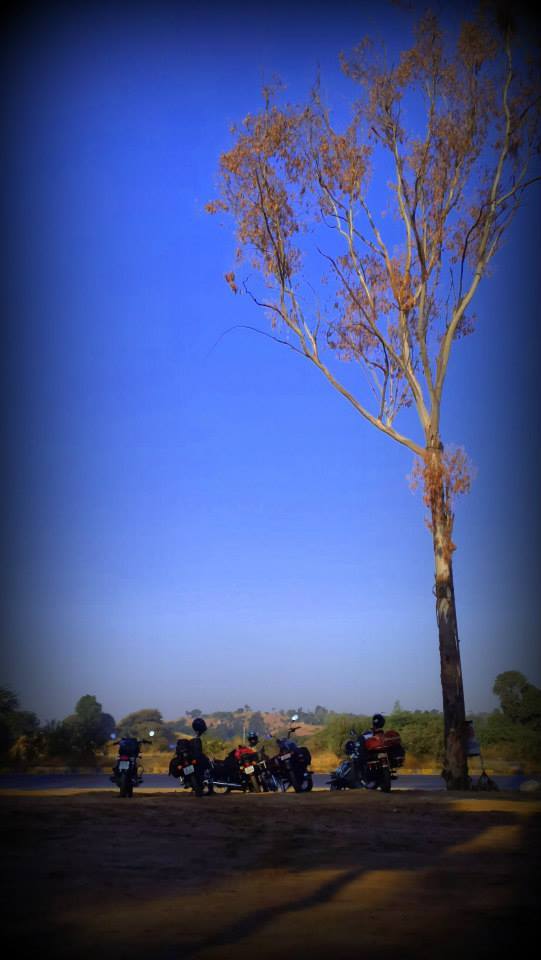 WE all are wanderers on this earth... our hearts are full of wonder, and our souls are deep with dream
Well yes..that's what is in my heart-to travel, explore & go beyond until my pursuit for wandering is fulfilled. Hope and wish that doesn't fulfill ever. I am Jajabor, born sometime in mid of 2013 at the Royal Enfield's Chennai plant and became family with my rider Rajendra & his lovely wife Subha in August that year when I was gifted to him by his lady. Since then mine & his life took a right turn towards finding happiness via riding, scaling distances and exploring every possible path that we come across. As of now I am ~18000kms. old Thunderbird Twinspark(TBTS) 500 machine having completed exploring Delhi-Goa-Delhi trip covering 4800+kms. few weeks ago (18th-29th Nov'2014). Enroute this thumping ride I, my rider & his pretty wife (pillion) rode across 7 states & found happiness that no salary cheques would had given him. So as a return gift for taking my rider on this 'ride of a lifetime' he has agreed to pen my thoughts through this blog. Hope he does justice, else I will be not as good as I have been with him, in our future rides ;)
Flashback
The idea of getting on this ride had conceived while we attended the RE Reunion North at Manali in August this year where Mr Praveen & Mr Sachin, senior & experience riders from RE tossed the idea of coming down to the RE Rider Mania (RM) in Goa, which my rider did not take seriously at that point. Gradually as he spent more time indulging in the events & meeting more mates there, he gradually began considering getting on the ride to Goa & asked himself and me if we can do it. We both knew we can do it, but the question was do we want to do it? However after that ride, he travelled extensively for an assignment, which abstained him from getting on rides. Thus, due to the accumulated & burning desire to hit the road sooner and long absenteeism from rides, he finally confirmed the organising team that we, along with his pillion are riding to GOA. He got me in shape with thorough check-ups & servicing, fixed a luggage carrier with a backrest for her highness and we were ready to hit the road.
The Ride begins
My rider was in touch with Kamal Pandey & Praveen Sathaye both RE who were taking all the pain to chalk-out the route map and as decided we were leaving on 18th Nov which was incidentally the marriage anniversary of my rider & his beloved. We all were super excited as we left RE Saket Brand store where we met the fellow riders and their machines. I was happy to see my counterpart TBTS500 being ridden by Elaine Frege, a Namibian Diplomat, a humble superwoman, having travelled across the country at her age, was an amazing co-rider. Take a bow lady! A Bullet Electra 350 was handled by Amit Gupta who was praising RE Store ManagerKamalPandey throughout the ride for selling him that machine, marshalled the ride at night superbly. A sturdy Bullet 500 was controlled by Kamal which had a pair of powerful fog lamps which came handy during our ride in the dark. And Rinku, the RE technician (read:Our Doctor) was riding a classic 500 which was more powerful than a regular one. A technician's bike had to demonstrate extraordinary power & skills, which it did quite well. We embarked on our journey at 5am along with a back-up van. Riders were thankful to RE for the van as it took away the tension of not getting the parts in case I or any of my friends broke down mid-way. We met two more Bullet 500 machines ridden by Vishwanath Bhardwaj & Amit Puri who had joined us at Gurgaon. A royal salute to Vishwanath for selecting this long ride to be his maiden ride.
During the day I along with my mates zoomed through the not so good highways of
Jaipur
where unfortunately my rear leg's socks (
Tyre
's tube) gave up while I was cruising at a high speed. Thankfully my rider managed to control me well, else it could had been a serious mishap as trucks were plying full-load, full speed behind us. I was more concerned about my pillion & least about the rider though. Thankfully Rinku, Kamal & everyone helped to get a new tube fixed and we were back on the road after wasting an hour. The riders were thoughtful to give us & themselves a break after a drive every hour or every 100kms and refuelled us whenever any one of us was hungry. The much-needed breaks helped me & my mates to regain energy and freshen-up to clock >100kmph. The highway after crossing Jaipur was inviting and we did not miss a single opportunity to pump our pistons hard and cruise through the alluring roads. Though there were some odd patches to spoil the fun on the run but the picturesque highway between the mountains, villages, jungles made it a memorable first day. There were smaller mishaps which included myself & mates ridden by Kamal, Amit's which were kissed by Elaine's machine. Thankfully the riders were not hurt but Kamal's machine was damaged a bit. However it as quickly fixed - all thanks to our doctor Rinku & spares kept in RE's support van. After the ~700kms ride, we reached
Udaipur
where Kamal had booked a comfortable stay for the riders which had a covered parking lot for us. Though the ride was tough, the enthusiasm of the riders & our heart (read: engine) pumping enough power to make it a memorable Day1.
Since it was my rider's marriage anniversary, the couple rode for a romantic dinner at a wonderful restaurant by the Pichola lake- Upre by 1559 AD & the pillion was quite happy by my rider's gesture.
My friends & their respective riders partied at another restaurant by the lake and the first day ended with happy memories & setting an early alarm for the next day.
19th Nov. 5AM, was the time when I along with my mates were kicked on that cold morning to start the day's journey. Everyone was happy to get a piece of anniversary cake which was delicious & liked by all riders. As we headed out, Doctor Rinku's machine had a flat tyre & being a doctor himself, he along with the help of the technician in the support van, repaired the puncture all by themselves while Rinku's bike is ready & we are ready to rollother riders discussed the route & day's ride. We headed out of Udaipur and halted for breakfast just before Rajasthan-Gujarat border for the delicious 'Dal-Baati-Churma' at a road side dhaba. This dish is as popular as parathas are in Northern India and every rider was praising except my rider who is fond of parathas & stuff that has potato. Poor him. Our riders took the Kherwara-Modasa-Anand highway route where the stretch from Anand to Vadodara was under construction & in bad shape, thus reducing our average speed to 40kmph. Not only the roads were bad, there was city traffic which was burning my clutch. I was also concerned that my pretty pillion who was stationed on her throne. Poor lady was unable to sleep & move much and on numerous occasions she almost jumped off the seat due to the unexpected potholes on the highway. I was constantly speaking with the rider about my condition & whenever I needed a break he and his mates took a water break or a nature-call break, thus ensuring that we all got adequate rest to recharge & replenish our energy levels before zooming out on the next stretch. Thankfully none of the riders were eating too much to avoid falling asleep and were gulping enough liquids to remain hydrated. A lesson my rider learnt from his ride to Khardung-La this year. As we approached NH-8 near Vadodara which was taking us to Mumbai, that was the end of our painful journey. We revved ourselves full throttle to clock 120kmph+ and Elaine's machine told me that it touched the 130kmph mark. Thanks to the amazingly flat tarmac that helped us to reach Vasai (~350kms away) our pit stop for the day, in around 6 hours with several breaks. The best part of this small gang was that they chose to ride together & wait for the other person in case he/she is left behind and that's the one way you ride happy, together. After the 700+kms ride, the riders & their machines were exhausted. Everyone requested Kamal to start the ride late next day as their butts were already complaining. But poor Kamal had to ensure that meet other local groups in Panvel and ride together to the Final destination- Goa. So he had to set up an early wake-up call at 4.00am and ride-out time at 4.30am.
20 November'14, 4.30am- This time around my rider was kicked by Subha to getup & rush downstairs with the bags as everyone else was ready & waiting for them. It was unusual for my rider to get up late especially for the ride but this time it seems he was too tired as he missed the alarms. Kudos to Elaine & other riders for getting up early and ready with their machines in due time, after a short nap of 4 hours. We all were ready to ride down to Panvel where several other bikers had assembled to start their journey towards Goa. Amit Puri stayed back as he wanted to accompany his other friends from Mumbai. After reaching Panvel, we found ourselves midst of crazy RE riders along with their clubs, with all possible modifications on their machines. Wow! What a sight that was and I & my rider were equally excited. He was checking out the possible accessories that he can get for me and was discussing with me too while we were riding later in the day. After regrouping with the riders there, we checked & confirmed the route and decided to move out in our own sweet way. As per plan we were to take the route bypassing Pune, Kohlapur, Belgaum, Nipani, Sawantwadi to Goa. As soon as we headed out, Kamal, Rinku & my rider erroneously got on the Mumbai-Pune Expressway & revved me to the max and we were gunning down full throttle. Unfortunately our happy ride came to a halt when we were 'caught' on the first toll gate where the riders were asked to pay a hefty fine or else they would have confiscated us. The riders fought boldly to prove the point to the so-called policemen (who actually were toll-guards dressed as cops) that it was unintentional & that they were unaware of the fact that bikes were not allowed on the expressway. Finally they let us go after sharing some 'sweets' and also showed us the way to the correct route. Eventually the three riders lost the other members & were re-connecting with each other through Whatsapp, sharing their respective location till everyone was united after a point near Pune. Have to mention that the riders had their first tryst with Marathi food and pounced upon Vadapao, Poha, Bhajia, Upma at a road side restaurant Puneri. After their reunion, found that an electrifying red Electra joined us with his rider- Vidit Jain. He is the nephew of Amit, a livewire and lots more. As we rode together it was fun to follow each other and discuss the experiences, pulling legs and much more. The road was fantastic after we got on the Pune-Bangalore highway and I was trying to break my top speed at every given opportunity. I & my rider were finding it hard to balance it at times as there were some issues with my rear leg (wheel) which was wobbling at high speed. Aware of this issue, we were cautious while crossing the 100kmph+ mark. Also I was bleeding (oil) from the engine due to the wear & tear but that did not dampen my spirit and we were enjoying zooming past the tempting highway. Unfortunately my mate (Amit's) Electra 350 was finding it difficult to cross 90kmph mark and was 'missing' its breath on crossing that mark. So we all were trying to slow down & match his speed. That was a tough task for us on that road. Finally the moment came when Rinku gave the needed push to his machine and together we all rode together at 100+kmph, for a brief moment though. At the hourly break taken at Nipani, the riders recharged themselves with a can of Red Bull and got on roads through the Ghats which were in bad condition. There were numerous pot holes, steep curves & elevations made it a perfect adventurous ride. I was feeling sad for my pillion who was left with no other work than clicking the pictures of my mates & their rides and also holding onto the seat tightly so that she is not dethroned due on the poor roads. Finally we reached Sawantwadi when the sun went down and as per the target set by Kamal, we had crossed the Ghats before sundown. Kudos to Elaine, who shed her inhibition of driving at night and was riding safely to Goa with her co-riders, whom she aptly referred as her riding angels. After traveling 650kms we had finally reached Vagator, Goa at 8pm and were lost again as Vidit & Kamal zoomed their machines in one of the lanes. Blame it on our excitement of reaching Goa on the 3rd day. As we entered the gates of RE Rider Mania, there was an adrenalin rush in my engine & within every rider's body and soul. The feeling of achieving this feat was As we enter RE RMenigmatic and it surely made everyone forget the pain, anguish of the 2200kms+ journey from New Delhi. The riders met Praveen there and other friends from RE whom they had met during Manali Reunion and they seemed to be happy to meet each other. Perhaps I was the happiest to get them to Goa without much trouble. After unsuccessfully trying to get their registration completed, we left for Morjim where our stay was arranged by Vidit and since then he was the group's official Goa guide for the roads & other things.
The day's ride was hectic but the feeling of thumping all the way to Goa was extraordinary. I was extra delighted because it was my rider+pillion's dream to drive to Goa last year which could not happen due to his sickening job. And that I was able to bring them safe to this land of sea, sand, sun & fun. More importantly we were here at the Rider Mania which promised to be an amalgamation of rocking music, freaking mates from the country & some amazing motorcycles and their stories of course.
RIDER MANIA 21-23 November'14, Vagator Goa
The atmosphere was electrifying from the moment gates were opened on Day 1. After collecting their goodies, riders rushed to register & participate in the on-field events and get their machines modified for the same. Since me & my rider had participated in these events at Manali Reunion, we also wanted try our luck & skills this time too. Unfortunately by the time he went to register, it was all over as everyone else had registered before him. Damn, we missed it badly. They went ahead to register for the mega event- Dirt Track but he came back because it needed him to take-off the luggage carrier (LC) from my back, which was troublesome as it was custom made and took the 4 hours when it was being fixed. He knew it will be a challenge take it off and fix it back the same way as it was done in Delhi. So he decided to witness the events this time and try his hands on the Camera. Also that gave him a strong reason for coming back to RM next year & participate. Wise decision it was but I know how much he missed participating in it. However, our champ Vishwa & Elaine took part in the dirt track and considering it was their maiden attempt at any such event, they fared exceptionally well. The riders were proud of them. At the RM they were happy drinking beer, lip smacking food, checking out riders, old mates, stores, gadgets, new accessories, customized motorcycles, karaoke and much more. Riders bought night blinkers & had installed on their machines which helped them to identify/locate each other from a distance of ~1km. During the evening we used to go by the Vagator beach where riders used to let go themselves into the sea, play volley ball while munching scrumptious sea food from the shacks, clicking some landscape images as the sun drowned into the sea. Later they went back & enjoyed music at the event venue. The riders had missed the performance of Vir Das on the evening of Day 1 which was seriously funny and liked by other riders who had attended. On the 2nd evening, Papon & East India Company had electrified the atmosphere and had the crowd on its toes. The most amazing part of his performance was that he was blending Assamese folk songs with rock quite well and it was well accepted by the crowd too. On the third & last day of the event, at the story telling session, there were speakers (riders) sharing their experience, achievements with everyone and out of them JonathanGibson's story was most fascinating. Yes he was with the guy whose motorcycle had an additional plate with "London to Sydney" inscribed on it. I & my rider were in awe to hear his experience so far and the young rider Jonathan sharing his experiencefrom Australia was a big inspiration for many. I was happy to say hello to his RE Electra 350 cc when we both were parked for a check-up at the maintenance clinic that was put at the event. In the evening during the off-road ride to the Vagator hills, I slipped on the gravel while we were climbing uphill, resulting in my poor pillion's fall. Thankfully both of them escaped unhurt. I and my rider felt very sorry about her fall but she was sweet & sporting enough to laugh it out and continue riding. I love her for acting in that manner, though she had sustained some bruises. Of course she was being extra cautious & alarming my rider to avert any further incident. On returning to the event after a dip in the sea, we enjoyed the performance of Swarathma which took a dig at the prevailing loopholes in the system through their music. Also the winner of best customer bike was awarded by the great motorbike designer of the era Pierre Teleblanche to the Military Green Army bike-Gunner 540 which was brought by Bulleteer Customs from Bangalore. As the DJ stopped playing music and curtains fell on RE RM 2014, the riders and their machines were quite upset that the event had come to an end and that they will be missing the fun for next few weeks at least. My rider and pillion bid farewell to every new/old mate that we had met at the event and vowed to come back next year.
Goa Rocked
Goa was at its best during our stay. Fun began the moment the riders had checked-into their hotel. Celebrating Amit Gupta's birthday was a big event in itself where a couple of birthday cake's had been cut, his room being decorated in the most obnoxious way with flowers- idea credit goes to Subha & Kamal, followed by Champagne pouring, poppers and all possible masti to make it a memorable day for him. They also celebrated Amit Puri's birthday which was a day after other Amit's birthday. The food and hospitality of Morjim Resorts was fabulous and more than we could have asked for. My rider & pillion loved going back to a small bakery-Delicieux, adjacent to the hotel for sumptuous breakfast, which was run by a local couple. Every rider, especially the boys, would remember Bora-Bora restaurant. There, at the shacks on the beach, they not only enjoyed the lip-smacking food but also gazed blatantly at the beach full of Russian beauties. It was hard for them to concentrate on what fellow riders were talking about or what was being served as the #mermaids on the sand were fascinating. Thankfully the ladies also enjoyed the view along with the food which allowed the boys to carry on enjoying their fishing act. While moving out of the shack, a freaky incident had hurt my pillion's foot when she crashed into an empty bottle tray that was being used to step into the restaurant. Thankfully the injury was not deep and pain was bearable which allowed her to carry on with the day's activities. Post the event Amit Puri had left for Shridi on his own and we all headed to South Goa- Varca where Amit and other boys had booked their stay at an amazing resort managed by Club Mahindra. My rider had planned a quite stay at the Palolem beach to celebrate the happy times with his beloved, after the event was over. However the camaraderie among everyone grew so strong by then, that made them to cancel their Palolem trip & instead they went ahead with the rest of the troop. They along with Elaine found a superb accommodation, a Chalet, at the Mist Goa Beach Resort.All of them enjoyed being together taking a dig at each other and have a memorable time by the beach and swimming pool. On 25th Nov it was the day when my pillion had to depart by air. My rider had to attend an event at Chandigarh so he had planned to board a train to Delhi & get me booked in the train's luggage van, to reach there by 27th November. Rest of the riders were riding back to Delhi and they had planned to take the coastal route to reach Mumbai and also visit 'Bullet Baba' in Pali, Rajasthan which had made the entire return trip so exciting. I & my rider were so keen to get on that return road trip and we prayed that both train tickets shouldn't get confirmed. Unfortunately both the waitlisted tickets were confirmed and the 2nd tier AC ticket was even upgraded to 1st AC cabin.
All of us were taken to a RE workshop in Margoa- Saini Motors where we were pampered and all necessary treatments & repairs were done in every machine before we departed. I was not able to run smoothly especially on the curves and was wobbling terribly. So I was inspected thoroughly and got additional treatment as one of the mechanics had detected some problem with around the 'singum' bush (he meant swing arm). It was found that my wheel rims were misbalanced and front rim had to be replaced with a new one as it was beyond repair. So getting the necessary treatment took more than usual time and as a result we were not able to reach the station on time, thus leaving us with no other option than to ride back with the group the next day. Believing that whatever happens, happens for good and we moved on instead of regretting on things that was beyond our control. While coming back from the workshop, I was feeling better, the wobbly feeling was cured but not completely. Unfortunately they did not have enough time left to dig into it any further. Also, Rinku had certified me as fit to thump and with that confidence we were ready to roll. On the last evening at Goa, riders had their most memorable stint in the sea. They went on the Banana boat ride and it scared the hell out of Kamal and Rinku as the boat overturned mid-sea, which was a planned activity. Amit perhaps settled his long-pending revenge (with Kamal) by not informing him in detail about boat ride and he enjoyed turning the boat twice making every one fall into the water again. Though it was a horrifying ride for Kamal, but he was a sport to take it well and not react other way. Goa's last night dinner was planned at a shack next door with some superb Goan cuisine that was enjoyed by all and also discussions of heading out to Bangalore-Ooty cropped up, which eventually didn't materialise and everyone headed toward their beds for an early start next morning.
Riding Back
Finally on 26th November '14 riders were ready to thump again at 4.30 am with their saddles tied on us towards our home with several planned pit stops. Several routes were coined on the coastal highway but eventually Praveen's route helped them to decide which one was to be taken and it was the similar to the one which they had decided some time back. The highway from Goa was seamless and ride through the smaller hills, through the Ghats in the winters was terrific. After riding for 2 hours non-stop my rider had dozed-off couple of VadaPao with Chai!!times. So he went ahead and stopped others too for a breakfast halt at a small time tea joint on the highway. After ordering tea to beat the chill, they found that the joint also served Vadapao too which every rider enjoyed munching with the tea and we got a much needed break for the next run. As we moved ahead riders refilled our bellies with petrol at Rajpura and my mate driven by Kamal had a flat tyre. Thankfully it happened near the repair shop. From that point Ratnagiri was around 69 kms. and the directional board suggested us to take a left turn to get onto the coastal route. We moved ahead at a lesser speed to relish the route between the Ghats, jungles and smaller villages. While passing through a jungle, we saw a fox who was trying to cross the road but couldn't do that, perhaps our thump has scared him off. After riding ahead for 40 kms. my rider was getting impatient to get sight of the sea. He even asked Amit if they had taken the correct road & wondered if they were being be fooled by the directional boards. Fortunately the wait came to an end after moving ahead few meters when we got a glimpse of the coast just before Ratnagiri. The view was enthralling and riders were delighted to ride through the coast.Coastal road to Ratnagiri & GanpatiphuleThey did not leave the opportunity to click the scenic landscape where we were riding on the edge of the hills with sea beneath. Mesmerised by the beauty of this stretch they decided to move ahead towards Ganpatiphule following the coastal route. Ganpatiphule, a small & famous tourist attraction which had a white sand beach and Ganesh Temple located right next to the beach. To beat the heat our riders gulped 3-4 glasses of lime water each, that was being sold on the beach. The place was worth exploring but riders didn't want to extend their trip further. They paid a visit to the temple & indulged themselves into the delicious Khichdi (Prasad) before heading out. They jointly took a call to go ahead on the tempting coastal road as that might have forced them to ride at night which Elaine was not very comfortable with. So they went ahead and got on to the highway that was heading towards Panvel & our pit stop for the day. Vishwa took a chance to go solo all the way & reached Mumbai non-stop safely, to be beside his friend who had bad news.Ganpatiphule!Kamal's machine also needed some repair for which he & Rinku had stopped by at a local mechanic & got it fixed. Riders got themselves recharged with their shot of Red Bull before getting on the horrifying stretch between Indapur & Pen where road was missing and we were riding between big & bigger pot holes. That pathetic stretch of 70kms perhaps took forever to cross and all riders were holding their butt to seek some relief after crossing it in around 3 hours. I was pleased to see the way Amit and other riders were guiding and accompanying Elaine through the broken roads after sunset. After clocking ~650 kms., finally we reached Panvel at around 9PM and Kamal got a great deal at a superb hotel by the highway where they Dinner at Panvelate, drank, had ice cream and did everything to take beat the fatigue. As usual Kamal was again in action reminding everyone to get up early next morning.
Next morning on 27th November 2014, riders were ready with to hit the road again and it was an exciting trip ahead as they were about to cross two states that day with the best highway roads in the country. When riders were leaving Panvel, it was planned to stop at Ahmedabad which eventually was altered for good. Leaving Mumbai and getting on the highway towards Gujarat Highway was a tedious task. We lost almost 2 hours in a bad traffic jam on the bypass after crossing Mumbra, near Ulhas River where trucks had choked the stretch. Thankfully the riders managed to escape the stand still traffic somehow riding between the trucks & reached Vasai where Vishwanath joined us. Once we hit the Gujarat border, there was no stopping and we thumped the highway as if we owned it. Riders had a good control over their machines which gave us the confidence to zoom past several cities on the Mumbai- Ahmedabad corridor in no time. Finally we all regrouped before Vadodara for lunch where my rider's friend- Ishwar from our Ladakh trip (2014) came down to meet us. By then every rider was hungry & we were gasping for fresh air. So they had lunch & we regained our power during the break. Ishwar & his friend were happy to see us and together they re-lived the memorable trip to heaven a.k.a. Ladakh. meeting Ishwar at Vadodara They were all praises for the riders for riding all the way from Delhi to Goa & back. He clicked some snaps and we decided to take a new route and to head towards Udaipur through Godhara & Shamlaji. Amit had confirmed it with several people where ever we had stopped that the new route had a better highway than the Ahmedabad route & it was so indeed. We tried to cover as many kilometres as possible and stop somewhere near Shamlaji near Rajasthan border. Like every evening, riders stopped as sun went down to clean their glasses, visors and mirrors and ensured Elaine was well guided. We finally reached Shamlaji after driving 90minutes in the dark but refrained to stay at the spooky hotel there. After speaking with the locals & drivers present there, riders decided to move another 20 kilometres further where they found a decent highway hotel near a small town, Ratanpur in Rajasthan, adjacent to the Gujarat border. It will be unfair to mention the silly rider who met us mid-way and then glued onto us. Aptly my rider named him 'Fevicol' as he was not ready to leave us even after numerous hints & he had a horrible riding style which irritated every rider to the core (especially Elaine & my rider). After freshening up every one met for dinner and shared their days riding experience over the drinks & food and signed off for the day not before knowing the ride-out time from Kamal. By this night my rider's butt had sent a red signal that they had reached its highest point of exploitation and that he needs to be extra careful during the next two days. Thankfully his pillion's cushion had found some reason to be used.
Next day 28th November'14 early morning, my rider & Vishwa who were sharing a room were the last to arrive to kick start. This day in particular I & my rider were excited as we were heading towards Pali to offer our prayers to Baba Om Bana a.k.a 'Bullet Baba'. We both had made plans earlier to visit this place which did not materialise. After having breakfast on the outskirts of Udaipur, Breakfast stop near Udaipurwe bypassed the city. The captivating highway between the hills made it difficult for our riders to hold us back as we demanded full throttle to produce maximum power and cruise through the superb road. It was indeed pure pleasure to zoom past the scenic highway chiselled between rocky hills, smaller tunnels, least traffic & obstructions under the clear blue sky on a sunny winter morning. My rider seemed desperate to cross the 130kmph mark which was not achievable on the previous highways. Here he did that once quite comfortably along with Rinku who surpassed that figure quite easily every time he tried to. Rinku's Classic 500 was doctored to reach higher speed and it was racing ahead like a leopard. Fortunately and thankfully he was responsible to be at the tail and that prevented him to race ahead, else it would have been difficult to trace him. But me and my rider conspired with him and were finding opportunities to stop by and allowing others to go ahead & then run full throttle to reach them while testing our limits. Cruising on the highway!might sound risky now but we both trusted each other's capabilities & knew our limits quite well and more importantly, we were always accompanied by Rinku who enjoyed going full throttle along with us. Due to this high velocity flight, I was not the same fuel efficient machine and gulped extra fuel to produce that extra power, which wasn't a concern for my rider. After taking lesser breaks, capturing some images on the highway, checking the route at several points, we reached the shrine at around 2.30PM where the riders offered prayersBaba Om Bana ki Jai!!and clicked some more snaps as a memorabilia. I wanted to spend some more time there but the riders returned quickly. We were ready to ride out towards Ajmer, our pit stop for the day which was another ~200kms away. They wanted to cover maximum distance in the daylight, hence took a brief lunch break perhaps the shortest of all, near Pali and then headed straight towards Ajmer. Enroute the road unfortunately was not in its best condition and a small stretch before Beawar was under construction and featured a railway crossing where the traffic had piled up. There we got another opportunity to make our way between the trucks & side lanes, thus ended up wasting significant time. Also the riders found Kamal & Rinku missing and stopped by after crossing the traffic affected area. They came to know that Kamal's machine had another flat tyre which Rinku managed to repair at the workshop and we waited for them sipping a cup of tea. Once reunited, we did not stop until we reached the outskirts of Ajmer, where Amit went missing again along with Rinku. They came after a while and to tell that Amit's phone had fallen off the mobile stand and he went reverse 4kms to look for it and was fortunate enough to find it undamaged. We entered Ajmer with a happy feeling as we had reached almost on time and had planned to try some local delicacies as it was our last dinner together on the road. Unfortunately all our culinary dreams were shattered as we found that all hotels were already booked due to ongoing marriage functions and some college function that was to be held in the on city next day. To add to our miseries, most of the hotels did not hold a valid permission to host a foreign national which made it tougher for us to get an accommodation. Kamal & my rider tried searching many hotels but were unsuccessful until they found a decent hotel- Kanak Sagar which was eligible to host us. But, by then every rider was tired and were feeling sorry for Elaine especially to have spent around 2 hours on the street as they went around the city to fix the hotel. By the time everyone checked into their rooms and freshened-up, the city's restaurants were shut, leaving us to head towards railway station where we were hopeful to get good non-veg food at a Muslim hotel. On the dinner table the riders did what they were equally good at apart from riding i.e. chatting away the fatigue and sharing on-road experience while food was being prepared & served. The only good thing about the food was that it made on order & served hot and the not so good party was it was sans taste. This debacle resulted in most of them leaving a good share of food in their plates and everyone prayed that shouldn't have a Delhi Belly before they hit Delhi on the next day. As a regular feature riders fought with Kamal to extend their sleep duration but eventually Kamal used to win there every time. It was decided to move out by 7AM and they hit the bed at 1AM after covering 600+kms at record shattering speed.
Finally it was 29 November'14, the day when we were destined to be in our couches and relieving our sore butts from the pain. This morning again my rider and Vishwa woke up at 7.30 am when everyone had tied their bags on their machines. I don't blame the riders for this mess-up as this marathon ride demanded adequate sleep which was very necessary for a safe ride further during the day. Riders took The last breakfast togethernbreakfast break about 60 kms. away from Ajmer towards Kishangarh and they did not leave the opportunity to pamper us by capturing the final moments in their cameras. The highway was in perfect condition until we hit the Jaipur-Delhi highway where good roads came in patches and diversions, rough patched, under construction lanes were aplenty. The situation was worse when erratic bus & car drivers deliberately troubled the riders and their fight to reach safely continued till they hit Gurgaon. At Behror, during one of the drink breaks, riders decided to part after a good supper and on my rider's suggestion they headed towards Biker's Café at Vasant Kunj, the ideal den for any hungry biker. The riders halted briefly after entering Gurgaon and cheered for the fact that they had completed the trip and were returning home safe. On reaching the café, we could see the accomplishing smile gleaming on every rider's face. The feeling of completing this feat was extraordinary and can't be. Parting party at Biker's Cafecompared with any other ride. My pillion had reached the café to meet & greet my rider and other riders too. I was super delighted to have carried my rider & pillion and brought them back safely. At the café they recollected small & bigger instances and laughed out loud to celebrate every moment that they had lived & rode together. This was perhaps the perfect way to end the extraordinary ride and everyone headed towards their home-sweet-home alone with saddle-full of memories. They rode back, alone, for the first time in last 12 days.
My rider & I were thanking each other through entire ride for taking care of each other. We both kept communicating with each other and understood well to ensure that we rode safely even when we were at the margins. Every rider was equally sensitive & attached towards their machines. They had tremendous amount of faith on the RE machines which boosted their confidence to ride on & cover longer distance. It was a challenging task to reach Goa in 3 days but wasn't impossible and a lot of credit needs to be given to us, the machines made by RE. Most of the riders had met for the first time and the bonding that they shared was incredibly strong. Everyone was caring & watchful of the person behind him/her and they used to slow down or stop mid-way if the following rider was not seen through the rear view mirror. Every rider was thoughtful about fellow rider and did their best to point out the danger ahead thus ensuring safe ride you guys rocked..big time!!for their mates. The brotherhood shared between the riders was amazing and I have seen similar camaraderie between my rider and his mates during our Ladakh trip this year. Now, I am certain that this bonding is a result of love for riding & being passionate about riding a RE.
Every rider deserved a big applause to have the perseverance to complete the ride and standing beside each other throughout. At the RM riders from other part congratulated them for coming down from Delhi. I am sure that this ride story would inspire more to riders from to ride down to RE RM next year, without looking at the distance.
A royal salute to Elaine, the wonder lady, who proved that age is a mere figure and at heart she is younger than most of the riders that I have met. She was the most disciplined of the lot which my rider respected a lot and also unsuccessfully tried to ensure that he did not make her & other riders wait. For the very first time in her 30 years of riding she rode after sun down which wasn't a compulsion but she decided to take her fear head-on and she overcame it splendidly. Her story has inspired my rider and he is all gung-ho about her brave acts. My manufacturer team Royal Enfield deserves a big applause for investing energies and planning such events which gives me and my crazy rider to explore new destinations & cross mental boundaries to ride down to those places. I also need to credit my pillion for bringing me into the family, knowing that I could take her beloved (my rider) far away from her. A royal salute to her for bearing the pain of being a pillion and left to do nothing, apart from clicking some snaps, during her 2200 kms. ride.
She was sweet enough to forgive me & my rider for every odd bump and also kept speaking with my rider to prevent him from falling asleep. Lastly my rider who took good care of mine and rode me quite well even when I was wobbling through the entire run. He penned my thoughts this time and thoughtfully christened me Jajabor which suits both of us as we are the soul who would keep wandering till we know it's time to go. In the words of Michael Palin "Once the travel bug bites there is no known antidote, and I know that I shall be happily infected until the end of my life" which perfectly describes our present state.
Please follow the link to check out the photographs of this epic journey-
https://www.facebook.com/media/set/?set=a.10152387372856511.1073741831.556181510&type=1&l=346423c49e
Links of previous blogs by my rider-
Quest to Ladakh 1.4- http://rpsrediary.blogspot.in/2014/07/QuesttoLadakh1.4.htmlFirst 1000kms- http://rajendradiare.blogspot.in/2013/11/first-1000-kms-of-rejuvination.html