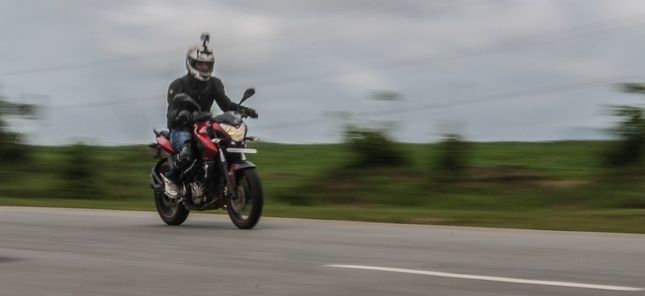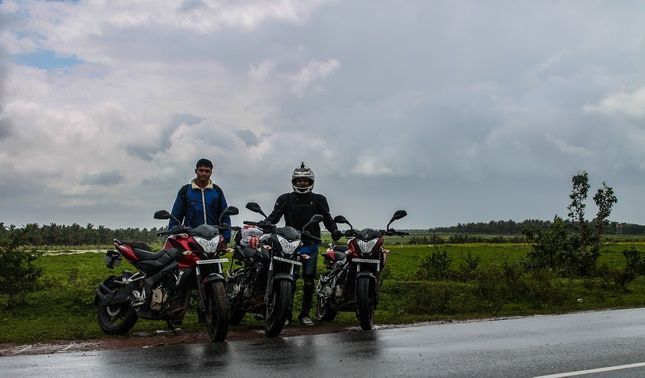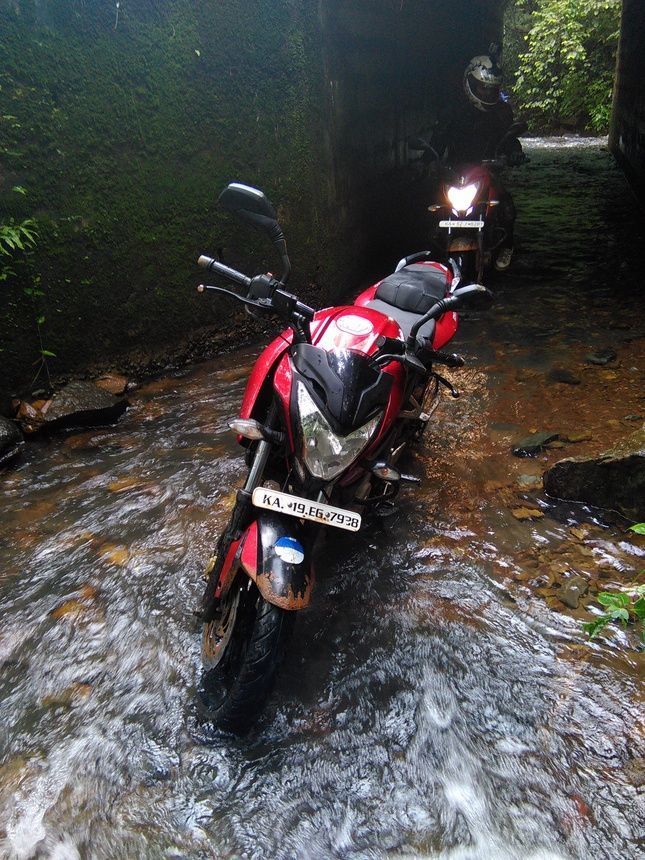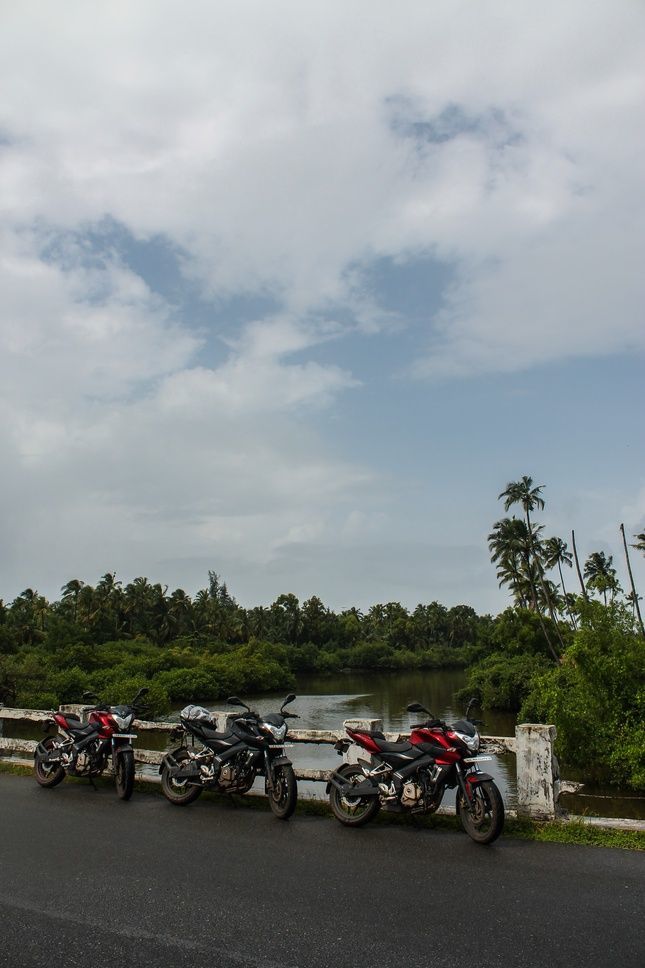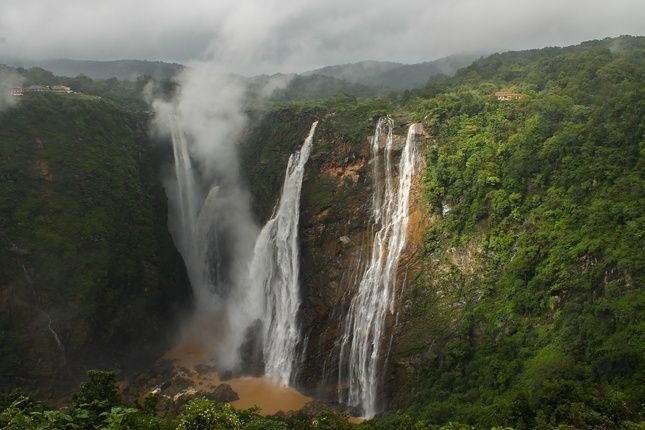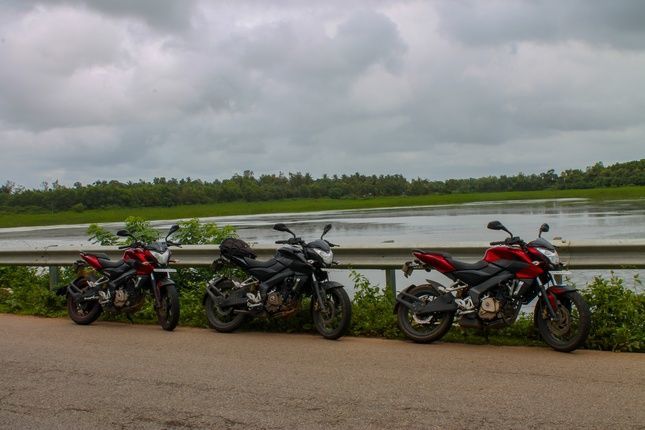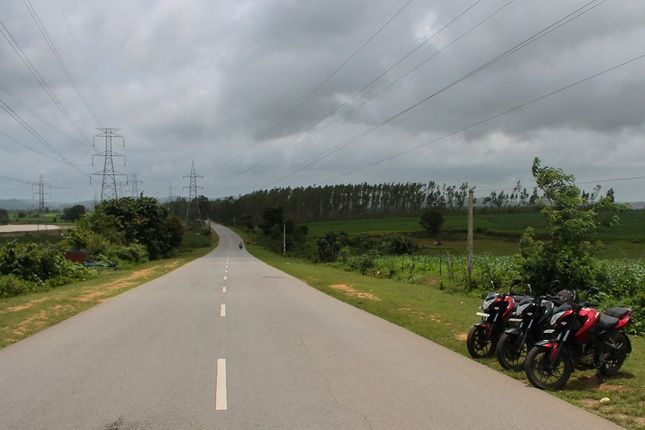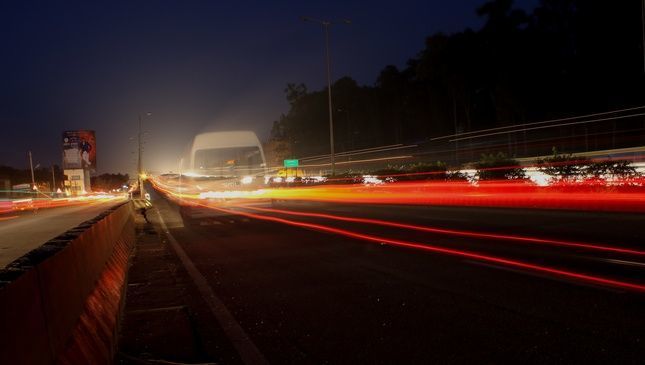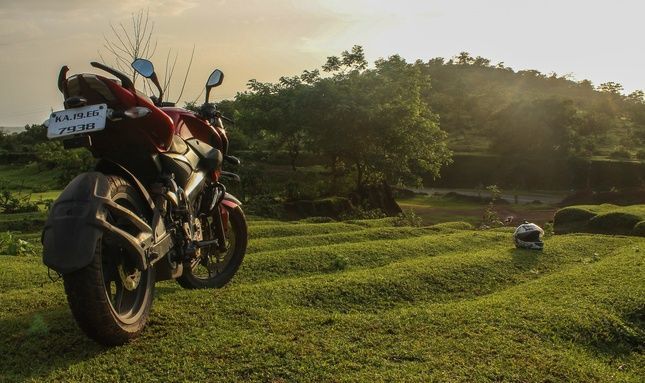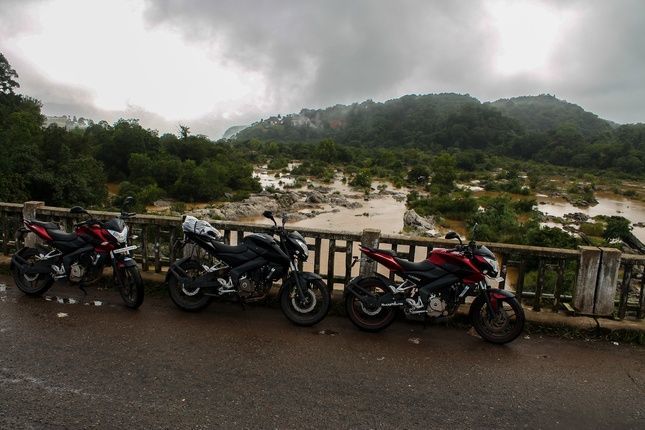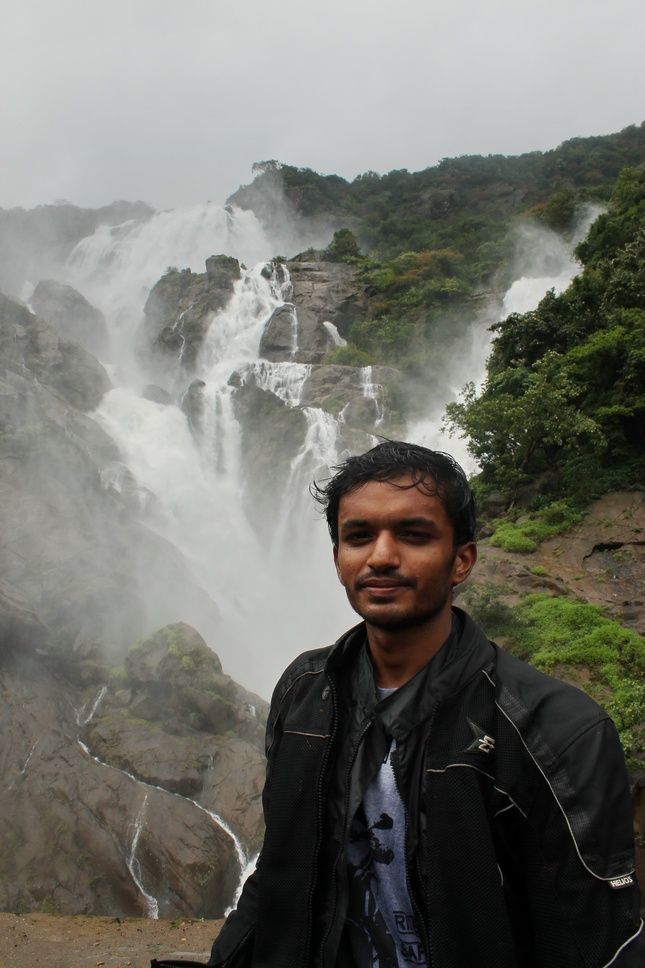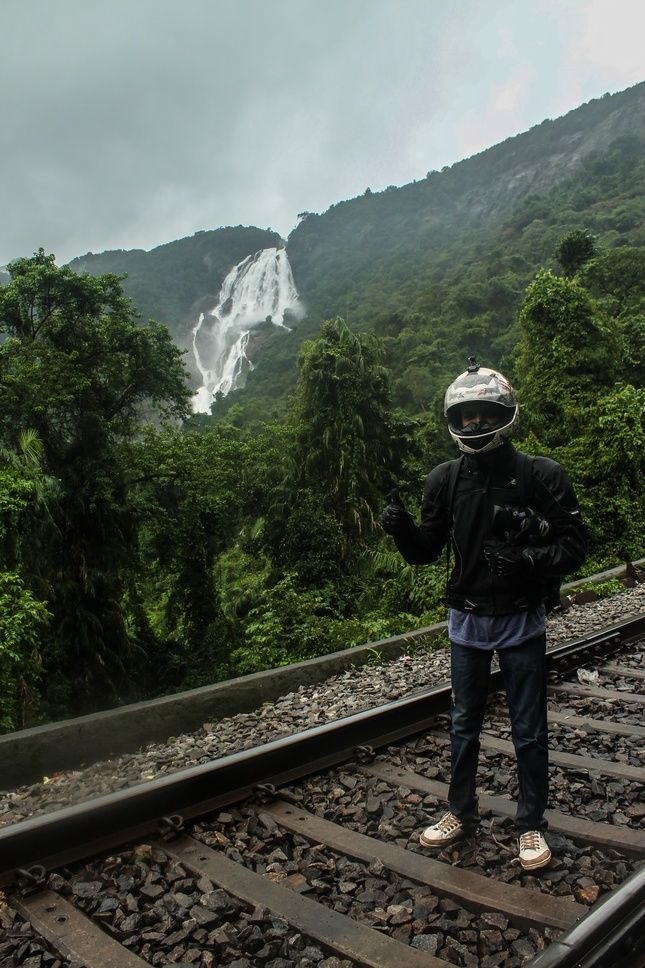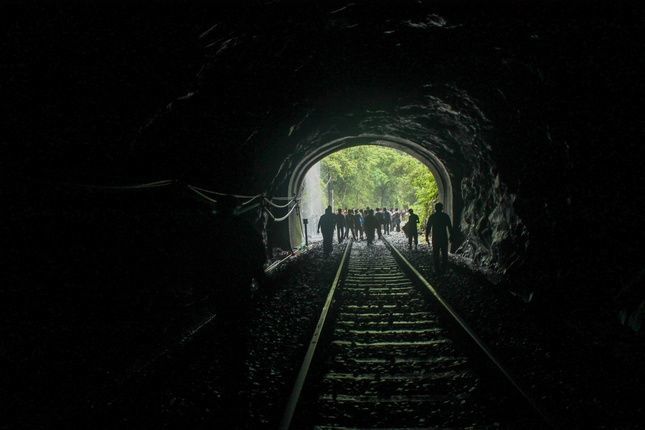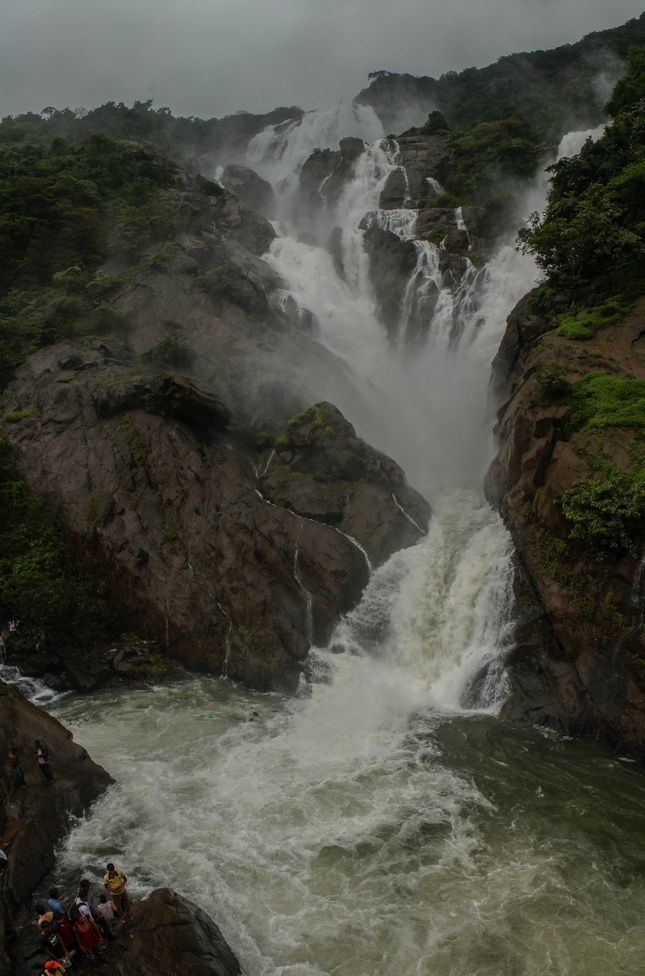 The daily commute to work left me bored. I realised that I didn't buy that bike(Pulsar 200 NS) to be used in horrible Bangalore traffic. It has been a really long time since I took my bike out of town. Putting my ego behind I am now taking the company bus to work, and I use the bike on weekends for pleasure rides. Sujay, a friend of mine who owns the same bike suggested a ride to Dudhsagar. This would be my first trip on my bike this year. The plan was a little optimistic and due to changes at work I had to squeeze it into a two day trip instead of the initial three day plan.
A ride through the western ghats in the middle of the monsoon season did sound pretty intimidating. My brakes don't work as well, there is lesser grip from the tyres and visibility is poor at times. I was skeptical initially. This seemed like the best time to visit Dudhsagar, I made up my mind by Thursday. The aim was to go to Dudhsagar. One of Indias most beautiful waterfalls. There was a challenging off road trail that gets bikers close to the waterfall. We would have to trek the last 2 km. Those of you who have seen Chennai Express, if you remember the scene where the train stops on a bridge. That is Dudhsagar. Only difference is that Rohit Shetty enhanced the colours to make it look even more visually appealing. After some browsing we arrived at this route :


Totally around 1200 Km round trip in 48 hours. That was the plan. We could manage to get Jog falls on the way and Karwar seemed like an affordable place to stop over for the night not too far from Dudhsagar. Sujay arrived in a few minutes and we set off by 6:00 am. Aditya was riding from Mysore. He would join us near Hassan. The road till Hassan was a good fast straight highway. 4-6 lanes with divider. I was not too keen on testing the top speed, I got enough of that on NICE road. We maintained a steady 80-90kmph. We would be travelling 1200 Kms in the next twp days and riding efficiently would be helpful.
The roads suddenly were much more interesting. Relatively narrow two laned country roads, but wide enough to take two buses easily. Good change in elevation, uphill and downhill and swooping bends. It was just 11 am and we had gone past Berur. The weather was just brilliant, cloudy with the few occasional minutes of sunshine. I was really hungry and wanted to stop for food. Sujay had read many blogs and had a place in mind, but that was closed and we had to settle for the next nearest place. I was not feeling too experimental, I just had a simple masala dosa. It was fine, cooked in wood fire and the chutney was unusually spicy.


We witnessed the first rain. Surprisingly it just lasted a few minutes and it got back to the usual cloudy. I was expecting more rain, but this was brilliant. This was the cycle of the weather the entire weekend : Heavy rain for a few minutes, followed by cloudy skies for a while and some occasional sunshine. It was just perfect. The scenery in the country side was just getting better. I was too focused on the road initially and ended up missing a huge sunflower field. We stopped for photos occasionally. It was hard to communicate to the others. I had to get ahead of the other two and signal my indicator and stop. That was one thing we needed to work on, communication between bikers on a road trip. I started enjoying the ride and this was one of the few times where I was not in a hurry to get to the destination. I could comfortably savor the journey. My bike felt at home here.


We reached jog falls by 3 pm. The cloud cover was really dynamic and the view of the falls depended on your luck.


This next part of the onward journey was scary. Heavy rain, less grip, slippery brakes and we were going downhill on the ghat section. It took me a while to get comfortable. After a few minutes I was in a better mental state and little more confident. Usually I use the clutch while going downhill, it saves a little fuel. But the rains were pretty scary and I used engine braking. This was much more comfortable and I started enjoying the ride. We didn't cross 60km/h but we had good fun. The lush greenery and the good road surface put a wide smile on our faces. The traffic was being pretty cautious and there were no real maniacs on the road. We had a few more photography stops and reached Honnavar by 6:30. I believe the people who want to just get somewhere will use a bus/train/flight. The people on road(apart from trucks) are the ones who really like driving. So the general discipline of the highway traffic is better than the usual urban chaos.
We woke up late checked out as soon as possible, and we were on our way. Not sure when the next meal might be, we had a heavy breakfast at a restaurant (Udupi Plaza) on the highway. The food was hot and tasty, we sat and ate as it rained heavily outside. By the time we were done and back on the road it was already 11 in the morning. After the good meal we carried on. Petrol was just 61 bucks a liter and that put a wide smile on our faces. GPS showed that we had over 90 kms to Dudhsagar. We asked people for directions at the petrol bunk. They were really surprised that we came all the way from Bangalore. Only only one attendant had heard of Dudhsagar and told us that we had to carry on along the highway for a good 30 odd kms.
We liked the roads in Karnataka, but the roads in Goa were much better. Tourism is the major source of revenue, so I guess good roads are expected. We continued at a leisurely pace and were not too worried about the time. We found a few people who gave us directions that were in agreement with the GPS and from then we continued confidently. I was surprised how many people hadn't heard of Dudhsagar. This part of Goa broke my stereotype about the place. I always assumed that everyone in Goa owned a wine shop or a club or a taxi or something on those lines. They make a living by milking the tourists. But this part was so different, I couldn't be more wrong. We were riding through farms, that was the first shock - farmers in Goa. There were only Indians around and the women did wear western dresses but looked much more decent. The guide for my Himalayan trek(Roopkund) was from Goa, when he told me that initially I was shocked. But now I think I am not surprised at all, I have just seen a small part of Goa and been to judgmental. There have been families living there for generations and there this different side to Goa which the usual tourists never get to see. Goa has something for every kind of tourist.
The roads were brilliant, as we got closer people gave us better directions. Rains did get worse, we couldn't even take our phones out to check for directions. We stopped at a Y junction, not sure which road to take. There was hardly any traffic and we were doubtful if this was the correct road. Soon we finally saw some crowded(relatively) railway station at the horizon. Once we got there we saw the first Dudhsagar sign board. We finally made it to the starting point. There are two starting points, one from Castlerock (in Karnataka) and one from Kullem railway station. You can catch a train or walk along the railway track, or trek through the forests for a shorter track or do it in the craziest way - On a bike. Ride your bike to a point that is 2 Km from the falls and trek from there. Obviously we were proud of our bikes and were sure it could conquer anything. The bike trail was really difficult and was a great off roading trail. I have no experience going off the road and this was pretty intimidating, there were many moments where I would have given up and gone by foot if it was just me. It started off next to the railway track, riding on broken stones. We were struggling to balance and achieve speeds over 10 initially. I was wondering why we were taking our bike. Walking would be much faster.
After the initial few kilometers next to the railway track the trail takes a deviation into the forest. This is where the trail got really interesting and challenging. We had to cross a few streams and many more ponds. For the first time I was ahead, so it was hard to judge the easier line. The bottom surface in streams is usually rocky and there is good grip. Every time one of us would get stuck he would come over and give us a much needed pull. After a few minutes I was feeling more confident and hit my highest speed of 25Kmph. That was an amazing moment of the day. During the onward journey one of us would try experimenting on a new short cut and end up looking really stupid in the eye of the other two. We finally got to the spot where we had to park our bikes and continue by foot.
The next bit was crossing a river with waist deep water and a strong current. The bikes would surely not be able to do this. That was followed by a good 15 - 20 min trek. Trekking with jeans + biking jacket + my camera + backpack and sandals was a first. It was not too long so manageable. Once we got to the railway track we were happy, we finally made it. We walked through two tunnels and finally there it was, the mighty Dudhsagar falls.


We started to head back downhill. We got a little lost as the trail was hard to find. The downhill trail was more challenging as the rain had made the surface even more slippery, but there were many trees around for support. Crossing streams was easier, but the wet muddy patches were pretty difficult. Thanks to the rain, the surfaces were very slippery and there were times when I could feel my bike sinking into the ground. Sujay pulled my front wheel and helped me get out every time I got stuck. There was lot more wheel spin on the return journey, wheel spin meant bits of mud flying all around and it did get pretty messy. The trail was really narrow in some parts and oncoming traffic made it worse. It was hard to find enough space for two bikes to go side by side. By 5:30 pm we were back at Kullem station.
I was so happy to ride on beautiful black roads, I shall never again complain about Bangalore roads. No begging the tyres for traction any more. I never appreciated the road below my bike's wheels more. So we began our journey back to Bangalore. We took a not so common route of coming via Dharwad. We asked for directions and the road condition. Goans are very proud of their roads. They gave us directions and told us that till the border the Goa roads are great after that it depends on the other state. They couldn't be more correct. As soon as we crossed the border the roads were horrible. Worst part was that the roads leading to Goa were better, only our side of the roads were bad. It took us around 90 minutes to cover 40 km. It was getting dark and there was heavy rain. The opposite traffic with high beam headlights slowed us even further. There was one spot with a good view, we stopped took a few quick pics and carried on.


Suddenly there was thick fog. It was so thick we couldn't see more than a few feet ahead of us. Visibility was horrible but this was thrilling and fun in a different way. We experienced all kinds of roads and conditions in this short 2 day trip. We stopped at what looked like a good restaurant. After dinner we continued and reached NH4 soon. The roads were brilliant and some parts had streetlights too. There was not much traffic, mostly trucks and since the road was so flat and good we were starting to feel sleepy. I played some music and we carried on at a leisurely pace. We took short breaks at every toll booth and reached Bangalore by 6 next morning. The ride back was depressing. I overslept after that and missed my bus, had to ride to work too.
On 16th August 2014 Sujay passed away in an accident near his house. This was really shocking. He was a safe, experienced and careful rider who had done over 30,000 Kms on his bike without any incident. He is the kind who always carries a first aid kit on trips. From what I heard, a speeding jeep was coming the wrong way and the injury due to impact resulted in instant death. This was shocking and very hard to digest for me. He was a gem of a person, a generous soul, selfless friend and extremely humble and modest. We had just done two trips till now and had many more planned in the near future. He always would go out of the way to help his friends and make sure we are comfortable. These few words don't do any justice to the kind of person he was, but this is the least I could do. Bike trips will never be the same without him. He will be truly missed. May his soul rest in peace.