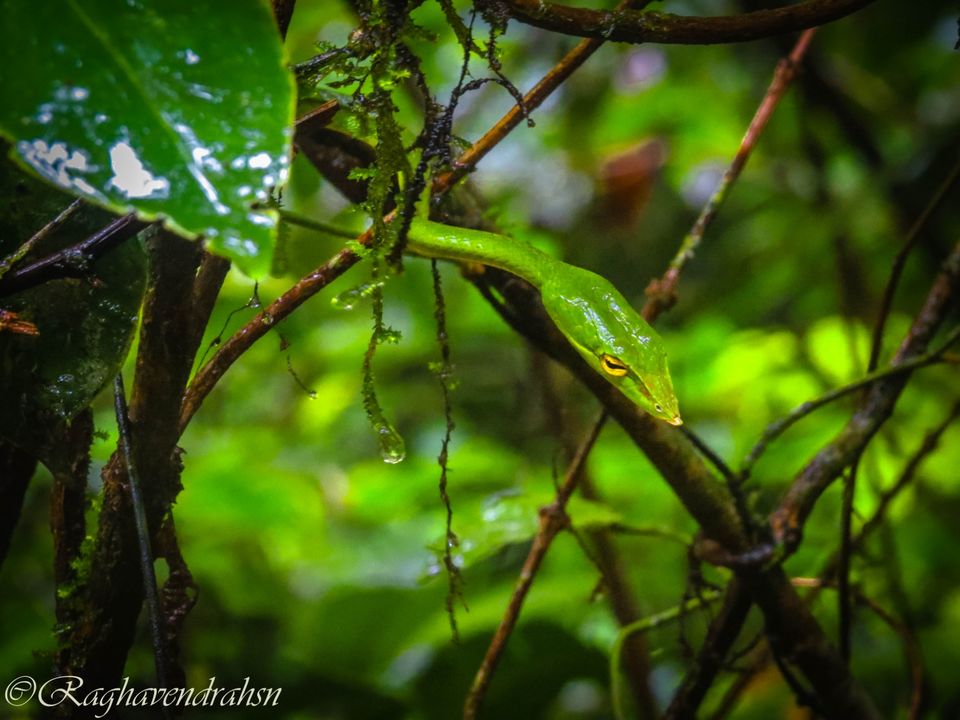 Two of my friends Aki & Harsh arrived at Shimoga early morning at around 6a.m from Bangalore. Then after a refreshment break of 2hrs we started our journey to Agumbe in a private bus. (There are a few Ksrtc buses from Shimoga as well but they are not frequent.)
After travelling a distance of around 80km we got down at Guddekere bus stop after Theerthalli but before Agumbe.( If you are traveling from Udupi then Guddekere is after Agumbe)
We had pre booked our stay in KCRE (Kalinga Centre for Rainforest Ecology) founded by renowned Herpetologist Mr P.Gowrishankar.
They charged 1500/- per person per night that included 3 meals,tent accommodation, a day trial and a night trial.
(For online bookings and information you can visit www.kalingaacre.com)
Once we got down at Guddekere bus stop we took an shared auto to the centre which charged 250/- for 3 persons .Alternatively KCRE staff can pick you up from Guddekere stop upon a phone call. KCRE was around 5km interior from the Guddekere main road.
Since we wanted to experience and witness the rich bio diversity of rainforest of western ghats during monsoon along with the comfortable stay we had chosen this option of staying in KCRE and it definately didn't dissapoint us except not spotting King Cobras. If the intention is to spot the King Cobras then the best season may be March-April.
During the day trail of approx 5km we spotted 3 Green Vine Snakes and during night trial we were able to spot Pit Vipers, Scorpians and many varieties of Frogs. Look out for the leeches during monsoon ! Be smart and carry a pair of leech socks.
Night stay was comfortable in tents though it was pouring heavily.
We had a decent breakfast next morning and a photo session with the Gowri sir himself. The staff and interns were warm and friendly.
They dropped us to Guddekere busstop in their own vehicle and we forwarded our journey to Shimoga.