Dudes: Me and Vijendra..
Date: 24th and 25th Sept 2016
Its been more than 2 years since I met Vijendra and went out for any trip with him… So this time we planned to visit our regular place which is Malnad..
Vijendra came up with different plans and itinerary details.. Finally we decided below route and plan..
Mysore–>Srirangapatna–>Pandavapura–>Nagamangla–>Bellur Cross–>Channarayapattana–>Hassan–>Belur–>Mudigere–>Kottigehara (Went towards Charmadi Ghat and came back)–>Kalsa–>Kudremukha–>Lakya Dam–>Karkala–>Moodbidri–>Mangalore. (Around 400 KM)
Mysore to Mangalore Via Kudremukha
Friday evening (23rd Sept 2016) I left Mysore in Bus and joined him in Nagamangala.. He picked me in Nagamangala bus stop and we packed some snacks and headed towards Hassan.. The road was super.. it was toll road and very well maintained..
We reached Hassan and checked into Southern Star hotel around 8 PM..we got freshen up and boozed in hotel only.. After that we enquired about some good Non veg hotel.. they adviced Miltry Hotel Mamtha .. on the way we stopped in fish stall and had Crab, some small fish and one big one Madubala fish..
After that we had nice dinner in Mamtha miltry hotel.. there were more than 5 miltry hotels nearby..
We came back and slept nicely..
Saturday morning we woke up early around 4 AM and talked so many things… we tried to sleep but couldn't and got ready early.. We had complementary breakfast in hotel itself and checked out from hotel…
Zoom Burst photo…
We stopped in Kottigehara and took deviation towards Charmudi Ghats just to see that ghat in this beautiful weather..It was like haven on earth…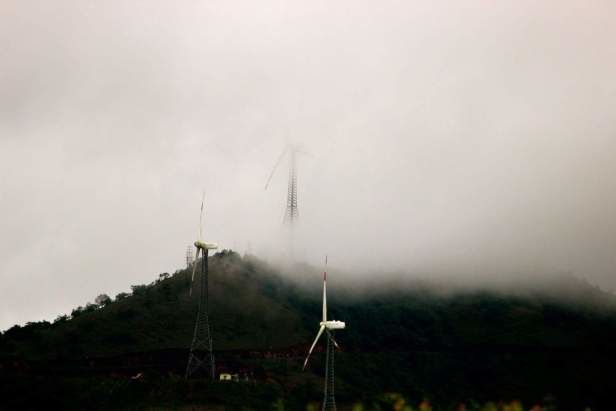 Wind Turbines on the way..
Charmadi Ghat !!
then we came back to Kottigehara and went towards Kudremukh. the road was super and not so much traffic in this route..
First we reached Kalasa and visited Kalsheshwaraswamy temple.. bought some herbal medicine which cures head ache and cold in seconds.. yet to try that!!
We reached Kudremukh, It was very bad to see this kind of deserted city.. hardly anyone leave there now.. once it was very nice city with all the amenities
We visited Lakya Dam, It was constructed in 1994 by Kudremukh Iron Ore Company Mainly to To collect silt and other waste materials deposited by the mining companies in and around Kudremukh and provide water supply for drinking and irrigation of agricultural land. Now this dam is completely dry and they are growing Silver trees on top of waster materials
Plantation on Lakya Dam
They have stopped vehicle entry to this dam, so we parked our car and went by walk.. on the way we plucked Gua fruits and had nicely.. Rain was on and off frequently.. we got drenched in water also..
After that it was getting late and we came down from Kudremukh, it was super road and literally no traffic!!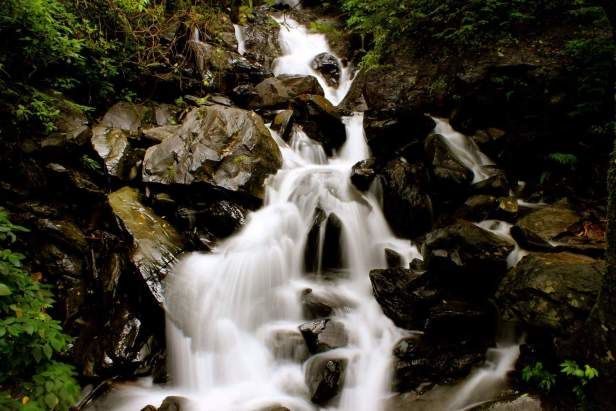 Unnamed water falls on the way from Kudremukh..
We decided to pay visit to Moodbidri and meet our cousins who is studying in Alvas education trust, the hostel campus itself was very big and it was difficult finding our cousins there.. Finally we met them and they were also very surprised and happy that we met them..
Then we left towards Mangalore and checked into Hotel Poonja International.. It was very old hotel but good one..
We heard lot about Mangalore night life and we wanted to visit some pubs over there..
First we went to ReTox lounge bar, It was very crowded and bouncers were not allowing us to get in!!! he asked us to come after some time.. so we went to The Liquid Lounge, this pub was also nice and luckily we got seats… we had nice party over there and went towards ReTox lounge bar, again that bouncer were not allowing us saying its closing time bla bla.. but some how we got inside.. it was very good place with loud music and dance floor …@ 11 PM they stopped music and we came outside and had nice Mangalore Fish food…we reached hotel and slept nicely…
Sunday morning we woke up late and had complementary break fast in hotel itself.. Then we went to Pamanbur beach.. It was nice clean beach.. they were not allowing people to get into water as it was dangerous..we spent nice time over there and I rode speed bike also.. which was fun..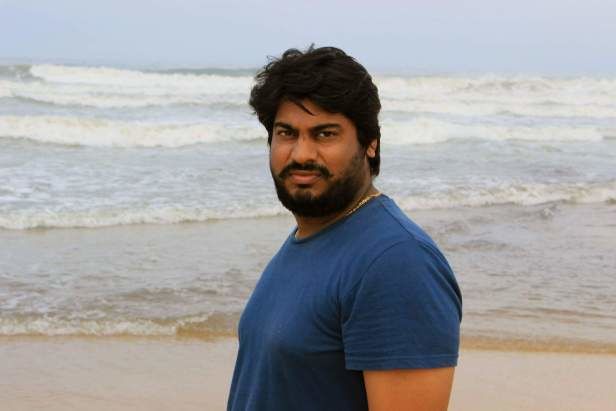 After this we came back hotel and got fresh.. checkout hotel.. We again had Fish curry meals/Angel fish/Bangda fish…
Then we decided to cut shot trip and come back to Mysore..
We took below route to reach Mysore.. Driving in Shiradi Ghat was super experience… at starting the road was not good.. after some distance we will get nice Cement road.. The view was excellent… that too river flowing next to road..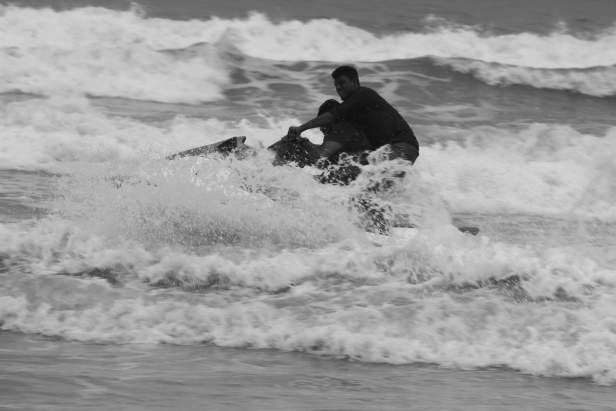 Super Driving on a rainy day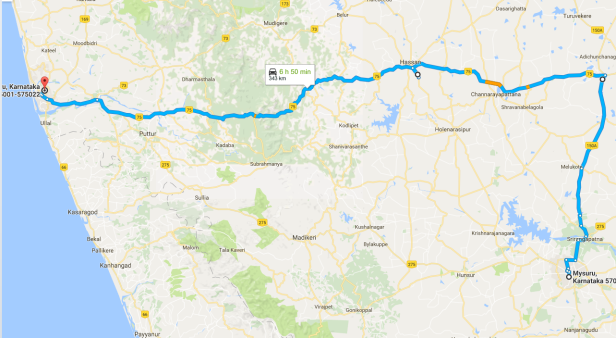 (Around 343 KM)
Mangalore to Mysore Via Shiradi Ghat